Bring out the natural sweetness of sweet potatoes with an air fryer. This cooking method is quick and gives these spuds a tender texture and a charred caramelization that pairs beautifully with a creamy and peppery sriracha mayonnaise. Get this easy air fryer sweet potato recipe in your steady dinner rotation!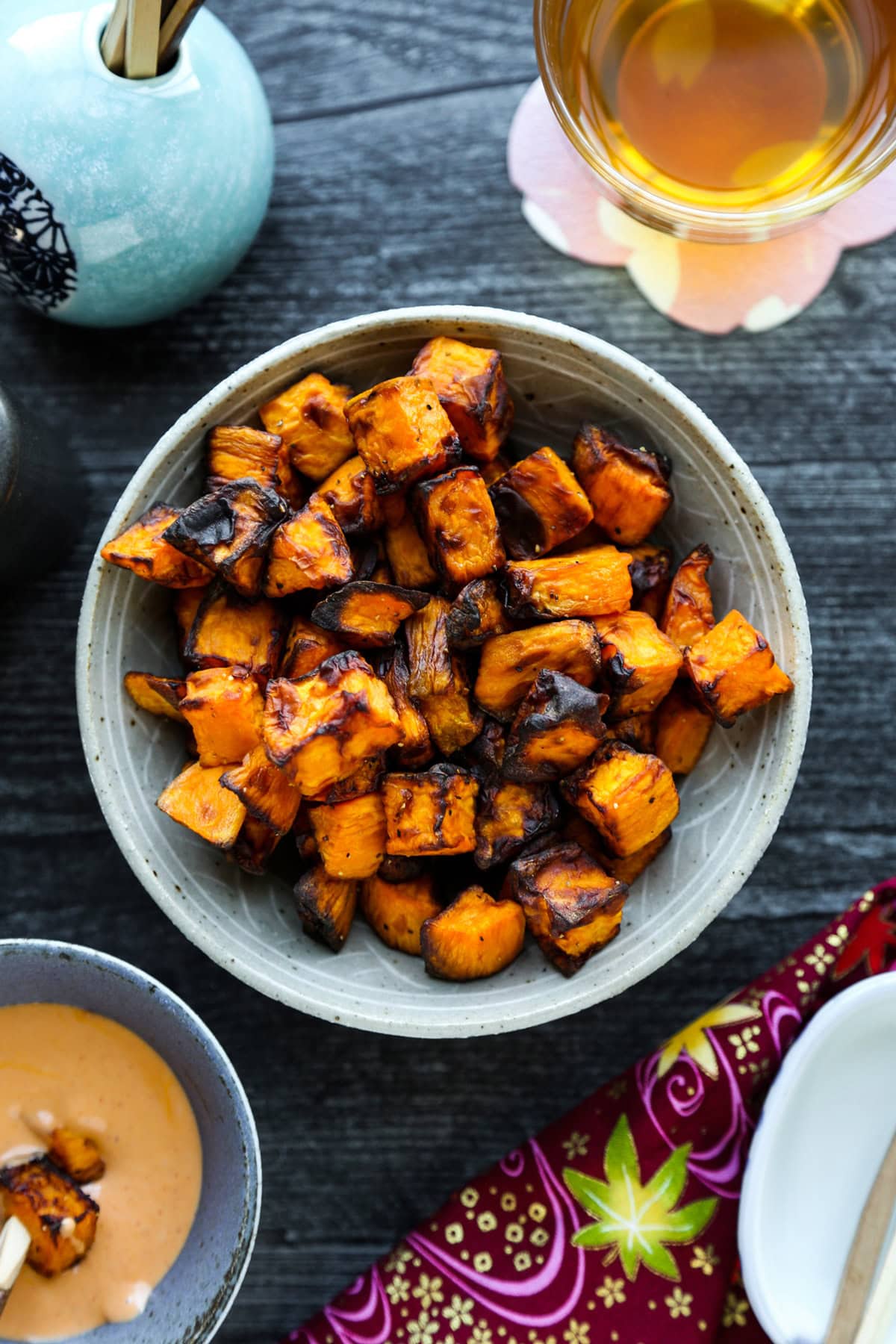 A Delicious and Easy Vegetarian Air Fryer Recipe
My air fryer has been getting a workout lately. I love the way it handles simple vegetable recipes – and creates the types of textures you'd normally have to roast or deep fry to get, all while using very little oil.
And this vegetarian air fryer sweet potato recipe exceeded my flavor expectations as well. You'll only need a handful of ingredients to achieve lusciously tender sweet potatoes – and a full flavored dipping sauce – that is sure to be a hit at dinnertime or as a passed hors d'oeuvre.
Why This Recipe Works
Sweet potatoes have a natural sweetness that isn't cloying. Roasting sweet potatoes (or air frying in this case) causes the outer surface to brown up nicely due to the Maillard reaction. And the natural sugar content results in caramelization – adding a layer of toothsome exterior texture to the otherwise fork soft and fluffy sweet potatoes.
This natural sweetness is offset by a savory, spicy and creamy dipping sauce that is a super simple combination of four ingredients. Mayo, sriracha, rice vinegar and umami miso paste are mixed to form a flavor profile greater than the sum of its parts. It's perfection.
And this air fryer sweet potato recipe is largely a set-it-and-forget-it type of thing. Aside from flipping the sweet potato pieces once during the cooking cycle, there's not a lot of actual work to be done.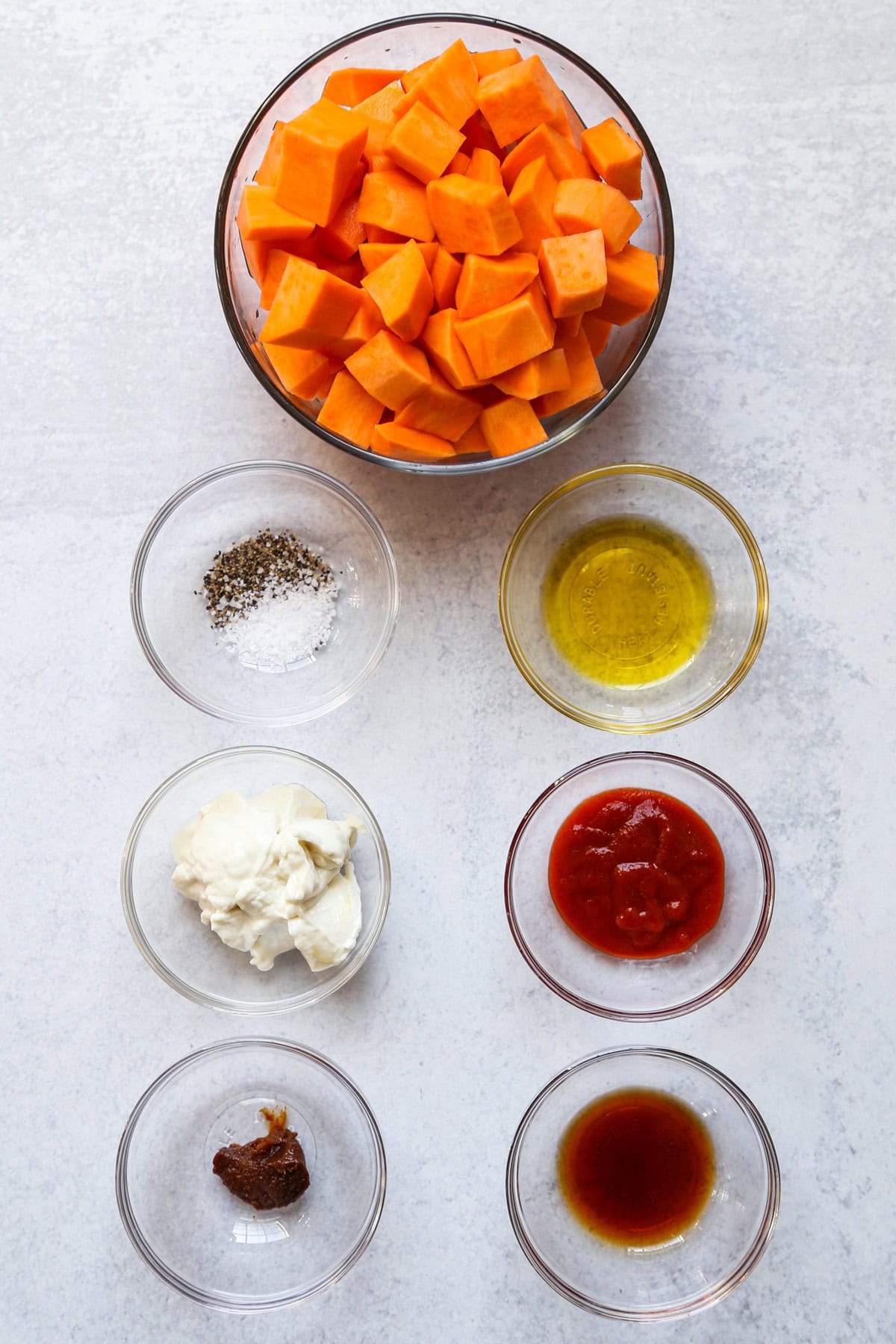 Air Fryer Sweet Potato Ingredients
Scroll all the way down for the full recipe.
For The Air Fried Sweet Potatoes
Sweet Potatoes: You'll want around 1 pound of sweet potatoes for this air fryer recipe. Start by peeling them, and then chop into pieces that are roughly 1/2-inch in size. While appearance isn't important for this recipe, I've found pieces that generally resemble cubes work best. Inversely, longer sweet potato slices take up too much area space in the air fryer basket and won't cook evenly.
Olive Oil: Since we're air frying, you'll only need a tablespoon of oil to coat the sweet potato pieces. Use first press extra virgin olive oil for the best results.
Salt and Pepper: You'll use these simple, mainstay spices to add subtle flavor. A sprinkle of freshly cracked black pepper is best, but I've used the stuff from the shaker with great results as well. Use flakey sea salt or kosher salt in this air fryer sweet potato recipe. They taste better – and the larger salt crystals make it difficult to oversalt your food (unlike an equivalent amount of table salt).
For the Sriracha Mayo
Sriracha Sauce: Sriracha is the perfect blend of sweet heat. It's spicy without being volcanic and one note like many chili sauces out there. And using this as part of the dipping sauce means you can jettison many of the traditional spices you might normally turn to like chili powder, garlic powder, cinnamon, brown sugar, cumin or cayenne pepper. In short, sriracha delivers enough flavor that you can give your spice rack a break. It's easy to find at your local grocery store – or grab sriracha here on Amazon.
Mayonnaise: Mayo introduces its trademark creaminess, and helps temper the spice from the sriracha. If you're making this vegan, just use vegan mayo instead. There are some great vegan options out there these days.
Miso Paste: This injects a real savory earthiness to the dipping sauce. Miso paste is like the low end of a song, the bass line. Without the bass, the song is only partially complete. Trust me, you'll miss the umami if you leave the the miso paste out. I use awase miso – which is a mix of red and white miso. But use whatever you have on hand. Read all about miso in this post here.
Rice Vinegar: Bright with a mellow tartness and sweet undertones, rice vinegar elevates the sauce as a whole. Seasoned rice vinegar typically has added salt and sugar. I used plain rice vinegar for this sweet potato dipping sauce.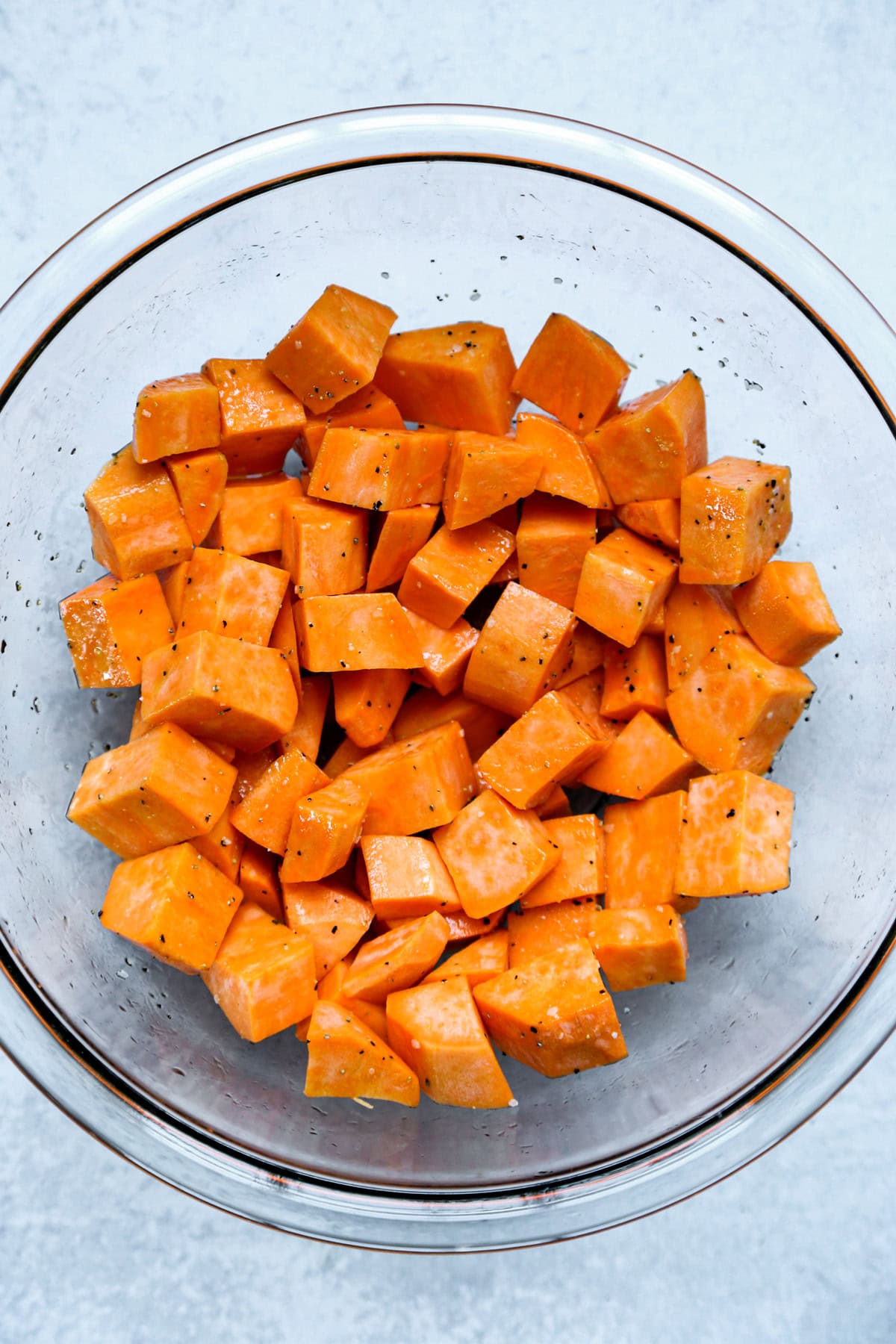 How to Cook Sweet Potatoes in an Air Fryer
Gather all of your kitchen tools and ingredients.
Place your sweet potato pieces in a large bowl. Drizzle with the olive oil and toss so that the pieces are evenly coated. Then sprinkle with salt and pepper and toss again.
Turn your air fryer to 400°F – and allow a few minutes for the machine to preheat (like you would an oven).
Once hot, brush the bottom of your air fryer cooking basket with a small amount of olive oil to prevent any food from sticking to the cooking surface.
Next add the sweet potatoes to the basket in a single layer. If you're making a large quantity for a holiday meal or dinner party, it's probably best to cook in multiple batches so that everything cooks evenly.
Air fry the sweet potatoes for 10 minutes and flip them. Air fry for another 10 minutes, then check the texture. Are they tender inside with a browned exterior? If so, they're done. If not, air fry in additional 5 minute intervals until properly cooked. When it comes to cooking time for this recipe, it will largely boil down to what tastes (and looks) best to you.
Once cooking is complete, transfer the air fryer sweet potato pieces to a serving plate.
Finally, mix the sriracha sauce, rice vinegar, mayonnaise and miso paste in a small bowl until smooth. Serve as a dipping sauce.
How Does an Air Fryer Work?
This is the an overview of the bare-bones basics.
An air fryer uses a fan to quickly circulate hot air from a heating element around your food. Since your food is suspended inside a cooking basket, the hot air can reach all sides of the food easily. And this is precisely why you don't want to overfill the basket and potentially create pockets the hot air can't reach.
The main benefit is the browning you get on your food (similar to that of deep frying) while using a very small amount of cooking oil.
And you can use an air fryer for way more than simply cooking vegetables like green beans, broccoli and (of course) french fries. You can use it to make a proteins like salmon, shrimp or breaded chicken fingers – or this kimchi and bacon-bit loaded air fryer baked potato.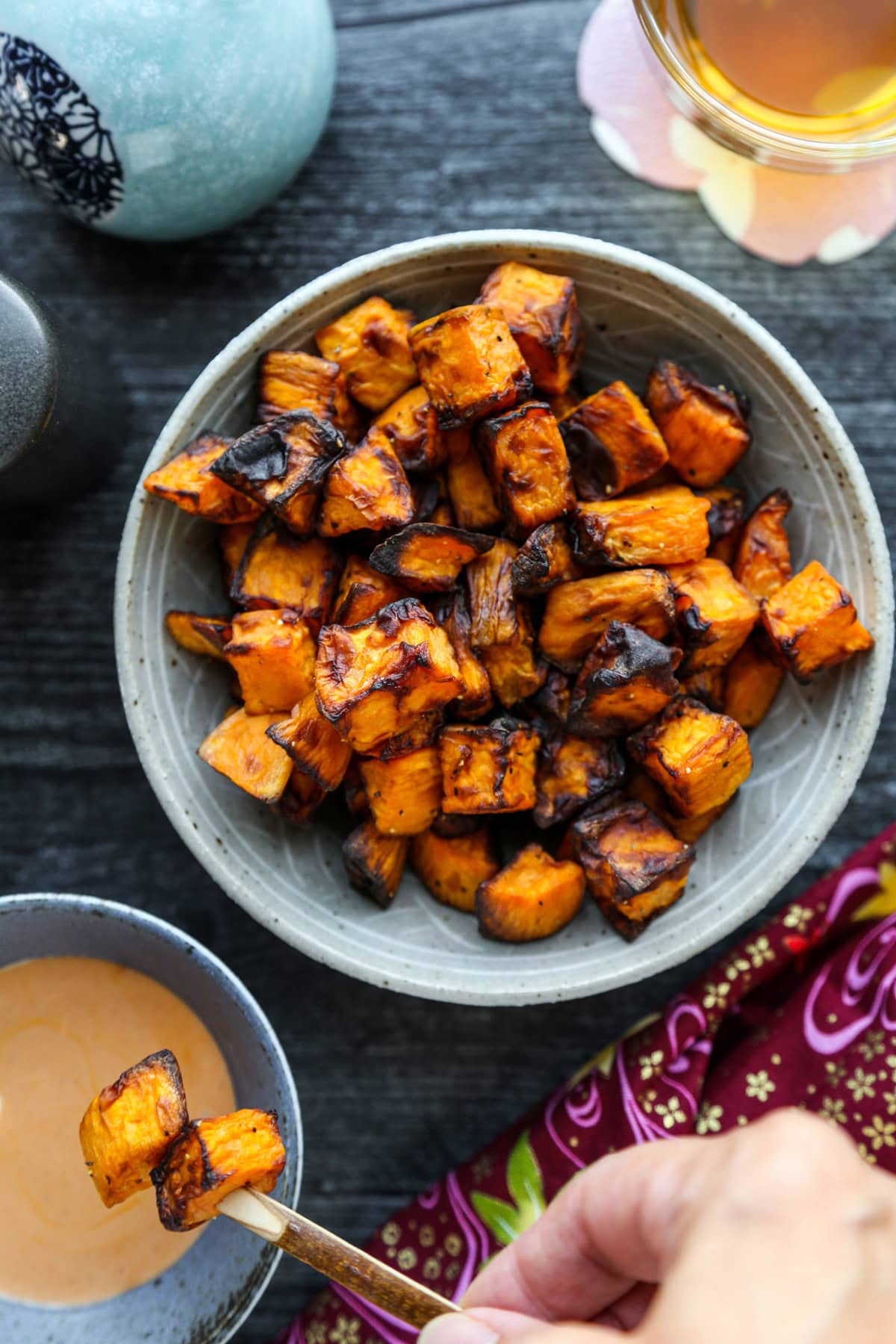 How to Store Leftovers + Reheat
When storing leftovers, you'll want to make sure to keep the sweet potatoes and the sriracha mayo in separate containers.
Store the air fryer sweet potato cubes inside an airtight container in the refrigerator for up to 3 days.
The miso sriracha mayonnaise can be covered and refrigerated for up to 10 days.
The leftover sweet potatoes are delicious cold straight from storage in the fridge. But if you want to heat them up again, toss them quickly in a skillet or frying pan without oil over medium heat until warm.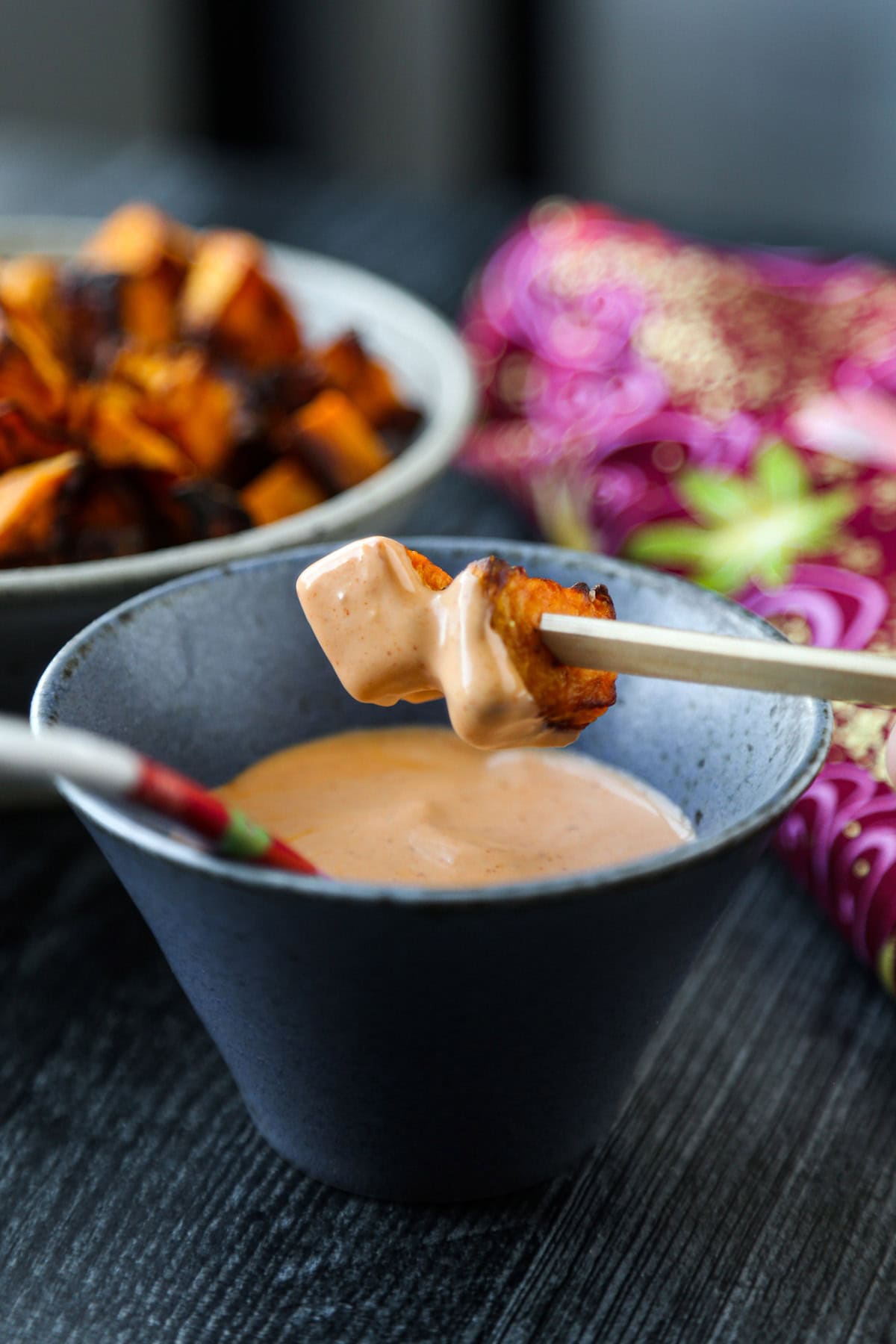 Other Delicious and Easy Air Fryer Recipes
Did you like this air fryer sweet potato with sriracha mayonnaise recipe? Are there changes you made that you would like to share? Share your tips and recommendations in the comments section below!
Print
Air Fryer Sweet Potato with Sriracha Mayonnaise
Tender and charred sweet potatoes served with a creamy and peppery sriracha mayonnaise.
Author: Caroline Phelps
Prep Time:

10 minutes

Cook Time:

20 minutes

Total Time:

30 minutes

Yield:

2

–

3

sides

1

x
Category:

Side

Method:

Air fryer

Cuisine:

American

Diet:

Vegan
1

pound

sweet potatoes, peeled, and chopped into 1/2-inch pieces.

1 tablespoon

extra virgin olive oil
Salt and pepper, to taste

2 tablespoons

sriracha sauce

4 tablespoons

mayonnaise

1 teaspoon

miso paste

1/2 teaspoon

plain rice vinegar
Instructions
Put the sweet potatoes in a bowl and add the olive oil. Toss to coat each piece evenly and season with a little salt and pepper.
Turn the air fryer on at 400ºF.
Brush the bottom of the air fryer basket with a little olive oil. This is to ensure that the sweet potatoes won't stick to the basket.
Add the sweet potatoes to the basket in one single layer, if possible. Otherwise, do this in batches.
Air fry the sweet potatoes for 10 minutes and flip them. Air fry for 10 more minutes and check on the texture. If the potatoes are tender, they are ready to be served. Otherwise, air fry for an additional 5 minutes (and another 5 minutes, if necessary).
Turn the air fryer off and transfer the sweet potatoes to a serving plate.
Mix the sriracha sauce, mayonnaise, miso paste, and rice vinegar in a bowl, until smooth. Serve as a dipping sauce with the sweet potatoes.
Notes
Save the sweet potatoes and sriracha mayonnaise in separate containers. The sweet potatoes should be good for up to 3 days, while the mayonnaise should last for up to 10 days.
Nutrition
Serving Size:

1 side

Calories:

256

Sugar:

7.6g

Sodium:

434.1mg

Fat:

13g

Saturated Fat:

1.8g

Unsaturated Fat:

1.3g

Trans Fat:

0g

Carbohydrates:

32.9g

Fiber:

4.9g

Protein:

2.9g

Cholesterol:

6.6mg
Recipe Card powered by