Make your next baked potato experience an exciting one with this delicious recipe for air fryer baked potato! Lightly brushed with soy sauce to infuse the skin with umami, these baked potatoes are perfectly crispy on the outside and fluffy on the inside. Top them with sour cream, kimchi and vegan bacon flavored bits for a smoky, salty and filling side or main. They are the best!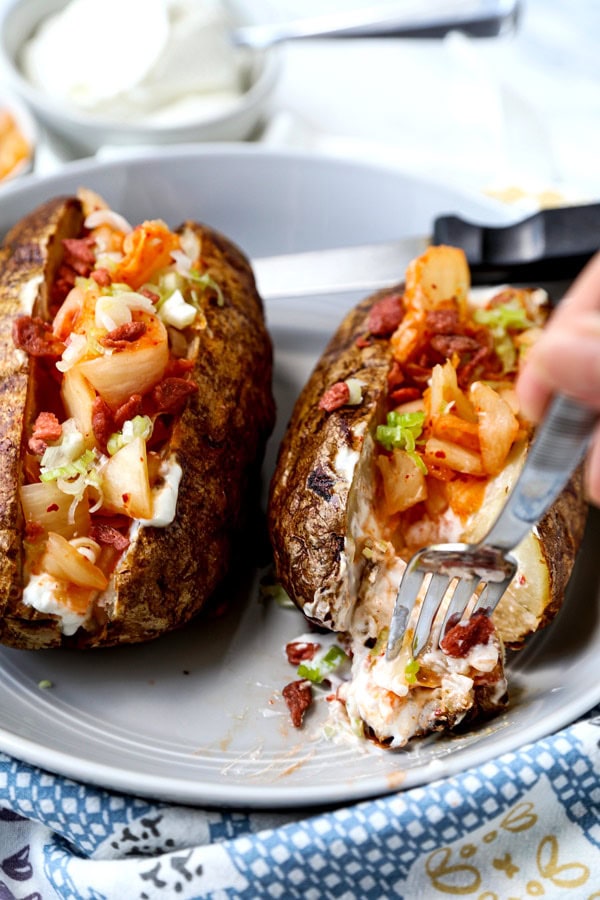 When the weather is too hot to turn on the oven I will either use my multi-cooker or air fryer to make delicious meals.
I also use those appliances whenever I feel too lazy to follow a bunch of recipe steps – sometimes it's nice to just throw ingredients into a pot or basket and press the start button.
And that's just what I did the other day – I was dragging my feet in the kitchen trying to think of what to make for dinner and found a couple of potatoes sitting at the bottom of my crisper (I keep potatoes in the fridge because we have a tiny NYC kitchen with very little space and no pantry) and thought "what if I used my air fryer to bake these spuds?"
Well it turns out that making air fryer baked potatoes is just as easy as making oven baked ones, with the added bonus of having a much nicer texture!
So today I'm sharing with you my super simple air fryer baked potato recipe with two different topping options – Asian style or Mexican style. Enjoy!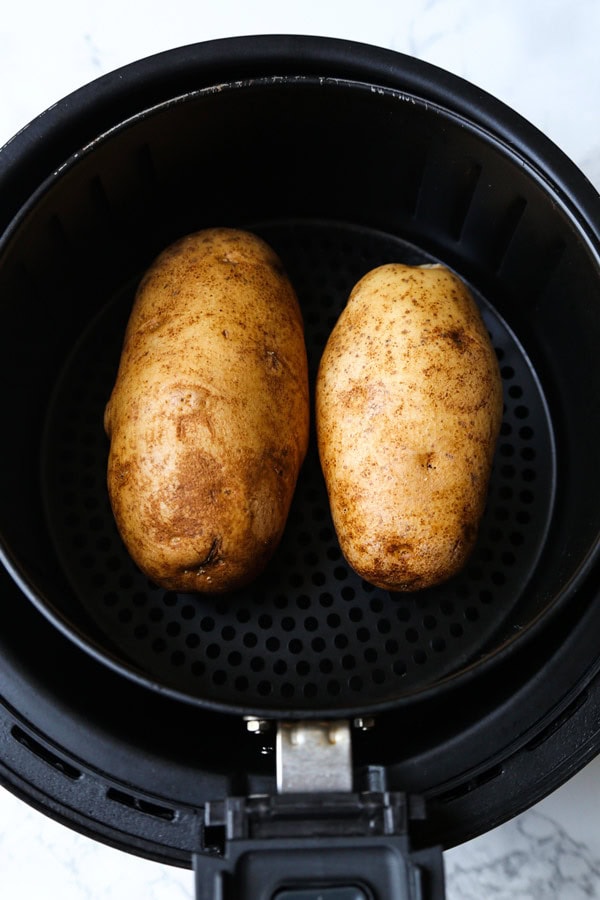 What Is An Air Fryer?
An air fryer is a small kitchen appliance (it fits on a countertop and is about 12 inches high x 15 inches wide) that circulates hot air around the food in order to cook it. It's basically a smaller version of a convection oven.
By coating the food with a little oil the air fryer is able to uniformly brown food and give it a crispy texture. This is particularly great for foods that are usually submerged in oil because the air fryer uses up to 80% less oil and is therefore a healthier choice for cooking.
How Does An Air Fryer Work?
Each air fryer comes with a perforated basket to enable the air to circulate evenly around the food. Because of that it's important to leave a little space in the basket (not overcrowd it with food) to help the circulation. The one I have (FrenchMay) comes with two dials – one to adjust the temperature and the other to adjust the cooking time (timer).
Is oil absolutely necessary?
I think it depends on what you are cooking. For example, I find that French fries have a much better texture when they are tossed in a little oil. You have to remember that an air fryer dries out food, so coating the food with a little oil helps retain moisture.
But it's not absolutely necessary, there are plenty of people who prefer not to use oil. Try it both ways and see which result you prefer.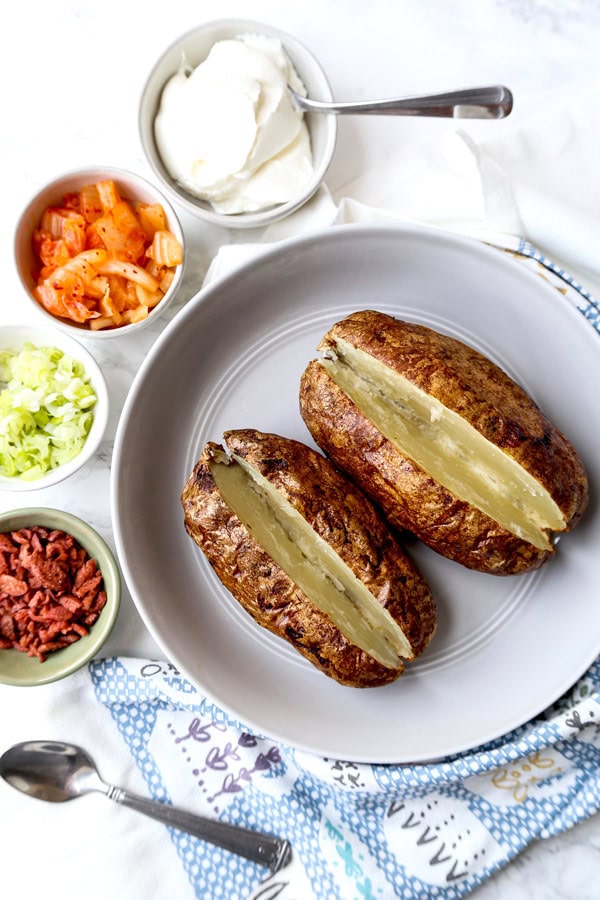 What Can You Cook In An Air Fryer?
So many things!
I've used my air fryer to cook cauliflower, French fries, green beans, baked potatoes, salmon, chicken, carrot steaks, and breaded tofu.
You can use the air fryer just like you would an oven. The only difference is that the air fryer will remove all the moisture that's on the outside of the food you are cooking. Therefore, it's wonderful for dishes that are usually deep fried or baked to achieve a crispy texture.
Which Air Fryer Is The Best?
I have the FrenchMay Touch Control Air Fryer which I purchased a year and a half ago. So far it's worked extremely well, I have no complaints about it. It's a very simple air fryer without any bells or whistles (it literally only has two controls – temperature and timer) and does its job really well.
I've also heard from friends and a couple of food bloggers that the Ninja air fryer is good. It has a lot more controls than the FrenchMay and is a newer model.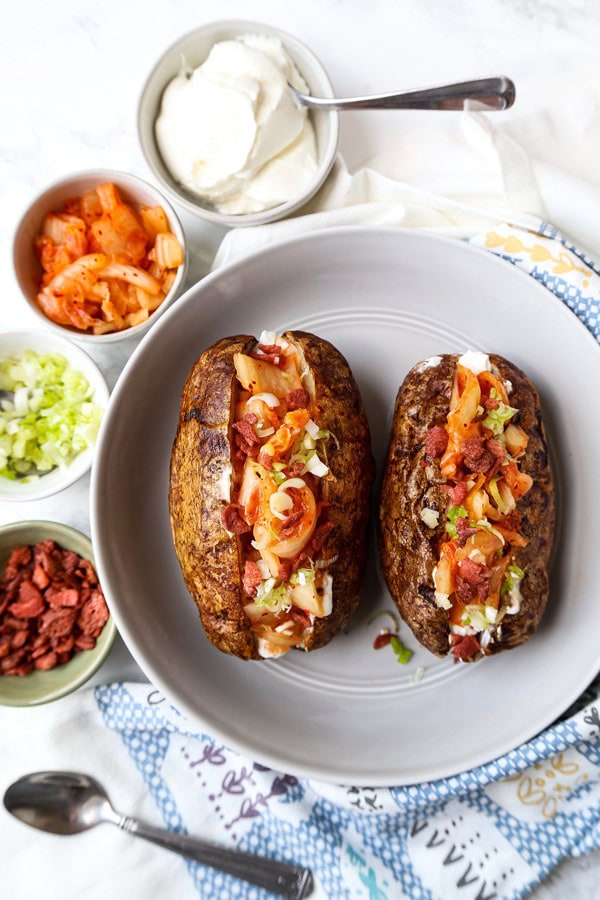 Ingredients For Air Fryer Baked Potato
Potatoes: You can use medium size Russet or Yukon Gold potatoes. Depending on the size of your air fryer, you may be able to fit 3-4 potatoes per cycle. I was only able to fit 2 in mine because one potato was a lot bigger than the other, as you can see in the images 🙂.
Cooking Spray: You can use cooking spray (I use olive oil but avocado or grapeseed oil are also fine) or regular oil with a brush to coat the potatoes. This helps them achieve a crispy texture while remaining moist and fluffy on the inside.
Sea Salt: To season the potatoes. Kosher salt also works.
Soy Sauce: This step is optional. Only use it if you want to give your potatoes oomph or a hint of Asian flavor.
Toppings:
As I previously mentioned, I have two awesome topping ideas for this recipe – one is Asian inspired, the other Mexican.
Asian Style
Kimchi: Use any type of kimchi (green onions, cabbage, radish, etc..) along with a little kimchi juice for extra kimchi flavor.
Bacon Flavored Bits: You can use real bacon for this as well, I prefer the imitation bits because I haven't touched meat in over 2 years. The combination of smoky bacon bits and pungent kimchi is ridiculously delicious!
Scallions: For added crunch and a colorful pop of green.
Sour Cream: To mellow the strong flavors or kimchi and bacon bits and add a cooling effect to every bite.
Mexican Style
Chopped Cherry Tomatoes: Sweet, bright, and refreshing.
Mashed Avocado: You can use guacamole instead of an avocado but I personally prefer a roughly mashed avocado for its chunky texture.
Sour Cream: Creamy, cooling and a classic ingredient for Mexican dishes.
Corn Kernels: For a nice crunch and a pop of sweetness.
Fresh Lime: A squeeze of fresh lime juice brings all the flavors together and gives these baked potatoes a tex-mex flair.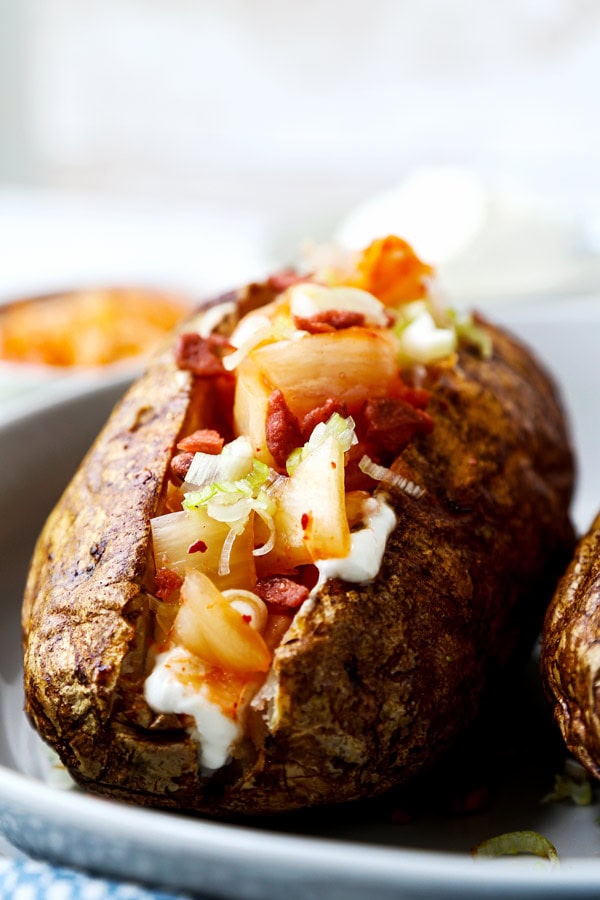 How To Make Air Fryer Baked Potato
Rinse and clean each potato under running water, using a scrub brush.
Set the air fryer to 400ºF and let it run for 4-5 minutes to give it time to warm up.
Coat the air fryer basket with a little cooking spray and add the potatoes.
Cook for 40 minutes, flipping the potatoes halfway through the cooking process.
When there is 5 minutes left, brush each potato with soy sauce and cook for 5 minutes.
Serve with the toppings of your choice and enjoy!
Some Variations
Brush teriyaki sauce instead of soy sauce for a sweeter exterior and use toppings such as shredded chicken (teriyaki chicken baked potato anyone?), pan fried shiitake mushrooms, cooked spinach, or a poached egg. Or you can go super experimental and fill your baked potato with Japanese curry, mapo tofu, or yakisoba!
The options are endless!
What To Serve With Air Fryer Baked Potatoes
Since this is a pretty filling dish I recommend sticking to lighter sides such as:
Did you like this Air Fryer Baked Potato Recipe? Are there changes you made that you would like to share? Share your tips and recommendations in the comments section below!
Print
Air Fryer Baked Potato
Lightly brushed with soy sauce to infuse the skin with umami, these air fryer baked potatoes are perfectly crispy on the outside and fluffy on the inside.
Author: Caroline Phelps
Prep Time:

5 minutes

Cook Time:

55 minutes

Total Time:

60 minutes

Yield:

2

baked potatoes

1

x
Category:

Air fryer

Method:

Air frying

Cuisine:

American
2

medium size Russet or Yukon Gold Potato

Cooking spray

Pinch of kosher salt

1 tablespoon

soy sauce or tamari sauce (optional but recommended)
Topping for kimchi baked potato:
Sour cream

Kimchi

Bacon flavored bits

Chopped scallions or chives
Toppings for Mexican style baked potato:
Sour cream

Chopped cherry tomatoes
Mashed avocado
Corn kernels
Fresh lime
Instructions
Rinse and clean the potatoes well with a vegetable scrub brush.

Set the air fryer to 400ºF. I let it warm up for about 5 minutes before using it.

Spray the bottom of the air fryer basket with a little cooking spray and place the potatoes. Spray the potatoes on both sides (alternatively you can brush them with oil if you don't have cooking spray) and rub the spray evenly across both potatoes to ensure that all sides are coated. Sprinkle a little kosher salt and add them to the basket.

Cook for 20 minutes and flip them over using tongs or a fork.

Cook for an additional 15 minutes and take them out of the air fryer. Brush soy sauce uniformly on both potatoes and cook for an additional 5 minutes.

If your potatoes are still hard after 35 minutes, cook for an additional 10 minutes, before brushing with the soy sauce, so the sauce doesn't burn.

Slice in half and top with the toppings of your choice.
Notes
You can use 3-4 potatoes for this recipe as long as they easily fit in the air fryer. Make sure not to overcrowd it, there should be enough space to easily rotate the potatoes with tongs.
Nutrition
Serving Size:

1 potato (without toppings)

Calories:

174

Sugar:

1.5 g

Sodium:

513.4 mg

Fat:

0.2 g

Saturated Fat:

0.1 g

Carbohydrates:

39 g

Fiber:

2.8 g

Protein:

5.5 g

Cholesterol:

0 mg
Keywords: recipe, side, main, vegetable
Recipe Card powered by