Springtime calls for a lighter fare of dishes that cut down on both fat and calories. Using vegetables that are in season, brown rice and a meatless broth, this light spring minestrone is all that you need to get your body energized and ready for the warmer days ahead!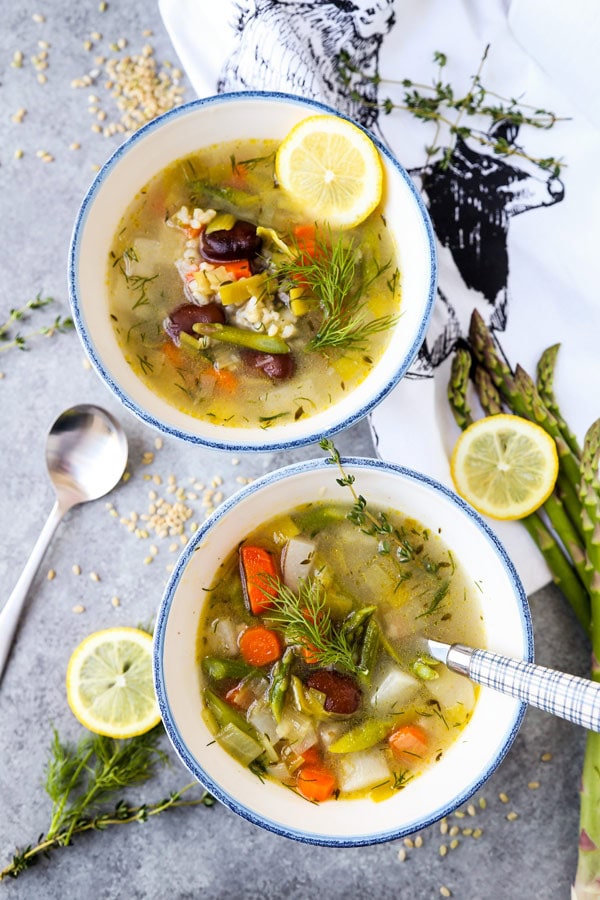 Light Spring Minestrone Soup
Dill and lemon make such a beautiful flavor paring don't you think?
Other than using it for a classic salmon dish, I love adding those two elements to soups as well. It's an easy way to brighten up a broth and infuse extra flavor to boiled veggies.
There are hundreds of vegetable soup recipes out there and I have probably tried them all. I love vegetable soups – I love all soups – but the ones I enjoy the most have a little something unique about them.
A great soup is more than just a bunch of ingredients put together – it tells a story through its colors, textures and flavors.
Such as the soup I have for you today.
This light spring minestrone is an homage to my favorite season, spring.
To me, springtime represents new beginnings. Plants are coming to life again, trees are blooming and the sound of birds chirping intensifies. The sun also shines brighter and feels warmer against our skin.
It's also a time for new ideas, new projects, new hopes. It's like waking up from a long slumber with renewed energy and a brand new positive outlook on life.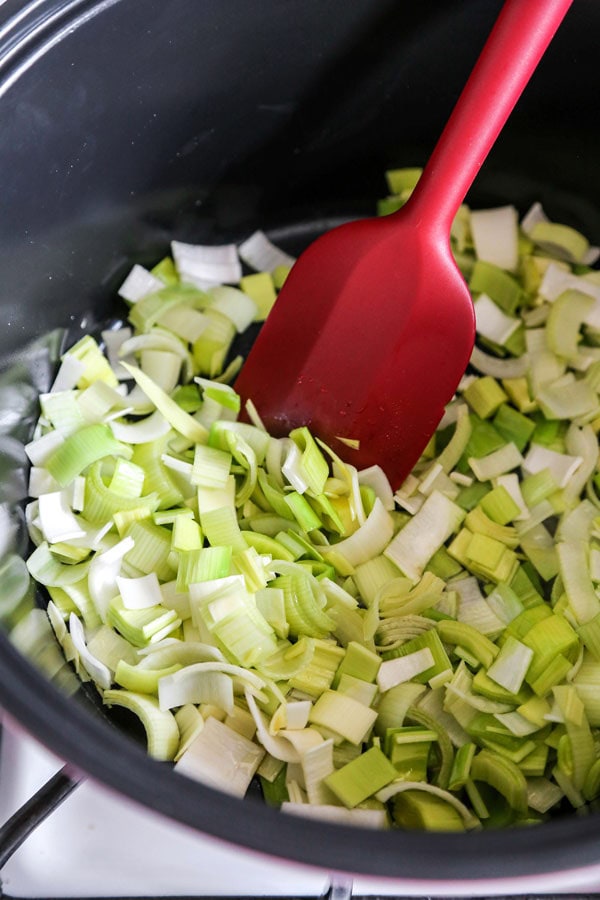 I look forward to springtime for those exact reasons but also because of food.
I get very excited when the weather gets warmer because it means that restaurants will offer a lighter menu with bright and cleansing flavors.
It also means I get to roam around the local farmer's markets and fill my totes full of beautiful ingredients that are in season. Ingredients such as carrots, fresh herbs, parsnips and asparagus, all of which I have added to this light spring minestrone recipe.
And because I wanted the soup to taste just like springtime, I skipped the broth and used water as a base to let the vegetables infuse their own seasonal flavors.
This is a mild yet extremely comforting soup that gets better the longer it sits in the pot!
What starts off as a light and refreshing soup transforms itself into a comforting porridge the next day.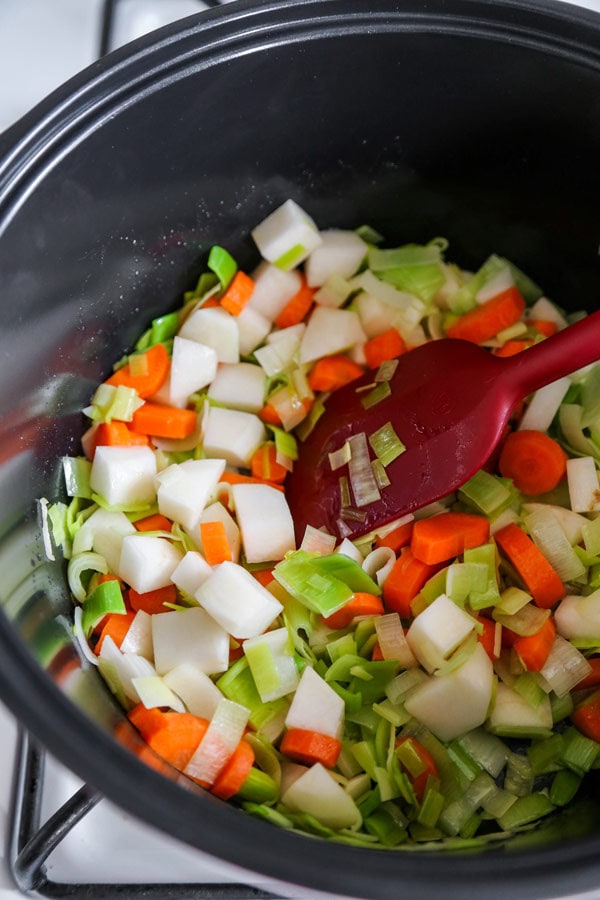 Homemade Soup Is The Best (And The Healthiest!)
My relationship with soup goes all the way back to my childhood.
All the way back to the single digits when I was obsessed with A&W's vegetable soup. Big chunks of cabbage, carrots, turnips and celery simmered in a tomatoey broth. I'll take a big bowl of that with a side of onion rings please.
Then when I was in high school, I would make myself either Campbell's Cream Of Celery or Tomato And Rice Soup whenever I got a little peckish.
A few years later in college I was all about Chunky Soup. While most students chowed down on burgers and Cup Noodles, my cupboard would be filled with cans of Chunky Soup. Yes, I agree with you, it's a little gross and something must have been wrong with my tastebuds.
And then one day I decided to make my own soup from scratch and it completely changed my life.
Not only was it a hundred times better, it was cheap and super easy to make!
Homemade soup wins over store bought every single time. Making your own soup means there are no artificial additives, processed ingredients or added fats. It's lower in calories and made only with ingredients you choose to use.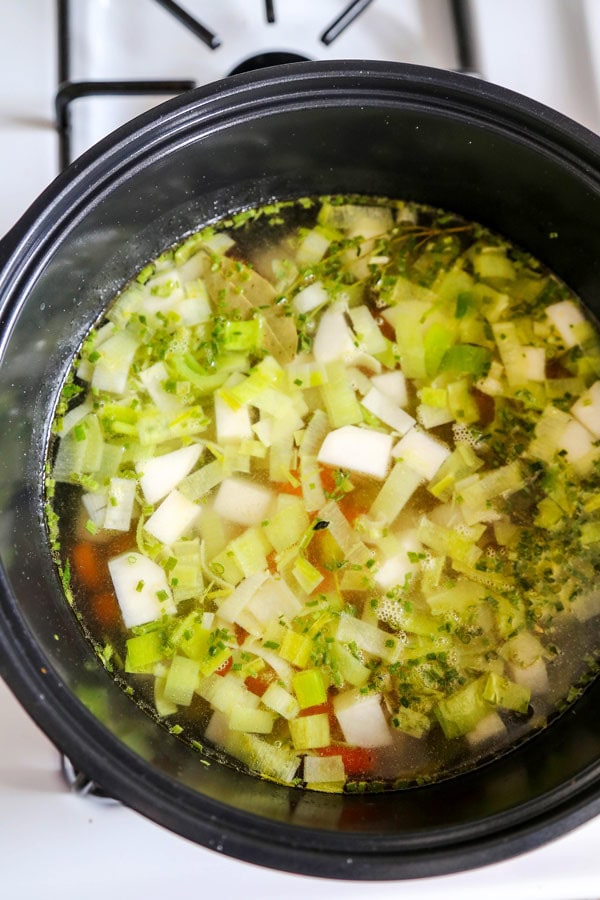 You love chicken and noodle soup but not the carrots? Get rid of them!
I love a good minestrone soup but I don't particularly enjoy pasta and beans together. I know it's very Italian to pair those two ingredients but I prefer to eat them separately.
A minestrone soup with rice on the other hand is great since I find the textures between bean and rice very similar.
For my vegan minestrone, I chose fava beans and brown rice as the filling components. Although it's considered a light soup, it can be served as a main for those who are looking to shed a few pounds. Eat it with a side salad and a slice of bread and you should feel pretty satisfied!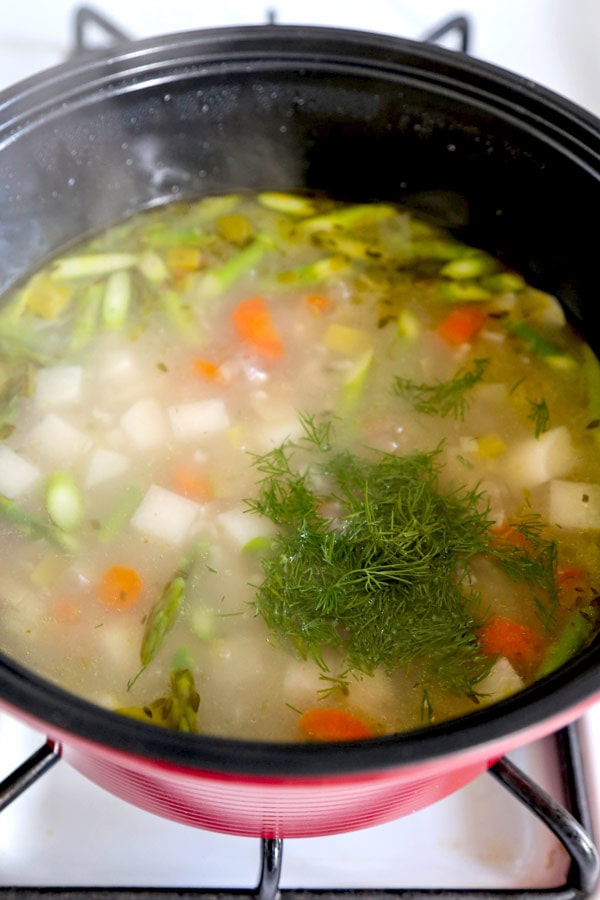 What is a minestrone soup anyway?
The word minestrone means thick vegetable soup and according to Wikipedia:
"Minestrone is a thick soup of Italian origin made with vegetables, often with the addition of pasta or rice, sometimes both. Common ingredients include beans, onions, celery, carrots, stock, and tomatoes.
There is no set recipe for minestrone, since it is usually made out of whatever vegetables are in season. It can be vegetarian, contain meat, or contain a meat-based broth (such as chicken stock)."
So basically, minestrone is a thick Italian soup made with vegetables that are in season, cooked with other common ingredients.
What this means is you can play around with this spring minestrone recipe! Swap the rice for pasta, parsnips for potatoes, or add spinach to it if you want. Create your own homage to springtime, just stick to seasonal ingredients and have fun with it!
This light spring minestrone soup will keep in the fridge for 3-5 days. As mentioned before, the rice will expand after a day so you can either add more water or eat it as a porridge.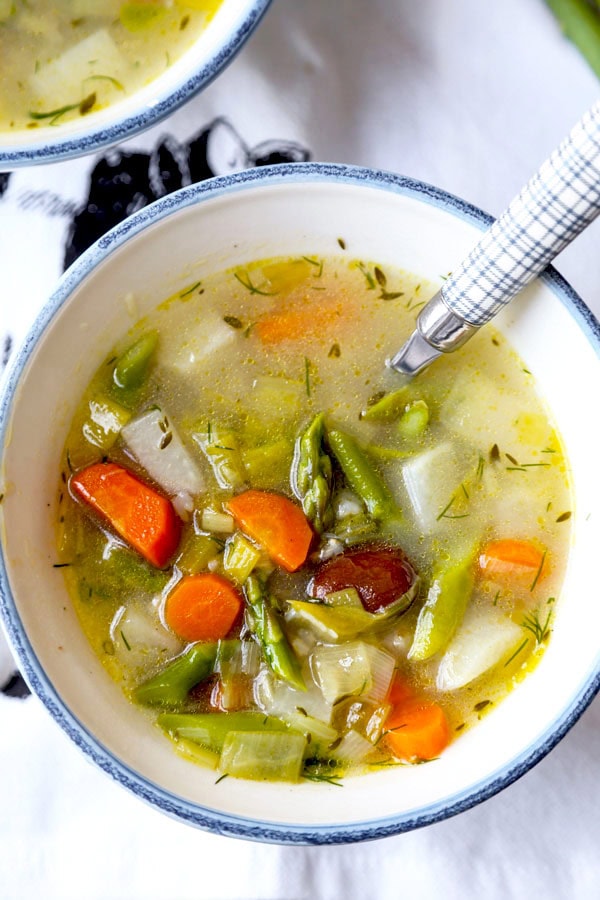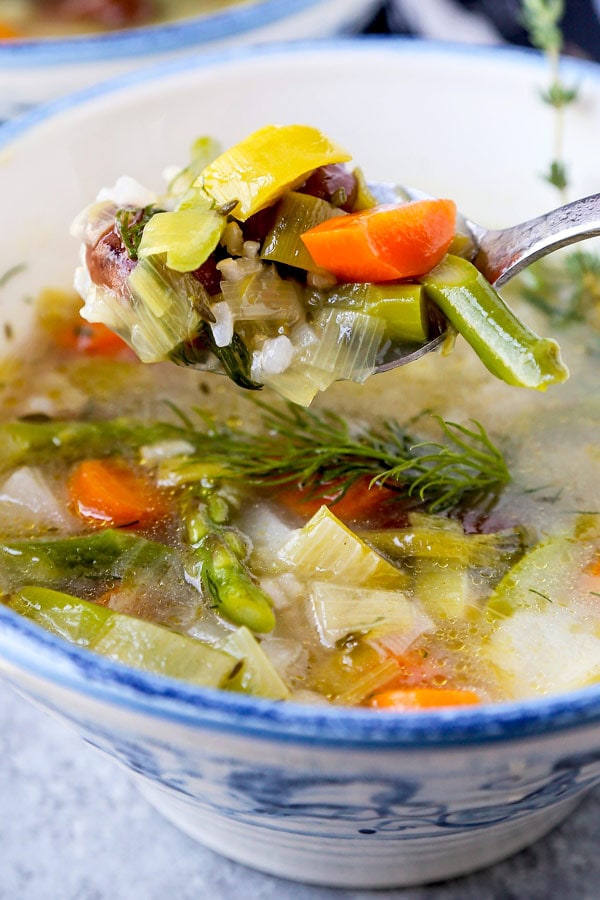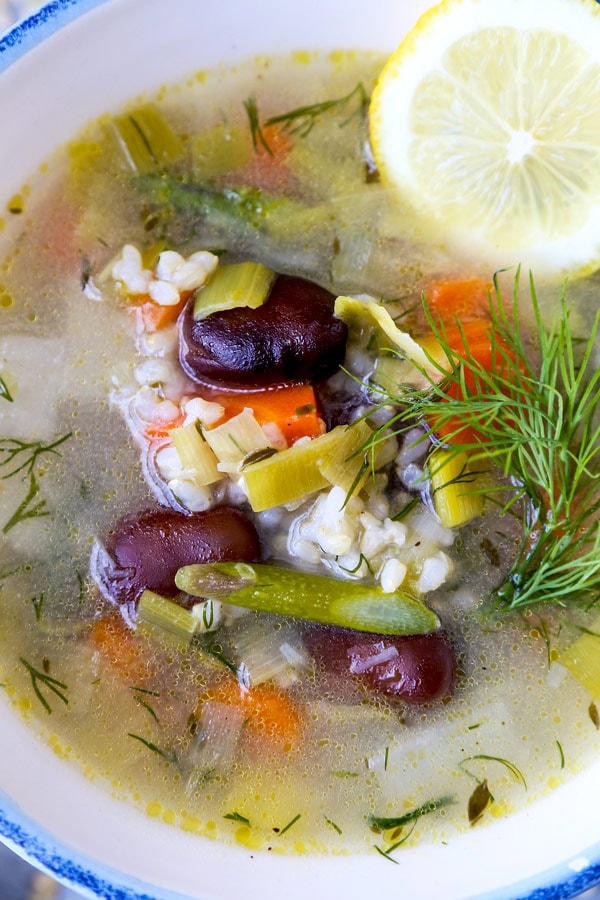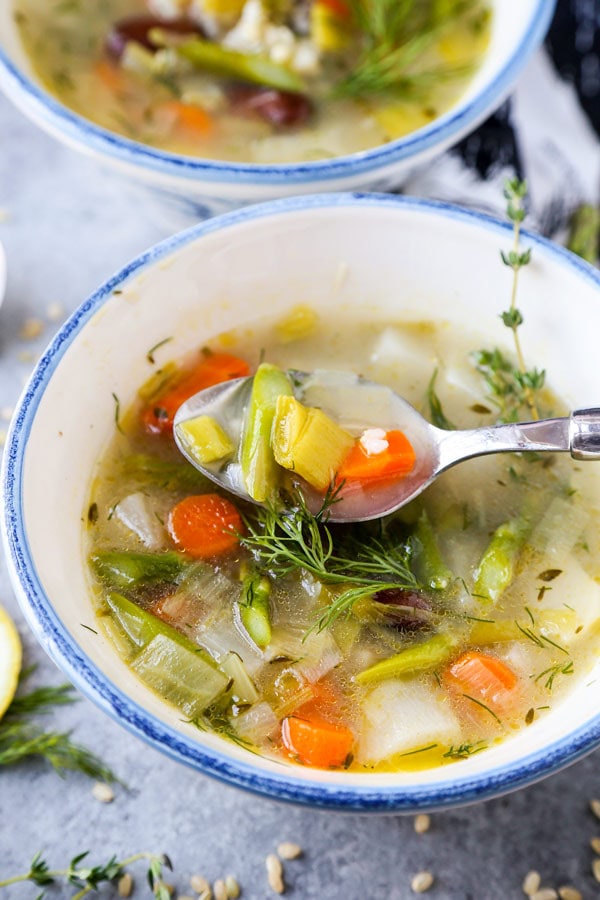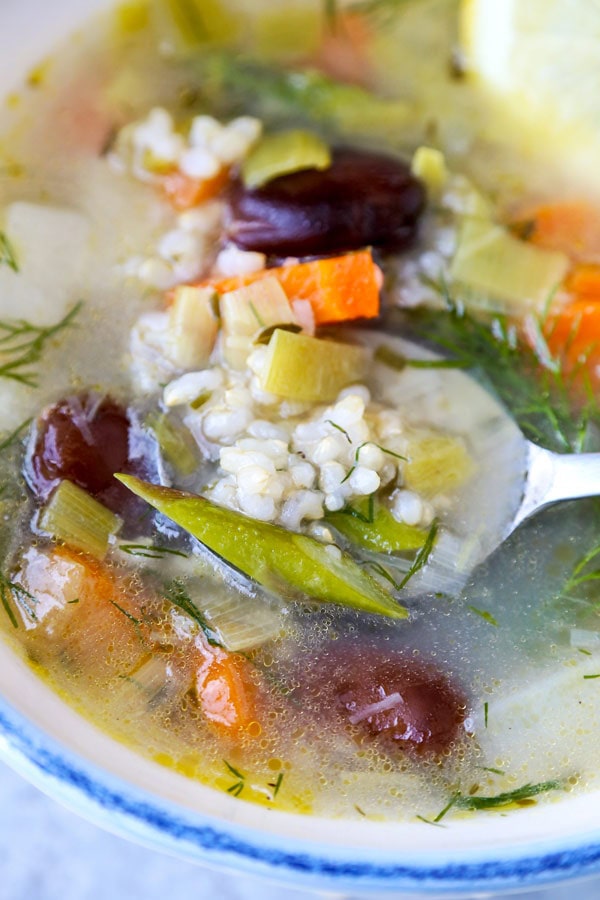 Did you like this Light Spring Minestrone Recipe? Are there changes you made that you would like to share? Share your tips and recommendations in the comments section below!
Print
Light Spring Minestrone Soup
Light, healthy and refreshing! Find the flavors of spring in this simple minestrone soup.
Author: Caroline Phelps
Prep Time:

10 minutes

Cook Time:

45 minutes

Total Time:

55 minutes

Yield:

6

people

1

x
Category:

Soups

Method:

Boiling

Cuisine:

Italian
2 tablespoons

extra virgin olive oil

1

large leeks (white parts chopped)

2

medium carrots (peeled and chopped)

2

turnips (peeled and chopped)

1 cup

canned or freshly cooked fava beans (rinsed and drained)

1/2 cup

brown or whole grain rice

1 tablespoon

dried chives

3

sprigs fresh thyme

1

bay leaf

1/2 teaspoon

ground black pepper

6 cups

water

2 teaspoons

kosher salt

8

stalks asparagus (chopped)

2 tablespoons

fresh dill (chopped)
lemon wedges (for serving)
Instructions
In a large pot over medium high heat, add olive oil and leeks and cook for 2 minutes.
Add carrots and turnips and cook for 2 minutes.
Add fava beans, rice, dried chives, thyme, bay leaf, ground black pepper, water and kosher salt and bring to a boil.
Lower the heat, cover and simmer for 40 minutes.
Add asparagus and simmer for an additional 5 minutes.
Turn the heat off, add dill, stir and serve with lemon wedges.
Notes
This Light Spring Minestrone soup will keep in the fridge for up to 3-5 days.
Nutrition
Serving Size:
Calories:

164

Sugar:

4 g

Sodium:

630.2 mg

Fat:

5.4 g

Saturated Fat:

0.8 g

Carbohydrates:

25.7 g

Fiber:

4.2 g

Protein:

4.8 g

Cholesterol:

0 mg
Keywords: recipe, vegan, vegetarian, plant based, meatless, appetizer
Recipe Card powered by