It's teriyaki time! Try the best Japanese Restaurant Style Teriyaki Sauce for making simple, savory teriyaki chicken or tofu at home! Ready in 10 minutes.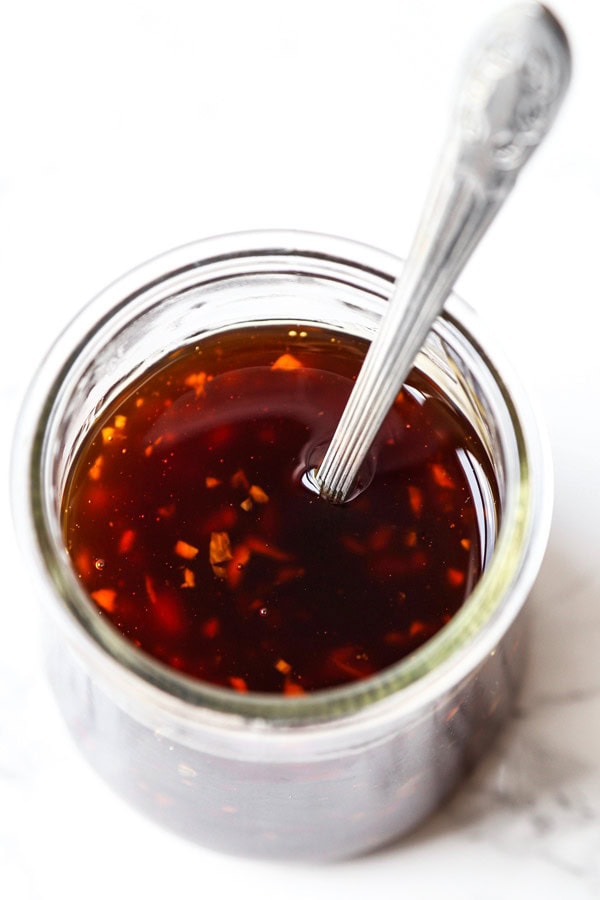 When I was a kid, I absolutely lived for the nights my mom made teriyaki chicken for dinner. The bold, savory, sweet and sticky lacquered chicken seemed so exotic, yet tasted so familiar and comforting. It was one of my favorites.
And it looks like I'm not alone. Teriyaki sauce is one of the most famous and instantly recognizable Japanese sauces in the West. 
Well, I'm super excited to share with you a restaurant style teriyaki sauce recipe that is so easy to make, it may become your go to sauce when you want the delicious flavors of your favorite Japanese restaurant at home!
What is teriyaki sauce?
Teriyaki (照り焼き) is a cooking method where foods (usually protein) are broiled or grilled in a sauce composed of soy sauce, mirin and sugar. This sauce acts as a glaze that not only flavors the dish, but produces a laquer-like shine and a flavor profile that is both savory and sweet.
Fun fact: in Japanese, teri means lacquer, sheen or gloss. And yaki refers to the cooking process of grilling or broiling.
The traditional Japanese sauce is comprised of only soy sauce, mirin (or sake) and sugar. But variations abound. It's common to see recipes in the West that call for the use of garlic – or even pineapple juice as a sweet meat-tenderizer.
Now, the cool thing about this most famous of Japanese sauces is its versatility. You can use it as intended in a recipe like a glossy teriyaki chicken – or you can whip up a teriyaki marinade, or even an all purpose teriyaki stir fry sauce. Read more about using time-saving stir fry sauces in your kitchen here.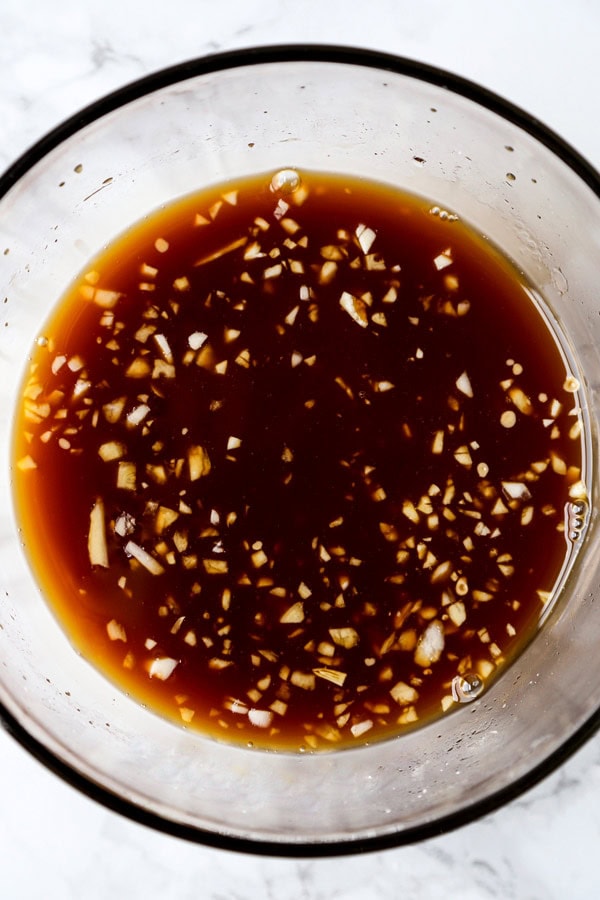 Teriyaki Sauce ingredients
Soy sauce – しょうゆ: this provides the savory and umami flavor in the composed sauce. If you are following a gluten free diet, use

liquid aminos

instead.
Mirin – みりん

: this Japanese rice wine provides a bright layer of sweetness.

Sugar: using granulated sugar in teriyaki sauce causes a fair bit of caramelization to occur when the sauce hits a hot pan or grill. Delicious! Alternatively, you can use a touch of honey.
Garlic: I love garlic in teriyaki because it mimics the flavors I grew up on. This is also a trick restaurants use to add additional layers of flavor and complexity to this simple sauce.
Cornstarch: while this is optional, I find that using a bit of cornstarch thickens the sauce and makes it a bit more dense. Perfect for creating that lacquered effect on cooked protein.
What is mirin? 
Mirin is a Japanese rice wine, somewhat similar to sake, but quite a bit sweeter and with a lower alcohol content. This condiment is used in Japanese cuisine to bring brightness and natural sweetness to a dish without becoming cloying or overpowering. 
You can even use mirin to reduce the fishy smell in certain types of fish. Read more about mirin here. 

How to make teriyaki sauce
Whisk 1/4 cup soy sauce, 1/2 cup mirin, 2 teaspoons sugar, 1 clove minced garlic and 1 tablespoon cornstarch together in a bowl – then transfer to a small pot.

Turn the heat on your stovetop to medium and keep whisking until the sauce bubbles and thickens.

Take off the burner and transfer the sauce to a glass container. Use immediately, or refrigerate for later use.
How to thicken teriyaki sauce 
You may have noticed, I use a bit of cornstarch to thicken my teriyaki sauce. As you whisk the sauce ingredients over medium heat, the cornstarch will act as a binder that firms up the sauce a bit. This step isn't obligatory, but I find it helps to replicate the sauce that most Japanese restaurants use.
A word of caution: don't go overboard with cornstarch. A little goes a long way!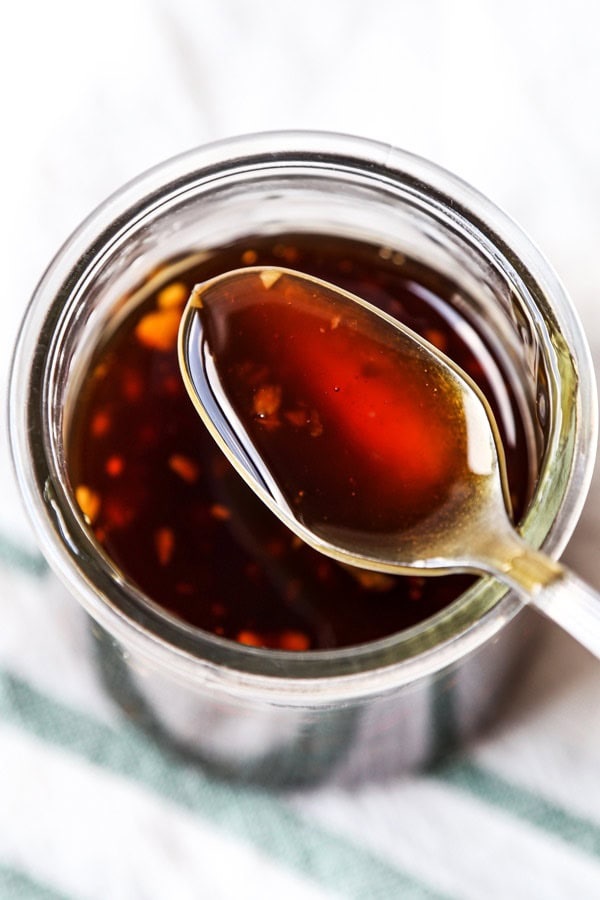 Teriyaki sauce uses
As I briefly touched on above, this Japanese teriyaki sauce recipe is super versatile and can be used in a few different ways. Which one is your favorite?
Glaze: Now, this is the most well known use of this simple sauce recipe. Brush it on your protein as it cooks on the grill to create a wonderfully savory and sweet lacquer that caramelizes as it cooks. Teriyaki shrimp, beef, tofu – and even veggies – are all fantastic candidates for this delicious sauce. And teriyaki chicken is probably the most popular version!
Marinade: Infuse flavor to your favorite proteins before cooking. Simply slather your uncooked tofu or meat with this easy teriyaki sauce, cover and refrigerate for at least 45 minutes. For fish, less time is required. Around the 20 minute mark should be sufficient for fish.
Stir fry sauce: You KNOW I love stir fry sauces. They're such time savers when whipping up dinner after a long day. As long as you store this teriyaki sauce in an airtight container, it should keep for 2-3 weeks. Add it to your frying pan or wok as an all-in-one sauce for your favorite stir fry.
With so many delicious applications, how will you use this sauce in your home kitchen? I'd love to hear all about it in the comments. Happy cooking, friends!
Other delicious and easy Asian sauce recipes:
Plus: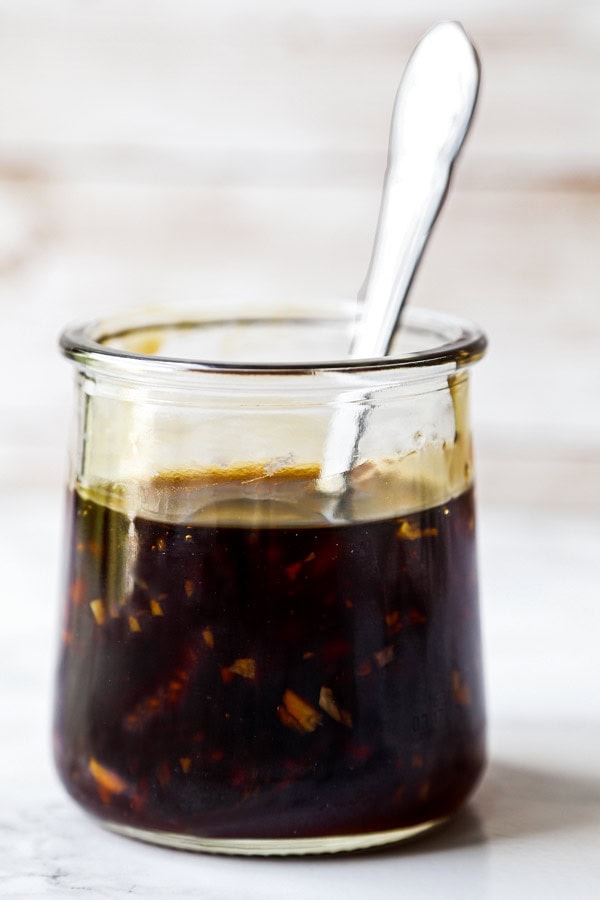 Did you like this Teriyaki Sauce Recipe? Are there changes you made that you would like to share? Share your tips and recommendations in the comments section below!
Print
Restaurant Style Teriyaki Sauce
This savory teriyaki sauce has all the flavor of your favorite Japanese restaurant – and is ready in 10 minutes from start to finish!
Author: Caroline Phelps
Prep Time:

5 minutes

Cook Time:

5 minutes

Total Time:

10 minutes

Yield:

3/4 cup

1

x
Category:

Condiments

Method:

Stove top

Cuisine:

Japanese
Instructions
Whisk all the ingredients in a bowl and transfer to a small pot.

Turn the heat on to medium and keep on whisking until the sauce thickens.

Turn the heat off, transfer the sauce to a glass container and serve.
Notes
This teriyaki sauce will keep refrigerated in an air tight container for up to 2 weeks.
Nutrition
Serving Size:

2 tablespoons

Calories:

33

Sugar:

5.1 g

Sodium:

395.3 mg

Fat:

0 g

Saturated Fat:

0 g

Carbohydrates:

6.4 g

Fiber:

0.1 g

Protein:

0.6 g

Cholesterol:

0 mg
Keywords: recipe, seasoning, sauce, vegetarian, vegan
Recipe Card powered by