Heat alert! Once you try this thick and bold Chinese condiment, you're going to want to put it on everything! This Szechuan Sauce Recipe is ready in 8 minutes.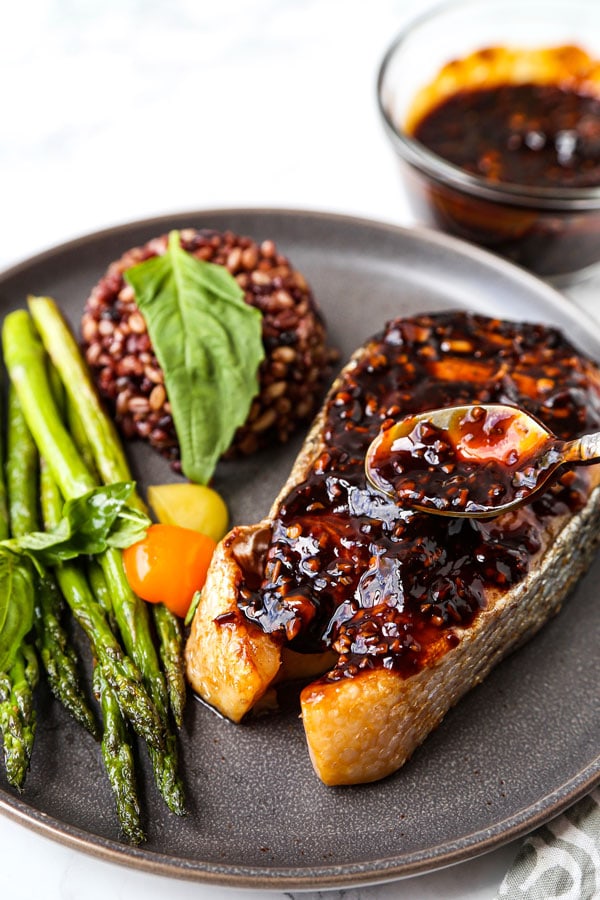 Ready to fall in love with sauce?
OK, that sounded a little weird. But once you try this striking and distinct Szechuan sauce, you're going to want to put it on everything!
Best part – aside from the flavor: you can make this easy Chinese sauce in less than 10 minutes at home.
Now, let's get to it!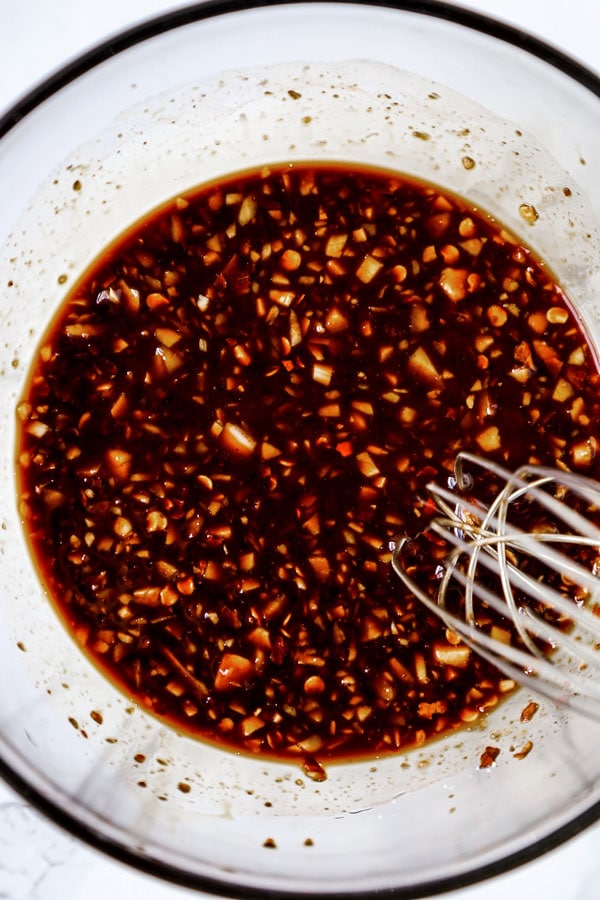 What is szechuan sauce?
Szechuan sauce is a thick and bold Chinese condiment that has savory heat and a tangy bit of sweetness. This smokey wondersauce has a fairly close viscosity (think super thick BBQ sauce) and can be used in a variety of ways – as a dipping sauce, steak sauce or as part of a marinade. (Much more on the uses in a sec).
Most of us saw the absolute freakout that the Rick and Morty inspired McDonald's Szechuan sauce unleashed a while back.
And, while I never got a chance to taste that one, I think you're going to absolutely LOVE the assertive flavors of this authentic version!
What does szechuan sauce taste like?
The flavor of a good Szechuan sauce covers the gamut. There is a fair amount of heat from the chili garlic sauce and crushed red pepper flakes – that is balanced with sweetness. Chinkiang vinegar gives the entire thing a bit of an underlying sour zing.
And let's not forget the savory elements from a bit of soy sauce.
But something amazing happens when a few simple ingredients are combined that is far greater than the sum of its parts.
Now, if I was pressed into giving a concise answer, I'd probably say something like: it's spicy, super umami and tangy – with a good slow afterburn that only fresh ginger can deliver.
And you're not gonna believe how easy it is to make!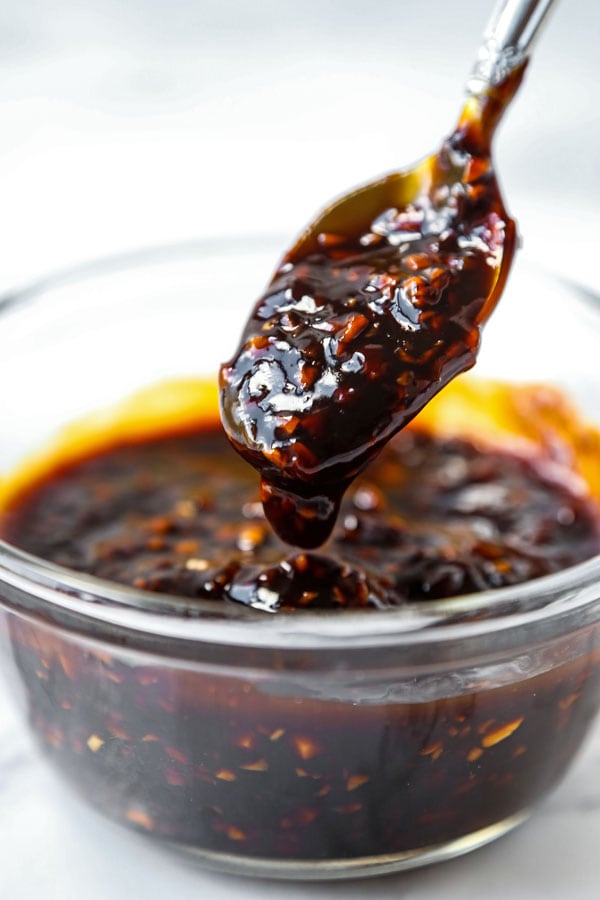 How to make szechuan sauce
This is one of those recipes that is pretty much as easy as gathering and measuring your ingredients – and then letting them do their thing.
And you won't believe how well the flavors meld together!
To get started, simply whisk all of the ingredients in a bowl until they are well mixed. Then transfer to a small pot.

Over medium heat, stir the sauce constantly until it is hot enough (just barely bubbling). You'll know when it's done because the sauce will take on a thick consistency. The thickening is due to the use of cornstarch which is a great tool to buttress your Chinese sauces.

Once your sauce has thickened, just take it off the heat, transfer to a bowl to cool – and use it with delicious abandon!
Szechuan sauce uses
This bold and spicy sauce is super versatile! It can be used in a bunch of different ways.
Dipping Sauce: My mind goes immediately to nuggets! The sweet and peppery heat pairs perfectly with anything from regular chicken nuggets to this vegan baked and breaded tofu chicken recipe. It would also be amazing with sliced raw veggies, fish sticks, French fries and tater tots!
Steak Sauce: The thickness of this Chinese sauce is perfect as a topper for proteins. I've used it on salmon steaks and tofu steaks. You can also use it in place of a traditional steak sauce with a huge grilled porterhouse or pork chop.
As Part of a Marinade: Punch up your classic liquid marinade with the addition of a spoonful of this assertive Szechuan sauce. Mix well with your marinade to ensure even distribution.
As Part of a Stir Fry Sauce: It's no secret that I love time saving homemade pre-mixed sauces when it comes to shaving a few minutes off my cooking time after a long day. These two Chinese stir fry sauce recipes are my go-to when whipping up easy vegetable stir fries at home. Add a bit of this spicy Szechuan sauce to your favorite stir fry sauce to punch up the flavors a bit more.
On Noodles: Oh yeah – anything from Chinese egg noodles to plain spaghetti would be amazing with a drizzle of this gingery sauce. Since it's packed with strong flavors, start slow and mix well. You can always add more if you need it!
What about you? How would you use this Szechuan sauce recipe in your own kitchen? Tell me about it in the comments!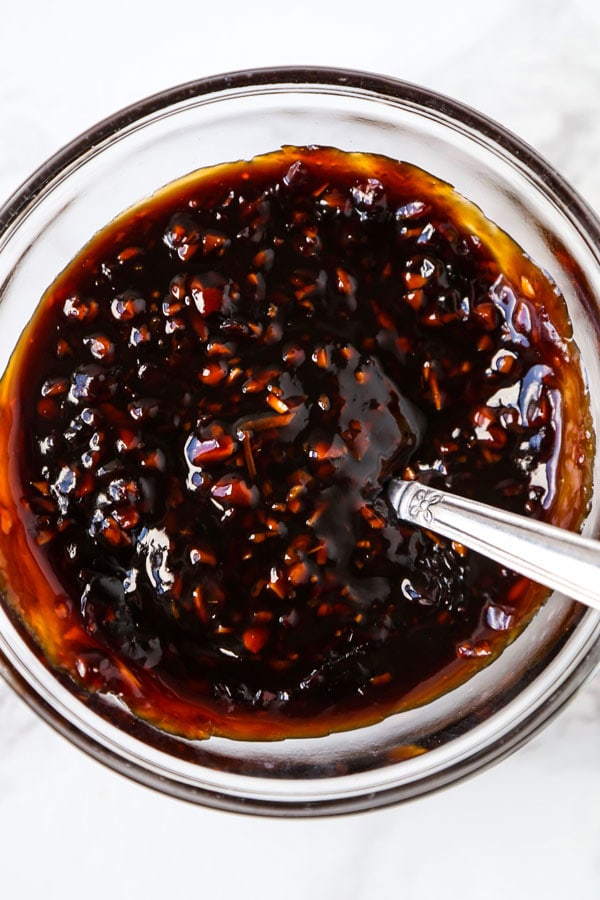 Where to buy szechuan sauce ingredients
Now most of the ingredients you'll need for this authentic Szechuan sauce recipe should be pretty easy to track down at your neighborhood grocery store.
The chinkiang vinegar may be the obvious exception. You'll probably need to take a trip to an Asian market to pick that up.
Or just grab your ingredients on Amazon:
A word on Szechuan peppercorns: If you have a peek at the recipe card below, you'll notice that I left the Szechuan peppercorns out of this sauce preparation. Why? Well, two reasons.
This Szechuan sauce recipe is assertive, spicy and bold as it is. Flavored to the max!

While I absolutely LOVE Szechuan cuisine, I'm less crazy about the numbing peppercorns if used in large amounts.
You see, Szechuan peppercorns have a strong, almost anesthetizing effect – and, for me at least, once I've eaten too many, I can't taste anything else. Just not my cup of tea.
That said, Ben absolutely loves them – and he added a tiny bit of ground peppercorns to his portion of the sauce. I sampled it – and a tiny bit was absolutely delicious!
Basically, if you decide to use them, a little goes a LONG way!
Is it spelled Szechuan or Sichuan?
Here's the quick TL;DR version: both are romanized renderings of the Chinese word 四川 – which means four rivers and is the region in China where this type of food originates.
So, whether you refer to it as Szechuan or Sichuan sauce, you should be in decent shape 🙂
Happy cooking, friends!
Other delicious and easy Asian sauce recipes:
Plus: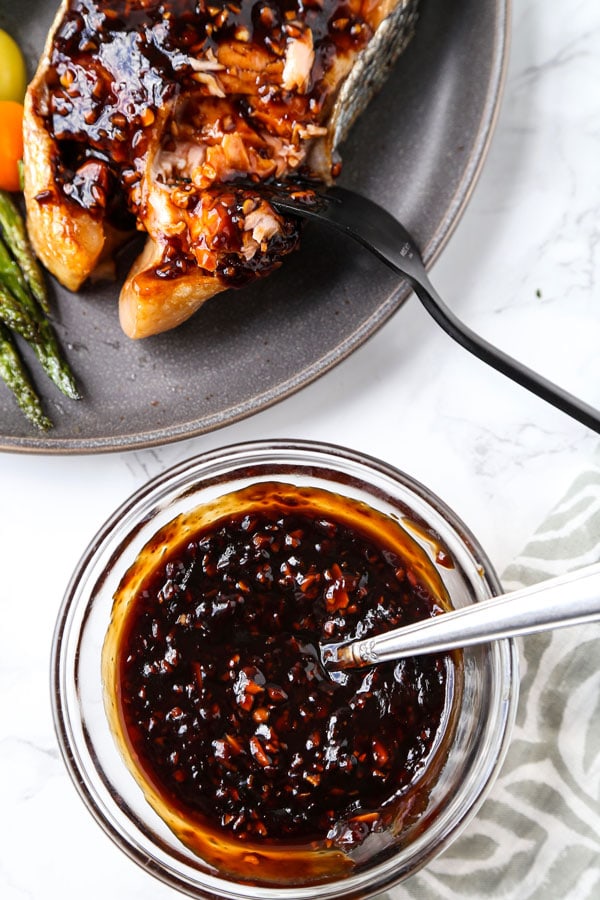 Did you like this Szechuan Sauce Recipe? Are there changes you made that you would like to share? Share your tips and recommendations in the comments section below!
Print
The Best Szechuan Sauce
This thick, bold and smokey Szechuan sauce is the perfect Chinese condiment to use as a dipping sauce, in marinades or as a steak sauce!
Author: Caroline Phelps
Prep Time:

5 minutes

Cook Time:

3 minutes

Total Time:

8 minutes

Yield: makes about

1/2 cup

of sauce

1

x
Category:

Sauce

Method:

Mixed

Cuisine:

Chinese
Instructions
Whisk all the ingredients in a mixing bowl and transfer to a small pot. Turn the heat to medium and stir constantly until the sauce thickens.

Turn off the heat and transfer to a bowl.

Use immediately, or keep in the fridge in an airtight container for up to 4 days.
Notes
Keep in an airtight container in the fridge for up to 4 days.
Keywords: spicy, vegan, vegetarian, Chinese, condiment
Recipe Card powered by