Elevate your spring rolls with this seriously tasty Vietnamese dipping sauce! This Nuoc Cham Recipe has perfect levels of sour, sweet, salty, savory, and spicy, to bring a kick to your Vietnamese dishes, and to your taste buds!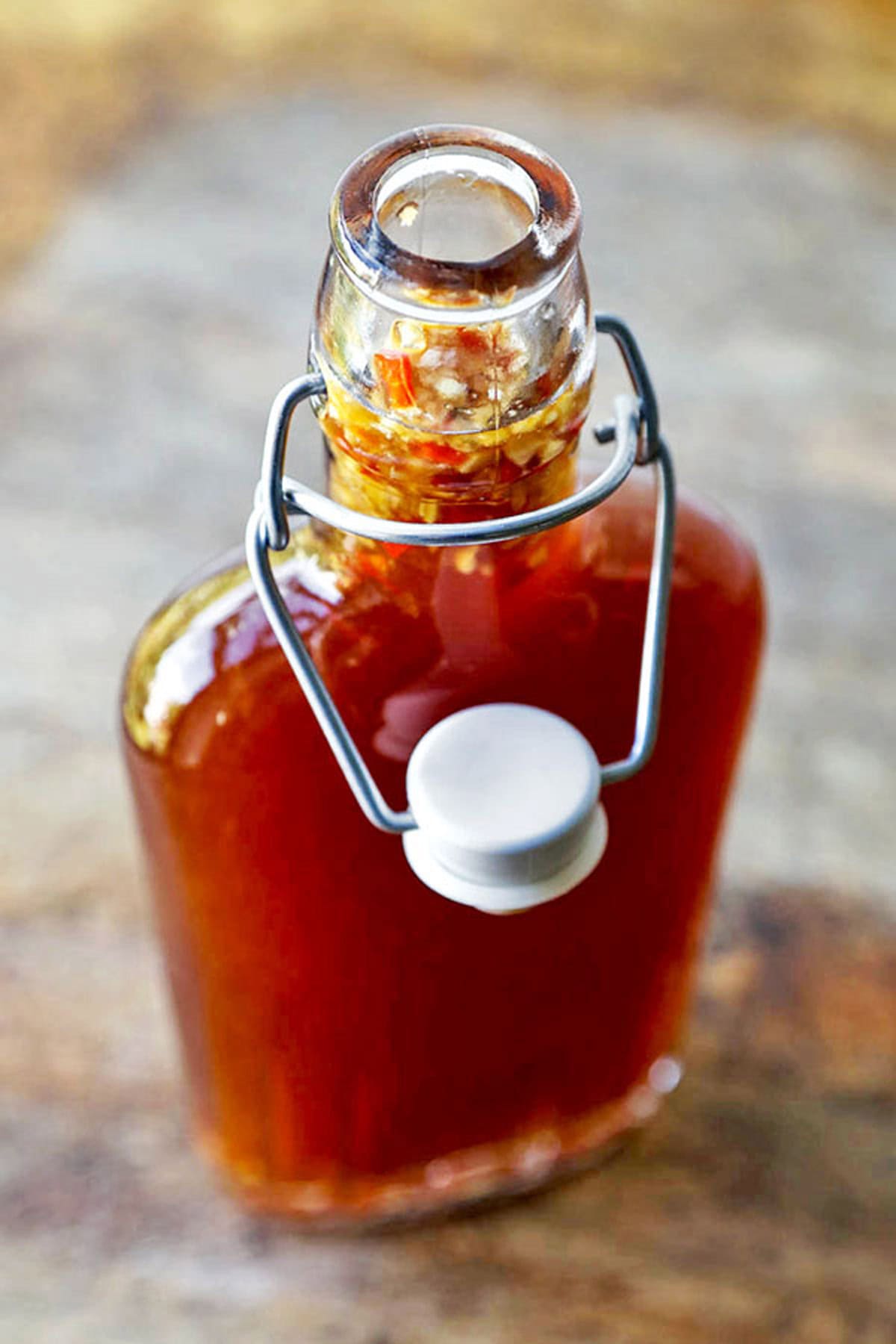 I think you'll agree with me that a condiment or dipping sauce can make or break a dish. It can elevate the flavors of the dish as a whole – or sink the entire ship.
Well, it turns out you can make a delicious and classic Vietnamese dipping sauce like nuoc cham that will be the star of your dinner in no time flat! Five minutes in the kitchen with simple ingredients is all it takes to make this easy recipe.
Today's post is all about the most magical of Vietnamese condiments to go along with your delicious Vietnamese food or other southeast Asian dishes. I will be diving into how to make it, what to eat with it and even some culinary pitfalls to avoid. If you've ever wondered about nuoc cham, this one is for you!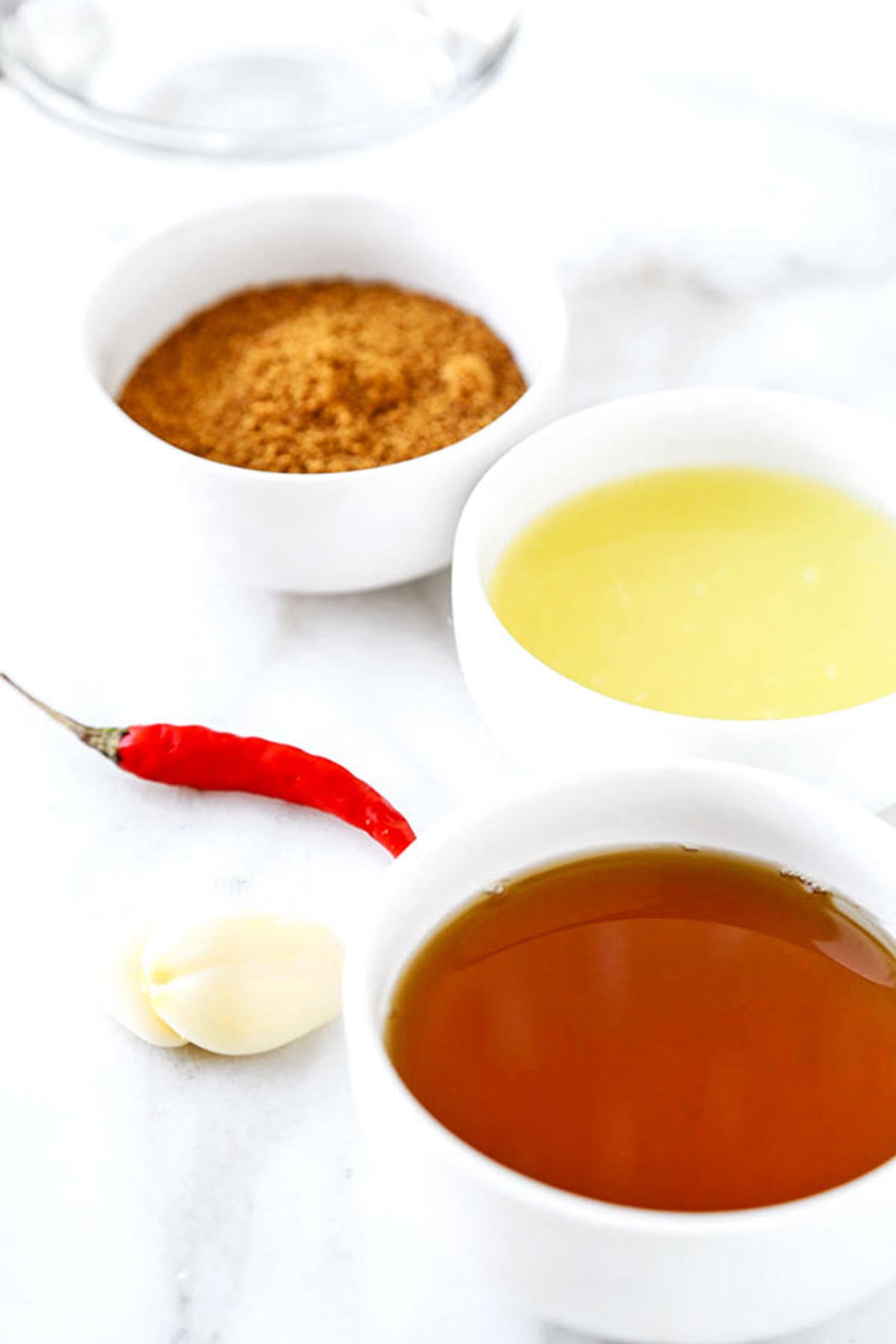 What is Nước Chấm?
Nuoc cham is the absolutely delicious Vietnamese dipping sauce that tends to accompany fried spring rolls (Chả giò), pan fried crepes (Bánh xèo) and rice noodle dishes (Bún).
This ubiquitous condiment is a mixture of fish sauce (nước mắm), garlic, palm sugar, lime juice, a splash of water and (sometimes) bird's eye chilis.
In this home chef's opinion, the most important element to a good nuoc cham is finding the proper balance of sour, sweet, salty, savory and spicy.
However from an ingredients perspective, finding and using a good fish sauce – or nuoc mam – is the key to full on flavor!
Nước Chấm Ingredients
Palm sugar: Palm sugar is less sweet than refined sugar as it is lower in sucrose. You can usually find it in Thai or Vietnamese supermarkets, or you can order it here on Amazon. If you don't have palm sugar you can go ahead and use regular white sugar.
Water: Warm water is used to melt the sugar. You can technically also use cold water but it will take you a lot longer to melt the sugar.
Lime juice: I recommend using fresh lime juice but you can also use store bought if you already have some in your fridge.
Fish sauce: While I do find Red Boat to be the best fish sauce out there, I wouldn't recommend using it for this recipe. That's because Red Boat is very expensive and should only be reserved for special occasions and dishes where the fish sauce is the most prominent taste. For a sauce like nuoc cham, I recommend sticking to a cheaper yet still delicious fish sauce like Golden Boy or Squid.
Garlic: Minced garlic adds spiciness and pungency (on top of the fish sauce!) to this dipping sauce.
Thai chilis: Also called bird's eye chili, this small green or red pepper is a staple ingredient in Southeast Asian cooking. These chilis can be seriously hot which is why I'm only using one. But feel free to add an extra one if you like your food to be spicy!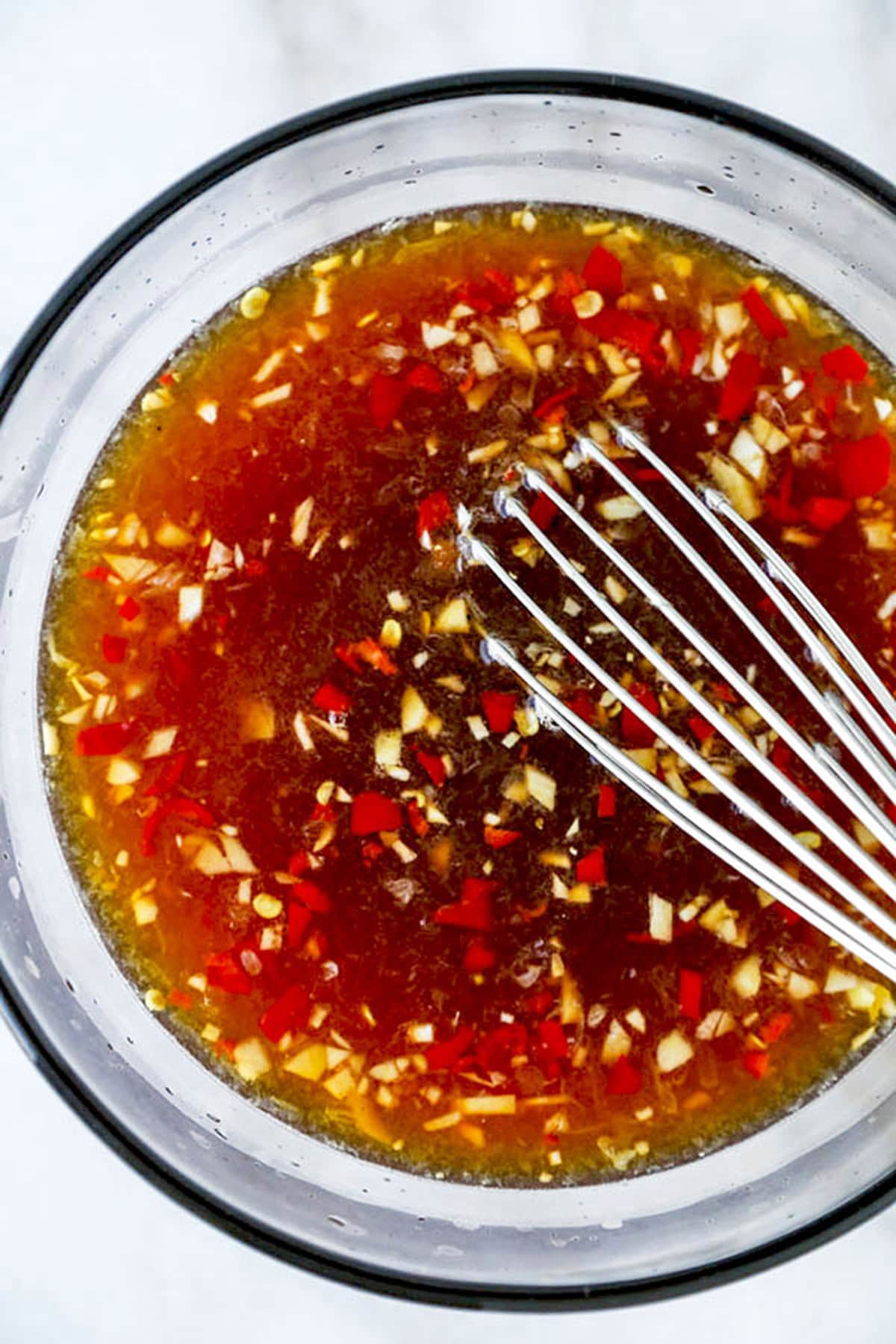 How to Make Nước Chấm
Scroll all the way down to the recipe card for the full recipe.
Gather all of your kitchen tools and ingredients.
Dissolve the 

palm sugar

in lukewarm water and whisk in the lime juice, fish sauce, minced garlic and Thai chilis. 

I like to let my nuoc cham sit at room temperature for a few minutes to let the flavors develop. But that's an optional step.

Serve as a dipping sauce for spring rolls, as a salad dressing for lettuce or other green leafy vegetables, or as a flavor topper over rice, with bun cha, meats, seafood, tofu, etc..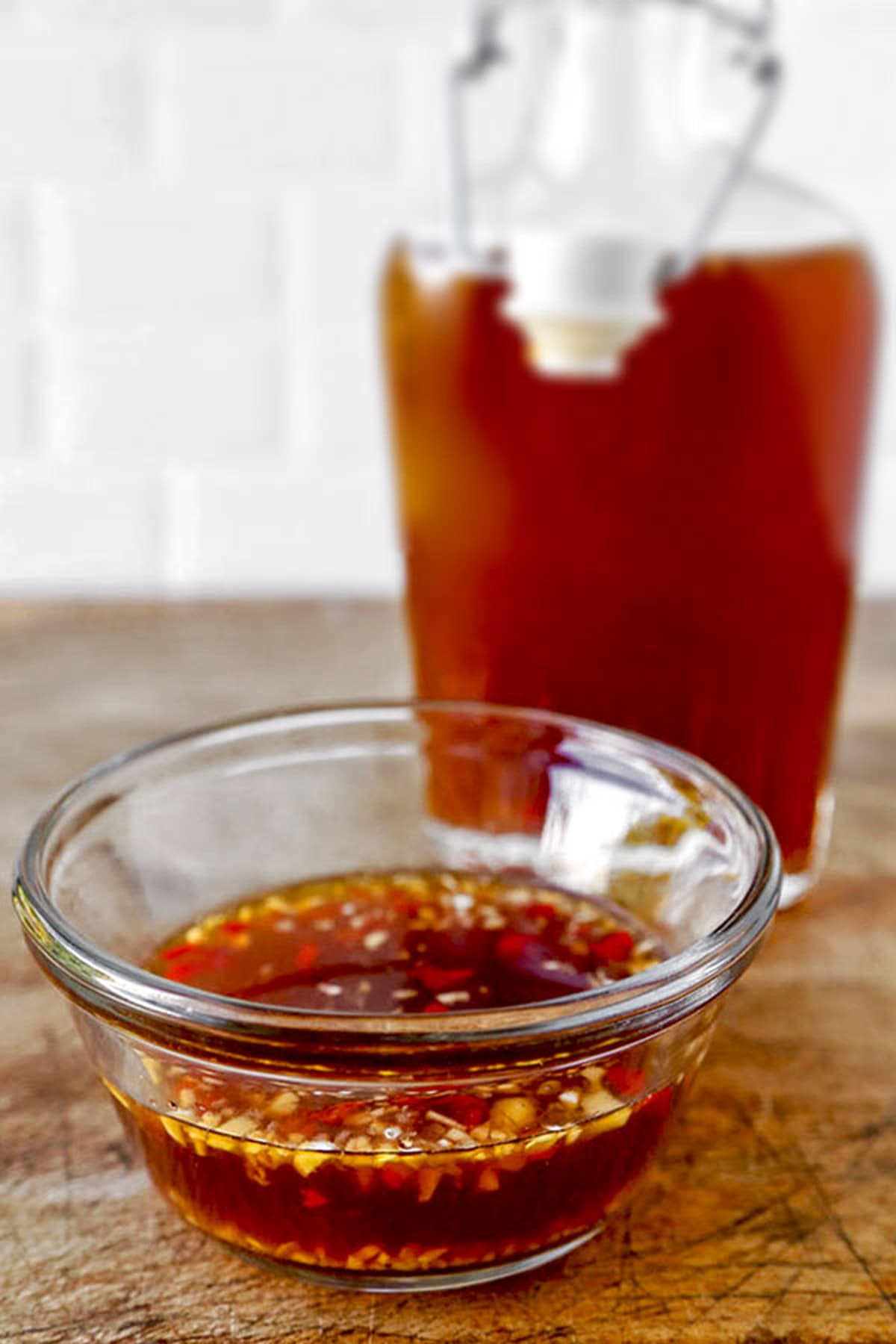 Is Nước Chấm the Same as Nước Mắm?
What's the difference between nuoc mam and nuoc cham?
Nước mắm is technically unadulterated fish sauce made from fish, water, salt, and amino acids. Nuoc cham is the dipping sauce we are making in this post which contains nuoc mam (fish sauce), water, lime, chilis, sugar, and garlic.
Therefore:
Nuoc mam = fish sauce
Nuoc cham = dipping sauce made using nuoc mam
Restaurant

Nước Chấm

VS Homemade

Nước Chấm
Most of the same ingredients tend to be in use when you get your spring roll sauce or dipping sauce for your Vietnamese bun delivered to the table when dining out.
However, I have found that the nuoc cham served in Vietnamese restaurants across Canada and the US tend to be on the sweeter side, more so than the well balanced mixes I've had in Southeast Asia. This is probably done to please the Western palate which is a shame since the real nuoc cham is so much tastier.
That said, there is a place in our neighborhood in Brooklyn that has a nuoc cham sauce so finely tuned, I feel like I'm sitting on a small plastic stool in Hue inhaling my noodles every time we drop in for a bite.
How to Pronounce

Nước Chấm
The Vietnamese language is full of rising, falling and flat tones that can render the same word with different meanings depending on the delivery. Getting it right can seem like an impenetrable fortress to someone just getting started.
To say nuoc cham with something approaching accuracy, say nuoc as 'nook' (like the Barnes & Noble e-reader). And say cham as 'chum' (like an old friend from your days at school).
That's how it was explained to me – and it's worked at restaurants sufficiently well to this point!
The Perfect Spring Roll Dipping Sauce
While there are plenty of main dishes and sides that pair well this Vietnamese sauce, a number one fan favorite is hands down spring rolls, or summer rolls. But I also enjoy using this versatile sauce with good old vegetable egg rolls – it's so good!
Here are other dipping sauces you might like to serve with your next batch of Vietnamese rolls, or other types of rolls:
Other Dipping Sauces You Might Like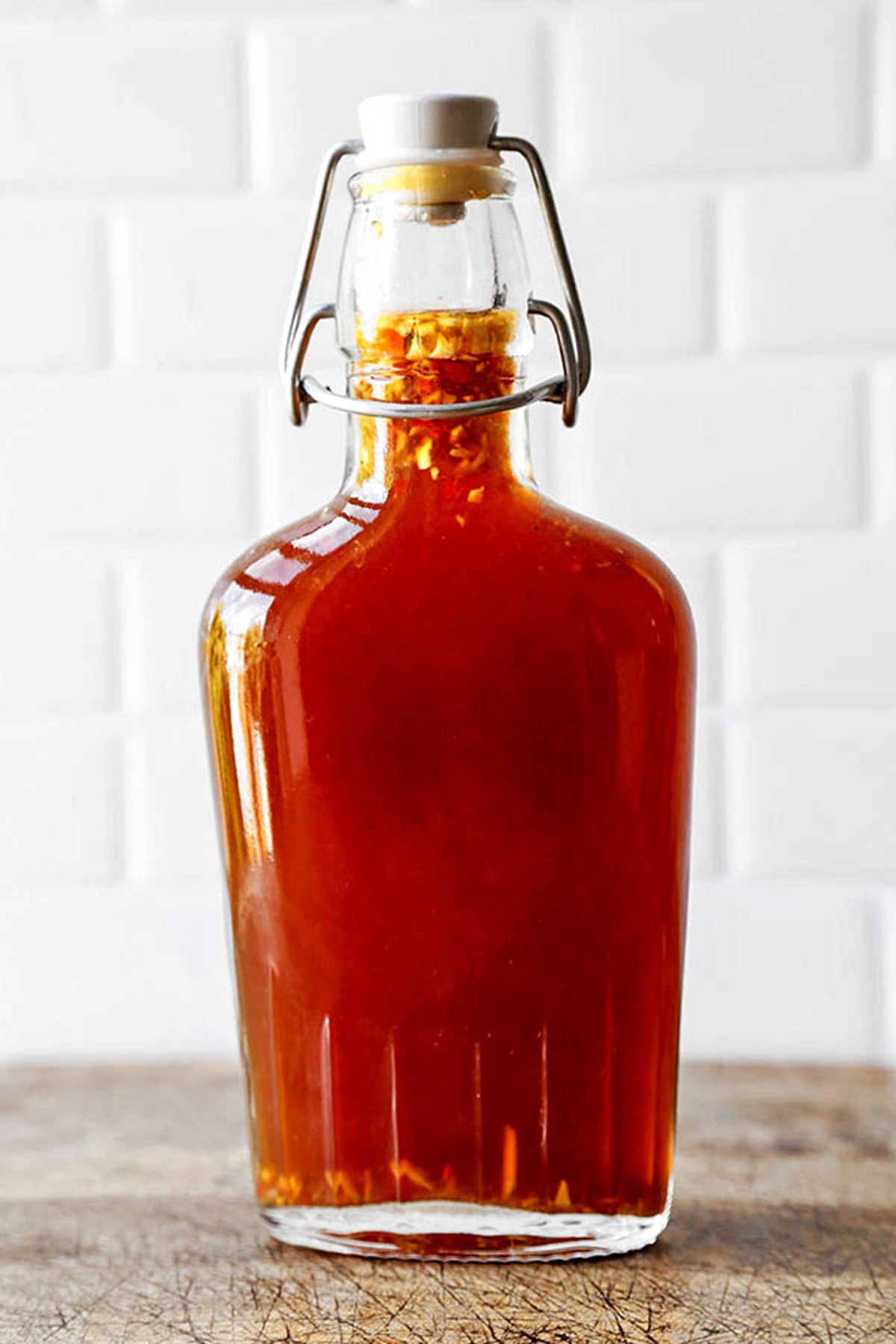 Did you like this nuoc cham recipe? Are there changes you made that you would like to share? Share your tips and recommendations in the comments section below!
Print
Nuoc Cham (Vietnamese Dipping Sauce)
Use it as a sauce for spring rolls, bun cha (vermicelli bowls), or as a dipping sauce for lettuce and other greens.
Author: Caroline Phelps
Prep Time:

5 minutes

Total Time:

5 minutes

Yield:

1 cup

1

x
Category:

Sauces

Cuisine:

Vietnamese
1/4

cup

palm sugar

2/3

cup

lukewarm water

1/3

cup

fresh lime juice

6 tablespoons

fish sauce

2

cloves garlic (minced)

1

Thai chile (minced)
Instructions
In a small bowl, add water and sugar and stir until sugar has dissolved.
Whisk in lime juice, fish sauce, garlic and chile, and stir well. At this point, taste the sauce and add more sugar if you prefer it to be sweeter.
Serve this dipping sauce with lettuce and other green leafy vegetables, spring rolls, over rice, with Vietnamese bun dishes, meats and seafood.
Notes
The nuoc cham will keep refrigerated for up to 4-6 weeks.
Nutrition
Serving Size:

2 tablespoons

Calories:

35

Sugar:

7 g

Sodium:

1065.2 mg

Fat:

0 g

Saturated Fat:

0 g

Trans Fat:

0 g

Carbohydrates:

8.1 g

Fiber:

0.1 g

Protein:

0.9 g

Cholesterol:

0 mg
Keywords: homemade sauce, Asian, dipping sauce, condiment
Recipe Card powered by