Looking for a sweet, tangy, and moderately spicy duck sauce to dip your spring rolls in? Look no further! With only 4 ingredients needed, this homemade duck sauce is so much better than the store bought version. In fact, it's so good that it may become your new favorite dipping sauce!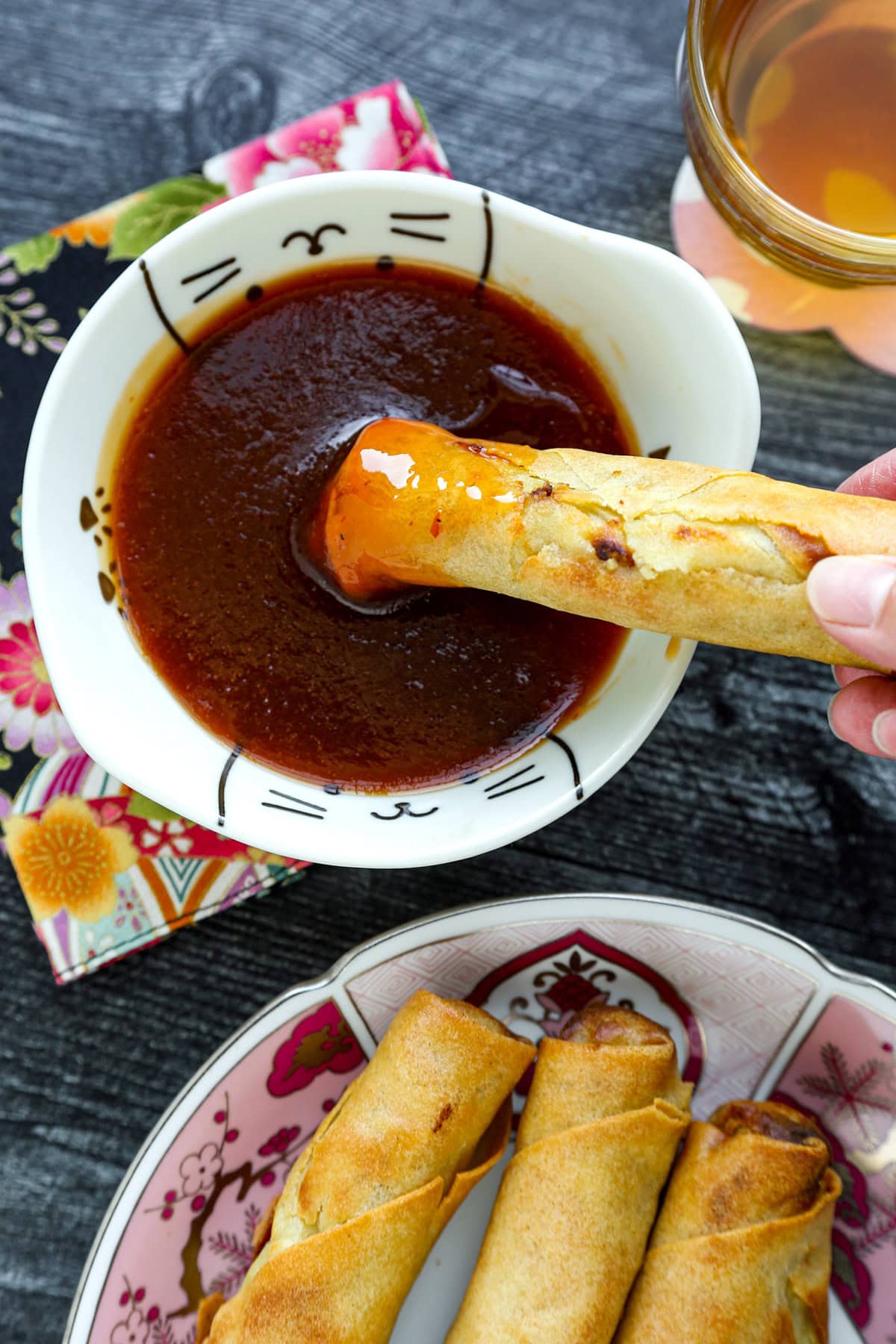 Since I was a little girl eating out at the Chinese buffet in my hometown, duck sauce has been a mainstay anytime I indulged in an egg roll.
On the other hand, Ben figures he's binned thousands of plastic packets from Chinese takeout orders over the years, citing the orange sauce as far too sweet and one-note.
And while many Chinese restaurants make their own duck sauce in-house that FAR exceeds the flavors of the mass produced stuff, it's pretty tough to get that sealed in to packets for to go orders.
This inspired me to experiment with a simple combination of store bought sauces, that jettisoned ingredients like high fructose corn syrup, to see if I could make a sauce that paid proper tribute to the original – while creating a more well rounded flavor you can enjoy at home anytime. No packet needed!
What is Duck Sauce?
Duck sauce is an often orange, sweet sauce – akin to a thin marmalade – that is served alongside fried foods at many Cantonese restaurants in North America.
It is so ingrained in the North-American Chinese restaurant experience that most people expect to see a small bowl of the thick, neon sauce accompanying a plate of egg rolls, fried wonton strips or fried noodles at the restaurant.
Why is it Called Duck Sauce?
There's a deep red condiment that is frequently used as a glaze on (and is often served alongside) Peking duck called hoisin sauce.
And while hoisin sauce is definitely its own thing, it may have morphed in the Chinese-American food lexicon throughout the years into something akin to the condiment we now call duck sauce.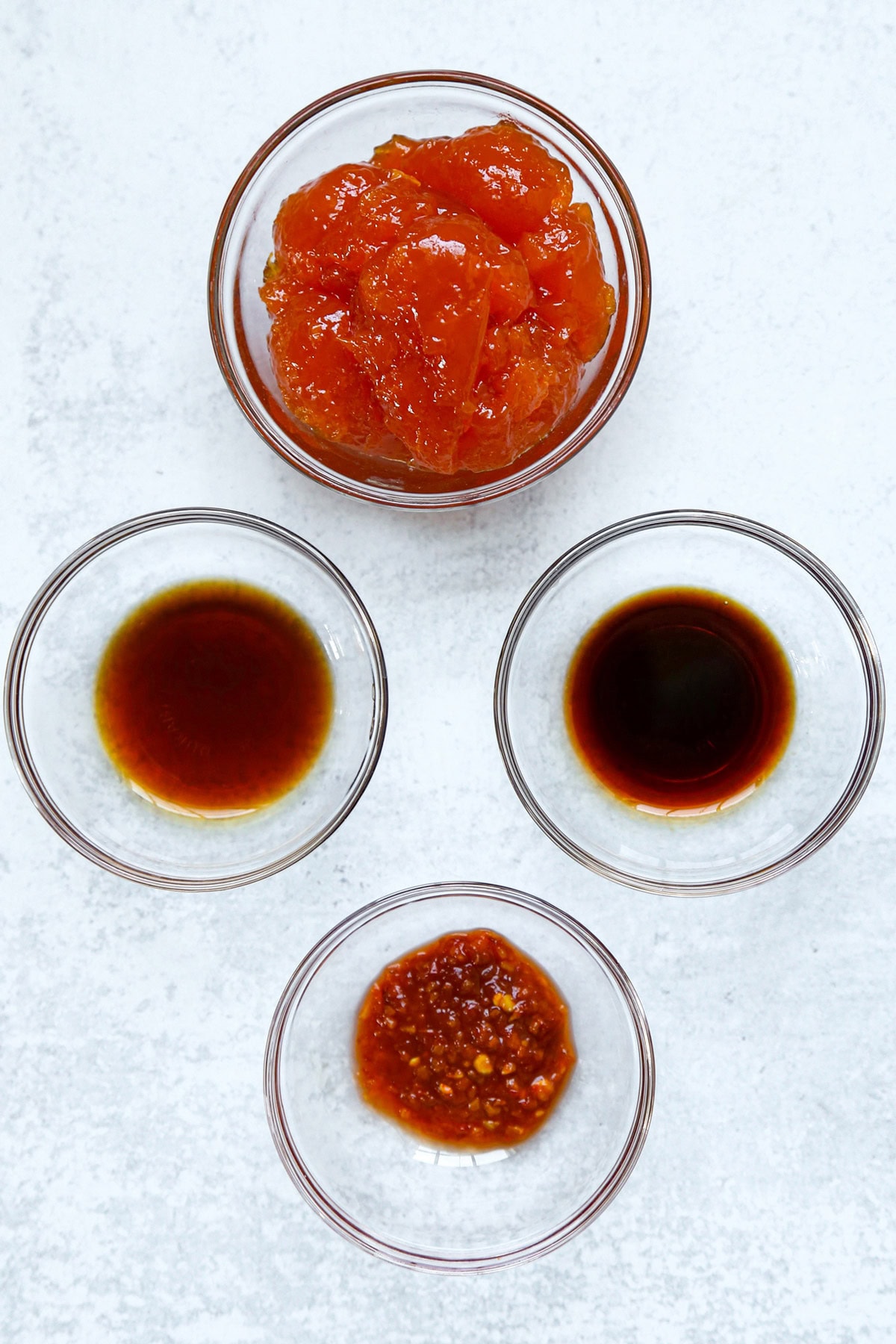 Duck Sauce Ingredients
Scroll all the way down for the full recipe.
Apricot Preserves: This provides the lion's share of sweetness to this homemade duck sauce recipe without dipping into cloying territory – like with some of the neon colored egg roll sauce you might find in packets or at takeout restaurants. While my preference is definitely preserves, apricot jam would work (as would preserves and jams flavored with peaches or plums – or even jarred Chinese plum sauce).
Chili Garlic Sauce: You'll get a dose of medium heat and well rounded earthiness from garlic chili sauce. You can also use sambal oelek for its unique blend of savory and tangy fire. Steer clear of sweet chili sauce, as this dipping sauce is already sweet enough. It's pretty easy to find many Asian chili sauces at your corner grocery store in the Asian ingredients aisle. Or you can grab garlic chili sauce here on Amazon.
Apple Cider Vinegar or Rice Vinegar: Vinegar delivers tartness to this dipping sauce – without being overtly sharp. Apple cider vinegar in particular has fruity tasting notes perfuming and complimenting the sourness. Rice vinegar is mellow and slightly sweet. Just keep in mind that seasoned rice vinegar usually has added sugar and salt. Regular rice vinegar is just the vinegar itself.
Soy Sauce: The bringer of salty, umami richness. Think of soy sauce as the low end of the flavor spectrum – the bass. While you only need a tablespoon of soy sauce to make this duck sauce recipe, you'd miss it if it wasn't there. It's the savory lynchpin that tempers the natural sweetness and shimmering heat. If you're steering clear of wheat in your daily diet, use tamari or liquid aminos instead.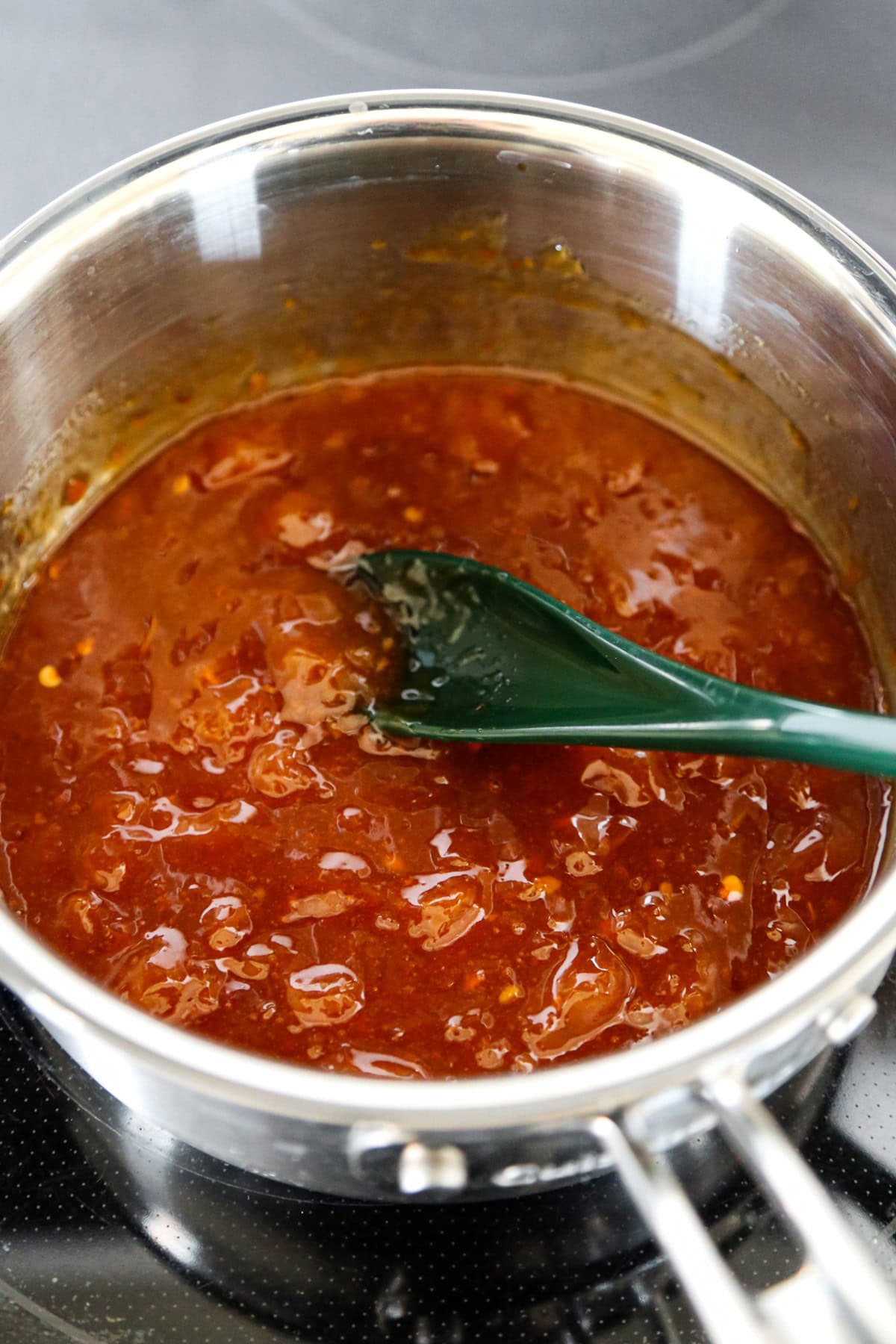 How to Make Duck Sauce
Gather all of your kitchen tools and ingredients.
Mix all of the sauce ingredients in a small pot over low heat on your stovetop.
Then stir constantly until the apricot preserves dissolve and mix evenly with the other liquid ingredients.
Next, turn the heat off and run the entire mixture through a strainer or sieve. Alternatively, if you prefer a more lumpy sauce, omit this straining step.
Finally, allow the sauce to come to room temperature prior to serving.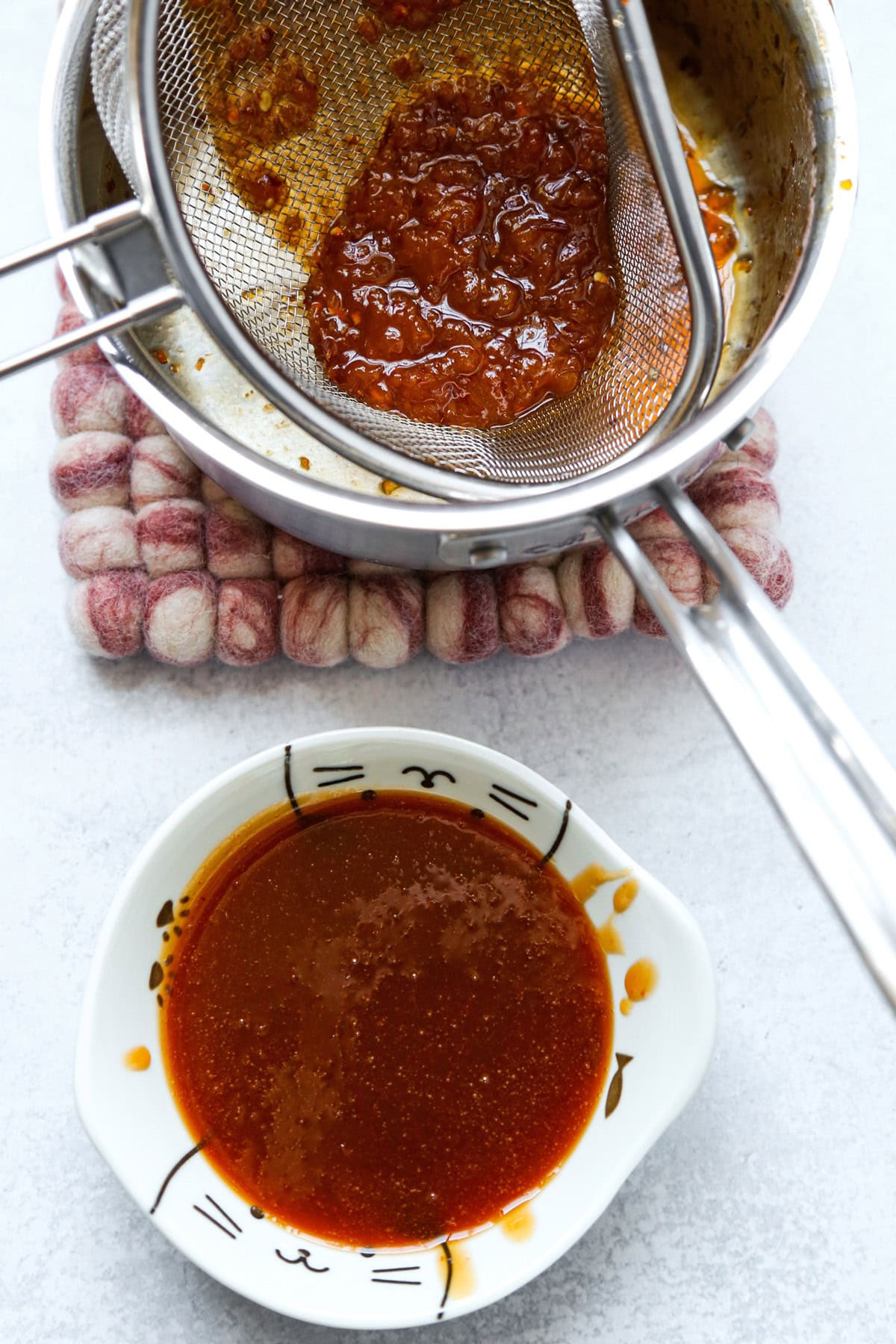 What Does Duck Sauce Taste Like?
As we touched on, this tangy sauce recipe is sweet, without coming across as overtly sugary or cloying. There are fruity notes from the preserves and apple cider vinegar – which are heartily contrasted by the garlicky, earthy and umami notes.
And there's enough heat to know it's there – without resorting to anything resembling the scorched earth you might find in something like a Thai influenced (and crazy hot) homemade chili garlic sauce.
The flavor is so well rounded that I end up using this Americanized-Chinese sauce in a ton of (likely unintended) ways.
What to Serve With Duck Sauce
Some of the best applications involve deep fried foods:
Egg rolls and spring rolls
Wontons and fried wonton strips
Crab Rangoon
Fried chicken wings
However, you could also use it as an all purpose glaze for tofu, meat, fish, or shellfish. And I have a friend that swears this is his favorite dipping sauce when he makes an elaborate Peking duck feast at home.
What about you? How to you enjoy Chinese duck sauce? Sound off in the comments section and tell me about your favorite uses!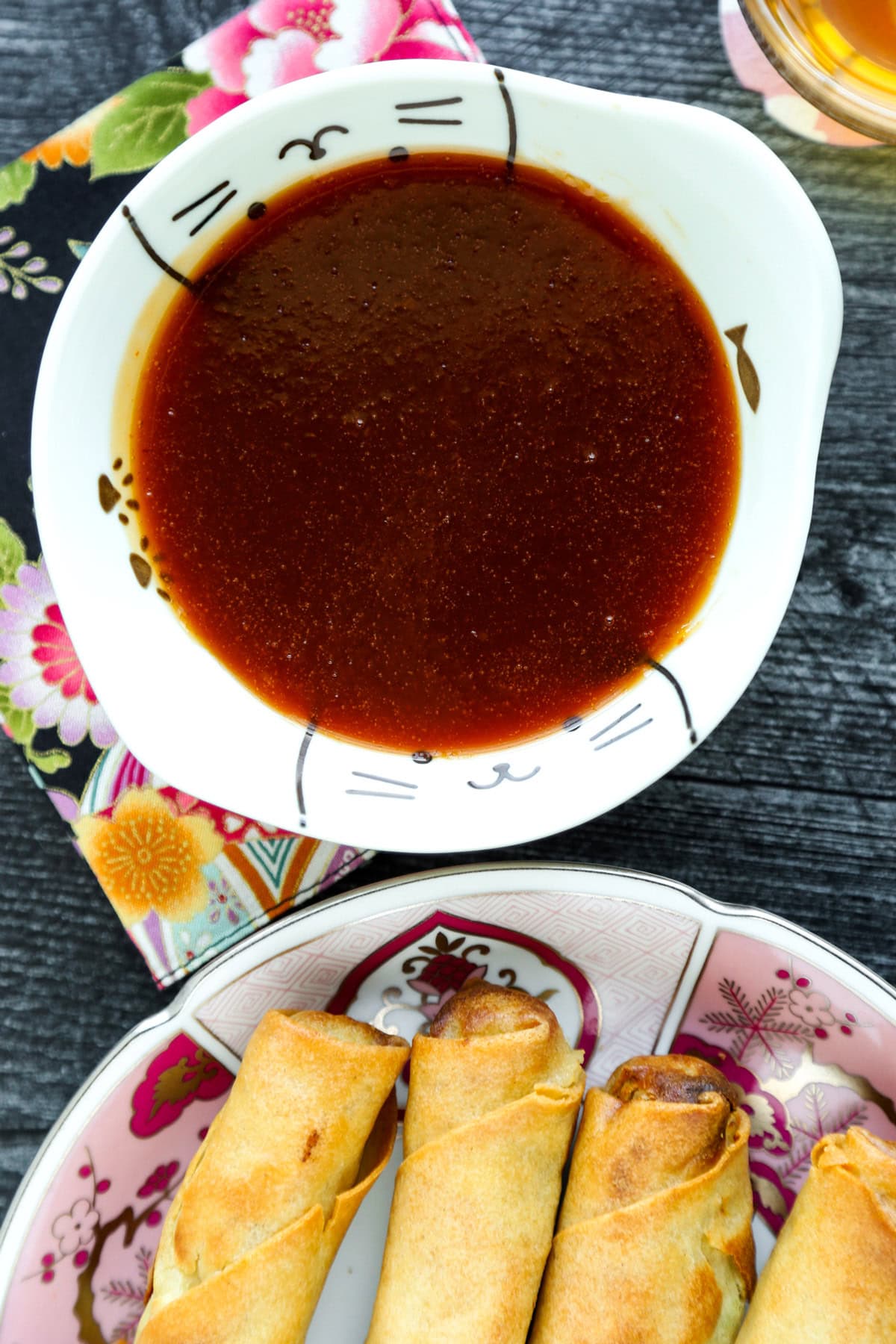 How to Store Leftovers
Store any leftovers of this iconic Chinese-American dipping sauce in a glass jar with an airtight lid in the refrigerator. It will keep for about a month.
It's the perfect condiment to have on hand anytime you want to level up your take out egg rolls at home!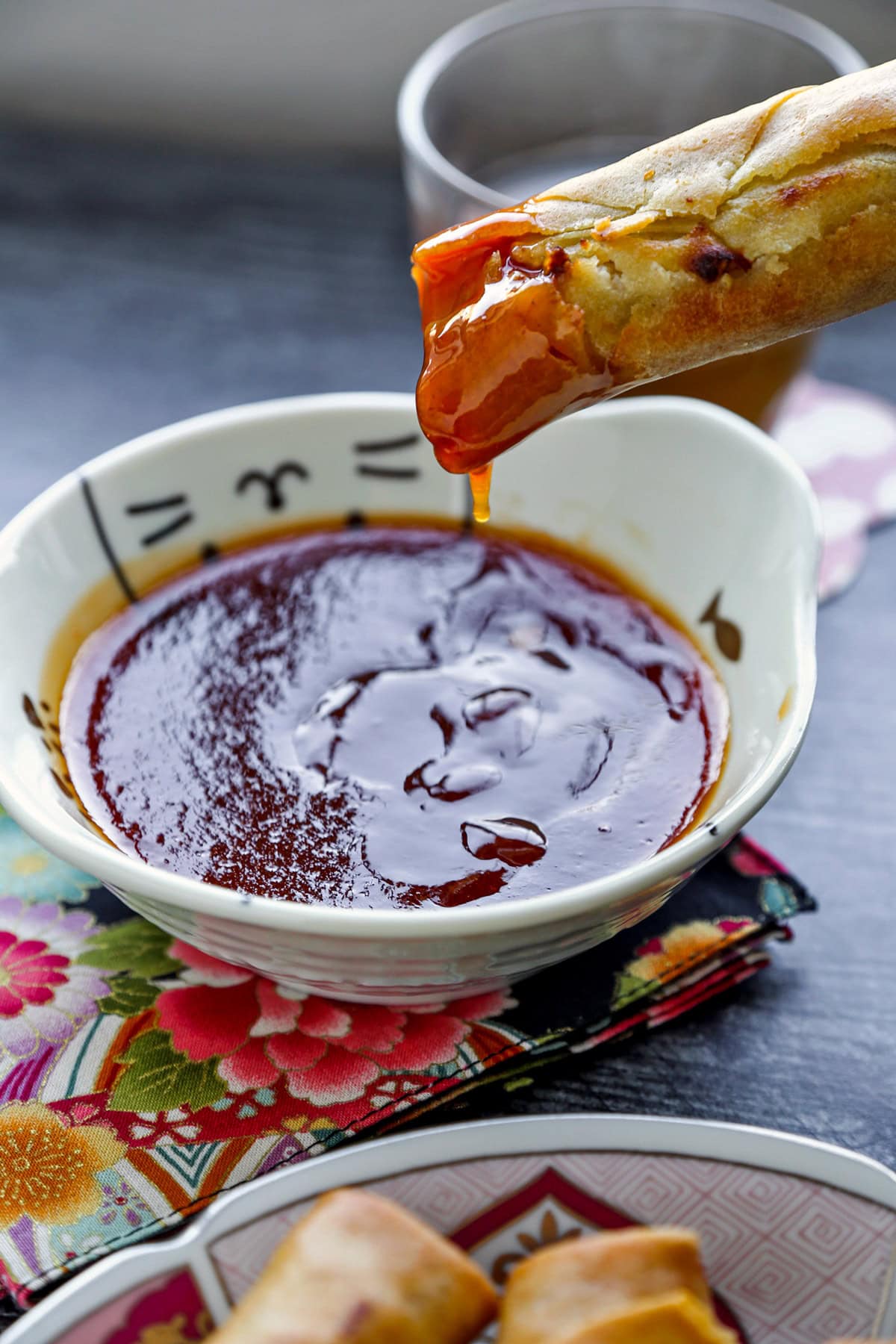 Other Easy Asian Sauce Recipes
Did you like this duck sauce recipe? Are there changes you made that you would like to share? Share your tips and recommendations in the comments section below!
Print
Duck Sauce
This sweet, tangy, and moderately spicy duck sauce only requires 4 ingredients to make and 10 minutes cooking time. 
Author: Caroline Phelps
Prep Time:

5 minutes

Cook Time:

5 minutes

Total Time:

10 minutes

Yield: about

1 1/2 cup

1

x
Category:

Sauce

Method:

Stove top

Cuisine:

Chinese

Diet:

Vegetarian
1

cup

apricot preserves

1 1/2

to

2

tablespoons chili garlic sauce (like Sambal Oelek)

2 1/2 tablespoon

apple cider vinegar or rice vinegar

1 tablespoon

soy sauce
Instructions
Mix all the ingredients in a small pot and turn the heat to low.
Stir constantly until the apricot preserves dissolve and mix with the other ingredients.
Turn the heat off and run the mixture through a strainer, or you can serve it as is.
Let the sauce cool to room temperature before serving.
Notes
Store this duck sauce in a jar and refrigerate for up to 1 month. 
Nutrition
Serving Size:

2 tablespoons

Calories:

66

Sugar:

11.7g

Sodium:

46.9mg

Fat:

0.1g

Saturated Fat:

0g

Unsaturated Fat:

0g

Trans Fat:

0g

Carbohydrates:

17.4g

Fiber:

0.1g

Protein:

0.3g

Cholesterol:

0mg
Recipe Card powered by