Feeling like devouring a Korean rice bowl but don't have bibimbap sauce? No worries! I have an easy bibimbap sauce you can make with 6 ingredients and in just 5 minutes!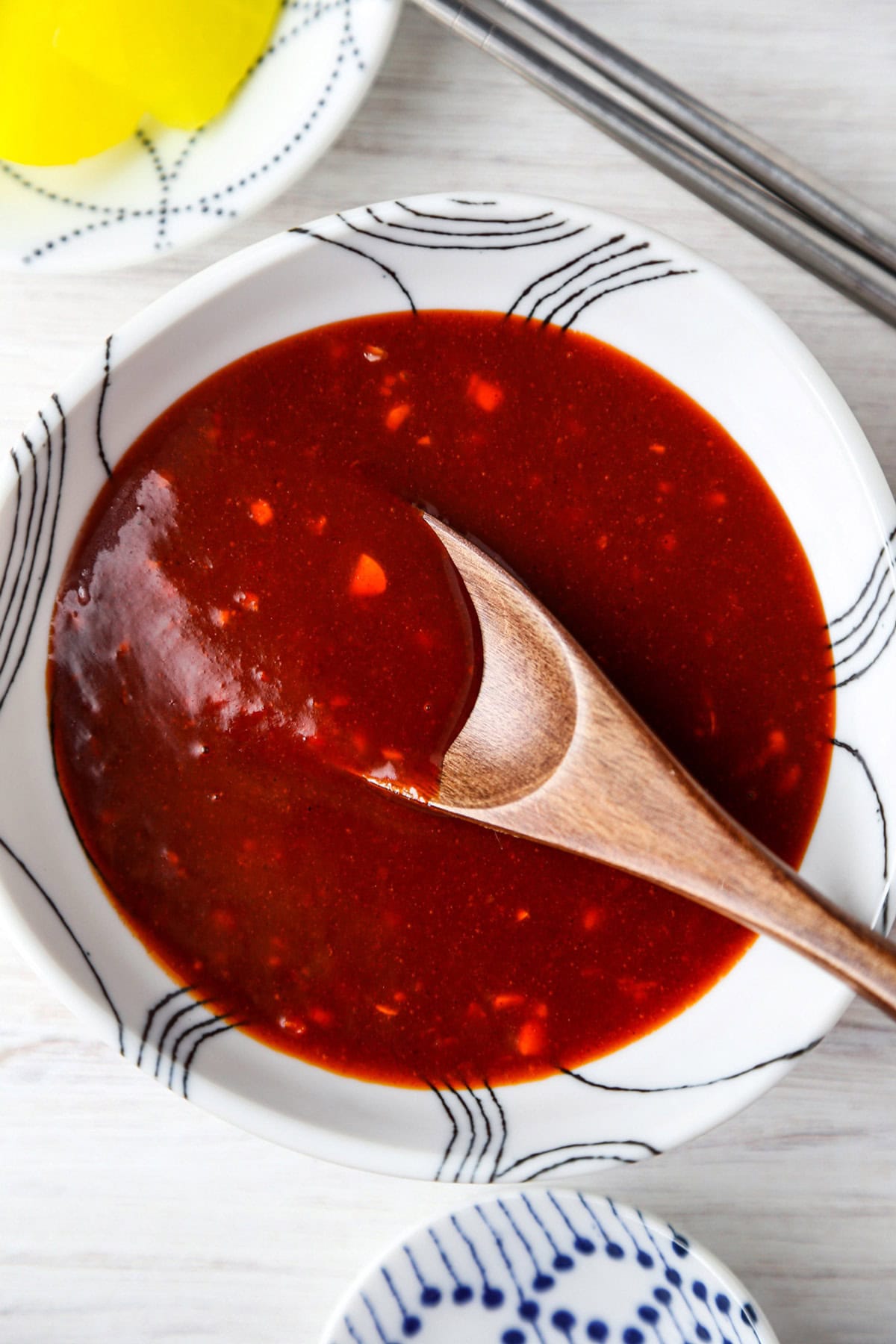 Bibimbap is one of those amazing recipes that encompasses everything that I love about Korean food – it's colorful, filled with veggies, and comes with a pungent, spicy, sweet and salty sauce. I think bibimbap sauce is absolutely delicious, but sometimes, it can get a little too spicy for me. I love heat but not to the point where I can no longer taste my food.
And that's a problem I unfortunately encounter at times when I'm out having Korean food. I love the cuisine so much that I want to eat it every week, but my taste buds can only take so many hits of fiery red sauce before they can no longer consume another bite.
That's why I like to make my own bibimbap sauce, and gochujang too for that matter! I get to control the spice level so that I can fully enjoy Korean food with its crazy and yummy flavors.
This recipe for bibimbap sauce is a spicy but not too spicy version that's easy to tweak to your liking. Below you will find variations on how to make it hotter, not hot at all, sweeter, and not so sweet!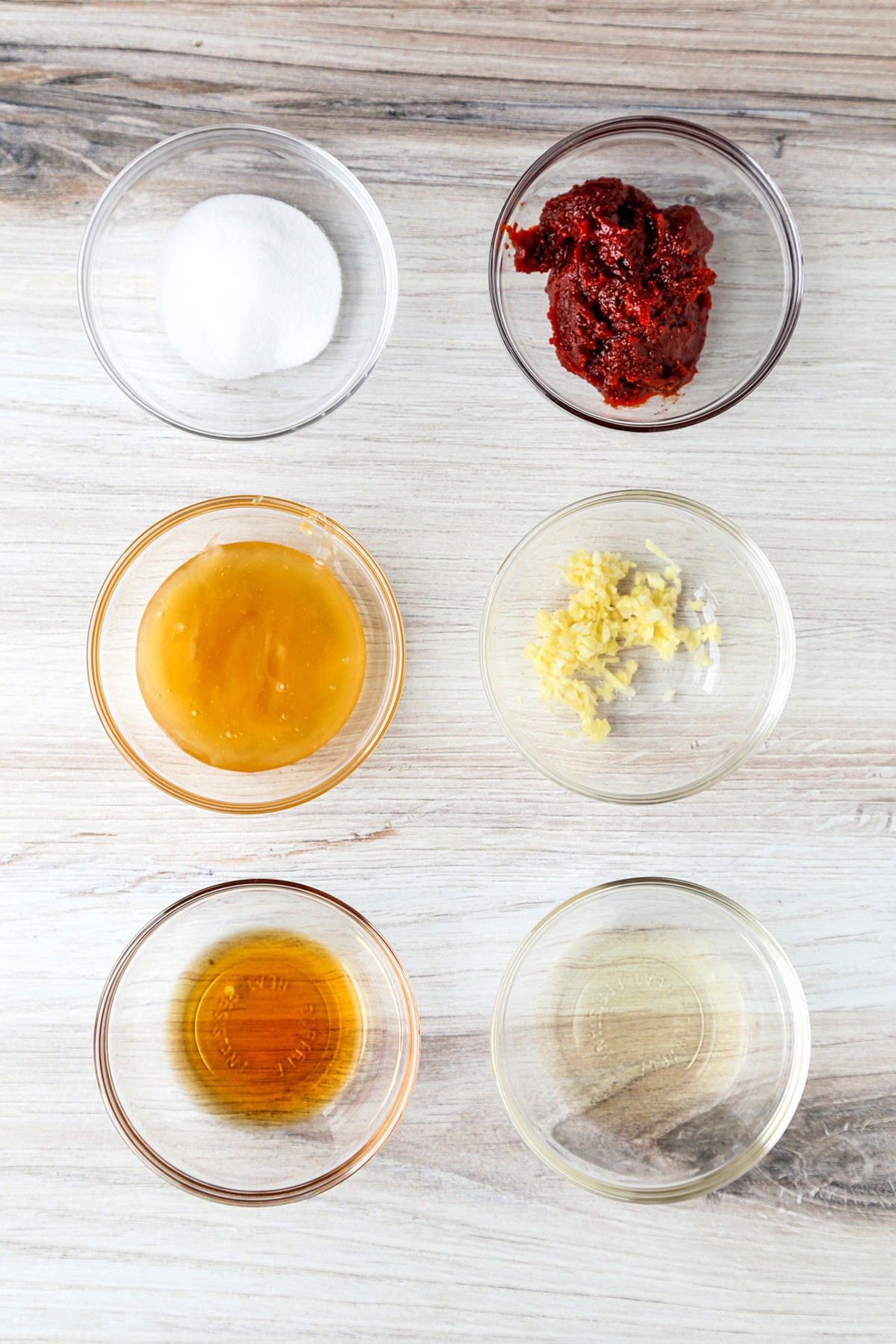 What is Bibimbap?
Bibimbap is a popular Korean rice bowl dish served with a variety of seasoned vegetables, kimchi, meats, and/or tofu, and topped with a raw egg and bibimbap sauce. The best way to enjoy bibimbap is by mixing all of the ingredients with a spoon so the flavor from each ingredient is evenly distributed.
Using leftover banchan (side dishes offered with rice), such as sookju namul (Korean bean sprout salad), spicy cucumber salad, and kimchi, are also often used to make homemade bibimbap. It's the perfect meal to make with leftovers, a little like making fried rice!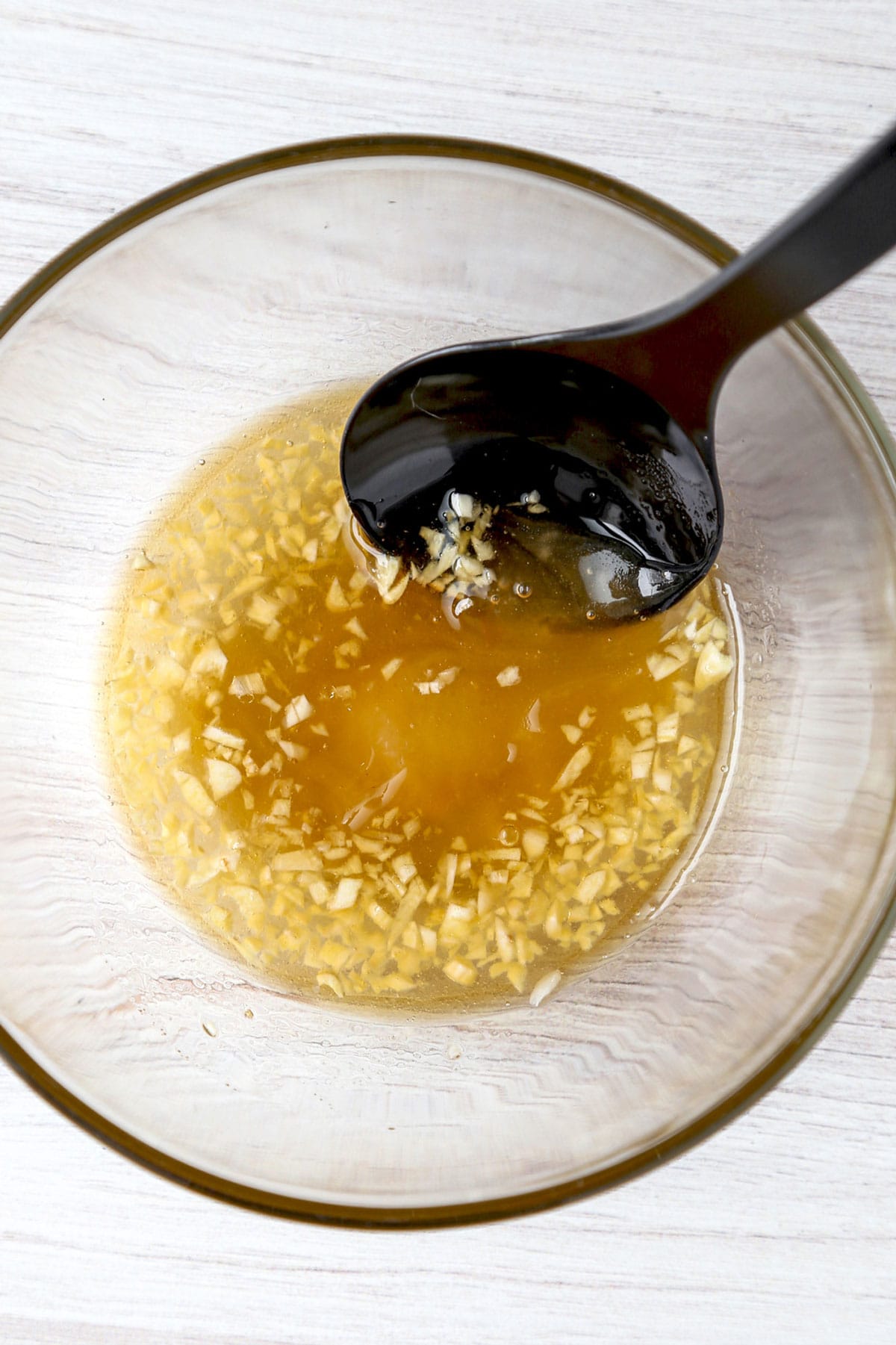 Ingredients for Bibimbap Sauce
Gochujang: Gochujang is a spicy, sweet, savory, and nutty, red chili paste that's a staple ingredient in Korean cooking. We will need 1/4 cup for this recipe.
Garlic: The garlic bits add another layer of pungency to this already powerful sauce. Make sure to take the time to finely chop them as biting into big garlic chunks can be unpleasant.
Sesame oil: One tablespoon of sesame oil smooths out the texture of the sauce while giving it an extra kick of nuttiness.
Honey: The honey infuses a floral element and plenty of sweetness to the sauce.
Sugar: Using a little sugar helps to tone down some of the floral notes of the honey, while bringing the sweetness to the forefront.
Rice vinegar: I like using a little rice vinegar to lighten up the sauce for a more refreshing taste.
Salt: Adding salt is completely optional but I personally find that the sauce tastes more balanced with a little pinch of it.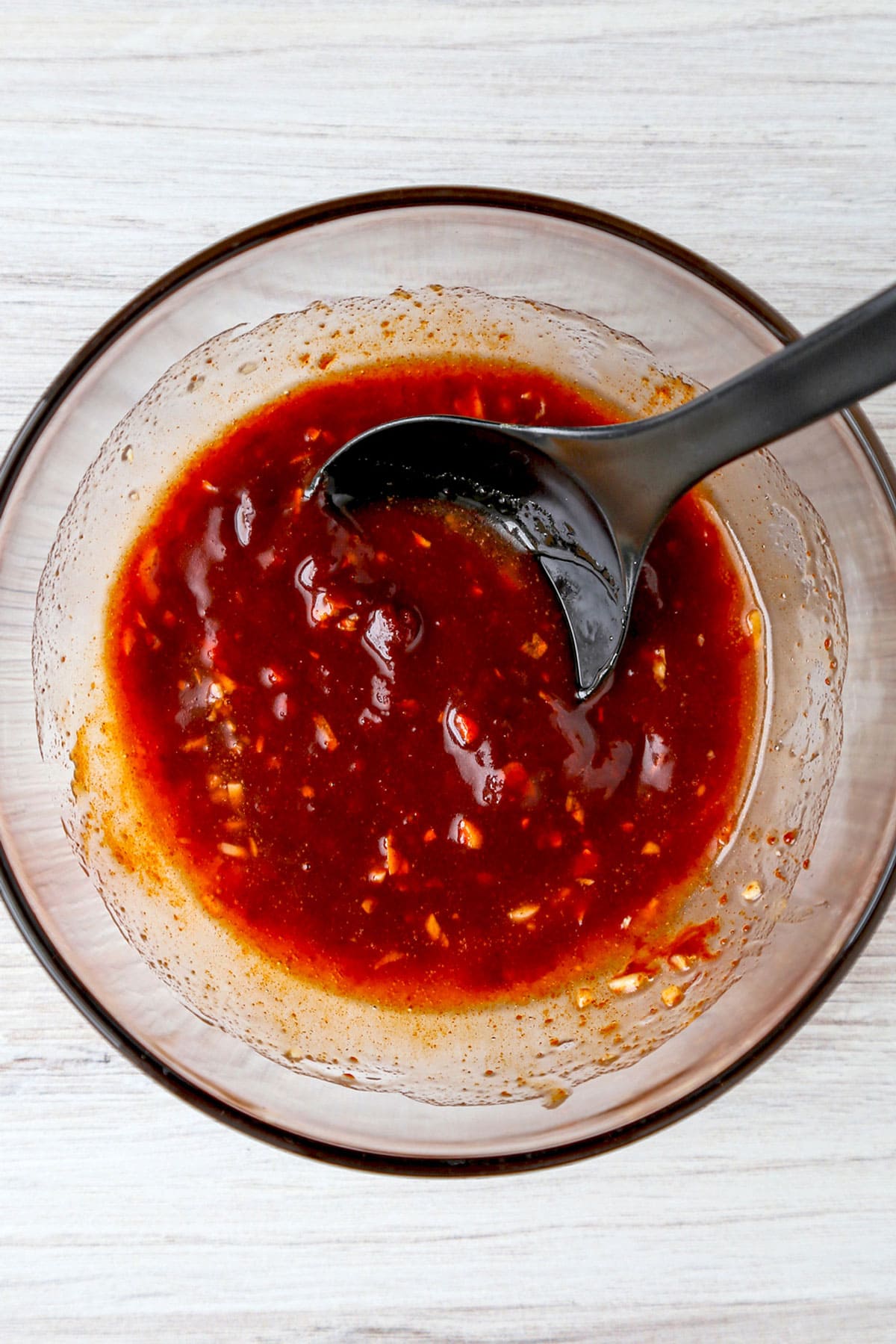 How to Make Bibimbap Sauce
Gather all of your ingredients and cooking tools in one place.
Add the ingredients for the bibimbap sauce in a bowl and whisk until well combined.
Enjoy with your own homemade Korean rice bowl!
Variations
Make it more spicy: Add 1 t0 2 teaspoons of gochugaru (Korean chili flakes) or freshly grated ginger.
Make it less spicy: Use 1 tablespoon less of gochujang and add 1 tablespoon water. You can also add a little more rice vinegar to tone down the spiciness.
Make it kid friendly (not spicy at all): Swap gochujang for doengjang (soy bean paste) and mix 2 tablespoons doengjang with 2 tablespoon water.
Make it less sweet: Use 1 tablespoon less of honey. Honey is sweeter than sugar so it's best to reduce the amount of honey first.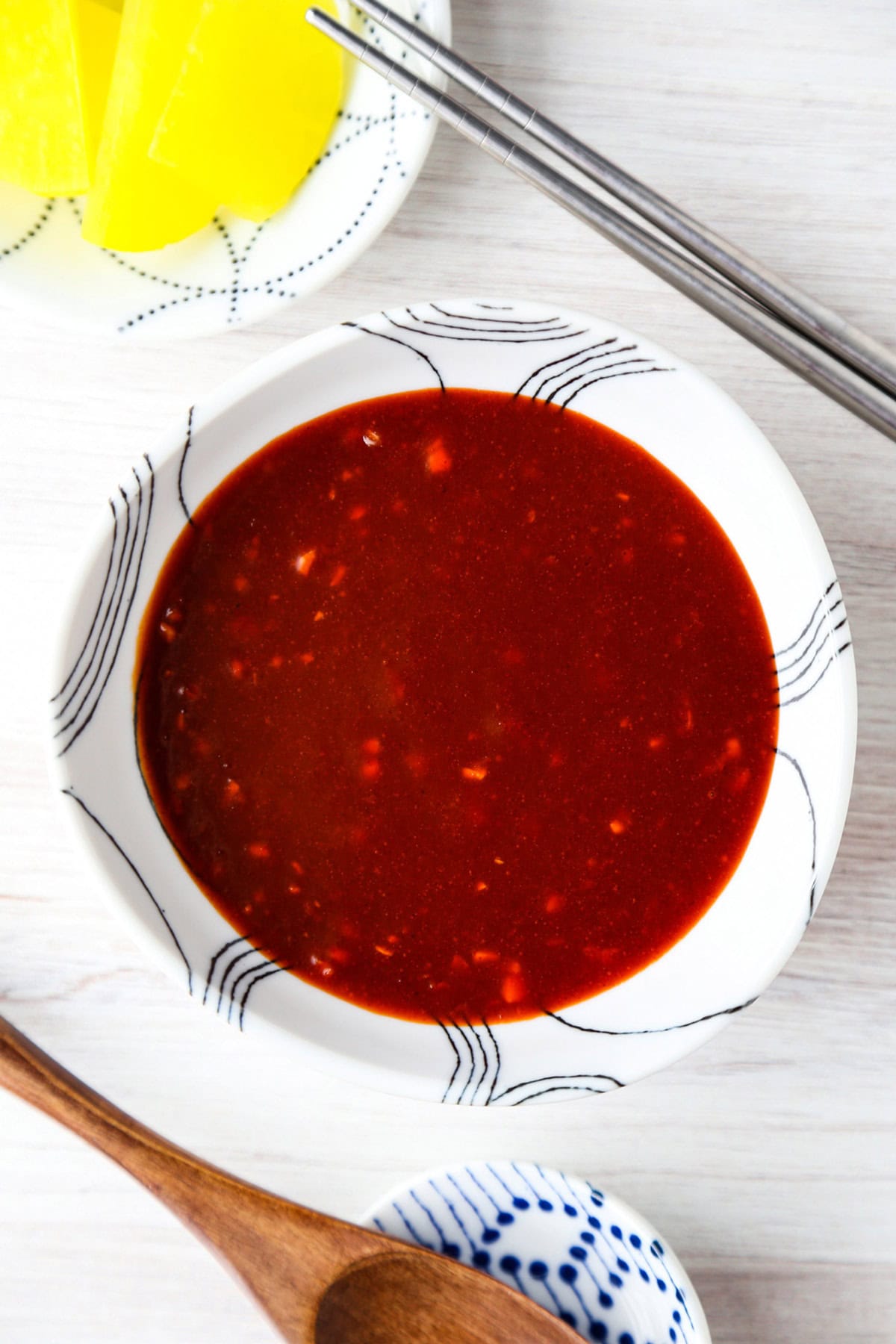 Other Homemade Asian Sauces
I really love making my own Asian sauces because I get to control the amount that I make (I don't have a whole bottle at the store if I only need a couple of tablespoons) and what goes into them. Plus, I find that they taste better 99% of the time!
One thing you will notice once you start making your own sauces on a regular basis is how easy the process is. They usually don't require more than 5-10 ingredients and only take a few minutes to whip up. They may not last as long as store bought ones but that's because they contain no artificial ingredients, which makes them better for you and your family.
Here are some of my favorite homemade Asian sauces:
How to Store Bibimbap Sauce
It's preferable to put the sauce in a glass container since it might stain a plastic one. Refrigerate for up to 2 weeks. It's always best to do a sniff test before using the sauce just to make sure it hasn't gone bad.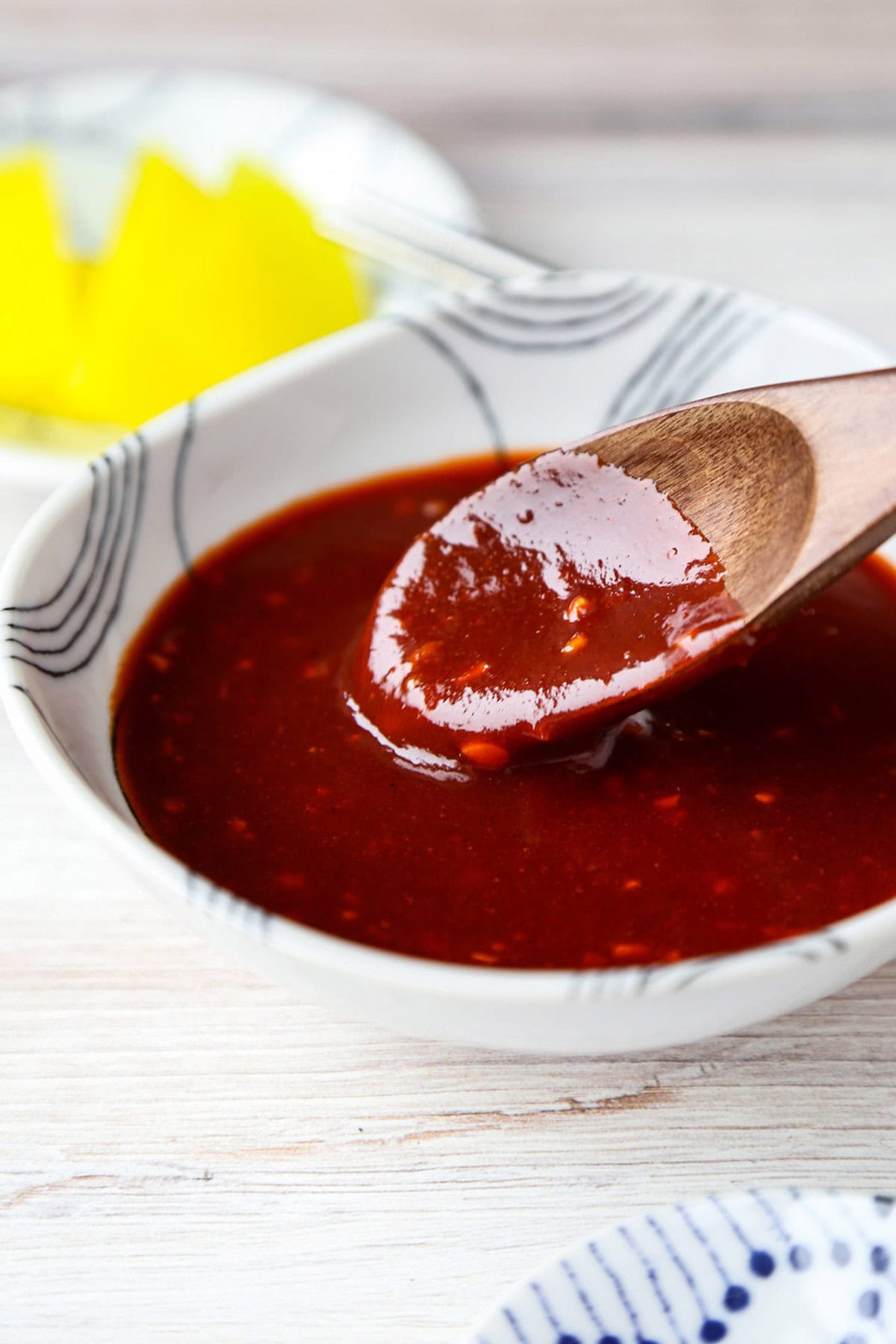 Did you like this Bibimbap Sauce Recipe? Are there changes you made that you would like to share? Share your tips and recommendations in the comments section below!
Print
Bibimbap Sauce
This is an easy bibimbap sauce you can make with only 6 ingredients and in just 5 minutes.
Author: Caroline Phelps
Prep Time:

5 minutes

Total Time:

5 minutes

Yield:

1/2 cup

1

x
Category:

Sauce

Cuisine:

Korean
1/4 cup

gochujang

2 teaspoon

garlic, minced

1 tablespoon

sesame oil

2 tablespoons

honey

1 tablespoon

sugar

1 1/2 tablespoon

rice vinegar

1/4 teaspoon

salt (optional)
Instructions
Mix all of the ingredients in a bowl and stir well. Serve.
Notes
Storing bibimbap sauce
Transfer the sauce to a glass container as it may stay a plastic one, and refrigerate for up to 2 weeks.
Nutrition
Serving Size:

2 tablespoons

Calories:

51

Sugar:

8.4g

Sodium:

156.6mg

Fat:

1.7g

Saturated Fat:

0.2g

Unsaturated Fat:

0.7g

Trans Fat:

0g

Carbohydrates:

9.9g

Fiber:

0g

Protein:

0.1g

Cholesterol:

0mg
Keywords: banchan, rice bowl, spicy sauce, hot sauce
Recipe Card powered by