Making crispy tofu doesn't require a deep-fryer and some hard to find ingredients. All you need is a pan, a little oil, a block of tofu, and some cornstarch. This is a no fail tutorial that's ready in about 15 minutes from start to finish!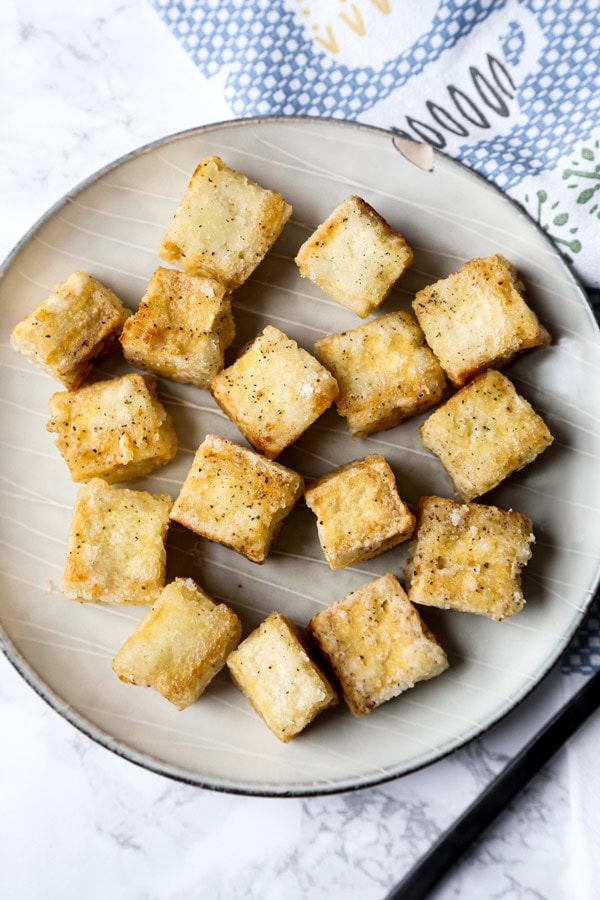 I've decided to create a post about how to make crispy tofu after receiving a few comments from readers who were having trouble achieving the same texture.
The concept is quite simple but there are some rules to follow in order to get that crispy golden coating that's so irresistible, and this post is all about that.
Today we are going to learn how to make tofu crispy every single time so you'll never have to dig into a soggy bean curd cube again!
What Type Of Tofu To Use For Crispy Tofu
Because you will need to handle the tofu cubes quite a bit (slicing, dusting and pan frying) it's best to pick a firmer texture so the cubes won't break. There are two types you can use:
Extra Firm Tofu
If you are not used to working with tofu, I recommend using extra firm. The texture is solid because it has been pressed the most and therefore holds less water than the other types of tofu. It's easier to dust and is a safe bet for a successful batch of crispy tofu.
Medium Firm
For those who often cook with tofu, I recommend using the medium firm type. That's my favorite because you get a crispy outside and a moist and fluffy inside (extra firm tofu is dryer overall). Because it's higher in water content it means it's more slippery to work with and can break more easily. The cornstarch may not stick to the tofu cubes as well if the cubes haven't been patted dry properly.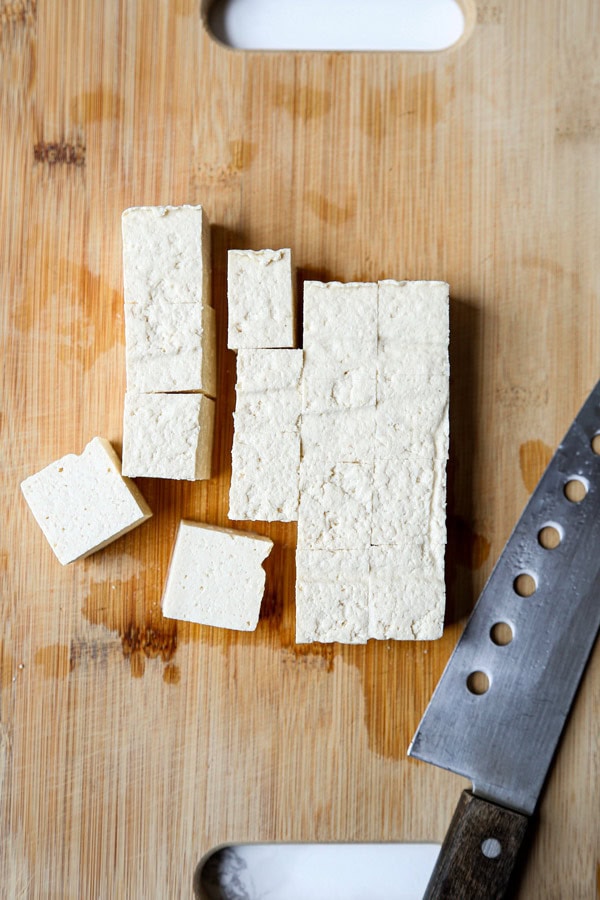 What Makes Tofu Crispy?
Cornstarch!
Cornstarch, sometimes called corn flour, is a fine white powder made from the corn grain (yep, it's gluten-free).
It's often used in cooking to thickens sauces, gravies, soups, pies, and desserts. And as you can see, it's also great for creating a crispy texture on tofu!
You can also use potato starch to achieve a very similar texture. Although it's not a popular ingredient in Chinese and western cooking, it's frequently used in Japanese cuisine for the same purpose (agedashi tofu is a good example).
No Deep-Fryer Needed
That's correct, you don't need a deep fryer to make crispy tofu. In fact, it's actually better (and healthier) when it's cooked in a pan with just a little oil!
You can use any type of pan to make crispy tofu, just make sure it's non stick. This is very important since you don't want the lovely coating to stick to the bottom of your pan and separate from the tofu.
If you only have old pans that no longer have a non stick coating, it's best to wait until you get a new one before making this recipe.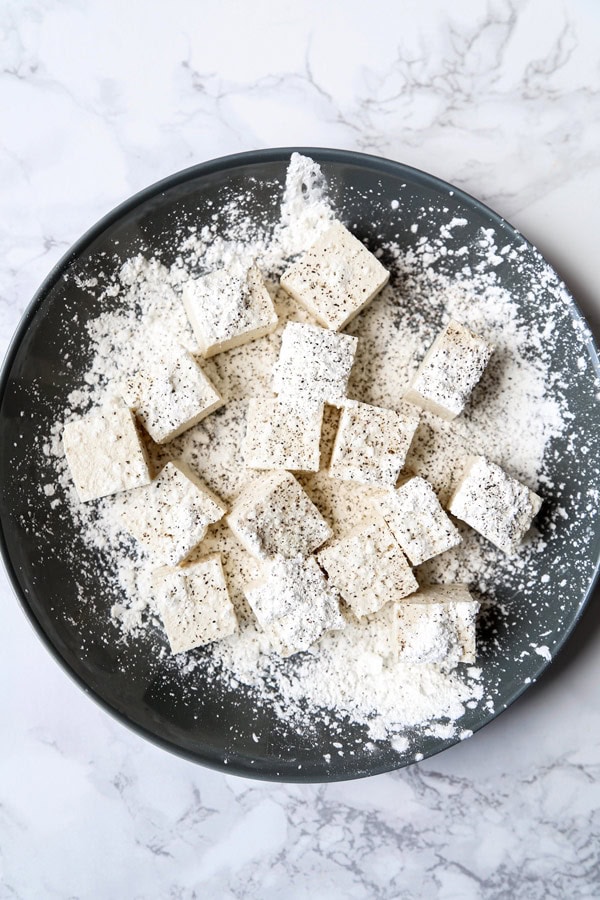 How To Make Crispy Tofu
Drain the tofu well, very well. You can wrap the tofu in paper towel and change the paper towel a few times to remove the excess water. Or you can do it the way I do it by simply putting the tofu block on a plate and leaving it for 15 minutes. There will be a puddle of water that you just need to drain afterward.
Cut the tofu into bite size squares and pat dry using a paper towel. Make sure you dry all sides of the cubes as this will help the coating stick better and cook more evenly.
Place the cornstarch in a bowl or in a ziploc storage bag and season with salt and pepper. Dust the tofu cubes with cornstarch and coat all sides evenly.
Use a large non-stick pan and turn the heat on to medium-high. Wait 1-2 minutes and add a few drops of water to the pan. If it sizzles it means your pan is hot and ready to use. Add 2-3 tablespoons vegetable oil(depending on how big your pan is, you want to make sure the oil covers all the surface) and swirl it around.
Add enough tofu cubes to the pan to fill it, loosely. Leave space between the cubes, you don't want to overcrowd the pan! Cook on each side for 2-3 minutes, until the coating is a light golden brown. Turn the cubes around and keep cooking until all the sides are golden brown.
Transfer the tofu to a paper towel to remove the excess oil (if there is any). If you need to cook them in batches, you can use a cooling rack to rest your cooked tofu cubes so they can remain crispy.
Make your favorite stir fry and add the tofu last by tossing it with the sauce, or add them to a salad as a topping. It's delicious!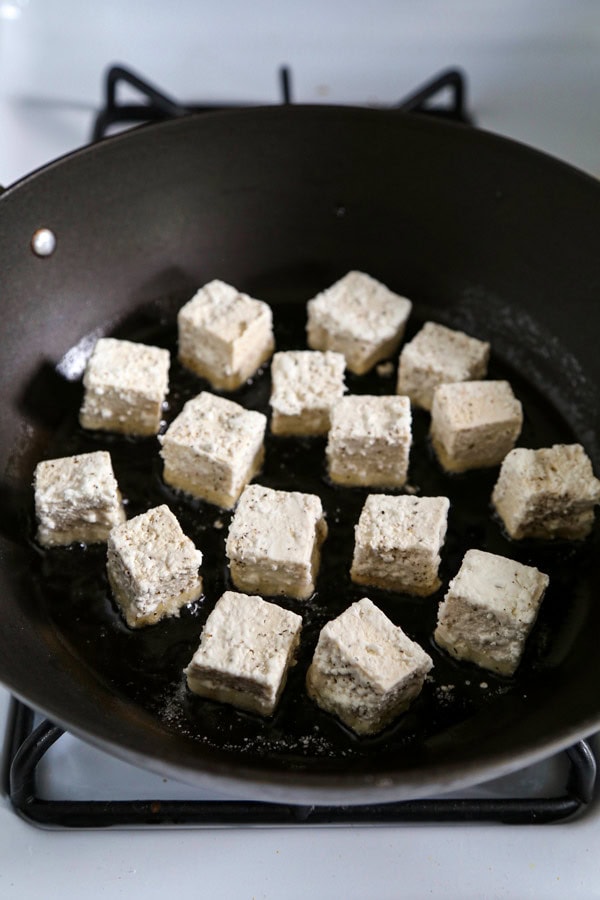 Dishes You Can Make With Crispy Tofu
Here are some of my favorite crispy tofu dishes – three stir fries, a side, and a salad:
Sauces that Pair Well with Crispy Tofu
If you don't feel like making a whole dish out of crispy tofu, you can dress it up with one of these easy homemade sauces and serve it with a side of rice and steamed veggies. Just add a little bit of sauce to a pan and toss the cubes for a couple of seconds over medium heat.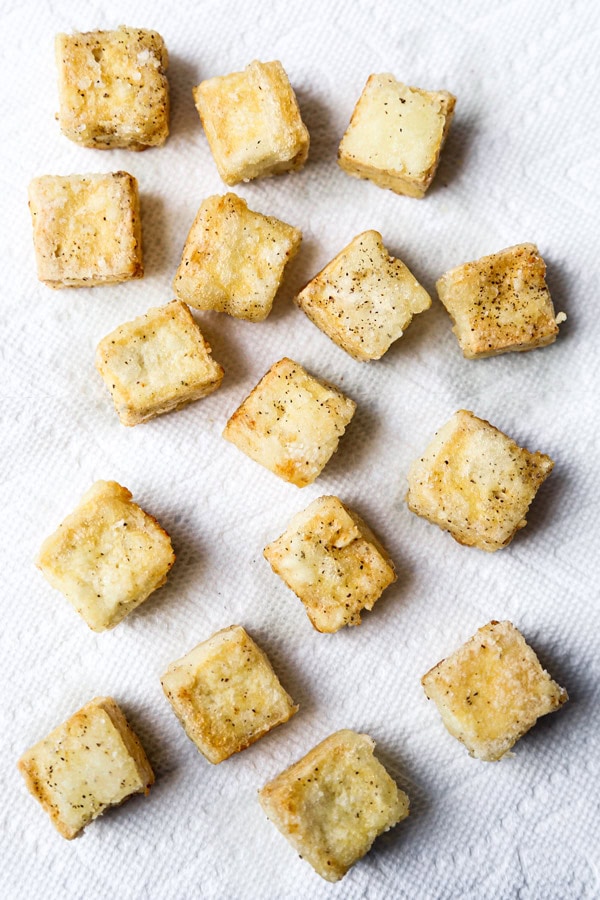 How To Make Crispy Tofu Without Cornstarch
If you are trying to cut down on calories you can skip the cornstarch and use the baking method.
Preheat the oven to 400ºF.
Drain the and cut the tofu into bite size cubes. Toss the cubes in 1 tablespoon of olive oil and season with a little salt and pepper. You can also use a dry seasoning such taco seasoning or curry powder to add flavor.
Place the tofu on a baking tray covered with parchment paper, leaving a little space between each cube.
Bake in the oven for 15 minutes and flip them over. Bake for an additional 15 minutes and serve.
Air Fryer Tofu
You can also bake tofu in an air fryer! It's faster than an oven and will yield a crispier texture.
Preheat the air fryer to 380ºF.
Drain the and cut the tofu into bite size cubes. Toss the cubes in 1 tablespoon of olive oil and sprinkle about 1 tablespoon of cornstarch. You only need a little bit of cornstarch for the air fryer. Season with a little salt and pepper use a dry seasoning such taco seasoning or curry powder.
Place the tofu in the air fryer basket and bake for 15 minutes, tossing the tofu every 5 minutes or so to ensure it cooks evenly. Serve!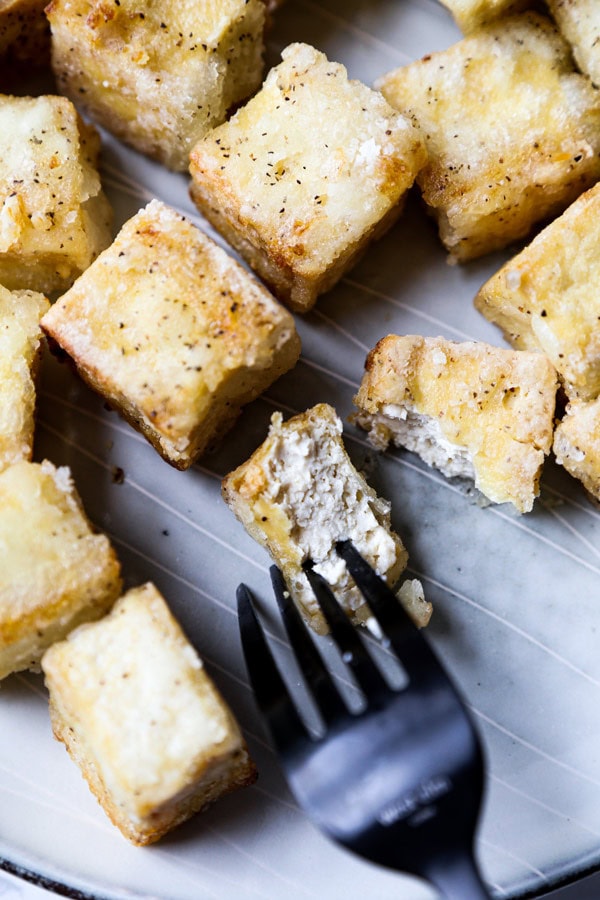 More Yummy Tofu Recipes
Interested in cooking more often with tofu? Here are some super easy and tasty recipes to try:
Did you like this Crispy Tofu Recipe? Are there changes you made that you would like to share? Share your tips and recommendations in the comments section below!
Print
How To Make Crispy Tofu
This is a no fail tutorial on making crispy tofu that's ready in less than 20 minutes, from start to finish!
Author: Caroline Phelps
Prep Time:

5 minutes

Cook Time:

12 minutes

Total Time:

17 minutes

Yield:

4

sides

1

x
Category:

Tofu

Method:

Pan Frying

Cuisine:

Japanese
1

block medium firm or firm tofu

1/4 cup

cornstarch (use more for a thicker coating)

2

–

3

tablespoons neutral oil such a vegetable oil or grapeseed oil (enough oil to coat the bottom of a large pan)
Salt and pepper to taste
Instructions
Drain the tofu block and place it on a plate. Set aside for 15 minutes.
Drain again and slice the tofu into bite size cubes. Gently pat the cubes with a paper towel to remove excess water.
In a bowl or ziploc storage bag, add the cornstarch and season it with a little salt and pepper.
Dust the tofu cubes well and make sure all sides are evenly coated.
Heat a large pan over medium high heat for 1-2 minutes and add a few drops of water to the pan. If it sizzles the pan is ready to use. Add oil and the tofu cubes, leaving space between each tofu cubes (don't overcrowd the pan! Do it in batches if you have to). Cook for 2-3 minutes on one side, flip them over and repeat until each side is a light golden brown.
Transfer to a paper towel covered plate to remove excess oil. If you are cooking in batches, place the cooked tofu on a cooling rack as this will help them stay crispy.
Serve.
Notes
The texture of crispy tofu is best when eaten fresh out of the pan. They will keep in a storage container for up to 2 days.
Nutrition
Serving Size:
Calories:

172

Sugar:

0.3 g

Sodium:

4.7 mg

Fat:

11.1 g

Saturated Fat:

6 g

Carbohydrates:

9.6 g

Fiber:

0.9 g

Protein:

8.8 g

Cholesterol:

0 mg
Keywords: DIY, bean curd, fried tofu
Recipe Card powered by