This easy homemade hoisin sauce recipe is savory, sweet, garlicky, nutty, and packed with umami. It's delicious as a dipping sauce and it makes for a great stir-fry sauce too! Ready in 5 minutes from start to finish.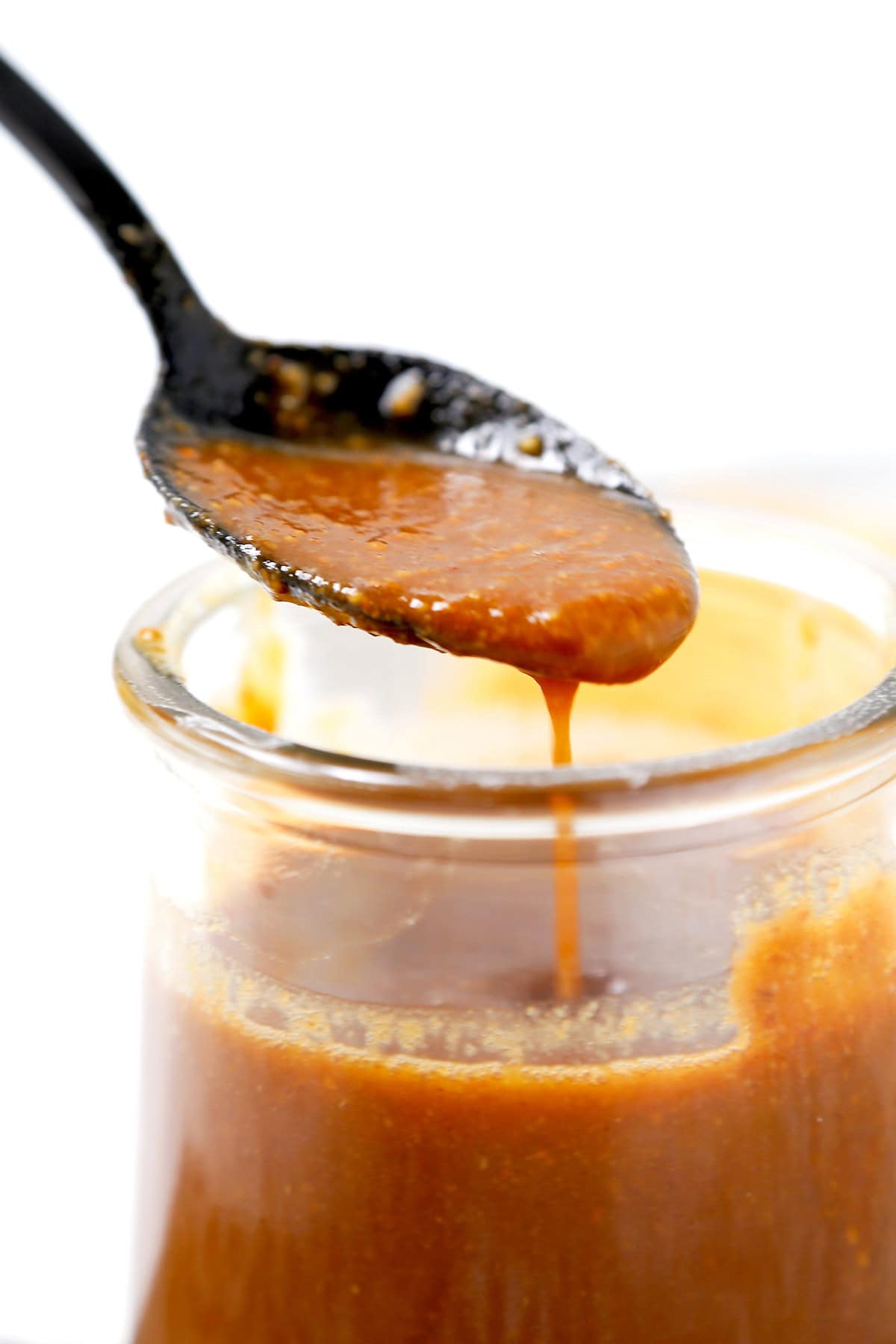 Hoisin sauce is one of those mysterious ingredients that always seems to taste better in restaurants.
I was never able to figure out whether it was I who didn't know how to pick a good hoisin sauce at the local grocery store, or whether the restaurants I frequented had their own secret recipe. Commercial hoisin sauce just never lived up to my expectations.
The only thing I know for sure is that the good ones I've had have more depth of flavor than the store bought version. They are not just sweet but savory and nutty as well.
I started making my own homemade hoisin sauce a few years ago after urgently needing some for a recipe I was making. I had none left in my pantry so I searched online for an easy hoisin sauce recipe that I could make on the spot. I looked at a few recipes, wrote down common ingredients all the recipes had and made my own sauce. The result was a delicious, flavorful sauce! So delicious in fact that it's the only hoisin sauce I have been using ever since.
If you find store bought hoisin sauce too sweet, you will love this recipe. Making your own hoisin sauce is the only way to go!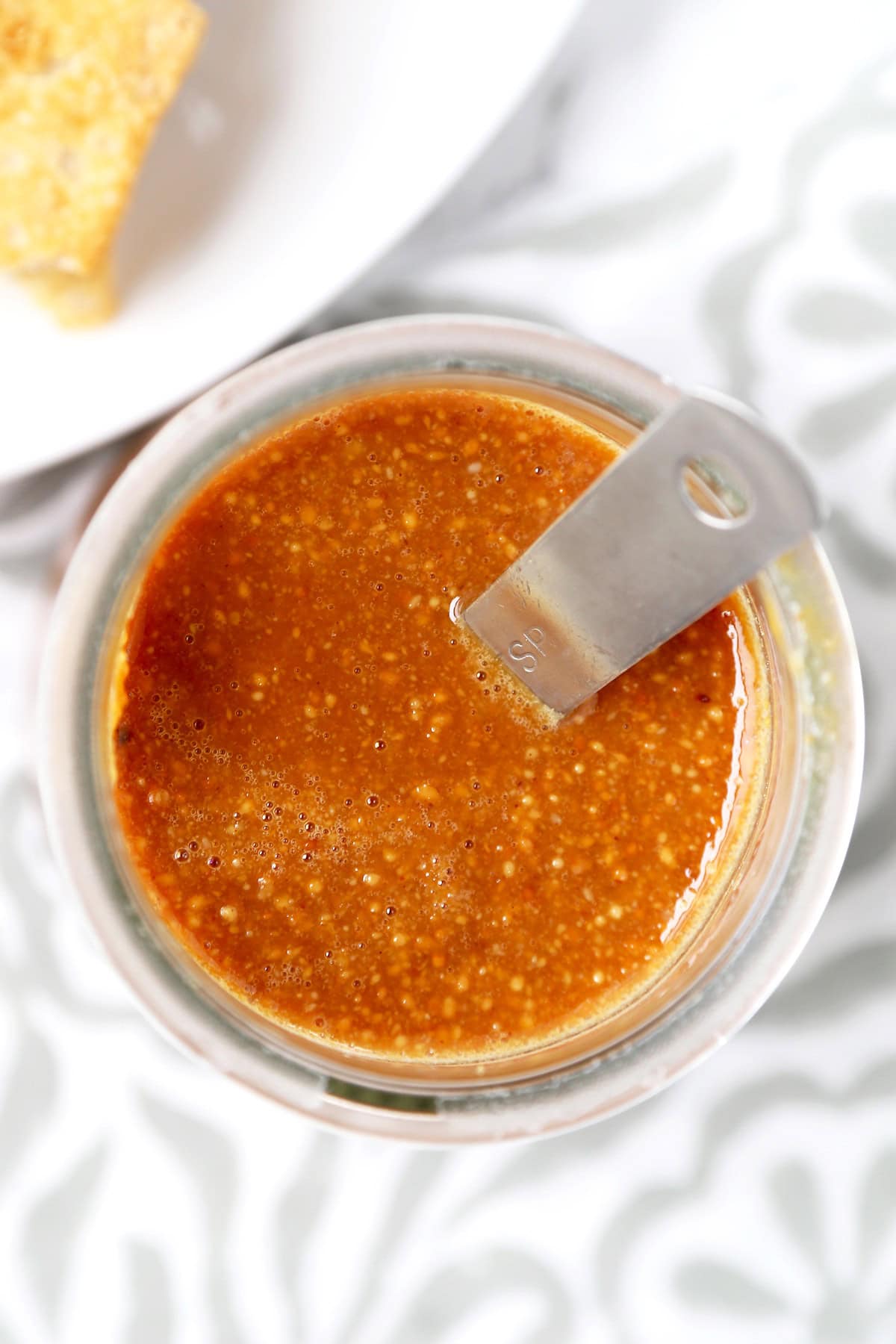 What is Hoisin Sauce?
Traditional hoisin sauce is a reddish brown sauce used in Chinese cooking as a seasoning for stir fries, as a glaze for meats and Peking duck (in the US), and as a dipping sauce for dumplings and potstickers. It's mainly used in Cantonese cuisine which originated from Southeast China and Hong Kong.
The word hoisin is the shortened Chinese version of the words hói sīn jeung, which translate to seafood sauce. While the sauce actually doesn't contain any seafood, nor is it eaten or served with seafood, the term "seafood flavor" or "fish fragrant" is commonly used in Chinese cuisine.
The sauce is thick, dark in color, and made with a mixture of soybeans, garlic, red chili peppers, and sometimes five-spice powder, and vinegar. The hoisin sauce found in SE China is quite different than the one we are accustomed to tasting here in the US. While sugar tends to be the main ingredient used here, it's sometimes entirely omitted in China.
Substitute for Hoisin Sauce
Finding another sauce to replace something as unique as the taste of hoisin sauce can be a challenge. You can make it from scratch by following this recipe, or you could swap it for oyster sauce, if the recipe you are making only calls for a little, such as 1-2 teaspoons.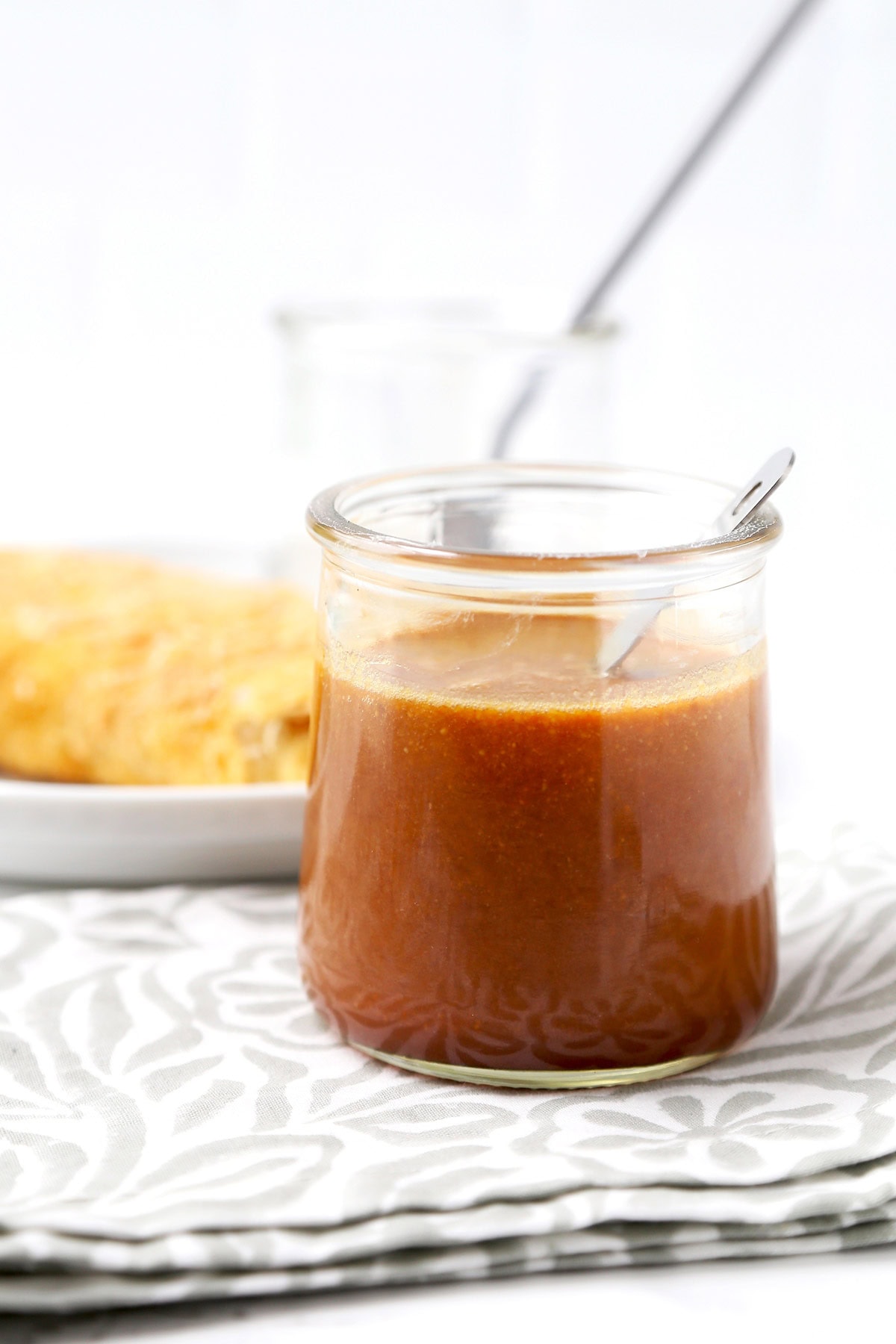 Ingredients for Hoisin Sauce
Soy sauce:  You didn't think we would be making an Asian sauce without
Miso paste: Preferably white or awase miso paste. Red miso paste can be very smoky and salty, which might be overwhelming for this recipe.
Honey: I recommend using something not too floral since the sauce is already super flavorful. I'm using raw organic honey but that's not necessary. Something like Golden Blossom Honey also works well.
Salt: Just a pinch to help balance the sweet and salty.
Peanut butter: I'm using natural smooth peanut butter but you can use any type of peanut butter for this recipe. Keep in mind that you may need to use less honey if the peanut butter you are using contains sugar.
Rice vinegar: Rice vinegar is great for toning down the sweetness of the sauce while infusing it with a little acidity.
Water: The water is just to thin out the sauce. If you like a thick sauce, skip the water.
Fresh garlic: Hoisin sauce should be a little pungent and that's what the fresh garlic brings to it. I recommend mincing it as fine as you can.
Sriracha sauce: Just a teaspoon but go ahead and add more if you like your sauce to have some heat.
Is This Hoisin Sauce Vegan?
This specific recipe is not vegan because it contains honey. However, if you'd like to make vegan hoisin sauce, replace the honey with maple syrup. This replacement goes a long way because they a have similar level of sweetness and a floral element as well. The flavor shouldn't change too much as long as you keep the other core key ingredients the same.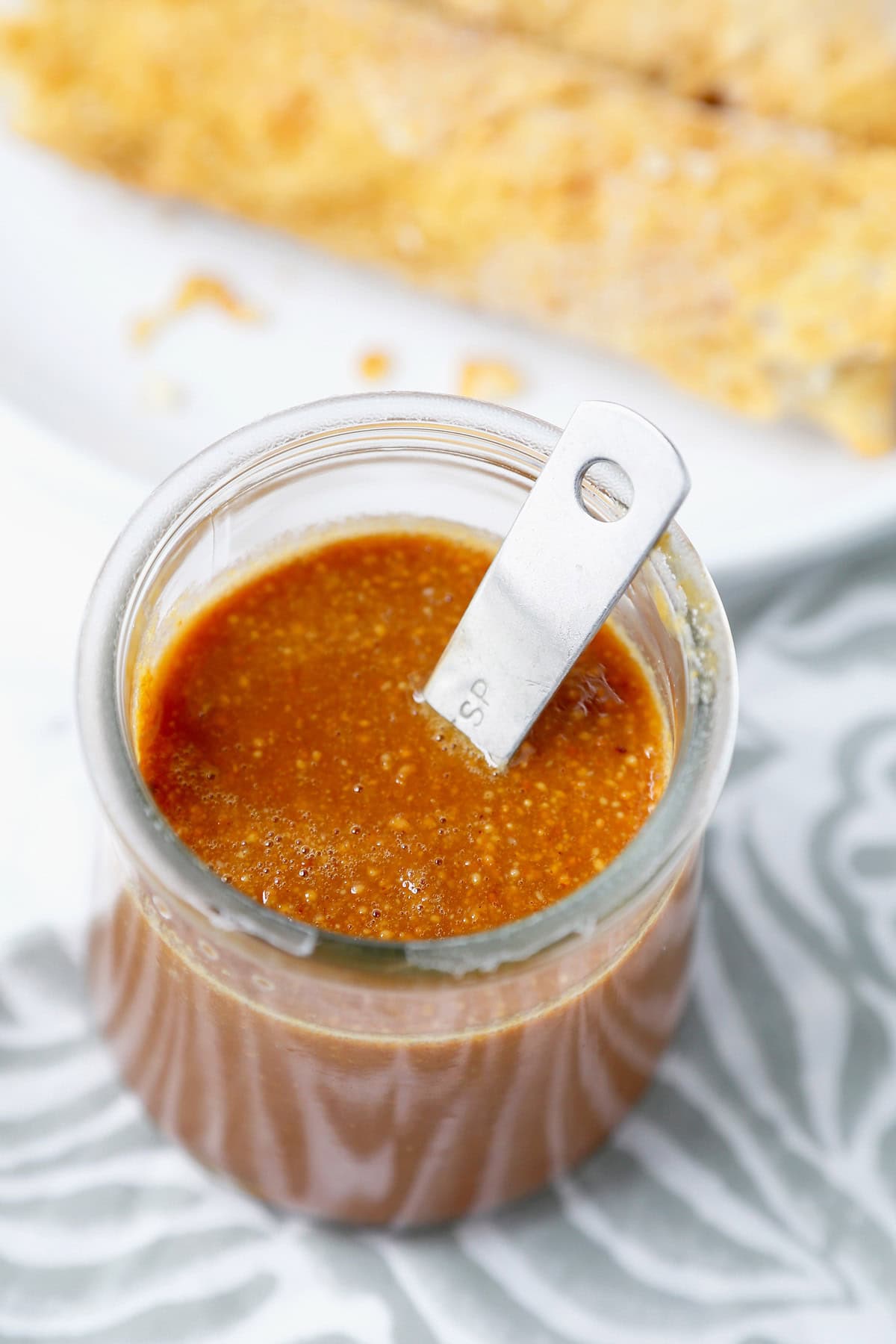 How to Make Hoisin Sauce
Scroll all the way down to the recipe card for the full recipe.
Gather all of your ingredients in one place along with a bowl and whisk.
Whisk all of the ingredients into the bowl until the honey, miso paste, and peanut butter have softened and blended with the other ingredients.
Transfer the sauce to a jar or other storage container with a lid.
Use immediately or refrigerate for up to 1 month.
Hoisin Sauce Variations
Next time you make this homemade sauce and want to change it up a bit, try these tips and tricks to create your own perfect version of hoisin sauce:
Make it sweeter: Add an additional 1 tablespoon honey.
Make it spicier: Add 1 tablespoon sriracha sauce instead of the 1 teaspoon listed in the recipe.
To create a more pungent, savory flavor: You can either add one more garlic clove or 1 to 2 extra teaspoons of miso paste. Or add both if you like it aggressively pungent and savory.
How to Use Hoisin Sauce
Hoisin sauce can be used in so many different ways and for so many different dishes that it would take a whole post to list them all. Here are the most popular that it can be used:
As a glaze or marinade for meats, seafood and other protein
As an addition to stir fries
As a dipping sauce for dumplings, potstickers, egg rolls, and spring rolls
As a flavor enhancer for noodle soups
As a spread for sandwiches (baguette or banh mi)
As a finishing sauce for vegetables
No matter how you use it, hoisin sauce is a wonderful ingredient to have on hand as it goes well with just about anything. Once you get comfortable using it, it will become your favorite condiment!
Other delicious and easy homemade sauces: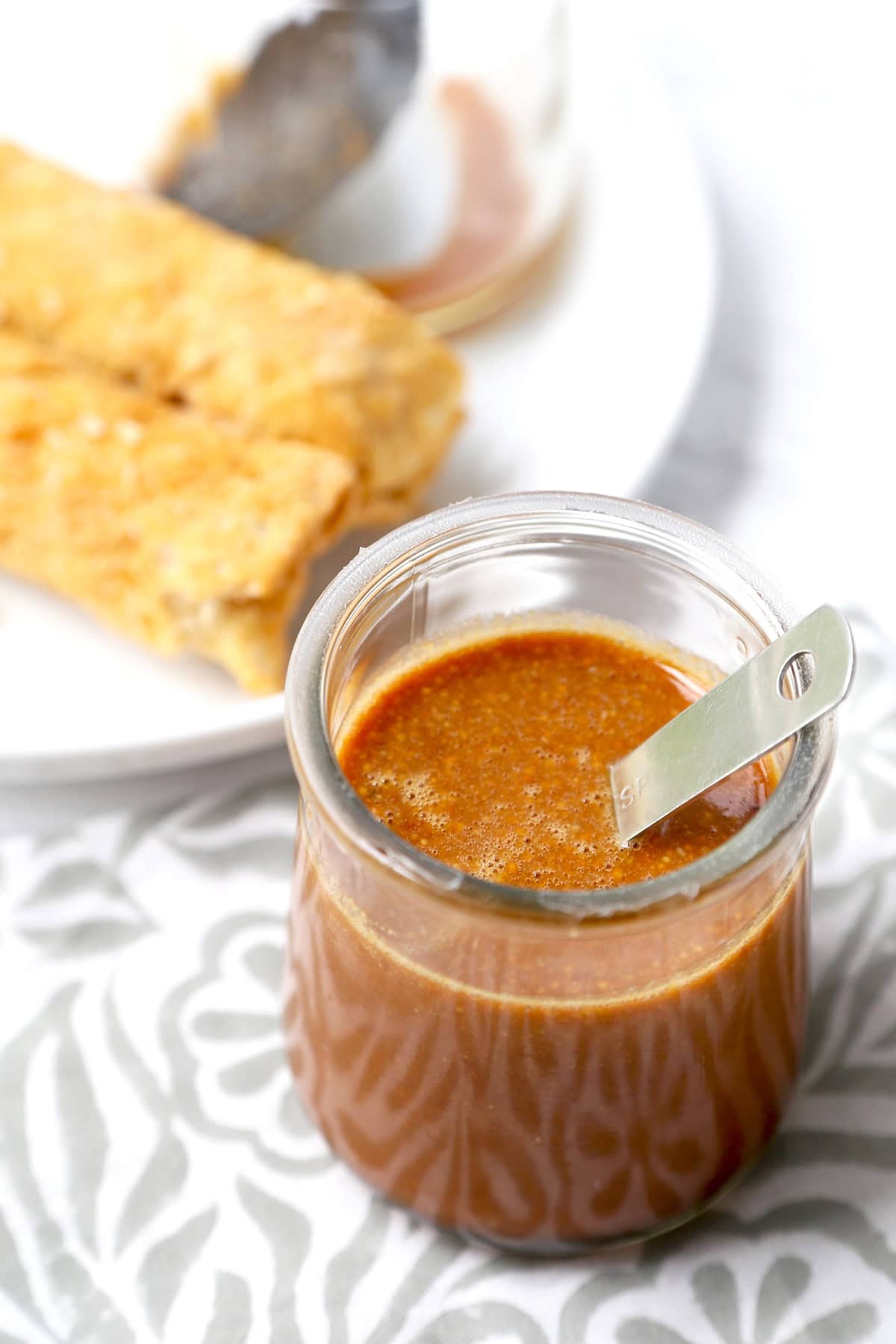 How To Store Hoisin Sauce
Once you have finished cooking your meal using this homemade hoisin sauce, I recommend storing it in a jar or airtight container and put it in the refrigerator. You never want to leave your hoisin sauce out for too long at room temperature as it might develop bacteria.
It can last up to two weeks when stored properly.
Did you like this hoisin sauce recipe? Are there changes you made that you would like to share?
Print
Hoisin Sauce
Homemade hoisin sauce has much more complex flavor than what you get at the store. It's less sweet, more savory and with a touch of umami. Use it in stir fries, with noodles, or as a dipping sauce.
Author: Caroline Phelps
Prep Time:

5 minutes

Total Time:

5 minutes

Yield:

1 cup

1

x
Category:

Sauces

Cuisine:

Chinese

Diet:

Vegetarian
1/4

cup

soy sauce

1 teaspoon

white or awase miso paste

1 1/2 tablespoons

honey

1/8 teaspoon

kosher salt

2 tablespoons

natural peanut butter

2 teaspoons

rice vinegar

1

small garlic clove, grated

2 teaspoons

water

1/2 teaspoon

sriracha sauce
Instructions
Put all the ingredients in a bowl and stir until smooth.
Refrigerate for up to 1 month.
Notes
This hoisin sauce will keep for about 1 month, refrigerated in a jar or an airtight container.
Nutrition
Serving Size:

8

Calories:

79

Sugar:

6.2g

Sodium:

524.2mg

Fat:

2.3g

Saturated Fat:

0.3g

Unsaturated Fat:

0.5g

Carbohydrates:

12.3g

Fiber:

1.3g

Protein:

1.8g

Cholesterol:

0mg
Keywords: condiment, stir fry sauce
Recipe Card powered by