15 Popular Homemade Asian Sauces
*This post may contain affiliate links. Read my disclaimer here.
These homemade Asian sauces are so much better than what you get at the store! Not only do they have more depth of flavor, they are also better for you. Learn how to make these iconic Asian sauces in your own kitchen in just a few minutes!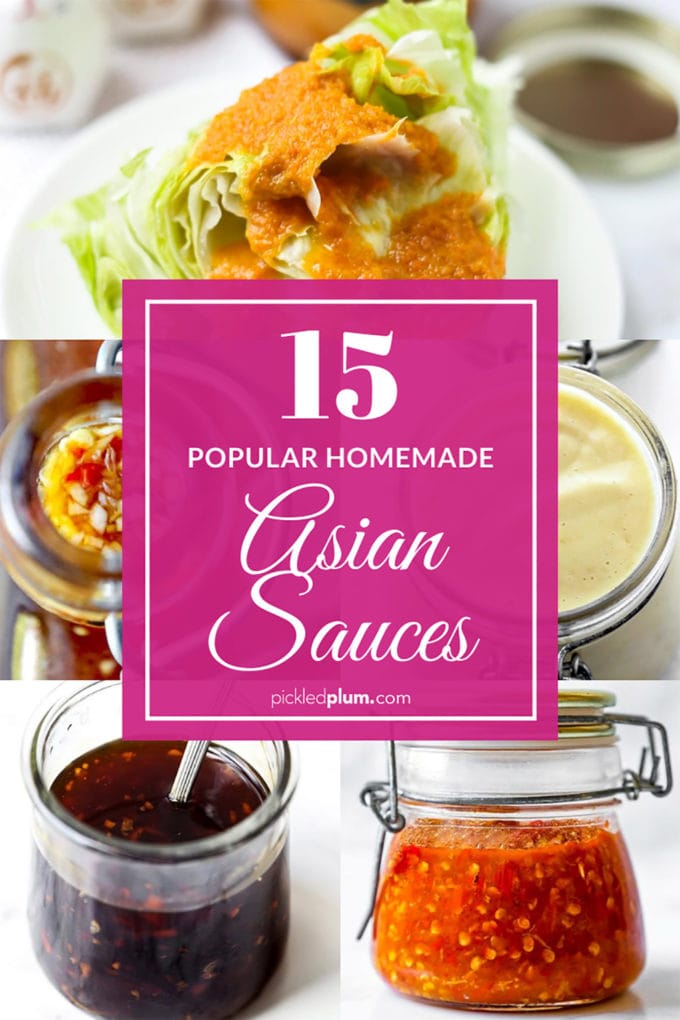 My fridge is always stocked with Asian sauces. That's because they are a lifesaver when I have little time to cook, yet want big flavors on my plate. There's nothing like brushing a piece of fish with teriyaki sauce, or dressing iceberg lettuce leaves with a ginger carrot dressing to turn a bland dinner into an exciting one.
I started making my own Asian sauces after being disappointed by the options that were offered to me at the store. After living in Asia for almost a decade and being spoiled with flavors that consistently blew me away, it was a let down to find that the common denominator here, when it comes to sauces, is sweetness.
Sure, some sauces in Asia are sweet too, but they are also pungent, nutty, umami, spicy, briny, floral, savory. What I'm trying to say is that there are many layers of flavors that keep the dining experience fun and extremely satisfying. Unfortunately, here in the US, most sauces are cloyingly sweet and one note.
But don't worry, it's not all bad news – what I discovered after making my own Asian sauces is that I have the advantage of seasoning them exactly the way I like them. And that makes them so much better than anything I get at the store, even restaurants!
The list I have for you today is packed with flavors that will keep your tastebuds happy for days! You can tweak them to your liking and use them as dipping sauces, salad dressings, stir fry sauces, sandwich spreads, marinades, finishing sauces.
Asian Sauces
1. Tonkatsu Sauce
Tonkatsu sauce is a quintessential Japanese sauce used as a finishing sauce for dishes such as okonomiyaki and takoyaki. It's also used for fried dishes like pork katsu and as a sauce for burgers and sandwiches. The flavor is smoky, sweet, and savory. Only 4 ingredients are needed to make this saue! GRAB THE RECIPE
2. Japanese Restaurant-Style Ginger Carrot Dressing
One of my favorite salad dressings! Served in most Japanese restaurant both here and in Japan, ginger carrot dressing has a strong onion flavor with a hint of ginger and plenty of sweetness and tanginess. GRAB THE RECIPES
3. Ponzu Sauce
Drizzle ponzu sauce on a salad and it instantly tastes light and fresh. The mixture of bonito flakes, rice vinegar, mirin, soy sauce, and yuzu makes this sauce sour, smoky, and full of umami. I couldn't find yuzu for this recipe so I used a mixture of lemon and lime juice, which is pretty close to the real thing. GRAB THE RECIPE
4. General Tso Sauce
Do you like your General Tso spicy, regular, or sweet? I have all three options available here! What I love about General Tso Sauce is the intense tangy flavor it impart onto meats, seafood, and tofu. I just can't stop eating it! GRAB THE RECIPE
5. Hoisin Sauce
Nutty is the first adjective that comes to mind when I think of this particular hoisin sauce. Unlike the one you get in most Chinese restaurants or at the store, it has a lot more depth of flavor. I was never a big fan of hoisin sauce until I started making my own. Now I put on just about everything! GRAB THE RECIPE
6. Ssamjang
One of Korea's most famous sauces, ssamjang is smoky, salty, pungent, nutty, and last but not least – addictive! With its multi-layered taste you will be surprised to know that it only requires 7 ingredients and 5 minutes of your time to make! GRAB THE RECIPE
7. Gochujang
If you like super smoky foods, you will love gochujang. Made with gochugaru (Korean red pepper flakes), red miso paste, and a handful of easy to find ingredients, gochujang is more like a paste than a sauce. While you can use ssamjang as a dipping sauce,  gochujang is used to flavor sauces and marinades. It's a quintessential ingredient in Korean cooking. GRAB THE RECIPE
8. Japanese Kewpie Style Mayo
Eggy, creamy, sweet, fruity, and savory. Much more complex in flavor than American mayonnaise, Japanese Kewpie mayo can be used as a salad dressing, dipping sauce, sandwich spread, and pairs beautifully with cold pasta too. I always have a jar of this in my fridge! GRAB THE RECIPE
9. Teriyaki Sauce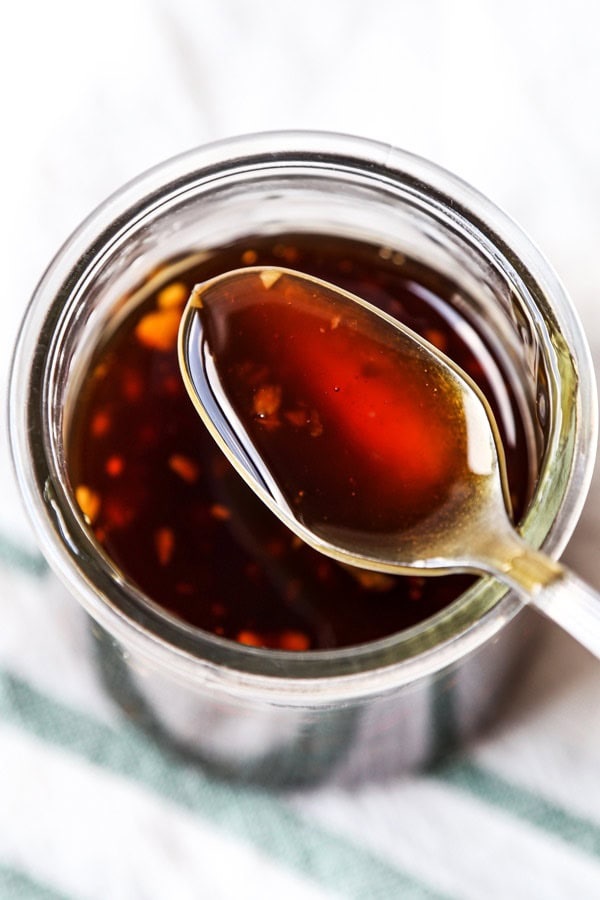 This classic teppanyaki sauce can be made at home with just 4 ingredients! It can be used as a finishing sauce for meats, seafood, or tofu, or as a glaze for vegetables. This recipe is less sweet than what you get at the store, and instead, is a bit more savory and complex – it's absolutely delicious! GRAB THE RECIPE
10. Nuoc Cham (Vietnamese Dipping Sauce)

This is one of those Asian sauces I have trouble with here in America. It's always too sweet for my taste and I don't know why Vietnamese restaurants make it that way, because it tastes totally different than that in Asia. So let me warn you about my version of nuoc cham – it's not very sweet. It's a lot more pungent, sour, and a little spicy, and will lighten up your bun cha while combining beautifully with fresh mint. GRAB THE RECIPE
11. Eel Sauce
Eel sauce is very similar to teriyaki sauce but has a thicker texture and a smokier taste.  It's used as a glaze for eel rice bowl  (unagidon) and lately has been appearing as a flavoring sauce for Asian style pizzas. It's super easy to make, only 4 ingredients are needed. GRAB THE RECIPE
12. Chili Garlic Sauce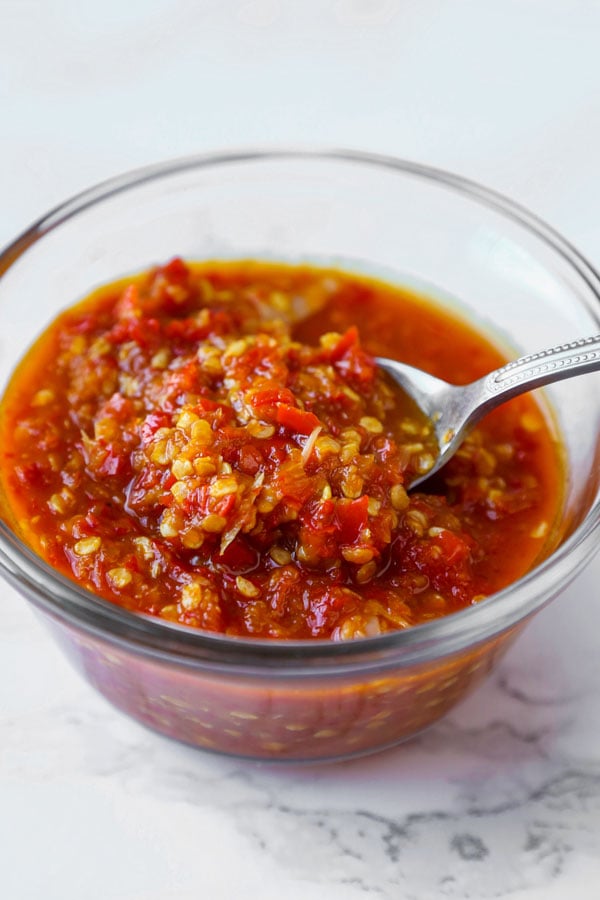 HOT! I'm not kidding when I say that this chili garlic sauce is crazy hot! Unless you can handle heat well, stay away from this sauce. Otherwise, revel in the fact that this sauce will make you sweat, numb your entire mouth, and possibly make you cry. GRAB THE RECIPE
13. Dumpling Sauces
If you like dumplings, you will love these two simple dumpling sauces. They are nutty, savory, sour, and the Chinese version also has some heat. I make these all the time because the classic flavor combination never disappoints. GRAB THE RECIPE
14. Thai Peanut Sauce
This is another Asian sauce I don't enjoy having outside my home. Too sweet? Yes. But not this one! This recipe has it all: creamy coconut milk, nutty peanut butter, sour tamari, pungent garlic, spicy Thai chilis, and spices such as turmeric, chili powder, and cumin powder. The result is a sauce that's rich, smooth and perfectly balanced in terms of flavor. GRAB THE RECIPE
15. Stir Fry Sauce
The last Asian sauce I have for you is a simple stir fry sauce that pairs well with any combination of meat, seafood, tofu, and veggies. You can't go wrong with this one and you can add your own flavor twist to it. It makes cooking dinner so easy! GRAB THE RECIPE
Pickled Plum is a participant in the Amazon Services LLC Associates Program, an affiliate advertising program designed to provide a means for sites to earn advertising fees by advertising and linking to amazon.com.