This is a delicious recipe for Thai peanut sauce that's perfect for chicken and beef satay, veggies and noodles. While being both sweet and savory, this peanut sauce is also packed with aromatic spices and a hint of curry. Scroll all the way down to watch the video on how to make peanut sauce. It's the best!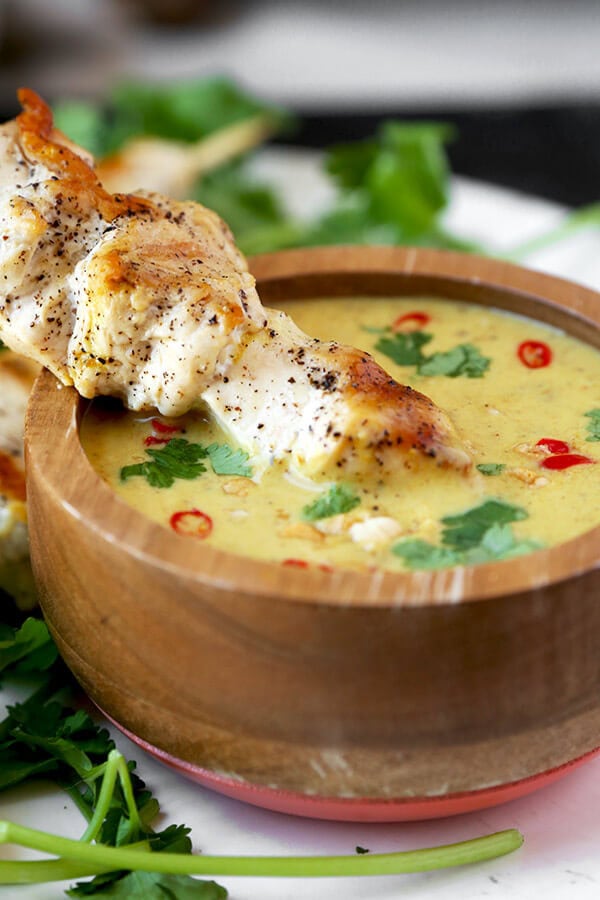 After a full week of blogging plus traveling to Chicago for more work over the weekend, I have to say I'm feeling pretty wiped out and in desperate need of R&R.
My plans for the next day are to catch up on my favorite TV shows, drink some wine and do as little cooking as possible. When I feel tired I stay away from complicated recipes that have lots of steps and instead opt for simple dishes that are grilled or slow cooked.
This weekend I thought I would make a Thai peanut sauce for a satay dinner since it's easy, healthy and ready to serve in no time!
Homemade Peanut Sauce Vs Store-Bought Peanut Sauce
You are probably wondering why I would go through the trouble of making my own peanut dipping sauce from scratch when I could just grab a bottle at the store.
The reason is because I find the store-bought versions way too sweet and gluey thick in texture. Plus, after having spent almost a year in Thailand I can tell you that authentic Thai peanut sauce is much more complex in flavor.
And it isn't really that sweet.
So today I'm sharing with you a peanut sauce recipe that's very close to what you would find in a restaurant in Bangkok. It requires a few ingredients put the preparation is very easy and quick!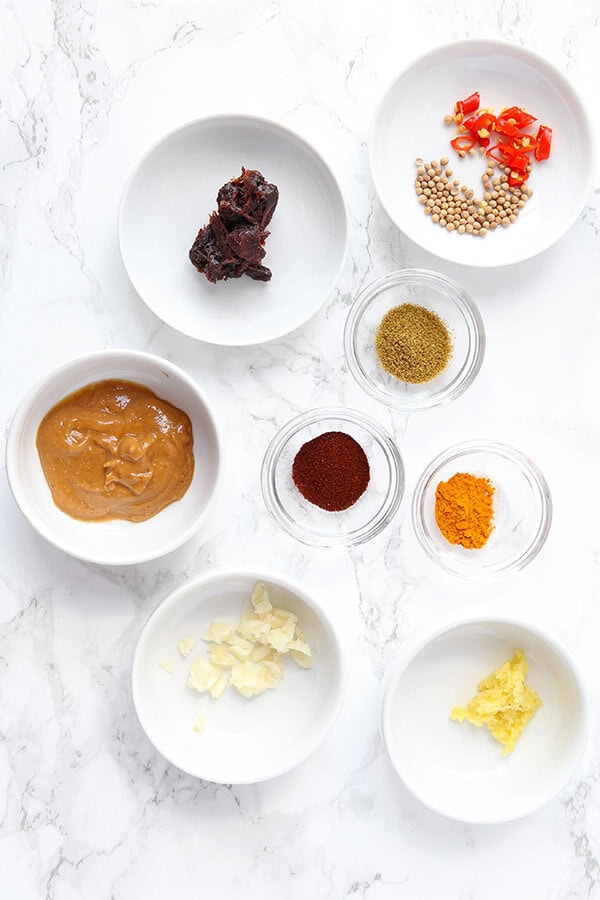 How To Make Peanut Sauce
A good Thai peanut sauce (also called satay sauce) is aromatic, a little smoky and has that pungent element that many Southeast Asian dishes have.
It's complex in flavor and just as savory as it is sweet. My version may not be 100% traditional but it's pretty close to the real thing. And it's so good that you will want to drink it!
You will need:
Turmeric powder
Chili powder
Ground cumin
Coriander seeds
Minced garlic
Minced ginger
Thai chili
Tamarind paste
Smooth peanut butter
Coconut milk
Start by toasting the turmeric powder, chili powder, cumin, and coriander seeds in a pan over medium heat, until the spices are fragrant (until you can smell them). Turn the heat off and transfer them to a mortar or a spice grinder.
Making the Paste
If you are using a mortar, add the garlic, ginger and chili and use a pestle to crush the ingredients until a paste forms. Add the remaining ingredients – except the coconut milk – and mix well.
If you are using a spice grinder like I am, add all the ingredients – except for the coconut milk – and pulse until smooth. I prefer this method because it's faster and requires little to no energy.
Add the paste and coconut milk to a pot over low heat and whisk until the paste dissolves. That's it!
You can serve it hot or cold (I personally think room temperature is best) as a dipping sauce to satay skewers or as a sauce for noodles or summer rolls.
I love it when a meal can be made quickly without having to compromise on quality, nutrition and taste. Grilled vegetables such as red bell peppers, asparagus, carrots, cauliflower, zucchini and mushrooms are already so flavorful they only need a few minutes on the grill to shine.
Peanut Butter and Soy Sauce
While many satay sauces use soy sauce as an ingredient, I prefer to skip it as I'm not a huge fan of the flavor combination. You could add a dash of soy sauce to this recipe if you really wanted, I tried and it wasn't bad at all.
It was actually pretty good but I like it better without it.
Thai Peanut Sauce Without Coconut Milk
For those who have an aversion to anything coconut, you can swap coconut milk for unsweetened almond milk or oatmeal milk. You may also do 50/50 milk and water if you find the taste of almond or oatmeal milk too overwhelming.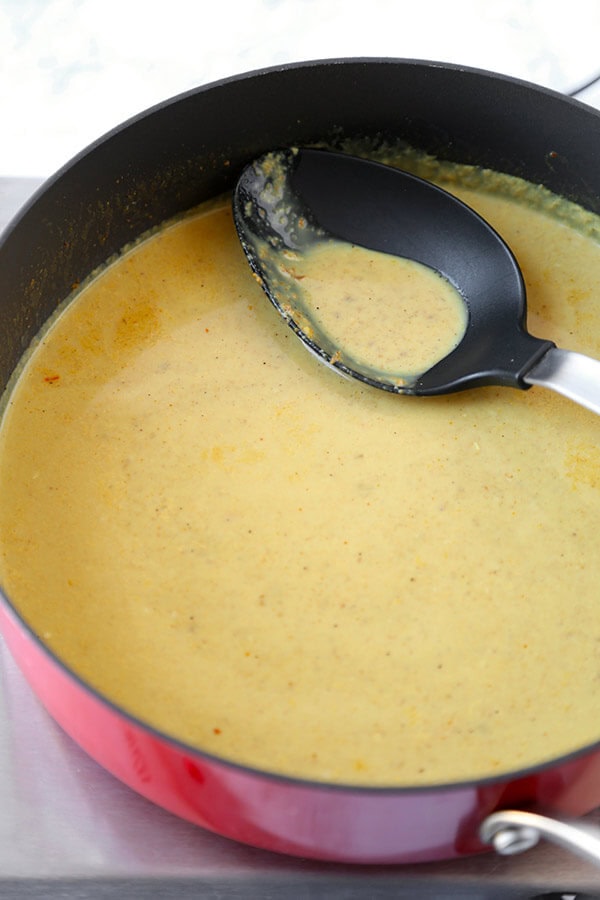 How Long Peanut Sauce Is Good For
Peanut sauce should keep for about 1 week refrigerated and kept in an airtight storage container.
How to Freeze Thai Peanut Sauce
If you have a lot of leftovers I recommend freezing your peanut dipping sauce since it freezes really well! You can either keep it in an airtight microwavable storage container or use an ice cube tray. This is great if you are living by yourself or like to use just a little at a time. I would suggest using an ice cube tray that comes with a lid to keep the sauce from accumulating freezer frost at the top.
Reheat on low heat in a pot or microwave on medium for 10-20 seconds at a time.
Thai Peanut Sauce Noodles
Now that you have an awesome peanut sauce recipe, why not use it next time you make a Thai noodle dish?
Add your favorite chopped vegetables such as shredded red cabbages, carrots, cucumber, red and green bell peppers and toss in the noodles and sauce for a super colorful dinner.
This sauce is a lot thinner than your average Asian peanut sauce so you can also use it as a dipping sauce for noodles, like the Japanese tsukemen dish. As I previously mentioned, this sauce is so delicious you will want to use it on everything! DIY peanut sauce for the win!
ทานให้อร่อยนะครับ/คะ (tahn hai aroy na krub/ka). Enjoy your meal!
Other tasty and easy Thai recipes: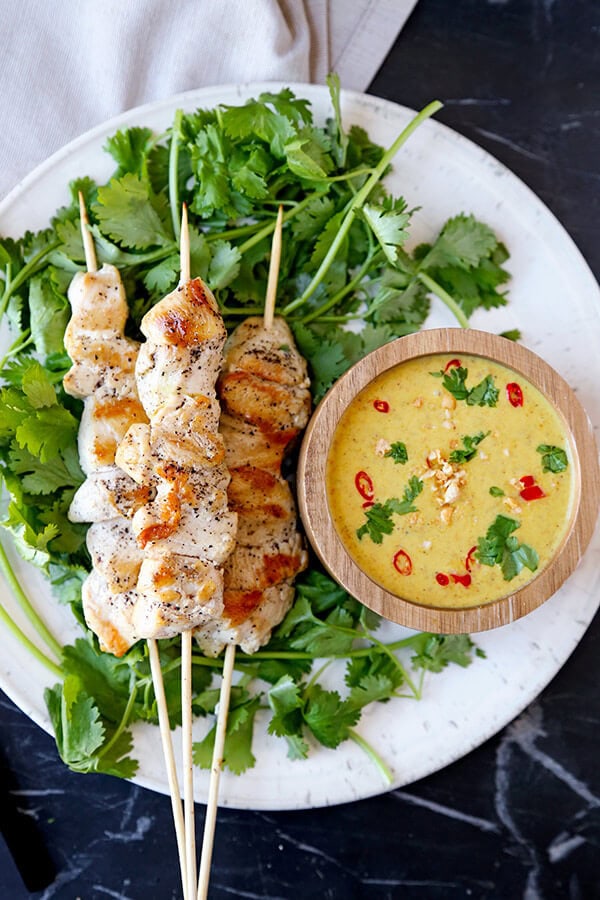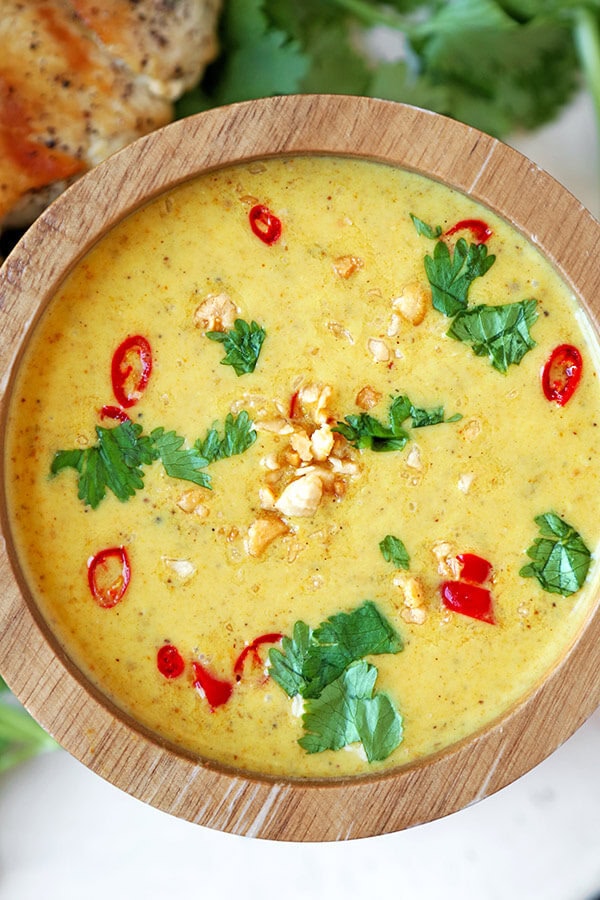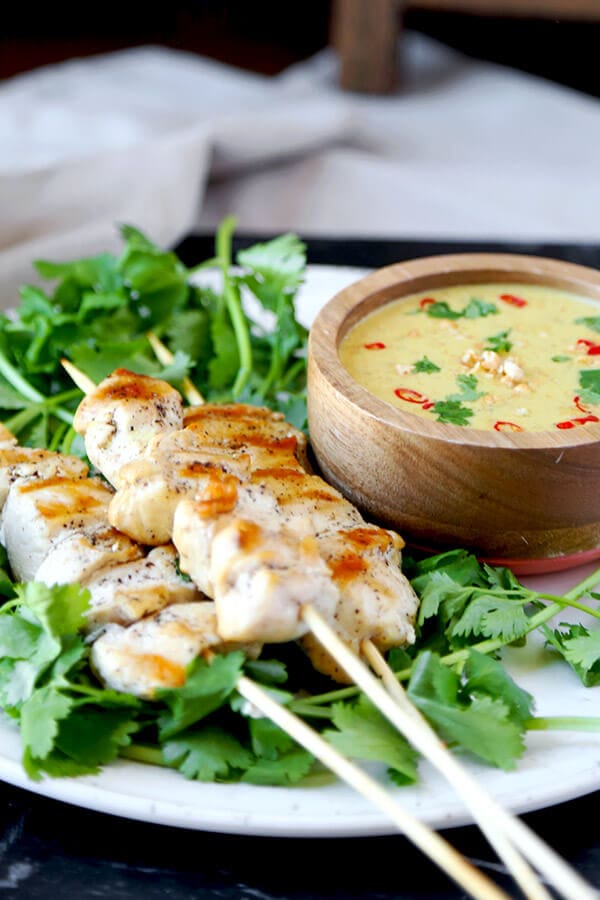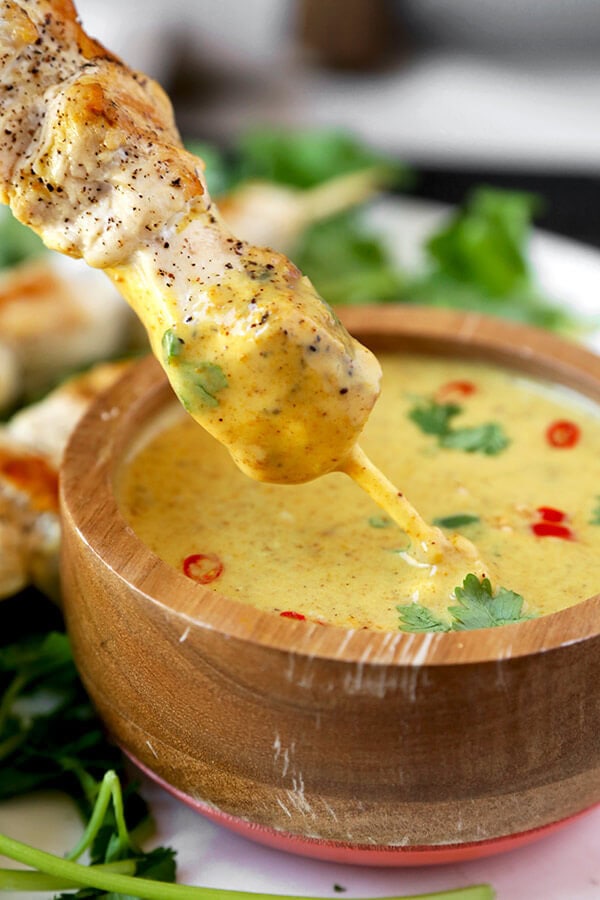 Did you like this Thai Peanut Sauce Recipe? Are there changes you made that you would like to share?
Print
Thai Peanut Sauce
Serve this creamy and nutty dipping sauce at your next satay dinner
Author: Caroline Phelps
Prep Time:

5 minutes

Cook Time:

5 minutes

Total Time:

10 minutes

Yield:

2 cups

1

x
Category:

Sauces

Cuisine:

Thai
For the paste:
1/2 teaspoon

turmeric powder

1/2 teaspoon

chili powder

1/2 teaspoon

ground cumin

1/2 teaspoon

coriander seeds

1

clove garlic (chopped)

1 teaspoon

ginger (peeled and grated)

1

Thai chili (chopped)

2 teaspoon

tamarind paste

2 tablespoons

smooth peanut butter
Remaining ingredient:
Instructions
In a small pan over medium heat, add turmeric powder, chili powder, ground cumin and coriander seeds. Cook until fragrant, about 1 minute.
Turn the heat off and transfer the spices to a spice grinder, small blender or pestle and mortar. Add the remaining ingredients for the paste and blend.
In a small pot over medium heat, add coconut milk and paste and whisk until the past has dissolved. Heat the coconut milk until hot (but not bubbling) and transfer to a bowl.
Serve the Thai peanut sauce with vegetables and skewers or use it as a sauce for a stir fry. It's delicious over rice!
Notes
This Thai peanut sauce will keep refrigerated for up to 3 days.
Nutrition
Serving Size:

1/2 cup

Calories:

73

Sugar:

1.8 g

Sodium:

59.6 mg

Fat:

5.9 g

Saturated Fat:

2.3 g

Carbohydrates:

3.6 g

Fiber:

0.6 g

Protein:

2 g

Cholesterol:

0 mg
Keywords: recipe, dipping sauce, condiment, vegan, vegetarian
Recipe Card powered by