Ready for some stir fried noodle action? This Classic Pad Thai Recipe is a taste of Thailand. Best part: you can make these Thai noodles at home in 21 minutes!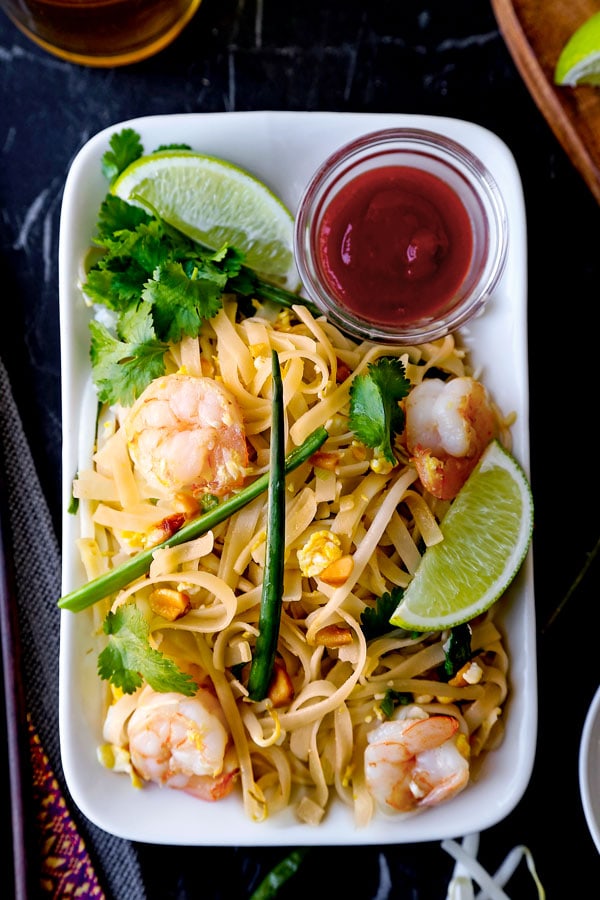 Classic Pad Thai Recipe
During the time I lived and worked in Thailand, I came to a serious conclusion pretty early on:
The best pad Thai recipe is the one you're currently eating 🙂
You see, when inhaling a delicious plate of Thai noodles from a street side food stall in Bangkok, the chances are pretty dang high that they are exceeding delicious.
And much like the New York rule that even pizza that isn't the absolute best is still pretty good (because, c'mon… it's pizza) – I found the same parameters to be true most of the time when it came to pad Thai in Krung Thep (Bangkok).
Unfortunately, that sweeping general assumption of quality doesn't always apply when ordering pad Thai noodles in North America.
While I have sampled some AMAZING renditions full of authentic Thai spice – I've also had some gloppy, overly-sweet versions I'd rather forget.
Well good news friends!
I've got an easy pad Thai recipe you can make at home in about 20 minutes.
And whether you just generally love pasta – or absolutely NEED a taste of Thailand – I'm pretty sure you're gonna love it!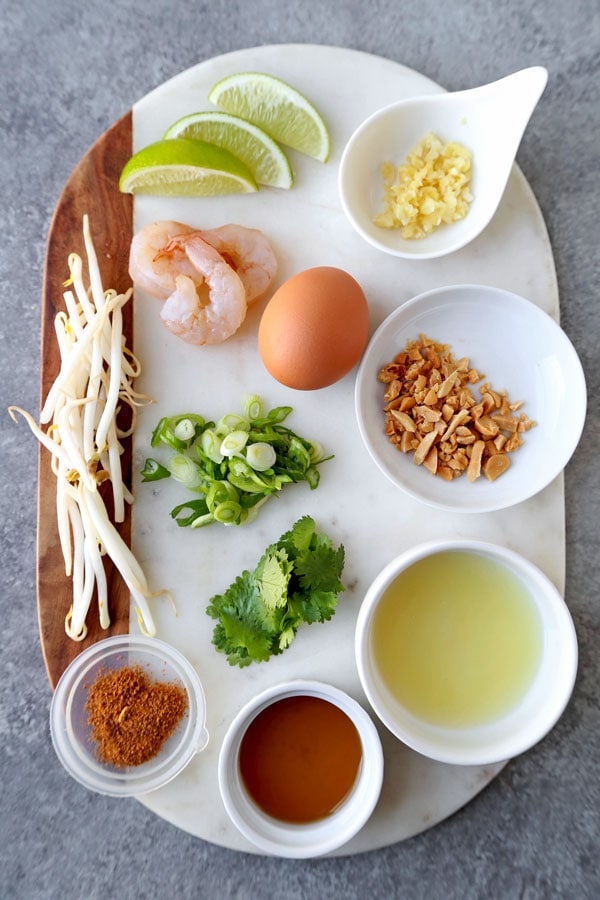 What is pad Thai?
Pad Thai (ผัดไทย) is a stir fried noodle dish made with rice noodles. Flavored with fish sauce and palm sugar, pad Thai is commonly topped with things like crushed peanuts, cilantro, dried chilies and bean sprouts.
You'll usually see proteins like dried tofu, squid or shrimp used in authentic pad thai recipes – however many Thai menus will have a chicken pad Thai on them as well.
Now, a good pad Thai will have ALL the flavors.
Sweet, sour, spicy, salty and bitter are the main flavors you expect to encounter in most Thai food recipes.
Well, there's a little bit of magic that occurs when you bite into the perfect combination of springy pad Thai rice noodles, still smoky from the wok – seasoned with the salty tones of fish sauce, the understated sweetness of palm sugar, and the sour notes from tamarind paste (or lemon). Green onions and herbs like cilantro lend their garden fresh bite to the mix.
It's fair to say that while you're chewing, you're in food nirvana!
Making pad Thai your own
My favorite part about eating pad Thai in Thailand is that your noodles arrive hot from the wok – and then you get to add condiments to make it taste your preferred way.
Yep, once served, it's common to add things like fiery dried chilis, dried mini shrimp, a squeeze of lime, a few fried shallots, vinegar or fresh sliced thai chilis (พริกขี้หนู, phrik khi nu) in fish sauce – to suit your taste and make it truly your own!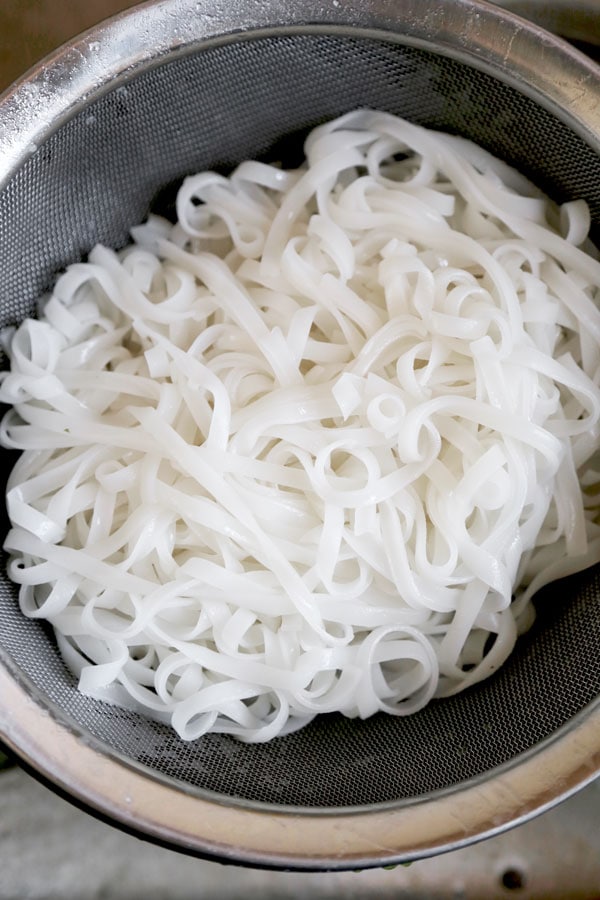 Pad thai sauce
When gearing up to make your own pad Thai recipe at home, you may want to premix the liquid ingredients. That way you can just pour them over your noodles in the wok without having to measure on the spot.
Now you might think this pad Thai sauce is going to be crazy complex – or full of a ton of tough to find ingredients.
But it's deceptively easy!
The lion's share of flavor comes from three ingredients: fish sauce, palm sugar and lemon.
Wait… lemon?
Yep. You see, most pad Thai recipes call for tamarind paste to be used. And while it's delicious, the last time I bought tamarind paste, I used it for a couple batches of pad thai – and then it just sat in the fridge for waaaay too long.
Lemon is an amazing substitute because it introduces the tart, sour pop of flavor that mimics the general effect tamarind in this homemade pad Thai recipe. And most of us have a lemon sitting around, right?!
That said, tamarind paste is wonderful – and if you have it, use it!
To make the pad Thai sauce for this recipe, I just mixed 1½ tablespoons lemon juice with 2½ tablespoons fish sauce and 2 teaspoons palm sugar.
Fish sauce (น้ําปลา, nam pla) is pretty much the salt of Southeast Asia – and is an integral ingredient in other Thai dishes like this pad kee mao recipe and this basil chicken recipe.
And when fish sauce is mixed with the subtle (almost earthy) sweetness of palm sugar and tart lemon – flavor magic ensues!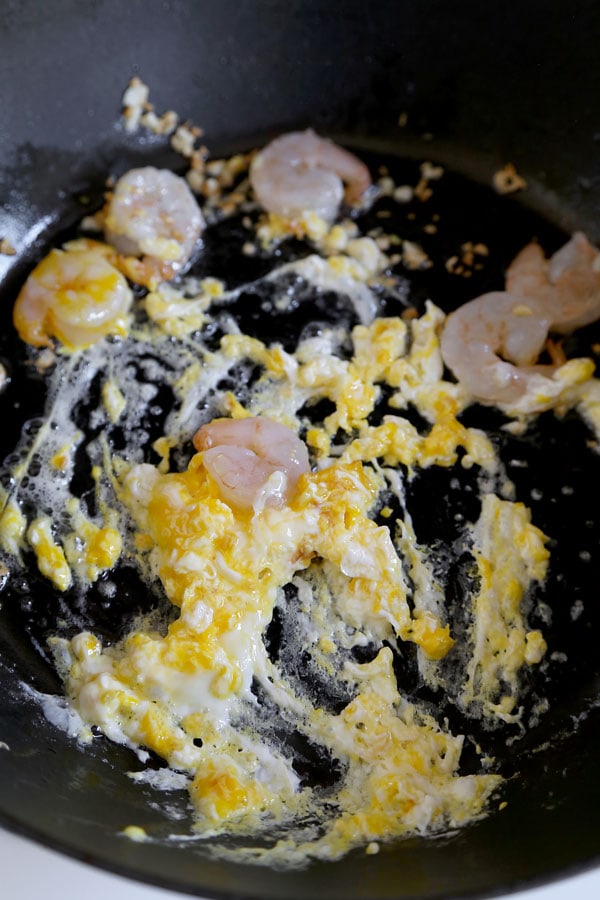 How to make pad Thai
Now, if you don't feel entirely comfortable making shrimp pad Thai at home, here's where I get to reassure you that this is about as easy as home cooking gets.
Seriously, you've got this!
To start, you'll want to soak your rice noodles in super hot water until they are just shy of cooked through. Since we will be finishing them in the pan, we want to keep them on the al dente side. Cooking times can differ from brand to brand. Just read the label. Preparation instructions should be on the noodle package.
Get your wok or pan going over medium-high heat and add a couple tablespoons of vegetable oil and a minced garlic clove. After about a minute, add your shrimp and toss them around in the pan a few times.
At this point, push everything to one side of the pan and quickly scramble an egg.
Then, simply add your al-dente rice noodles with about 15 or so crushed peanuts and your pad Thai sauce. Toss until the noodles are evenly coated and cooked through.
Now, before turning off the heat, I like to add half a cup of bean sprouts, a tablespoon of chopped cilantro and a chopped scallion and give the whole thing a final toss in the hot wok.
Once plated, add another half-cup of fresh bean sprouts for crunch, another tablespoon of cilantro and another freshly chopped scallion on top. This not only makes the dish look colorful, but provides a raw freshness.
Serve with lime wedges, more fish sauce (if needed), dried red chilies, sriracha, etc… That way everyone can make it their own!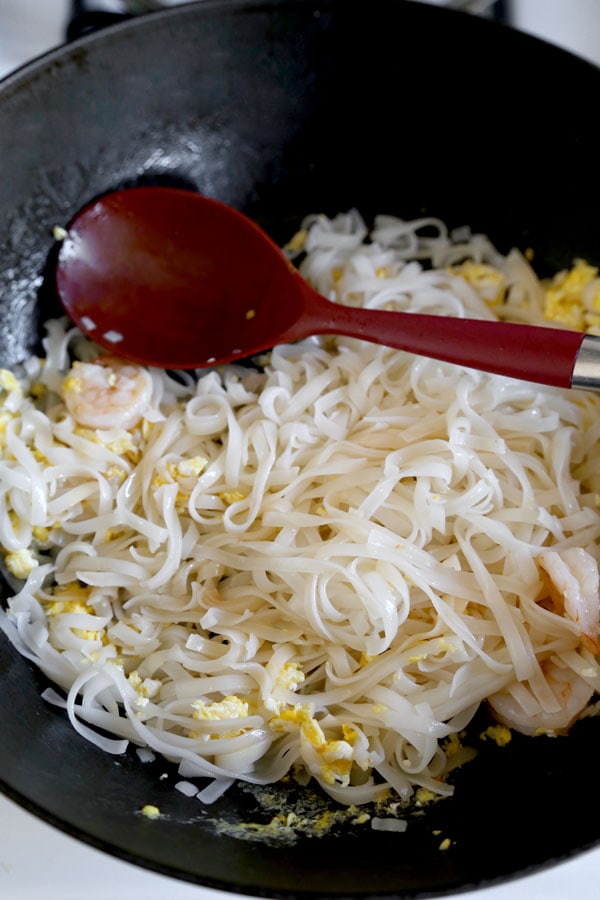 Pad Thai ingredients
Almost everything you'll need to whip up this easy, classic pad Thai recipe can be found at your local grocery store.
A few of the more authentic Thai ingredients may be easier to track down at an Asian market.
Or you can always just grab them on Amazon:
Is pad Thai authentic Thai food?
Pad Thai is one of Thailand's national dishes. And with flavor this iconic, it's easy to see why.
However, the origins of pad Thai are likely Chinese.
You see, Chinese traders are said to have introduced stir fried rice noodles to the food scene in Ayutthaya (a former Thai capital).
What followed is pretty much what historically always happens when a delicious food idea is introduced from abroad. It is subtly changed here and there to appeal to the taste sensibilities of the locale where it's being served. The palate of the people always wins!
And through trial and error, a truly Thai noodle dish is born.
Now, for a deep dive on the popularization of modern pad Thai in the 1930s and 40s (along with a peek at how the former prime minister Phibun brought the dish into the national spotlight), check out this awesome article in The Atlantic.
Anyhow, I'd argue that, no matter the origins of pad Thai, once that delicious dish became a part of the heart and soul of the people eating it, it became a truly Thai dish.
Food is so cool that way. It shatters borders and morphs into something local, no matter where you are 🙂
What about you… What's your favorite Thai dish? I'd love to hear about your favorites in the comments.
Happy cooking, friends!
Other delicious, easy Asian noodle recipes:
Plus:
And: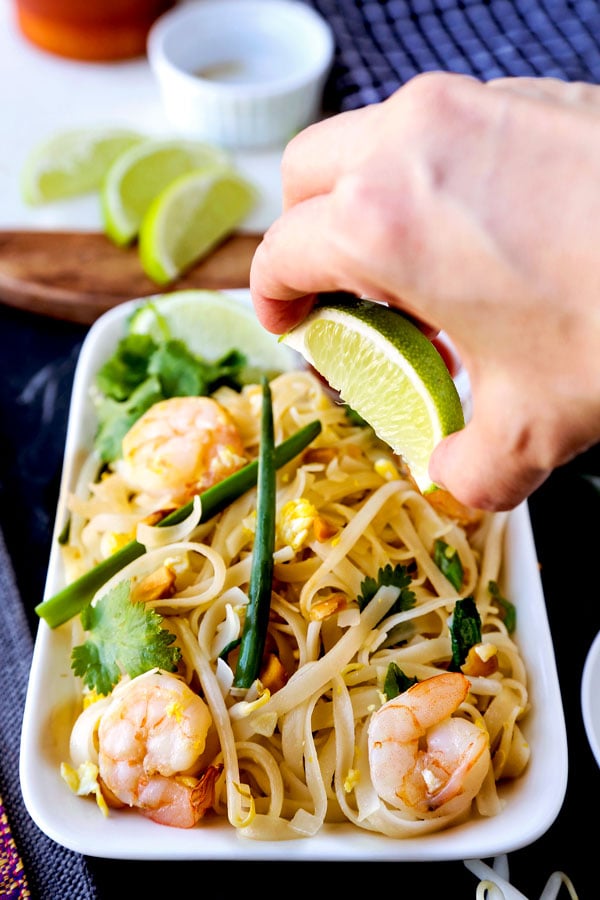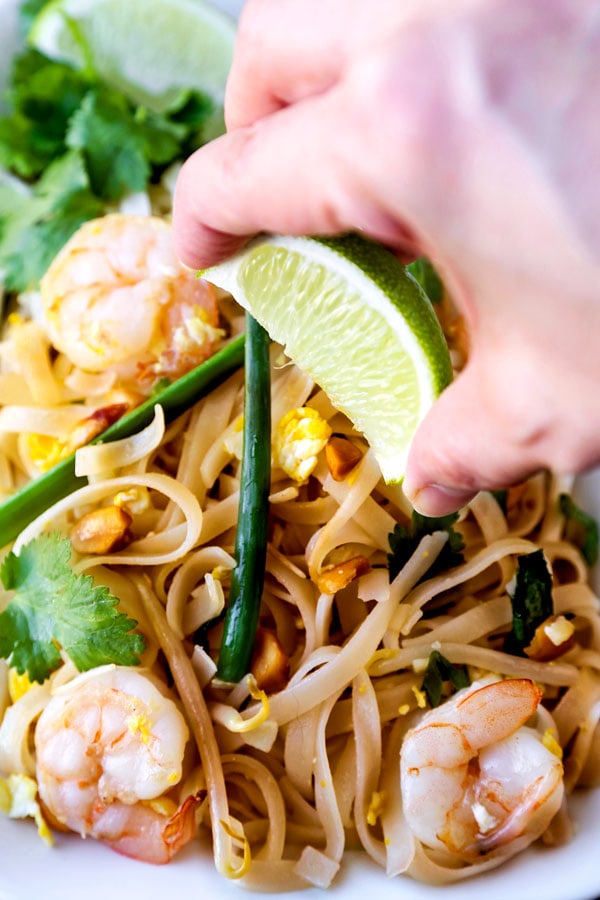 Did you like this Classic Pad Thai Recipe? Are there changes you made that you would like to share? Share your tips and recommendations in the comments section below!
Print
Classic Pad Thai Recipe
A super easy pad thai recipe that that you can make at home. Sweet, sour, spicy, salty and… well, pretty much all the flavors 🙂
Author: Caroline Phelps
Prep Time:

15 minutes

Cook Time:

6 minutes

Total Time:

21 minutes

Yield: serves

1

-2

1

x
Category:

Noodles

Method:

Stir Fry

Cuisine:

Thai
4 ounces

dried rice noodles (pad Thai noodles)

2 tablespoons

vegetable oil

1

garlic clove, minced

1

large egg

8

large shrimp, thawed, peeled and deveined

1½ tablespoons

lemon juice or

3 tablespoons

tamarind water

2½ tablespoons

fish sauce

2 teaspoons

palm sugar (optional)

15

peanuts, crushed

1 cup

bean sprouts

2 tablespoons

cilantro, chopped

2

scallions, chopped

Lime wedges for serving
Instructions
Soak the rice noodles in boiling hot water until al dente. You don't want them cooked all the way since we will be cooking them in the pan as well. Follow the instructions on the package (usually between 6-8 minutes). Drain and set aside.

In a wok or deep pan over medium-high heat, add oil and garlic. Fry garlic for 1 minute, then add add shrimp and toss them a few times.

Push the shrimp to one side of the pan. Break the egg in the cleared side of the pan and scramble it by quickly stirring (about 20 seconds).

Add the soaked noodles along with lemon juice, fish sauce, sugar and peanuts. Stir well and cook for 2-3 minutes – until noodles are cooked through.

Add half of the bean sprouts, 1 tablespoon cilantro and half the scallions. Toss well.

Transfer to a plate and top with remaining bean sprouts, cilantro and scallions. Serve with lime wedges and more fish sauce if needed.
Notes
After serving your pad Thai, you can add dried chilies, more fish sauce, vinegar, sriracha, dried shrimp, sugar, Thai chilies – or any number of condiments to truly make it your own!
Nutrition
Serving Size:
Calories:

535

Sugar:

9.1 g

Sodium:

1803.2 mg

Fat:

22.4 g

Saturated Fat:

5.8 g

Carbohydrates:

59.6 g

Fiber:

3.2 g

Protein:

25 g

Cholesterol:

191.3 mg
Keywords: thai, noodles, stir fry, wok recipes, asian, better than takeout
Recipe Card powered by