Panang curry is a popular Thai dish that's sweet, creamy, nutty, and vibrant in color. You can make it with chicken, shrimp, tofu, or simply with vegetables, like this recipe. Plus, the steps are so easy to follow you'll wonder why you didn't make it sooner!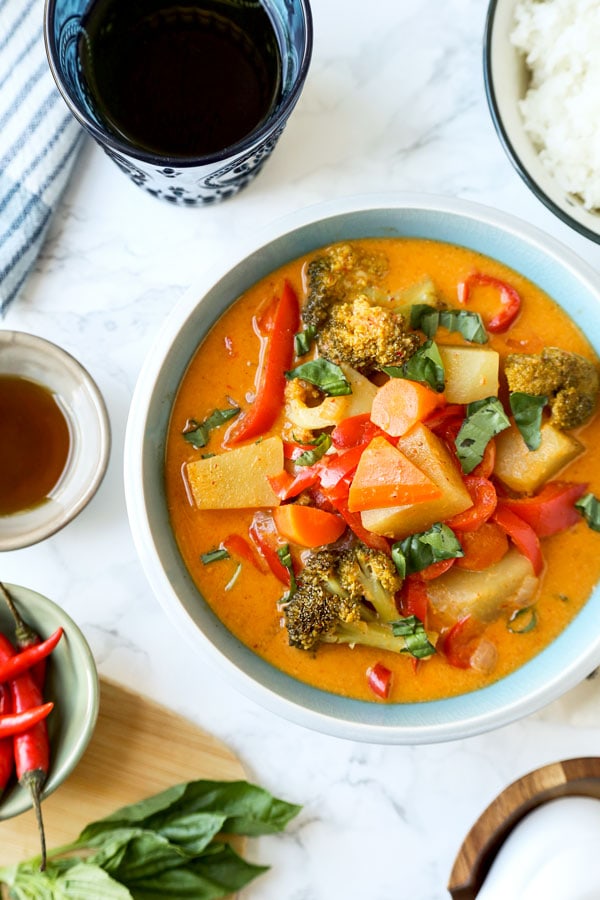 Panang curry is one of those recipes everyone seems to love. Because of its milder and sweeter flavors, it's a great way to introduce your kids to Southeast Asian cuisine.
I had my first curry at the age of four at a family restaurant in Fukuoka, a city on the northern shore of Japan's Kyushu Island. The curry rice (kare rice) was part of an okosama lunch – a kid's size meal consisting of several popular dishes such as hambagu, fried chicken (karaage) and corn soup, served on a tray and topped with a mini paper flag.
I instantly fell in love with the sweet, rich flavors of Japanese curry and pestered my mother and aunts to make it all summer long. That summer became the summer of kare rice – I wasn't happy unless I ate a bowl of it every day.
Fast forward to my teenage years when I worked at a Cambodian restaurant and discovered that there were other types of curries aside from Japanese curry. I was introduced to all the beautiful, fragrant flavors and spices of Southeast Asia and formed an unbreakable bond with curries. 
We've been best buddies ever since.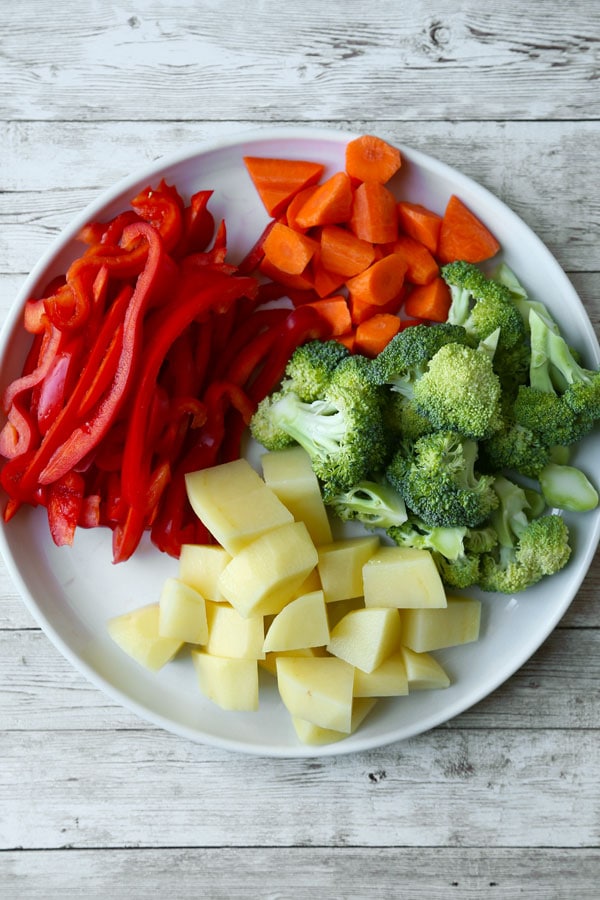 What is Panang Curry?
Panang curry, which is also spelled penang, phanaeng or phanang, is a Thai curry that's sweet, nutty and salty. The main ingredients consist of panang red curry paste, coconut milk, peanuts (or peanut butter) and fish sauce. It can be a little spicy but is generally milder than most Thai curries. It's also fairly dry since it contains little liquid other than coconut cream.
The traditional way to eat this curry is with jasmine rice but I've seen it served with noodles and naan bread and I must admit that it's good any way your serve it!
What is Panang curry paste made of?
Panang curry paste is made of red chili peppers, peanuts, coriander leaves and roots, garlic, shallots, lemongrass, kaffir lime leaves and shrimp paste. It's a thick red paste that's extremely fragrant and concentrated. You can make it from scratch or buy it in a can or a jar.
Where to Buy Panang Curry Paste and Which Brand is the Best?
You can purchase it in most Asian supermarkets or specialized Thai or Vietnamese grocery stores. You can also get it on Amazon or online grocer delivery services like Mercato or Snuk Foods.
As for brands, there are two that I like very much:
Maesri Panang Curry Paste. This one has a nice balance of aromatics and pungency. And because it doesn't contain shrimp paste (it's actually vegan), it's easier on the palate and less overwhelming.
Mae Ploy Panang Curry Paste. This one is saltier and more pungent because it contains shellfish.
What is the difference between red curry paste and Panang curry paste?
The main difference between Thai red curry paste and Panang curry paste is in the amount of red chili peppers used. Red curry paste is more concentrated in chili peppers which is why it's hotter than Panang curry paste.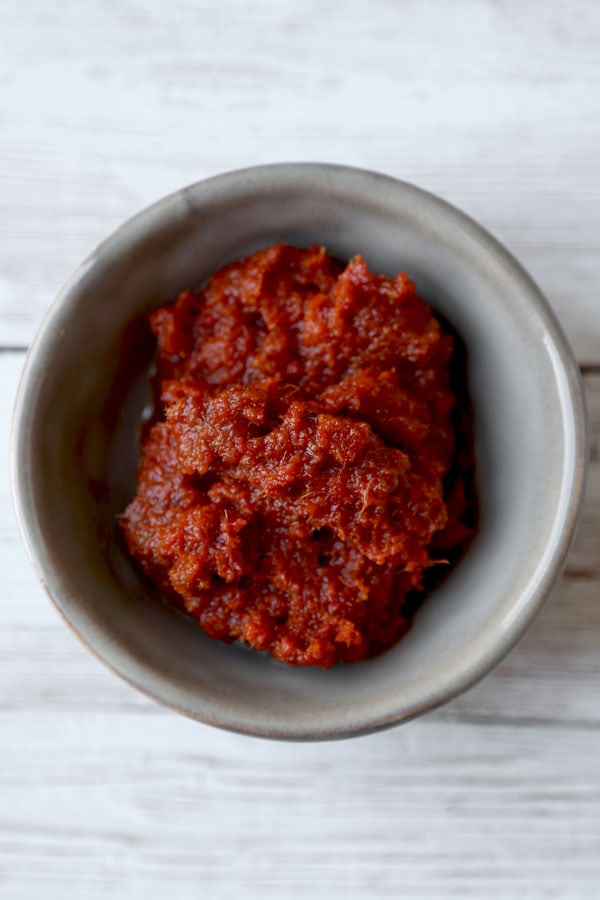 How To Make Panang Curry
Sautee the onions in a pot with a little oil.
Add the remaining vegetables and stir fry for an additional 5 minutes.
Stir in the Panang curry paste and add the coconut milk, water, and fish sauce, and cook on low for about 10 minutes.
Turn off the heat and add the peanut butter, tamarind paste, sugar and chopped basil.
Serve with jasmine rice.
Chicken Panang Curry
The recipe is exactly the same but instead of using all vegetables, switch 1-2 cups vegetables for skinless, boneless, chicken breast pieces. Cook the chicken with the onions and follow the steps of the recipe.
Vegan Panang Curry
While this Thai curry is loaded with vegetables, it should be noted that it isn't vegan since it contains fish sauce. Also bear in mind that some Panang curry pastes can contain shrimp or fish paste.
So if you are serving this dish to guests who are on a plant based diet, you will need to make a couple of changes. The good news is that it's not that complicated!
First, let's tackle the curry paste issue. There are two brands you can use that are 100% vegan – Maesri (as listed above) and A Taste of Thai. Personally, I prefer Maesri as the flavors are more complex and authentic to the original dish.
As for the fish sauce, well, you can't really replace the salty pungent taste of fish sauce… But using soy sauce does a pretty good job at balancing the flavors. Use the same amount as you would for the fish sauce and voila – you just made a vegan Panang curry!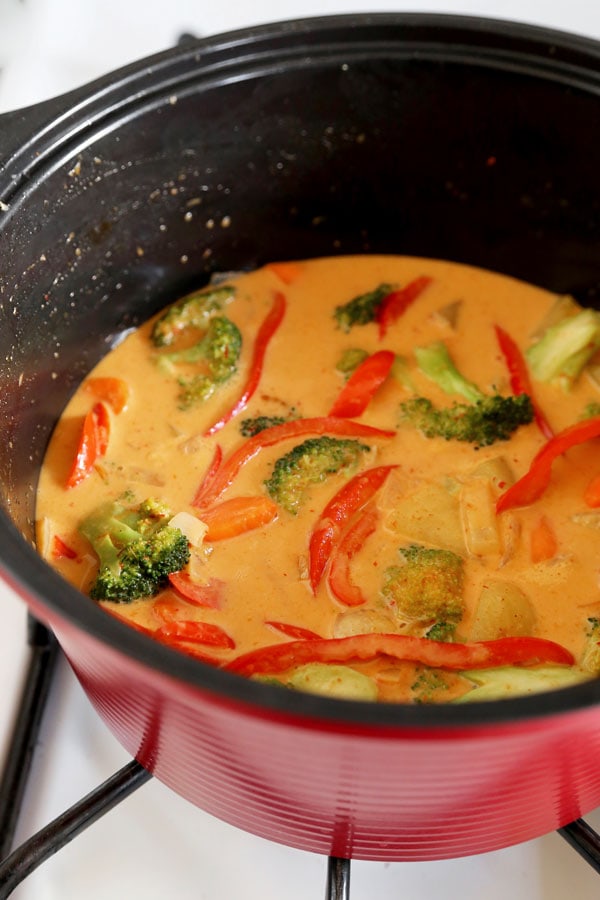 Making Fluffy Jasmine Rice
Part of what makes a curry so delicious is the quality of the rice it comes with. Therefore it goes without saying that knowing how to make good jasmine rice is essential to the success of this dish.
And that's exactly why I created this guide on how to cook jasmine rice. It's a quick tutorial that shows you how to make it two ways:
On a stove top.
Using a rice cooker, which is my preferred method because it's practically foolproof.
The other option is to serve this coconut based curry with noodles. You can use any type of noodles for this. I like thin rice noodles while Ben prefers ramen noodles or spaghetti.
What To Serve Panang Curry With
A bowl of curry alone is enough to keep me happy but it can also be fun to pair it with a few other colorful dishes.
Sticking with the Thai theme, here are some of my favorite recipes that I like to serve with this curry: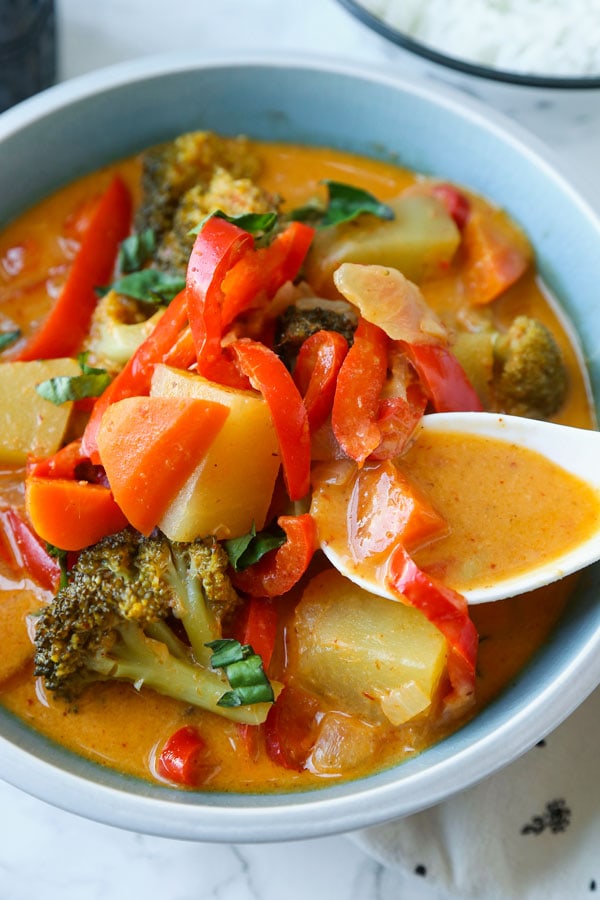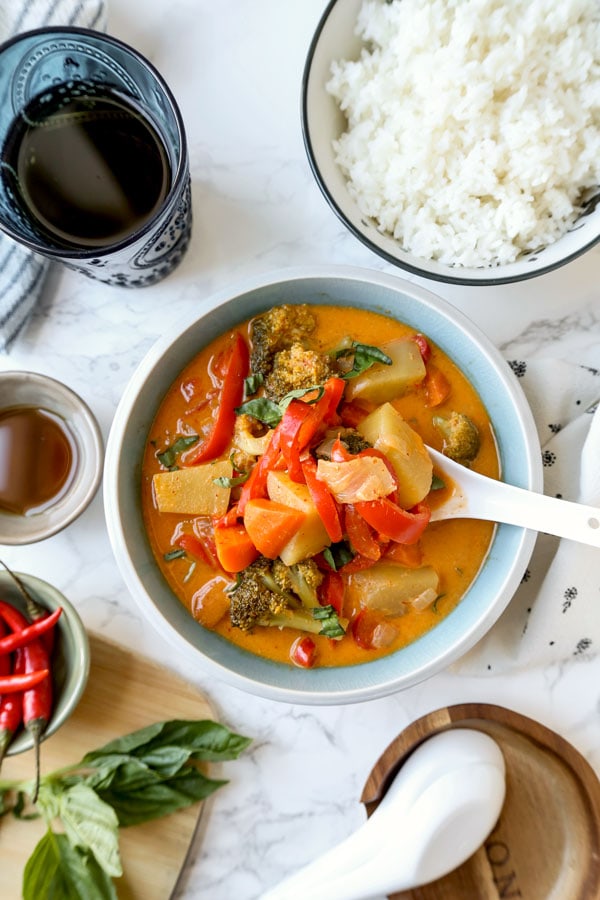 Did you like this Thai Panang Curry Recipe? Are there changes you made that you would like to share? Share your tips and recommendations in the comments section below!
Print
Panang Curry
This is a simple creamy Panang curry recipe that's sweet, nutty and slightly pungent. 
Author: Caroline Phelps
Prep Time:

10 minutes

Cook Time:

17 minutes

Total Time:

27 minutes

Yield:

4

Category:

Curries

Method:

Stove top

Cuisine:

Malaysian
•

1 tablespoon vegetable oil

•

1 small onion, chopped

•

1 red bell pepper, cored and thinly sliced

•

1 large carrot, peel and chopped bite size (about 1 cup)

•

1 large potato, peel and chopped bite size (about 1 cup)

•

2 cups broccoli, chopped

•

2-4 tablespoons panang curry paste

•

1 14oz can coconut milk

•

1/4 cup water

•

1-2 tablespoons fish sauce or soy sauce for vegan

•

1 1/2 tablespoon natural creamy peanut butter

•

1 1/2 teaspoon tamarind paste or lemon juice

•

1 teaspoon coconut sugar

•

Handful basil leaves, chopped (optional)

•Jasmine r

ice, to serve with
Instructions
In a medium size pot over medium high heat, add oil and onions and cook until the onions are translucent and soft, about 4-5 minutes.

Add bell pepper, carrot, potato and broccoli and cook for 5 minutes, until the vegetables are soft but still yielding a crunch.

Add curry paste – start with 2 tablespoons and add more if you want spicier – and stir. Add coconut milk, water and fish sauce and bring to a bubbling simmer. Cover and simmer for 10 minutes.

Turn the heat off and stir in peanut butter, tamarind paste, coconut sugar, and chopped basil. For vegans, this is where you would be adding the lime juice.

Serve with rice.
Nutrition
Serving Size:

Without Rice

Calories:

297

Sugar:

9.8 g

Sodium:

665.2 mg

Fat:

20.6 g

Saturated Fat:

13.8 g

Carbohydrates:

22.9 g

Fiber:

7.1 g

Protein:

4.4 g

Cholesterol:

1.8 mg
Keywords: recipe, Thai food, stew, vegetables, main, dinner
Recipe Card powered by