Need a Thai noodle fix? Chew on these smoky, savory rice noodles! This Vegetable Pad See Ew Recipe has all the flavor. Quickly toss in the wok, and you're good to go! Ready in just 15 minutes!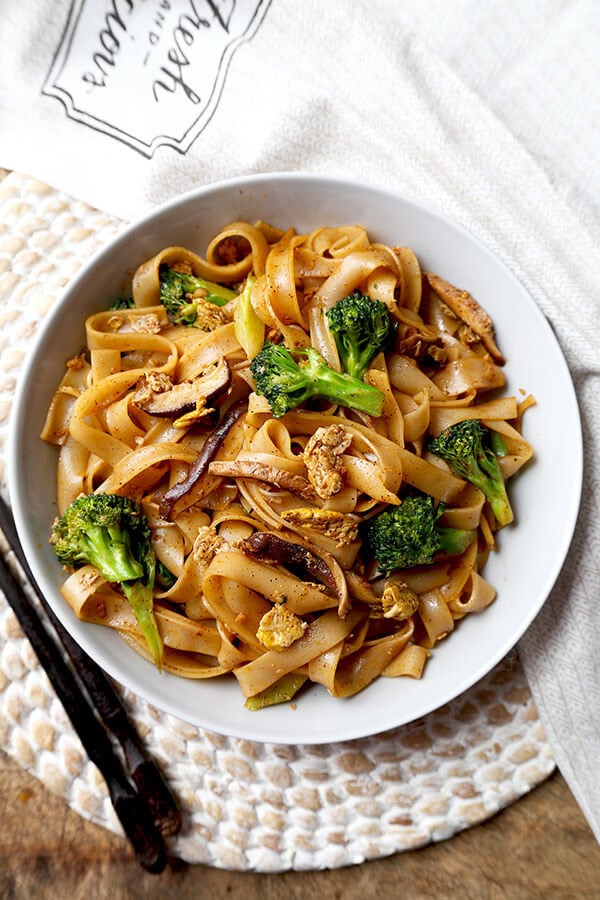 ผัดซีอิ๊ว
Any Thai noodle fans out there?
Wait… did ALL the hands in the world just go up simultaneously?!
Well, I'm not surprised 😋
There's just something about a perfect portion of noodles, hot and smokey from the wok, that resonates with me on my most basic, primitive level.
When I see (or smell) them, my desire to eat ALL THE NOODLES goes into overdrive.
Hey – good news, friends!
I've got a vegetable pad see ew recipe that will hopefully unleash the beast within you when it comes to savoring Thai stir fried noodles.
Oh… And this simple veggie packed Asian noodle recipe is a cinch to whip up at home!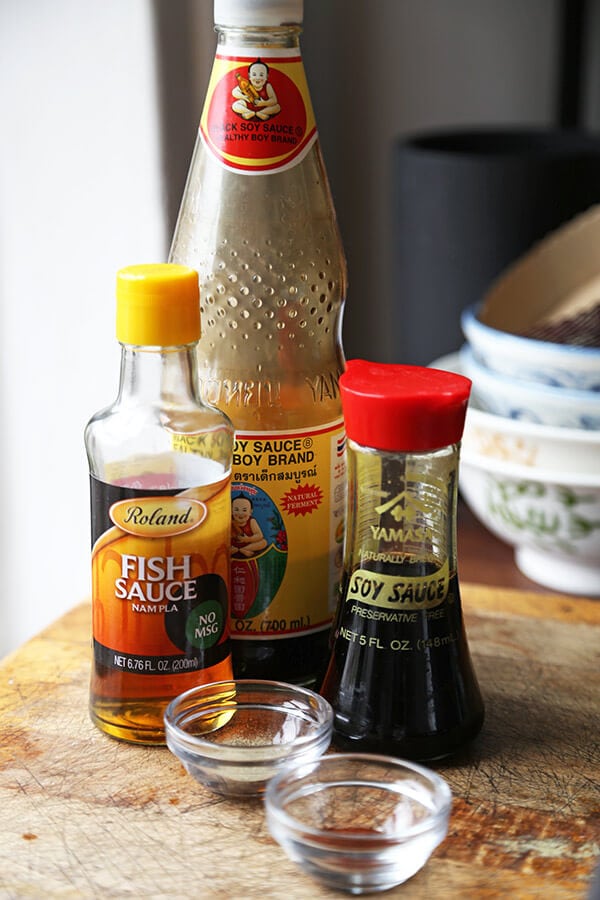 What is Pad See Ew?
Pad see ew (ผัดซีอิ๊ว, phat si-io) is a Thai noodle dish made of broad flat rice noodles, Chinese broccoli, egg – and typically a meat like chicken, beef or pork. You will also find seafood like shrimp and squid used in this Thai noodle recipe.
Like many Thai noodle dishes, this stir fried wok recipe is Chinese in origin. However, once it made its way to Thailand, the flavors were obviously tweaked over the years to appeal to the Thai palate.
Now, the name pad see ew means something along the line of noodles fried in soy sauce.
And, like that name would have you guess, soy sauce is a key ingredient. However along with typical soy sauce, there is a sweeter, dark Thai soy sauce that glazes these wide rice noodles with a more pronounced depth of flavor.
Since much of the iconic flavor perfection in pad see ew comes down to the sauces used when stir frying the noodles, I'll dive a little deeper on those sauces in a second.
Needless to say though, this pad see ew recipe really hits the perfect balance of savory, smokey and slightly sweet.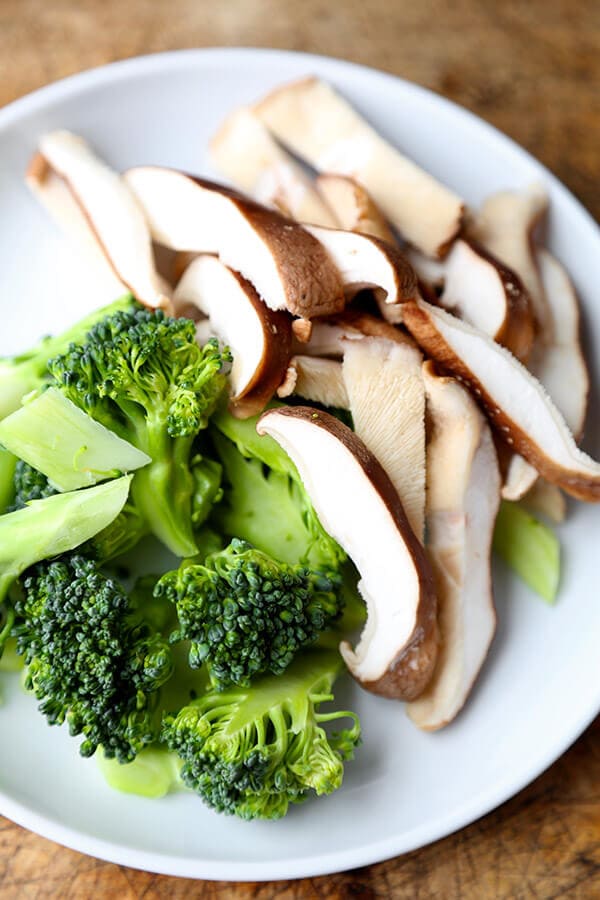 Pad See Ew noodles
Much like any pasta dish you make, the noodles are important!
And while fresh, flat and wide rice noodles are preferable (like the wide noodles you'd find in a Chinese beef chow fun), they're not obligatory.
I used wide Thai stick noodles which are slimmer dried rice noodles that you hydrate by soaking in hot water for a few minutes.
Since the ingredients composition is the same, they worked wonderfully!
That said, if you can find the fresh wide noodles, jump on them!
Where to buy Pad See Ew Noodles 
The noodles you'll need for this simple pad see ew recipe can be purchased at an Asian grocery store.
However, just grabbing them online is super easy as well. I'll link to the Thai rice stick noodles I use most commonly on Amazon right here.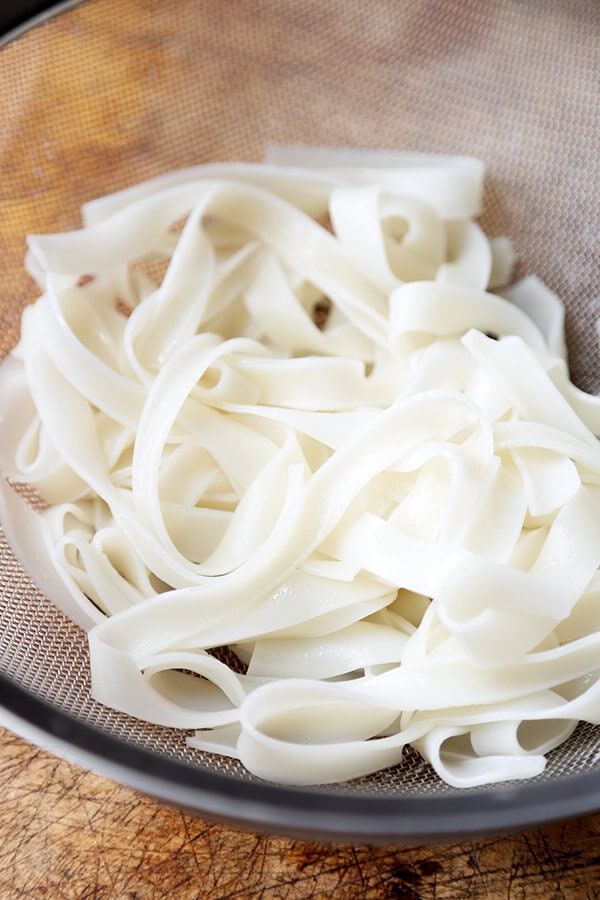 Pad see ew sauce
It may surprise you that the lion's share of flavor in this pad see ew recipe comes from such a small list of ingredients.
As I mentioned above, there is a bit of regular soy sauce in use.
However, much more important to nailing the subtle sweetness of this dish is the Thai dark sweet soy sauce.
Now I'm lucky to live pretty close to a great Thai grocery store. So I pop in and usually grab a big bottle of Healthy Boy brand Thai dark sweet soy sauce. This syrupy, thick, dark and dense soy sauce is absolute perfection in this noodle recipe.
However, it can be tough to find outside proper Thai shops sometimes.
In a pinch, I've found that a good substitute is using an Indonesian kecap manis.
Batting third in the flavor-order is Thai fish sauce. This is basically the salt of Southeast Asia – and delivers a wonderful, funky depth of flavor to these Thai noodles.
Anyway, to pre-make the sauce components for this pad see ew recipe, mix:
1 tablespoon dark, sweet soy sauce

1 tablespoon regular soy sauce

2 tablespoons fish sauce
And that's it! Easy, right?
Now, set your sauce aside and lets get to assembling our noodles!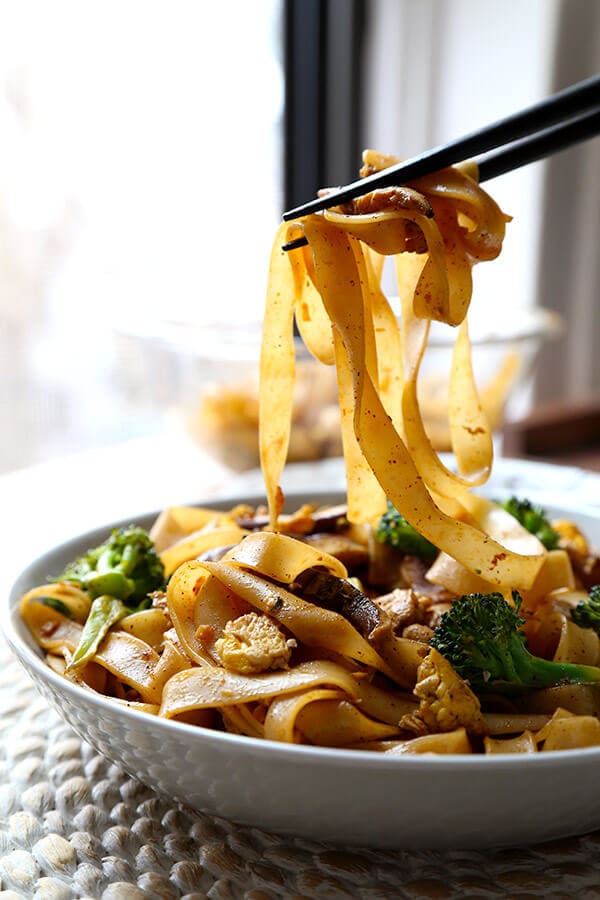 How to make Pad See Ew
As mentioned previously, if you're using Thai stick rice noodles, you'll want to give them a soak in water. Since some brands are different, it's best to follow the instructions on the package. If there are no instructions on the package, a good rule of thumb is to soak them in super hot water for 10-12 minutes.
Now, your mileage may vary – so it's always a good idea to keep your eye on them and test from time to time.
I like to get a bit of garlic going in a hot pan or wok with a little oil. Cook that until it's just fragrant.
For this vegetable pad see ew recipe, I decided to keep it easy. I'm using shiitake mushrooms and broccoli in place of the usual meaty elements you'll find in traditional preparations.
Place your veggies in your pan and stir fry for about two minutes or so.
Then push everything to one side of the pan and quickly scramble one beaten egg. Once the egg is cooked, add your rice noodles, sauce mixture, some white pepper and chili powder and mix well.
And that's pretty much it!
If you like it spicy, feel free to add one or two chopped Thai chilis and maybe a squirt of sriracha.
You're going to love these chewy, savory, sweet, smokey and veggie loaded noodles!
And leftovers keep pretty well in the fridge. I've made it several times and eaten it the following day. You may need to season it again – but, other than that, I find it to be just as enjoyable as when the noodles are fresh out of the pan.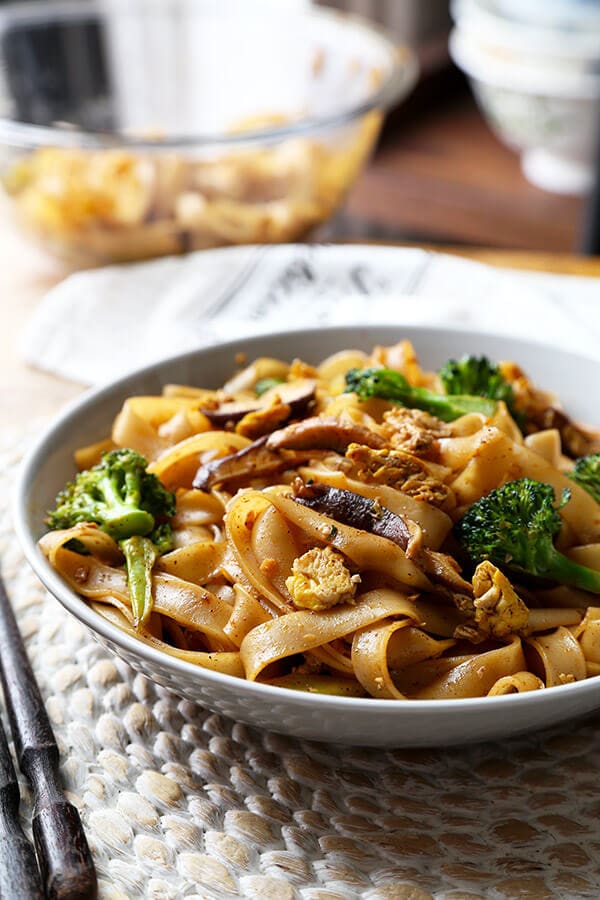 Pad Kee Mao vs Pad See Ew
Ever find yourself pondering things like: what's the difference between pad Thai and pad see ew?
Or how about wading into the whole drunken noodles vs pad see ew thing?
If those questions run through your head, well, then – you're just like me 😉
You see, I think about food… A LOT. I love digging into the history of food – and the etymology surrounding it – because I believe it will make me a better home chef.
Anyway – before I go on a whole diatribe on the importance of learning here, I've got a quick breakdown of the noodle dishes that get mistaken for pad see ew most frequently.
Pad Thai: Also made with stir fried rice noodles, Pad Thai (ผัดไทย) is flavored mainly with palm sugar, fish sauce and tamarind. This iconic recipe is one of Thailand's national dishes. Check out my classic pad Thai recipe here.
Pad Kee Mao: These rice noodles are flavored with sweet soy sauce, fish sauce, holy basil, tomatoes and lime leaves. Also known as drunken noodles (ผัดขี้เมา), this is one of my favorite Thai noodle dishes of all time. Have a look at my pad kee mao recipe here.
Honorable mention to Kuay Teow Kua Gai – which is a seriously smokey and charred Thai broad noodles dish stir fried with chicken, lettuce, egg and sometimes fried dough-sticks. It's not quite as well known in the West as the other two – but is actually considered a sister dish of pad see ew.
What about you? What's your favorite Thai noodles recipe? I'd love to hear about it in the comments!
Happy cooking, friends!
Other delicious and easy Asian recipes:
Plus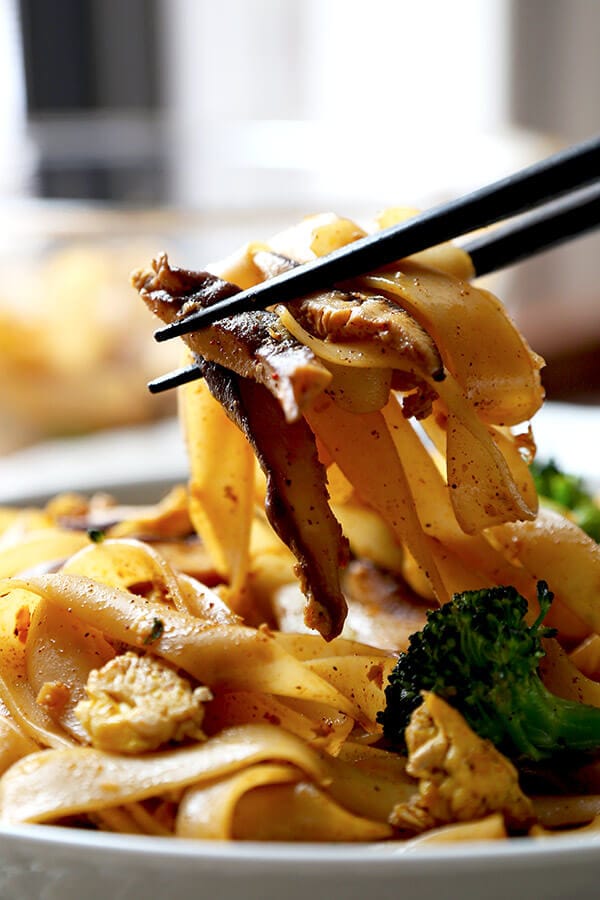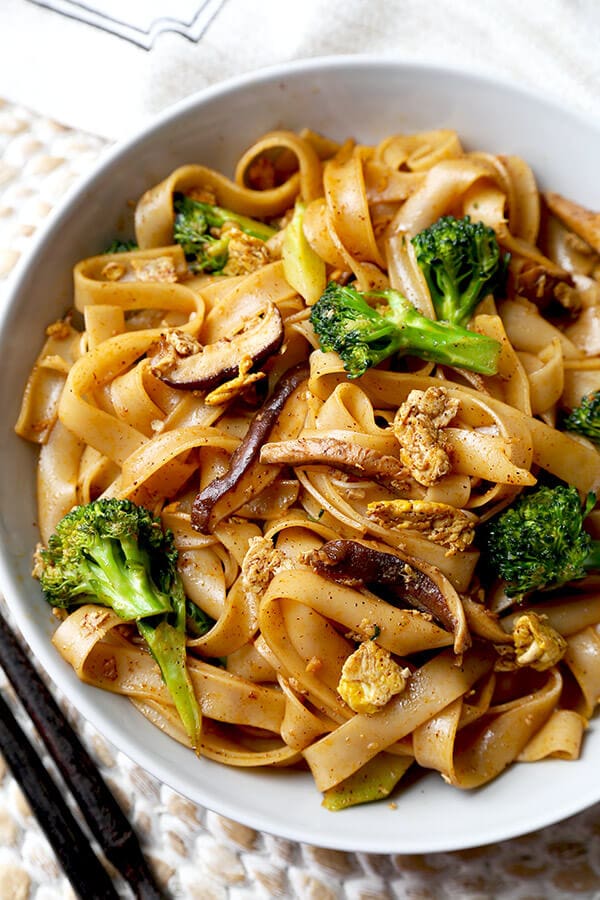 Did you like this Veggie Pad See Ew Recipe? Are there changes you made that you would like to share? Share your tips and recommendations in the comments section below!
Print
Vegetable Pad See Ew (Thai Rice Noodles)
Skip the meat and go lighter with this yummy pad see ew recipe!
Author: Caroline Phelps
Prep Time:

10 minutes

Cook Time:

6 minutes

Total Time:

16 minutes

Yield:

2

people

1

x
Category:

Noodles

Method:

Stir frying

Cuisine:

Thai
1 tablespoon

vegetable oil

2

cloves garlic (minced)

1 cup

shiitake mushrooms or button mushrooms (cut into strips)

2 cups

broccoli (chopped bite size)

1

large egg (lightly whisked)

8 ounces

dry rice stick noodles or wide rice noodles

1/2 teaspoon

chili powder
ground white pepper (to taste)
For the sauce
1 tablespoon

dark sweet soy sauce

1 tablespoon

soy sauce

2 tablespoons

fish sauce
Instructions
Put the ingredients for the sauce into a bowl and stir. Set aside.
Boil or soak noodles according to instructions on the package. Note: If there are no instructions, soak the rice noodles in boiling hot water and cover with a lid for 10-12 minutes. Drain and set aside.
In a large pan, add oil and garlic and fry for 1 minute.
Add shiitake mushrooms and broccoli and cook for 2 minutes.
Push vegetables to one side of the pan and add egg to the empty side. Using chopsticks or a spatula, quickly stir the eggs until it's scrambled and mix it in with the vegetables.
Add noodles and toss well. Stir in the sauce and toss until the noodles are evenly coated.
Sprinkle chili powder and ground white pepper and toss well. Serve hot.
Notes
This vegetable pad see ew will keep refrigerated for up to 2 days.
Nutrition
Serving Size:
Calories:

556

Sugar:

3.5 g

Sodium:

2178.6 mg

Fat:

7.1 g

Saturated Fat:

2.2 g

Carbohydrates:

105.3 g

Fiber:

6.2 g

Protein:

15.6 g

Cholesterol:

96.5 mg
Keywords: recipe, main, stir fry, Asian
Recipe Card powered by