Jjamppong is Korea's favorite smoky, spicy, and briny seafood noodle soup! The dish is comforting and filling enough to be served as a main. Ready in about 30 minutes from start to finish.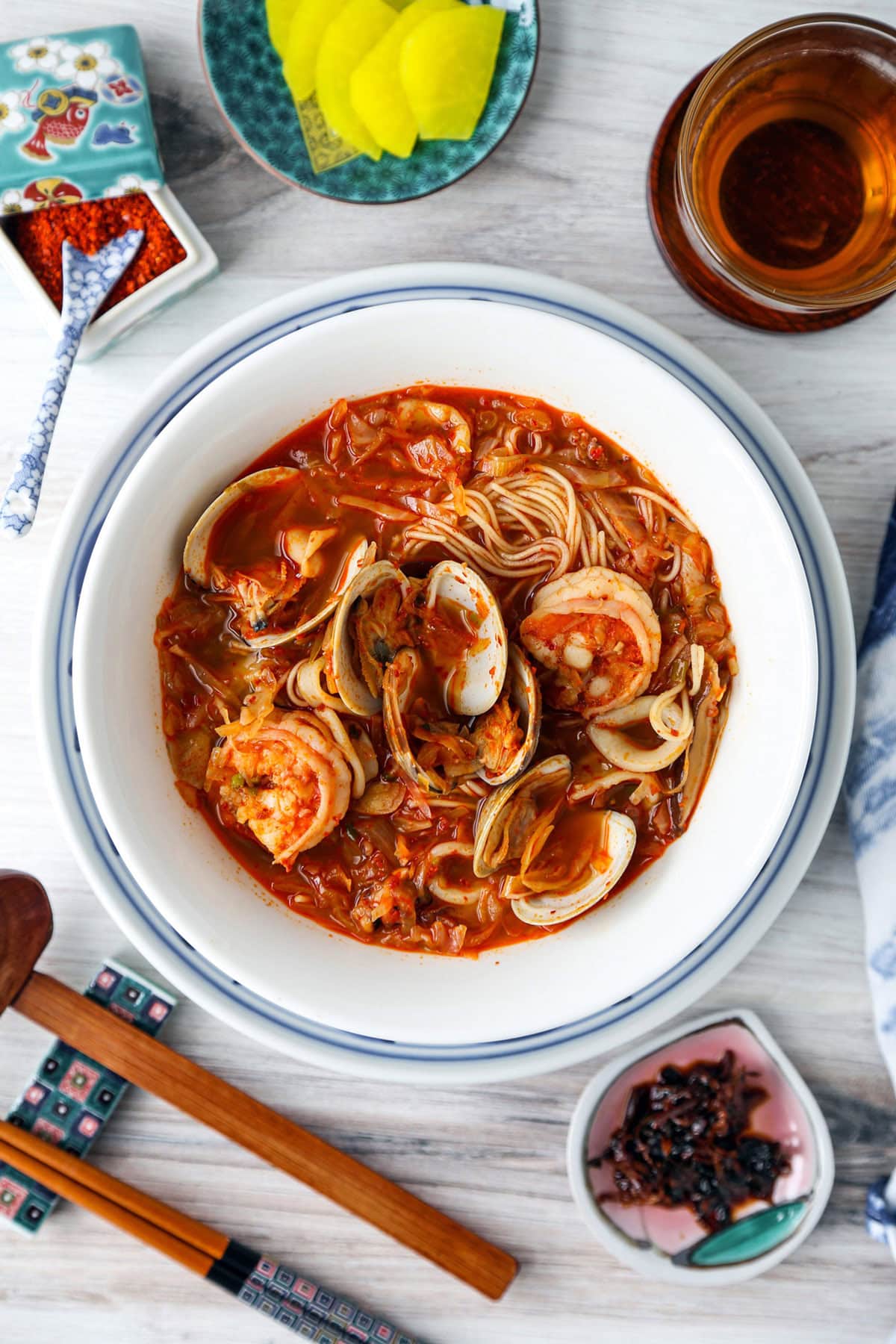 What is Jjamppong?
Jjamppong (짬뽕), or jjambbong, is a popular Korean noodle soup made with a spicy seafood broth that's seasoned with gochugaru (spicy and smoky Korean red chili flakes), and is topped with vegetables and seafood. Jjamppong can also be made with pork broth and sliced pork as a topping, or a mix of both seafood and pork.
The dish was adapted from the Shandong-Chinese dish called chǎomǎmiàn and was named jjamppong during the Japanese occupation, since the dish looked similar to chanpon, a Japanese-Chinese noodle soup derived from the Fujian-style mènmiàn.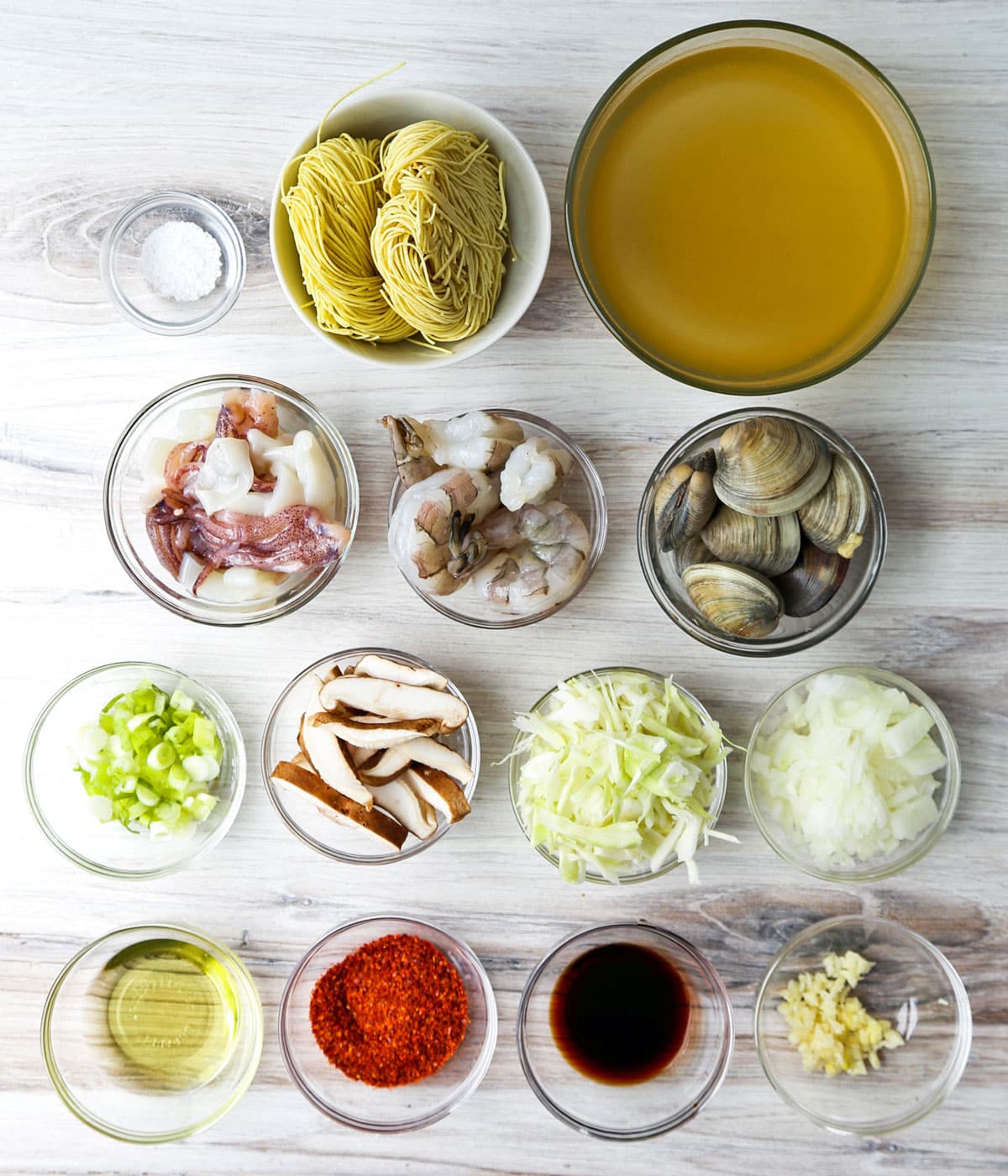 Ingredients for Jjamppong
Scroll all the way down for the full recipe.
Garlic: You will need two small or medium cloves, minced.
Onion: Finely chopped to impart a little sweetness to the broth.
Cabbage: Cabbage adds a lovely soft crunch and absorbs the briny and spicy taste of the broth.
Shiitake mushrooms: Just a couple of sliced shiitake mushrooms to infuse a little earthiness.
Scallions: Just like the onions, the scallions add a little sweetness and sharpness to the soup.
Gochugaru: Gochugaru, or Korean red chili pepper flakes, is essential to the recipe as it is responsible for bringing a smokiney and spicy element to the soup. It's also what makes the broth a vivid red.
Seafood: You can use fresh or frozen (make sure it's thawed) seafood. I'm using a mix of fresh shrimp, squid, and clam, but feel free to use whatever type of seafood you like.
Stock: I love using dashi for this recipe because I'm a big fan of umami, briny, and pungent. If you like seafood but cannot handle too much "sea flavor", I recommend using low sodium chicken stock.
Soy sauce: Regular soy sauce or low sodium soy sauce for a kick of umami and earthiness.
Noodles: The classic jjamppong dish uses fresh wheat noodles called jja-jjang, the same ones used in jajangmyeon. You can find those noodles at a Korean supermarket like HMart. However, I prefer using fresh ramen noodles or canton noodles, also called Hong Kong noodles, because I find their texture more pleasant. Udon noodles are also another option if you like thick wheat noodles.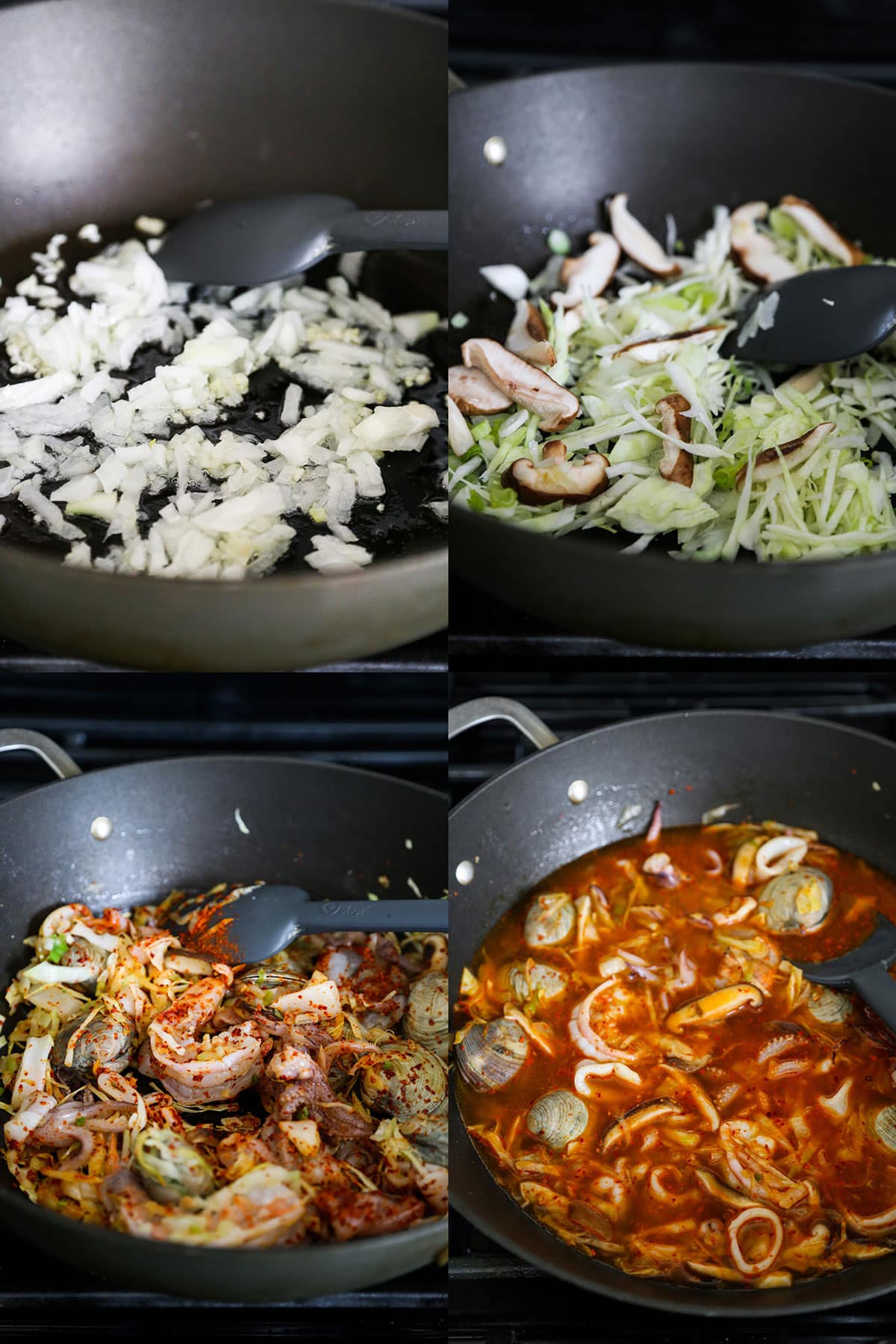 How to Make Jjamppong
Gather all of your kitchen tools and ingredients.
Fill a medium pot with water and bring it to boil.
Meanwhile, add the oil and garlic to a wok, deep skillet, or medium size pot, over medium heat.
Cook the garlic for 1 minute and add the onion. Cook the onion for 2 minutes and add the cabbage, shiitake mushrooms, and half of the scallions. Cook for 2 minutes.
Stir in the gochugaru and seafood and cook for 1 minute.
Add the stock, soy sauce, and salt and bring the soup to a boil. Lower the heat to a simmer and cover with a lid. Simmer until the seafood is cooked, about 6 to 7 minutes, and turn the heat off.
Cook the noodles according to the directions on the package. Drain the noodles and divide them among two bowls.
Divide the jjamppong soup and seafood among the two bowls and top with the remaining scallions. Enjoy!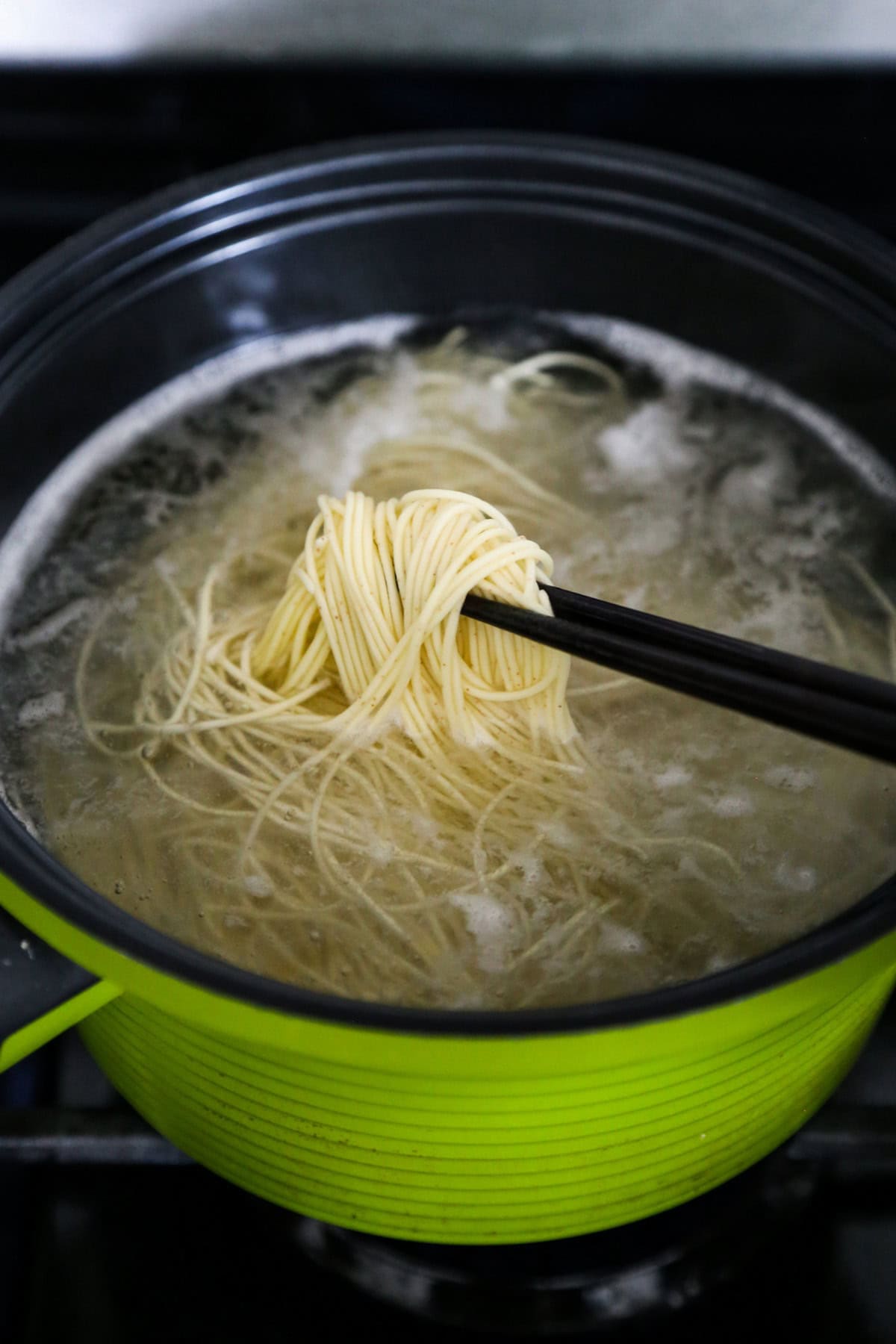 Vegan Jjamppong
It's been a challenge to create a vegan friendly version of this recipe since it relies so heavily on seafood, but I think you will be pleased with the alternative. This vegan jjamppong may not have the briny seafood taste that makes this soup so addictive, but it's still delicious nonetheless!
Ingredients to swap:
Use vegan dashi instead of regular dashi and add 4 dried shiitake mushrooms. Let the shiitake mushrooms soak in the vegan dashi for 45 minutes. Before removing the shiitake mushrooms, squeeze them to get as much of the juice out as you can (that's where the flavor is). Chop the mushrooms and use them in your soup.
Instead of the seafood, use a mix of zucchini, cabbage, carrot, and the shiitake mushrooms used for the dashi. You can also use extra firm tofu or smoked tofu that have been sliced into bite size cubes or sticks.
Instead of egg noodles, use jja-jang noodles or udon noodles (most udon noodles are vegan but it's always a good idea to look at the ingredients to make sure they contain no egg).
The steps to the recipe are the same. Add the vegetables used as a topping at step 5 and follow the recipe as is.
If you find that the broth needs more flavor, try adding 1 teaspoon gochujang – keep in mind that this will make the soup spicier – or 2 teaspoons red miso paste (red miso paste is more salty, pungent, and smoky than white miso paste). You can also add a little more soy sauce.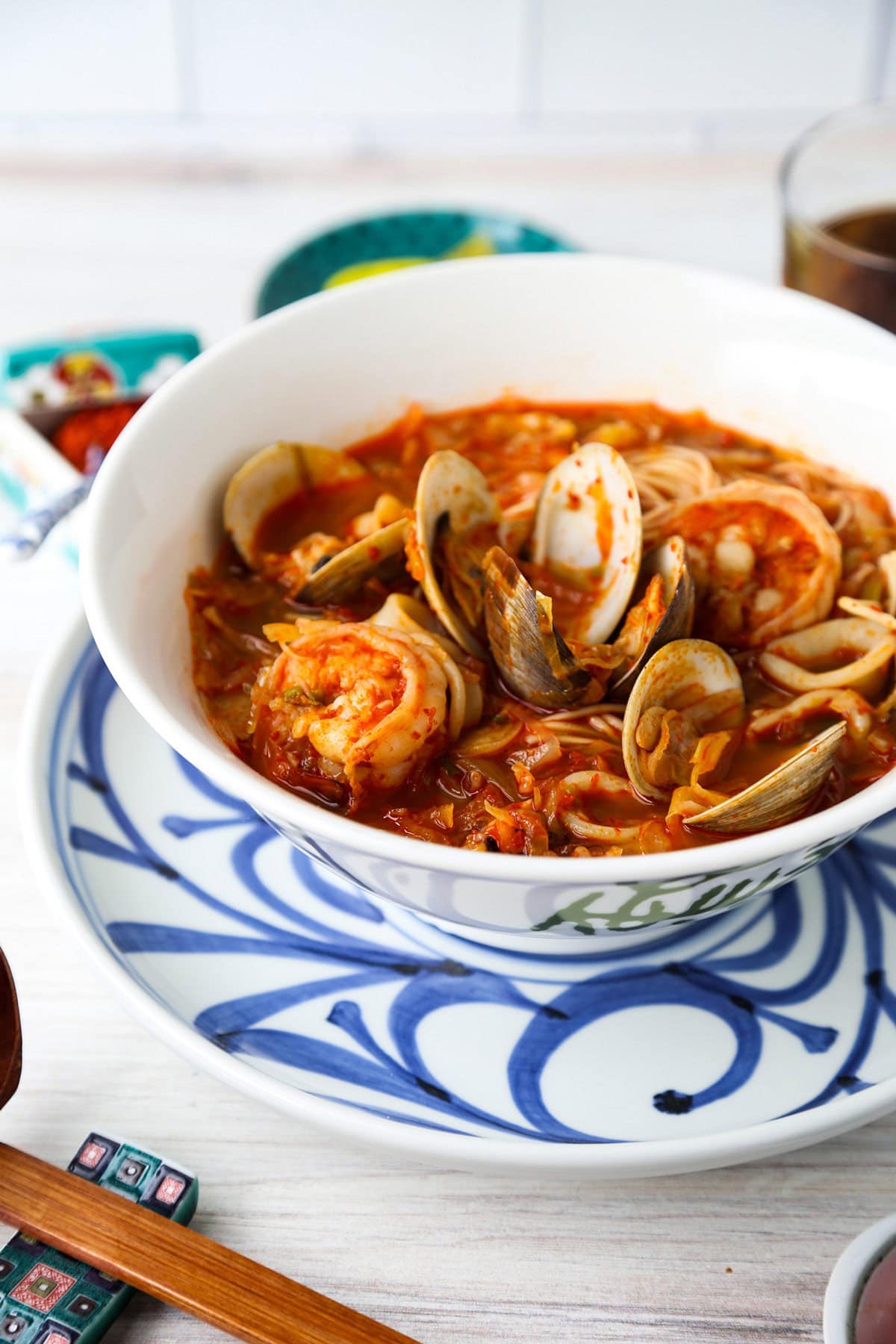 Jjamppong vs Jajangmyeon
It's common to find both jjamppong and jajangmyeon listed on the same menu in Korea. That's because these two noodle dishes are extremely loved among the Korean population – so much in fact that many people have trouble choosing between the two when it's time to order!
But the look and taste of the two dishes couldn't be more different:
Jjamppong is a spicy noodle soup topped with vegetables and seafood.
Jajangmyeon are wheat noodles topped with chunjang (sweet bean sauce), vegetables such as cucumber, zucchini, and onions, and pork (sometimes seafood). It's not spicy at all and the flavors are quite subtle compared to jjamppong.
The only thing these two dishes have in common are the noodles they use – jja-jjang noodles – plus, some of the toppings.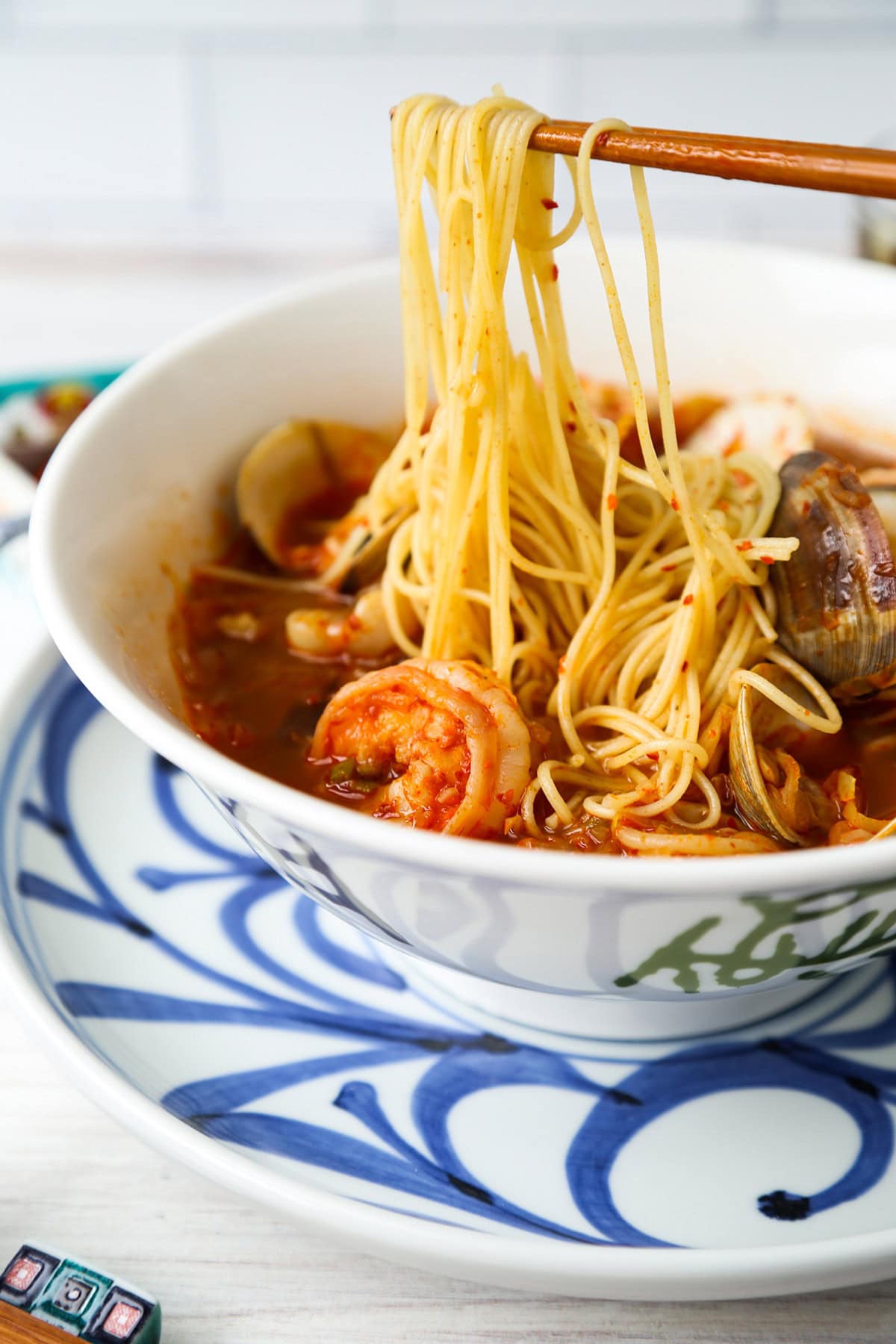 What to Serve with Jjamppong
Since jjamppong is very flavorful and filling, it's best to pair it with light salads and pickles such as:
TABLEWARE
The baizan kiln arabesque blue and white serving plate used in the images, which you can find here, is from Musubi Kiln.

Musubi Kiln is an online store specializing in high quality handmade Japanese tableware and dinnerware. Each product is made by Japanese craftsmen using traditional techniques that have been passed down from generation to generation.

Received 10% off your purchase when using the code CAROLINE at checkout.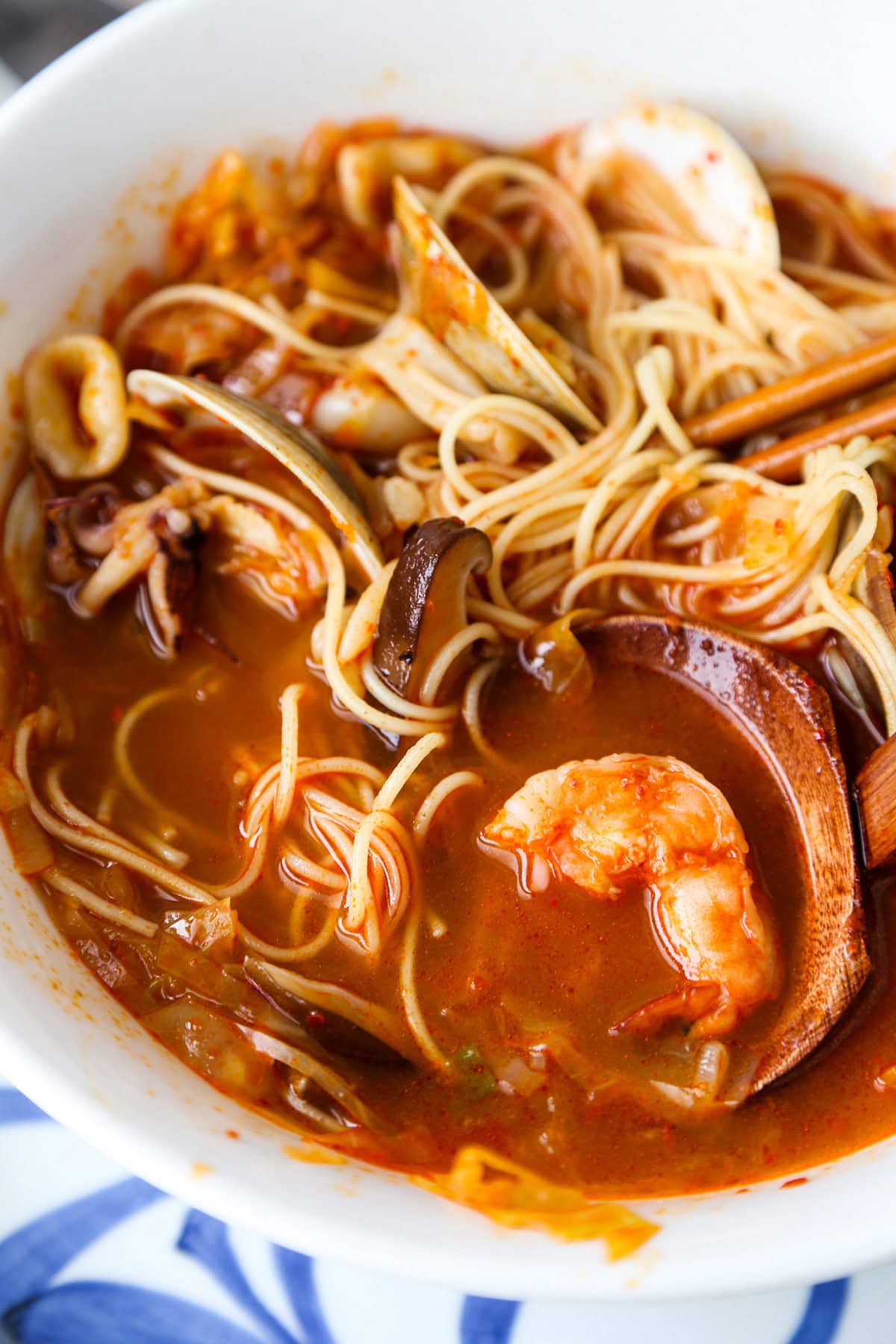 Did you like this jjamppong recipe? Are there changes you made that you would like to share? Share your tips and recommendations in the comments section below!
Print
Jjamppong (Korean Spicy Seafood Noodle Soup)
Jjamppong is Korea's favorite smoky, spicy, and briny seafood noodle soup. The dish is comforting and filling enough to be served as a main.
Author: Caroline Phelps
Prep Time:

15 minutes

Cook Time:

13 minutes

Total Time:

28 minutes

Yield:

2

1

x
Category:

Noodle Soup

Method:

Boiling

Cuisine:

Korean
2 tablespoons

neutral oil like vegetable or grapeseed

2

garlic cloves, minced

1/2

small onion, finely chopped

3 ounces

cabbage, shredded

2

shiitake mushrooms, chopped

2

scallions, chopped

2 tablespoon

gochugaru (Korean red chili flakes)

4

large shrimp, peeled and deveined

1/4

pound squid, body and tentacles, cleaned and chopped bite size

8

little neck clams

500

ml low sodium chicken stock or dashi

1 tablespoon

soy sauce

1/4 teaspoon

salt

6 ounces

fresh ramen noodles, fresh jja-jjang noodles, or udon noodles, or

3 ounces

dry canton noodles (Hong Kong noodles) or dry jja-jjang noodles.
Instructions
Bring a pot of water to boil. 

Meanwhile, in a wok, deep skillet, or medium size pot over medium heat, add the oil and garlic and fry for 1 minute, until the garlic is fragrant.

Add the onions and cook for another 2 minutes. 

Add the cabbage, mushrooms and half of the scallions and cook for 2 minute.

Add the gochugaru, shrimp, squid and clams and stir well. Cook for 1 minute.

Stir in the broth, soy sauce, and salt, and bring to a boil. Lower the heat to a bubbling simmer and cover with a lid. Cook for 6-7 minutes, until the ingredients are cooked. Turn the heat off. 

Cook the noodles according to the directions on the package and drain well. 

Divide the noodles among two bowls and pour the seafood soup on top.

Top with the remaining scallions and serve immediately.
Notes
FOR VEGAN: look at the ingredients and instructions listed in the post.
Nutrition
Serving Size:

2

Calories:

646

Sugar:

4.9g

Sodium:

1434.2mg

Fat:

20.8g

Saturated Fat:

2.9g

Unsaturated Fat:

11.7g

Trans Fat:

0g

Carbohydrates:

41.4g

Fiber:

5.7g

Protein:

77g

Cholesterol:

543.2mg
Keywords: seafood soup, noodle soup, main,
Recipe Card powered by