A little goes a long way with this Crazy Hot Chili Garlic Sauce! We're using over 40 Thai chilis in this recipe, so be ready for a super fiery, sour, sweet, and really amazing homemade Asian style hot sauce.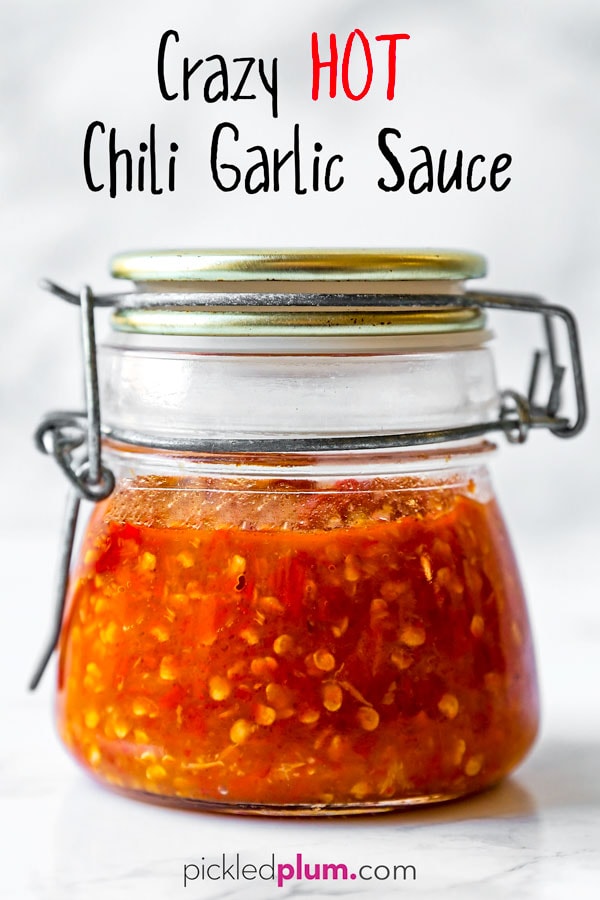 This is a recipe that almost didn't see the light of day.
You see, when I was experimenting with versions of this chili garlic sauce at home, I did a couple of taste tests along the way that had me hitting the proverbial ceiling – fanning my mouth like a cartoon character.
Why?
Well, I like spicy – but this was just absolute next level heat.
But I soon realized the error of my ways. I needed to heat it up.
It wasn't until I had simmered the fragrant garlic and chili mixture in a pan on the stovetop that the fiery Thai chilis married perfectly with the tart vinegary and sweet notes.
Something happened in that saucepan that mellowed the harsh spice and brought it all together.
Ben took a taste and said, "It's like sambal oelek, but better." He then proceeded to use it on everything from eggs to white rice to pad kee mao noodles over the next week until it was gone.
Now, he's an admitted spice junky – but when he asked for the recipe so he could replenish the stock, I realized I was on to something.
These days, we make it all the time.
Here's hoping that this spicy, garlicky chili sauce is as popular in your house as it is in mine!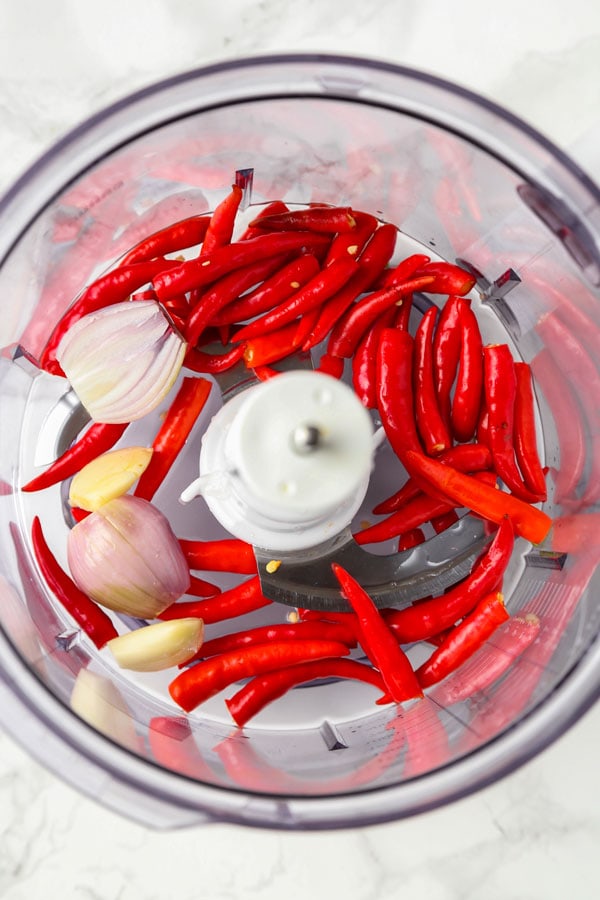 What is chili garlic sauce?
This garlic chili sauce is a riff on some of the Thai style chili sauces you'll find used in cooking and as condiments throughout Southeast Asia.
Made of a simple fragrant mix of fresh chili peppers, garlic and shallots – a good chili sauce will tend toward having a few sweet and sour notes a bit further down the totem pole as well.
And while it is super easy to find mass produced versions (like the ubiquitous Huy Fong chili garlic sauce and sambal oelek) at most grocery stores these days, it's also an incredibly straightforward process to make similar sauces at home for a fraction of the cost.
Plus, you can leave out all of the preservatives when making homemade chili sauce! So not only is this a great tasting sambal oelek substitute, it's all natural.
Just have a look at this simple ingredients list!

What is chili garlic sauce made of?
With the bold and assertive spicy flavors at play, it may surprise you that making this chili garlic paste only requires you to grab a handful of ingredients.
Chilis: Now, you can use the chili of your choice for this chili sauce recipe. I went with Thai chilis (phrik khi nu, พริกขี้หนู) because of their garden freshness and absolute FIRE. Also known as bird's eye chilis, these tiny guys are deceptively spicy, coming in at between 50,000 to 100,000 Scoville units. By contrast, jalapeno peppers typically come in between 3,500 to 8,000 on that same scale. So you know Thai chilis bring the heat! Read more about Thai chilis here.
Shallot: Once cooked, these tiny onions become unusually sweet.
Garlic: No self respecting garlic sauce would be complete without its namesake ingredient on the list, right!? In this spicy garlic chili sauce, the garlic introduces a garden fresh kick and earthy pungency to the mix.
Rice Vinegar: The clean and crisp notes rice vinegar deliver are a fantastic counterpoint to the spiciness in the chili sauce. It also happens to magnify the sauce's sweetness, making it a more well rounded condiment from a flavor perspective.

Grab rice vinegar on Amazon

. 
Kosher Salt: The salt crystals in kosher salt are rather large. Much larger than typical iodized salt. The benefit here here is that it's difficult to oversalt your chili paste 😉
Sugar: A well rounded chili garlic sauce will have a touch of sweetness to offset the fiery and savory notes. I recommend

coconut sugar

or

brown sugar

(grab them on Amazon) for their more subdued sweetness.
Vegetable Oil: This is important for texture. The oil just brings everything together.
Easy list, right?!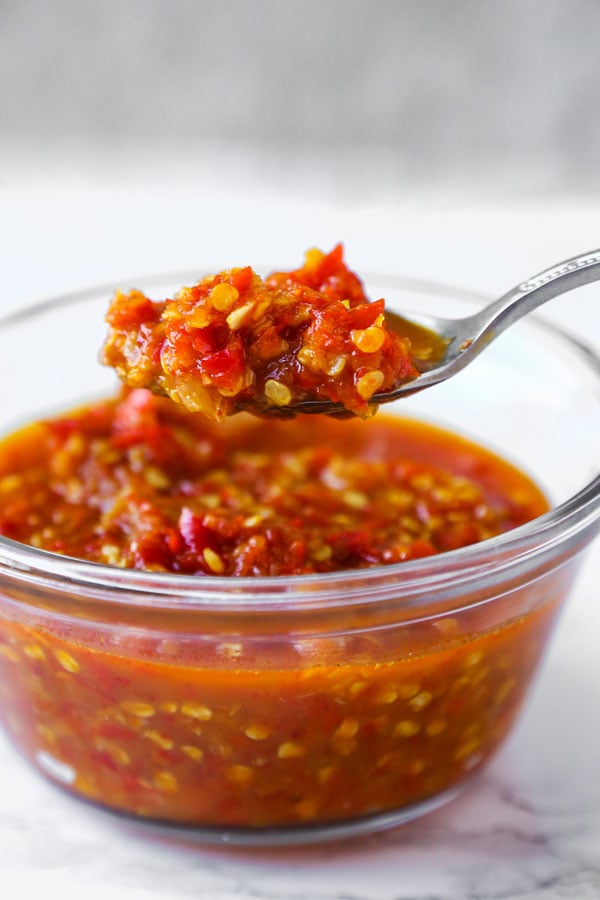 How to make chili garlic sauce
So, now that you have gathered all your ingredients, the cooking portion is where the rubber meets the road so to speak.
However I think you'll be surprised by how EASY it is to make this lookalike sambal sauce!
A word of caution: WEAR GLOVES when handling the chilis. There is no wrath more hellish in the kitchen than accidentally rubbing your eye after handling Thai chilis. Trust me. Avoid at all costs. Latex or vinyl gloves will do the trick.
Simply place all your ingredients in a blender and blend until relatively smooth. Now it doesn't need to be pureed like a soup or anything. You'll still see flesh and seeds from the chilis.
Then transfer the blended Thai chili paste to a small pan, cover and simmer (juuuust bubbling) on low heat for around 10 minutes.
Next add a quarter cup of water and simmer for another 5 minutes.
Afterwards, just pull it off the heat and transfer to a small glass jar. Seal it up and refrigerate until you're ready to use it!
Now, I'm the type of home-chef that likes to give things a taste at every stage along the way. It's how I develop my flavors most of the time.
However, I'll tell you that if you take a taste of this chili garlic sauce recipe before simmering on the stovetop, it will be shockingly spicy. There's something about the simmer phase that really brings the vinegary sweetness to the forefront.
Don't get me wrong, the finished sauce is still fire – but at least it won't melt your entire face off, ha!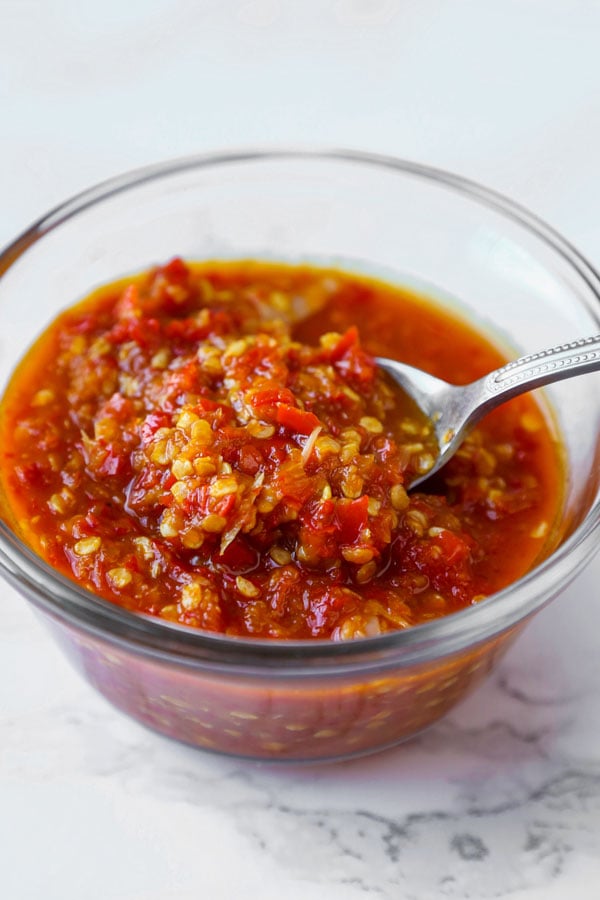 What's the difference between chili garlic sauce and sambal oelek? 
To put a pretty nuanced thing into overly simplified terms, this garlic chili sauce is quite a bit more garlic forward than your typical sambal oelek.
I'd also say this chili sauce is a fair bit sweeter than sambal oelek. With its sweet notes, you almost might call it a chunky sriracha 🙂
Therefore, this homemade version it makes a great proxy for sambal oelek – and a spicier sriracha substitute.
A word of advice: When you first try it, start with a small amount and work your way up so you can see how much you'll need to appease your own spice gods. This chili sauce is quite hot!
Should chili garlic sauce be refrigerated?
Short answer: yes.
Now, the rice vinegar and salt informally act as a natural preservatives. However, since there aren't any industrial grade preservatives in this chili sauce (YAY!) you should definitely store it in an airtight glass jar or tupperware in the fridge.
Good news though. Even without preservatives, it lasts up to a month in the refrigerator. And, if you're so inclined, you can keep it sealed in the freezer for up to 6 months!
That way you'll have chili sauce on-demand when you need a little kick.
How about you? What's your favorite spicy condiment? I'd love to hear about it in the comments.
Happy cooking, friends!
Other delicious + easy sauce and condiment recipes:
Plus: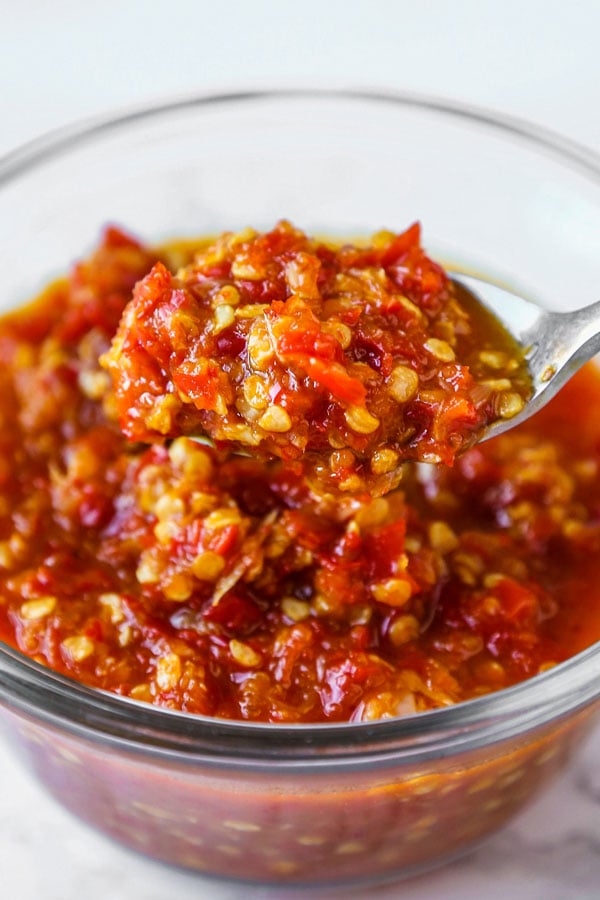 Did you like this Chili Garlic Sauce Recipe? Are there changes you made that you would like to share? Share your tips and recommendations in the comments section below!
Print
Chili Garlic Sauce
Serve this homemade fiery chili garlic sauce with your favorite foods that always taste better with a kick!
Author: Caroline Phelps
Prep Time:

5 minutes

Cook Time:

15 minutes

Total Time:

20 minutes

Yield: about

1/2 cup

1

x
Category:

Sauce/Condiment

Method:

Blending - Simmering

Cuisine:

Thai
1½ ounces

red Thai chilies, Fresno chilies, or rehydrated dried chilis, stems removed (use gloves for fresh chilies)

1

shallot

4

garlic cloves, peeled

¼ cup

plain rice vinegar

1½ teaspoon

kosher salt

1 tablespoon

+

1 teaspoon

coconut sugar or brown sugar

3 tablespoons

vegetable oil, or other neutral oil
Instructions
Put all the ingredients in a blender and blend until smooth.

Transfer to a small pot, cover and simmer on low for 10 minutes.

Stir and add ¼ cup water.

Cover and simmer for an additional 5 minutes.

Store in an airtight glass jar and refrigerate. The sauce will keep in the fridge for up to 1 month or in the freezer for up to 6 months.
Notes
Be sure to wear latex or vinyl gloves when dealing with any type of hot chilis!
Nutrition
Serving Size:

1/2 tablespoon

Calories:

29

Sugar:

0.6 g

Sodium:

0.4 mg

Fat:

2.6 g

Saturated Fat:

2.1 g

Carbohydrates:

0.9 g

Fiber:

0 g

Protein:

0.1 g

Cholesterol:

0 mg
Keywords: spicy, vegan, vegetarian, chili sauce, condiment
Recipe Card powered by