This Homemade Ponzu Sauce Recipe is a Japanese citrus sauce that marries the umami flavors of dashi, the sweetness of mirin with a bright twist of yuzu, sudachi or lemon. Use it as a bright, savory dipping sauce, salad dressing or marinade!
When I was a kid, I used to demand yuzu sauce when my mom made shabu-shabu (hot pot) for dinner.
Even though, I didn't quite know what I was asking for, I loved dunking my veggies and noodles in the dipping sauce she set out for me. It was bright and refreshing – almost cleansing – while having savory, umami undertones.
I couldn't get enough of it!
Fast forward more years than I'd care to admit, and I now know that magical Japanese dipping sauce was ponzu sauce.
My pulse STILL quickens when I see a tuna tataki with ponzu sauce on the menu at a Japanese restaurant. I love knowing that a dose of bright citrus is in my future!
When I set out to recreate a homemade ponzu sauce in my own kitchen, I was worried that it might be tough to match the perfection of the bottled stuff from the grocery store.
Luckily, making ponzu sauce at home is a total breeze – and only requires a few ingredients!
What is ponzu sauce
To put it simply, ponzu sauce (ポン酢) is a Japanese citrus sauce that marries the umami flavors of dashi with citrus notes imparted by fruits such as yuzu, sudachi and sometimes lemon.
Now, in most homemade and commercially produced ponzu sauce, there is soy sauce added to the mix. This combination, which is actually called ponzu shōyu (ポン酢醤油), ups the savory and salty elements.
It's sometimes used as a tangy vinaigrette for salads, as a marinade for meats, as a dipping sauce for sashimi – or a dipping sauce for that hot pot I loved so much as a kid.
Btw… I still love hot pot!
Ponzu sauce ingredients
Ponzu shōyu (we'll just call it ponzu from here on out) gets a real depth of flavor and umami kick from the use of katsuobushi and kombu. Incidentally, those are the two ingredients that make up dashi – the base broth that flavors everything from soba to miso soup to oden.
For a deep dive into the many uses of dashi, check out my post How to Make Dashi.
Soy sauce contributes to the savory tones in this simple ponzu sauce – and mirin comes in and tames the saltiness with its trademark sweetness.
However, in my mind, the most important ingredients in a perfect ponzu sauce are the citrus elements. And for that bright punch of refreshing cleanliness, we turn to the humble lemon and lime to do what they do best.
Wait… lemon and lime!? Why wouldn't we just use Japanese yuzu (or at least sudachi) for the citrus element in this homemade ponzu sauce recipe?
Well, unfortunately, it's next to impossible to find fresh yuzu outside of Japan. Believe me, I've tried, ha!
I've used bottled yuzu juice from the Japanese grocery store before – but it was pretty pricey.
Luckily, for us home chefs in the West, mixing lemon and lime delivers excellent results in this Japanese citrus dipping sauce! We'll just call it a lemon lime ponzu and be done with it!
Aside from the citrus, you can probably find most of the ingredients you'll need to make ponzu sauce from an Asian grocery store. Or you can easily order them on Amazon:

How to make ponzu sauce at home
Making this Japanese citrus sauce in your home kitchen is literally as easy as combining all your ingredients into a glass jar or tupperware and letting it sit for a while.
How long?
Well, I find that homemade ponzu sauce achieves its full flavor potential after an overnight soak. That seems to be the sweet spot for my taste.
Obviously, the longer you soak the ingredients, the stronger the flavor from the fish flakes and kelp will be.
If you're in a rush, you can infuse your sauce with a decent amount of flavor in about 3 hours.
A good rule of thumb is to sample your own homemade ponzu every few hours – and find the strength that suits your palate perfectly 🙂
Now, simply strain your ponzu through a mesh sieve or cheesecloth – and you're good to go. Easy, right!?
You can keep this citrus loaded, savory Japanese dipping sauce in the fridge for 2-3 weeks.

Ponzu sauce uses
As I touched on previously, this is a superb dipping sauce for nabe and shabu-shabu. It's a bright counterpoint to the typically savory cooking broths used in hot-pot.
Another one of my favorite uses for ponzu sauce is as a refreshing dipping sauce for sashimi.
And in the summertime, this lemon lime ponzu sauce makes a bright, clean dipping sauce for cold noodles like somen.
But, aside from being a wonderful dipping sauce, you can use this homemade ponzu sauce recipe as a dressing for salad – or even tataki.
Ponzu can even be used to marinate meat, seafood and veggies before you toss them on the grill.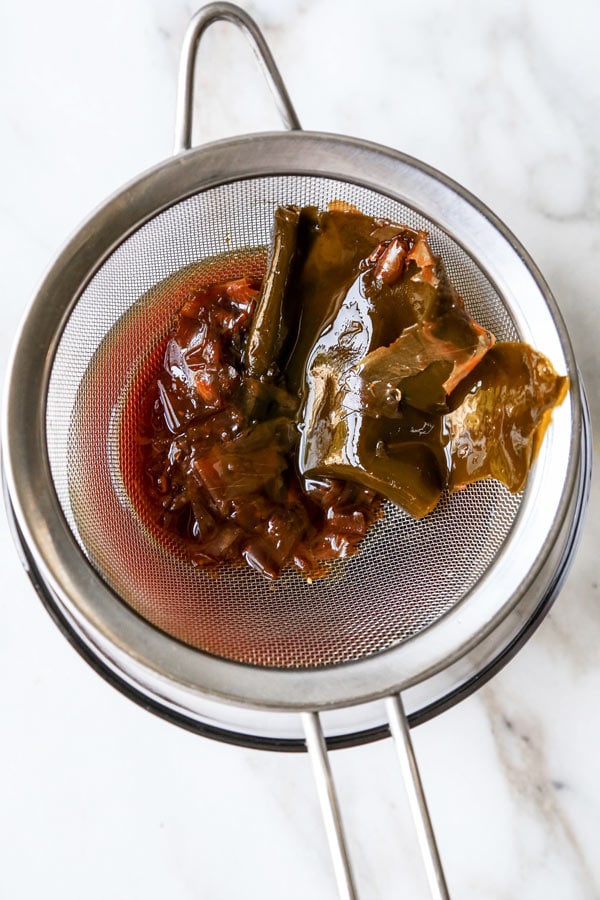 Is ponzu sauce vegan?
As far as this recipe is concerned, it is not vegan. Since we're using katsuobushi (bonito flakes), this simple ponzu sauce is only for the pescaterians and omnivores in the group.
But don't fear! If you'd like to try this savory, citrus-y ponzu dipping sauce, and are adhering to a vegan diet – you can simply omit the katsuobushi.
Now, the flavor won't be quite as deep and umami loaded as the original. However, there's something pretty magical that happens when you mix soy sauce and citrus!
In my opinion, this Japanese sauce is totally worth trying in its original form – OR in a vegan version.
Heck, the only real rule is: ENJOY!
How will you use this Japanese condiment?
Ponzu is a versatile, easy to make Japanese sauce to have in your recipe arsenal!
So, how will you use this ponzu sauce recipe? As a dipping sauce? Marinade? Dressing?
Leave a comment and let me know 🙂
But, hey… no matter how you use this refreshing sweet, savory and citrus loaded Japanese sauce – the end result is sure to be delicious!
Other simple, delicious homemade Asian sauce recipes:
Did you like this Homemade Ponzu Sauce Recipe? Are there changes you made that you would like to share? Share your tips and recommendations in the comments section below!
Print
Homemade Ponzu Sauce ポン酢
A classic Japanese citrus flavored sauce you can make at home!
Author: Caroline Phelps
Prep Time:

2 minutes

Total Time:

182 minutes

Yield: About

1 cup

1

x
Category:

Sauce

Method:

Steeping

Cuisine:

Japanese
1/2 cup

soy sauce

1/4 cup

lemon juice

1/4 cup

lime juice

2 tablespoons

mirin

1 tablespoon

rice vinegar

1

3×3 inch piece dried kelp (kombu)

1/3 cup

bonito flakes
Instructions
Combine all the ingredients in a storage container, stir, cover and refrigerate.
Let sit for at least 3 hours or overnight.
Strain and refrigerate for up to 2-3 weeks.
Nutrition
Serving Size:

1 cup

Calories:

206

Sugar:

22.1 g

Sodium:

3535.4 mg

Fat:

0.5 g

Saturated Fat:

0.1 g

Carbohydrates:

40.1 g

Fiber:

0.8 g

Protein:

10 g

Cholesterol:

0 mg
Keywords: recipe, Japanese sauce, dashi, kombu, homemade, dressing
Recipe Card powered by