Summer means somen! Get ready for the most refreshing Japanese noodle recipe ever! Dip your cold and springy somen noodles in umami mentsuyu and slurp away!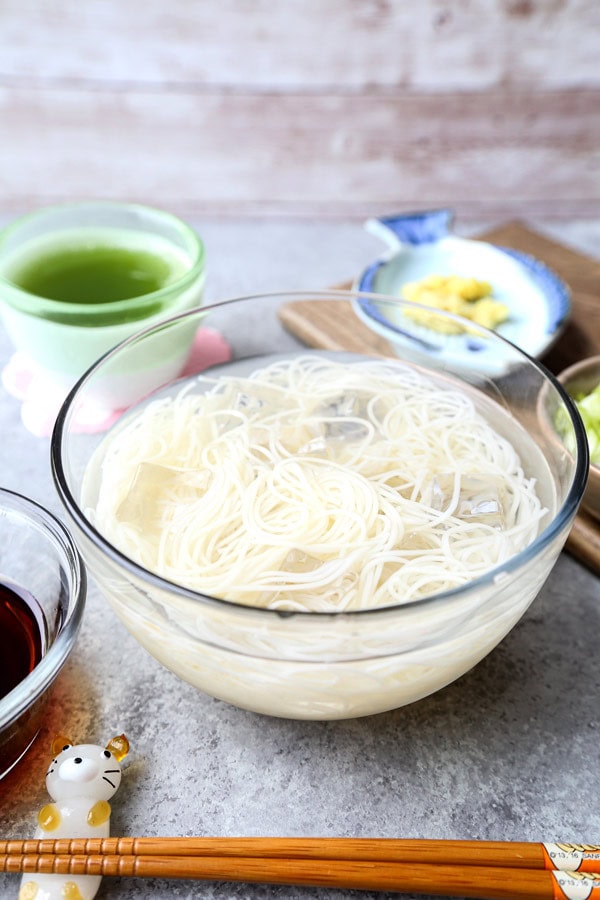 I equate cold somen with summer. As a kid, I spent many lazy afternoons reading fashion magazines on the floor of the living room with the sound of a baseball game on the TV in the background. My mom would ask what I wanted for lunch – and her eyes would shine when I said, "SOMEN!"
Five minutes later, we would be dipping cold noodles in frigid and savory mentsuyu. "Oishi!" (yummy) we'd exclaim after pretty much every bite. Well as I've gotten older, I still crave Japanese cold noodles when the mercury starts to climb. There are just some foods I'll always associate with hot weather.
Therefore, I'm super excited to share with you a delicious and refreshing somen recipe that is so simple to make, it may just become your go-to summer recipe as well!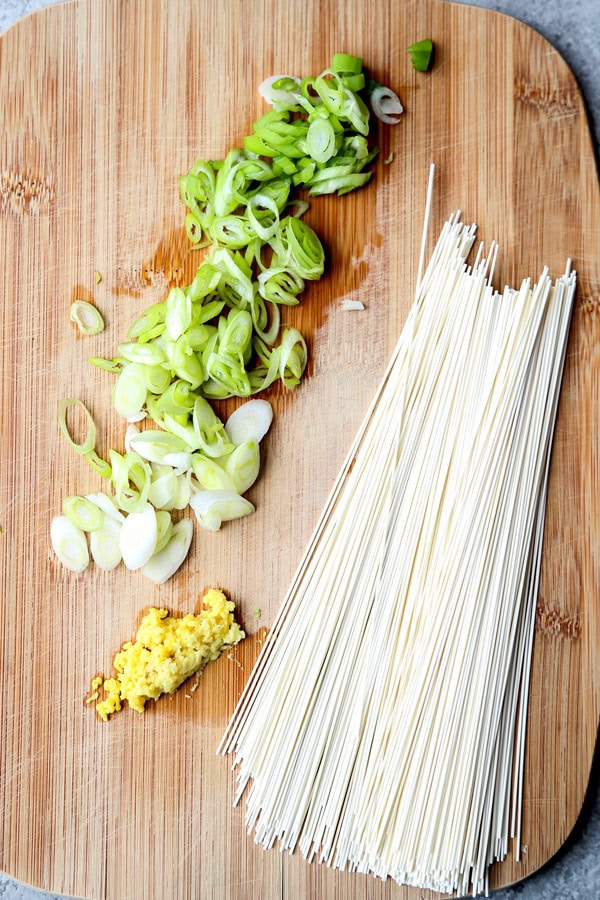 What is somen?
Somen are thin wheat noodles that are white in color and have a springy, bouncy texture when cooked al dente.
Typically served in cold preparations, you will find these noodles in everything from a bright somen salad to cold dipping noodles – and sometimes even hot noodle soups.
One of the most iconic uses of somen in Japan is nagashi sōmen – in which servings of ice cold somen noodles flow on a bamboo waterslide in front of diners that catch them with chopsticks and dip them in mentsuyu dipping broth.
And while this cold somen noodles recipe tastes similar to that interactive Japanese meal, there's much less competition involved 🙂 These somen dipping noodles are served in a bowl with the mentsuyu on the side.
Fun fact: sōmen in the Japanese Hiragana syllabary is そうめん. The very same word in Kanji characters is 素麺.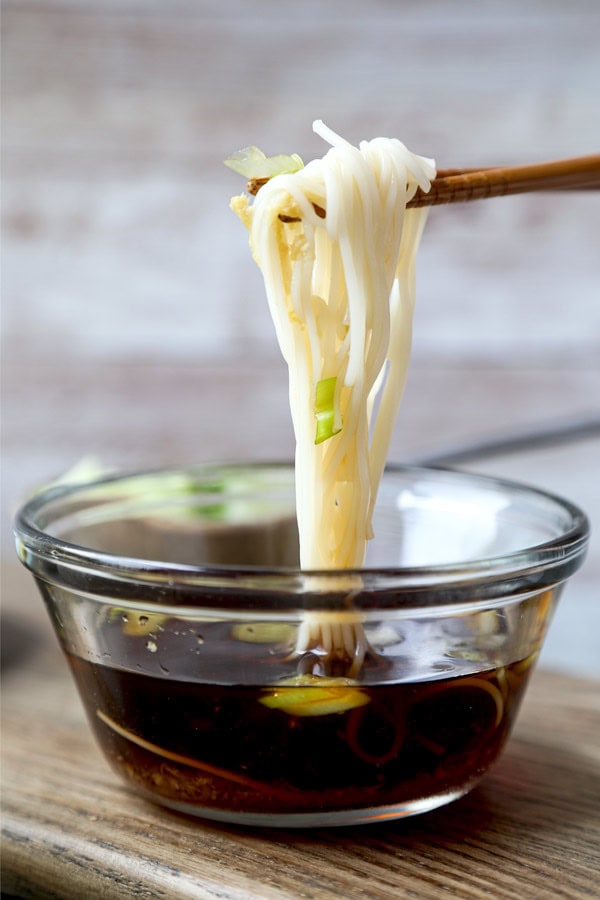 Ingredients for cold somen 
Mentsuyu: The dipping sauce base – and provider of all the wonderful savory flavors in this Japanese noodle recipe. You can either buy a pre-made concentrated tsuyu base and add water. Or make it from scratch. More on mentsuyu in a second.
Somen Noodles: These thin, white Japanese noodles are made of wheat and cook very quickly (usually about 2 minutes). You will want to shock them in cold water once achieved doneness is achieved to stop the cooking process.
Scallions: Placing finely chopped green onions inside the cold soup adds a pop of garden freshness.
Ginger: Grated ginger adds a botanical slow burn to the tsuyu broth that borders on spicy, but doesn't overwhelm the balance and fine nuances of the dish as a whole.
Ice cubes: To keep your noodles super cold on a hot day, place a few ice cubes in a bowl with some water and add your noodles.
I find it amazing that an ingredients list this simple can still produce a Japanese noodle recipe with so much flavor. And much of deliciousness can be attributed to the savory, cold dipping broth. So let's take a closer look at mentsuyu!
What is mentsuyu?
Mentsuyu – めんつゆ – (also called tsuyu) is a Japanese soup base made of soy sauce, dashi, mirin and sugar. It's used predominantly as a dipping sauce for soba, udon and somen – as well as fried favorites like tempura and agedashi tofu.
The flavor is largely savory and umami with bright touches of sweetness around the edges.
Now, while you can premake dashi to use as a composed ingredient in mentsuyu, you can also prepare tsuyu from scratch by adding dried kelp and bonito flakes to your soy sauce, sugar and mirin. In fact, if you decide to give it a go in your own home kitchen, follow this simple recipe for mentsuyu from my zaru soba post here. 
The other option is buying a premade mentsuyu on Amazon or at your favorite Asian grocery store and diluting with water. The usual ratio is 3 parts ice cold water to one part mentsuyu base.
But no matter whether you use homemade or store bought mentsuyu, it will make this somen recipe burst with flavor!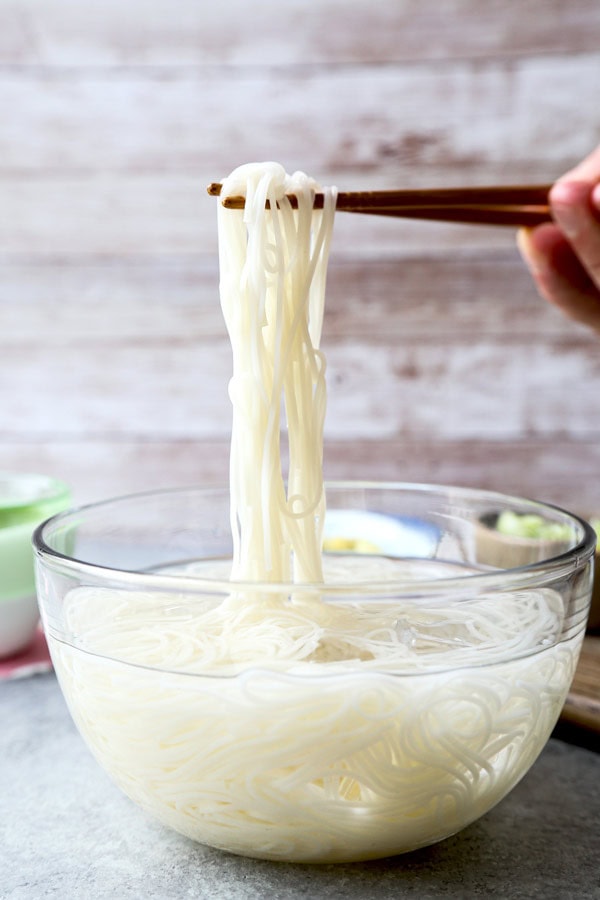 How to make somen
Divide your mentsuyu into two small dipping bowls. (Remember to dilute with cold water if you're using a concentrate!) Then place those dipping bowls in the fridge to ensure they are ice cold for serving.

Bring a pot of water to boil, and boil your somen noodles according to the instructions on the package. Keep in mind, they cook fast! A good rule of thumb is approximately two minutes. When finished cooking, drain and rinse under cold water until your cooked somen is cold to the touch.

Place a few ice cubes in the bottom of two bowls and add water. Then place your noodles to the bowl.

Add your grated ginger and chopped scallions to the mentsuyu in the small dipping bowls (optional).
That's it! Dip your cold noodles into the chilled tsuyu broth and slurp to your heart's content. You'll be shocked at how refreshing and satisfying these Japanese cold noodles are. 
And if it's winter, no problem. For hot somen, simply forgo the ice bed for your cooked noodles, heat up the mentsuyu and you've got a warming, comforting Japanese lunch.
Your choice!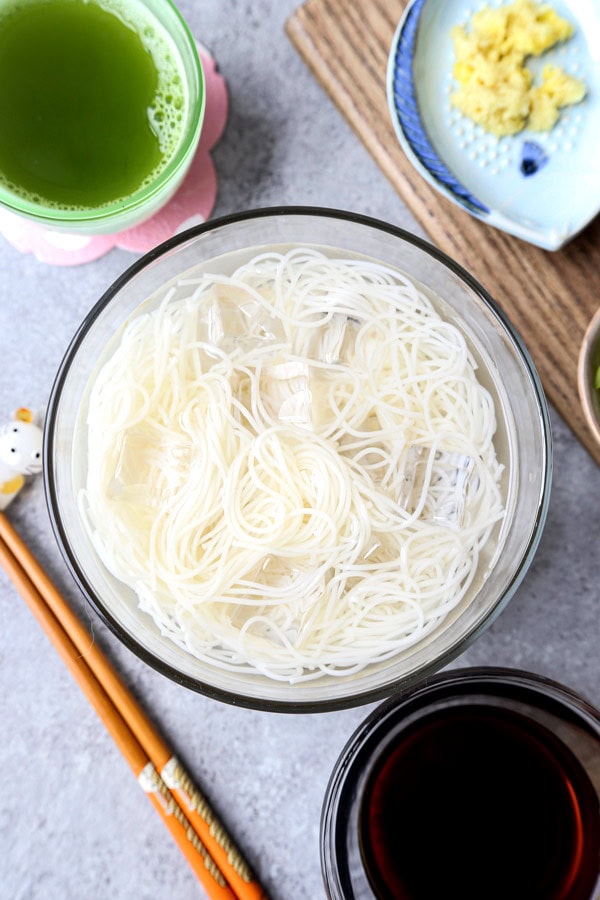 What to serve with Somen
Since somen is so light and refreshing, I like to keep my side dishes in the same ballpark. Sure, these cold dipping noodles would be fine with heavier items like Japanese curry or Yakimeshi (Japanese fried rice) – but it's so easy to keep it light when it comes to making Japanese recipes at home!
Try these light and easy Japanese recipes on for size:
Plus: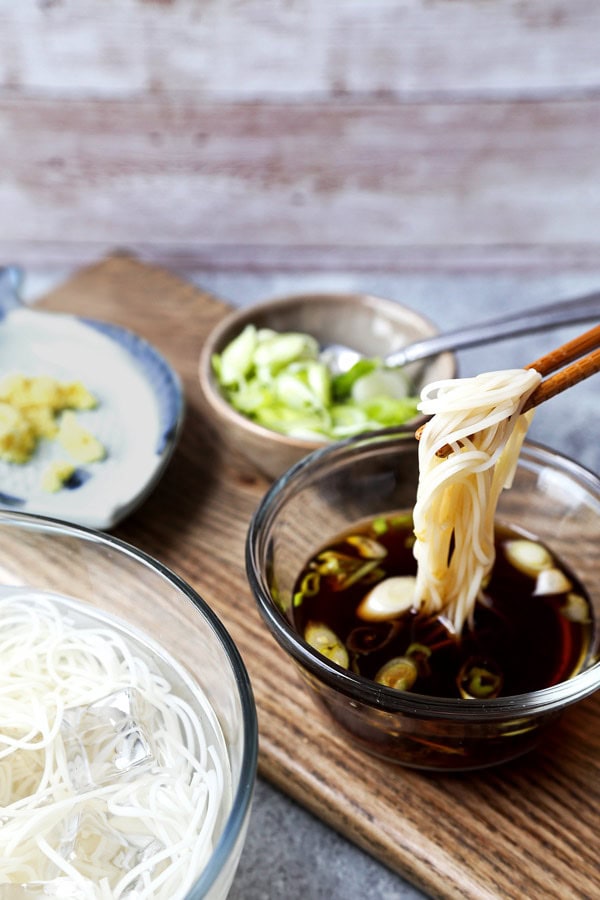 Did you like this Somen Recipe? Are there changes you made that you would like to share? Share your tips and recommendations in the comments section below!
Print
Somen Noodles そうめん
In just 8 minutes you'll be slurping cold Japanese dipping noodles with savory mentsuyu broth. Somen is the ultimate refreshing summer lunch!
Author: Caroline Phelps
Prep Time:

5 minutes

Cook Time:

3 minutes

Total Time:

8 minutes

Yield:

serves 2

Category:

Noodles

Cuisine:

Japanese
Instructions
Divide the mentsuyu into two dipping bowls and put them in the fridge to keep them cold.

Bring a pot of water to boil. Add somen noodles and boil according to instructions on the package (usually about 2 minutes). Drain and rinse the cooked noodles under cold water until the noodles are cold.

Grab two shallow bowls and place a few ice cubes in each one of them with about 1/4 cup to 1/2 cup water. Add the somen noodles to the bowl.

Serve with the dipping sauce on the side. Add chopped scallions and grated ginger to the dipping sauce. Dip each bite of noodles in the mentsuyu and slurp away!
Notes
Somen is best when freshly cooked. You can store unused mentsuyu dipping sauce in an airtight container in the fridge for up to 2 weeks.
Nutrition
Serving Size:
Calories:

369

Sugar:

0.3 g

Sodium:

1841 mg

Fat:

0.8 g

Saturated Fat:

0.1 g

Carbohydrates:

74.6 g

Fiber:

4.4 g

Protein:

11.4 g

Cholesterol:

0 mg
Keywords: Japanese, noodles, healthy, easy, lunch, Asian
Recipe Card powered by