From flaky beer-battered fish and chips, to a light and crispy Japanese tonkatsu cutlet, tartar sauce is one of those condiments that is loved globally. And the fun part is that each country has their own version of tartar sauce. In this post I share two of my favorites: the traditional Western style tartar sauce and Japanese tartar sauce.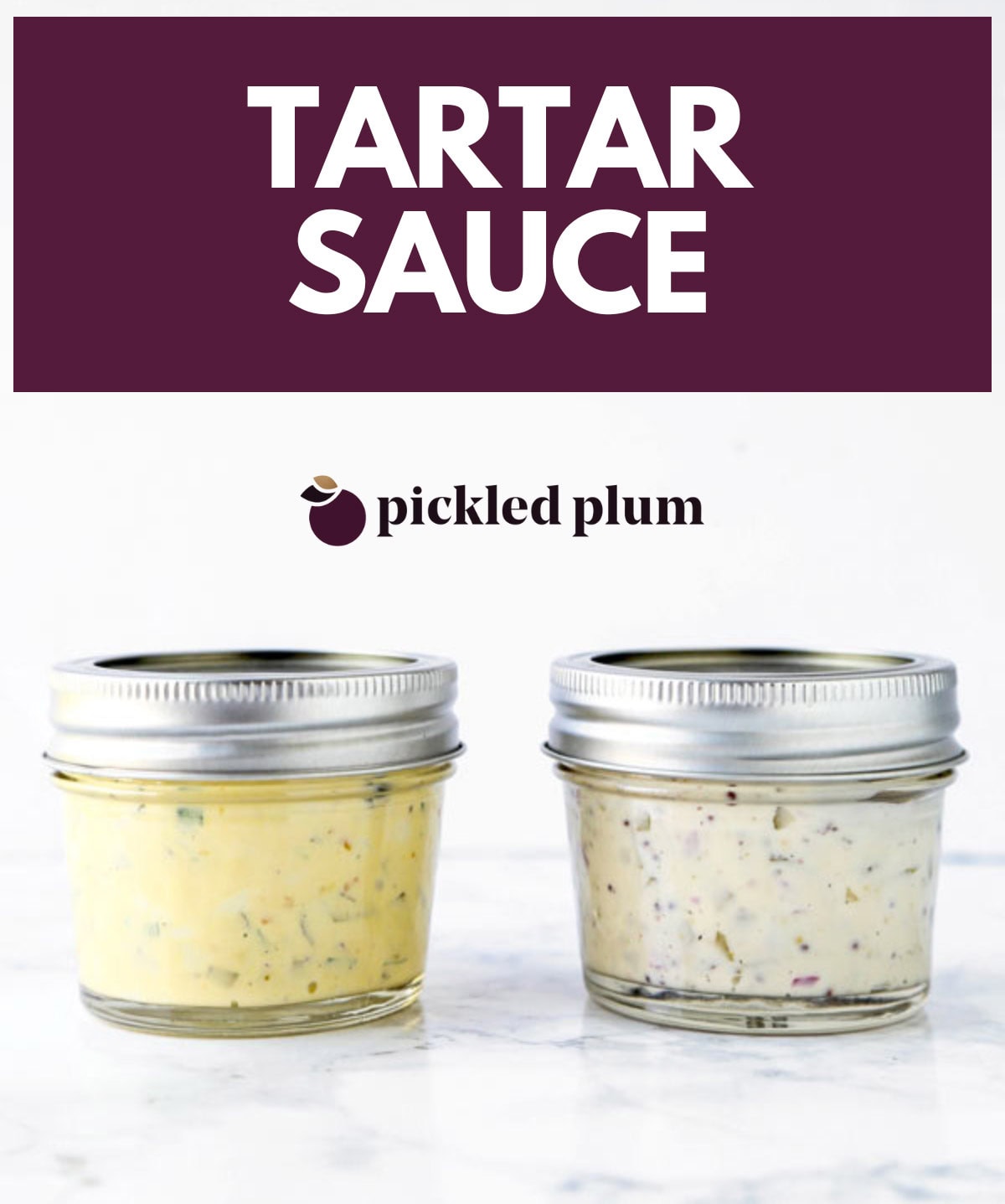 I grew up on tartar sauce. Whether I was in Montreal enjoying a plate of fish sticks or in Japan dipping kaki fry (deep fried oysters) in tartar sauce, this famous condiment has been part of my culinary life for as long as I can remember. So, instead of only sharing the Western version or the Japanese version, I decided to include both in this blog post!
What is Tartar Sauce?
Tartar sauce hails from France and is a mayonnaise or aioli based condiment. The sauce is lumpy because it contains a mixture of finely diced ingredients such as dill pickles, pickle relish, butter pickles, cornichons, capers, onions, or shallots.
As for Japanese tartar sauce, hard boiled eggs are often added to add creaminess and a more eggy taste to the sauce. Japanese tartar sauce also uses kewpie mayonnaise which is its own kind of mayonnaise. But more about that later.
Tartar sauce tends to accompany seafood (both fried and fresh) and can be used as a dip or a spread for crackers and sandwiches.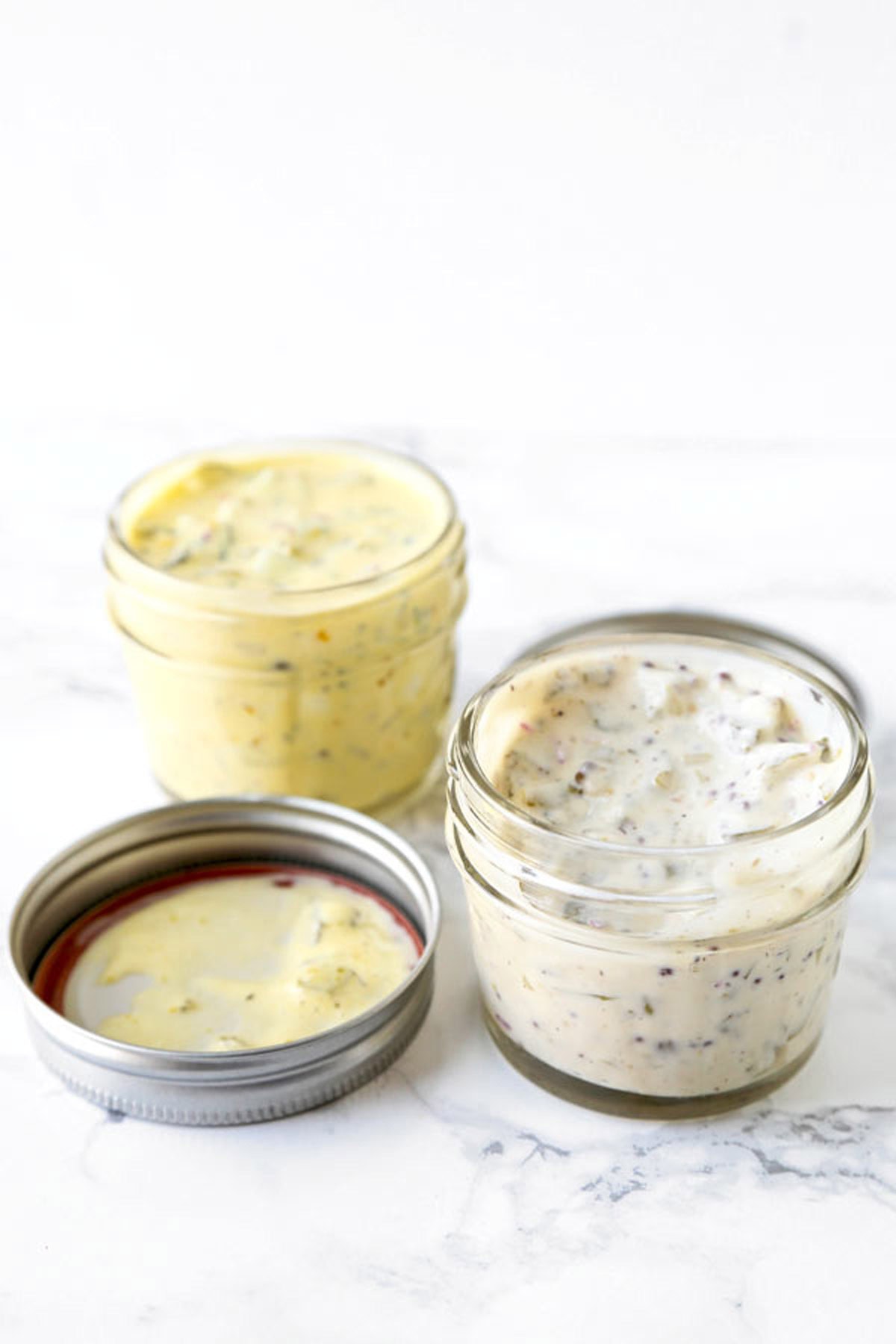 Homemade Tartar Sauce

vs Store Bought

While there are some good store bought tartar sauces out there, personally, I find the majority to be too sweet for my palate. When I think of tartar sauce I imagine a creamy and luxurious sauce that falls heavily on the tangy and tart end of the flavor spectrum, and with just a touch of sweetness.

Store bought tartar sauce -> too sweet.

Homemade tartar sauce -> just right.

Plus, not only are most store bought tartar sauce (and other sauces and salad dressings) high in sugar, they also contain preservatives and processed ingredients. Not the best option if you are looking for a healthier lifestyle.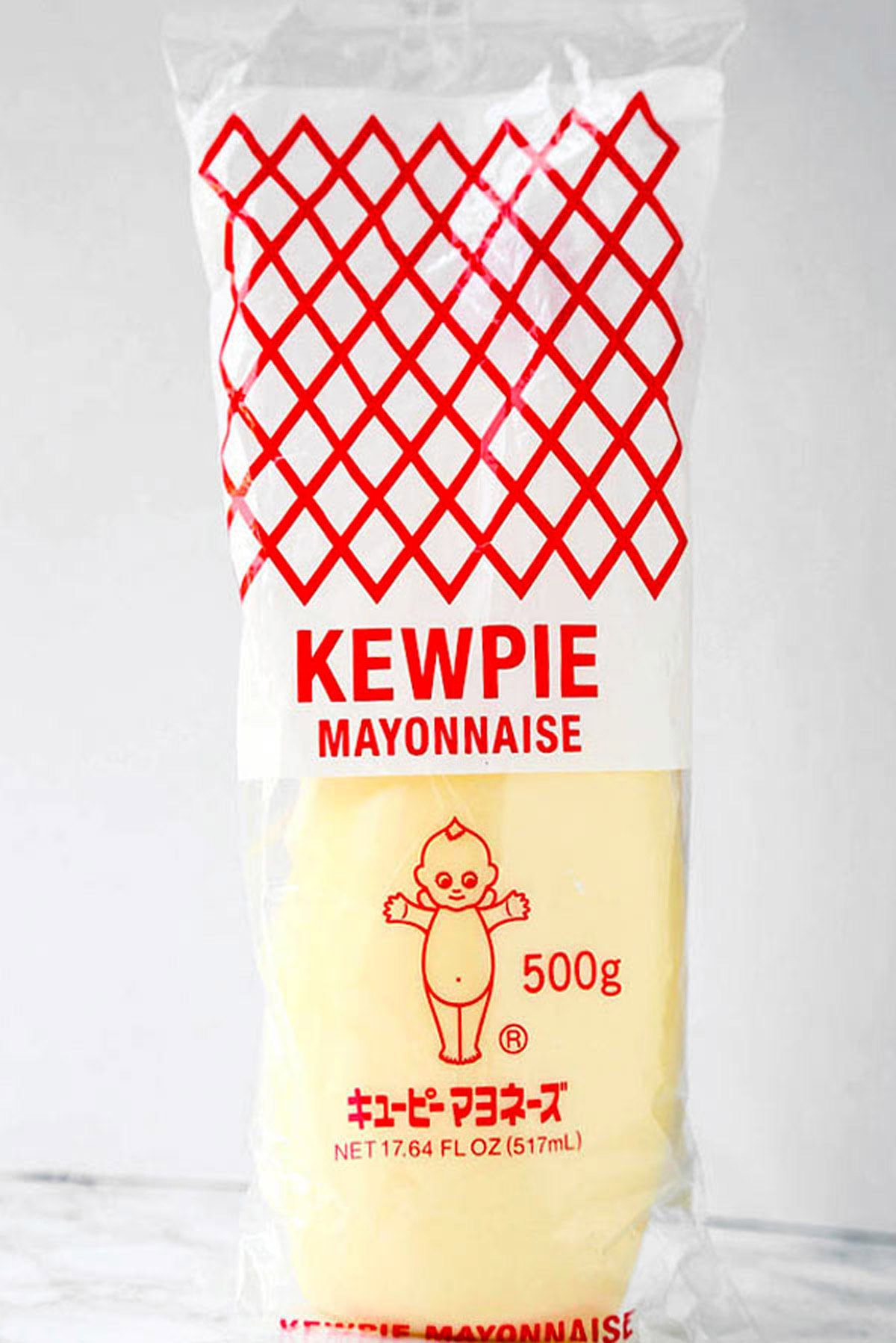 Is Tartar Sauce Made with Mayo?
Yes. Mayonnaise is the base ingredient for tartar sauce.
For a traditional Western style tartar sauce, a plain jar of mayonnaise such as Hellman's is what I would recommend using. But, since mayonnaise is the main ingredient of this sauce, I would also encourage you to use your favorite brand.
If you are in the mood to try something a little different and give the Japanese version a try, you will need to pick up Japanese kewpie mayonnaise (which is pictured above).
Regular Mayonnaise vs Japanese Kewpie Mayonnaise
While both mayonnaise are creamy and tangy, the Western version is thicker, less complex in flavor, and contains more ingredients.
Traditional kewpie mayonnaise uses limited ingredients which keeps the flavor of the mayonnaise "clean". And unlike the western version which uses the entire egg, only egg yolks are used. A touch of monosodium glutamate is also added for an umami kick, and rice vinegar is the prefered type of vinegar which gives the sauce a slight fruity taste.
This results in a smoother, slightly less dense consistency (great for spreading), with an eggy and fruity taste, bordering on umami.
It's worth noting that most kewpie mayonnaise sold in the US do not contain msg and therefore, don't taste exactly the same as the one sold in Japan. But it is possible to find it if you really look for it – and I personally think it's worth the hunt.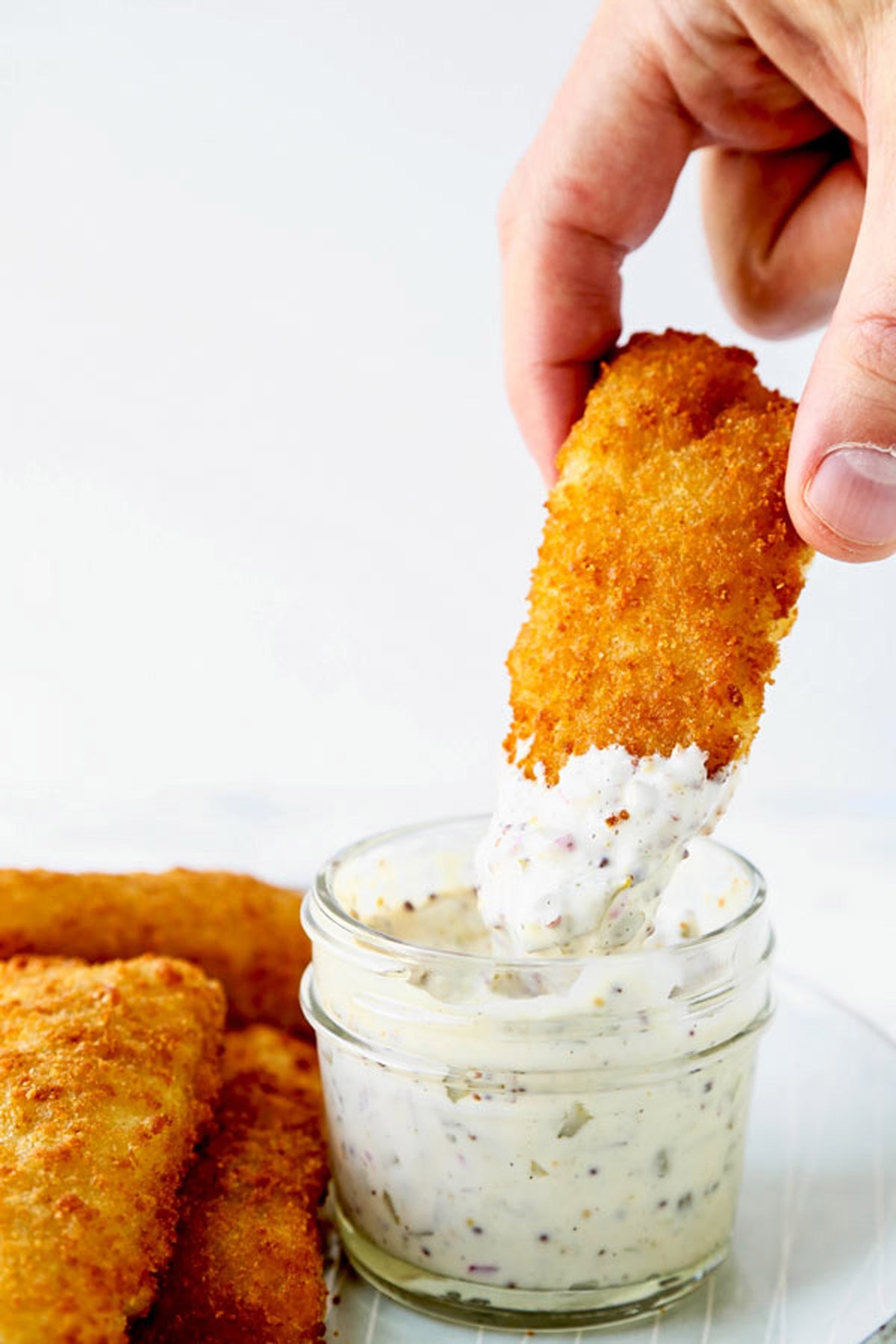 What does tartar sauce go with?
While I'd argue that the creamy, savory and tangy punch of tartar sauce goes with just about any savory dish, there are some obvious natural pairings:
Using tartar sauce as a dipping sauce for fish and chips and other deep fried seafood such as fried clams, fried shrimp is a no brainer.
It can also be used as a dipping sauce for other deep fried foods such as french fries and onion rings.
On the Japanese side of the spectrum, classics like kaki fry (カキフライ – fried oysters), karaage (から揚げ – fried chicken) and ebi fry (海老フライ – fried shrimp) are usually served with a

ramekin

of tartar sauce on the side.
Do you see a trend?
Yep, whether you're eating Japanese or Western cuisine, tartar sauce seems to really pair up nicely with breaded and deep fried dishes.
Tartar can also be used as a spread for sandwiches, burgers, and tacos. And it pairs beautifully with a nice piece of steamed or oven baked salmon or arctic char.
Western Style Tartar Sauce

Ingredients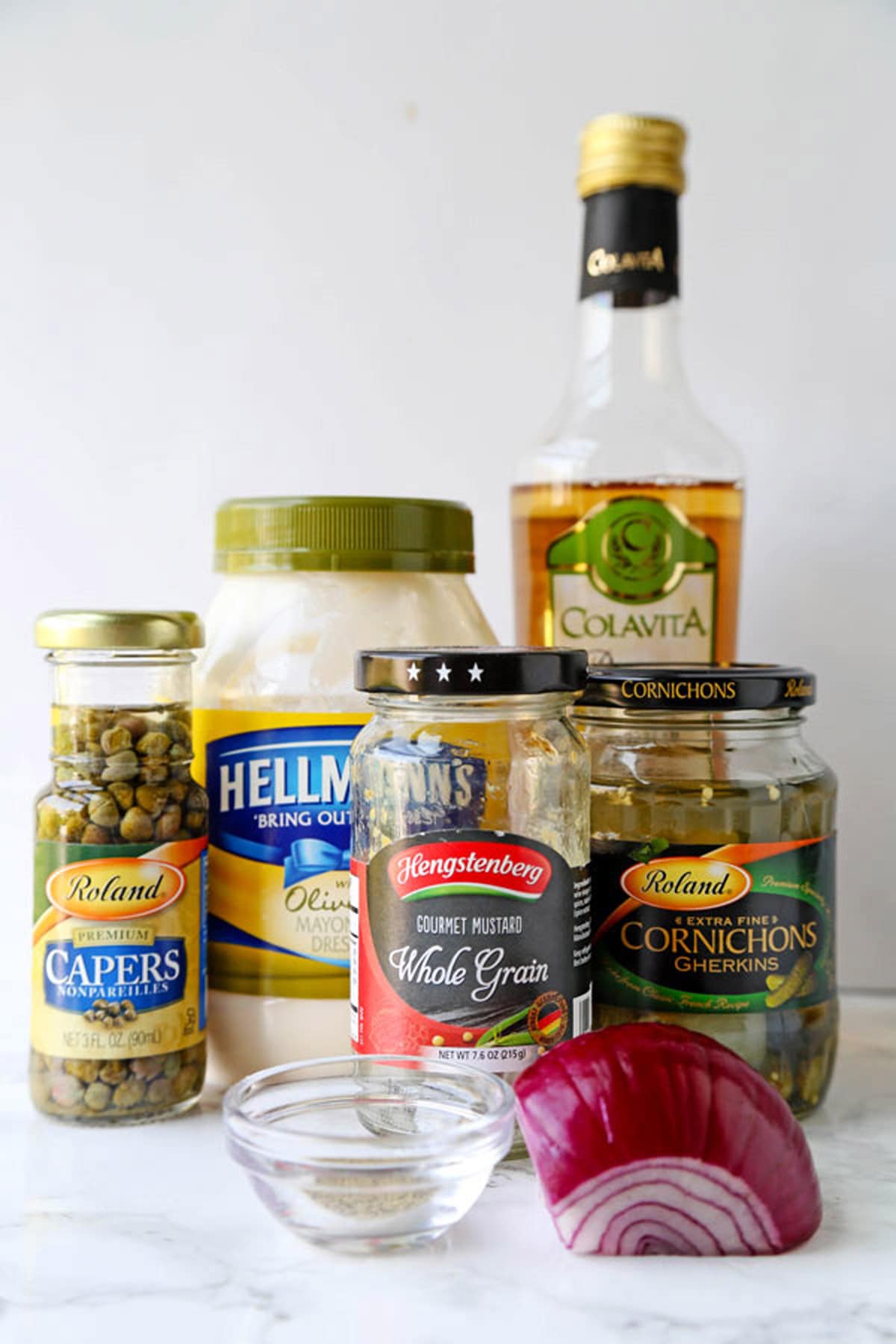 To achieve the tanginess and tartness of tartar sauce, additions like vinegar, lemon juice, grain mustard, dijon mustard, and capers are often used. Luckily, these are easy to find ingredients that most of us, homecooks, already happen to have in our kitchen.
To make this Western style tartar sauce you will need (scroll all the way down to the recipe for the full recipe):
Dill pickles or cornichons: Chopped dill pickles or cornichons add a lovely soft crunch and a tart element to the sauce. You can also use the sweet type of cornichon if you prefer a sweeter sauce.
Chopped shallots or red onion: Using chopped onions also add a nice crunch as well as a refreshing and slightly spicy note.
Chopped capers: I like to use capers in vinegar to add acidity to the sauce. But you can use capers in salt as well (just make sure to rinse off the salt and pat them dry before chopping).
Light mayonnaise or regular mayonnaise: As I previously mentioned, I like to use Hellman's because of its simple and straightforward taste. If you are vegan, my favorite is Vegenaise by Follow Your Heart.
White wine vinegar: White wine vinegar is made from white wine and therefore has a fruity note that plain white vinegar doesn't have. Apple cider vinegar can also be used as another option.
Grain mustard: I like using grain mustard over dijon mustard because of its tangy flavor. Dijon mustard can sometimes overpower this particular sauce and add bitterness to it.
Sugar: Just a pinch of sugar to add sweetness and help balance the tangy and tart flavors of the sauce.
Ground black pepper: A little ground black pepper for a hint of heat.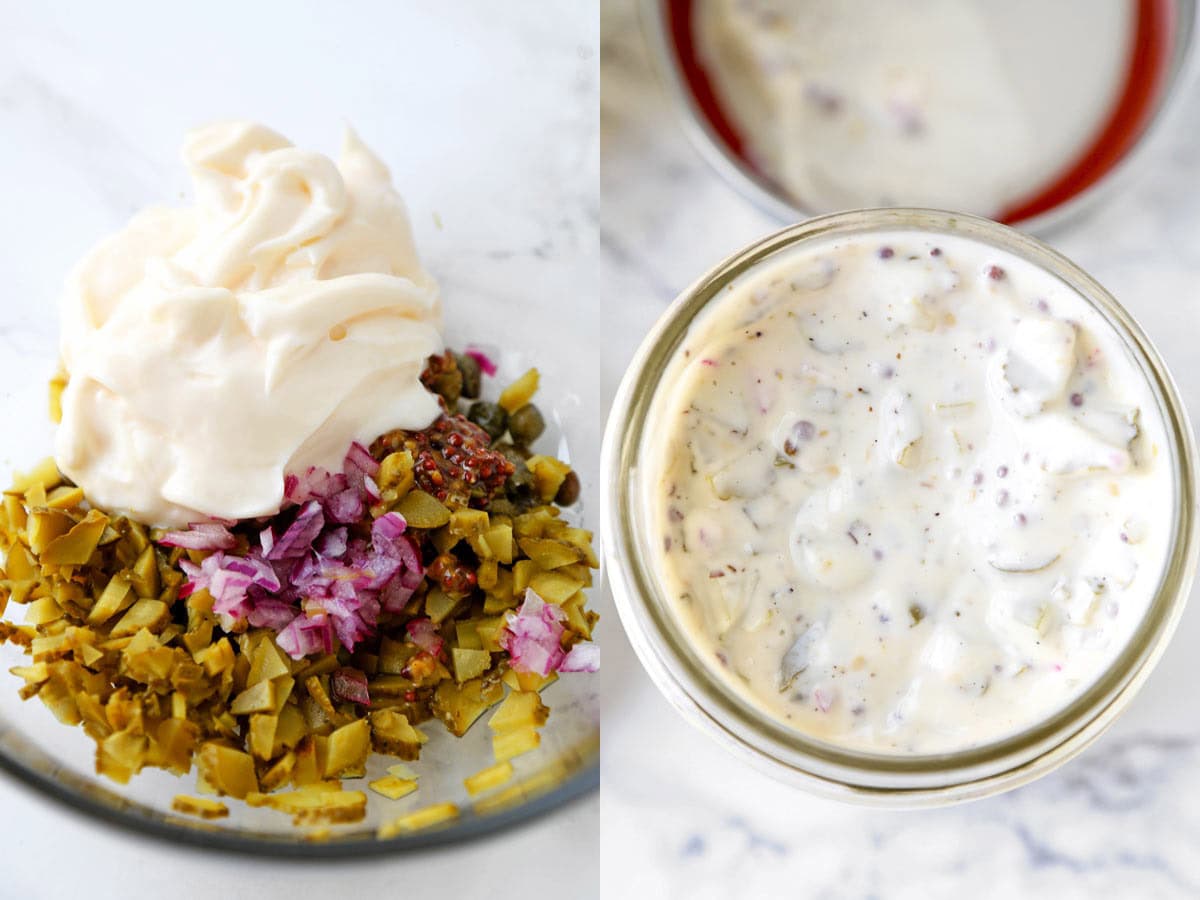 ---
Japanese Tartar Sauce

Ingredients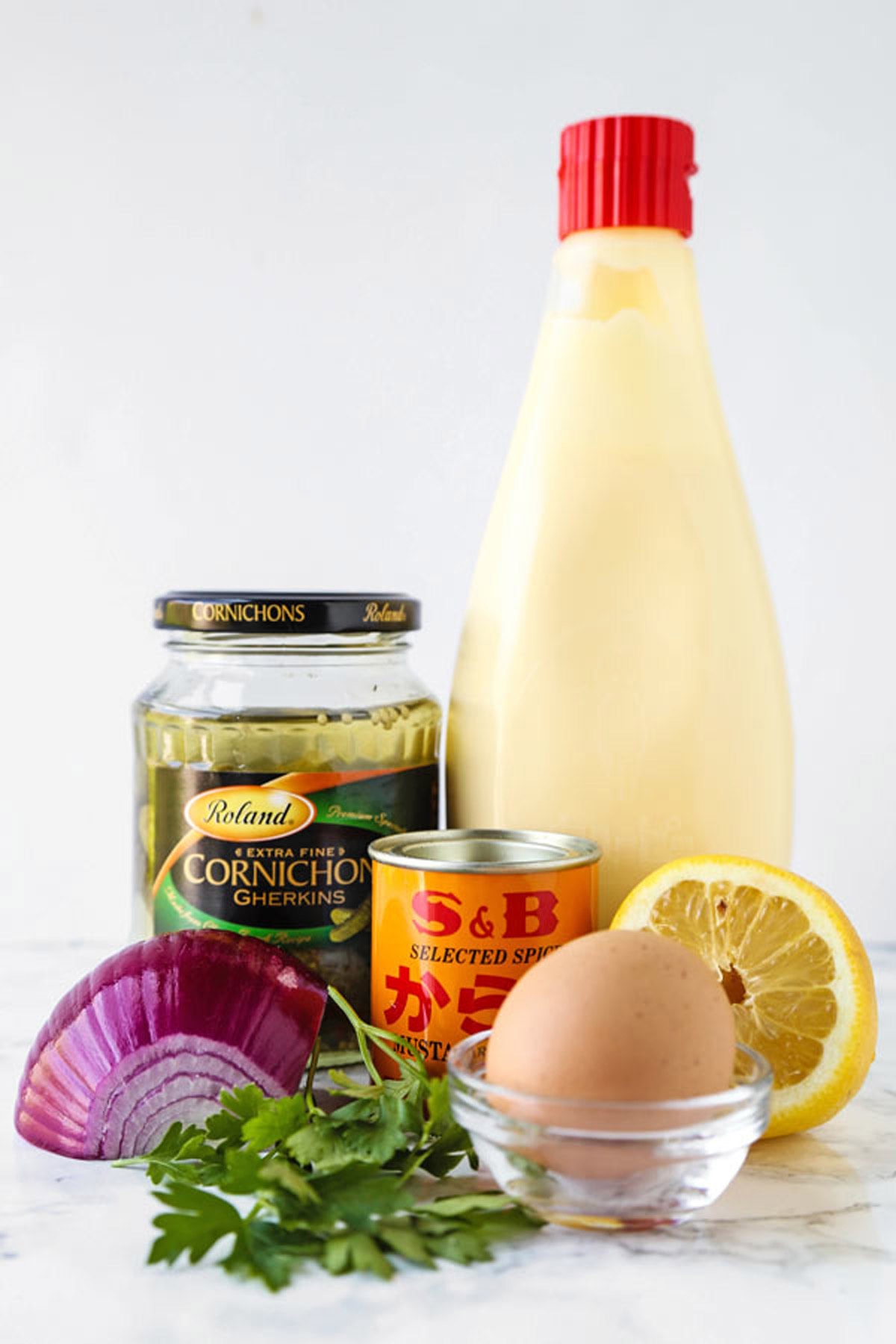 Making Japanese tartar sauce is just about as easy as making the Western version. However, there are slightly different ingredients we'll be using for both flavor and texture.
To make Japanese tartar sauce you will need (scroll all the way down to the recipe for the full recipe):
Shallot or red onion: Using chopped onions add a nice crunch as well as a refreshing and slightly spicy note.
Kewpie mayonnaise: Kewpie mayonnaise has a slight fruity and eggy taste and is packed with umami. It's the prefered mayonnaise for professional chefs.
Hard boiled egg: As previously mentioned, Japanese tartar sauce is more eggy than its Western brother. Adding a couple of hard boiled eggs and mashing them gives the sauce a richer texture.
Kosher salt: A little salt to balance the sweetness and fruitiness of the sauce.
Parsley: Chopped parsley adds a clean and peppery taste. You can use both curly or flat leaf parsley.
Sweet cornichons: Because Japanese tartar sauce is more complex in flavor, I like to use sweet cornichons to add another layer of flavor. But if you cannot find them, using regular cornichons will also work.
Lemon juice: A little lemon juice brightens up the taste and adds a little acidity.
Karashi hot mustard or dijon mustard: Dijon mustard may not pair well with the Western version but it works beautifully with the Japanese one. Karashi hot mustard is more sharp and bitter so I suggest trying it before adding it to your sauce. It's an acquired taste (that I absolutely love!).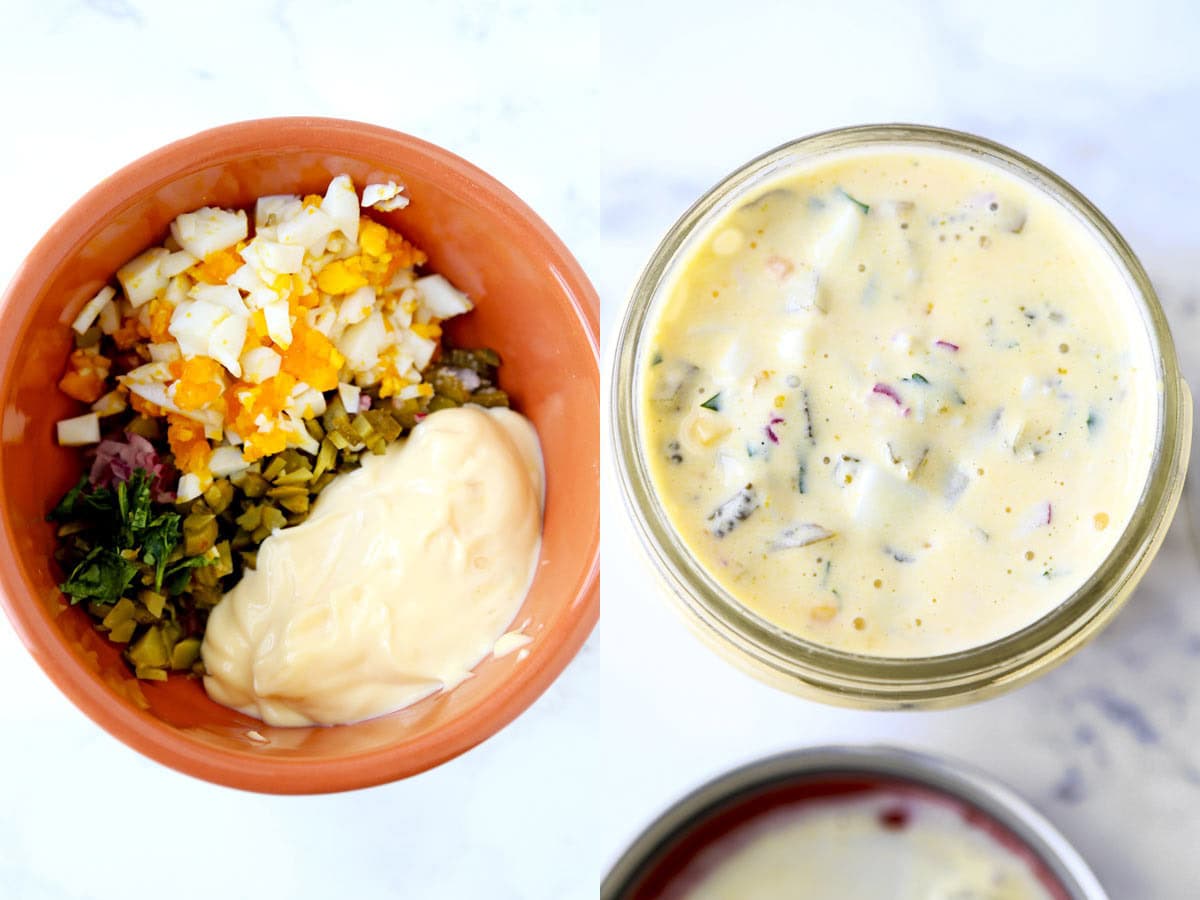 Tartar Sauce Taste Test
Obviously, no matter which version you decide to make, these are some super easy mix-and-go recipes!
The Western tartar sauce recipe has a real aggressive tartness to it, brought on by the white wine vinegar and

grain mustard

. That sharpness is tempered by the cooling mayo and savory pickles and capers. There is an underlying sweetness there, but it won't pull you too far away from the salty, tangy and creamy side. The overall effect is a well balanced tartar sauce that is reminiscent of a what you might be served at a rustic mom and pop fish shack.
The Japanese tartar sauce could almost be termed a mix between a really good egg salad and a tartar sauce. Since we used kewpie mayo, there's a touch more umami to the whole thing. While you might think using lemon juice could possibly take the tartness slightly overboard, it's actually quite subdued in the mix. It mixes with the slight heat from the

karashi mustard

and almost smolders just under the surface. You get intermittent pops of sweetness from the chopped cornichons – and the parsley sends a touch of brightness to your taste buds.
Which do You Prefer?
It was so much fun making these tartar sauce recipes at home! What's the best tartar sauce recipe in your opinion?
I'd love to hear all about your delicious experiments in the comments!
Other simple, delicious and time-saving homemade sauce recipes: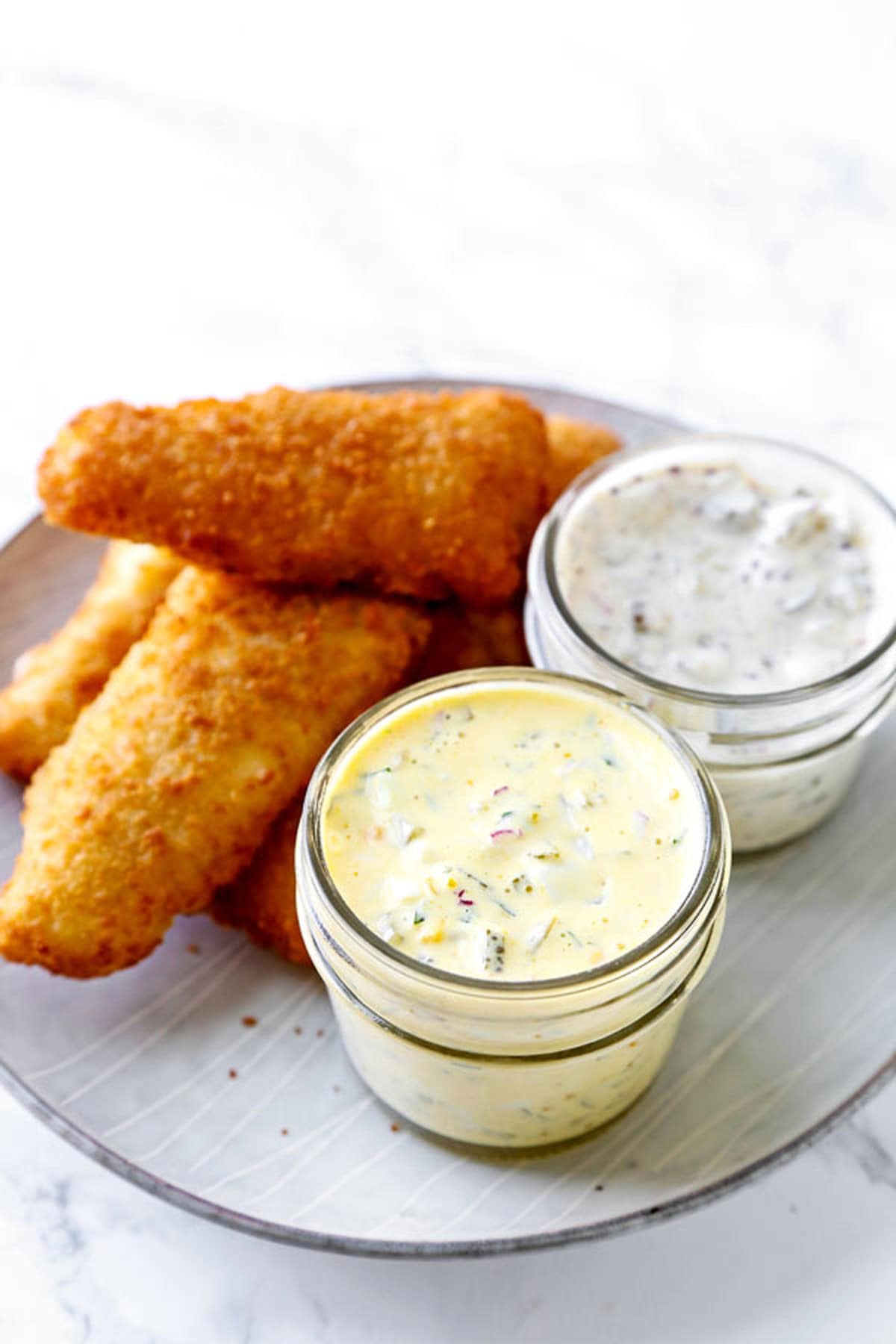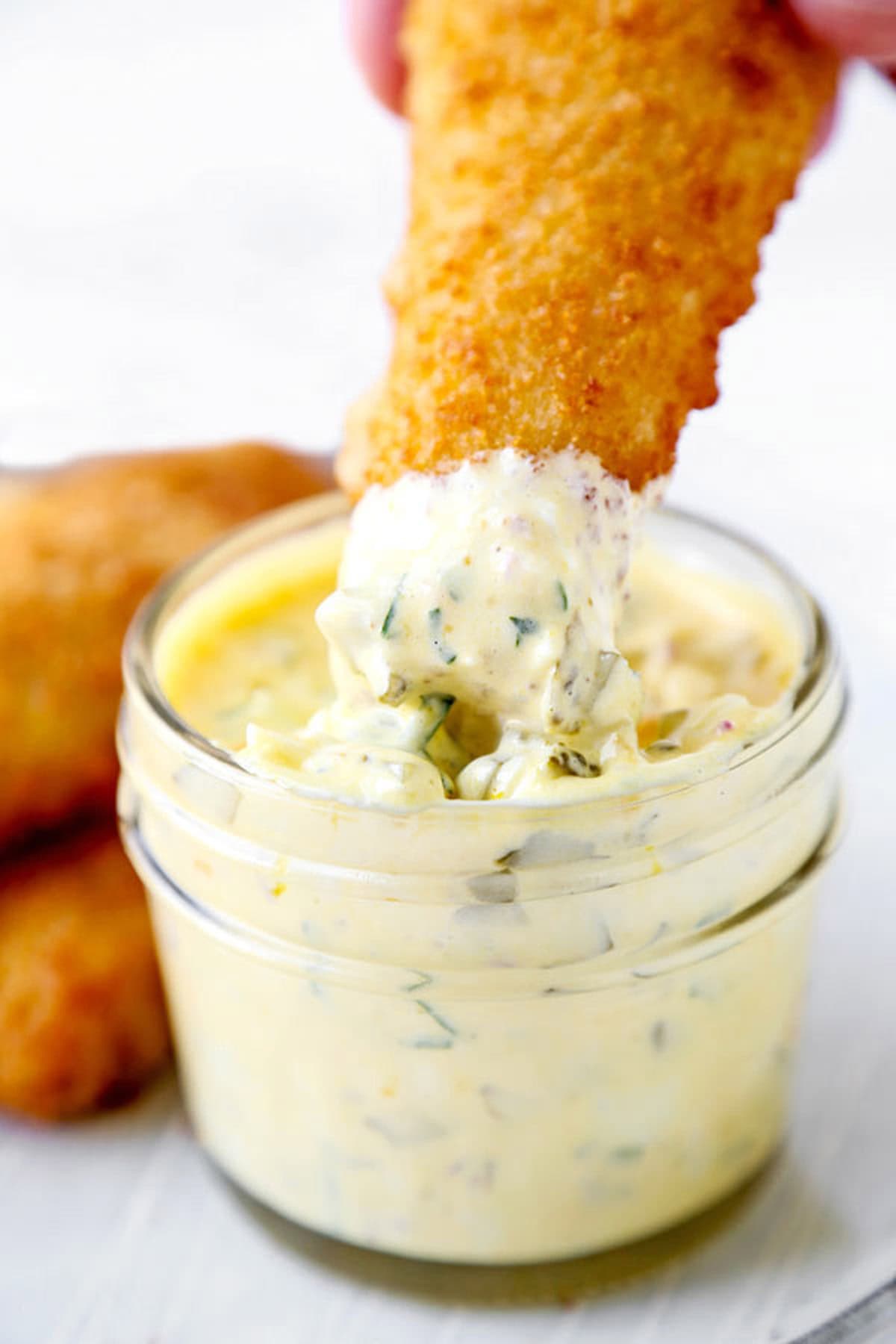 Did you like these two tartar sauce recipes? Are there changes you made that you would like to share? Share your tips and recommendations in the comments section below!
Print
Tartar Sauce (Western and Japanese)
Two tartar sauces that impress!
Author: Caroline Phelps
Prep Time:

10 minutes

Total Time:

10 minutes

Yield:

1 cup

1

x
Category:

Sauces

Method:

Stirring

Cuisine:

Japanese and American
Western Style Tartar Sauce
3/4

cup

light mayonnaise

1/2

cup

chopped dill pickles (or chopped cornichons)

2 tablespoons

white wine vinegar

1 tablespoon

shallots or red onion (finely chopped)

1 tablespoon

capers (chopped)

2 teaspoons

grain mustard

1/2 teaspoon

granulated sugar

1/4 teaspoon

ground black pepper
Japanese Tartar Sauce
2 tablespoons

shallots or red onion (finely chopped)

3/4

cup

Kewpie mayonnaise (Japanese mayonnaise)

2

hard boiled eggs (peeled and finely chopped)

1/4 teaspoon

kosher salt

6

ounces

sweet cornichons (finely chopped)

1 tablespoon

parsley (finely chopped)

1/2 tablespoon

lemon juice

1/2 teaspoon

karashi hot mustard
Instructions
For both tartar sauces, put all the ingredients and a bowl and stir well.
Notes
Both of these sauces will keep in the fridge, stored in an airtight jar or other container, for up to 1 week.
Nutrition
Serving Size:

2 tablespoons – American Tartar Sauce

Calories:

60

Sugar:

1.3 g

Sodium:

213.6 mg

Fat:

5.2 g

Saturated Fat:

0.8 g

Carbohydrates:

3 g

Fiber:

0.3 g

Protein:

0.3 g

Cholesterol:

3.6 mg
Keywords: recipe, homemade sauce, condiment
Recipe Card powered by