From flaky beer-battered fish and chips, to a light and crispy Japanese tonkatsu – とんかつ – cutlet, there's a Tartar Sauce Recipe for you here! Two versions: traditional American tartar sauce and Japanese tartar sauce. Try both of these savory and tangy condiments. Which is your favorite Tartar Sauce Recipe?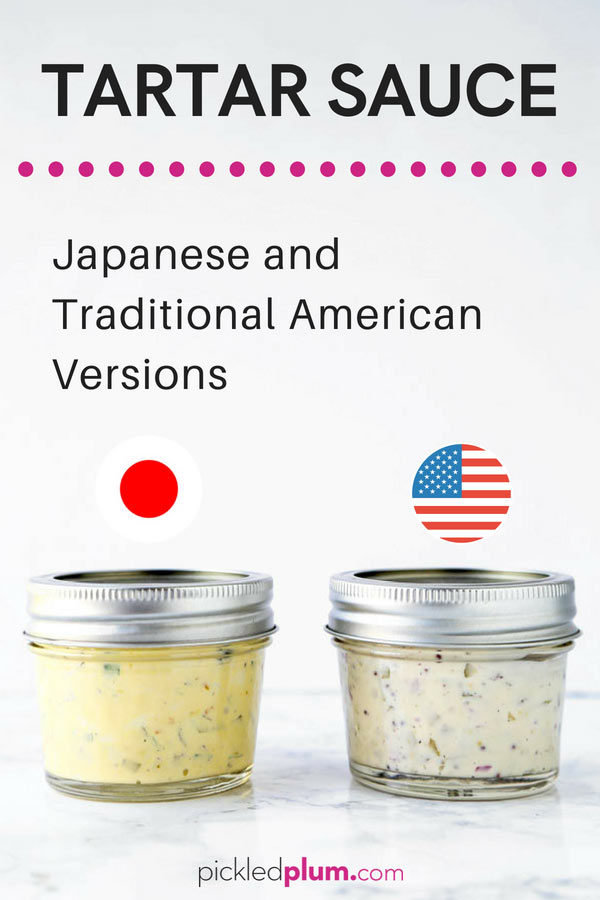 Tartar Sauce: Japanese and Traditional American Versions
I grew up on tartar sauce!
And – yes – while that's a weird sentence to write, there is culinary truth to it 🙂
Whether I was at school in Quebec, eating fish sticks at lunch – or spending a summer with family in Japan, devouring deep fried oysters with thinly shredded cabbage, tartar sauce was a constant.
You see, while the creamy, savory and tangy condiment is well known to the Western palate, it is also pretty widely used in Japan when serving deep fried izakaya classics.
There are some similarities between a classic tartar sauce recipe and its Japanese counterpart. However, there are also a few notable differences in ingredients and flavor.
Today we'll examine what sets Japanese tartar sauce apart from what we know and love in the West. PLUS, I've got step-by-step guides on how to make tartar sauce at home. Both versions.
So whether you're looking to whip up a homemade traditional tartar sauce recipe for crab cakes – or an easy tartar sauce to accompany a delicately fried Japanese tonkatsu cutlet, I've got you covered!
I'm also hoping to hear from you, friends!
After you've tried making and devouring these yummy, tangy condiments in your own kitchen, which do you prefer?
Do you reach for the traditional  – or are you #TEAMJAPAN?
Let's get to it. This is gonna be fun!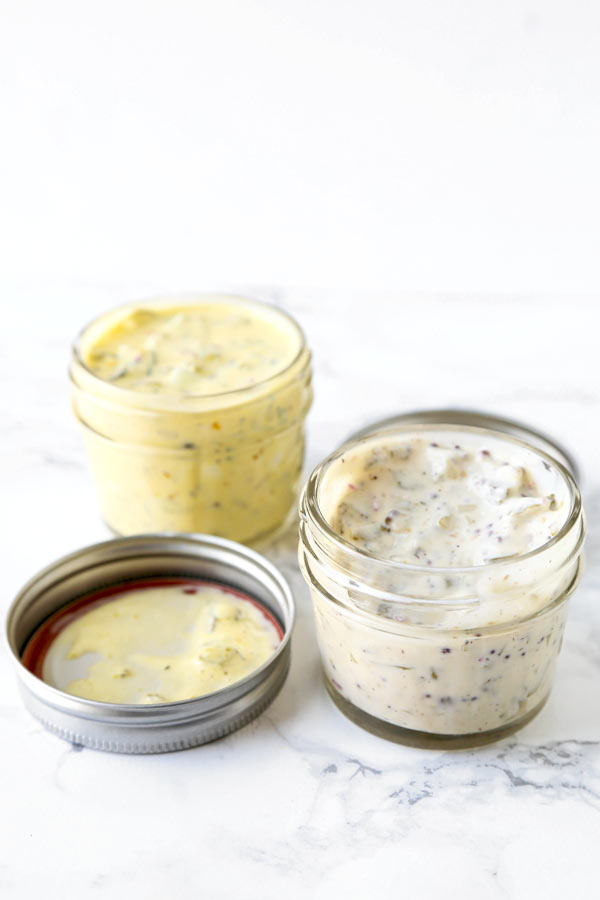 What is tartar sauce?
Sure, tartar sauce is that creamy accompaniment you get with everything from the fried clam strips from the snack-shack that you savored on the beach – to that Filet-O-Fish you ordered at the airport terminal just… because.
But let's take a closer look.
Tartar sauce hails from France and is a mayo or aioli based condiment. What's the deal with mayo and aioli you ask? Read about all that emulsified goodness here.
However, instead of being uniformly smooth like mayo, a tartar sauce recipe will tend to be somewhat lumpy and textured due to the diced ingredients used in the preparation.
Things like diced dill pickles, cornichons, capers, onions or shallots can all be tartar sauce ingredients that lend a bit of texture AND taste to the mix.
And, in the case of my Japanese tartar sauce recipe, hard boiled eggs will add real substance and texture of their own to the creamy base of the sauce.
Tartar sauce tends to accompany seafood (both fried and fresh) and can be used as a dip or a spread.
In my opinion, the main difference between the original French sauce tartare and more American preparations typically comes down to levels of sweetness.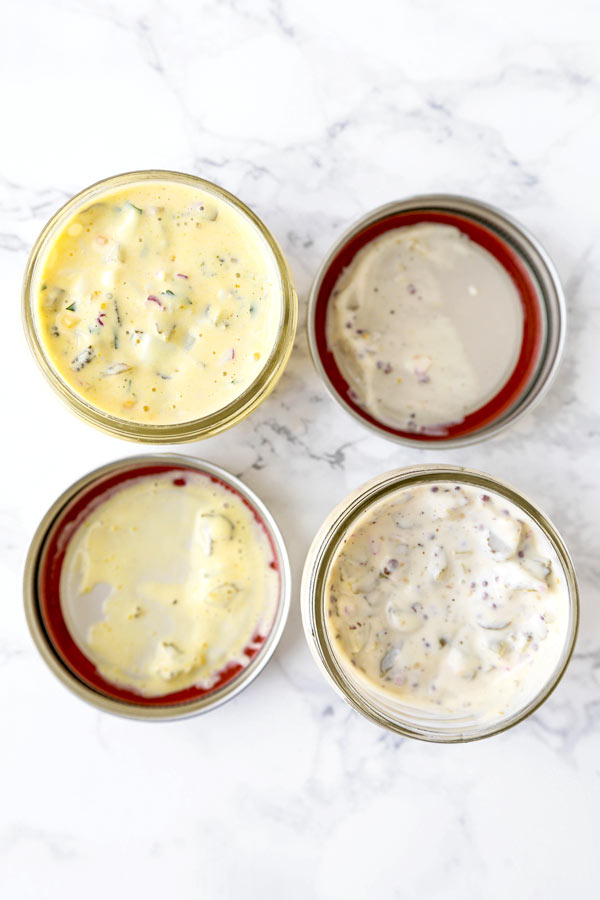 Homemade tartar sauce – better than store bought
When eating out, I usually drown my fish and chips in malt vinegar and sprinkle with salt. My English friends would be proud, hehe.
Now, I love fish and chips with tartar sauce. However, unless the restaurant I'm visiting makes their own homemade tartar sauce, I'm just not interested.
Unfortunately, most mass produced, jarred versions go too far in the sweet department for me to enjoy eating them.
And, while a little bit of a sweet edge in a tartar sauce is fine by me, I'd prefer that the sweetness come from an ingredient like mildly sweet cornichons rather than a bunch of sugar or corn syrup.
A bit of sugar is fine. A ton is, well… unneeded.
You see, in this home cook's opinion, tartar sauce should be a creamy and luxurious spread that falls heavily on the tart (almost sour) and savory end of the flavor spectrum.
While tartness is a virtue in tartar sauce, that doesn't mean that has to come from lemon juice exclusively.
Sure, lemon juice can help immensely. However, additions like vinegar, grain mustard and capers can all help deliver that tart punch you're looking for in a good tartar sauce recipe.
So where does the creamy element usually come from?
I'm glad you asked!
Both of Western and Japanese recipes for tartar sauce get unreal levels of creaminess from something that is probably in your pantry or fridge right now.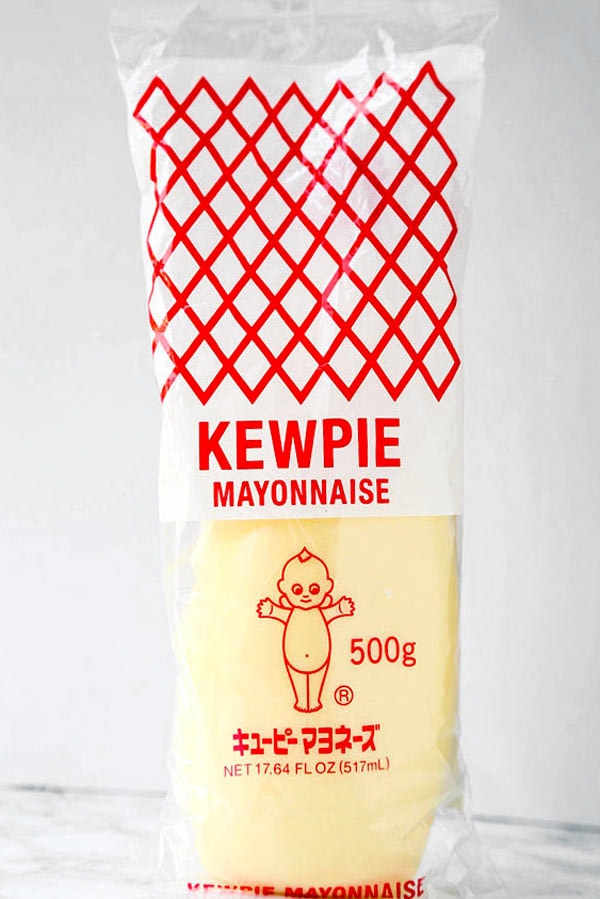 What is the main ingredient in tartar sauce?
In a word: mayo.
Whether you're a fan of a certain brand of store bought mayonnaise, or prefer to emulsify your own at home in the blender, you're going to want have a bit on hand for both of these tartar sauce recipes.
Going the store bought route? I feel ya. That's my usual move as well 🙂
If you're making the traditional American style tartar sauce, just grab the brand of mayonnaise that speaks to your personal tastes and get to work!
Now – if you're making the Japanese tartar sauce recipe, I must implore you (or at least slightly urge you) to pick up Japanese mayonnaise.
Why? What's the difference?
Well, Japanese mayo tends to use egg yolks only (as opposed to whole eggs in most Western mayo brands). There's a touch of monosodium glutamate for a savory kick. Also, you'll usually see rice vinegar in Japanese mayo.
This results in a smoother, slightly less dense consistency – and an eggy flavor, bordering on umami.
Using (or not using) Japanese mayo is one of those food things that, depending on your taste, can skirt the border between the two disparate territories of: not-a-big-deal-land and make-or-break-istan.
I fall in the latter category, but that's neither here nor there.
Like I said, it's not obligatory that you use Japanese mayo in your Japanese tartar sauce.
But, if you're so inclined, you should totally try it out in your own home creations!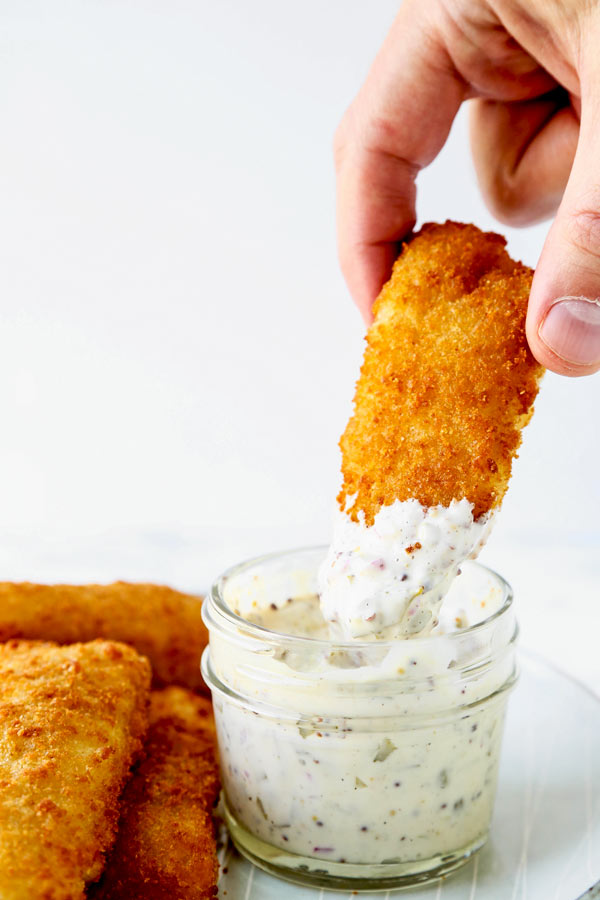 What does tartar sauce go with?
While I'd argue that the creamy, savory and tart punch of tartar sauce goes with just about any savory dish, there are some obvious natural pairings.
Like fish for a start!
Whether you're whipping up a lovely batch of beer battered fish and chips, or grilling fish tacos with homemade tortillas, you've just gotta try the tangy punch of tartar sauce alongside.
But even the most simple battered fish preparations like fish sandwiches and fish sticks totally work.
Deep fried American classics like French fries, fried clams, fried shrimp and onion rings are a complete no-brainer. I mean, fried food just seems to have been created to compliment these tartar sauce recipes (or is it the other way around, ha?).
Ever had tartar sauce instead of mayo on a burger, garden-burger or a club sandwich? If not, close the laptop and go try it out NOW!
On the Japanese side of the spectrum, classics like kaki fry (カキフライ – fried oysters), tonkatsu (豚カツ – fried pork cutlet), karaage (から揚げ – fried chicken) and ebi fry (海老フライ – fried shrimp) practically scream out for a ramekin of tartar sauce on the plate.
Do you see a trend?
Yep, whether you're eating Japanese or American cuisine, tartar sauce seems to really pair up nicely with breaded and deep fried dishes.
But aside from complimenting deep fried food, you should definitely try a tartar sauce recipe with salmon.
Yep – super yum!
In fact, both of these quick tartar sauce recipes would each go super well with either salmon croquettes or salmon cakes! I promise you'll love it.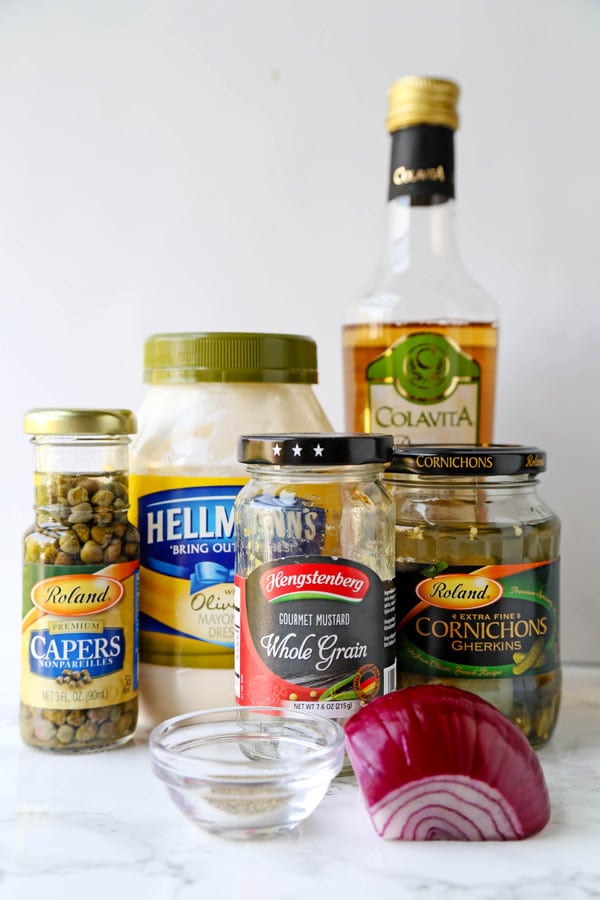 How to make tartar sauce: traditional American tartar sauce recipe
Now, here's where the fun begins!
I like to chop about half of a cup of dill pickles or cornichons along with a tablespoon of finely chopped shallots or red onion. About a tablespoon of chopped capers will go a long way toward providing both tang and salt to the final mix.
Then I add all my chopped elements to about ¾ of a cup of light mayonnaise.
Now, if you've ever looked for a tartar sauce recipe without lemon juice, this is the recipe for you!
You see, in this traditional American tartar sauce recipe, the sour notes come from adding a couple tablespoons of white wine vinegar and 2 teaspoons of grain mustard.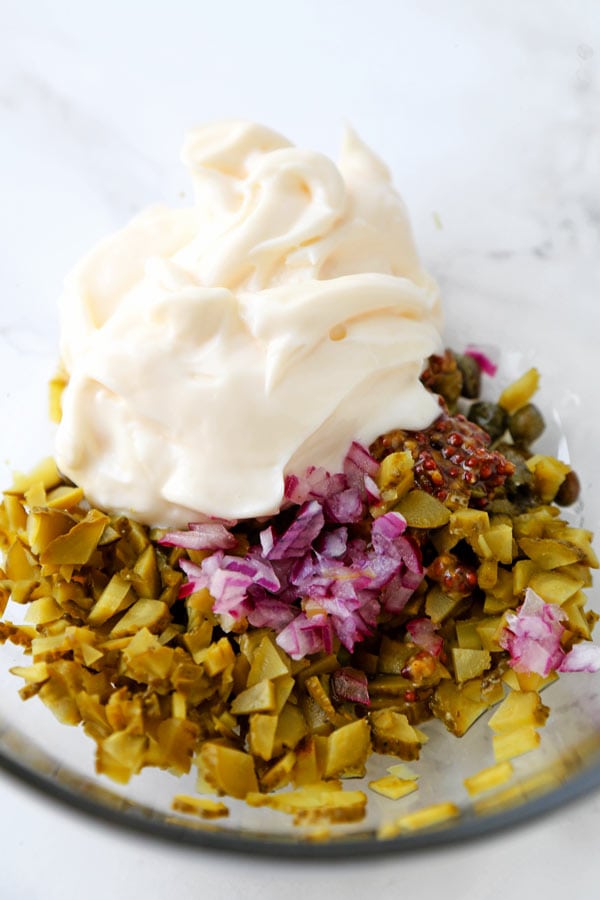 It'll be tart without being overpowering.
Then, I toss in half a teaspoon of sugar for that slightly sweet (but not cloying) edge, and hit the mix with some black pepper.
Stir it up in a bowl, and you're good to go!
Now it must be said that this obviously isn't a vegan tartar sauce. HOWEVER, if you're inclined to try a vegan version of tartar sauce, this would be the recipe to go with. Simply substitute the mayonnaise for a vegan mayo substitute, and you'll be in good shape.
Seriously… This is a total mix and go recipe. How easy is that?!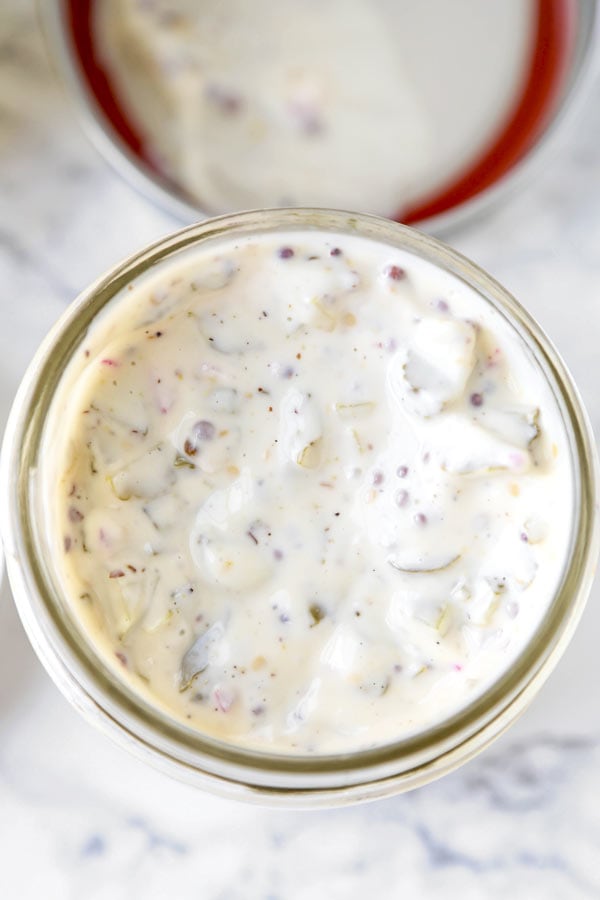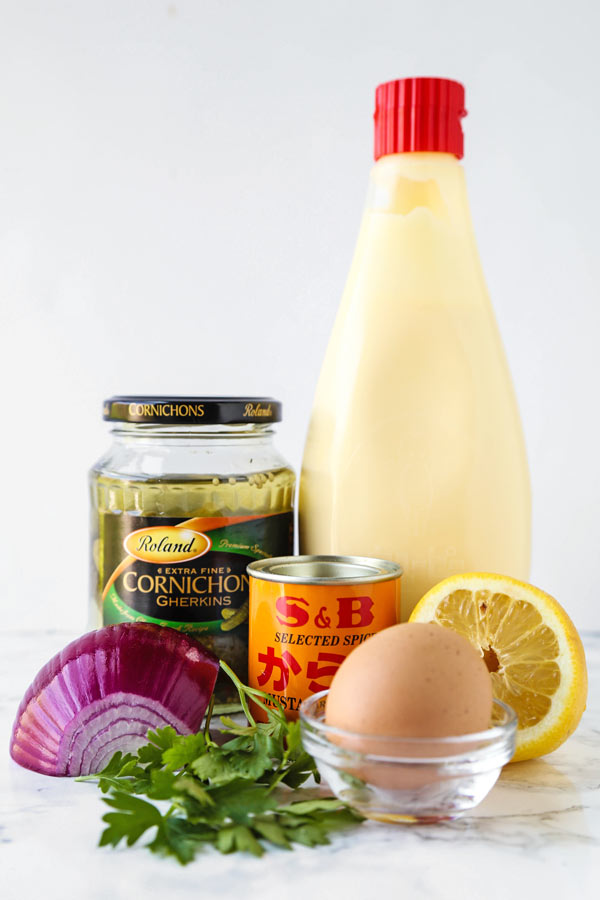 How to make tartar sauce: Japanese tartar sauce recipe
Making Japanese tartar sauce is just about as easy as the Western version. However, there are slightly different ingredients we'll be using for both flavor and texture.
Before we get started, this is a recipe for tartar sauce with egg… boiled egg to be exact.
So, if you're like me and need all your prep done before you start cooking, stop here and hard boil a couple of eggs. I promise, it'll be worth it!
I chop about six ounces of sweet cornichons – and two tablespoons of minced shallots or red onions and add it all to ¾ cup of Japanese mayonnaise.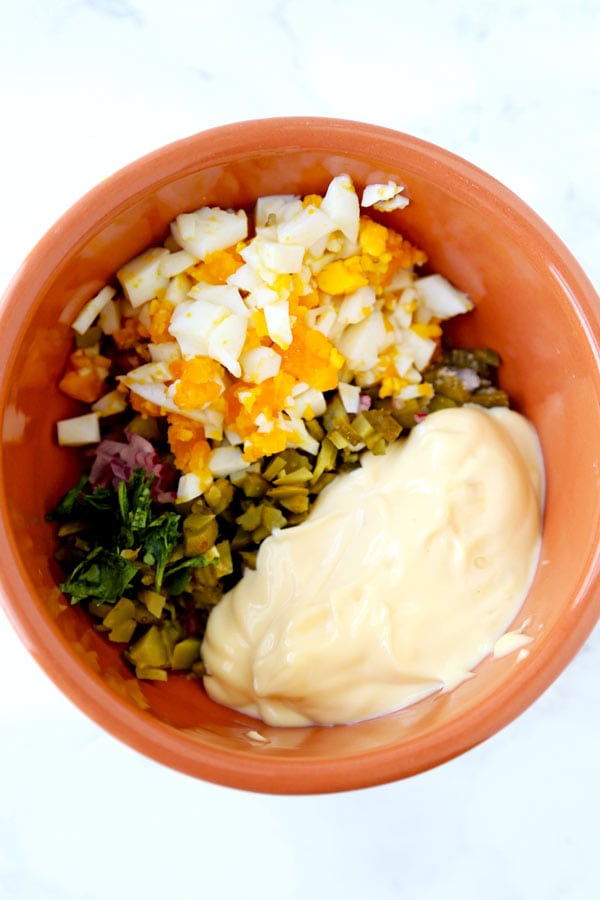 Now, I finely chop a bit of parsley. This will impart a pop of color and a bit of a garden freshness to our Japanese tartar sauce.
At this point, it's time to get those hard boiled eggs peeled, chopped and sent into the mix. They will really give this tartar sauce a great texture and heft.
Finally, I add a half tablespoon of lemon juice for tartness, a pinch of salt and about half a teaspoon of Japanese karashi hot mustard.
Mix everything together and voila! The Japanese tartar sauce is ready to be served.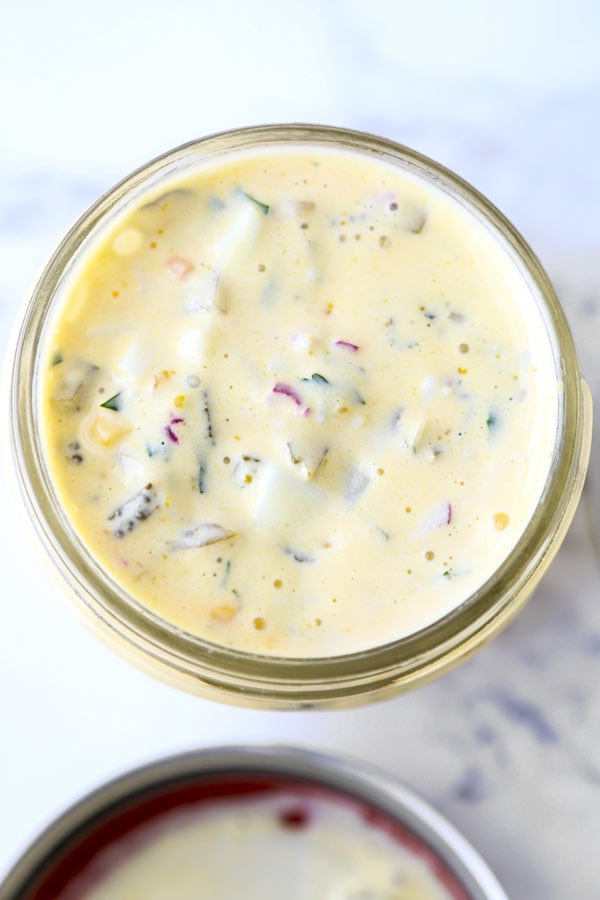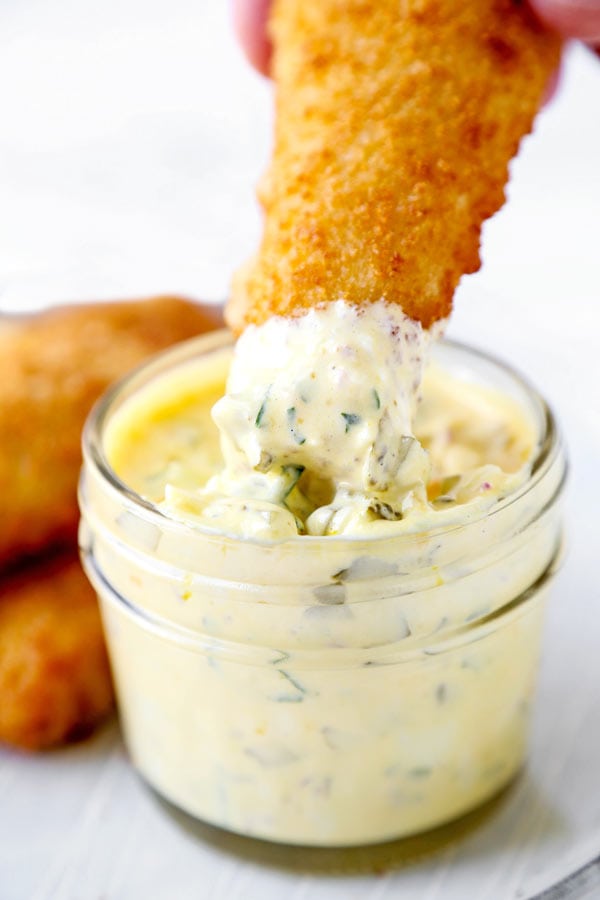 So, let's take the Tartar sauce taste test
Obviously, no matter which version you decide to make, these are some super easy mix-and-go recipes!
But, no matter how easy something is to whip up, it's not worth the effort if it doesn't taste good, right?!
The classic tartar sauce recipe has a real aggressive tartness to it, brought on by the white wine vinegar and

grain mustard

. That sharpness is tempered by the cooling mayo and savory pickles and capers. There is an underlying sweetness there, but it won't pull you too far away from the salty, tangy and creamy side. The overall effect is a well balanced tartar sauce that is reminiscent of a what you might be served at a rustic mom and pop fish shack. YUM!
Now, the Japanese tartar sauce could almost be termed a mix between a really good egg salad and a tartar sauce. Since we used Japanese mayo, there's a touch more umami to the whole thing. While you might think using lemon juice could possibly take the tartness slightly overboard, it's actually quite subdued in the mix. It mixes with the slight heat from the

karashi mustard

and almost smolders just under the surface. You get intermittent pops of sweetness from the chopped cornichons – and the parsley sends a touch of brightness to your taste buds. OMG, Yes!
So, I'm torn.
I find the Japanese tartar sauce to be the most well balanced of the two tartar sauce recipes. It's my everyday go-to sauce. But, if I need something to punch through and make its presence known, then I go for the classic.
Hmmmm… I can't choose.
However, I want to know what you think!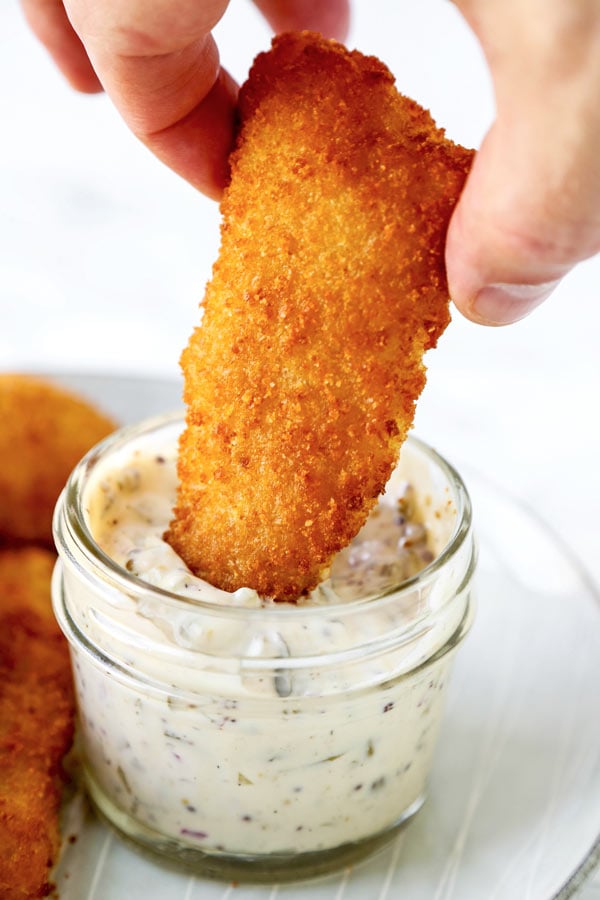 Two tartar sauce recipes: which do you prefer?
It was so much fun making these tartar sauce recipes at home and eating the yummy results.
Even though I can't choose a clear favorite, I look forward to replicating the creamy, savory and tart experiment soon.
And, hey, you don't HAVE to choose a favorite just based on what's written here. Make them both, and try them with your favorite fried delicacies 🙂
Whip each of them up in your home kitchen, and then tell me…
What's the best tartar sauce recipe in your opinion?
I'd love to hear all about your delicious experiments in the comments!
Other simple, delicious and time-saving homemade sauce recipes: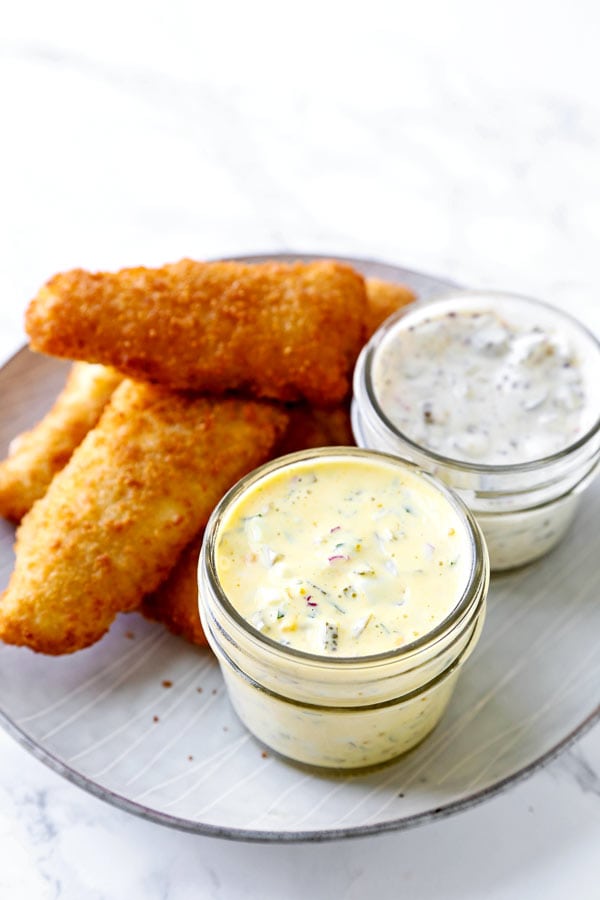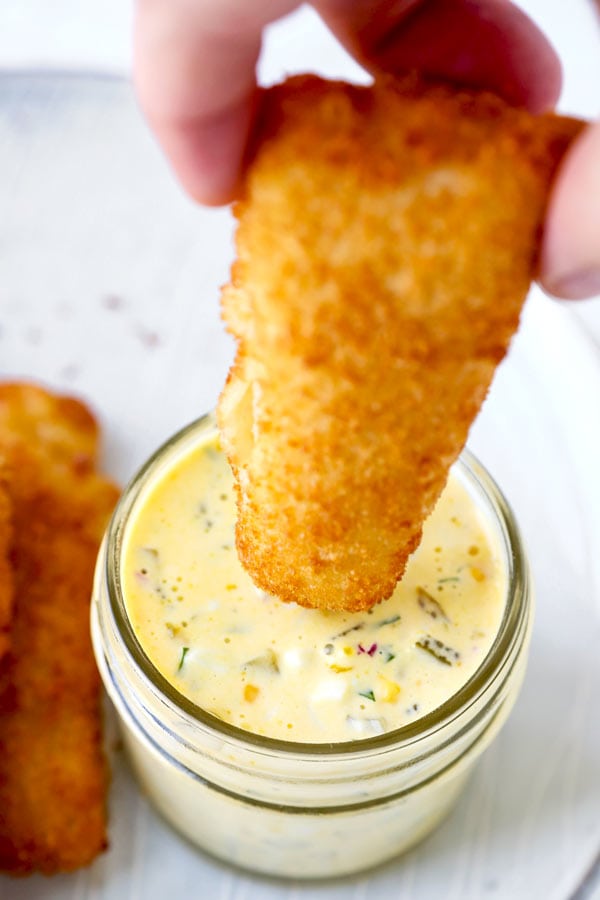 Did you like these two Tartar Sauce Recipes? Are there changes you made that you would like to share? Share your tips and recommendations in the comments section below!
Print
Tartar Sauce: Japanese and Traditional American Versions
Two tartar sauces that impress!
Author: Caroline Phelps
Prep Time:

5 minutes

Total Time:

5 minutes

Yield:

1 cup

1

x
Category:

Sauces

Method:

Stirring

Cuisine:

Japanese and American
American Tartar Sauce
3/4 cup

light mayonnaise

1/2 cup

chopped dill pickles (or chopped cornichons)

2 tablespoons

white wine vinegar

1 tablespoon

shallots or red onion (finely chopped)

1 tablespoon

capers (chopped)

2 teaspoons

grain mustard

1/2 teaspoon

granulated sugar

1/4 teaspoon

ground black pepper
Japanese Tartar Sauce
2 tablespoons

shallots or red onion (finely chopped)

3/4 cup

Kewpie mayonnaise (Japanese mayonnaise)

2

hard boiled eggs (peeled and finely chopped)

1/4 teaspoon

kosher salt

6 ounces

sweet cornichons  (finely chopped)

1 tablespoon

parsley (finely chopped)

1/2 tablespoon

lemon juice

1/2 teaspoon

karashi hot mustard
Instructions
Put all the ingredients and a bowl and stir well.
Notes
Both of these recipes will keep in the fridge, in an airtight storage container, for up to 1 week.
Nutrition
Serving Size:

2 tablespoons - American Tartar Sauce

Calories:

60

Sugar:

1.3 g

Sodium:

213.6 mg

Fat:

5.2 g

Saturated Fat:

0.8 g

Carbohydrates:

3 g

Fiber:

0.3 g

Protein:

0.3 g

Cholesterol:

3.6 mg
Keywords: recipe, homemade sauce, condiment
Recipe Card powered by