This Mu Shu Tofu Recipe has all the smoky, sweet and savory flavor you'd expect from you favorite delivery spot. A vegetarian mu shu loaded with crunchy veggies and smoky tofu, wrapped in a hoisin sauce loaded Mandarin pancake. YUM!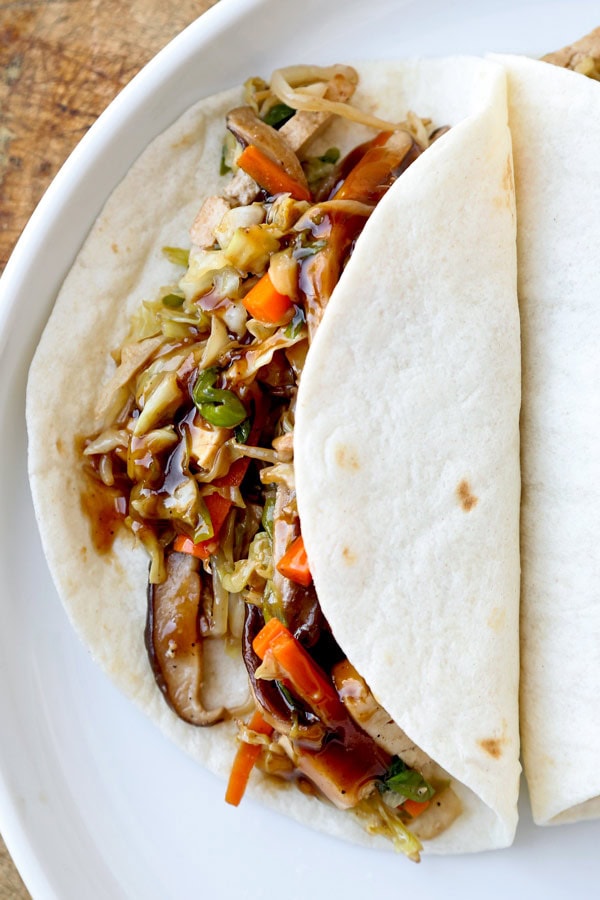 Mu Shu Tofu (Vegetarian)
I love coming home to find that a new delivery menu or two has been slid underneath the front door.
While I cook most nights, and do most of my actual food-delivery ordering on Seamless or Uber Eats, it's always exciting to learn about a new spot in the neighborhood.
On those nights that I decide to order in, I'm spoiled for choice. These days, everything from pho, Korean tacos, Singapore mei fun, sushi to enchiladas is literally at my fingertips.
We live in a golden age indeed!
However, any time I get a menu from a new Chinese spot, my eyes immediately scan the text for the mu shu. It's automatic.
In fact, when trying a Chinese restaurant out for the first time, I usually order the mu shu tofu.
Aside from being delicious, it's a dish I've had from enough different places that I can use it as a baseline for how good (or meh) the rest of the menu might be.
An impressive mu shu tonight means I'll probably love the chow fun noodles and dry fried green beans with garlic sauce the next time I order.
Using mu shu as a qualitative indicator for a Chinese restaurant's overall proficiency at making good food sure isn't a scientific method by any means.
But it has steered me in the right direction more times than not!
Best part about mu shu tofu: it's super easy to make at home.
I'm excited to show you how!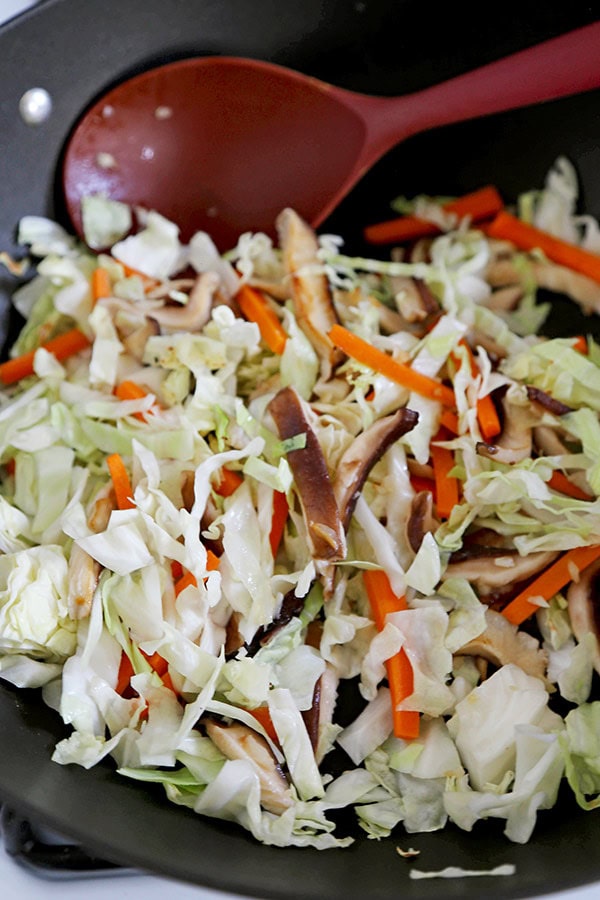 What is mu shu?
Mu shu (also at times Anglicized as moo shu) is pretty ubiquitous on many Chinese American restaurant menus.
While it's common to see moo shu chicken and moo shu beef on menus in the West, the origins of mu shu are a pork dish, hailing from China's northeastern Shandong province.
Most traditional Chinese versions go heavy on the wood ear mushrooms, pork tenderloin, scallions, garlic and scrambled eggs – served with rice.
In many of the Western versions, we tend to see a lot more carrots, cabbage and bean sprouts added to the mix.
Along with the addition of more stir fried veggies, Western versions are served with mu shu pancakes and hoisin sauce.
There's almost nothing better than spreading savory and sweet hoisin sauce on a flour wrap and then loading it up with veggies and protein. Heck, the finished product tends to look a bit like a Chinese burrito – but it's so much more than that!
While moo shu pork may be the most authentic of the mu shu permutations, one of the best parts about this veggie loaded dish is that you can use almost anything you'd like as the protein!
Lamb: sure!
Feeling the shrimp these days? Go for it!
Like seitan? I like it too. Approved 🙂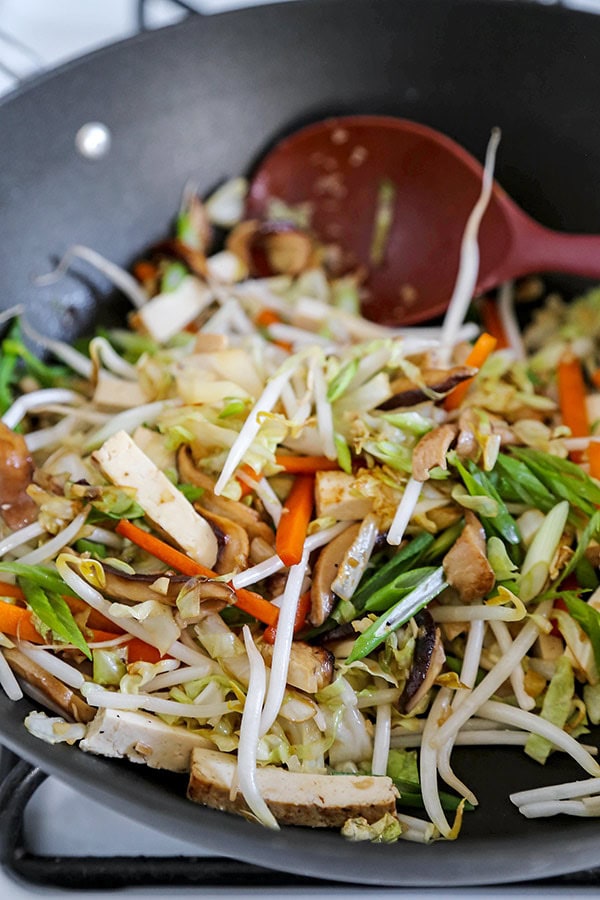 One of the Easiest Chinese Vegetarian Recipes
My version of mu shu goes heavy on the veggies – and then subs in smoked tofu where you'd normally find the meat.
Smoked tofu cutlets tend to be on the firmer side of things – with quite a good chew – approximating the texture of meat.
It works wonders in this vegetarian mu shu recipe, delivering wonderful flavor and texture to the mix.
I've also used seitan before for the protein element. While it's delicious as well, it tends to be a bit softer. Hey – different strokes for different folks, right!?
There's no right or wrong solution when making a vegetarian mu shu at home!
Oh – before I forget… You can always jettison meat substitutes and keep it vegetarian by just using all veggies in your homemade mu shu recipe as well.
Heck, with the high amount of vegetables present in most meat based and plant based mu shu preparations, pretty much all mu shu could technically count as an order of 'mu shu vegetables!'
What's even better about this healthy recipe, is that it's a fun food project to share with the whole family.
Kids LOVE assembling their own mu shu pancakes and rolling them up. Think: the family fun of 'taco night' – just with healthy, savory Chinese ingredients.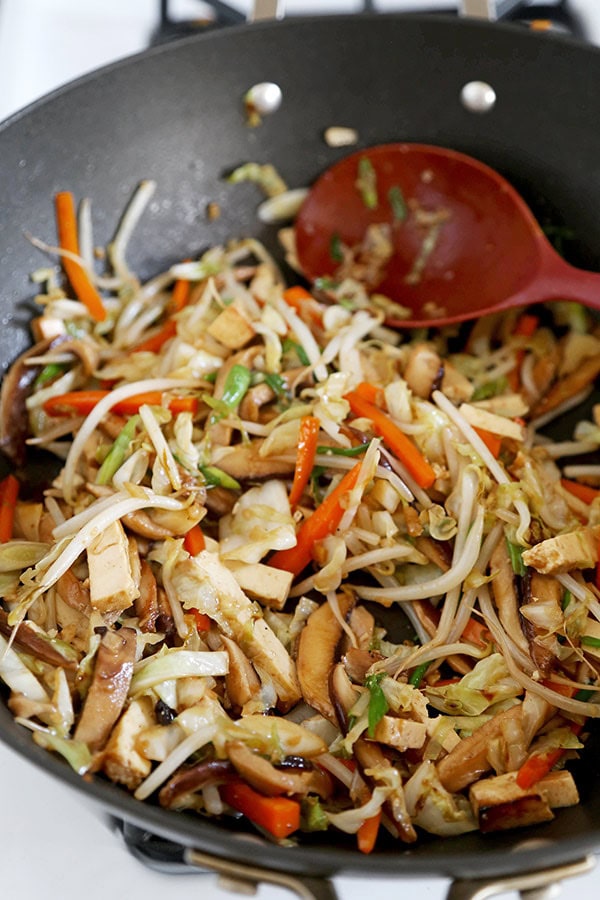 What are mu shu pancakes?

 
Sometimes called moo shu pancakes or Mandarin pancakes, these flour based Chinese wraps are thin and light – and are the perfect vehicle to transport food from plate to mouth.
There are delicious recipes out there for making your own Mandarin pancakes at home, but I usually opt for one of two easier solutions.
If you're looking to buy mu shu wrappers, you can get very good pre-made thin Chinese pancakes in most Asian grocery stores.
However, in a pinch, you can totally use soft flour tortillas!
While the tortillas will likely be thicker and more dense than a proper dainty mu shu pancake, in this home-chef's opinion, the effect and flavor are much the same.
Plus, using tortillas opens the recipe up to people who may have a tough time finding the wrappers in their area. Flour tortillas are EVERYWHERE!
We're not reinventing the wheel, right? We're cooking at home!
So go with your instincts on this one – and enjoy whatever works for you in your kitchen.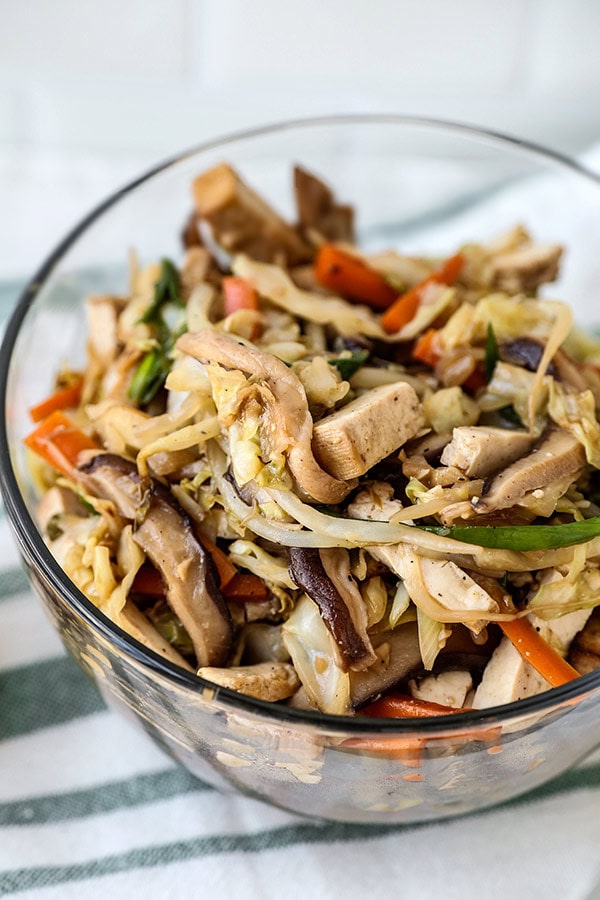 How to make mu shu tofu

 
And, now for the fun part! Let's go!
Grab your pan or your wok and crank up the heat.
High heat is great when stir frying veggies, because it cooks them quickly, yet allows them to keep some of their natural crunch.
I like to use a wok when possible. The long, sloped sides are great for conducting heat, especially when using a gas range.
A wok also makes it a ton easier to toss your food within the pan as you cook without it flying everywhere!
But, don't worry if you don't have one handy. A frying pan will work just fine.
Get the oil and garlic going for about a minute – until your garlic is fragrant – then add your shiitake mushrooms.
I used shiitakes for this mu shu recipe because they are easy to find. But if you can get your hands on wood ear mushrooms, use those as well. Delish!
A couple minutes should be plenty of time for the mushrooms to cook. If they release a bit of water, that's ok. Just try to cook it off before adding your carrots and cabbage to the mix.
Now it's time for your shaoxing wine and soy sauce. Give everything a good stir.
I like to add my tofu along with the scallions and bean sprouts now. We're just heating these up quickly. Bean sprouts and scallions are so good when they have a bit of a crunchy bite left in them!
Turn the heat off, but before plating, add your hoisin sauce and sesame oil.
Give it all a good toss – and we're ready to eat!
Place a bit of hoisin sauce on your mu shu pancakes and load them up with your veggie mix.
Fold, devour and repeat as needed!
So… How does it taste?
This mu shu is, in two words, SUPER YUM!
There is a smoky, and savory essence to the filling that works so well with the sweeter undertones of the hoisin sauce.
And from a textural standpoint, it's just plain awesome!
The airy, chewy mu shu pancakes give way to the the light crunch of the sprouts, cabbage, carrots and scallions.
Bonus: the smoked tofu provides a chew very similar to meat.
This dish is a sure-fire winner!
A word on serving: veggies can tend to get a little watery when cooking. And no one in the world ever said, "please make my mu shu pancake a soggy mess, please."
So, it's a good idea to make sure any liquid in the pan is reduced while cooking. Keep that heat high!
Just be careful not to overcook your veggies in the process. It's a balancing act for sure.
But one that's worth it!
One bite into that delicate pancake loaded with the savory and smoky filling, and you'll be a mu shu convert.
Who knows, you may just end up putting hoisin sauce on everything you can get your hands on from this point forward!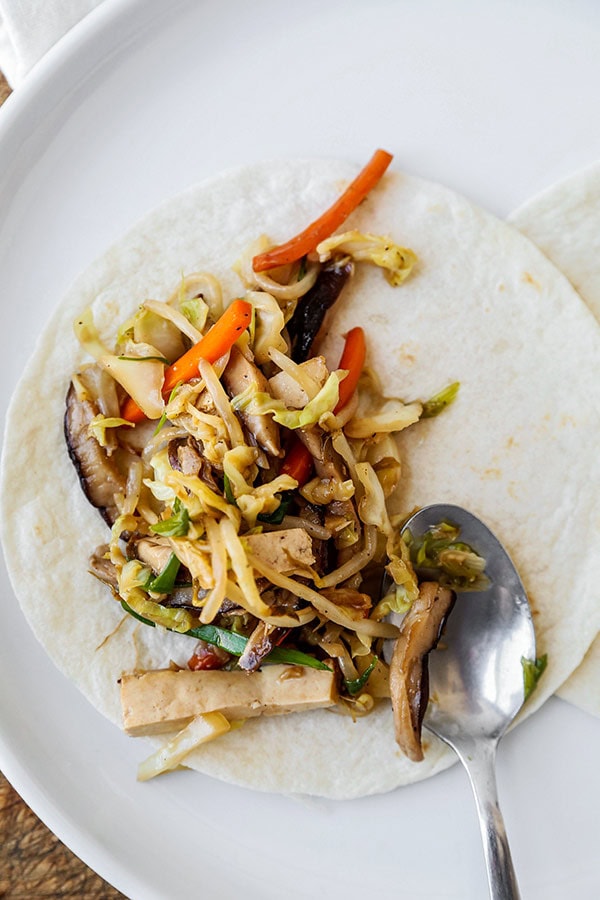 What is hoisin sauce?
Ever had barbeque, mu shu or Peking duck at a Chinese restaurant?
If so, chances are that you've had hoisin sauce as well. It's that dark purplish sauce that starts sweet and ends with a bit of a savory note (like the one you get from soy sauce) and a mild vinegary tang.
Store bought hoisin sauce is tasty – and will totally get the job done on mu shu tofu night.
Welp… remember how I said there's absolutely no shame in using soft flour tortillas instead of proper Mandarin pancakes earlier?
I stand by that! But I also use that extra time I save on pursuits of the flavor persuasion.
You see, when it comes to hoisin sauce, I prefer to spend a couple extra minutes and make my own.
There's a world of difference when it comes to taste.
In my homemade hoisin sauce, the sweetness is there, but it's tempered and deepened by using raw honey. It's also a bit more spice forward than the store bought stuff. And the savory notes are off the charts!
If you're interested in making your own hoisin sauce, check the recipe here.
In my opinion, a few extra minutes is totally worth it for the blast and depth of flavor it provides to a delectable and easy mu shu tofu recipe.
Added advantage: you can make extra homemade hoisin sauce and store it in the fridge. It makes a perfect ready-made stir fry sauce!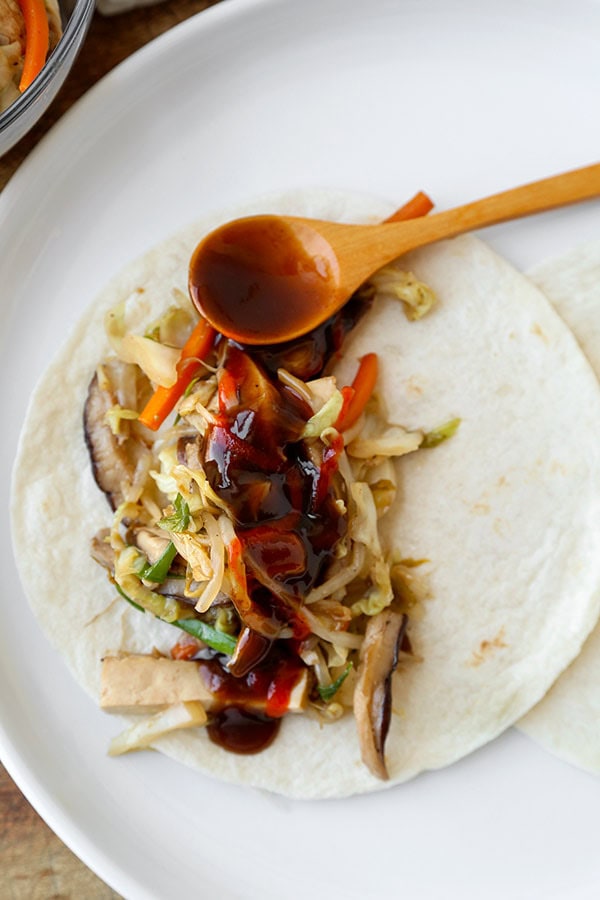 Mu shu on the menu
This vegetarian mu shu tofu recipe may just have you opting to cook at home the next time a menu for a new delivery spot is slid under your door.
It's that tasty!
I truly love it when a healthy recipe can deliver from a flavor aspect as well.
Rolling up a mu shu pancake is one of my favorite foodie things to do!
And I'll keep scanning new Chinese delivery menus – always searching for the illusive perfect mu shu tofu recipe! I'll also continue making wild assumptions about the rest of the menu based on the flavor of that one dish, ha! 🙂
What about you? What dish are you drawn to on a delivery menu? Do you use your favorite dish as a baseline of quality for a new, untested restaurant? I'd love to hear about your favorites in the comments!
Other simple, delicious vegetarian Chinese recipes: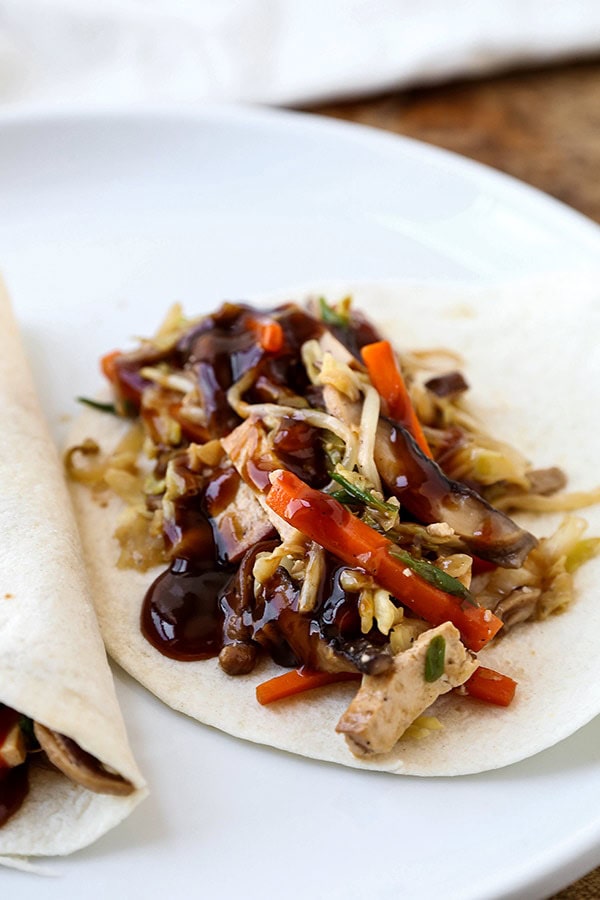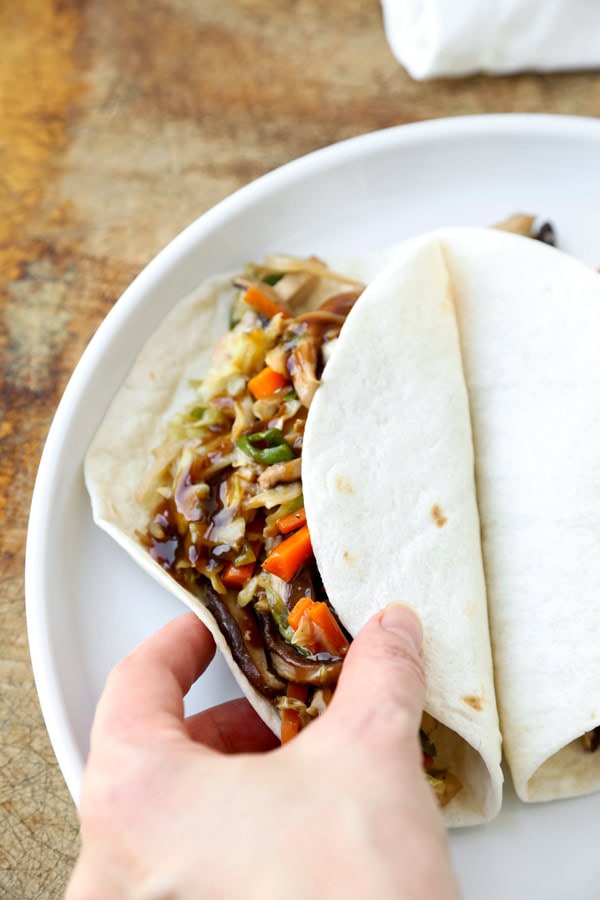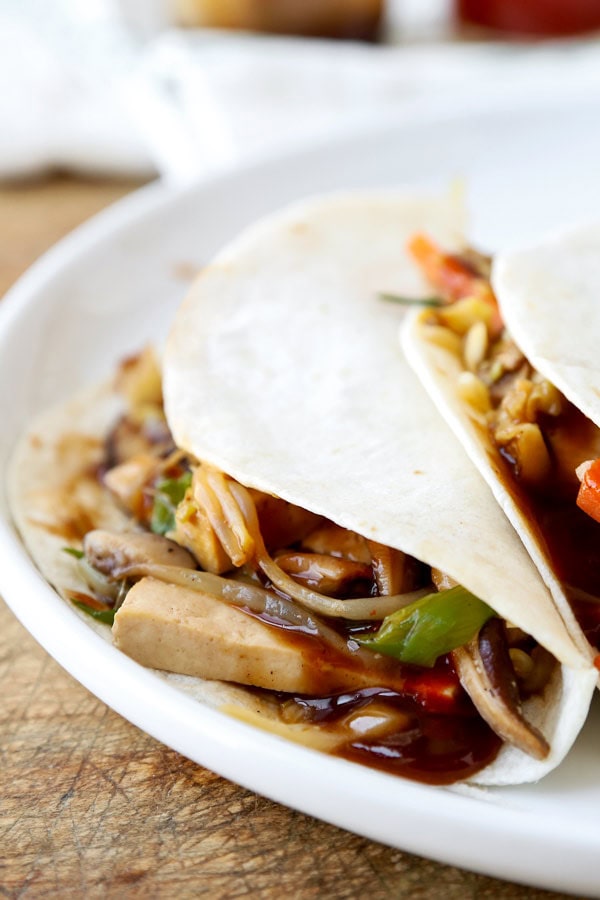 Did you like this Mu Shu Tofu Recipe? Are there changes you made that you would like to share? Share your tips and recommendations in the comments section below!
Print
Mu Shu Tofu
Veggie packed mu shu recipe with smoked tofu and hoisin sauce.
Author: Caroline Phelps
Prep Time:

10 minutes

Cook Time:

8 minutes

Total Time:

18 minutes

Yield:

6

pancakes

1

x
Category:

main

Method:

Pan frying

Cuisine:

Chinese
1 tablespoon

vegetable oil

2

garlic cloves (minced)

8

shiitake mushrooms (stems removed, sliced into strips)

1

medium carrot (sliced into strips)

2 cups

shredded cabbage

1 tablespoon

shaoxing wine or dry sherry

1 tablespoon

soy sauce

4 ounces

smoked tofu cutlet or seitan (sliced into bite size strips)

1 cup

bean sprouts

4

scallions (thinly sliced)

1 tablespoon

hoisin sauce (+ more for serving)

1/2 teaspoon

sesame oil
salt and pepper (to taste)

6

–

8

flour tortillas or Mandarin pancakes
Instructions
In a wok or large pan over high heat, add oil and garlic and cook for 1 minute, until fragrant.
Add mushrooms and cook for 2 minutes, until they have softened and let out some water.
Add carrots and cabbage and cook for 2-3 minutes, until vegetables have softened but still yield a crunch.
Add shaoxing wine and soy sauce and stir well.
Add tofu cutlets, bean sprouts and scallions, cook for 2 minutes and turn the heat off. Add hoisin sauce and sesame oil, toss well and transfer to a serving bowl. Season with salt and pepper if necessary.
Warm up the tortillas and spread a little hoisin sauce on each one of them. Top with mu shu mixture, roll up and serve with hoisin sauce and sriracha sauce.
Notes
The mu shu tofu mixture will keep refrigerated for up to 2 days.
Nutrition
Serving Size:

1 pancake

Calories:

196

Sugar:

2.8 g

Sodium:

567.6 mg

Fat:

5.1 g

Saturated Fat:

0.8 g

Carbohydrates:

31.3 g

Fiber:

1.5 g

Protein:

7.2 g

Cholesterol:

0.9 mg
Keywords: recipe, vegetables, tofu, wrap
Recipe Card powered by