This Banh Xeo Recipe marries savory Vietnamese rice pancake with shrimp, sprouts, leafy greens and loads of herbs. Translating into 'sizzling cake', bánh xèo is absolute perfection when dipped in nuoc cham – Vietnam's most famous savory, sweet, sour, salty and spicy condiment!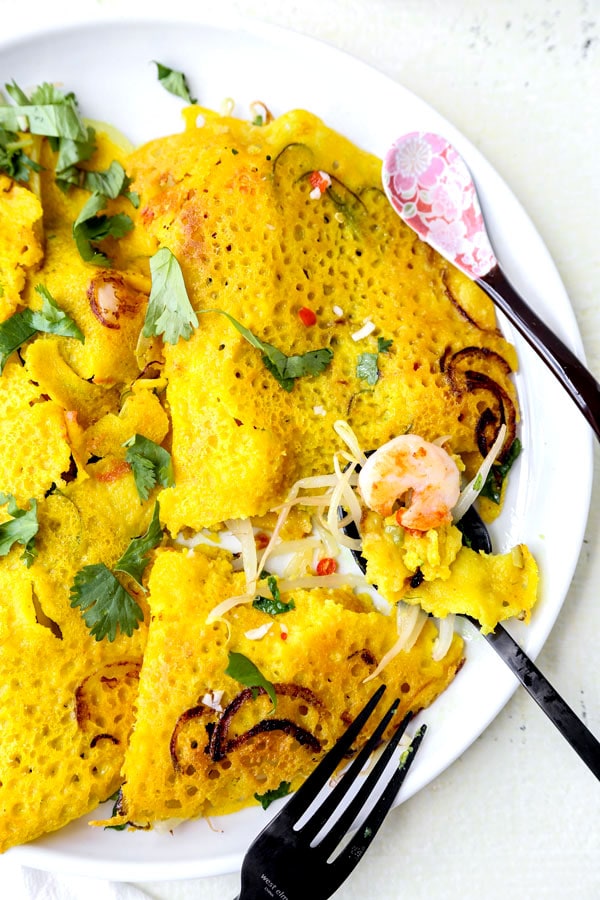 Ben and I did the long distance thing for almost two years at the beginning of our relationship.
He was in New York and I was in Toronto. The first time he came to visit me in Toronto, we ate a LOT.
And It was at a hole-in-the-wall Vietnamese restaurant where I first realized that food was pretty dang important to him – just like it is for me.
That night he taught me the merit of ordering your fish ball egg noodle soup with the noodles and broth separate (so your noodles don't overcook in the hot soup).
And I taught him how to layer herbs on top of large leafy mustard greens to make a proper wrap for banh xeo – a crispy, shrimp studded rice flour pancake – (so you can dunk your crispy Vietnamese pancake in a ramekin of savory nuoc cham).
Well, fast forward more years than I'd care to admit – and we've just celebrated a decade of marriage!
This super crispy banh xeo recipe is not only delicious and easy to make, it's a little foodie flashback to a meal I shared with my husband before he was even officially my boyfriend!
What is banh xeo?
Banh xeo (bánh xèo) are savory Vietnamese crepes, made of rice flour.
Typically loaded with pork belly and shrimp, these crispy pancakes get their trademark yellow tinge from turmeric, which is added to the batter before cooking.
Btw… Turmeric is sorta my favorite. Check out some other scenarios where I use turmeric.
While I'm not using pork in this banh xeo recipe, it's normally there. Feel free to add a bit of pork belly to your Vietnamese rice pancake if you feel so inclined.
There's a crispy and chewy element to banh xeo that's just so appealing from a textural standpoint.
You'll also normally find bean sprouts, and sometimes mung beans, folded into the crispy crepe.
Finished banh xeo are usually served with an entire garden on the side (I'll get to that in a second).
And it's meant to be dipped in a fragrant nuoc cham dipping sauce.
Actually, nuoc cham is used with so many dishes in Vietnamese cuisine – from bun cha to grilled meats and fish. A true multipurpose condiment if there ever was one.
From a cooking standpoint, banh xeo is crazy easy to make (and I'm excited to show you how).
And from an eating standpoint, these Vietnamese crepes are pure joy!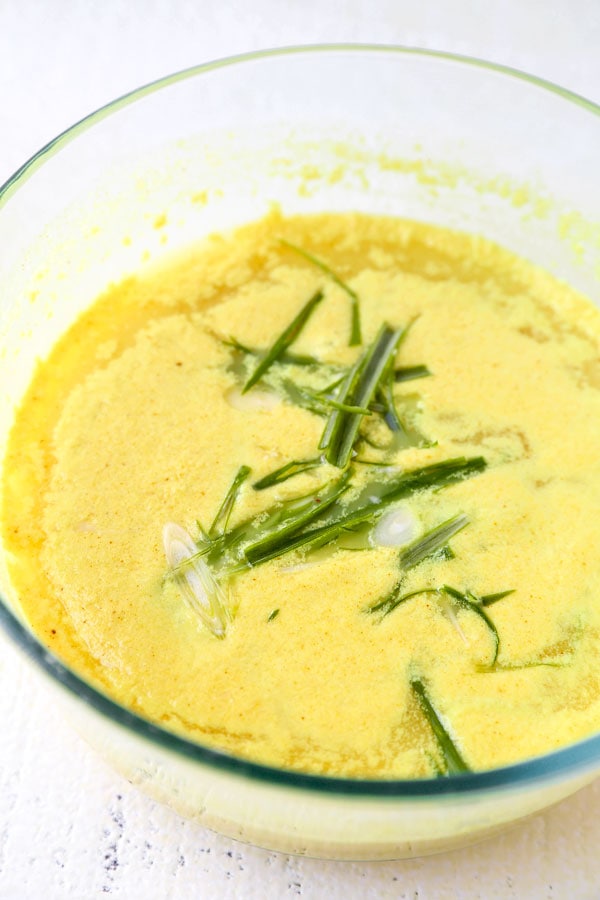 Ingredients for banh xeo
Rice Flour, Cornstarch, Turmeric Powder, Kosher Salt, Coconut Milk and Water: These ingredients comprise the banh xeo batter. Turmeric in particular will give your sizzling crepe it's trademark orange/yellow hue.
Vegetable Oil: Any neutral tasting oil will work well for pan frying.
Shrimp: You'll need about 1/2 pound of shrimp, peeled and deveined.
Onion: Slice about a half-cup of onions into thin, half-moon shapes. You'll pan-fry these with the shrimp just prior to adding your batter to the pan.
Bean Sprouts: These will add a pliant garden fresh crunch to your banh xeo.
Cilantro and Mint: Chop or hand-tear these herbs and sprinkle them on your finished crepe for a vibrant pop of color and flavor.
Mustard Greens, Leafy Lettuce, Shiso / Perilla Leaves and Basil: While these are optional, there's nothing better than wrapping hunks of your banh xeo in a garden's worth of greens.
Nuoc Cham: Savory, sweet and spicy – this is your Vietnamese dipping sauce. Learn how to make homemade nuoc cham for this Vietnamese crepe recipe.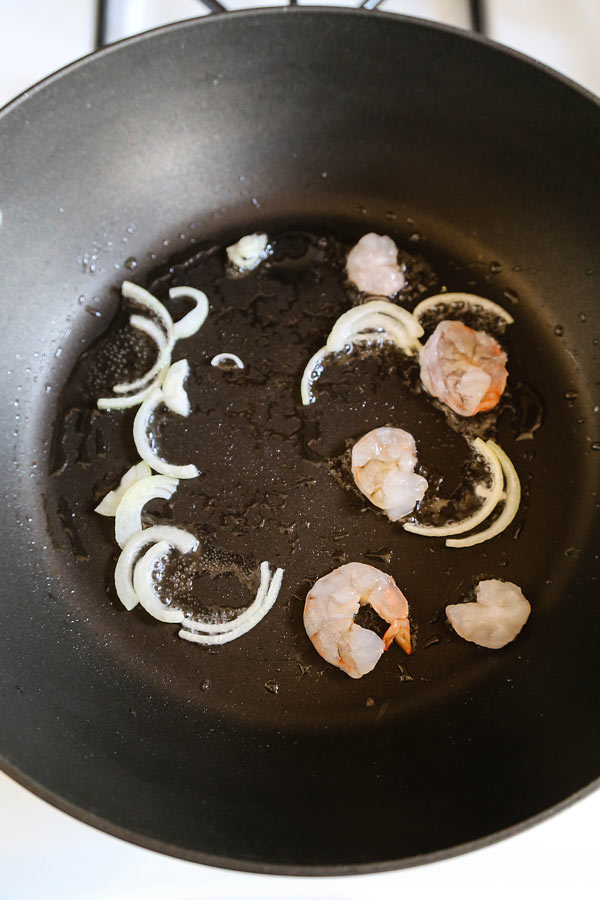 How to make banh xeo
Even though the results seem complex and exotic, whipping up our banh xeo mix from scratch is amazingly simple.
To make the batter, just whisk rice flour, cornstarch and turmeric with a pinch of salt, a half-cup of coconut milk and about a cup and a half of water.

Make sure it's mixed well. Then let your batter rest for at least 30 minutes.

In the meantime, you can whip up your nuoc cham (fish sauce based) dipping sauce.

Then, I like to divide my onions and shrimp into six equal piles. Yep – that's one pile per crepe.

I like to do this so each ban xeo has equal parts deliciousness. If we just mixed everything into the batter at once, you'd likely get one seafood crepe, just loaded with shrimp – and the rest might be a little more… ahem, skimpy.
Now, in a 9 inch skillet over medium-high heat, add a bit of vegetable oil and toss in one portion of your onions and shrimp. Give it a good stir and then move the mix over to one half of the pan.

Add about a half cup of your batter to the pan and tilt the pan so the entire bottom is covered with your banh xeo mix.

Just add some bean sprouts on top of your crepe and cover the pan with a lid for around 2-3 minutes until the sprouts start to wilt.

Finally – open the lid, fold your crepe in half and plate it up.
You're gonna love how your Vietnamese yellow pancake has that perfectly crispy, slightly chewy mix nailed!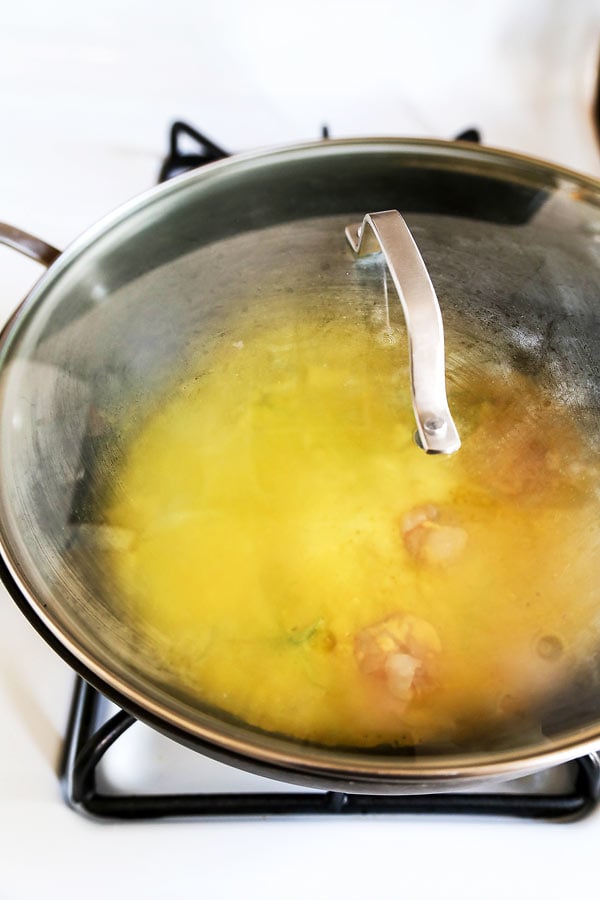 How to get crispy banh xeo?
Short answer: cooking on higher than normal heat.
We're not lightly steaming these Vietnamese crepes – nor are we blitzing them over a gargantuan flame reserved for stir-frying in a wok.
What we're going for, from a temperature standpoint, is the highest side of medium. This will deliver the heat we need to keep things crispy and crunchy – without burning the outside of our banh xeo.
Another secret to crispy savory Vietnamese crepes is using rice flour in the batter.
Ever notice how the French style baguettes you get from the banh mi shop are crispier and flakier than their French counterparts?
That's due to the use of a mix of both rice flour and wheat flour when baking.
And while some banh xeo recipes also call for a mix of the two flours when making crispy crepes, I find that using rice flour alone really nails the texture I'm looking for.
Rice flour is the unsung hero in this banh xeo recipe (from a crispy perspective anyway).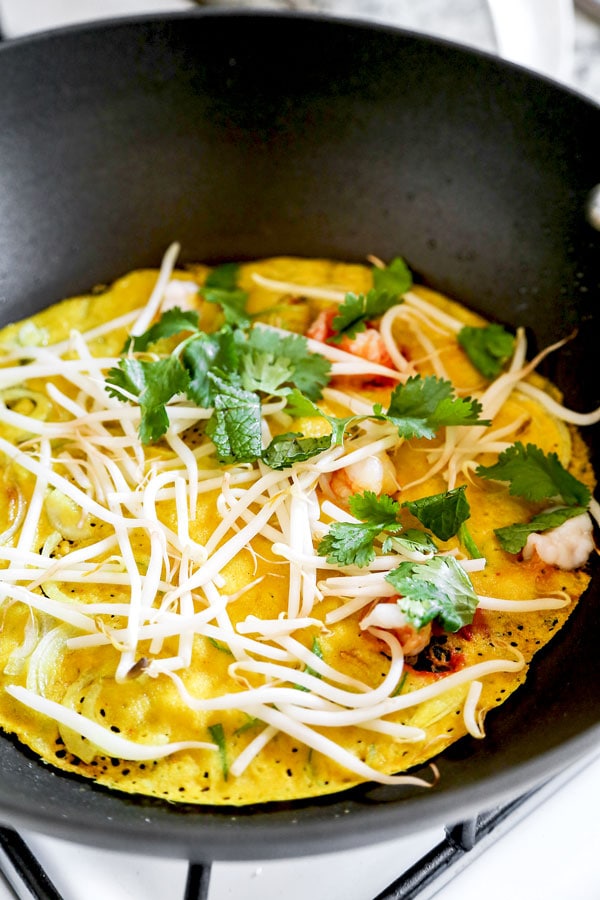 How to eat Banh xeo
The only thing better than cooking up these crispy Vietnamese shrimp crepes is sitting down to eat them!
And, if you want to just spoon nuoc cham over the top and tear in with a fork, that's your prerogative. There's no shame at all in eating your banh xeo on the simple side.
However, if you're looking for the full Monty in terms of flavor, these savory and crispy pancakes are traditionally torn up and served inside a whole host of leafy goodness.
To borrow a phrase from Chicago food etymology, banh xeo is meant to be 'dragged through the garden' before you put it in your mouth.
Here's how:
A nice palm sized piece of mustard greens (cải bẹ xanh) makes a great base. You can also use a leafy lettuce if mustard greens are tough to find.

Then, pile on perilla (AKA: shiso) leaves, mint, basil and cilantro leaves. Whoa! That's a lotta green!

Now, break off a nice big hunk of your sprouts and shrimp filled banh xeo crepe and roll it up inside that amazing bed of greens you just created.

Kinda like a reverse spring roll, right!?

The only thing left to do is to dunk your roll-up in nuoc cham (that delicious salty, sweet, spicy and sour dipping sauce I keep mentioning, hehe).

Check out my easy-to-make, full flavored recipe for nuoc cham here.
The resulting bite is just one of those things that quite literally has all the flavors – and a ton of texture.
A verdant and crisp brightness from the greens meets a savory and chewy crunch from the seafood crepe inside. And sweet heat meets a salty and sour punch from the nuoc cham.
Unreal YUM!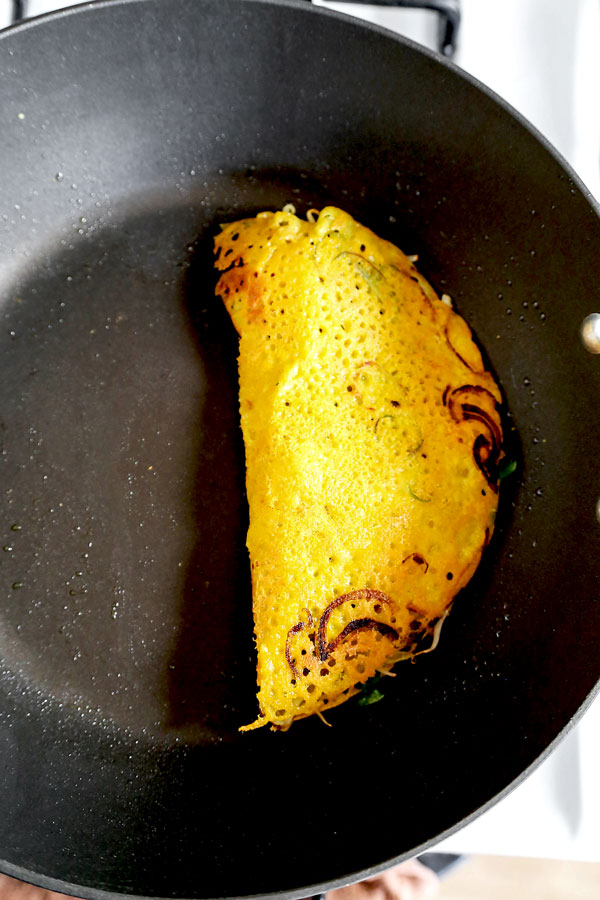 What's the meaning of Banh Xeo in English?
Bánh xèo translates from Vietnamese to English as sizzling cake.
It's named in accordance with the loud sizzling sound the batter makes as it hits the pan.
And you don't even have to stretch your imagination too far to conjure batter hitting a super hot pan making a loud, "zzzeeeeeeooooowwwww."
Phonetically named food is a cool thing in my book!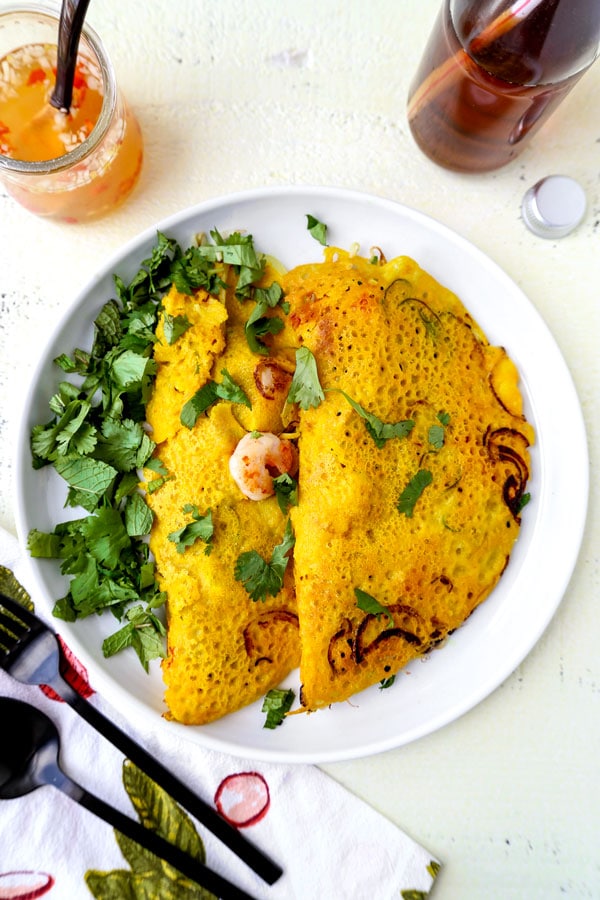 Is Banh Xeo French?
You could totally be forgiven for thinking banh xeo might have some French culinary influences at play.
After all, crepes just seem kind of French, right?
Furthermore, during France's well documented and long colonial rule in Indochina, things like bread and coffee worked their way into the Vietnamese food lexicon.
Now, whether you call Vietnam's largest metropolis Ho Chi Minh City, or still call it Saigon, these former influences are now so ingrained in the modern Vietnamese food culture it would be impossible to separate them.
That said, banh xeo is 100% Vietnamese.
Yep – this crispy crepe likely originated in central Vietnam centuries ago.
And, these days, whether you're in Hue, Hanoi or Nha Trang, the banh xeo you eat in each respective place will likely reflect the culinary nuances drawn from the region it is served in.
With my love of travel – and my passion for food – It'd be amazing to get the opportunity to try them all!
Maybe that should be the delicious plan when we celebrate our 11th year of marriage, right!?
How about you? Where in the world would you like to go to try all the food under the sun? I'd love to hear all about your food and travel dreams in the comments section 🙂
Other simple, delicious Vietnamese recipes: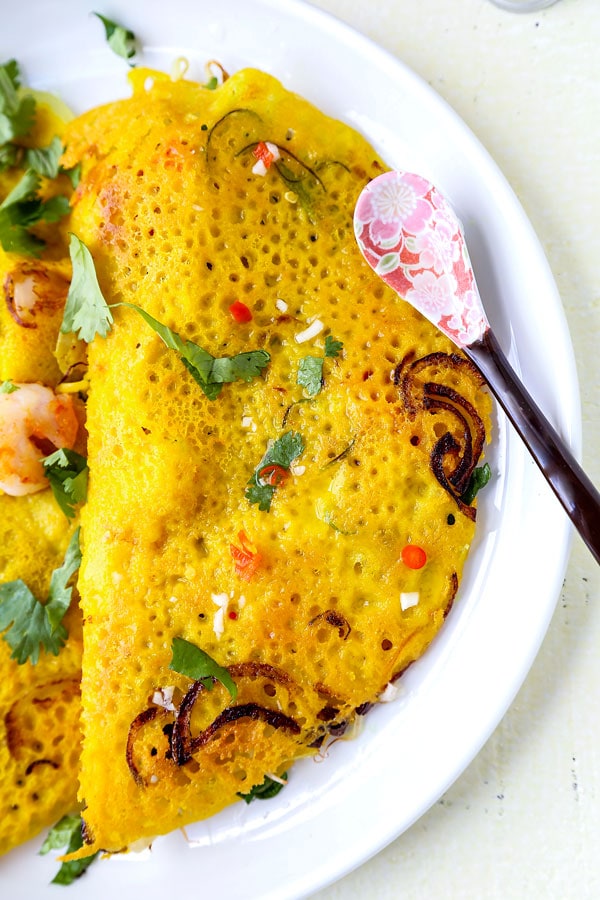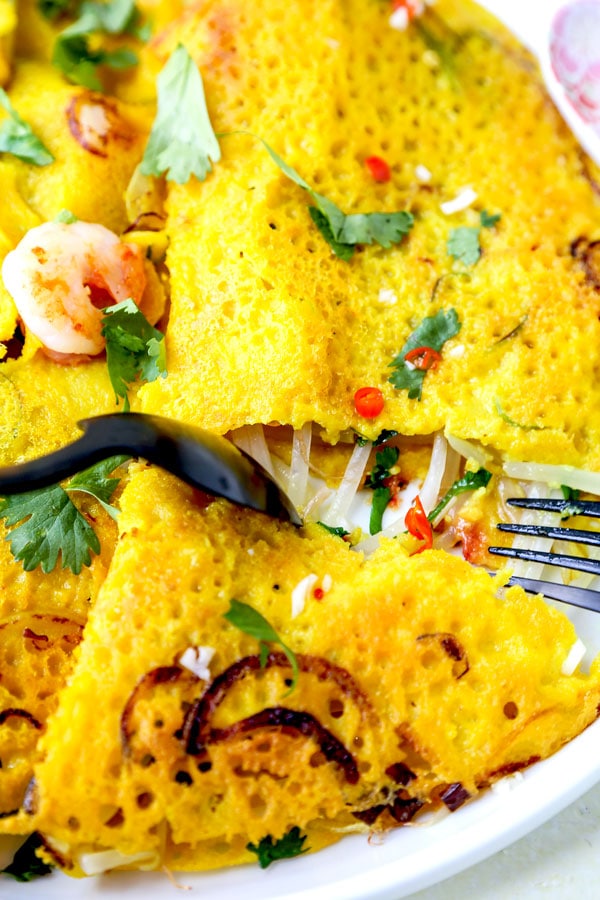 Did you like this Banh Xeo Recipe? Are there changes you made that you would like to share? Share your tips and recommendations in the comments section below!
Print
Banh Xeo (Bánh Xèo) – Savory Vietnamese Crêpe
This Banh Xeo Recipe marries savory Vietnamese crepes with shrimp, sprouts, leafy greens and loads of herbs. Translating into 'sizzling cake', bánh xèo is absolute perfection when dipped in nuoc cham – Vietnam's most famous savory, sweet, sour, salty and spicy condiment!
Author: Caroline Phelps
Prep Time:

10 minutes

Cook Time:

5 minutes

Total Time:

45 minutes

Yield:

2

1

x
Category:

Main

Method:

Pan frying

Cuisine:

Vietnamese
1 cup

rice flour

2 tablespoons

cornstarch

1 teaspoon

turmeric powder

1/4 teaspoon

kosher salt

1/2 cup

coconut milk

1 ½ cups

water

1

scallion (thinly sliced)
vegetable oil (for frying)
Filling
1/2

pound shrimp (peeled, deveined and sliced in half, lengthtwise)

1

small onion (thinly sliced) about 1/2 cup

1 ½ cups

bean sprouts
mustard greens or leafy lettuce, shiso (perilla), basil (optional )
Other
nuoc cham (dipping sauce for serving)

1/2 cup

mix cilantro leaves + mint leaves
Instructions
In a large mixing bowl, whisk in rice flour, cornstarch, turmeric, salt, coconut milk and water until the mixture is smooth. Set aside to rest for at least 30 minutes (or leave refrigerated overnight; cover with plastic wrap).
Make your dipping sauce by following the
nuoc cham recipe.
Divide the onions and shrimp into 6 portions – 1 for each crepe.
Divide the bean sprouts into 6 portions – but keep separate from your portions of shrimp/onion.
In a 9-inch skillet over medium high heat, add 1/2 tablespoon vegetable oil and swirl around to coat the skillet evenly.
Add 1 portion of the shrimp and onions and cook for 1 minute.
Move the shrimp and onions to one side of the pan, making sure they're spread out – and pour about 1/2 cup of batter in the skillet. Tilt the pan quickly to evenly cover the entire bottom of the pan and add beans sprouts on top.
Cover and cook for 2-3 minutes, until the bean sprouts have begun wilting.
Take the lid off, cook for 1 minute, add cilantro and mint and turn the heat off.
Fold in half and transfer to a plate.
Repeat the same process for the remaining ingredients.
Serve simply with nuoc cham – or wrap bits of your cooked crepes in mustard greens (or leafy lettuce), perilla, basil and cilantro and dip in nuoc cham.
Nutrition
Serving Size:

2

Calories:

600

Sugar:

5g

Sodium:

478.3.mg

Fat:

17.4g

Saturated Fat:

12.4g

Unsaturated Fat:

1.4g

Carbohydrates:

81.3g

Fiber:

4.4g

Protein:

31.6g

Cholesterol:

186mg
Keywords: recipe, Vietnamese pancake, crepe, Southeast Asian
Recipe Card powered by