This is a bright and light watermelon salad tossed with fresh strawberries and tomatillos. It's the perfect mélange of sweetness and tartness that will fuel your body with vitamin C! Plus, it only takes 10 minutes to make!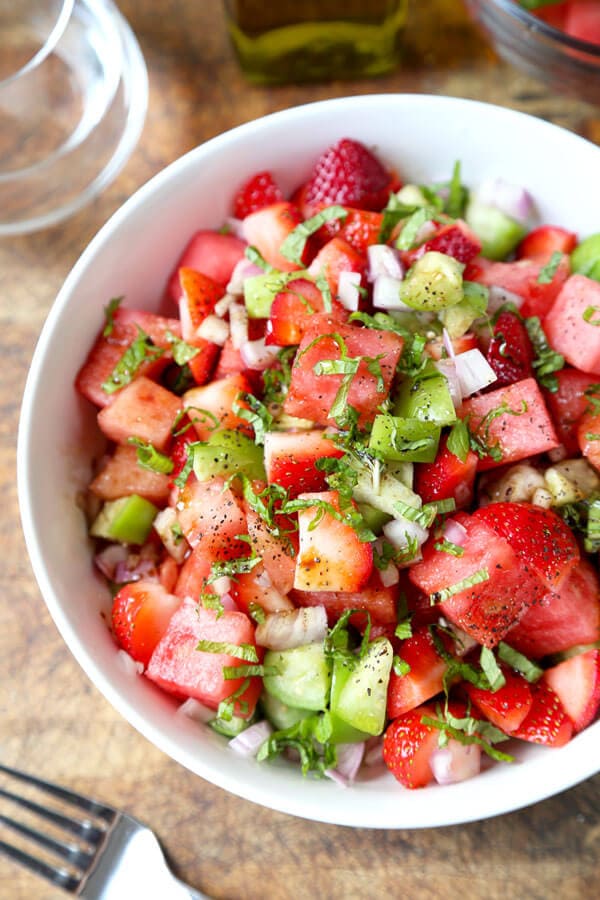 When I think about summer salads I see vibrant colors and fresh fruits dressed in a light vinaigrette.
This strawberry, tomatillo and watermelon salad was a happy accident I created when I had leftover watermelon and didn't know what to do with it.
I was craving something tart and sweet and super refreshing. Well, as I was browsing the vegetable aisle at the grocery store I saw bright green tomatillos and thought they might pair well with watermelon, so I grabbed a couple and walked over to the fruit section. I felt like it needed something else… something sweeter than watermelon to make the flavors really bounce.
That's when I saw big and beautiful strawberries, freshly picked from a farm in upstate New York. That's the moment I knew I was about to make something seriously yummy.
And I was right. I fell in love with the fruit salad as soon as I was done chopping and tossing the ingredients!
This watermelon salad has everything – it's sweet, tangy and tart and feels so crisp and cleansing. I'm telling you, if you are looking for a bright, feel good salad this weekend, this is the salad for you!
What is a Tomatillo?
A tomatillo, also called a Mexican husk tomato, is a small green fruit that resembles a tomato. It's sour in taste and can be eaten raw or cooked. Tomatillos are a staple in Mexican cuisine – often used in salsas, sauces and other traditional dishes.
And it's exactly that sour flavor I'm counting on to balance the sweetness in this fruity watermelon and strawberry salad.
How To Pick Tomatillos
Picking tomatillos isn't that hard but there is one essential step you should not skip.
Open up the husk!
I've made the mistake of not fully opening them and have ended up with rotten tomatillos from time to time. Yuck! So trust me on this, peel off the husk and look for firm and bright green tomatillos. If they are shriveled up or blemished, don't get them.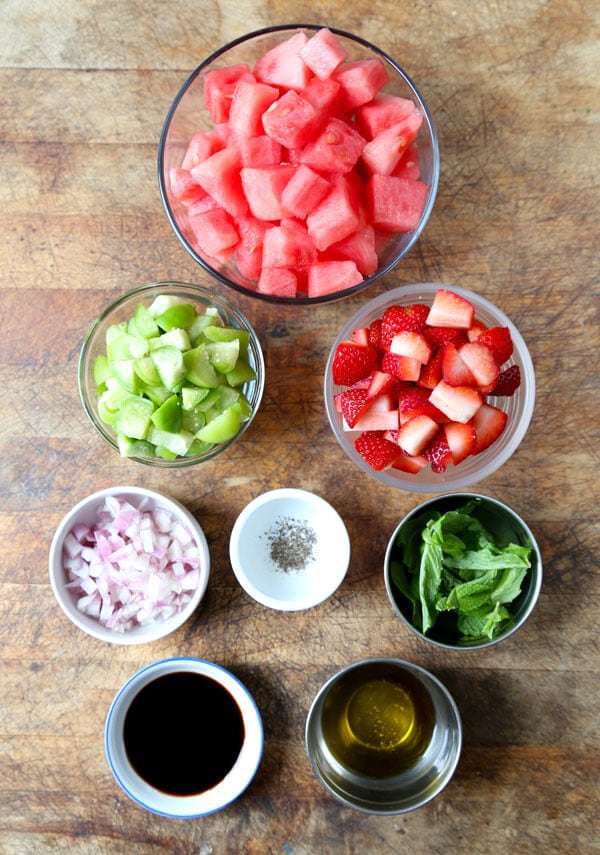 How to Make a Watermelon Salad that Shines
Pick the best ingredients you can find.
Finding the freshest ingredients is imperative to the success of this salad!
The sweeter the strawberries the better.
The sweeter the watermelon the better.
Pick bright green mint leaves without dark spots.
When it comes to tomatillos, tartness is a must. Do not substitute them for regular tomatoes. The tomatillos add tartness which balances the sweetness of the watermelon and strawberries to perfection.
Pro tip: To tone down the bitterness of the shallot, soak the chopped pieces in water for 10-15 minutes.
How To Pick Strawberries
Do a smell test. Go for the ones that smell sweet and fruity.
Look for strawberries that are uniformly red. This method doesn't always work but more often than not a strawberry that's red through and through will taste good.
Shape isn't a predictor of how good a strawberry will be so you don't have to pay attention to that.
The verdict: use your nose for picking good strawberries.
How to Pick a watermelon
To pick a good watermelon, hold it in your arms and feel its weight. A ripe watermelon will feel heavy for its size.
Look for a yellow spot since that's a sign of ripeness.
Look for the underbelly of the watermelon and give it a thump. If you hear a deep hollow sound it means it's ripe.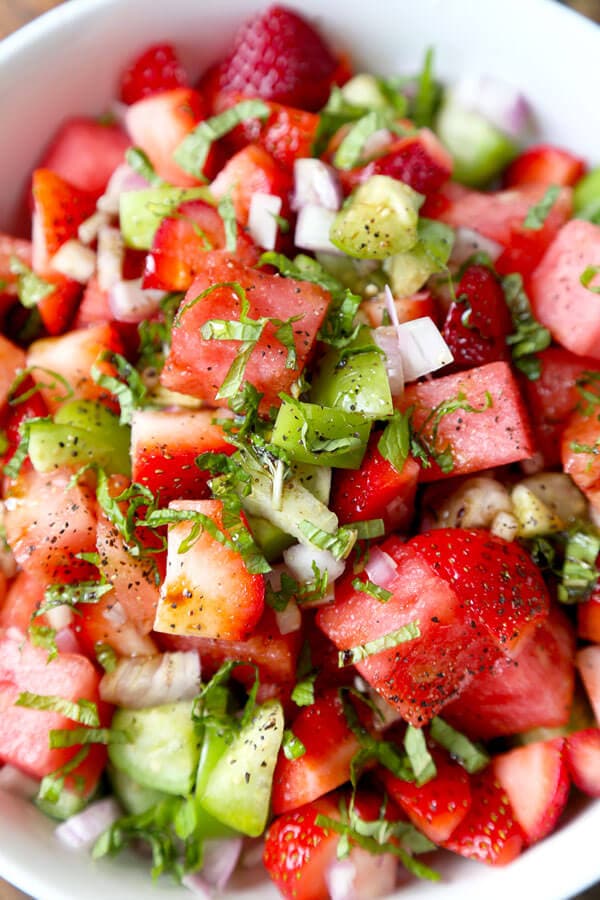 Fruit Salad Dressing
Fresh fruit salads are already loaded with flavors – so when it comes to choosing a dressing, it's best to stick to something subtle that's not overpowering.
The more fruits, herbs, nuts and seeds a fruit salad contains, the simpler you want the dressing to be. For some recipes, a drizzle of high quality extra virgin olive might just be all you need!
For this watermelon recipe I'm using a mix of olive oil, balsamic vinegar, salt and pepper. The combination of sweetness and acid complement the natural flavors of the fruits.
Homemade Salad Dressings are Tastier and Better for You
I have not purchased store bought dressing in over a decade because making my own means I get to control exactly what goes into it (less sugar, fat and zero chemicals).
Plus, they taste so much better!
Making your own salad dressing takes less than a minute. Oh, and here's another bonus – it costs a fraction of what you would spend for a bottle at the store.
Think about it – how many times have you thrown out salad dressing that has expired?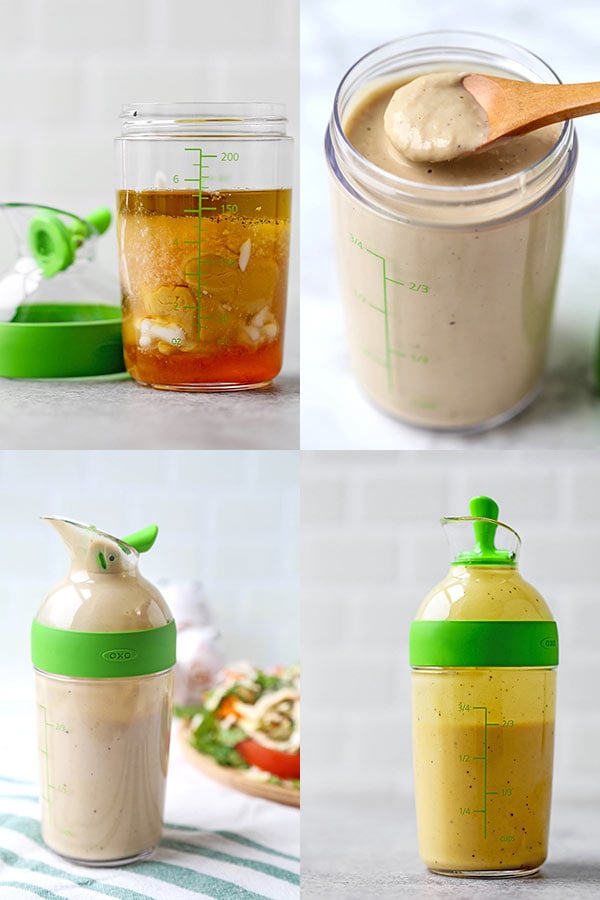 The truth is most of us don't use dressings and vinaigrettes often enough to go through an entire bottle, so it's best to make them as you go.
Buy a cheap salad dressing shaker – the one in the image above is by OXO and only cost me $13. This way you can make a bit extra and save it for later. It's also less messy because there's no whisking involved. Just shake, shake, shake!
The one I have is watertight which means I can shake it hard and nothing will spill out.
What To Serve this Strawberry, Tomatillo and Watermelon Salad With
What better than to serve a colorful watermelon salad to replenish your fluids when the weather is warm.
This is the perfect side dish to serve at a barbecue to offset the heaviness of grilled meats. It's vegan and gluten-free, so it's a good option to put on the table for guests with dietary restrictions.
For a healthy summer meal, serve this strawberry, tomatillo and watermelon salad with a chilled gazpacho soup and a tuna sandwich.
This salad is best served fresh but you can make it in the morning and serve it for dinner. Slice the fruits ahead of time and dress the salad just before serving.
Other light, healthy and easy fruit and vegetable recipes: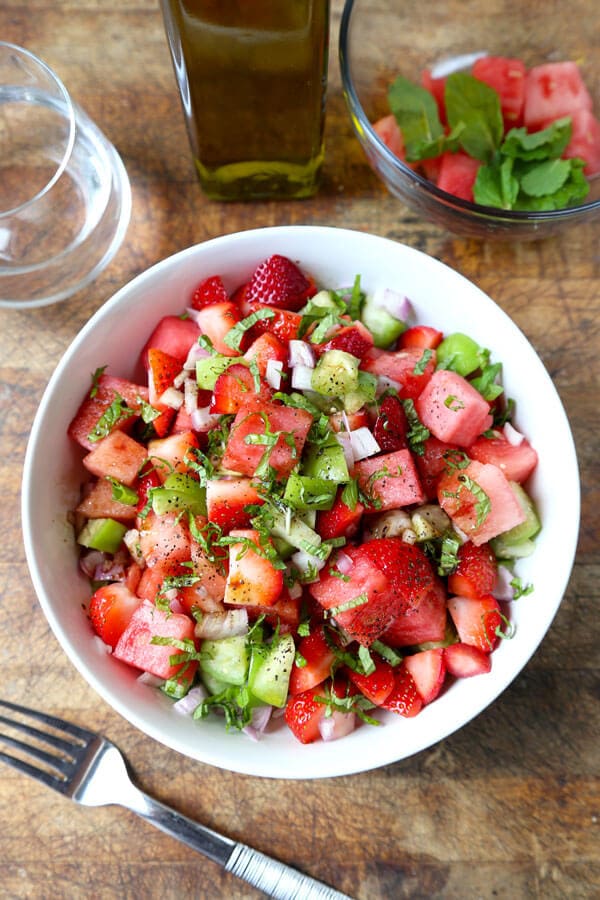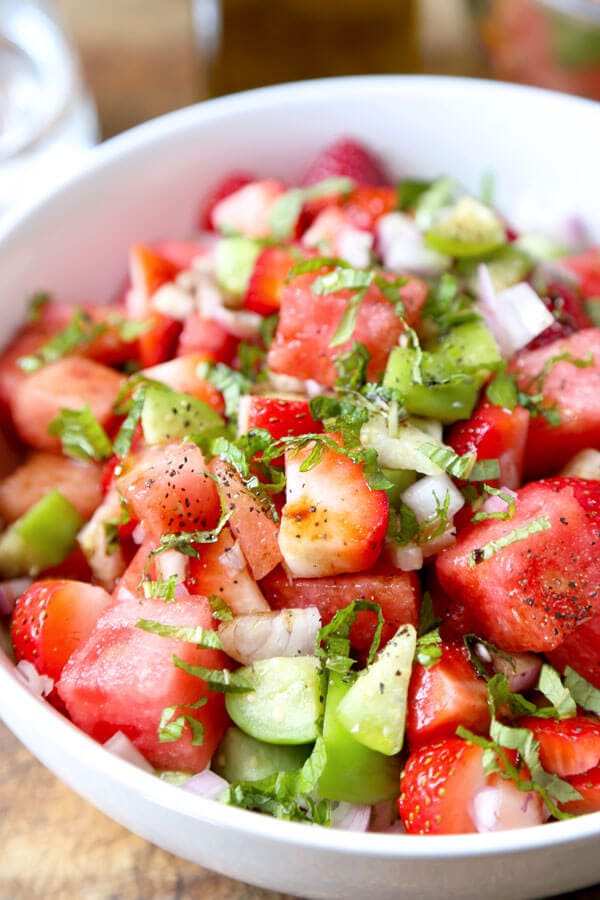 Did you like this Strawberry, Tomatillo and Watermelon Salad Recipe? Are there changes you made that you would like to share? Share your tips and recommendations in the comments section below!
---
Print
Strawberry, Tomatillo and Watermelon Salad
This may be the most refreshing and thirst quenching summer salad you've ever had! And this watermelon salad only takes 10 minutes to make from start to finish!
Author: Caroline Phelps
Prep Time:

10 minutes

Cook Time:

0 minutes

Total Time:

10 minutes

Yield:

4

people

1

x
Category:

Salad

Method:

None

Cuisine:

American
3 cups

watermelon (rind and seeds removed, chopped bite size)

8

strawberries (hulled and chopped bite size)

1 cup

tomatillos (chopped bite size)

1

shallot (finely chopped)

12

mint leaves (shredded)

2 tablespoons

extra virgin olive oil

1 1/2 tablespoons

balsamic vinegar

1/2 teaspoon

ground black pepper
salt to taste
Instructions
Put watermelon, strawberries, tomatillo and shallots in a bowl and gently toss.
Drizzle olive oil and balsamic vinegar and gently toss once more.
Sprinkle black pepper and top with mint.
Season with a little salt and serve immediately.
Notes
This strawberry, tomatillo and watermelon salad salad will keep refrigerated for up to 1 day.
Soak the sliced shallot in cold water for 10-15 minutes to remove some of the bitterness.
Nutrition
Serving Size:
Calories:

120

Sugar:

10.6 g

Sodium:

3.5 mg

Fat:

7.6 g

Saturated Fat:

1.1 g

Carbohydrates:

14.1 g

Fiber:

1.7 g

Protein:

1.3 g

Cholesterol:

0 mg
Keywords: recipe, side dish, fruit salad, barbecue, pot luck, appetizer, vegetarian, gluten-free
Recipe Card powered by