Make this slimming and cleansing Strawberry Detox Water in 5 minutes or less. Perk up and hydrate all in one glass of goodness that just screams summertime!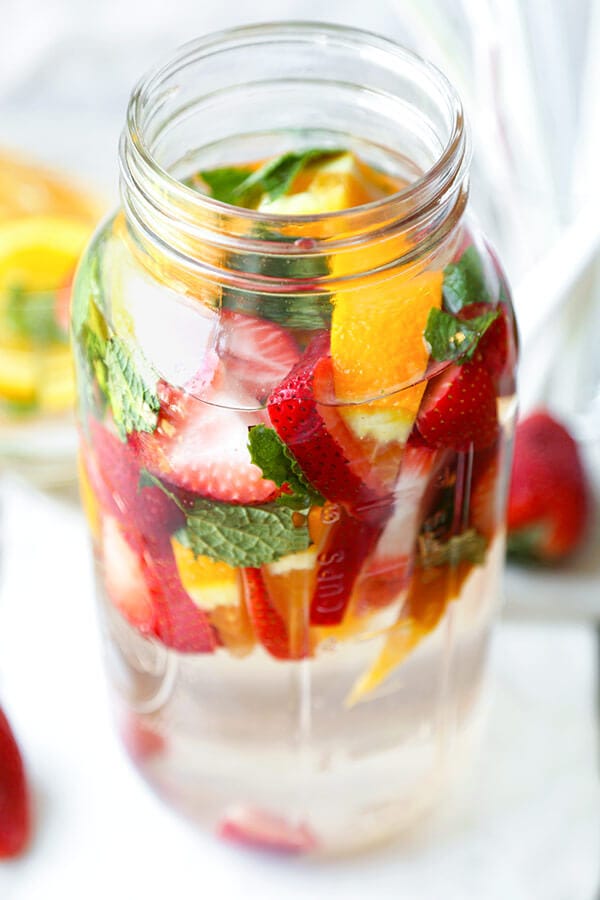 We had a slow start to spring here in Brooklyn. The trees were in full bloom, but the cloudy skies and cool temps told another tale. The bees were sluggish, and my weather app kept suggesting I take a jacket.
Then, this past week, the skies seemed to clear and, all of a sudden, spring is in full effect. The bees have their groove back – and I find myself walking around, taking it all in with a smile on my face.
The change from gloomy to perfect almost overnight definitely inspired this clean, refreshing and strawberry detox water recipe. There is nothing more refreshing and cleansing than homemade detox fruit water, and with summer approaching, it's the perfect drink to enjoy and to help you lose weight.
After downing three containers in two days, I'm confident that you too will feel invigorated by this fruit-infused water recipe!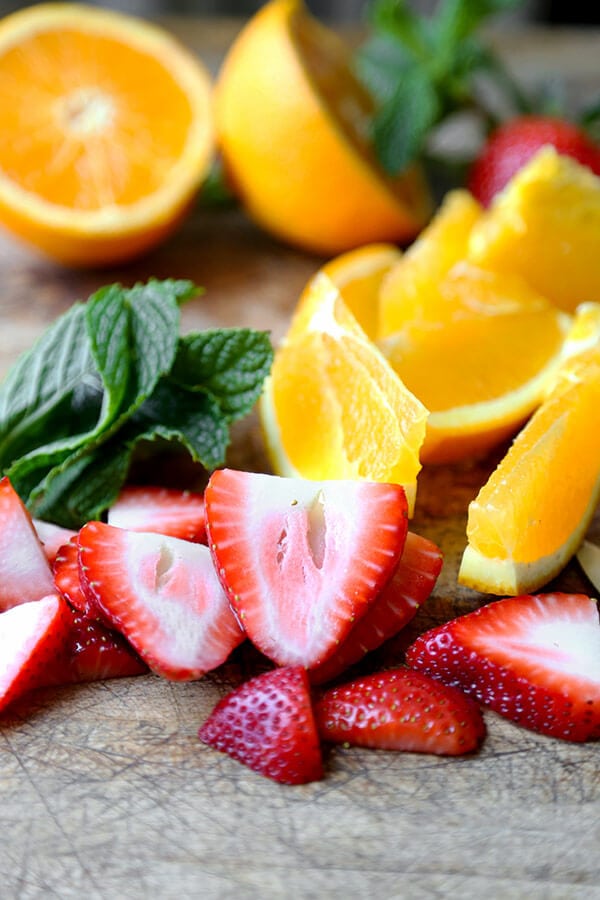 How To Make Detox Water
The best thing about making slimming detox water, or spa water as I like to call it, is how easy the entire process is!
The steps are pretty much the same for all detox fruit water recipes – chopped fruit, fresh herbs, which are optional but highly recommended, and water.
For this strawberry detox water I'm using sliced strawberries, orange wedges and mint leaves. The strawberries and oranges impart a subtle sweetness to the water while the mint adds a cooling effect. Hence, cleansing and refreshing!
Hand tearing the mint leaves, as opposed to cutting them with a knife, is said to release the maximum amount of the fragrant oils and prevent the leaves from discoloring so quickly. Um… and what's better than munching on a cool strawberry slice that just happened to tumble in when pouring a glass of water!? This strawberry detox water is something you can enjoy without regret.
And it's a great variation to mix things up if you're trying to ingest your recommended daily intake of H2O. And, unlike soda or sports drinks, it's high in vitamin C and low in sugar!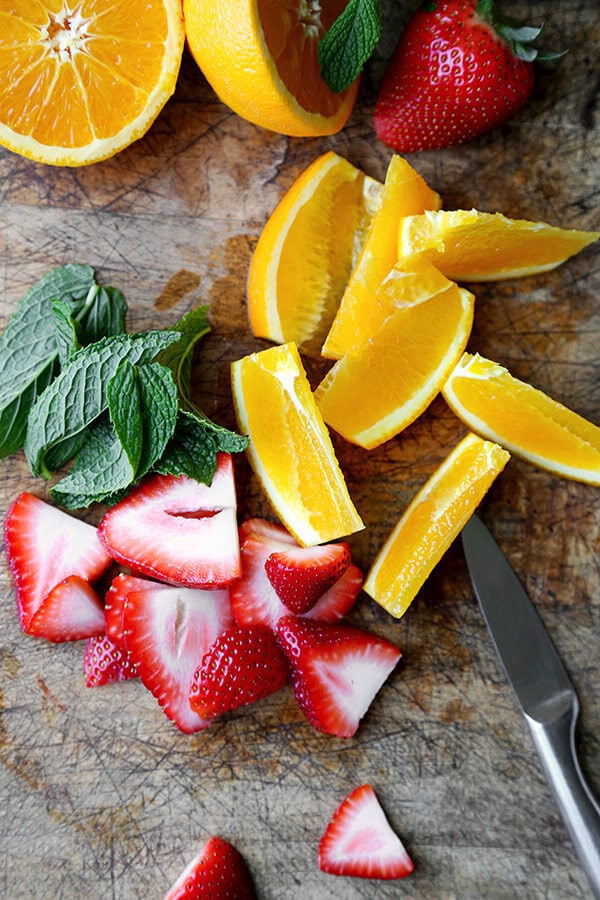 How Much Water Should You Drink On A Daily Basis?
As we all know, keeping hydrated is important.
Our bodies are made up of a ton of the wet-stuff, and our cells require water so our bodies function properly, combat fatigue and promote clear skin.
I'm not a doctor, so I won't get all sciency here – but being properly hydrated is a big deal for both feeling and looking your best.
The recommended amount is about 2 liters but this number can vary depending on where you live (you may need more if you live in a hot and humid environment) and how old you are (the older we get, the more water we need to stay hydrated).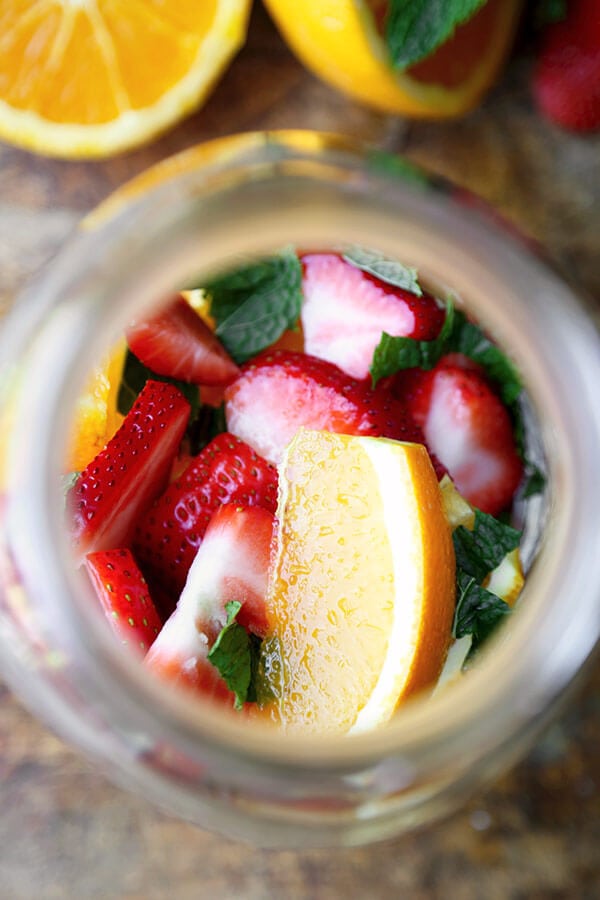 Does Detox Water Help You Lose Weight?
The answer yes and no.
People who drink more water are naturally skinnier. That's because water temporarily raises your metabolic rate and in turn, burns more calories.
So it's not the detox water itself that promotes weight loss, it's the act of drinking more water.
If you find that you drink more water when it's flavored with fruit, then you will benefits from keeping a jug of fruit-infused water in your fridge. It will definitely help you lose a few pounds.
How Long Does Detox Water Last?
Detox water can last up to 6-7 days depending on the fruits and herbs used. Softer herbs like basil and mint only last a couple of days while sturdier ones like rosemary can last much longer.
But the general rule of thumb is 2-3 days tops.
For this strawberry detox water, I would say no more than two days. After that the strawberries get mushy and the mint starts to disintegrate.
How to make detox water last longer
You can easily make your spa water last longer by simply removing the fruits and herbs once the water is infused (after 3-4 hours).
I like to make my detox water in the evening and leave it overnight. This way I can pour myself a refreshing glass of fruity water first thing in the morning!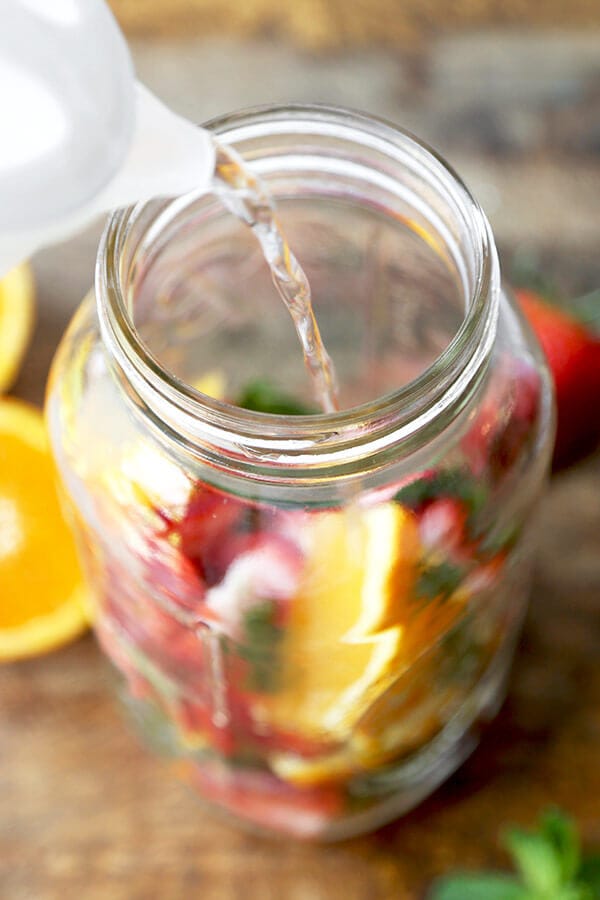 Other Quick and Easy Detox Water Recipes
Strawberry, orange and mint is only one of many yummy flavor combinations you can create to flavor water.
As I mentioned, water infusion recipes are as easy as adding fruits and herbs to a pitcher of water and letting the flavors infuse.
Here are some of my favorite detox water flavor combinations:
Cucumber and mint
Lemon and basil
Cucumber, lime, and blackberries
Watermelon, kiwi and lime
Grapefruit, pomegranate and raspberries
Apple and ginger
Cranberry, orange and basil
By the time we were nearing the end of our third container of strawberry detox water, Ben poured half a glass of the concentrated infused water and topped off the rest of the glass with seltzer. It was fizzy, fruity and completely delightful! If you have a container with a proper seal (and prefer bubbles) you can totally make this strawberry detox water with seltzer. Yet another way to enjoy keeping hydrated.
I used to infuse my water in a ball jar as you can see in the pictures. But lately I have been using a water infuser pitcher since it makes discarding of the fruits and herbs much easier.
Other delicious and cleansing drink recipes: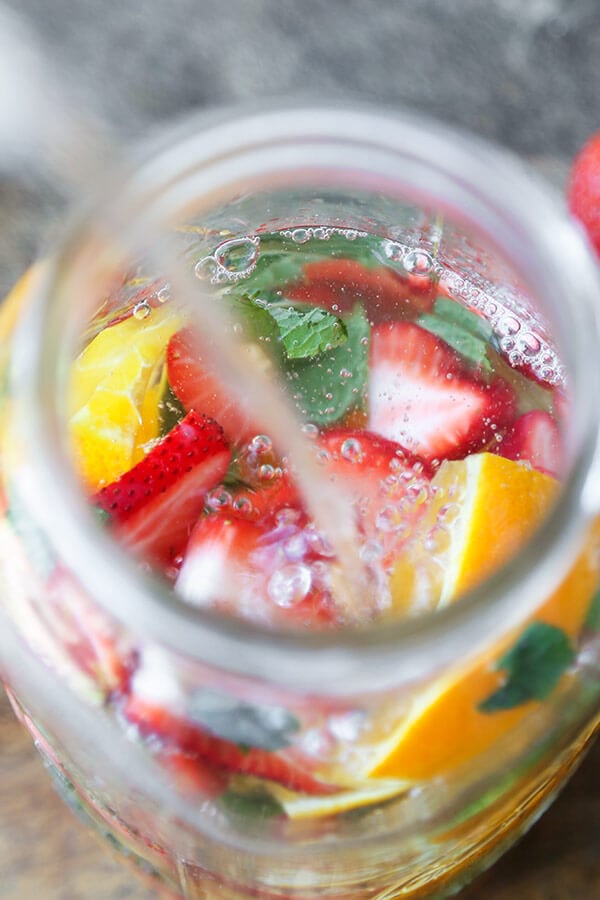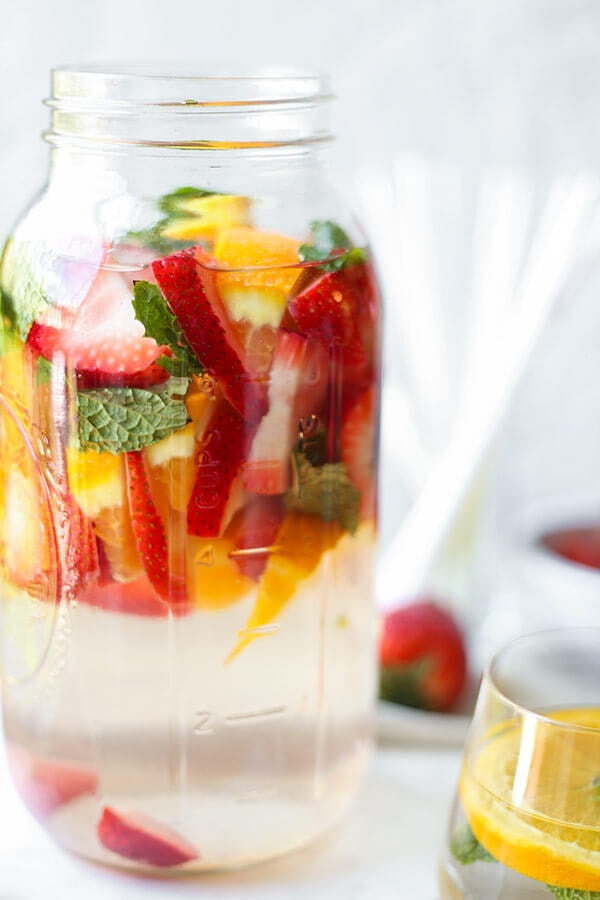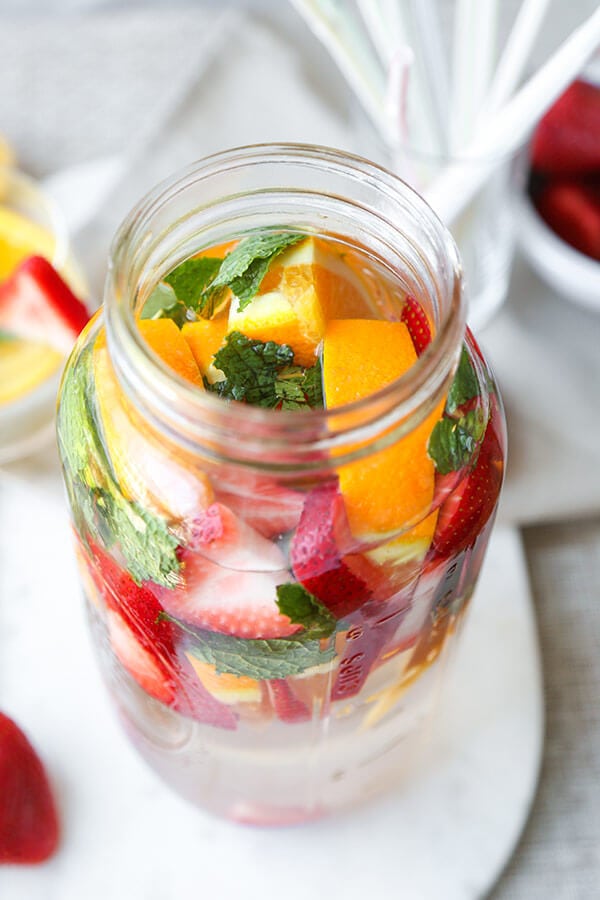 Did you like this Strawberry Detox Water Recipe? Are there changes you made that you would like to share? Share your tips and recommendations in the comments section below!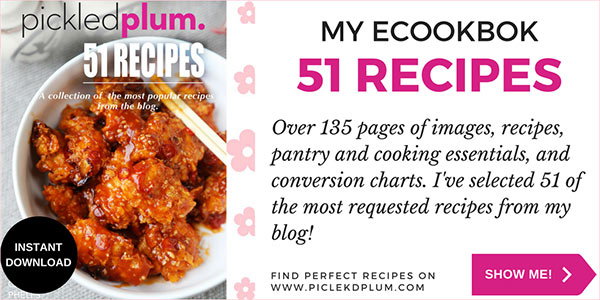 These recipes constantly make "best dish" lists on sites such as Country Living, Self, Shape, Bon Appetit, The Cooking Channel, Men's Fitness and Woman's Day. They are favorites among my readers, friends and family!
51 of the best appetizers, sides, stir fries, main, noodles & rice, desserts & drinks from the blog.
Simple and easy dishes made healthier, with calories and fat content provided. Tried and tested by my readers and loved by everyone!
---
Print
Strawberry Detox Water
Make this slimming and cleansing Strawberry Detox Water in 5 minutes or less. Perk up and hydrate all in one glass of goodness that just screams summertime!
Author: Caroline Phelps
Prep Time:

5 minutes

Total Time:

5 minutes

Yield:

1.5

liter

1

x
Category:

Drinks

Method:

Infusing

Cuisine:

Spa
Scale
Ingredients
5

large strawberries, sliced

half an

orange, sliced into wedges

6

mint leaves, hand torn

1.5

liter water
Instructions
Put all the ingredients in a pitcher and refrigerate for at least 2-4 hours, or overnight.
Notes
You can substitute water for seltzer. Just make sure you have a container with a hermetic seal to hold the fizz.
This strawberry detox water will keep refrigerated for up to 2 days.
Discard of the fruits and mint leaves to make it last longer, up to 7-8 days.
Keywords: recipe, slimming, flavored water, fruit-infused water, cleansing drink
Recipe Card powered by