This refreshing and tart Homemade Mint Lemonade Recipe will make you feel like you're on vacation! Low in sugar – but packed with sweet and sour perfection, this healthier mint lemonade recipe will be a hit on the beach or in the backyard!
Mint Lemonade Recipe (Low Sugar)
We've had a stretch of sunny, warm spring days in NYC, and it's got me in a super good mood!
It's this time of year that I like to grab my laptop, head for a cafe with some outdoor space and order up a fresh lemonade or two. There's just nothing like it!
Every time I go to Le Pain Quotidien I order a mint lemonade. It's the best, most tart and refreshing lemonade I have ever had and I can't get enough of it.
But at around $4 for a medium sized glass with a TON of ice in it, it's just not something I feel like buying every day. Hey – it's just lemonade, right?!
Sure, fresh lemon juice, a little sugar, water and fresh mint is an absolutely magical combination. But, dang…
Now, I get it… When you buy a drink at a sit down spot, it's not just the beverage you're paying for. It's the atmosphere, the table-space and the free Wi-Fi that all get factored into the final price.
But it got me thinking.
After a lazy hour of catching up on emails, reworking a couple of posts in WordPress – and generally just watching the world go by, I found myself wondering how many glasses of mint lemonade I could make at home for four dollars. I also wondered how hard it would be to replicate the basic flavors of their mint lemonade recipe…
real simple math – and a homemade lemonade recipe
As it turns out, it wasn't hard at all to make a super tart, low sugar lemonade recipe at home!
And, while the flavors are slightly different, it hits all the minty fresh notes I love when drinking homemade lemonade with real lemon juice.
I was able to make myself a pitcher (yes, a whole pitcher!) of mint lemonade that tasted really close to their concoction for $8! That gave me about 10 medium glasses of mint lemonade with plenty of ice.
Give me a moment with my abacus, hehe…
That comes to $0.80 per glass.
Now that sounds much more reasonable! I'll still order their mint lemonade whenever I go to LPQ for lunch (for their amazing Tuscan platter!) but it's nice to know I can make a similar, delicious mint lemonade recipe at home for a quarter of the price.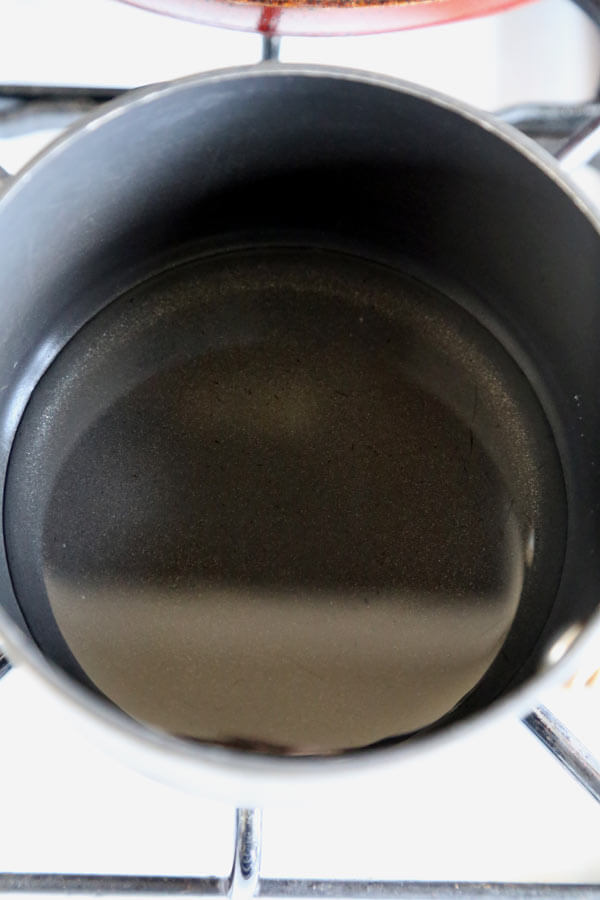 Is lemonade good for you?
Now that depends on a few factors.
Lemons are a fantastic source of vitamin C. Lemon pulp is also a great source of pectin, which might help you feel full longer.
Most lemonade recipes, however, are just too sweet for my taste. And after a few Google searches, it immediately became clear why.
Over a cup of sugar is used in 95% of the lemonade I came across. That's almost as much sugar as you'll find in a can of Coke (and most other soft drinks). Geeeez…
No wonder the bright tartness of fresh lemons gets lost in all that cloying sweetness when you grab store bought stuff. Not my cup of, well… lemonade.
When my body craves lemonade, it wants something refreshing and quenching. Sugary drinks don't do that for me. A low sugar mint lemonade recipe on the other hand, does the trick in a matter of seconds!
Cutting some (but not all!) of the sugar will let the tangy citrus shine! And the clean brightness of the freshly muddled mint really stands forward in this healthier lemonade.
Since we're using only a quarter cup of sugar in this mint lemonade, the sweetness is there – however in a much more balanced role.
So from a health perspective, it's kinda like having your cake and eating it too. It still has sweetness like a lemonade should – but it's got way less sugar (and a better balance of flavor) than a store bought jug.
Is healthy-ish a thing?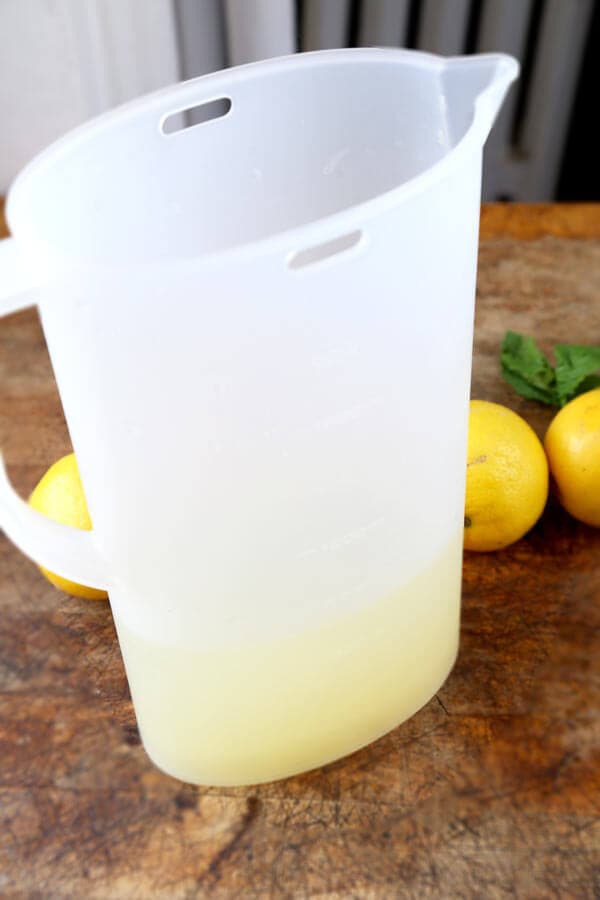 How to make lemonade
If you've got five minutes, then you've got time to make this bright mint lemonade recipe!
Seriously, it's super easy.
Just place a quarter cup of sugar into a small pot with half a cup of water and heat the mixture until the sugar dissolves. This is a basic simple syrup (more on that in a second).
While the simple syrup is cooling, juice about 6-7 lemons. Get rid of the seeds. You can keep the pulp or strain it out. However, if you keep it, it tends to add little tart pops of flavor when drinking (so my personal preference is to keep it).
Now, add your simple syrup and the lemon juice to a pitcher. Add more water to taste – and add ice cubes if you plan to drink it right away.
Next, just place 6-10 mint leaves into a glass and muddle for a few seconds with a pestle. Pour a tiny bit of lemonade in the glass and muddle again for a few more seconds.
Muddling the mint at the bottom of a glass releases the flavor and aromas and beautifully pairs with the acidity of the lemons.
By adding a little sugar to this mint lemonade recipe, we manage to balance sweet and tart.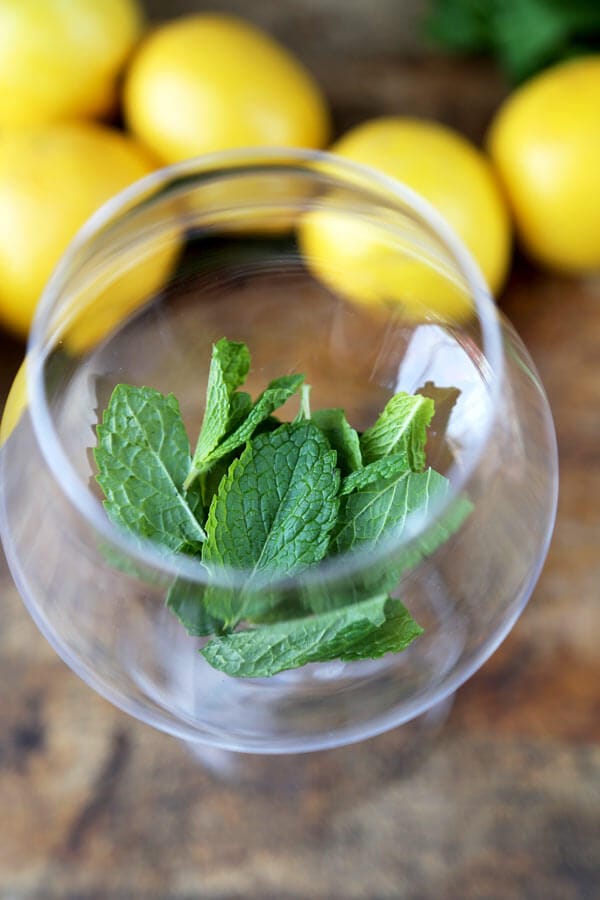 Simple Syrup Recipe
Simple syrup is just sugar that has been mixed with hot water and stirred until it dissolves.
Why hot water?
Well, granulated sugar doesn't mix very well into cold liquids. By heating water and stirring in sugar, you get a sweet liquid sweetener that mixes well – and doesn't leave you with undissolved sugar at the bottom.
Then, you can cool the sweet liquid down and add to cold drinks!
And one of the great things about having simple syrup on hand is that you can use it in almost any cold drink that calls for a bit of sweetness.
Are you a huge fan of Limonata? Well, you can totally make a sparkling lemonade that replicates the basics of that wonderful, magical fizzy goodness by mixing a bit of fresh lemon juice with simple syrup and adding seltzer. Of course it won't be a dead ringer – but it'll be cold, sweet, tart and fizzy – and that's close enough for me!
Or, if you're needing to lightly sweeten up your absinthe and don't feel like following the whole rigmarole with the sugar cube and slotted spoon (Btw… Check out my post that deep dives into all about absinthe), simple syrup to the rescue!
And simple syrup just happens to do wonders in this lightly sweet and tart mint lemonade recipe.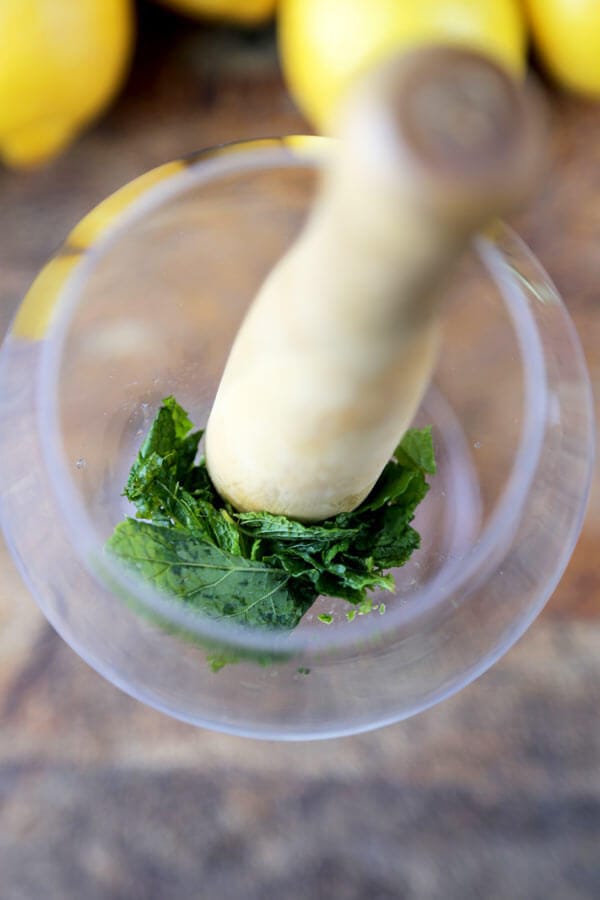 So… how much juice in one lemon?
Typically, a lemon will have about two tablespoons of juice in it.
Some will obviously have a bit more – and some a bit less. For this simple minty homemade lemonade recipe, you should grab about six lemons (or so).
That will yield you approximately 12 tablespoons of lemon juice – or right around 3/4 of a cup.
If you need a hand with conversions, have a look at these US standard cooking measurements 🙂
If you find the tartness of this healthier lemonade to be a bit much after mixing in all your ingredients, just add a bit of cold water until you reach your preferred level of tang!
A low sugar mint lemonade recipe that reminds me of the important stuff
Often, a taste will remind you of an experience.
Anytime I taste the pucker-worthy pop of fresh lemonade, I'm instantly transported to my childhood.
You see, in the springtime, my mother would always make her neighborhood-famous lemonade recipe for all of my friends. We'd pour in to the house after school, practically demanding the stuff, hehe.
That citrus kick still makes me feel like a 10-year-old who can't wait for summer vacation to begin.
And, while this tart and minty lemonade recipe is based on one of my favorite drinks from a cafe, the effect is much the same. It's a very simple mint lemonade recipe that screams summer at the beach – and vivid sunsets in the backyard!
Serve this mint lemonade recipe with light snacks such as a watermelon, strawberry and tomatillo salad, soy and sesame edamame, baked kale chips or a yummy bowl of kimchi udon.
Other simple, delicious summer and springtime beverage recipes:
Did you like this Fresh Lemonade Recipe? Are there changes you made that you would like to share? Share your tips and recommendations in the comment section below!
---
Print
Mint Lemonade Recipe (Low Sugar)
A delicious and refreshing tart muddled mint lemonade recipe that will make you feel like you're on vacation!
Author: Caroline Phelps
Prep Time:

5 minutes

Total Time:

5 minutes

Yield:

4

drinks

1

x
Category:

Drinks

Cuisine:

American
6

lemons

1/4 cup

granulated sugar

6 cups

cold water

30

–

40

mint leaves
Ice cubes
Instructions
Put sugar along with 1/2 cup water in a small pot and cook on low until the sugar has dissolved (1 minute). Let cool for a few minutes.
Juice the lemons and get rid of the seeds. Add the lemon juice to a pitcher and add 4 cups of water.
Add sugar syrup to the pitcher and mix well.
Add more water or plenty of ice cubes if you find the lemonade too strong.
Put 6-10 mint leaves into each cup and muddle for a few seconds using a pestle. Add a little lemonade and muddle for a few more seconds.
Finish this lemonade recipe by filling each glass 3/4 full and adding a few ice cubes.
Notes
This fresh lemonade recipe will keep in the fridge for 5-7 days.
This Mint Lemonade Recipe Is:
Cholesterol-Free
Low in sodium
Very high in vitamin C
Nutrition
Serving Size:

1 drink

Calories:

74

Sugar:

14.7 g

Sodium:

2.2 mg

Fat:

0.3 g

Saturated Fat:

0 g

Carbohydrates:

20.7 g

Fiber:

2.5 g

Protein:

1 g

Cholesterol:

0 mg
Keywords: recipe, beverage, lemons, summer drink, vegetarian, vegan, gluten-free
Recipe Card powered by