Get ready to sink your teeth into the best Slow Cooker Pinto Beans Recipe! Slow cooked perfection!
My Japanese mother LOVES making beans.
You see, I grew up in Quebec, where the cold winds blow for a disproportionately long time each year. And my mom took breaks from crafting perfect onigiri and making dashi from scratch to cook North American dishes as well.
Yep, she loved to whip up comfort food classics for my brother and me, like the best tuna salad sandwich (ever) and – my favorite: rustic ham and beans. I wanted to see if I could make a pinto beans recipe in the slow cooker that might approximate my mother's ham and beans, while keeping it entirely vegetarian.
The result is a simple slow cooker pinto beans recipe that's hearty and comforting. The flavors are quite subtle so I suggest doing a taste test once the beans are cooked and seasoning it to your own liking.
These days, making pinto beans in a crock pot is totally my thing!
What are Pinto Beans?
Pinto beans are the most popular bean in the United States and portions of Mexico!
Yep, aside from being commonly used in stews and chili, pinto beans are also the legumes used to make refried beans – the ubiquitous mashed Mexican beans that are served alongside rice and tortillas at your favorite Mexican restaurant.
These speckled brown beans are hearty, nutrient dense (more on that in a sec) – and the absolute perfect choice for this easy slow cooker pinto beans recipe.
Do you have to soak beans before cooking them?
Now, full disclosure: I've usually subscribed to the overnight-soak school of thought. While not scientific by any means, I've found that soaking overnight sits right in the sweet spot between long enough and not too long. It seems to improve their texture and make them more palatable.
However, there are a few general thoughts on soaking beans that I'll share with you here. Your mileage may vary.
The Overnight Soak: Rinse your dry pinto beans and place in a large bowl. Cover beans with water (2-3 inches of water above the top of the beans). You can add a bit of kosher salt if you'd like. I usually don't. Soak between 6-12 hours, rinse and cook.
The Quick Soak: Rinse your pinto beans and place in a

pot

on the stovetop. Cover with water – and bring to a boil. Then turn off the heat and let your beans soak in the hot water for about an hour-and-a-half. Rinse again and cook.
The No Soak: Did you know your beans don't actually require a soak to cook up? It's true. You can rinse and cook straight away. Typically, they will require a longer cooking time to achieve doneness. And, in the past, I've found beans that weren't soaked to be slightly course in the texture department.
All of these methods are fine for preparing pinto beans for the slow cooker.
I still say, if you're on the fence, nail-biting and wondering how do you make the BEST beans – give them a soak!
How to cook pinto beans
While a simmering pot of pinto beans on the stove top is a wonderful thing in the sights-and-smells department, for this slow cooker pinto beans recipe I went with the crock-pot. Using the slow cooker gave the flavors time to fully develop and infuse all of that savory goodness to the center of the pinto beans.
After the overnight soak and final rinse, place your pinto beans into the slow cooker.

In a large pan over medium high heat, add a couple tablespoons of extra virgin olive oil and cook 4 cloves of minced garlic, a finely chopped onion and 4 chopped celery stalks for about 6-7 minutes.

Once the veggies are done, add them to the pinto beans in the slow cooker along with smoked paprika,

chili powder

and dried thyme.

Toss in 2 bay leaves (remove these just before serving), a pinch of coarse sea salt and cover the whole thing with 4 cups of water.
Easy right!? And now just let the slow cooker do its thing.
How long does it take to cook pinto beans in a slow cooker?
Since I used a simple slow cooker, there was really only a high and low setting. I tried it both ways just to see if there would be a difference in taste or texture with the final dish.
On low it took about 6-7 hours for the pinto beans to be perfectly cooked. Great for those times you just want to set it and forget it.
On high, 4 hours seemed to be the sweet spot for cooking pinto beans with more intense heat.
Long story short: everything turned out well with both settings. The setting you use will really come down to how quickly you want to eat dinner!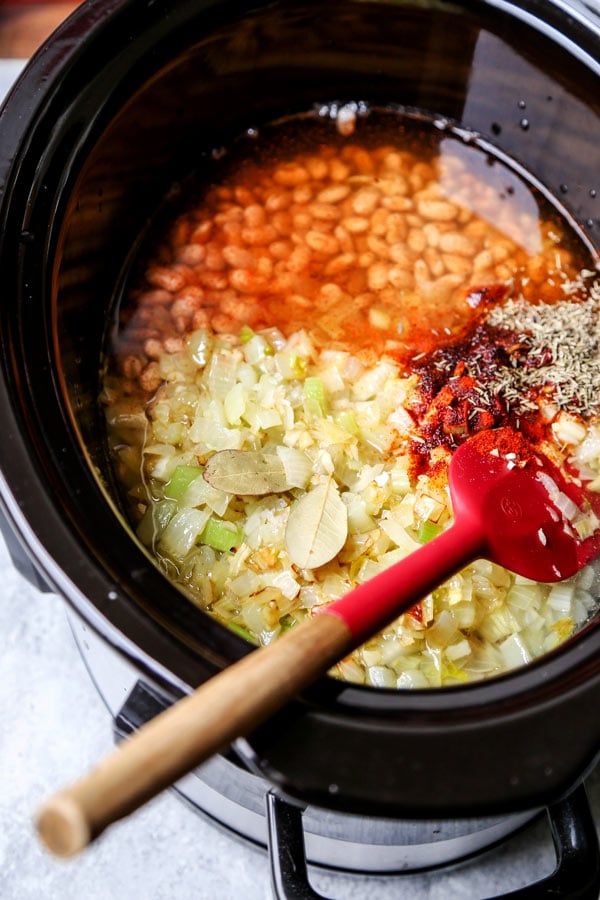 Are these slow cooker pinto beans vegetarian?
Yes!
Actually, this thick and savory pinto beans recipe is completely vegan.
I was worried that the omission of meat or broth might result in washed out flavors – but that worry was for nothing! The garlic, onion and celery that I used as aromatics worked in tandem with the bold smoked paprika, chili powder and thyme to build layers of satisfying almost smoky flavor.
This easy to make vegan pinto beans recipe has quickly become one of my all time favorite bean recipes.
What can replace pinto beans?
I find that pinto beans are perfect for this slow cooker recipe. So pinto beans are my ultimate recommendation, hands down. However, in a pinch you could substitute other beans that display general similarities.
Borlotti beans (also known as cranberry beans or Roman beans) have a very similar appearance to pinto beans. Great in soups and stews, these beans are used primarily in Mediterranean cuisine.
Red kidney beans are a decent substitute for pinto beans in that their inner texture is similar. However, a word of warning: the skin on kidney beans is tougher than that of the pinto bean. That may influence the texture of the overall dish.
Anasazi beans (also called Aztec beans) are in the same family as pinto beans – and are used in many Latin American dishes. While this ancient bean is a decent alternative to pinto beans, keep in mind that it cooks much more quickly.
Even though these are a few great alternatives to use in a pinch, I'd still say, when it comes to this yummy slow cooker pinto beans recipe, head to the store and grab pintos if you can!
What to serve with slow cooker pinto beans
Serve these hearty beans as part of a warming winter feast – or as a mid-summer BBQ side dish at the cookout. They're super versatile! They work with anything from these vegetarian stuffed peppers to baked potato chips with paprika and salt to… well, pretty much anything. You get the idea 🙂
Bon appétit!
And here are a few other delicious bean recipes:
Did you like this Slow Cooker Pinto Beans Recipe? Are there changes you made that you would like to share? Share your tips and recommendations in the comments section below!
Print
Slow Cooker Pinto Beans
Savory like a traditional pork and beans recipe, this Slow Cooker Pinto Beans recipe is 100% vegan!
Author: Caroline Phelps
Prep Time:

10 minutes

Cook Time:

4 hours

Total Time:

4 hr 10 min

Yield:

8

-

1

0

1

x
Category:

Vegan

Method:

Slow Cooker / Crock Pot

Cuisine:

American
1

pound, dry pinto beans

2 tablespoons

extra virgin olive oil

4

garlic cloves, minced

1

medium onion, finely chopped

4

celery stalks, chopped

1 1/2 tablespoon

chili powder

1 tablespoon

smoked paprika

1 teaspoon

dried thyme

2

bay leaves

4 cups

water, chicken or vegetable broth

2 teaspoons

coarse sea salt
Instructions
Rinse the pinto beans and soak in cold water overnight.

Drain the beans, rinse and drain again and add them to the slow cooker.

In pan over medium high heat, add extra virgin olive oil, garlic, onion and celery and cook for 6-7 minutes, until onions are translucent. Turn the heat off and add the vegetables to the slow cooker.

Add all the remaining ingredients and slow cook on low for 6-7 hours, until the beans are tender, or on high for 4 hours.

Remove the bay leaves and serve.
Notes
You can store leftovers of this slow cooker pinto beans recipe in the fridge for 3-4 days.
Nutrition
Serving Size:

1/2 cup cooked beans

Calories:

237

Sugar:

1.9 g

Sodium:

166.2 mg

Fat:

4.3 g

Saturated Fat:

0.7 g

Carbohydrates:

37.7 g

Fiber:

9.4 g

Protein:

12.5 g

Cholesterol:

0 mg
Keywords: vegan, vegetarian, slow cooker, crock pot, pinto beans
Recipe Card powered by