If you're looking for a hearty, yet healthy soup recipe, this navy bean soup is the perfect choice. Made with simple ingredients that you probably already have in your pantry, this soup comes together easily. Plus, it's a great way to sneak in some extra veggies into your diet! And since it only uses one pot, clean up is a breeze!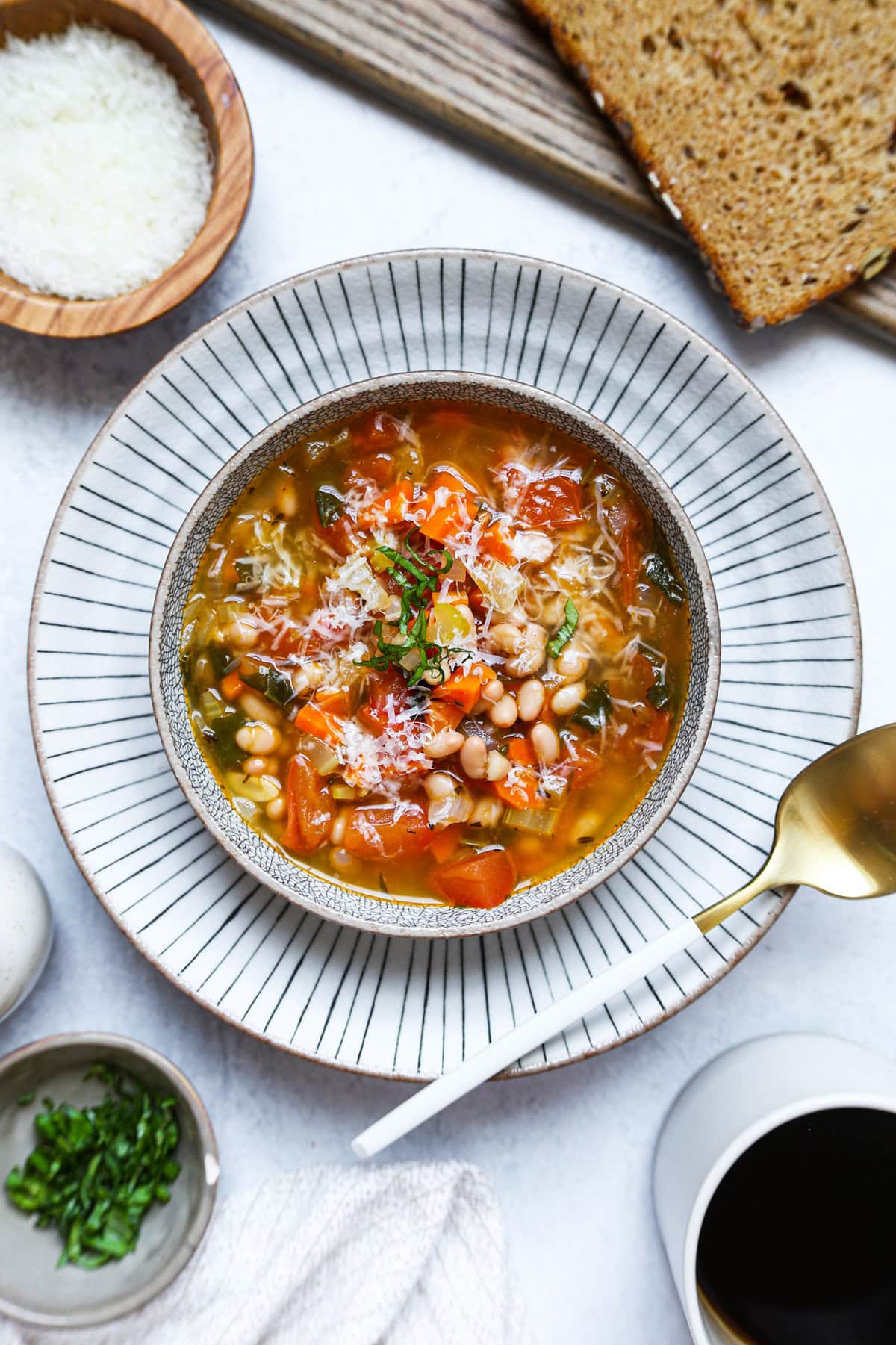 Navy Bean Soup Ingredients
Olive oil: Olive oil is a healthy fat that provides essential nutrients and antioxidants. You will need 2 tablespoons to saute the vegetables.
Dried thyme: Dried thyme is a flavorful herb that adds a touch of earthiness and gives this bean soup lots of depth of flavor.
Mirepoix: Mirepoix is the French term used in cooking to explain mixed vegetables that are cooked on low heat to create the base of a dish. The mix I am using for this soup is onion, celery, and carrot.
Tomatoes: Tomatoes add a touch of sweetness and acidity to the soup. They are also a good source of lycopene, an antioxidant that has many health benefits.
Stock: Stock provides the base for the flavor of the dish. In this navy bean soup recipe, you can use either chicken or vegetable stock.
Canned navy beans: Navy beans are a type of small, white bean that is often used in soups and stews because of their creamy texture when cooked. They are a good source of protein, potassium, and fiber, and are low in fat.
Garlic cloves: 3 cloves are used to infuse a little sweetness and give the soup a lovely aroma.
Baby spinach: I've added 2 cups of baby spinach to make this soup more wholesome. It is a good source of vitamins and minerals, and adds a pop of color.
Lemon: Lemons add a touch of acidity and give the soup a bright and cleansing taste. It's also packed with vitamin C.
Parmesan cheese: Optional but I always like to add a couple of spoonfuls of it! Parmesan cheese adds creaminess and umami, giving it a hearty element.
Fresh basil leaves: Also optional, shredded basil leaves are aromatic and refreshing.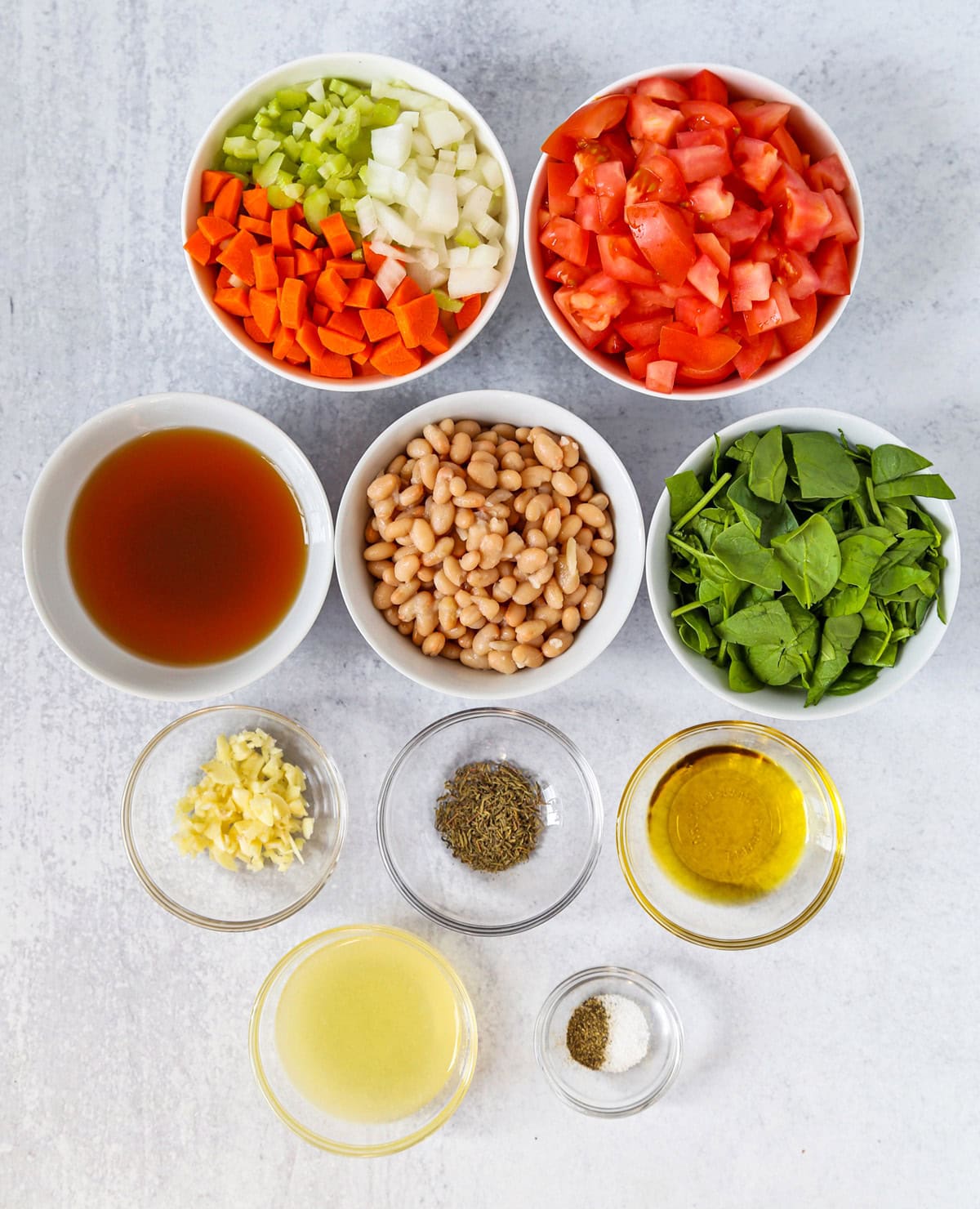 Ingredient Substitutions
If you don't have all of the ingredients on hand to make this homemade bean soup, no need to worry! Here are a few substitutions that can be easily made:
Use leek or shallots instead of an onion.
Use dried oregano in place of the thyme.
Replace the baby spinach with regular spinach or baby kale.
Use canned cannellini beans, great northern beans, or chickpeas, in place of the navy beans.
Use Pecorino Romano, Grana Padano, or Gruyère cheese in place of the parmesan cheese.
You can also use bacon, leftover ham, ham hock, or a ham bone to add a salty and meaty element.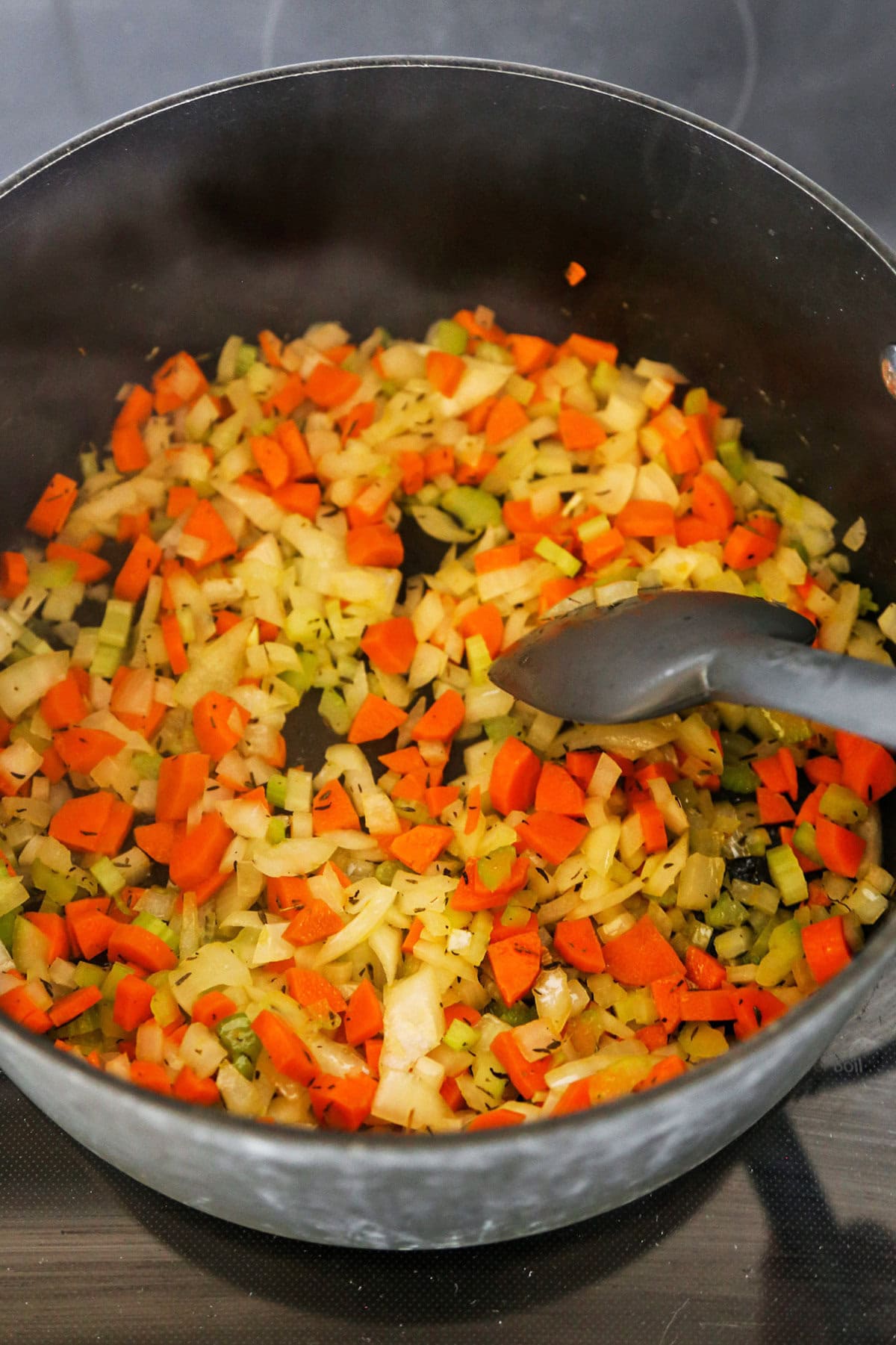 How To Make Navy Bean Soup (Instructions)
Scroll all the way down to the recipe card for the full recipe.
In a large pot, heat the olive oil over medium heat.
Add the onion, celery, carrot, and tomato, and cook until softened, about 5 minutes.
Add the vegetable broth or chicken broth, navy beans, garlic, and bring to a simmer. Boil for 25 minutes.
Add the spinach and lemon juice and stir.
Serve topped with grated parmesan cheese and garnish with basil leaves. Serve warm.
How To Quick-Soak Beans
If you would rather use dried beans but forgot to soak them overnight, here's an easy way to quick-soak them so they are ready to be used in just about an hour! This quick soak method works well for just about any type of bean:
Wash the navy beans to remove any dirt and drain them well.
Add about 2 tablespoons of water to a large pot, along with 8 cups of water, and the beans. Stir well.
Bring the water and beans to a boil and cook for about 5 minutes. Turn the heat off, cover with a lid, and let the beans soak for about 60 minutes.
Drain the beans, rinse them well, and drain again.
Your beans are now ready for the soup! You might need to boil the soup for a bit longer depending of the type of beans you are using and how old they are. I have once bought a batch of navy beans that took ages to cook because they were probably not very fresh.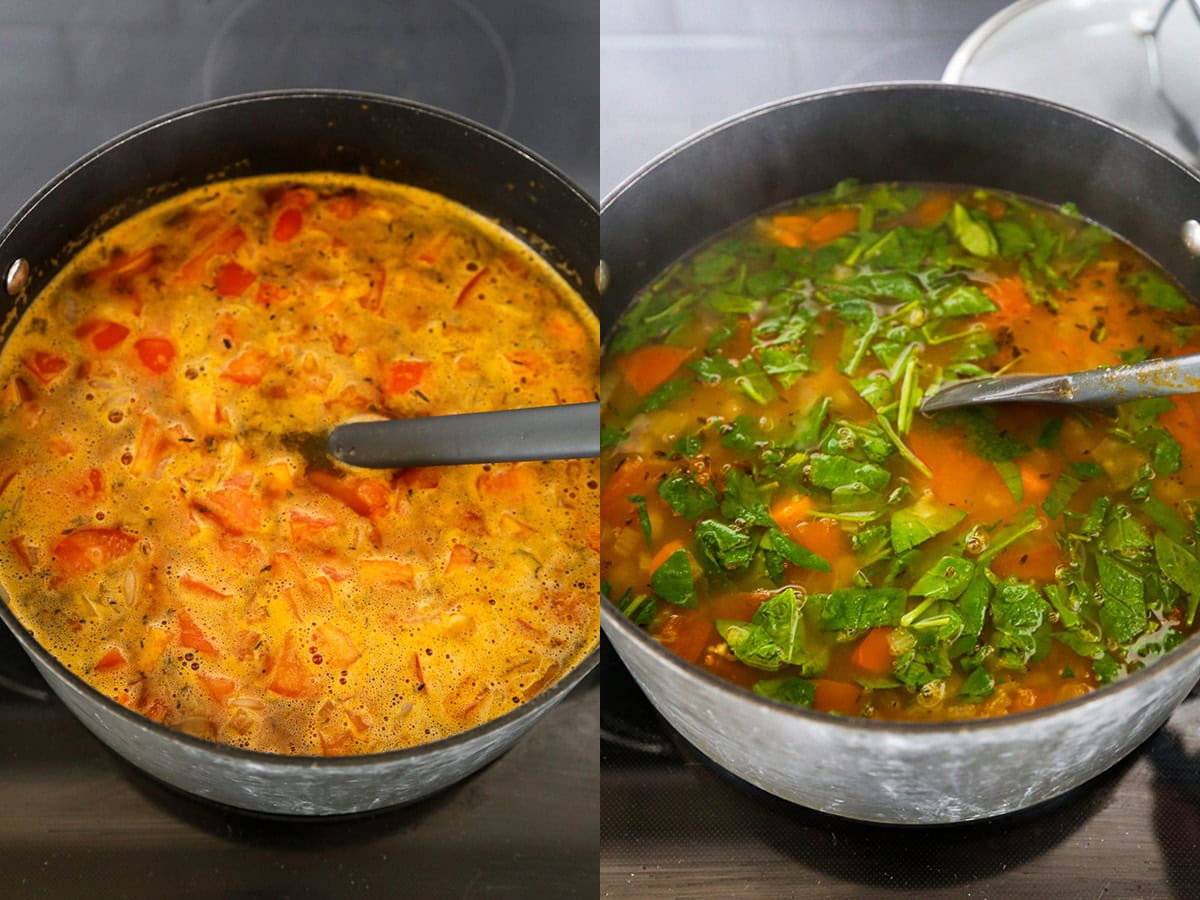 How To Thicken Navy Bean Soup
If you prefer your soups on the thicker, heartier side, here are some easy tips on how you can thicken them:
Cook the soup on low without the lid on, for a longer time, to let some of the liquid evaporate.
Make your soup in a slow cooker. This is another way to let some of the liquid evaporate but also the slow cooking will naturally thicken the soup.
Mash some of the beans before adding them to the pot. Use about a quarter of your beans, up to a third, depending on the desired thickness. Or you can use an immersion blender once the soup is cooked and give it a quick blend. Make sure it's quick so you don't end up with a puree!
Start the soup by making a roux, which is a mixture of flour and butter. Start by making your mirepoix (cooking the onion, celery, and carrot) in the pot and then transfer it to a bowl it when the veggies are cooked. Add an equal amount of flour and butter (about 2 to 3 tablespoons of roux per cup of liquid) to the pot and cook on low, stirring often, until the mixture turn light brown. Return the mirepoix to the pot and mix it in with the roux. Slowly add your stock, stirring frequently, and finish by following the recipe steps.
Add cornstarch. I'm personally not a huge fan of this one because it's not exactly the texture I enjoy having with a bean soup. But it's an easy way to thicken soup! Mix a little cornstarch with cold water and slowly stir it into the hot soup. A little goes a long way with cornstarch so make sure you start with just a little – 1 or 2 teaspoons, and work your way up.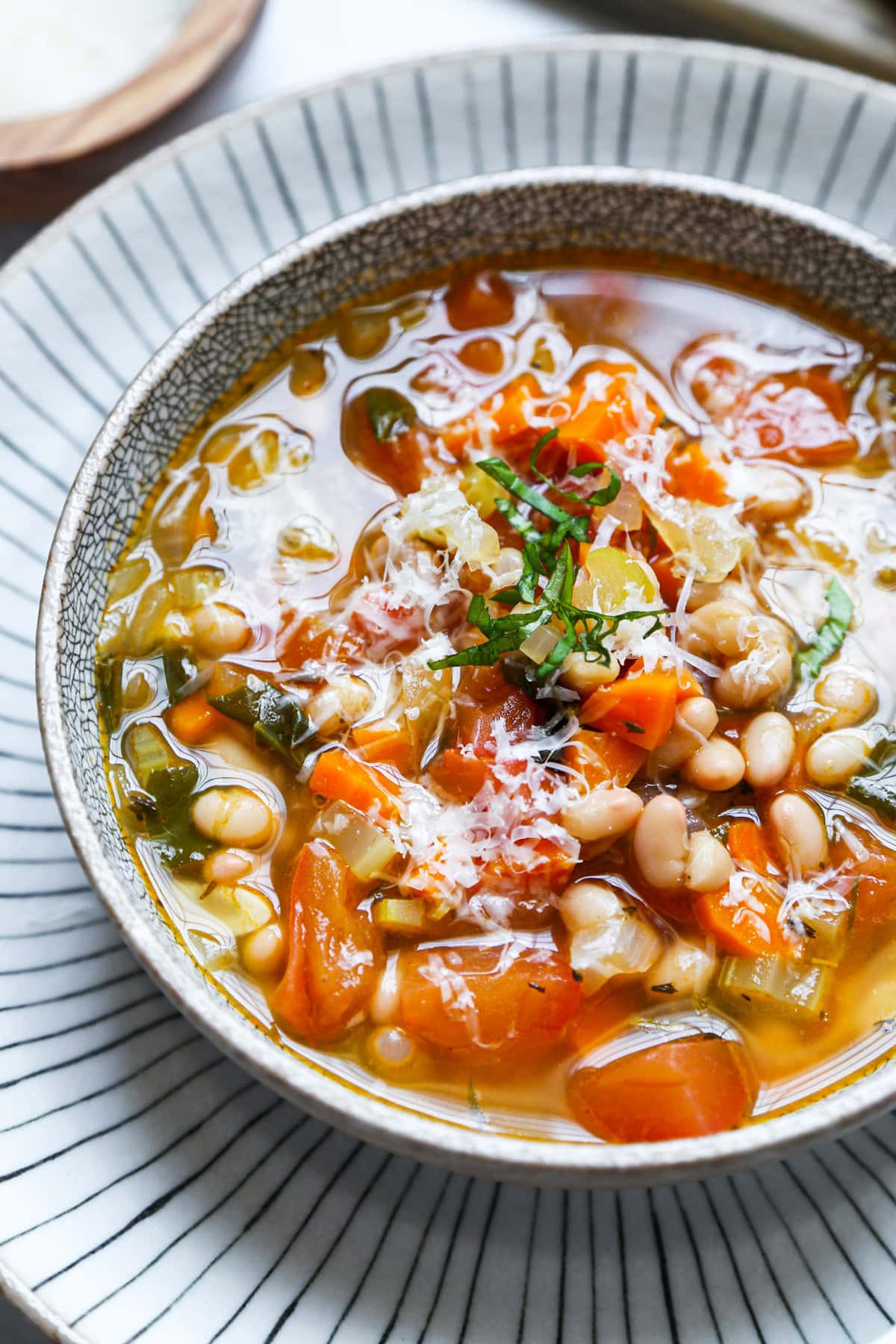 How To Store This Navy Bean Soup
Leftovers for this soup can be stored in an airtight container in the refrigerator for up to 3 days. Reheat on the stove over medium heat until warmed through.
This white navy bean soup can also be frozen for up to 3 months, in an airtight storage container. I recommend dividing the servings and freezing them separately. Thaw in the refrigerator overnight before reheating.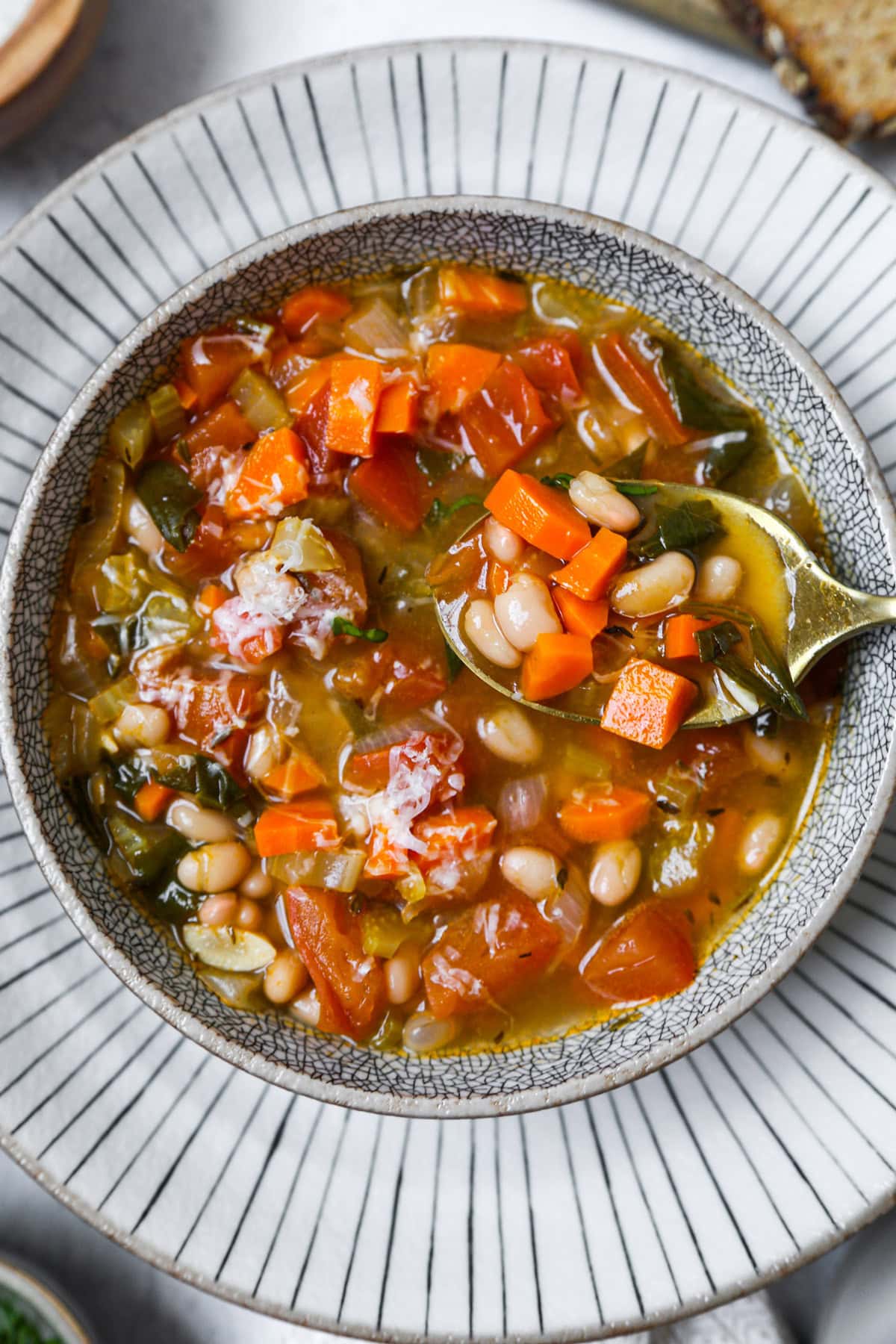 What To Serve With Navy Bean Soup
Whether you're feeding a large family or just looking for leftovers for the week, this navy bean soup recipe is an easy meal that can be served as an appetizer or a main dish.
My favorite way to serve this homemade bean soup is with a simple green salad and/or some crusty bread like a baguette.
If you would like to serve it as a started, here are some delicious main dishes that pair beautifully with it:
Tasty Main Dishes to Pair with Navy Bean Soup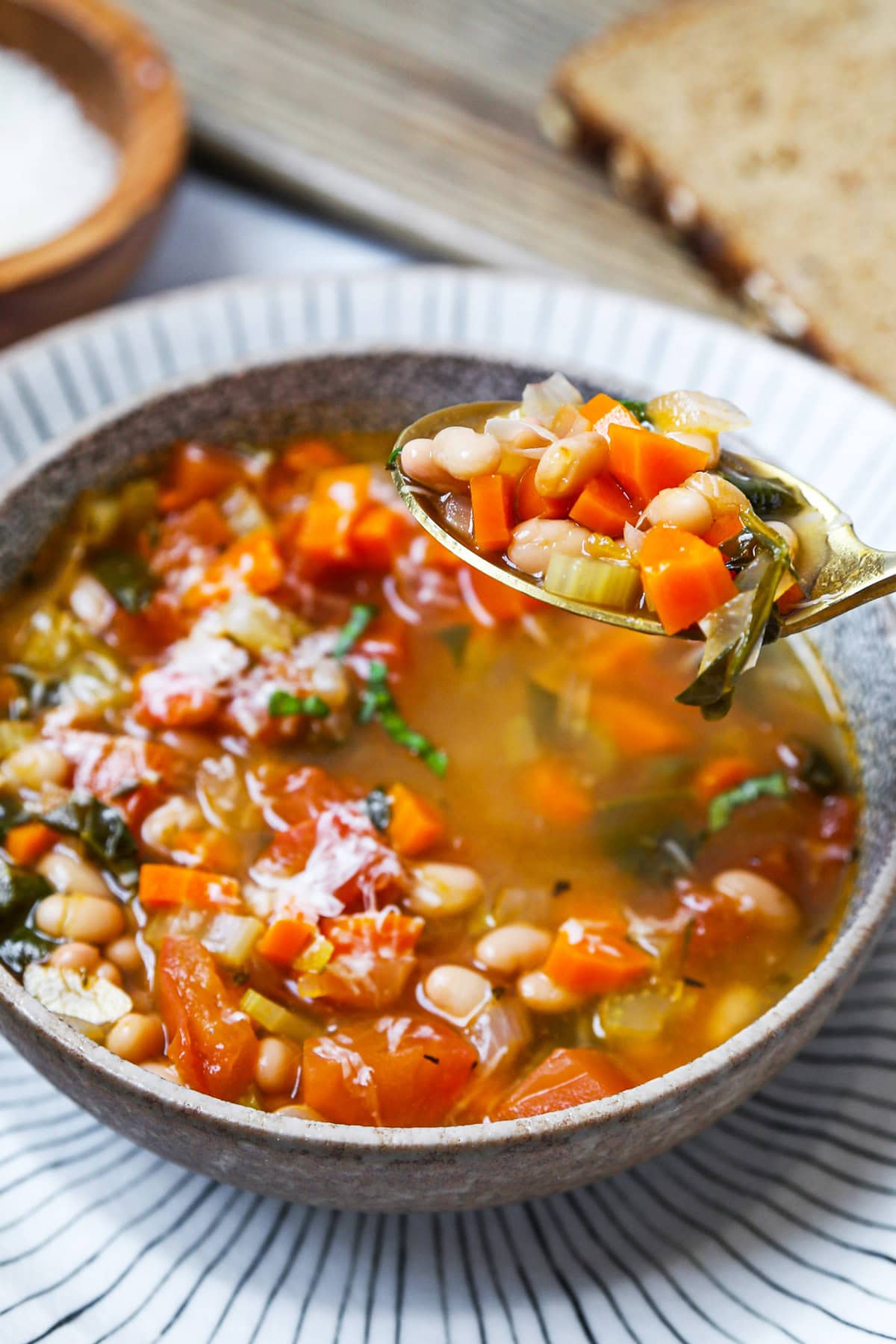 Do you have a favorite navy bean soup recipe? Share in the comments below! And if you try this recipe, be sure to let us know how it turned out!
Print
Navy Bean Soup
An easy, family friendly navy bean soup that's hearty and comforting.
Author: Caroline Phelps
Prep Time:

20 minutes

Cook Time:

25 minutes

Total Time:

25 minutes

Yield:

6

servings

1

x
Category:

Soup

Method:

Boiling

Cuisine:

Italian

Diet:

Vegetarian
2 tablespoons

olive oil

1/2 teaspoon

dried thyme

1

medium onion, finely chopped

2

celery stalks, finely chopped

2

medium carrots, finely chopped

2

medium tomatoes, chopped

6

cups

vegetable broth or low sodium chicken broth
2

15

–

ounce

cans navy beans, rinsed and drained

3

garlic cloves, minced

2

cups

baby spinach, chopped
Juice from

1

lemon
Salt and ground black pepper, to taste
Grated parmesan cheese (optional)
Fresh basil leaves, chopped (optional)
Instructions
Add the olive oil to a large pot over medium high heat.
When the oil is hot, add the dried thyme and onion and saute for 2 minutes, until the onions are translucent.
Add the celery and carrot and saute for 2 minutes, until the vegetables have started to soften.
Add the tomatoes, stock, navy beans, garlic, and stir. Bring the soup to a boil and lower the heat to a bubbling simmer. Cover and cook for 25-35 minutes, until the vegetables are tender.
Add the chopped spinach and stir until the spinach has wilted.
Turn the heat off and stir in the lemon juice. Taste the soup, add salt and pepper if needed.
Top each bowl with about 2 tablespoons of grated parmesan and a couple of freshly chopped basil leaves.
Notes
Store the leftover in an airtight container and refrigerate for up to 3 days.
Nutrition
Serving Size:

1 bowl

Calories:

275

Sugar:

4.1g

Sodium:

604.5mg

Fat:

7.2g

Saturated Fat:

1.4g

Unsaturated Fat:

1.2g

Trans Fat:

0g

Carbohydrates:

39.2g

Fiber:

9.2g

Protein:

17.1g

Cholesterol:

0.6mg
Recipe Card powered by