If you like spicy and pungent flavors, this vegetarian laksa recipe has your name on it! Plus, you won't believe how easy it is to make – only 10 minutes of prep time is required for a delicious bowl of noodles packed with Southeast Asian flavors.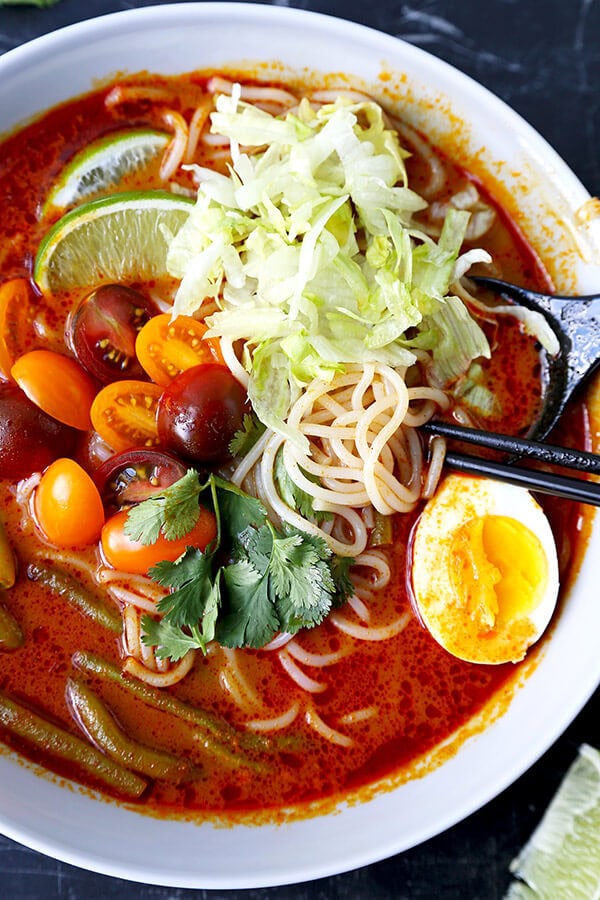 Easy Vegetarian Laksa
I don't want to sound like I'm bragging but I'm really proud of this dish – this vegetarian laksa is amazing!
This is the kind of noodle soup I could eat for breakfast, lunch and dinner because it contains so many of my favorites ingredients; coconut milk, red curry paste, curry powder, chili paste, palm sugar, noodles, lime and cilantro. There's nothing more appealing than a bowl of bright orange broth and noodles topped with loads of veggies to make me want to dive in and devour. And you know it's going to be spicy and in your face when you can clearly see the mixture of coconut milk and red curry paste separate. Must. Eat. Now.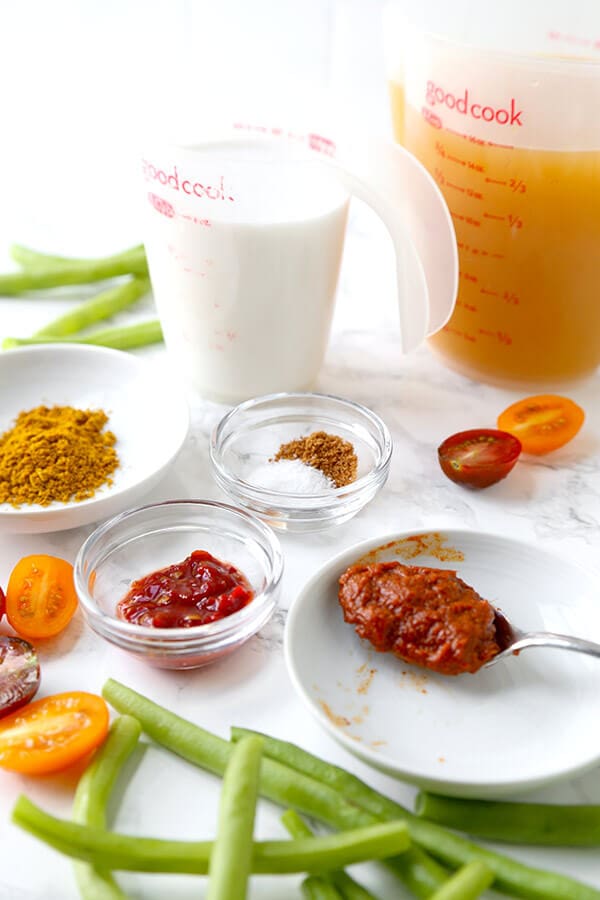 The last bowl of laksa I had was in Singapore a few months ago during a two-week long vacation with Ben and my mother. It was a rainy day so we decided to spend it at Suntec City Mall, a massive shopping complex with over 360 shops and restaurants. We could have easily stayed there until closing time but a boat ride and seafood dinner were scheduled that evening. We strolled around the complex, found a Gudetama Cafe – a Line sticker I find adorable – shopped in a few stores, treated my mother to a Swarovski watch and ended up in the food court for a late lunch.
I quickly scanned the court and made a beeline to the laksa counter as soon as I saw the sign. The last time I had authentic laksa was 20 years ago when I used to live in Singapore and Malaysia, so you can imagine how excited I was to be standing there eagerly waiting for a taste of it! My mother on the other hand had never tried it but decided to give it a shot since she loves seafood and curry. We watched the lady fill our bowls with baby scallops, shrimp, squid, fried shallots, rice noodles and poured a ladleful of pungent yet aromatic milky golden liquid. She topped our laksas with fresh cilantro, half a boiled egg and placed the bowls on on a tray. Lunch was ready.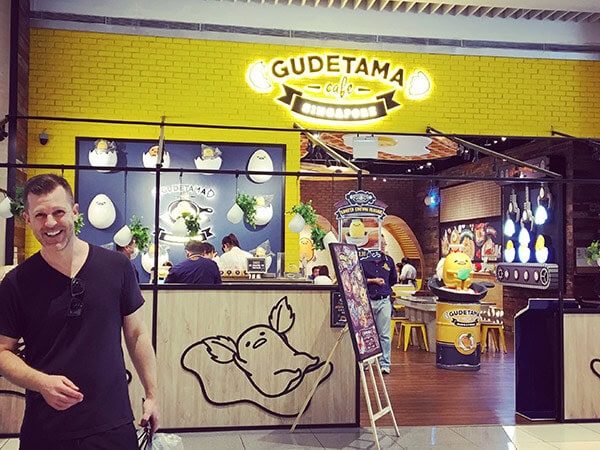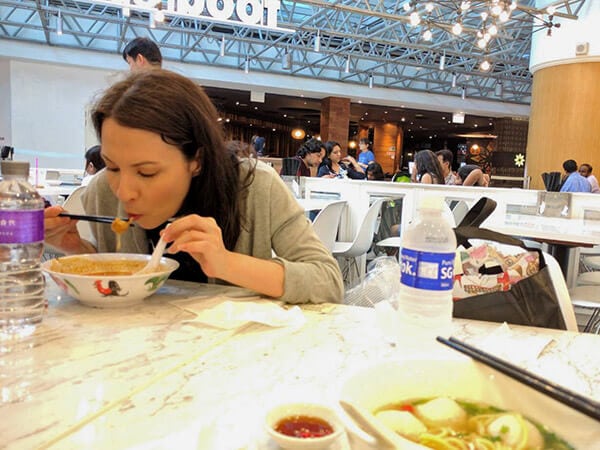 We joined Ben who was sitting in front of a hot bowl of egg noodles with fish balls bobbling in clear broth and began our decent into Southeast Asian food heaven. The first slurp made me feel nostalgic for the times when I could easily have access to dishes like this one. I was taken back to the days when a food court in Singapore was an adventure and every single thing on the menu was a discovery, a new adventure for my tastebuds. I walked around and stared at menus and pictures, mesmerized by the bright colors and weird looking ingredients. I always ended up following my nose, trusting that what smelled good must also taste good. That theory worked just fine – 85% of the time I was happy with what was on my plate while the other 15% was still enjoyable, just not something I would order again. My palate grew so much there, for the first time in my life I was tasting what good, addictive pungent food was all about and I couldn't get enough of it!
The second sip I took confirmed that I was in the presence of good laksa. The broth was perfect; milky, silky, not too fishy but enough that you could taste the dried baby shrimp that made the base for the soup. I then I looked at my mother's facial reaction to see what she thought of it – she was in love. We both sat in silence slurping our noodles, chewing on seafood and letting out a quiet "mmm" every now and then. That's what happens when you have good food in front of you, it becomes the only thing that exists. I get tunnel vision, go deaf and lose the ability to speak – it's best the feeling in the world.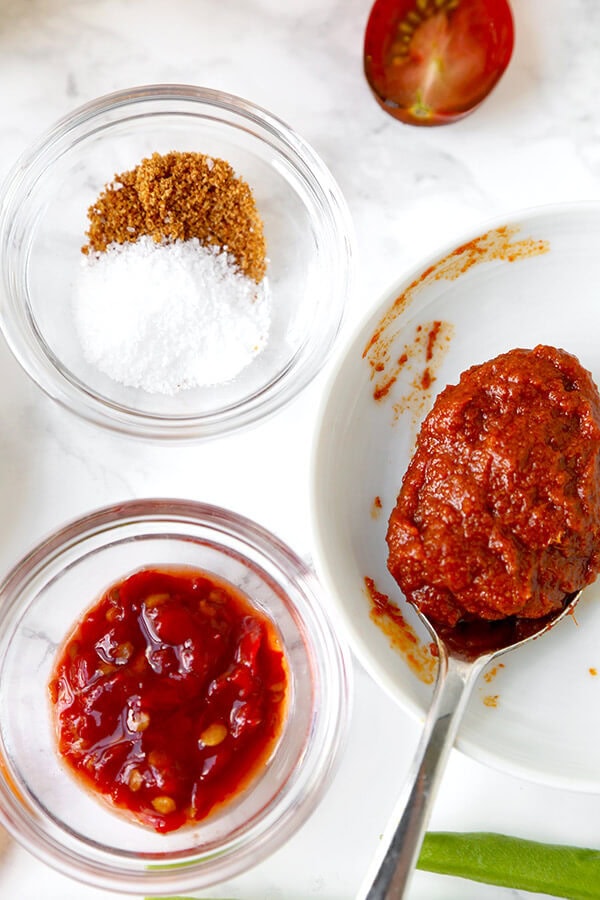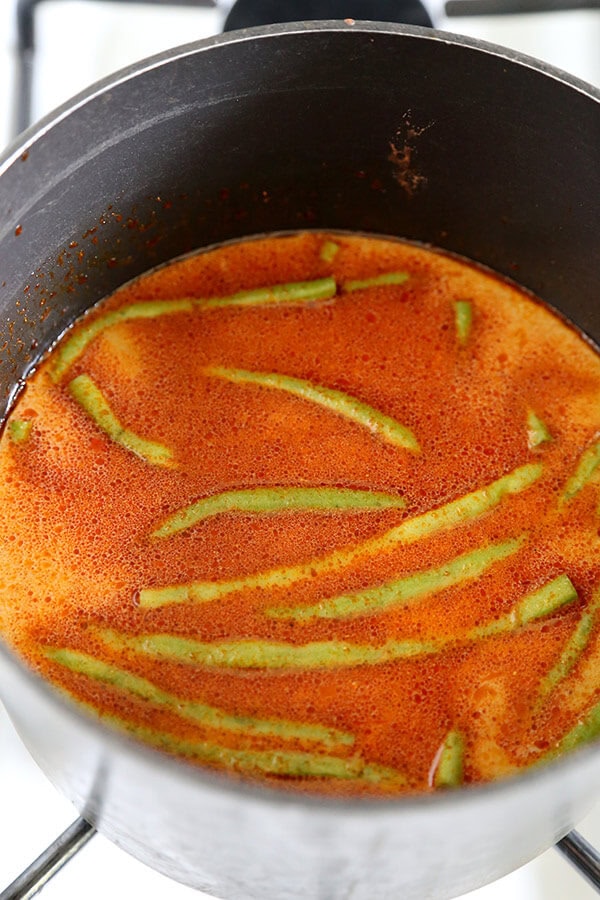 Just like any great vacation, this trip to Singapore felt too short. The saving grace was that our vacation wasn't over yet – we still had one more week in Tokyo. When you travel to places renowned for their cuisines, it is necessary to try as many dishes as you can because food is a big part of the culture. You would be remiss if you didn't gain a few pounds during your stay!
This vegetarian laksa may not have the same level of pungency as a seafood laksa would but is just as delicious nonetheless. The use of fish sauce is optional though I highly recommend squirting a good spoonful for maximum satisfaction. You can also add different toppings to it if you don't have cherry tomatoes or green beans on hand. You can use bean sprouts, bamboo shoots, cabbage or tofu as a substitute. So long as the broth stays the same this laksa recipe is very versatile!
The broth can be made ahead of time and will keep refrigerated for up to 4 days.
Other delicious curry and coconut milk base recipes: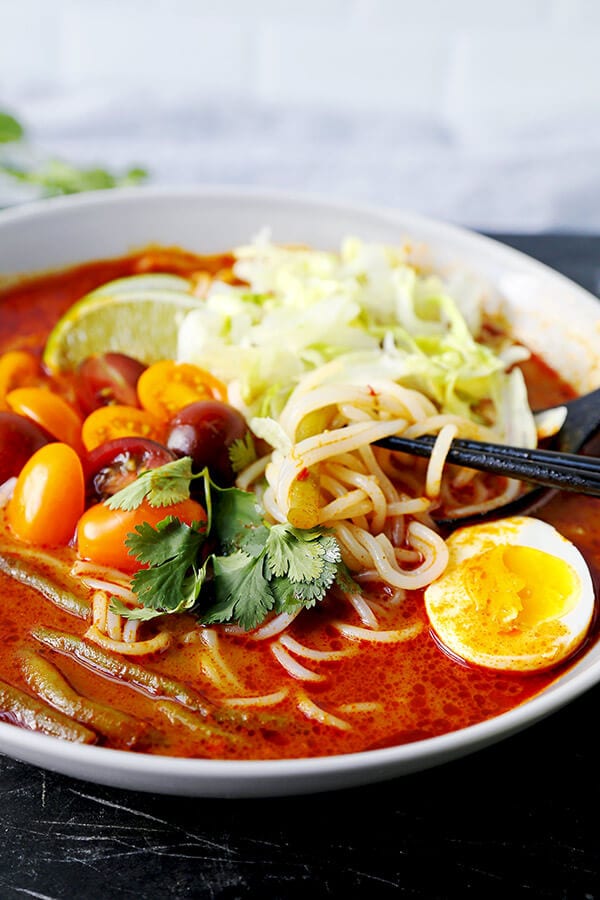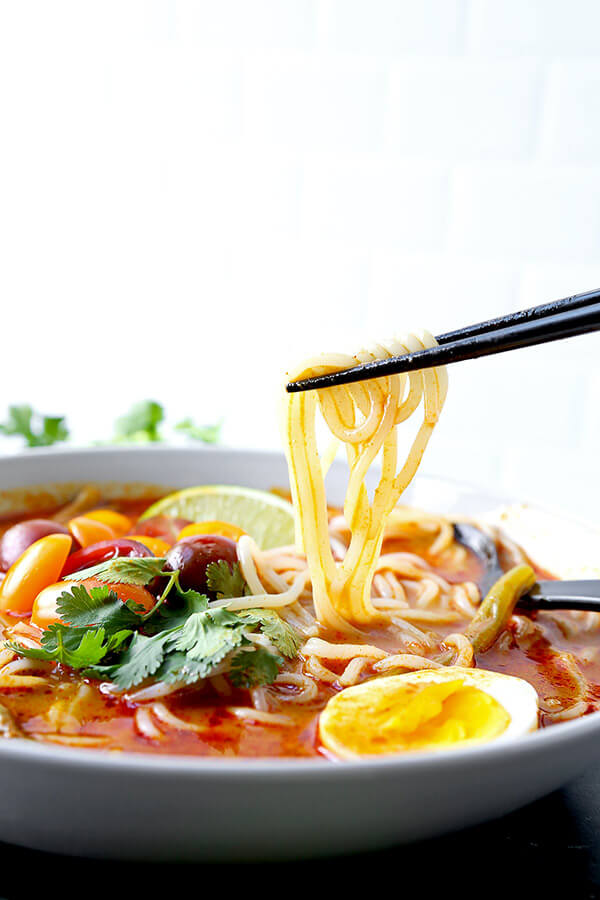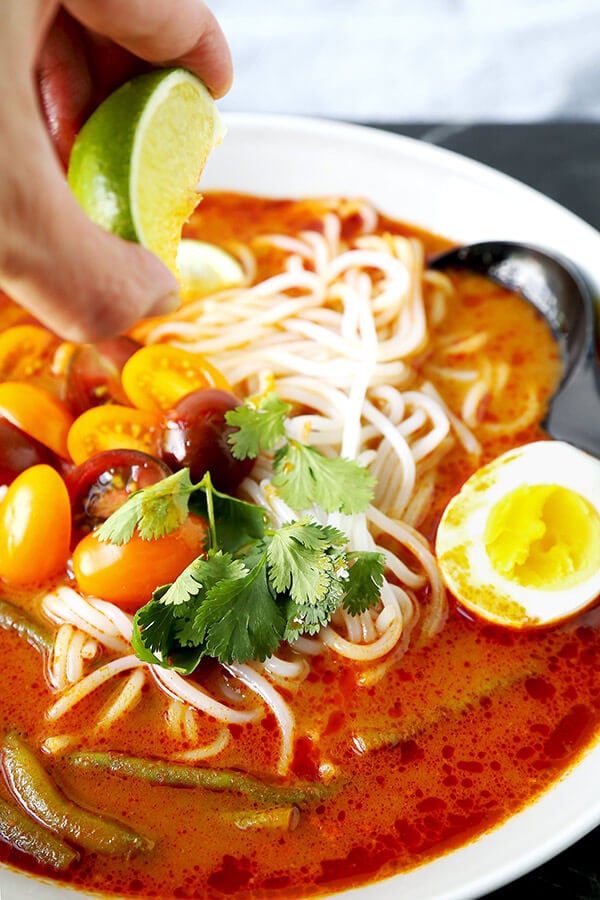 Did you like this Vegetarian Laksa Recipe? Are there changes you made that you would like to share?
Print
Vegetarian Laksa
A classic Malay dish minus the meat (egg is optional too!)
Author: Caroline Phelps
Prep Time:

10 minutes

Cook Time:

45 minutes

Total Time:

55 minutes

Yield:

2

people

1

x
Category:

Soup

Method:

Boiling

Cuisine:

Malaysian
1 tablespoon

vegetable oil

5

–

6

tablespoons red curry paste  – use 6 tablespoons if you like it pungent

2 cups

vegetable broth

1 cup

light coconut milk

1 teaspoon

curry powder

1/2 teaspoon

kosher salt

4 teaspoons

palm sugar or

3 teaspoons

granulated sugar

1 teaspoon

sambal oelek or other chili paste

1 cup

green beans, end trimmed

11 oz

fresh laksa, vermicelli or ramen noodles (alternatively you can use

6

–

8

oz dry noodles)

8

–

10

cherry heirloom tomatoes or regular cherry tomatoes, sliced in half
Laksa toppings:
3/4 cup

shredded lettuce

1

large boiled egg, sliced in half  (optional)
cilantro leaves
lime wedges
For non vegetarians:
Instructions
In a saucepan over low heat, add oil and curry paste. Stir well and cook for 8-10 minutes, stirring frequently, until the paste is darker in color.
Add a little vegetable stock and stir until the curry paste has dissolved.
Add remaining vegetable stock, coconut milk, curry powder, salt, sugar, sambal oelek and green beans. Stir and bring to a boil. Lower heat, cover and simmer for 30 minutes.
Boil or warm up noodles according to instructions on the package. Drain and divide among two bowls.
Pour broth over the noodles and top with lettuce, eggs, cilantro and lime wedge. Serve immediately.
Serve with a side of fish sauce for those who aren't vegans or vegetarians.
Notes
I like to use 1/2 tablespoon of fish sauce per bowl of laksa to add even more pungency since I like mine as authentic as possible (minus the seafood).
Nutrition
Serving Size:
Calories:

948

Sugar:

16.6 g

Sodium:

2411.9 mg

Fat:

28.8 g

Saturated Fat:

22.8 g

Carbohydrates:

154 g

Fiber:

7.7 g

Protein:

15.8 g

Cholesterol:

3.5 mg
Keywords: recipe, noodle soup, vegetarian, meatless, Asian
Recipe Card powered by