This is a quick and easy vegan creamy tofu ginger salad dressing that's spicy, tangy and a little sweet. Ready in just 5 minutes!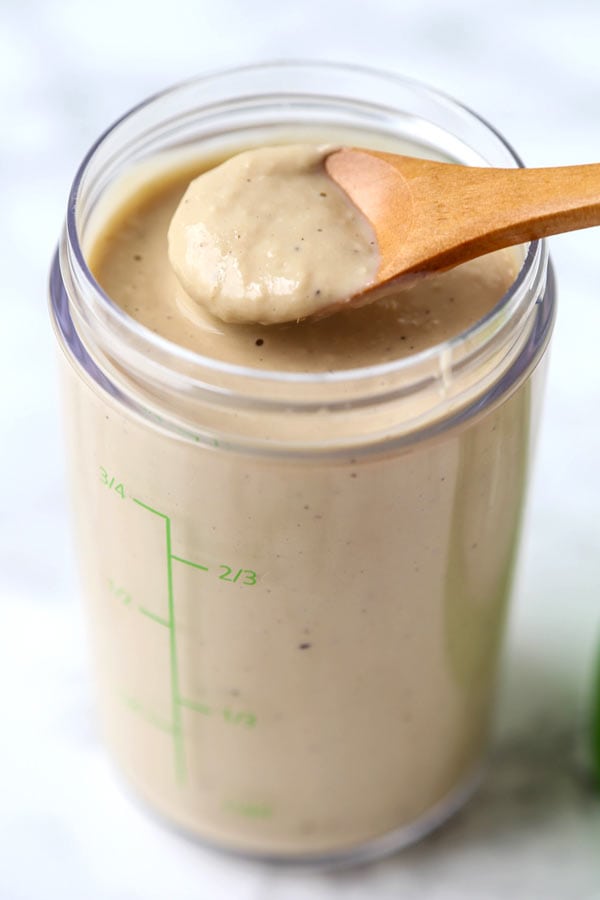 Creamy Tofu Ginger Salad Dressing
Hello silken tofu. I love your delicate texture and mild sweetness that reminds me of a tall glass of soy milk. So delicious!
I also love the cooling effect you bring to dishes when they need lightening up.
The only downside to you, silken tofu, is that you don't last very long.
It's true, I'm a big silken tofu consumer and sometimes I wish it could be sold in smaller blocks. The reason being that it only stays fresh for 3-4 days before it turns a yellowish color and starts to smell funky.
Luckily, I've gotten better at diversifying the use of silken tofu. I'll add it to my smoothies and lately I've been adding it to sauces and salad dressings, such as in this super easy creamy tofu ginger dressing.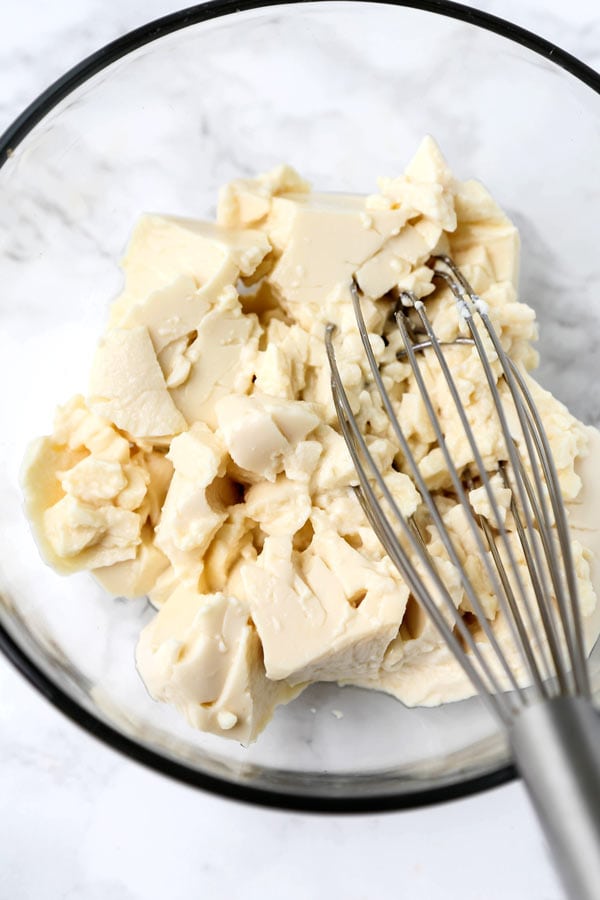 It's an easy way to turn a dairy based dish or condiment into a vegan one. Ben and I have been experimenting a lot with different substitutes and find that using silken tofu instead of nut based ingredients is better in terms of texture and flavor.
For example, we tried the soaked almonds method to make a carbonara sauce but the flavor was too nutty and grainy for our liking.
So we tried another recipe using silken tofu instead and couldn't believe how good it came out. The sauce was savory, rich and creamy!
So now, whenever I feel like serving up vegan food, I lean toward tofu as the main substitute to dairy.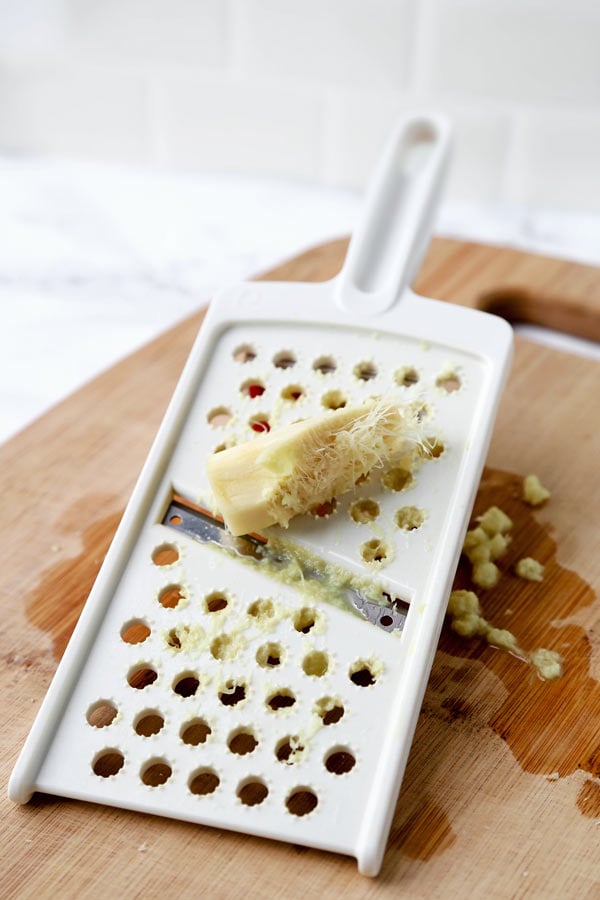 This creamy tofu ginger salad dressing pairs best with veggie sticks (as a dipping sauce), sliced tomatoes, pasta, or with crunchy leafy greens like romaine lettuce and cabbage.
The mix of rice vinegar, tahini (or Japanese sesame paste called neri goma – 練りごま), ginger (for those wondering, I'm using a Japanese grater in the image above) and sugar gives the dressing an authentic Japanese taste. It's tangy, nutty, a little spicy, sweet and cooling.
Tahini VS Japanese Sesame Paste (neri goma – 練りごま)
While tahini and neri goma are both made with 100% sesame seeds, the process involved is a little different.
Tahini is made from hulled sesame seeds (using only the kernels) while more often than not, neri goma is made using the entire sesame sesame seed (shell included). I say more often than not because some brands of neri goma only uses hulled sesame seeds.
As for the flavor profile, neri goma is nuttier because the sesame seeds are roasted for a longer period of time than the sesame seeds in tahini.
Neri goma can be made with white and black sesame seeds while tahini only is made using white sesame seeds.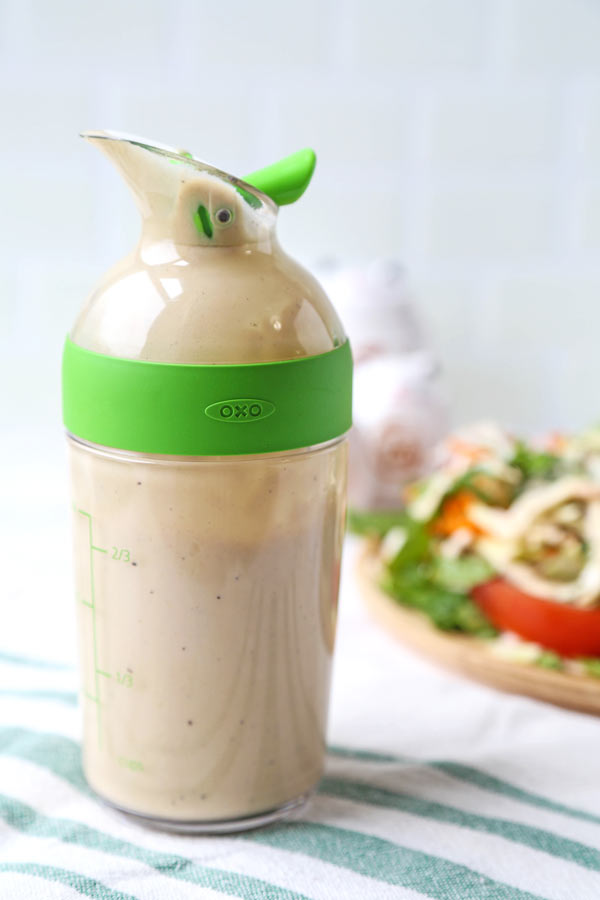 Can I use Medium or Firm Tofu For This Recipe?
Unfortunately not for this recipe because silken tofu contains more water than medium and firm tofus. This means that the consistency and texture of the dressing would be quite different if you used anything other than silken tofu. It would most likely come out dryer and maybe even lumpy.
How To Make Tofu Last Longer
As I mentioned before, once opened, the life shelf of silken tofu is only 3-5 days long. This can be frustrating if you only need a little for a recipe and are left with 3/4 of a block that you must use in the next few days.
This happens to me all the time since I rarely use an entire block whenever I cook with tofu. Even though I have gotten pretty good at using leftover tofu, sometimes I like to save some for a stir fry I will make later in the week.
One easy way to make tofu last longer is by using a tofu storage container. That's my go-to method because it's by far the easiest. The container comes with a strainer to keep the tofu dry, which extends its life shelf to about 1 week. All I have to do is empty the container daily (since the tofu will continue letting out water) and my tofu stays fresh tofu for up to 7-8 days.
Another easy way to extend the life shelf of tofu is by storing it in a tightly sealed container, covered with water. Change the water daily and the tofu should last for about 1 week.
You can also freeze tofu!
By freezing tofu you can make it last up to three months. Cut the tofu block into cubes, line a cooking tray with parchment paper and place the tofu on top. Place the tray in the freezer and once the tofu is frozen, transfer the cubes into an airtight container or Ziploc bag.
When you need to use it, let the tofu thaw in the fridge and drain the excess water. The texture will be tougher than when you first bought it but this can be a good thing, especially if you are planning to marinate it.
Other yummy tofu recipes: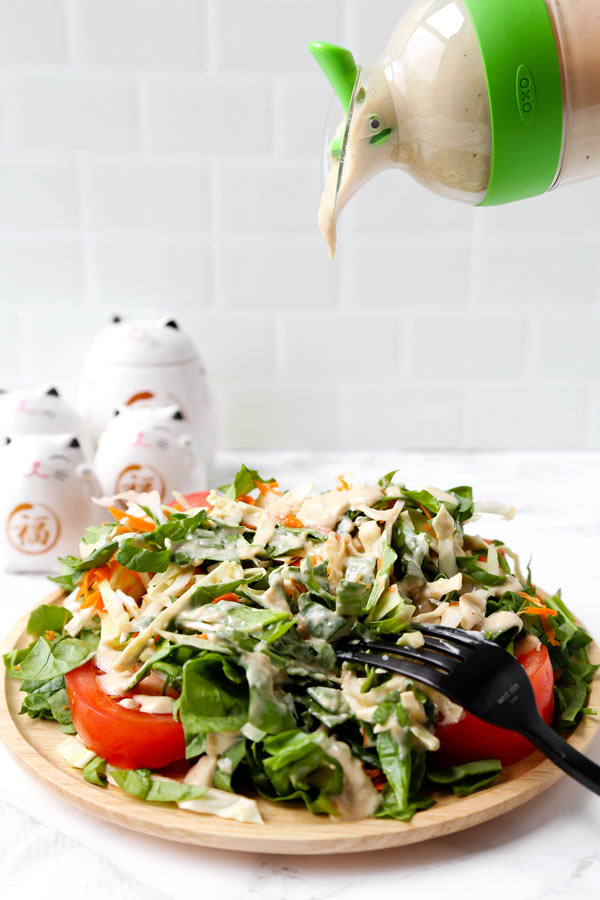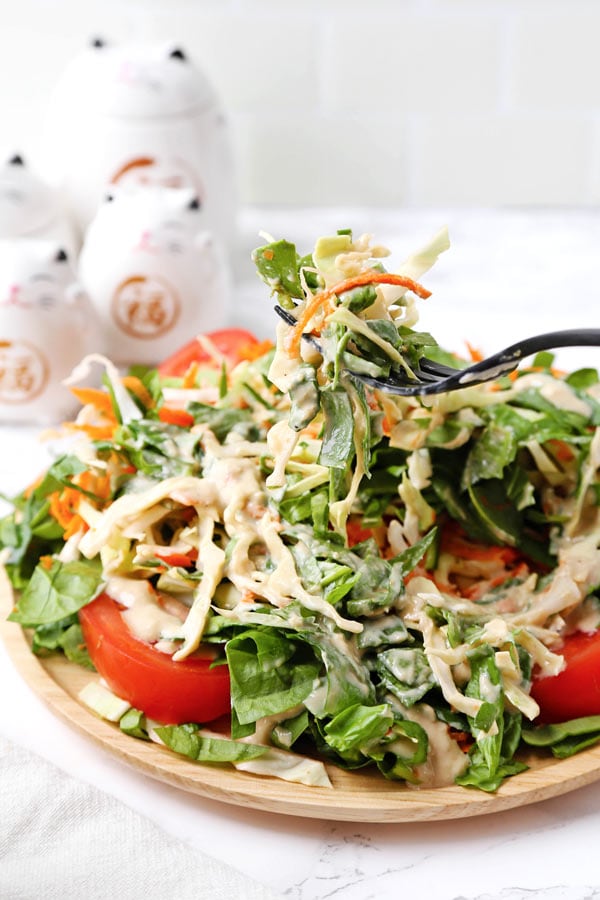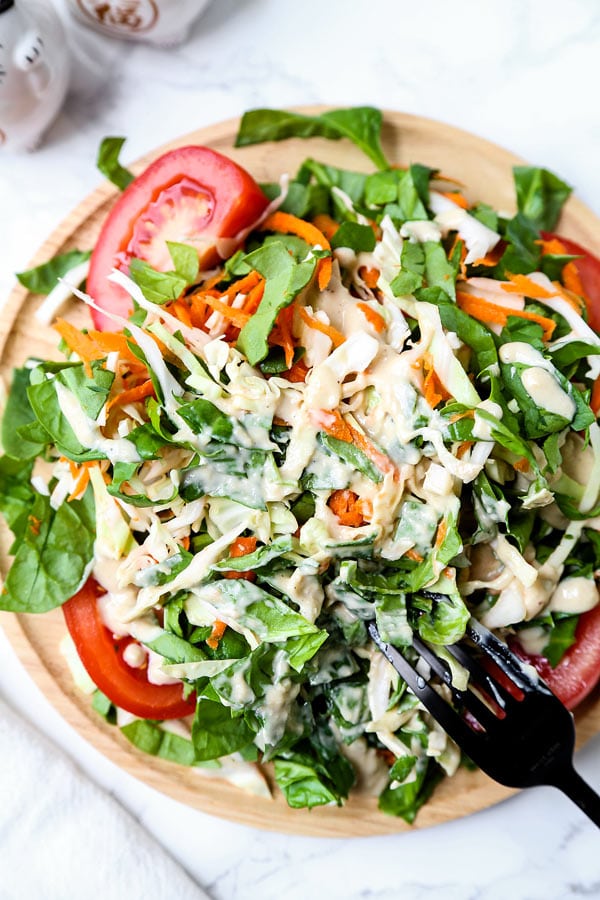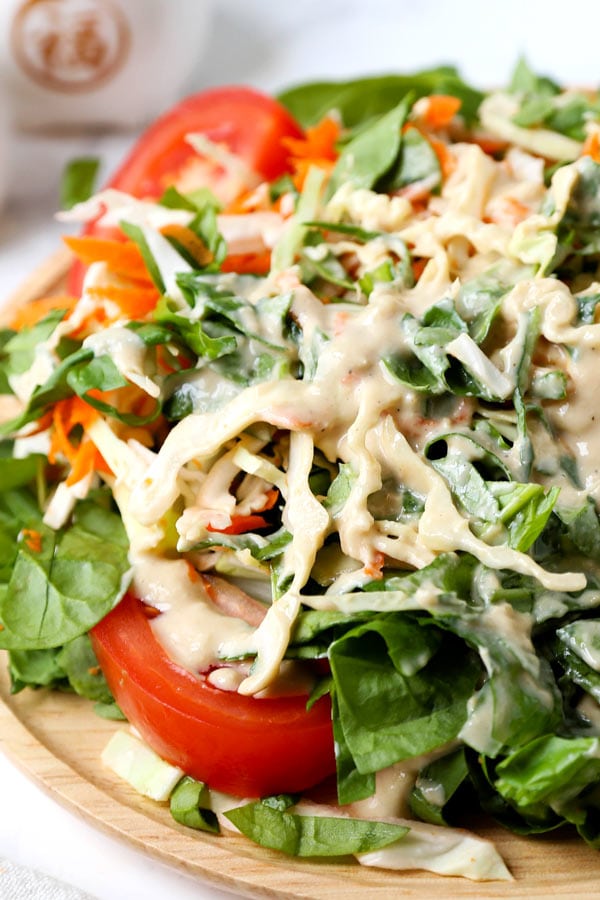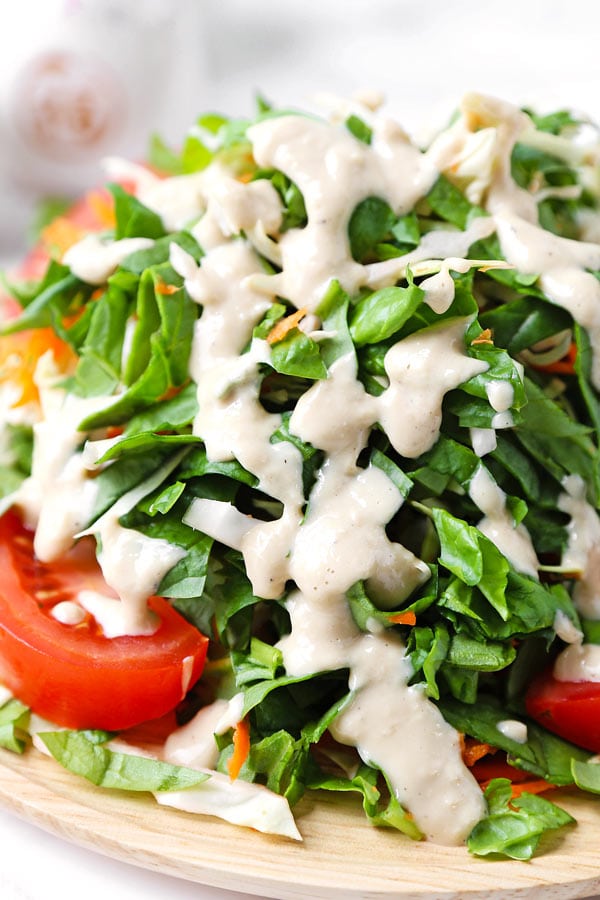 Did you like this Creamy Tofu Ginger Salad Dressing Recipe? Are there changes you made that you would like to share? Share your tips and recommendations in the comments section below!
Print
Creamy Tofu Dressing
A creamy vegan tofu dressing that's light and tasty.
Author: Caroline Phelps
Prep Time:

5 minutes

Total Time:

5 minutes

Yield:

1 cup

1

x
Category:

Dressing

Cuisine:

Vegan
6 ounces

silken tofu (drained)

3 tablespoons

extra virgin olive oil

1 1/2 tablespoons

grated ginger

3 tablespoons

tahini or Japanese sesame paste (neri goma – 練りごま)

3 tablespoons

water

4 tablespoons

rice vinegar

1 tablespoon

granulated sugar

1/2 teaspoon

kosher salt
Instructions
Whisk all the ingredients in a bowl and refrigerate. The dressing will keep for 1 week.
Notes
This creamy tofu dressing will keep for up to 1 week, refrigerated.
Nutrition
Serving Size:

1/4 cup

Calories:

198

Sugar:

3.2 g

Sodium:

297 mg

Fat:

17.9 g

Saturated Fat:

2.5 g

Carbohydrates:

6.4 g

Fiber:

0.7 g

Protein:

4.7 g

Cholesterol:

0 mg
Keywords: recipe, salad dressing, vinaigrette, sauce, vegan, plant based, meatless, vegetarian
Recipe Card powered by