Better than takeout vegetable chow mein recipe ready to serve in just 20 minutes! Find all the classic savory, nutty and umami packed flavors of chow mein  in this simple and delicious recipe. It's the best!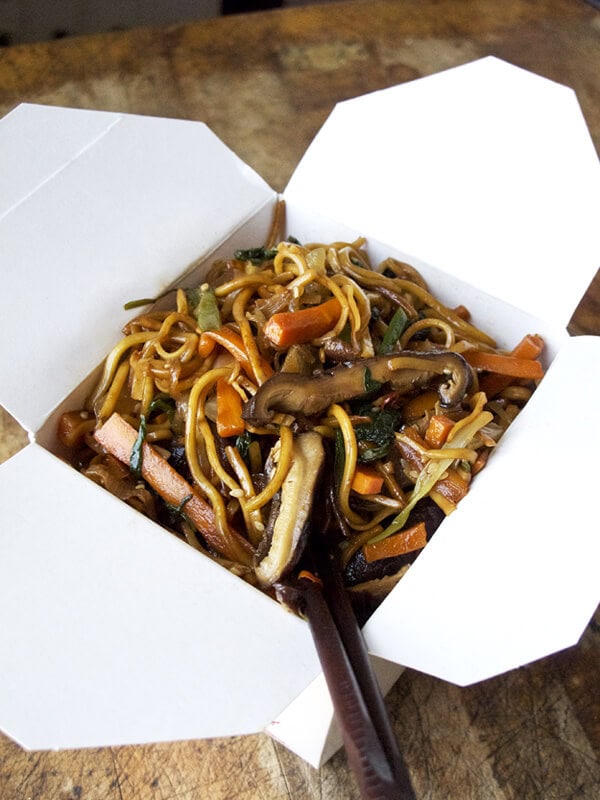 Vegetable Chow Mein Recipe
Once a month I make a trip to Hong Kong supermarket on Hester street and hit the noodle aisle downstairs where I fill my basket with plenty of carbs. Egg noodles, glass noodles, ramen noodles, chow mein noodles.. You name it, I've got it. I do this because dried noodles keep for a long time and multiply my options when it comes to Asian cooking. They're easy to cook and make a fantastic substitute for a bowl of rice. Cook and dump them in your pan with a few veggies and a home made stir fry sauce and dinner is served! This vegetable chow mein recipe took less than 20 minutes to make (which I served with beef yakitori) and cost about ten dollars. Not bad uh?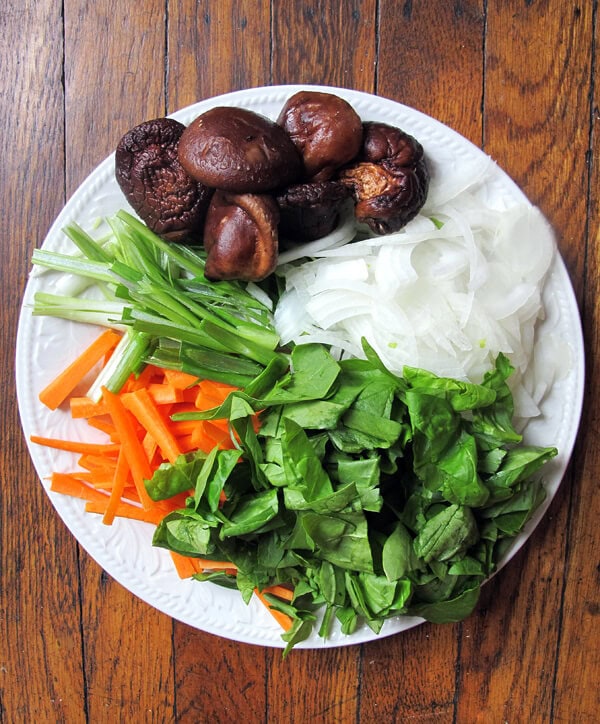 My original idea was to make Korean jap chae but I didn't realized I was out of potato noodles until all my prep work was done! No point in stressing out about this though, noodles are noodles and I don't see a big deal in switching them around once in a while. Plus, many Asian stir fry recipes are similar to one another so making a vegetable chow mein recipe with jap chae sauce didn't seem too far fetched.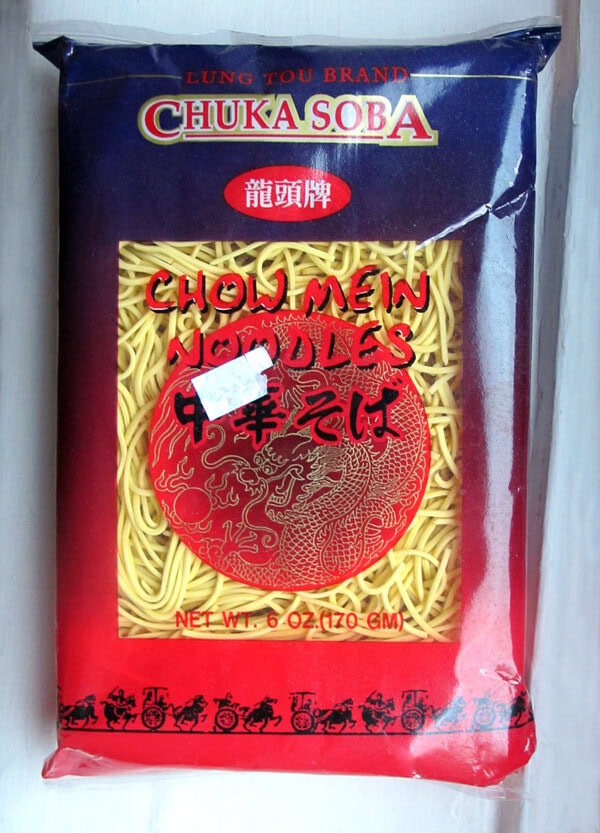 I added some Japanese dried red chilies (chile japones) to this chow mein recipe – an ingredient I've taken a strong liking to lately. They're a little hot but mostly smoky, great for intensifying the authentic flavors only found in Asian cuisine. They're my latest obsession and I've enjoyed incorporating them in some of my recipes (spaghetti vongole, green beans with chilies and oyster sauce). They're really easy to find, most Asian supermarkets sell them already chopped or whole (I get mine at Sunrise Mart on Broome street). The key to a successful smoke is to infuse the oil (just like when you fry garlic), so add them to the pan at the earliest stage of cooking. De-lish!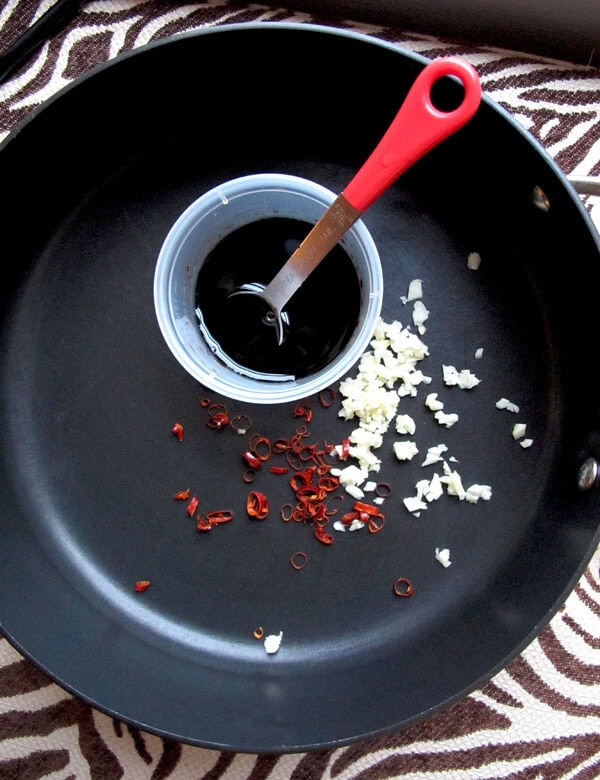 The verdict:
We loved this chow mein recipe, especially the texture the sauce gave the chow mein noodles. It wasn't as firm as classic jap chae sweet potato noodles but just as satisfying -if not more!
Did you like this Vegetable Chow Mein Recipe? Are there changes you made that you would like to share? Share your tips and recommendations in the comments section below!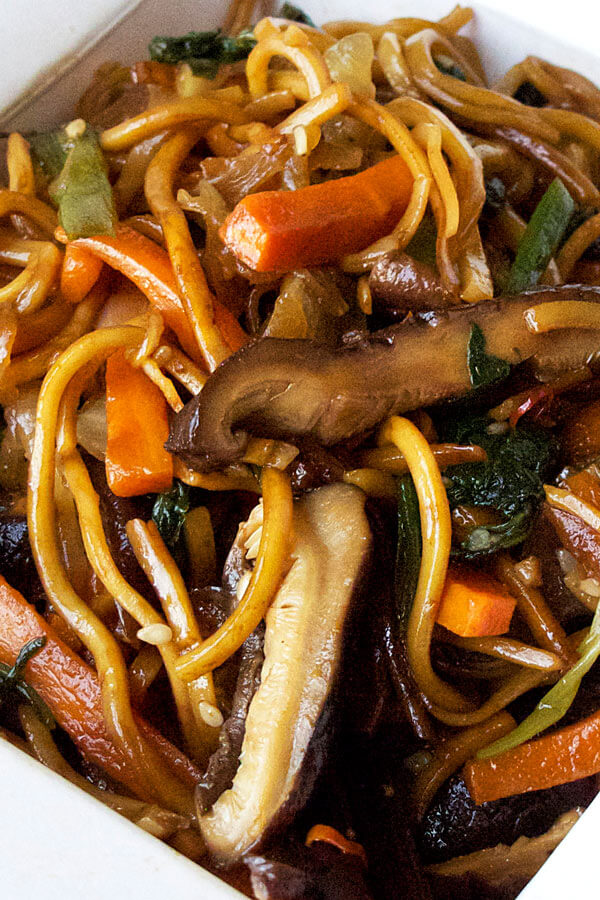 Print
Vegetable Chow Mein Recipe
Better than takeout vegetable chow mein recipe that's earthy, savory and ready in just 20 minutes!
Prep Time:

10 minutes

Cook Time:

10 minutes

Total Time:

20 minutes

Yield:

4

people

1

x
Category:

Noodles, Easy, Main

Cuisine:

Chinese
2 tablespoons

vegetable oil

3

cloves garlic (minced)

1 teaspoon

dried red chilies ((optional))

6 ounce

dried chow mein noodles or egg noodles

1

carrot (cut into thin strips (julienned))

1

small onion (finely chopped)

2 cups

baby spinach

7

shiitake mushrooms (cut into strips)

4

scallions (cut into thin strips)

1 tablespoon

sesame seeds (optional)

1 tablespoon

sesame oil
For the sauce:
2 tablespoons

soy sauce

2 tablespoons

dark soy sauce

1 tablespoon

brown sugar

1/2 teaspoon

kosher salt
Instructions
Bring a pot of water to boil.
In a small mixing bowl, add all the ingredients for the sauce and stir until sugar has melted.
In a large pan or wok over high heat, add vegetable oil, garlic and dried chilies and cook for one minute. Add the remaining vegetables and cook for 7 minutes, until tender but still a little crunchy.
Boil noodles according to directions on the package (usually about 2-3 minutes). Drain, rinse under cold water and drain well.
Add noodles to the pan, lower the heat to medium and cook for a minute.
Add sauce, sesame seeds and stir well until all the noodles are coated.
Turn the off the heat, drizzle sesame oil and serve immediately.
Notes
This Vegetable Chow Mein Recipe Is:

Cholesterol free
High in pantothenic acid
High in selenium
High in vitamin A
Recipe Card powered by