Miso soup is one of Japan's most loved dishes. With its mild nutty taste and deep umami, it makes a wonderful side to nigiri sushi, a bento meal, or a traditional Japanese breakfast. There are many different ways to serve miso soup – some like it with potatoes, while others prefer it with natto. This miso soup uses maitake mushrooms for their delicate earthy taste, and aburaage for its spongy consistency and slight sweetness.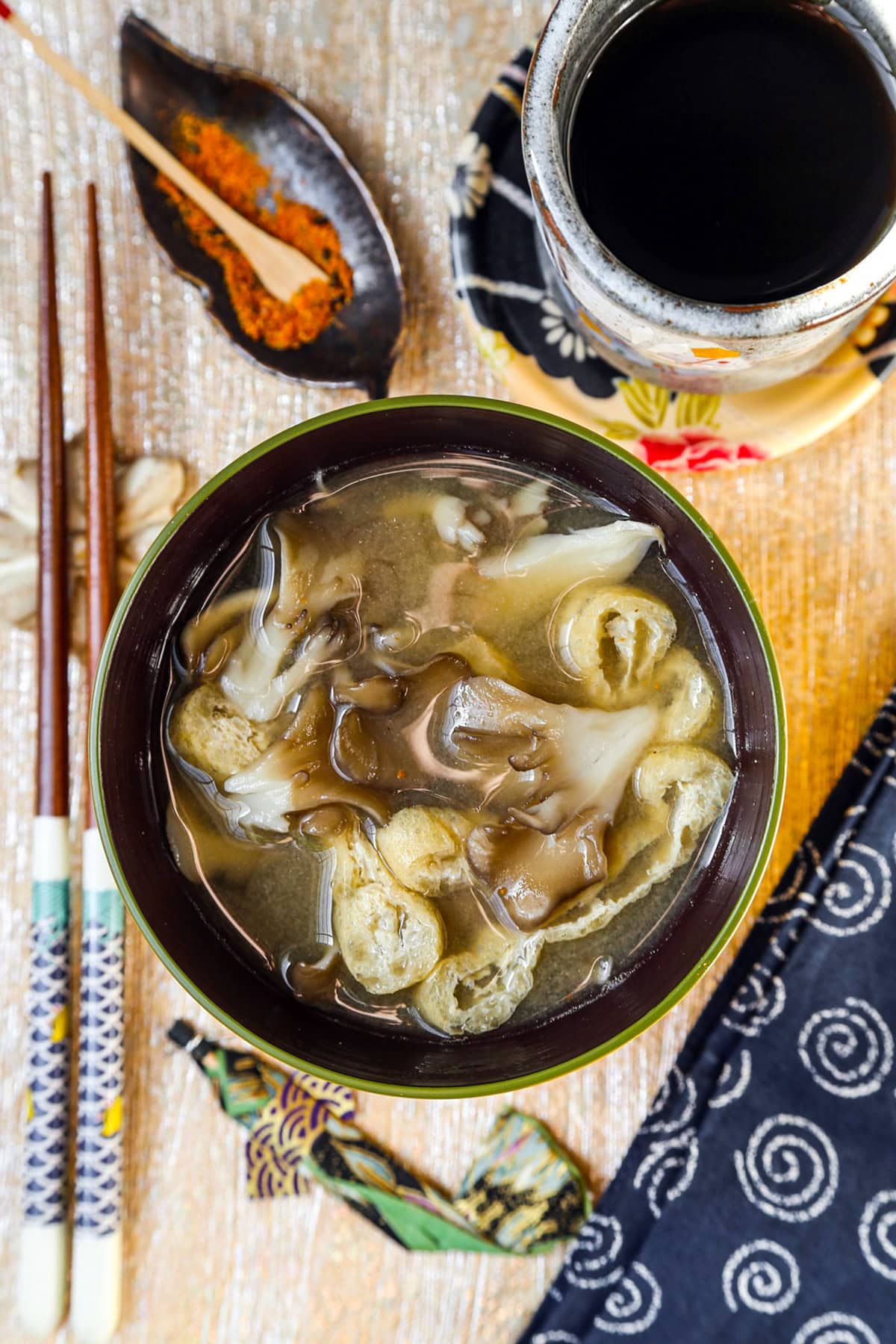 Miso Soup transcends usual mealtimes. Because it's just as common to eat miso soup for breakfast in Japan as it is to have it with your bento box at lunchtime – or preceding an extravagant sushi or sashimi platter at dinner.
A Heartier Miso Soup Made With Maitake Mushrooms
I'm using maitake mushroom and sliced aburaage (fried tofu pouches) to introduce a bit more flavor, texture and heft to this miso soup. However, at its core, it's still the miso soup we all know and love.
Maitake mushrooms in particular impart both flavor and a light yet substantive chew.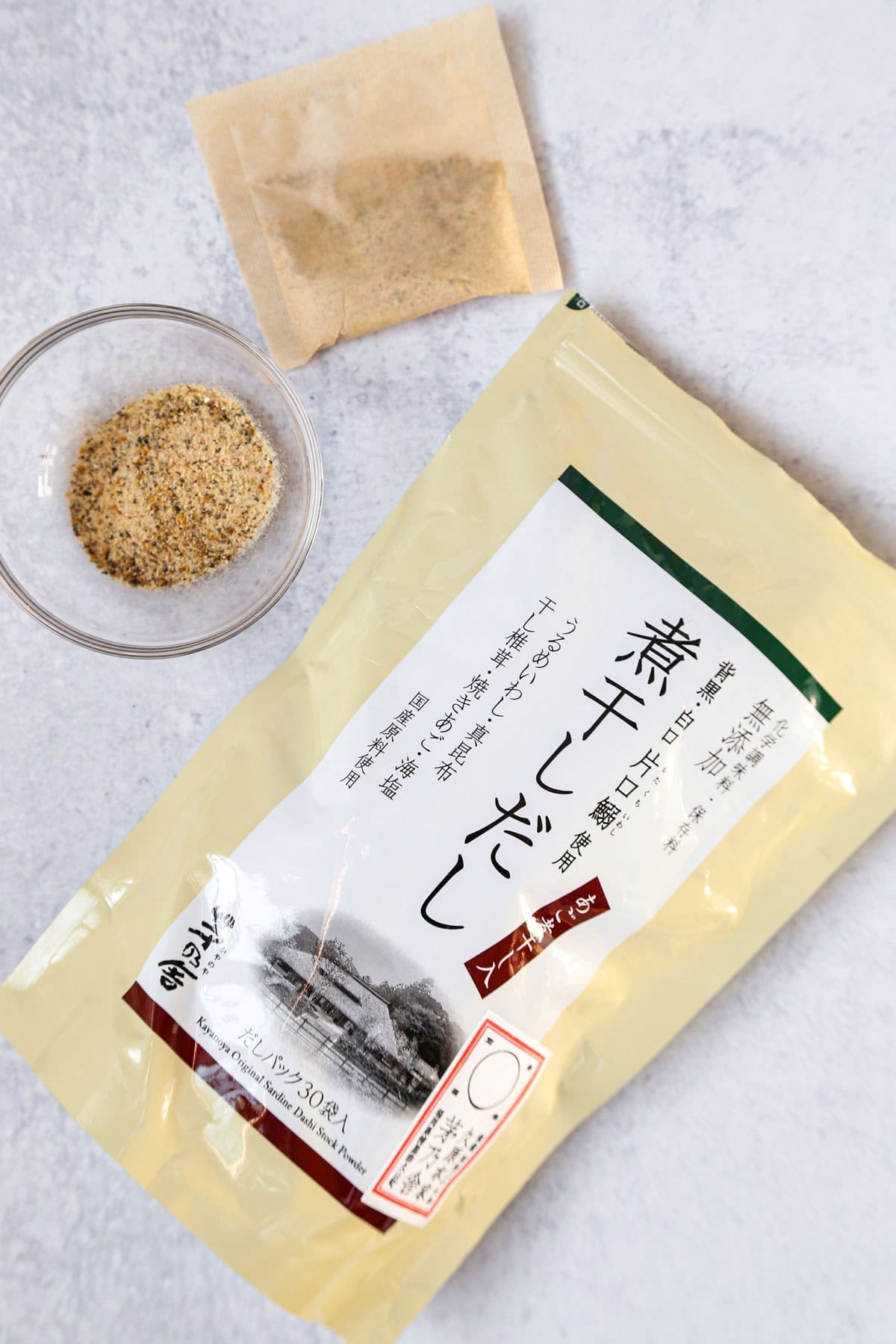 What Are Maitake Mushrooms?
In the wild, maitake mushrooms grow in bunches at the base of trees as the seasons transition from summer to autumn. Used extensively in Japanese cooking, this fungus is also referred to as hen of the woods as well as ram's head or sheep's head mushrooms in the West.
A rough translation of maitake from Japanese to English is 'dancing mushroom.'
Maitakes have thin edges that thicken slightly as they near the base – and manage be both tender and slightly meaty in terms of texture. The flavor is earthy, woodsy and a tiny bit peppery. They work well in stir fry, stews, soups and are delicious when battered and air fried.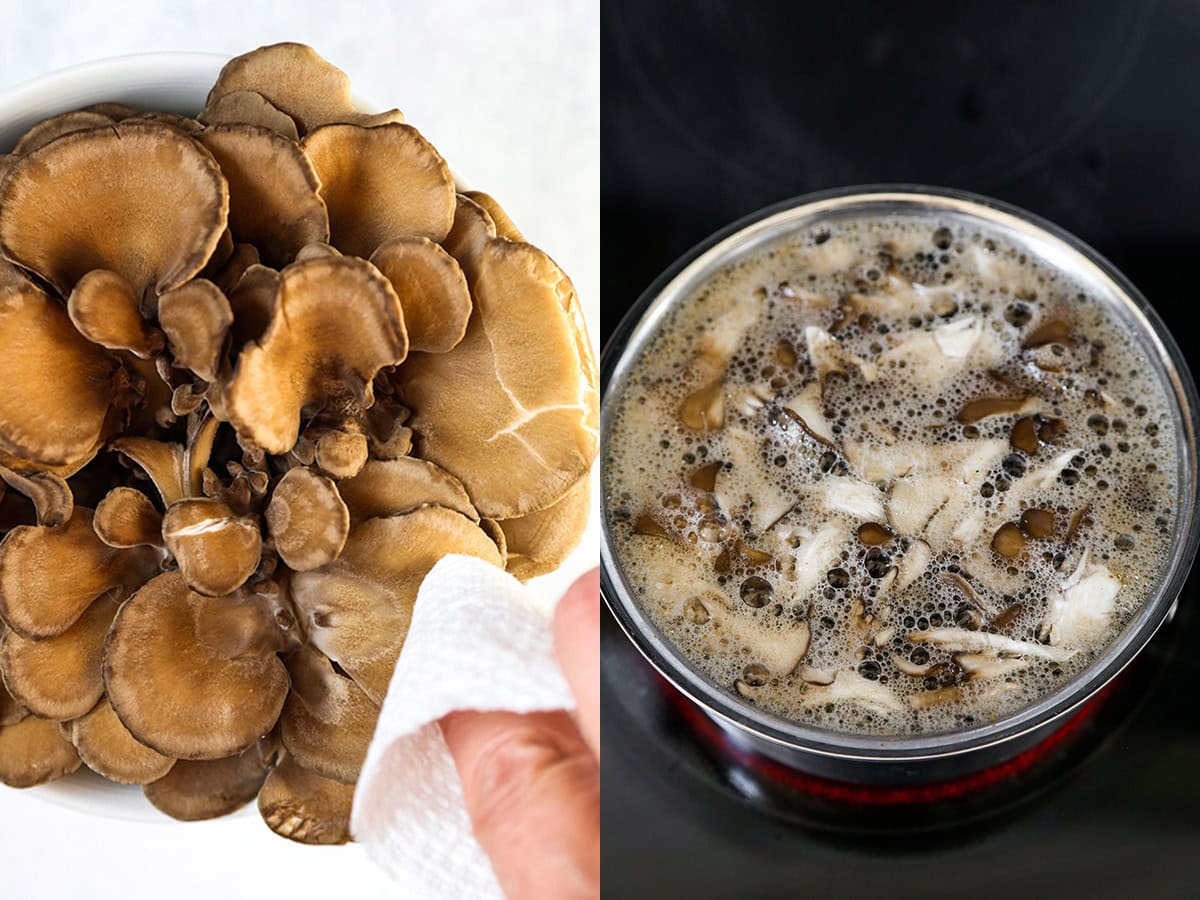 Ingredients for Maitake Mushroom Miso Soup
Maitake Mushrooms: These are the perfect mushrooms to use in miso soup – since they both impart a rustic woodsy flavor to the broth, and soak up the savory, umami goodness from the miso paste. When handling maitakes, be gentle! Maitake mushrooms are rather delicate.
Dashi: Think of dashi as a saline, savory sea stock made with dried bonito flakes (katsuobushi) and kelp (kombu). It lays a bedrock of umami in many Japanese recipes. Now, I'm using store bought dashi powder for ease – and because it's delicious. However, I've also got a recipe for homemade dashi if you prefer. You can even make vegan dashi with kelp and shiitake mushrooms.
Aburaage: These are fried tofu pockets with a squashy, springy texture and a mildly sweet flavor. You'll commonly see aburaage used in Japanese classics like inarizushi – and savory kitsune udon. For this maitake mushroom miso soup, I prefer the dry sheets commonly sold in Asian markets in the frozen section.
Miso Paste: Earthy, umami and funky perfection. Read all about Japanese miso paste here. In a second, I'll go into further detail about the best miso paste to use in miso soup – as well as an easy, foolproof Japanese technique for properly blending the miso paste into the dashi broth.
What is the Best Miso Paste for Miso Soup?
When shopping for miso paste, keep your eyes peeled for the big three different types of miso paste.
Red Miso (赤味噌 – Aka miso) – Bold, dark, earthy, funky and salty. This is the most assertively flavored of the three.
White Miso (白味噌 – Shiro miso) – Smooth, mildly savory and bordering on sweet at times. This is the mildest in terms of flavor and funk.
Mixed Miso (合わせ味噌 – Awase miso) – This is simply a mixture of red and white miso. It has a great balance of boldness and restraint.
When making this maitake mushroom miso soup (and cooking with miso in general) I personally prefer using the mixed awase miso.
Awase miso is bold and savory without being over the top salty – or fading into the woodwork with mildness.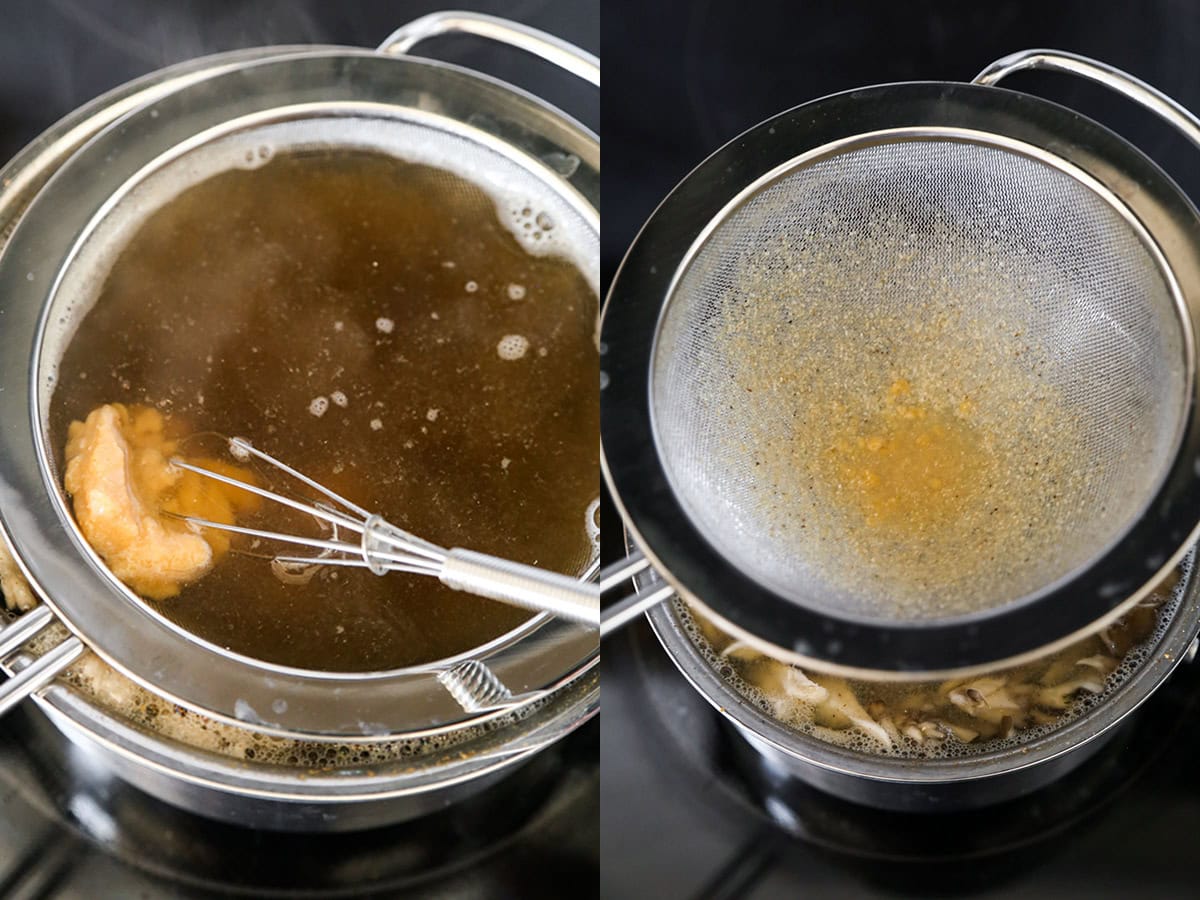 How to Make Maitake Mushroom Miso Soup
Gather all of your cooking tools and ingredients.
If your maitake mushrooms have the white bottom base intact, remove with a knife. Wet a paper towel lightly with water and gently wipe the surface of the mushrooms. Then segment them into smaller bite sized pieces by hand. Just pull the mushrooms where you'd like them to separate.
Add water and powdered dashi into a medium sized pot and bring to a boil.
Once boiling, lower the heat to medium and add the maitake mushrooms. Cook for 3 minutes.
Place the miso paste into a small strainer with a handle. Lower the strainer into the pot and stir with cooking chopsticks until the miso paste has dissolved. More on this in a sec.
Finally, turn the heat off, add the chopped aburaage, stir and serve hot.
How to Stir Miso Paste Into Soup Broth
Miso paste is comprised of soybeans fermented with rice koji.
If you stir miso paste directly into soup broth, larger particles of the rice koji and soybean can cause your miso soup to become a little gritty. Using a strainer to stir the miso paste into the soup means you'll get all the delicious, umami flavor without any unwanted textures.
Just lower a strainer into the soup pot so the miso paste is covered by the broth
However don't entirely submerge the strainer
Then stir the miso paste with cooking chopsticks or a spoon until it fully dissolves
Finally remove the strainer and discard any bits that didn't dissolve
My mother taught me this simple technique and I've used it ever since.
And be sure to check out my mom's delicious miso soup recipe. The step by step video is right here.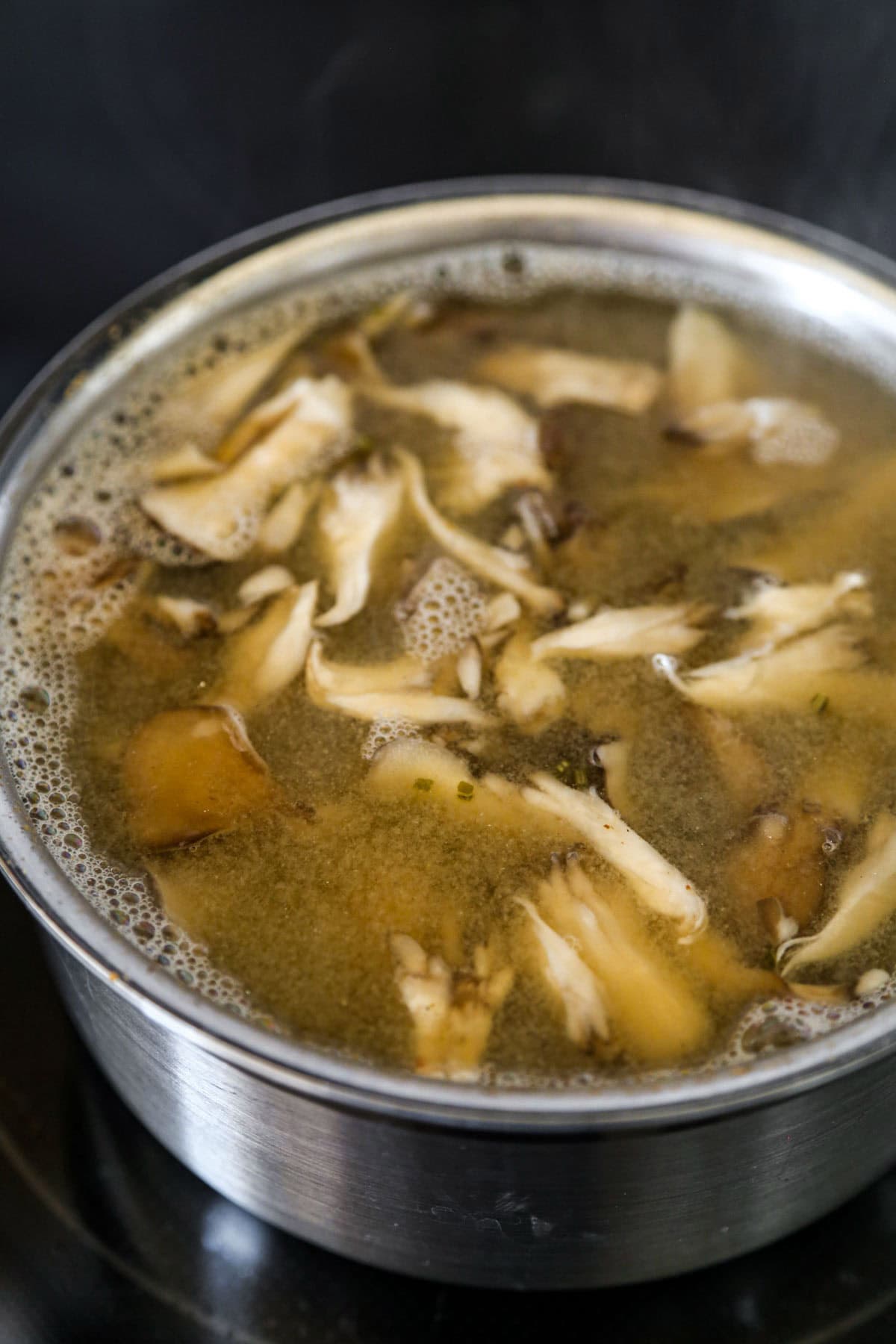 What to Serve With Maitake Mushroom Miso Soup
Like I mentioned, miso soup is served for breakfast in Japan – as well as being a staple served throughout the day with lunch and dinner.
While you really can't go wrong, here are a few recipe ideas if you're whipping up a Japanese feast at your place:
And Check Out These Other Delicious and Easy Asian Soup Recipes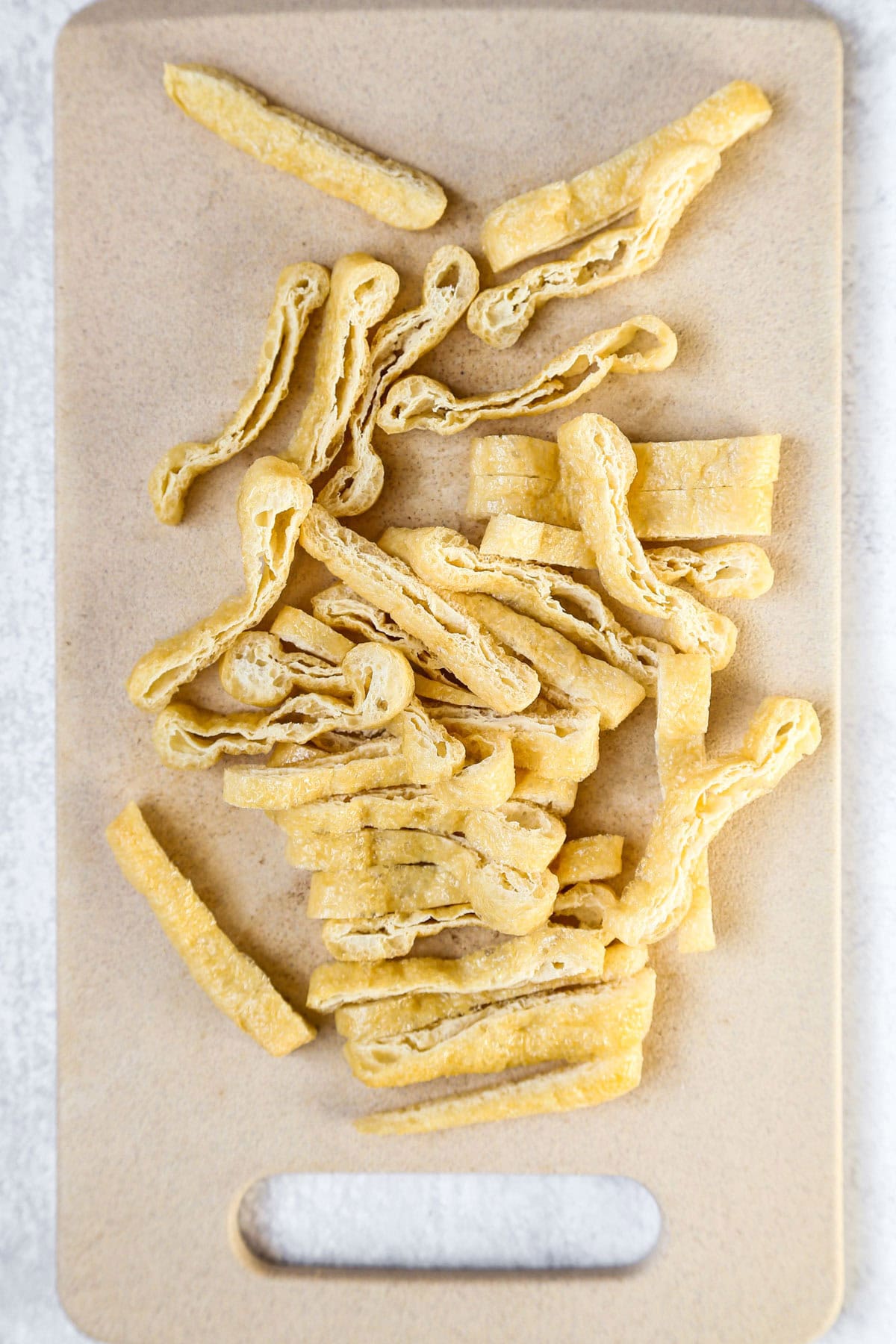 How to Store Leftover Soup
Refrigerate any leftover maitake mushroom miso soup in an airtight food storage container
Reheat and use leftovers within 1 to 2 days max
Don't reheat more than once
Where to Buy Maitake Mushrooms, Miso Paste, Dashi and Aburaage
You'll probably have the best luck tracking down all four main ingredients for this miso soup recipe in one trip to an Asian grocery store.
I prefer the frozen aburaage sheets personally – as I find the canned version a little too sweet and spongy for this soup. Grab them in the freezer aisle.
Maitake mushrooms are routinely sold inside air-filled blister packs at many Asian food stores. But they're becoming more popular and easier to find outside of Asian markets in recent years. Farmer's markets are a great option. I've even had luck at Whole Foods a few times.
And you can easily buy awase miso paste and dashi granules on Amazon if you're so inclined.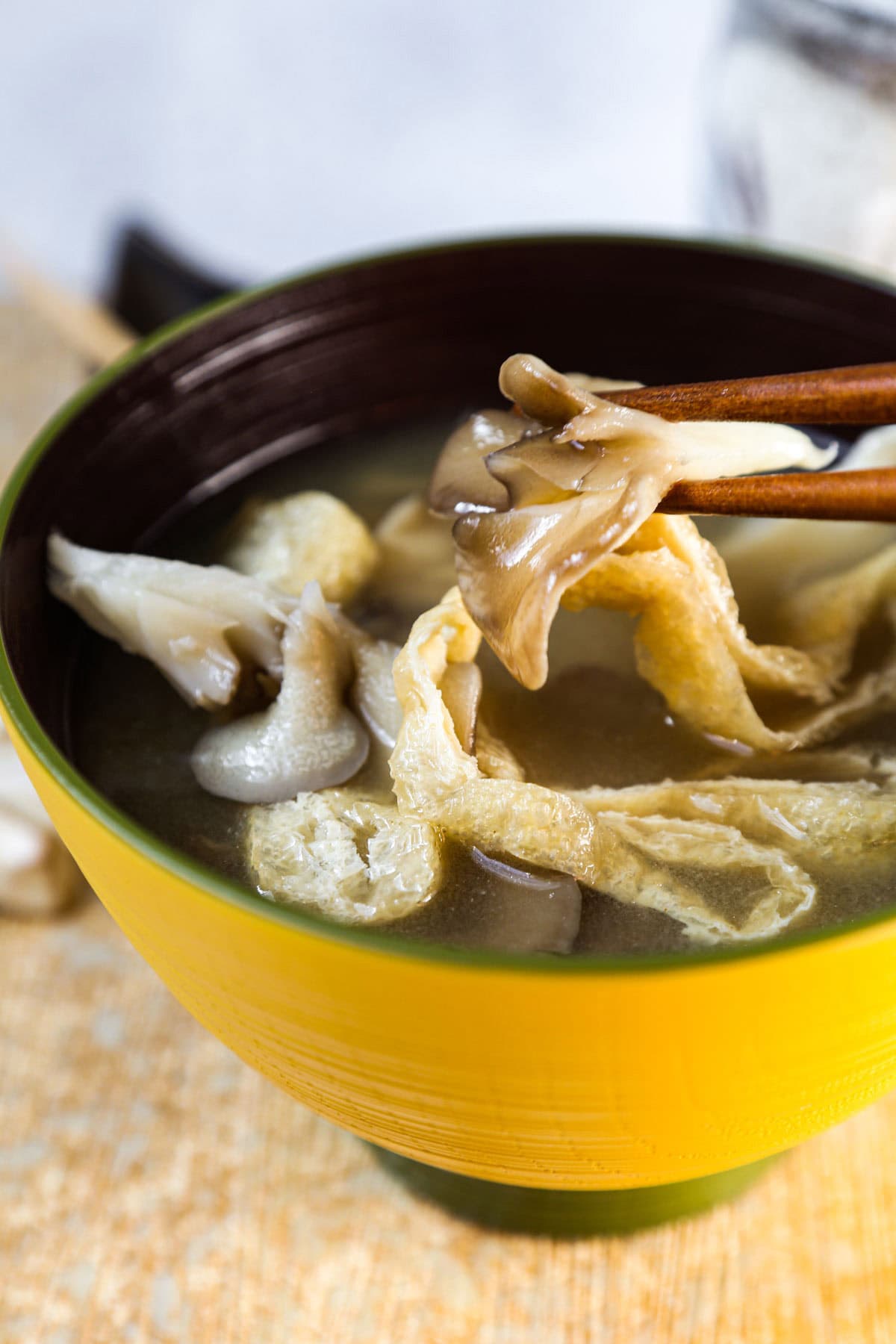 Did you try this maitake mushroom miso soup recipe? Are there changes you made that you would like to share? Share your tips and recommendations in the comments section below!
Print
Maitake Mushroom Miso Soup
This miso soup uses maitake mushrooms for their earthy taste, and aburaage for their spongy texture and slight sweetness.
1

package maitake mushrooms (

100g

/

3.5 oz

), bottom base removed

4

cups

water

1 tablespoon

powdered dashi

2

sheets abura-age (Japanese fried tofu pouch), sliced into bite size strips

3

to

4

tablespoons white or awase miso paste
Instructions
Lightly wet a paper towel and gently wipe off the surface of the maitake mushroom. Maitake mushrooms are quite delicate so they are easy to separate by hand. Simply pull where you would like the maitake to break apart and keep going until you have bite size pieces. Set aside.
Add the water and powdered dashi to a medium size pot and bring to a boil.
Lower the heat to medium and add the maitake mushrooms. Cook for 3 minutes.
Place the miso paste in a small strainer and lower the strainer into the pot, until the liquid covers the miso paste. Stir the miso paste with chopsticks until it has fully dissolved.
Turn the heat off and add the aburaage to the soup. Stir and serve.
Recipe Card powered by