Yaki Udon Recipe やき うどん
*This post may contain affiliate links. Read my disclaimer here.
A delicious Yaki Udon Recipe ready in just 10 minutes! Stir fried Udon noodles with butter and dashi powder served with bonito flakes and fresh scallions.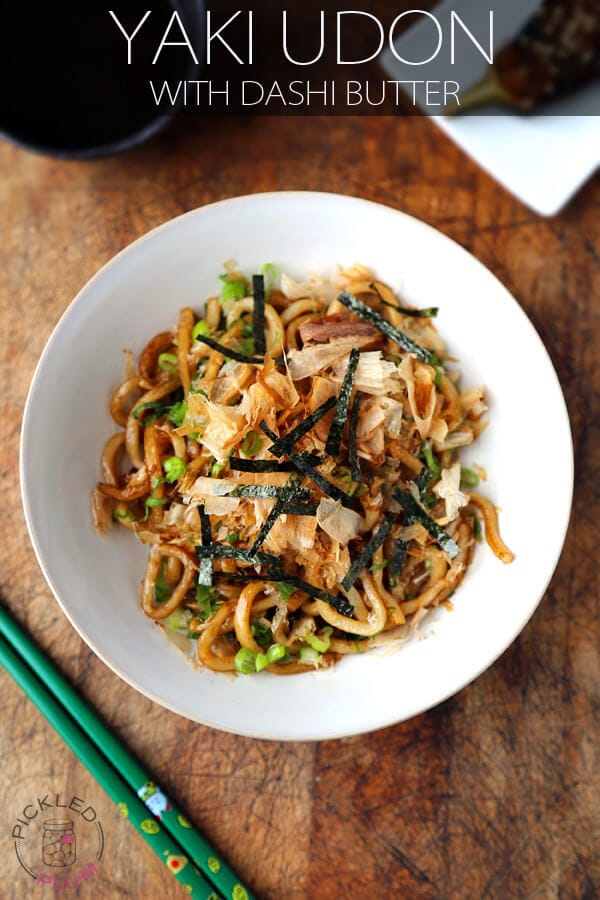 Yaki Udon with Dashi Butter
There's nothing better than eating out in Japan.
Yeah – I know that's a bold statement. But, for me, some of the most memorable meals I've ever experienced have involved a table loaded with a ton of Japanese dishes in cities like Kyoto, Tokyo, Nagasaki and Fukuoka.
The first time I tried yaki udon (やき うどん) was on a Tuesday evening, a couple nights before Ben was due to fly back to New York and leave me for some one on one time with my mother. My cousin and his family invited us out to dinner at their favorite yakitori bar in downtown Iizuka, Japan.
While the bar itself was quite small – off to the side were private rooms behind sliding screen doors for larger groups like us. We were led to one of them and we sat around a large wooden table facing an aquarium filled with live squid!
The waiter then brought over a couple of large bottles of Kirin Beer and proceeded to take our order.
Lemme tell you, the menu was HUGE! One page listed every single part of a chicken (including bones and organs) that could be served skewered and seasoned with either salt or tare sauce. Yakitori literally means grilled chicken btw.
The second, third and fourth pages of that massive food tome offered rice dishes, Japanese noodles, sushi & sashimi, salads, okonomiyaki… you name it.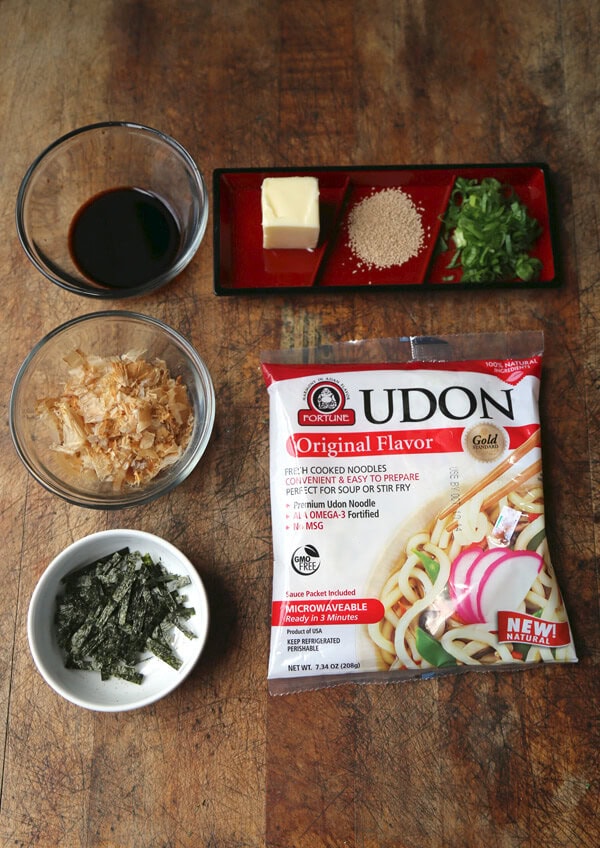 When in doubt, leave the ordering to the pros
We left it up to my cousin and his wife to order. They knew the entire menu super well – and were treating us to an absolute feast!
Dish after dish made their way to our table.
A few highlights included a  Korean style rice flour pancakes with kimchi, a massive tray of yakitori: skewered chicken breast, hearts, crispy skin, liver, asparagus wrapped in bacon, charred onions and peppers, sardines and squid… a small bowl of raw octopus marinated in fresh wasabi (takowasa), grilled onigiri, a deep fried julienned potato salad with mayonnaise…
Phew! It was a never ending cavalcade of yummy Japanese food and drink.
But, my all time favorite dish that night was a simple pan fried udon noodle recipe called yaki udon.
While it was an udon recipe made with obviously very few, humble ingredients, there was just something really special and unique about the way the flavors harmonized.
You know I wasn't about to leave without the recipe! Or at least a deep dive into the flavors.
Every bite I took became an adventure of sorts – a quest to discover each ingredient used and how the chefs were able to infuse so much flavor into the structure of the udon noodles themselves.
I came back to New York literally dreaming about yakiudon. As I began to test a few theories, I started at the beginning: what is udon?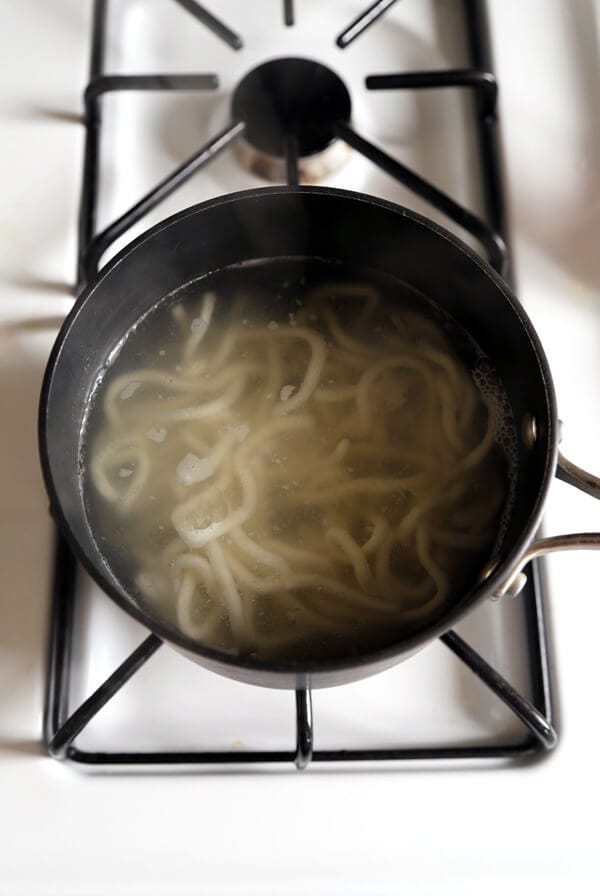 What are udon noodles?
Udon (うどん) is a thick noodle made from wheat flour. Frequently seen in Japanese soups – or served alongside dishes like tempura – these noodles are typically quite chewy and much thicker than other Japanese noodles like ramen and soba.
One of my favorite aspects about eating udon is that, in Japan, you will find preparations that match the season.
For example, in the hot summer months, cold dishes like bukake udon and zaru udon are served with light summery broths. A great way to beat the heat!
However, in the winter months, you can expect to be served more hearty and warming preparations like curry udon and nabeyaki udon.
This yaki udon recipe we're making today is served hot – but differs from many udon recipes in that it is served without broth.
Yaki udon is versatile (and delicious) enough to be served in the winter or summer. Better bring your appetite!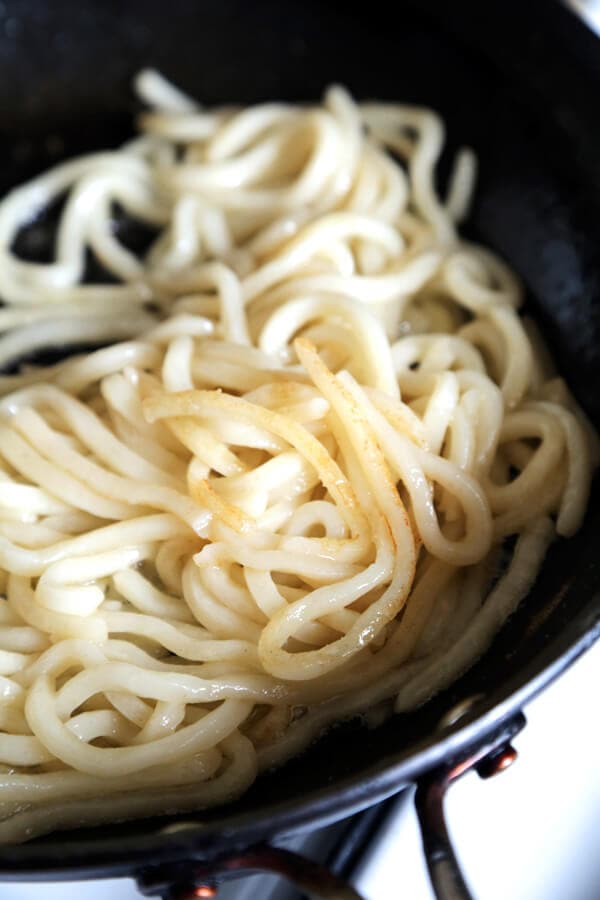 How to cook udon noodles
Most store bought udon noodles will come one of two ways:
Parboiled and shrink-wrapped
Dry (similar to dry spaghetti)
For this recipe, I prefer the partially precooked noodles (sometimes labeled as fresh on the packaging). After a quick boil, they tend to have that amazing soft and chewy texture you get when eating fresh noodles at an udon restaurant.
But the dry udon noodles work as well. So don't worry if you can't find fresh.
However, no matter which type of udon noodles you use, make sure to read the instructions for the proper boiling times for that particular brand. Because when it comes to pasta in general, whether it's spaghetti, udon or soba – an overcooked noodle is a tragedy 🙂
For this yaki udon recipe, after boiling, I'm stir frying the cooked noodles in butter and dashi so the noodles themselves become permeated with savory, umami goodness!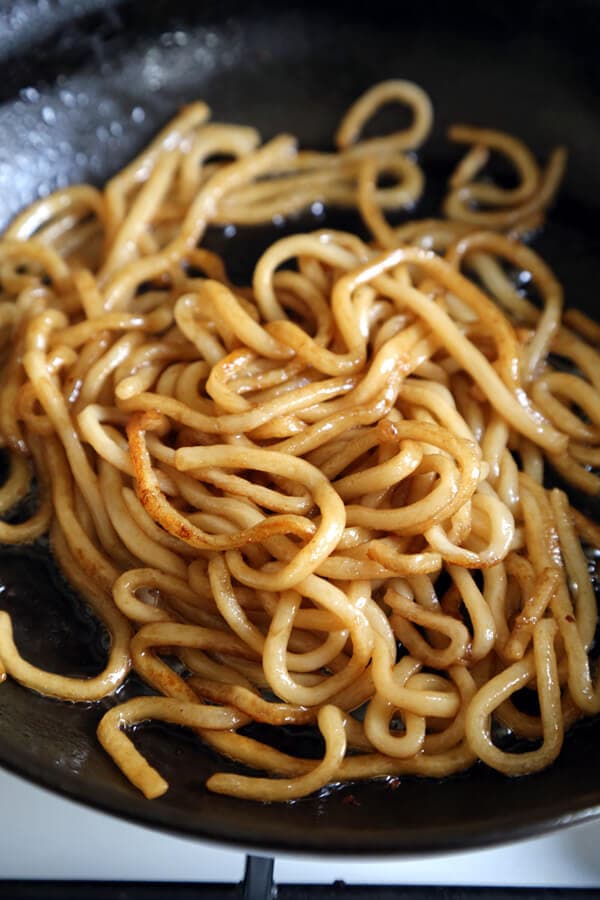 How to make yaki udon – やき うどん
Now – here's where the rubber meets the road, so to speak. Making these savory yaki udon noodles is as easy as using a few simple ingredients to create a flavor profile greater than the sum of it's parts. Let's cook!
First, I like to prepare the noodles as I'm doing my other prep so they're ready to go into the frying pan when the time comes. Whether you're using packaged, pre-cooked udon – or dry udon noodles – be sure to follow the instructions on the package for optimal boiling times.
Then, in a pan over high heat, I like to get my butter going with the dashi and water mixture. Swirl that mixture – and once it begins to bubble, add your cooked udon noodles.
Fry the noodles long enough for them to get just slightly crispy. But don't go overboard here. We just want a bit of browned texture. Not carbon!
Next, simply add your soy sauce, turn off the heat and coat well.
Transfer your yaki udon to a plate and top with your chopped scallions, katsuobushi (bonito flakes) and nori (seaweed).
The flavor is savory, with a ton of umami from the soy and katsuobushi – with a touch of brightness from the scallions..
But, in my opinion, what absolutely MAKES this particular yaki udon dish is the addition of dashi to the butter as it melted. And, in the end, I believe it's this trick that infused the flavors into the thick noodles themselves.
Now, you should be able to find the ingredients for this yaki udon recipe at any Asian grocery store. Or, you can just pick them up on Amazon: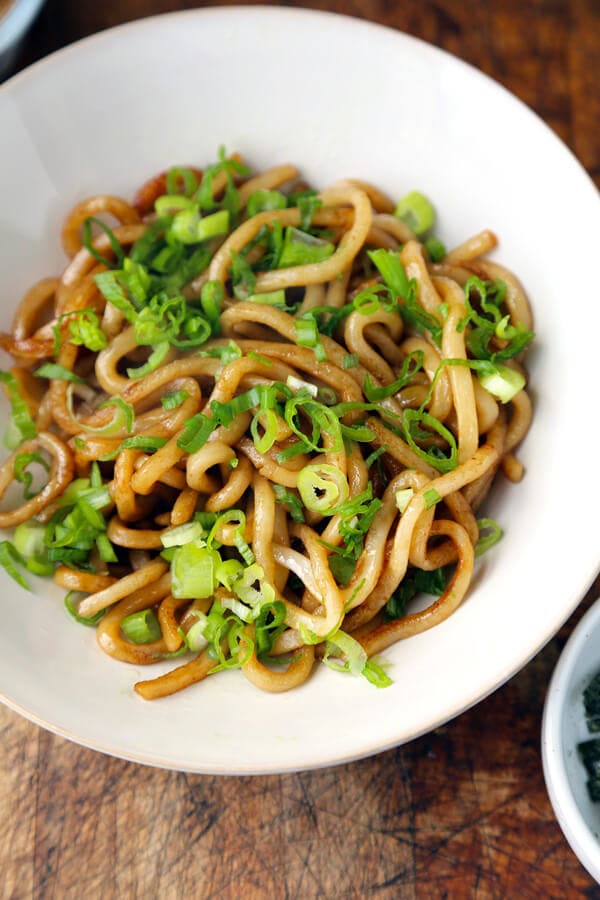 A few types of noodles in Japanese cuisine
Now, there are a ton of noodles used throughout Japanese cooking. And it can get a little confusing.
We've covered udon already.
But if you've ever wondered about udon vs ramen – or soba vs udon, this section is for you! The following should shed a tiny bit of light on the other main types of noodles used in Japanese cooking (without going overboard).
Japanese Noodle Varieties:
Ramen (ラーメン) Ramen noodles are Chinese style wheat noodles. Made using alkeline water, these noodles typically have a firm texture and a yellowish hue. You'll typically find them served in soups, ranging from lighter salt or soy sauce based broths – to heavier, more substantial broths like miso, or the pork-based tonkotsu.
Soba (そば) Soba noodles are made from buckwheat flour. And, aside from varying percentages of buckwheat in the manufacturing of the noodle, they tend to be quite healthy. Served hot or cold, it's quite common for them to be served inside a soup – or dipped  in a container of broth on the side.
Sōmen (素麺) Sōmen noodles are super thin noodles made of wheat flour and vegetable oil which is used in the noodle pulling (stretching) process. Almost always served cold in warmer months, sōmen noodles are dipped in tsuyu – a chilled bonito flake based broth.
Harusame (春雨) Also called cellophane noodles – or glass noodles – harusame translates into spring rain in Japanese. These transparent noodles are made of starch (sometimes sweet potato starch – as well as others like mung bean starch and tapioca), and have a slippery texture. Harusame is a great low calorie option when you're craving noodles, but trying to keep it on the healthy side!
Slightly oversimplified? Yes, sure. But hopefully that gives you a general understanding.
And, hey… a bit of background is great, but we're all about the cooking and eating of the food, right!?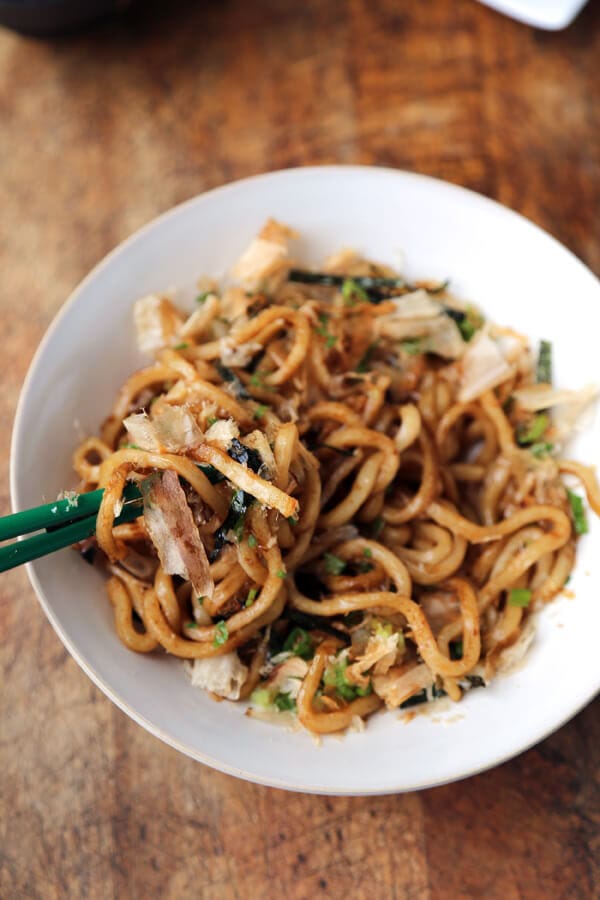 A proper yaki udon recipe
I put a ton of effort into recreating the spectacular yaki udon recipe I had on that yummy evening at a small yakitori joint with my cousin.
And after a little trial and error, I think I nailed it!
The result: divine yaki udon – very close to the original dish I tasted back in the south of Japan. Delicious! You're going to love it with an ice cold beer – and a table loaded with hearty Japanese drinking snacks!
Other simple, delicious Asian noodle dishes: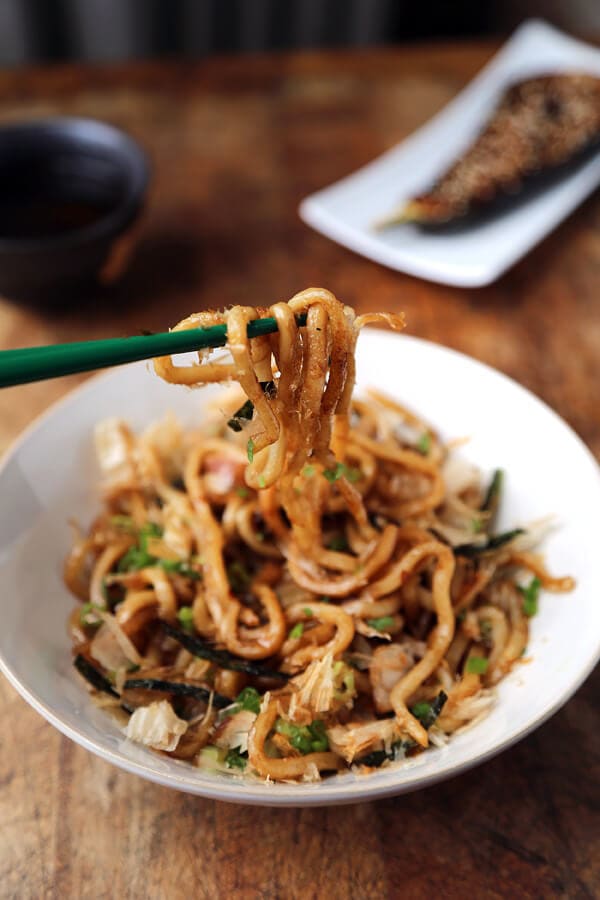 Did you like this Yaki Udon Recipe? Are there changes you made that you would like to share? Share your tips and recommendations in the comment section below!
Print
Yaki Udon with Dashi Butter
A delicious bowl of stir fried yaki udon tossed in dashi butter, soy and topped with scallions, nori and katsuobushi. Yaki udon is the perfect bar snack!
Author: Caroline Phelps
Prep Time:

5 minutes

Cook Time:

4 minutes

Total Time:

9 minutes

Yield:

1

person

1

x
Category:

Noodles, Main

Cuisine:

Japanese
Scale
Ingredients
208 grams

packaged pre-cooked udon ((or

3 ounces

dry udon noodles))

1 tablespoon

butter (salted)

1 tablespoon

water

1/2 teaspoon

dashi powder

1 tablespoon

soy sauce

3

stalks scallions (chopped)
shredded nori
bonito flakes (katsuobushi)
Instructions
Boil udon noodles according to package (about 3 minutes for pre-cooked ones)
In a pan over high heat, add butter, dashi and water and swirl until bubbly.
Add udon noodles and coat well. Cook for about 4 minutes, until noodles are still soft but with a slight crunchy exterior (some noodles will be a light brown color).
Add soy sauce, turn off the heat and coat well.
Transfer to a plate, add scallions and top with katsuobushi and nori.
Serve yaki udon immediately.
Notes
This Yaki Udon Recipe Is:
Low in Sugar
This yaki udon recipe will keep in the fridge for 1-2 days.
[cap id="attachment_14723″ align="alignnone" width="150″]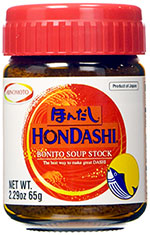 Dashi powder – the secret to these amazing noodles and to delicious stock soups! I always have dashi in my pantry.[/cap]
Nutrition
Calories:

367

Sugar:

1.4

Sodium:

992

Fat:

12.7

Saturated Fat:

7.3

Carbohydrates:

57.5

Fiber:

1.3

Protein:

8.6

Cholesterol:

31
Recipe Card powered by
Other Yummy Noodle Recipes:
Pickled Plum is a participant in the Amazon Services LLC Associates Program, an affiliate advertising program designed to provide a means for sites to earn advertising fees by advertising and linking to amazon.com.