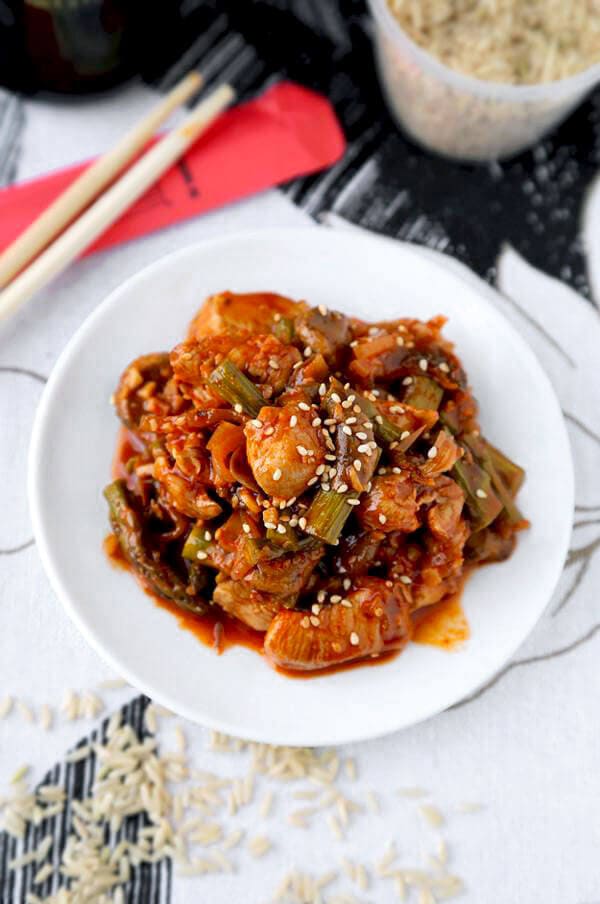 Spicy asparagus chicken stir fry
Last week I received a brand new rice cooker as a gift from my mother in law – sweet! It was one of those things I had been meaning to buy for years but kept on putting off. I got used to cooking rice on a stove and became quite good at it, so buying a rice cooker slowly made its way to the bottom of my shopping list. But now that I have one, I don't think I will ever cook rice in a pot again! I just have to be careful not to make an insane amount of rice every week as I am having too much fun with this little machine – What a great gift!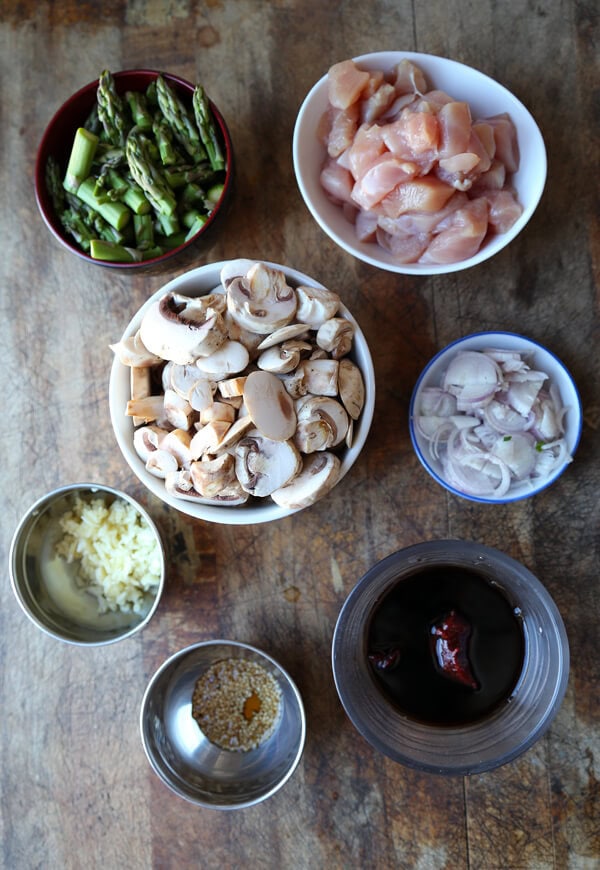 The rice cooker is equipped with a tray that sits on top and can steam food as the grains get soft and fluffy. It also came with a magazine of Japanese recipes and ideas on the type of food that can be prepared in the steam tray – genius! One of the recipes was a spicy mushrooms and chicken stir fry dish that I tweaked and am currently obsessed with. So much that I made it not twice but three times last week. Apologies to my hubby for the repeat offense (though he admits to loving it as much as I do :)).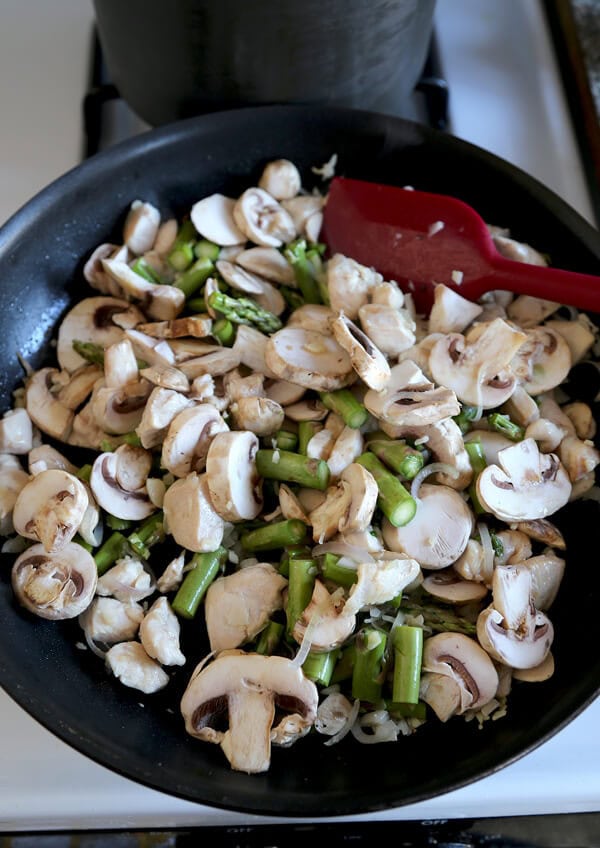 This chicken stir fry is sour, salty and sweet with a smoked pepper base coming from the gochujang (Korean chili paste) – though not too spicy, it's very savory and bold. Since it's a Japanese influenced Korean dish, the heat level of this recipe is low. To put it simply, Japanese people can't handle spicy food the way Thai and Korean people can. It's more of a slight tingling on your lips (piri piri is the Japanese term for spicy) rather than losing all feeling in your tongue. The sauce is so yummy you'll want to soak every grain of rice in it… And more!
A good pairing for this chicken stir fry beside a steamy bowl of rice could be something light like pickled daikon, seaweed salad or a pickled eggs (delish!)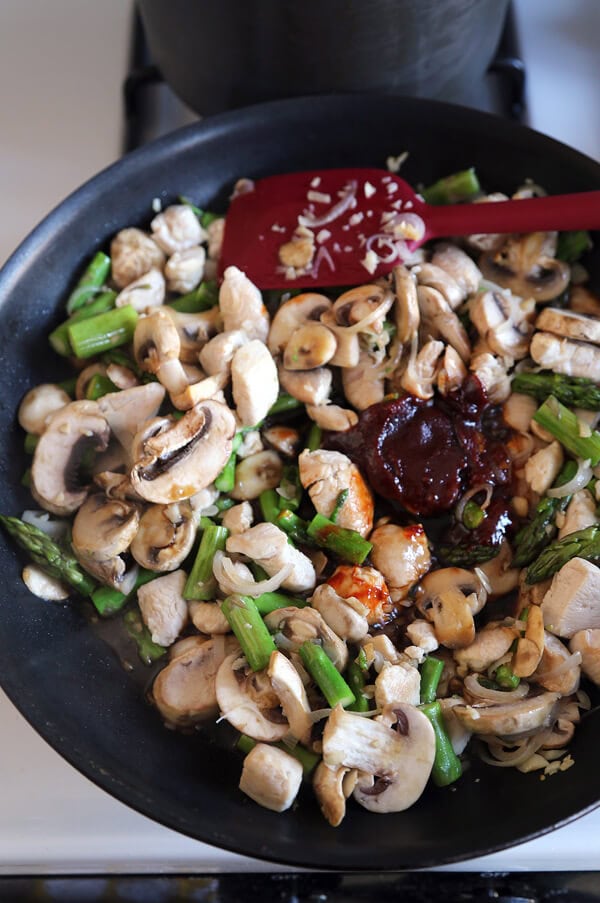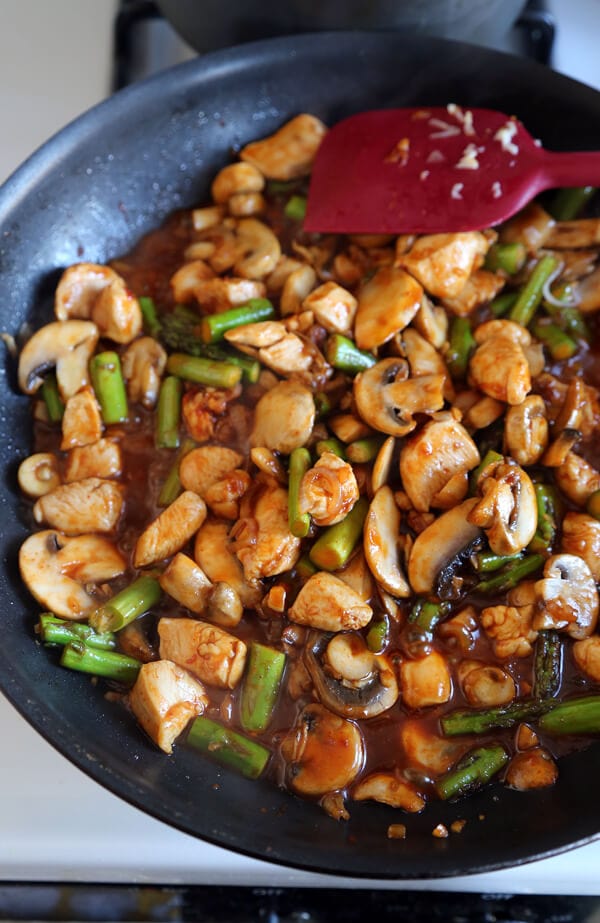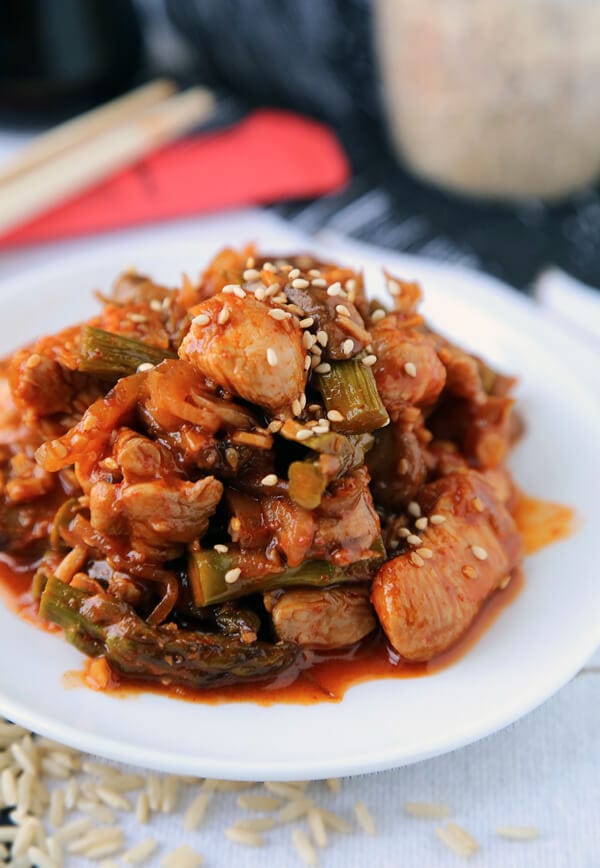 Print
Spicy Asparagus Chicken Stir Fry
Prep Time:

10 minutes

Cook Time:

10 minutes

Total Time:

20 minutes

Yield:

4

people

1

x
Category:

Main
1 tablespoon

vegetable oil

4

cloves garlic (minced)

2

shallots (finely chopped)

1/2

pound boneless, skinless chicken breast (chopped bite size)

12

stalks asparagus (end trimmed and chopped into thirds)

2 cups

mushrooms (roughly chopped)

1 teaspoon

sesame seeds

1 teaspoon

sesame oil
For the sauce:
1 1/2 tablespoon

granulated sugar

3 tablespoons

soy sauce

1 1/2 tablespoon

rice vinegar

1 1/2 tablespoon

gochujang (Korean red pepper paste)
Instructions
Put all the ingredients for the sauce in a bowl and mix well. The gochujang paste will melt once it's cooking.
In a large pan over high heat, add oil, garlic and shallots and cook for one minute.
Add chicken and cook for about 5 minutes, until chicken is cooked through.
Add mushrooms and asparagus, stir well and cook for 3 minutes.
Add sauce, stir well until gochujang is diluted, cover and cook for 2 minutes.
Add sesame oil and sesame seeds, stir well and serve hot.
Recipe Card powered by