Salmon sinigang – Filipino sour soup
I came across this
salmon sinigang recipe
 by Marvin Galputos while browsing online for Filipino food and as soon as the words 'sour soup' appeared in my Google search, my mouth instantly began to water. I could taste and smell it by just reading the ingredients off the page. The addition of wine and white miso also peeked my curiosity, two things I'm not used to seeing in typical
South East Asian cooking
, but who am I to judge; it couldn't have been more than two weeks ago that I published a
French onion soup with miso
paste and vinegar.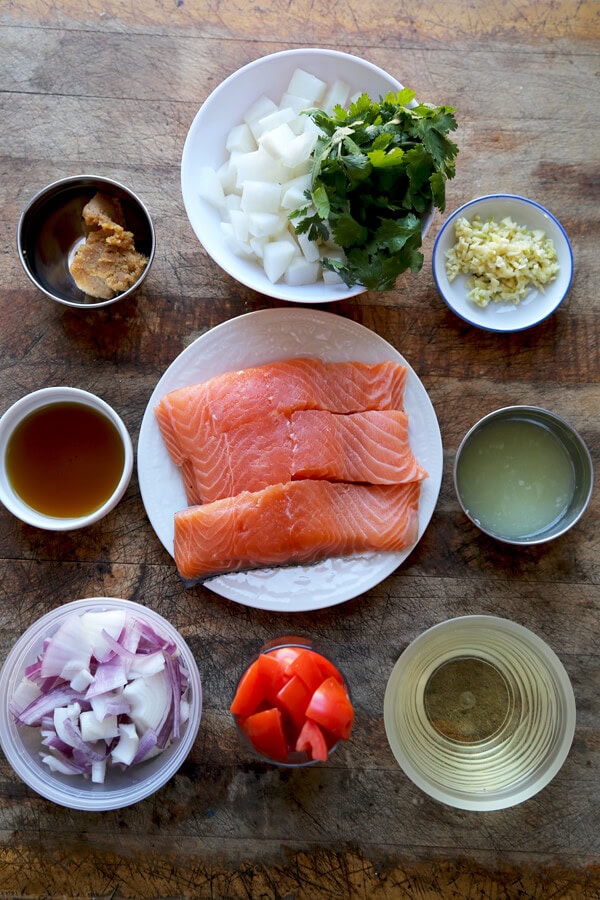 I am not familiar with Filipino cooking (I don't even know how to pronounce sinigang) and my ignorance led me to believe that their cuisine was more sweet than sour. It turns out I was completely wrong. After reading through some popular Filipino recipes, it became evident that sour ingredients (such as calamansi or vinegar – e.g. chicken adobo) are just as commonly used as sweet ones (sugar, condensed milk). And it does make sense since Filipino food is a melting pot of mixed cuisines influenced by countries such as Spain, America, Japan, China and Malaysia. You would need a lesson in history to pinpoint its origin and I am not one who is very knowledgeable in that area. I slept through most of my high school classes and even got my mother to sew a pair of shorts for home ec. I was a parent's nightmare when it came to studying as I hated school.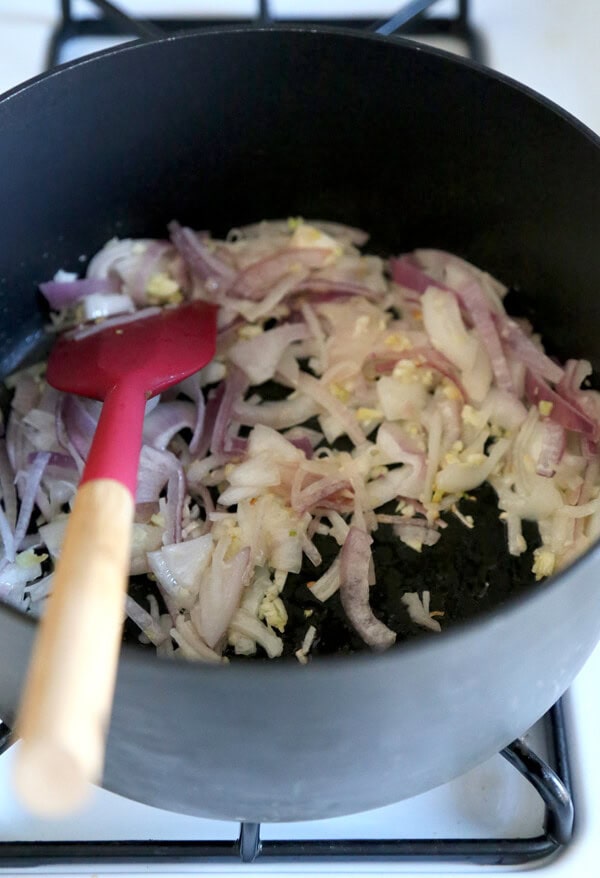 As far as cooking goes, it's something I picked up and fell in love with in my 20s once I began traveling. South East Asian cuisine opened my eyes to a myriad of new flavors and made eating a fun adventure (like this yummy spicy Thai mango and apple salad). Only someone like Marvin Galputos, who was exposed to a library of spices and condiments from a young age could think of mixing miso with wine, lemon, fish sauce, daikon and tomatoes. It's brilliant! And boy does it taste good! Remember how I said I could literally taste and smell the soup from just reading the ingredients? I was right; it had a very familiar aroma and tasted exactly like I hoped it would. Fragrant, sour, fishy and pungent just like I want my South East Asian food to be. Flavors that are in your face, unafraid to be so loud and strong they might burn your eyes and tongue. De-li-cious. Salmon Sinigang can be served as a main with a side of rice. It's filling but not heavy.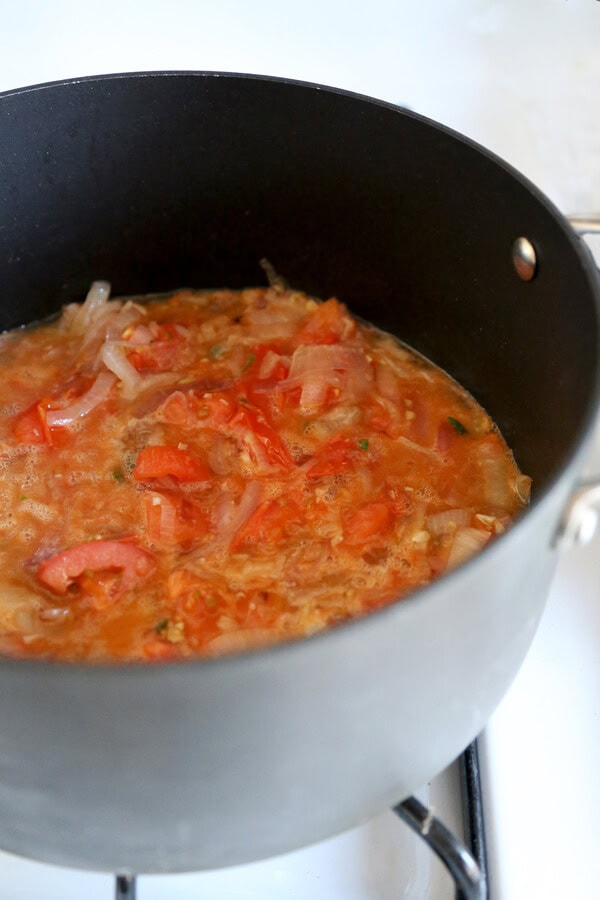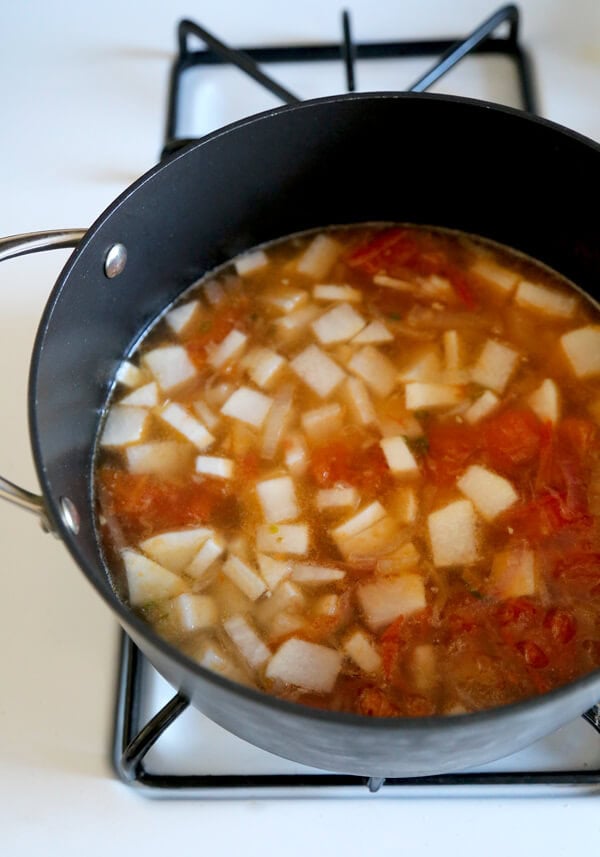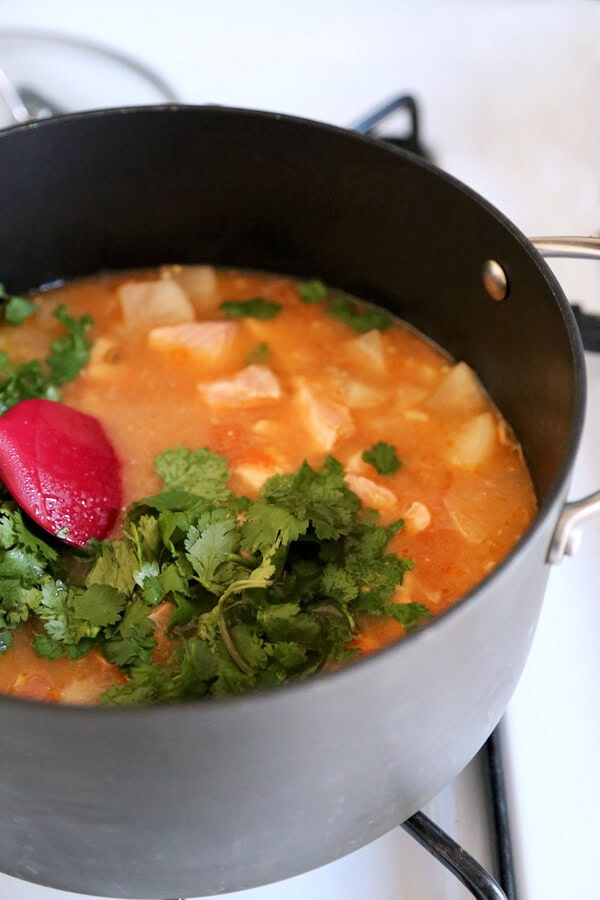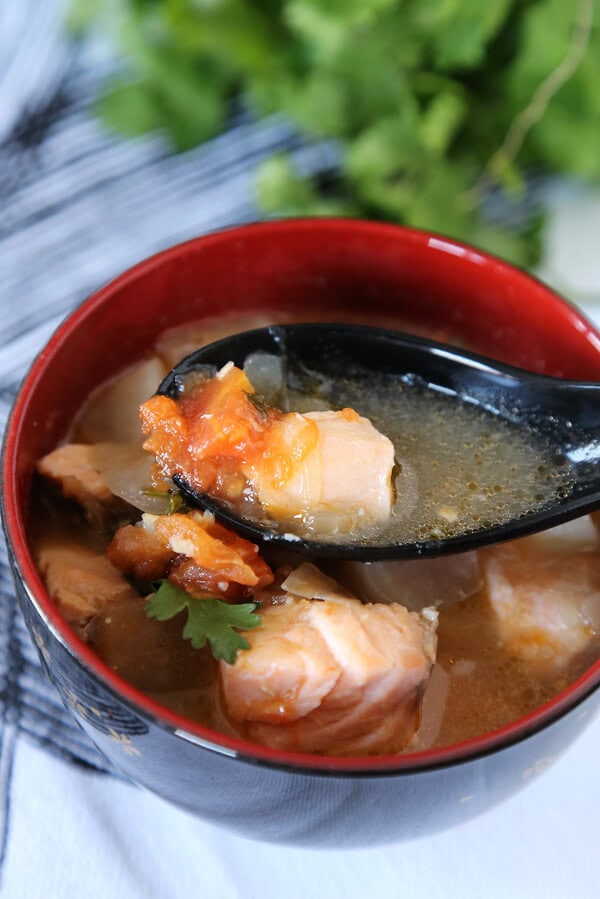 Print
Salmon Sinigang – Filipino Sour Soup
Prep Time:

10 minutes

Cook Time:

35 minutes

Total Time:

45 minutes

Yield:

4

people

1

x
Cuisine:

Filipino
Scale
Ingredients
2 tablespoon

s vegetable oil

1

small red onion (chopped bite size)

2

Thai chilis (finely chopped (optional))

4

cloves garlic (minced)

2 cup

s daikon (peeled and chopped bite size)

3/4 cup

dry white wine

2

small tomatoes (roughly chopped)

4 cup

s water

3 tablespoon

s lime juice

3 tablespoon

s fish sauce

2 tablespoon

s white miso paste

1

pound skinless and boneless salmon (chopped bite size)

1/2 teaspoon

salt
handful cilantro (roughly chopped)
Instructions
In a pot over medium/high heat, add oil, garlic, onions and thai chilis and cook for about 5 minutes, until onions are soft and clear.
Add daikon and wine and cook for 5 minutes.
Add tomatoes and water and bring to boil.
Add lime juice, fish sauce, salt and miso paste, stir well and lower heat to a simmer. Cover and cook for 25 minutes or until daikon is soft.
Add salmon and cilantro, simmer for 3-4 minutes until salmon has cooked through. Serve hot.
Recipe Card powered by