Only 15 minutes to make from start to finish for a big bowl of light and tasty stir fried glass noodles with shrimp. Yummy!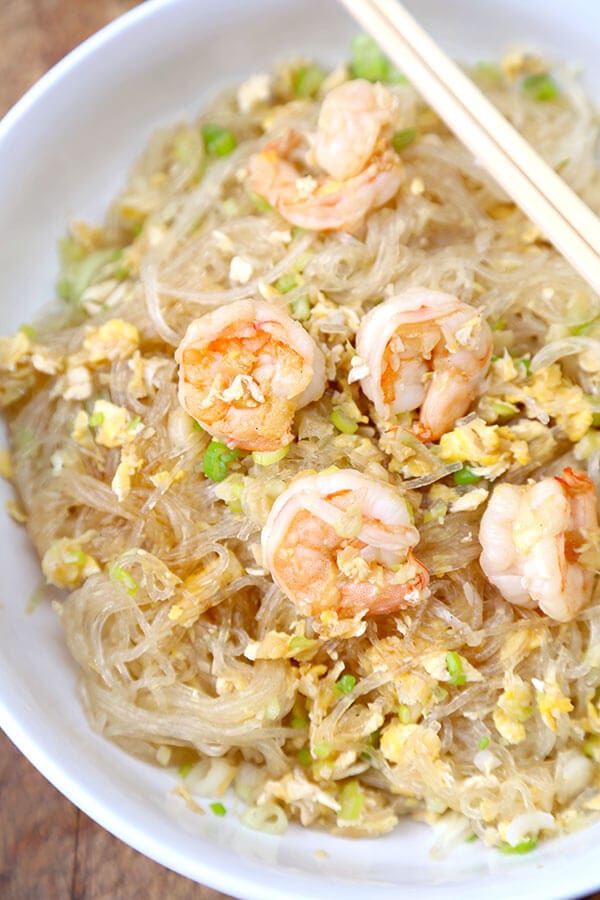 Stir Fried Glass Noodles with Shrimp
Have you ever watched a chef effortlessly whip up a string of wok recipes – one after the other?
It's captivating! And I can't turn away.
You see, aside from eating in Asia, watching chefs is a favorite pastime of mine as well. Sure, it may be a bit impolite to stare, but I'm drawn to the fiery work being done over powerful gas burners in the open kitchens of Singapore's hawker centres and street stalls in Bangkok.
The mastery those chefs display when crafting a simple Thai noodle dish or a veggie loaded stir fry is just… beyond. It's almost as if those Asian recipes are forged by fire!
And the aggressive, well rounded flavor is usually at odds with the quick cooking time.
This stir fried glass noodles with shrimp recipe is a nod to those simple wok recipes you'll find throughout Asia.
The ingredients list is super short, there are only a few steps to follow, and the cooking time is kept to a bare minimum.
The flavors are bold, savory and satisfying!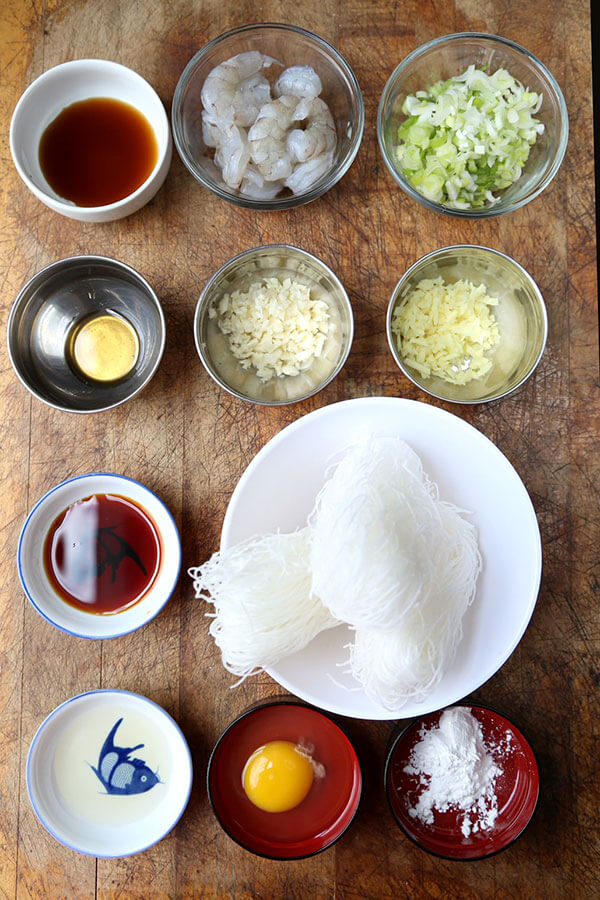 An easy and delicious glass noodles recipe
As I mentioned, this is a quick stir fry recipe that's super tasty. But it's also quite light!
I used mung bean noodles (aka: bean thread noodles) in this pan fried noodle recipe – and, aside from being light, they have a springy, slippery texture. They work so well with shrimp and eggs in both the flavor and texture departments.
But first, let's get this out of the way: this specific recipe has no real provenance other than my kitchen. It's not a Japanese, Thai or Chinese noodle recipe per se – although you'll taste flavor elements endemic to all those wonderful cuisines.
Let's just call it a basic stir fried Asian glass noodles recipe, the likes of which you can find anywhere in Southeast Asia, China or Japan.
And like most Asian shrimp and pasta recipes, this one can be made in either a wok or frying pan. Whatever you have handy in your home kitchen!
I think you'll find the flavors are really similar to shrimp fried rice – and it's just as easy to make. These shrimp loaded glass noodles are perfect for those hot summer days when you want to eat well, but can't stand the thought of more than 20 minutes in the kitchen!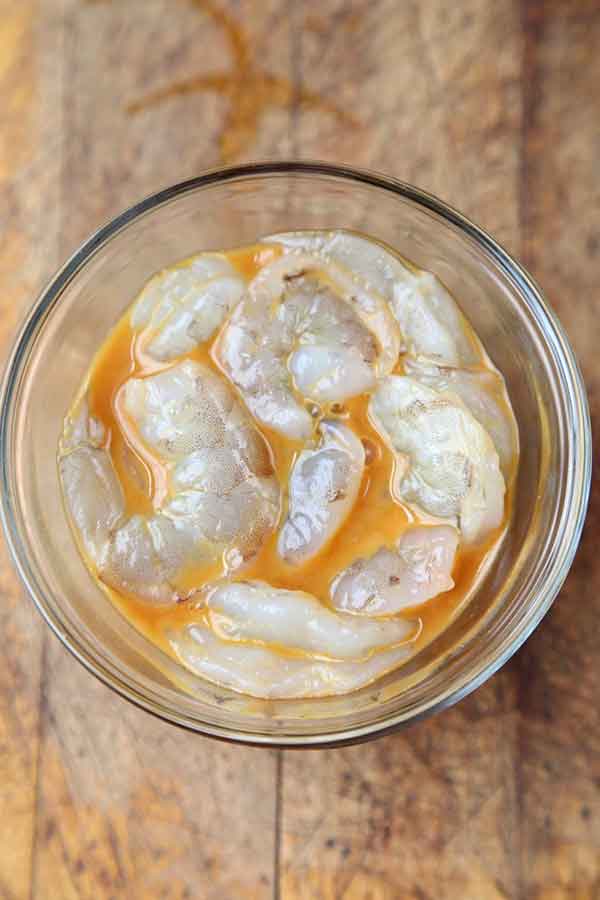 What are bean thread noodles?
Now this can be a little confusing, so let's dive in.
Bean thread noodles fall into a category of clear noodle – sometimes also called glass noodles or cellophane noodles.
And, since there are quite a few different ingredients used to produce the various types of clear glass noodles in the Asian food lexicon, it isn't always clear which is which.
So, to keep it simple and erase any doubt, bean thread noodles are the transparent noodles made from mung bean starch.
Mung beans are a legume. Once germinated in water, mung beans sprout and form mung bean sprouts – a super common ingredient in most Asian cuisines.
However, starch can also be extracted from ground mung beans that haven't been germinated. And it is this starch that forms the delicate glass noodles (or bean thread noodles) we're using in this yummy Asian noodle recipe today.
Bonus: on their own, mung bean noodles are vegan and gluten free.
Now, most bean thread noodle recipes will call for you to soak the mung bean noodles in hot water to soften them prior to stir frying. When in doubt, read the instructions on the package for perfect prep times for that specific brand.
You should be able to find these mung bean based glass noodles at most Asian grocery stores – or you can just pick them up on Amazon: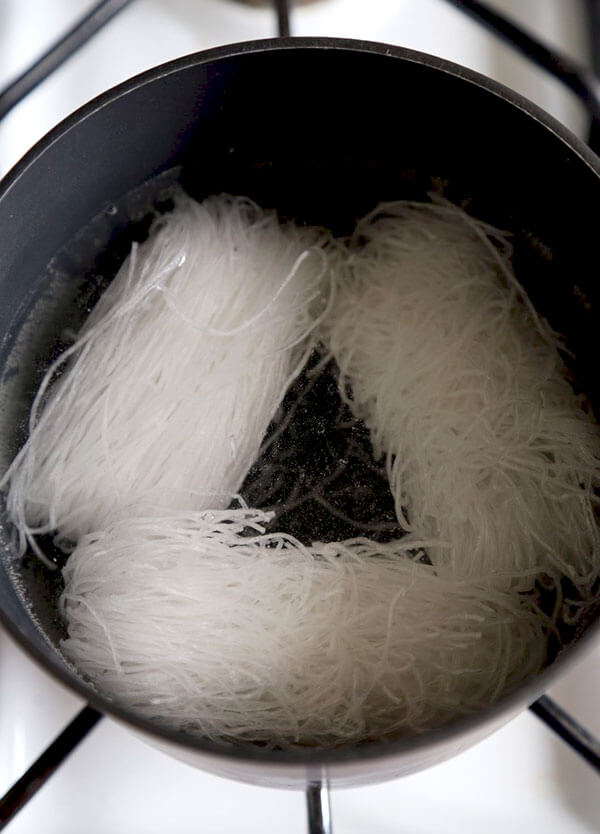 What's another type of clear noodles?
Aside from the mung bean thread noodles we're using today, there are other types of noodles that qualify as cellophane or glass noodles as well.
In many Korean recipes, you'll find dangmyeon (당면 – Korean glass noodles) in use. However, instead of mung beans, these glass noodles are made from the starch of sweet potatoes.
These super slippery sweet potato starch noodles are the glass noodle of choice when making this delicious Japchae recipe.
However, don't confuse mung bean or sweet potato starch based glass noodles with rice vermicelli. While rice vermicelli can seem clear at a glance, those thin noodles – used in dishes like bún chả and Singapore chow mei fun – are actually white in color and made from rice.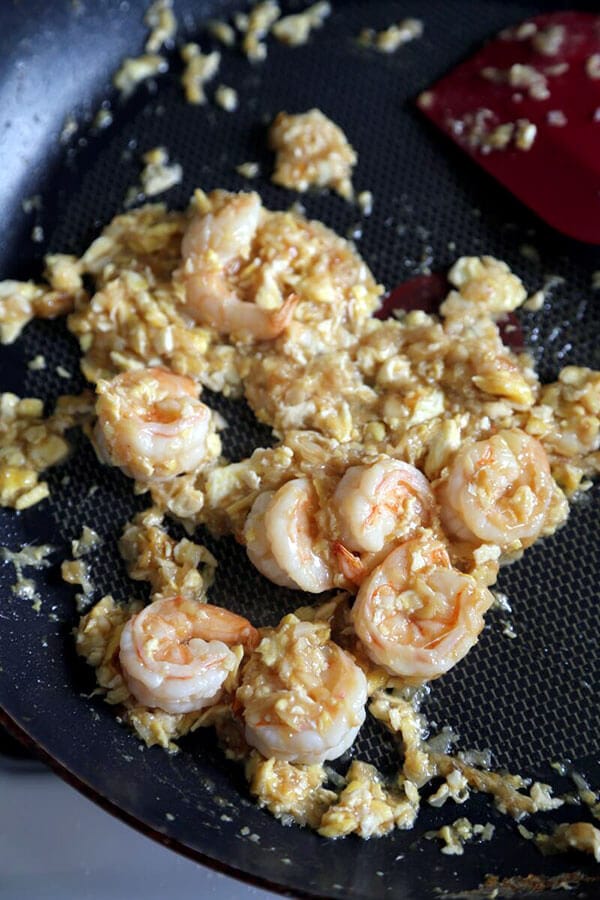 How to make this stir fried glass noodles with shrimp recipe
The steps to this stir fried glass noodles recipe are very easy to follow!
If you can chop veggies, marinade shrimp and soak bean thread noodles in hot water for 10 minutes – this should pose no real challenge at all 🙂
So… let's cook!
In a bowl, whisk a tablespoon of rice vinegar, a tablespoon of soy sauce and a half teaspoon of cornstarch together. This will be the easy marinade for our shrimp. A 10 minute (or so) soak should suffice.
While the shrimp is marinating, you can also soak your bean thread noodles in hot water to soften them. A good rule of thumb is 10 minutes for your noodles. But a better rule of thumb is to read the package for the proper soaking time for your specific brand!
Next – in a wok or deep skillet over high heat – get your garlic and ginger going for about a minute. Then add the shrimp (along with the marinade) to the pan and toss until your shrimp are cooked through. That should take about 4 minutes.
Then push everything to one side of your pan and quickly scramble your egg.
Finally, add your glass noodles, soy sauce, sesame oil and a few tablespoons of water. Mix really well so that all your flavors are integrated. I like to hit the whole thing with a bit of white pepper just before serving.
And that's it! I told you it was quick and easy.
The flavor of this fragrant stir fried glass noodle recipe is intoxicating. It's a little savory, sweet and nutty.
YUM!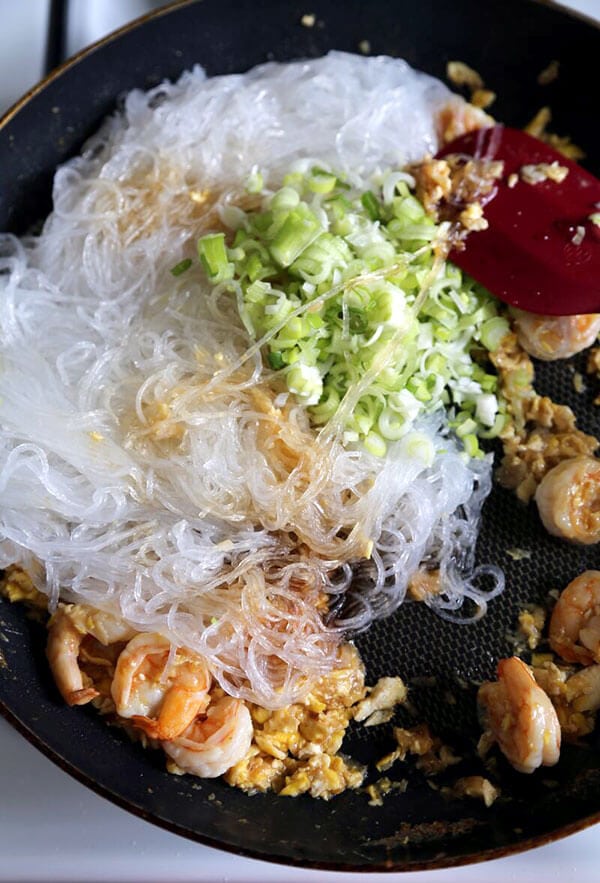 An easy and flavorful wok recipe
Stir frying these pliant glass noodles and juicy, tender shrimp into a cohesive Asian noodle recipe in your home kitchen isn't difficult at all. It's also kind of fun to imagine that you're a wok master, blasting the heat and making dish after dish under the blazing Thai sun. At least that's how my brain works, hehe…
This recipe is an homage to the flavors you'll find in pan fried noodle recipes all over Asia.
And the ease in which you can whip this up is a nod to the fact that wok recipes should pack a wallop for your tastebuds – but, above all, be quick and easy!
What about you… What's an easy recipe you make at home in no-time-flat that is just saturated with flavor? I'd love to hear about it in the comments!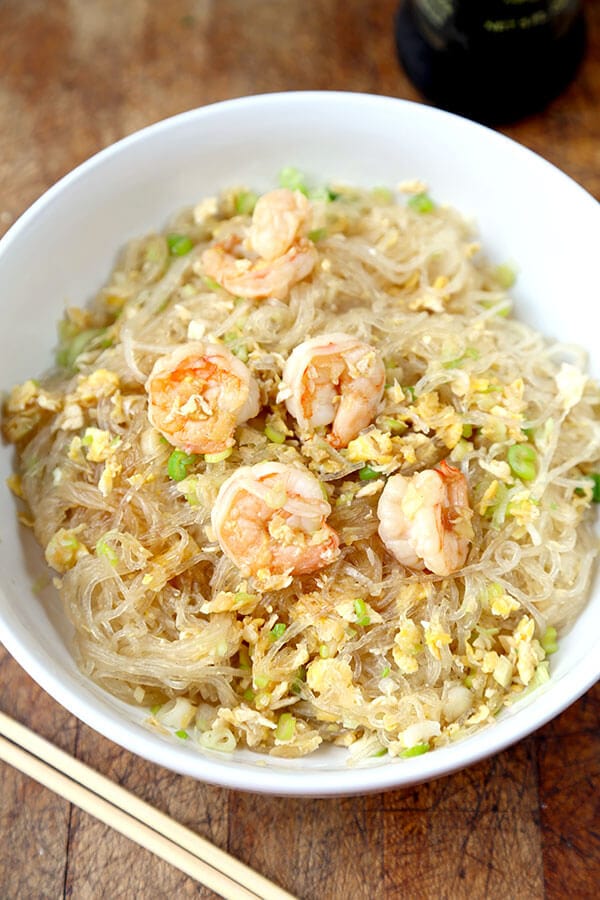 Other simple, delicious recipes to serve alongside your stir fried glass noodles with shrimp: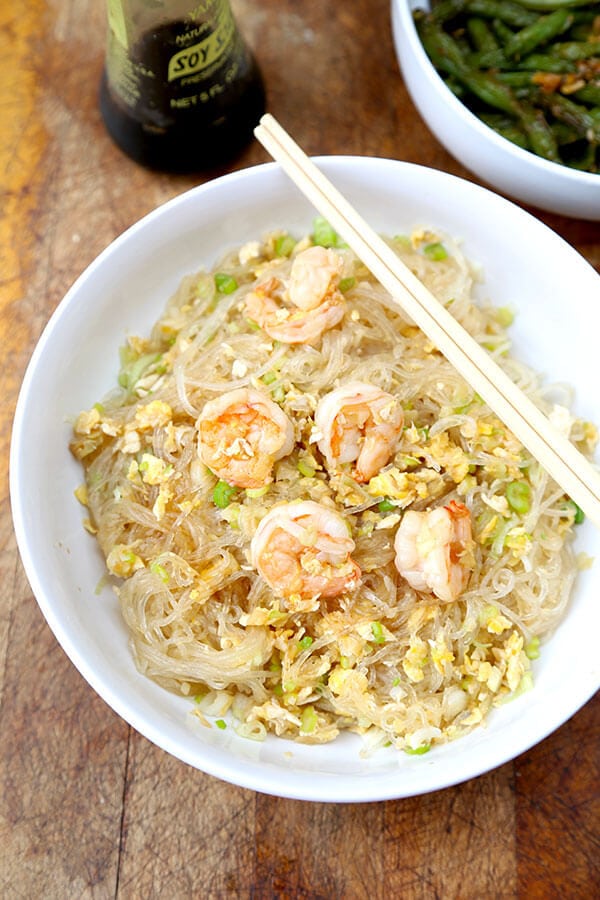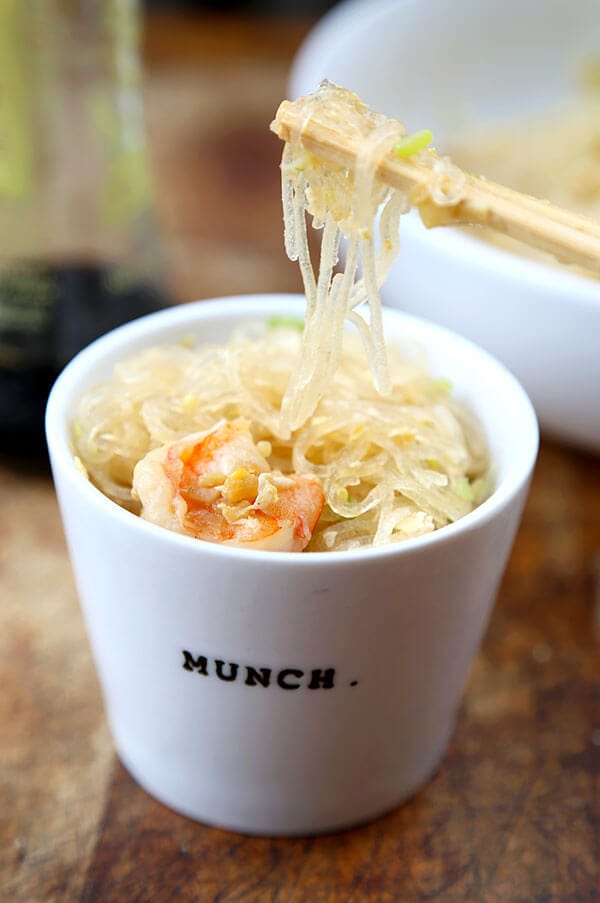 Did you like this Stir Fried Glass Noodles With Shrimp Recipe? Are there changes you made that you would like to share? Share your tips and recommendations in the comments section below!
Print
Stir Fried Glass Noodles with Shrimp
Only 15 minutes to make from start to finish for a big bowl of light and tasty stir fried glass noodles with shrimp. Yummy!
Author: Caroline Phelps
Prep Time:

10 minutes

Cook Time:

6 minutes

Total Time:

16 minutes

Yield:

4

people

1

x
Category:

Noodles

Method:

Stir frying

Cuisine:

Chinese
3.75 ounces

bean thread noodles

4 ounces

shrimp (peeled and deveined (

8

–

10

large shrimp))

2 tablespoons

vegetable oil

3

cloves garlic (minced)

1

thumb size ginger (finely chopped)

1 1/2 tablespoon

light soy sauce

1 teaspoon

toasted sesame oil

3 tablespoons

water

1

large egg (whisked)

2

stalks scallions (finely chopped)
salt and white pepper (to taste)
marinade:

1 tablespoon

rice vinegar

1 tablespoon

soy sauce

1/2 teaspoon

corn starch
Instructions
In a bowl, whisk in all the ingredients for the marinade. Add shrimps and marinade for 10 minutes.
Soak bean thread noodles in hot water for 10 minutes. Drain and set aside.
In a large pan over high heat, add oil, garlic and ginger and cook for 1 minute. Add shrimps along with the marinade and cook for 4 minutes or until they are cooked through.
Push shrimps to the side and add egg. Quickly scramble the egg and add scallions, noodles, soy sauce, sesame oil and water.
Stir fry everything together for 1 minute and turn the heat off. Transfer to a plate, season with salt and white pepper and serve immediately.
Nutrition
Serving Size:
Calories:

194

Sugar:

0.7 g

Sodium:

429.5 mg

Fat:

6.1 g

Saturated Fat:

1.8 g

Carbohydrates:

24 g

Fiber:

0.6 g

Protein:

9.8 g

Cholesterol:

95.6 mg
Keywords: recipe, Asian noodles, main, shrimp noodle stir fry
Recipe Card powered by