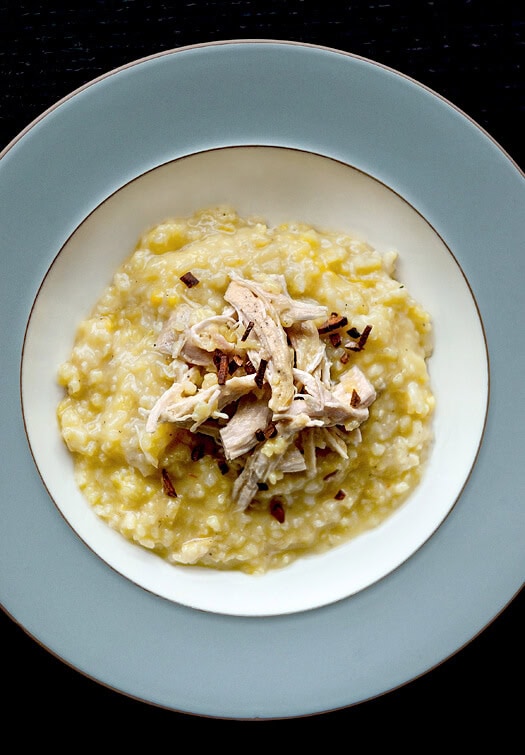 Arroz Caldo (Filipino Chicken Porridge)
Recipe by: Milagros G. Guevarra
A good friend of mine, Marivic Pinedo, wanted to share this arroz caldo recipe that her mother created.
"As a kid, arroz caldo was a dish I couldn't wait to devour;  I still remember sitting at the table, impatiently waiting to be served a bowl of this warm and comforting Filipino chicken and rice dish.
Most times I would hover over the stove and serve myself directly from the pot, making sure my chicken-to-rice ratio was just so. My favorites were the tiny chicken wings – a small pile of bones would slowly stack up to the side of my bowl, after sucking every last ounce of flavor from them. I wasn't shy; the higher the pile, the prouder I was.
On the table, a bowl of fish sauce mixed with lemon juice was set out to add a little citrus and saltiness, while the deliciously smoky, 
fried garlic
 and ginger garnishes brought a pleasant crunchy texture. Once I had scraped the last grain of rice from the bottom of my Correlle bowl, I would return to the stove to serve myself a second helping. It was never just a single serving situation.
Some people make 
arroz caldo
 more soupy, but I love my mother's version of a porridge-like consistency. Some also prefer adding
chopped scallions
during the cooking process, but my mother doesn't. I'm not sure whether saffron is classically used in this dish or not, but I'm glad my mom does – It lends a subtle toasty and floral aroma, that rounds up and completes the dish.
This arroz caldo is my mother's own 
recipe
 that I treasure to this day close to my heart." – Marivic Pinedo
fightingreality
Print
Arroz Caldo
Prep Time:

10 minutes

Cook Time:

45 minutes

Total Time:

55 minutes

Yield:

6

1

x
Category:

Main

Cuisine:

Filipino, Rice
5

cloves garlic

4 tablespoons

extra virgin olive oil

3

thumb size ginger (peeled and julienned)

1

small onion (diced)

3 cups

white rice

20

chicken drumsticks and wings ((or

5

regular size chicken thighs))

5 tablespoons

Thai fish sauce

1/2 teaspoon

saffron ((or generic saffra))
salt and pepper
Garnish
chopped scallions
lemon wedges
fried garlic and ginger
Instructions
Cook rice according to directions on package. When the rice is cooked, blend half of it in a blender with a little water until thick and soupy (like porridge, to your desired consistency). Set aside.
Finely chop the last 2 garlic cloves. In a large pot over medium/high heat, add 2 tbsp olive oil, garlic, leftover ginger and onions. Cook for 2-3 minutes, until onions are clear (translucent) and add chicken. Lower heat to low/medium, cover and let simmer for 5 minutes.
Add fish sauce and 1/2 cup of water (do NOT stir), cover and cook on low for 5 minutes. Stir and add enough water to cover the chicken, bring to boil, cover and let simmer for 20 minutes.
Add blended rice mixture, stir well and add remaining unblended rice. Add saffron and stir well until porridge color turns golden yellow.
Bring to a boil, cover and simmer for 5-10 minutes, until rice has thickened, stirring occasionally to prevent rice from sticking to the bottom of the pot.
Turn the heat off, verify that chicken is cooked through and let cool for 5-10 minutes.
Serve in a bowl and top with fried garlic, ginger, scallions and lemon wedge.
Garlic and ginger garnish
In a pan over medium high heat, add minced garlic, half of the ginger strips and 2 tbps olive oil. Fry until light brown and set aside.
Nutrition
Calories:

1061

Saturated Fat:

10
Recipe Card powered by