What a looker! Not only is this bright and cleansing Chinese Lotus Root Salad packed with goodness, it's a beautiful addition to the dinner table. Ready in 15 minutes!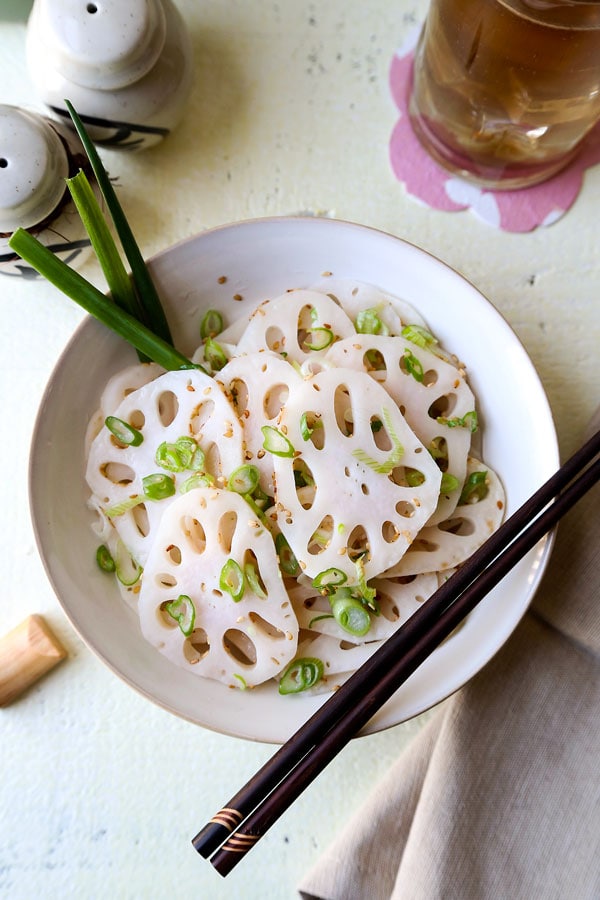 I remember the first time I tried lotus root as a kid. It was in a Japanese dish called kinpira renkon, which is basically a lotus root stir fry.
As I was so young, I couldn't tell you if I liked the taste the first time I tried it.
But I remember being absolutely mesmerized.
You see, lotus is a striking vegetable to behold. With its round exterior and interior that looks practically lacy… It almost resembles a massive snowflake more than a root vegetable.
As a young girl, I remember thinking it was the most fashionable vegetable I had ever seen, ha!
Well, fast forward a few years – and I can safely say that I love the taste of lotus root as much as I adore the look.
And whether it is a Japanese renkon recipe – or this tart and refreshing Chinese lotus root salad, as soon as it hits the table I'm ready to feast with my eyes (and dig in with my chopsticks)!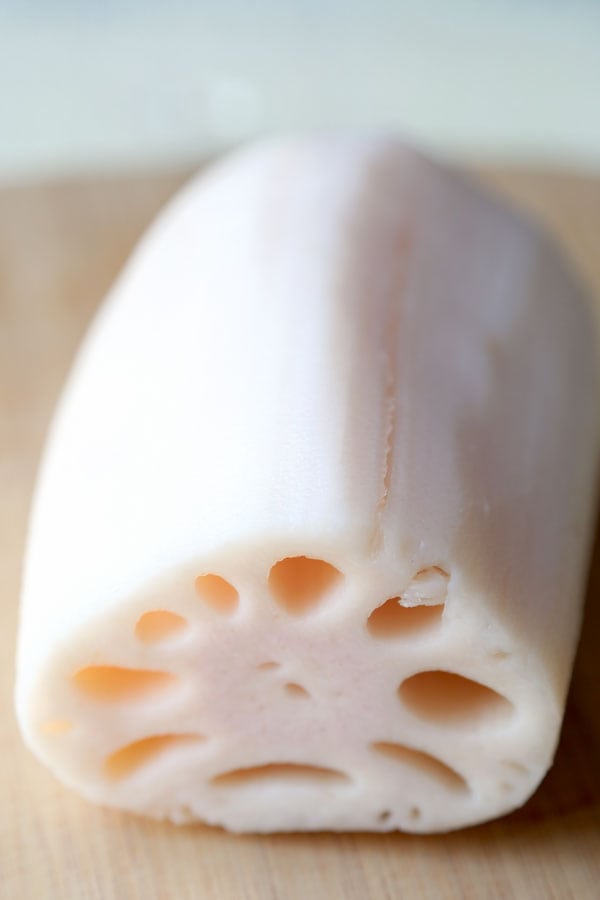 What is lotus root?
Lotus root is the stem (or rhizome) of the gorgeous lotus plant. With those iconic, beautiful flowers in bloom above the surface of the water, the lotus stem / root sticks into the mud below.
The root can reach up to around four feet in length, and has a segmented appearance, almost like sausage links!
This crisp Asian root vegetable is very popular in Chinese and Japanese cuisines, although it is widely consumed throughout Asia.
Fun fact: in Chinese, lotus root is lian ou (莲藕). In Japanese, it is renkon (蓮根, レンコン).
Now there are a ton of different preparations when it comes to this versatile vegetable. I'm a big fan of stir fried lotus root, crispy baked lotus root chips…
And, of course, this Chinese influenced salad is one of my all time favorite lian ou recipes!
I think you'll love it too 🙂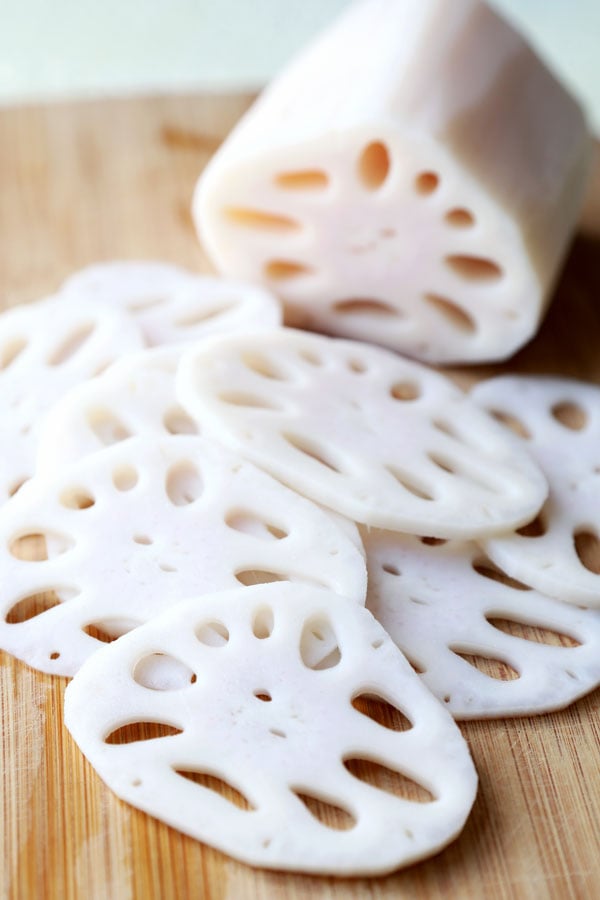 What does lotus root taste like?
On its own, lotus root has a mildly sweet taste. However, it's most common to augment the root's flavor by using it in composed recipes.
The flavors In this Chinese root vegetable recipe are tart and acidic from the use of rice vinegar. If cleansing was an actual flavor – I'd probably just go with that and call it a day, ha!
However, eating lotus is as much about texture as it is about flavor.
You see, it has a starchy, crisp texture that holds up quite well even after being cooked. Think of the texture of this root veggie as similar to a raw potato.
However, instead of being 100% crisp and mealy like a raw potato, there is a slight give – almost like the faintest essence of the texture of bamboo shoots at play.
So, when it comes to the whole lotus vs potato thing, there is definitely a difference.
That said, for those that like their cooked veggies on the crisp side, lotus is for you!

How to cook lotus root
Cooking lotus root is super easy. It's a very forgiving vegetable when it comes to over or undercooking.
Therefore, if you have any trepidations about trying this Chinese lotus root salad in your own home kitchen, wipe that fear away… You've got this!
To start, get a tablespoon of vegetable oil going in a wok or deep skillet over medium-high heat.

Add about 4 ounces of peeled and sliced lotus root, ½ teaspoon sugar and ½ teaspoon salt and cook that mixture for about 5 minutes or so – until the lotus has started to soften a bit. Now, don't overdo it here! You still want a pretty decent crunch at this point 🙂

Add a half cup water to the pan and stir as you bring it to a boil.

Once boiling, lower the heat to a simmer, cover with a lid and let cook for another 5 minutes – until the lotus is tender, but still yields a nice crunch.

At this point you can drain the veggies and transfer to a mixing bowl. Finally add another half-teaspoon of sugar, 1½ tablespoons of rice vinegar, some chopped scallions and sesame seeds to the mix.

Toss well and taste. If it needs a little more salt, go for it.

Plate it up – and dig in!
There's a lovely, light sweetness from the sugar that is counteracted by the acidic notes of the rice vinegar.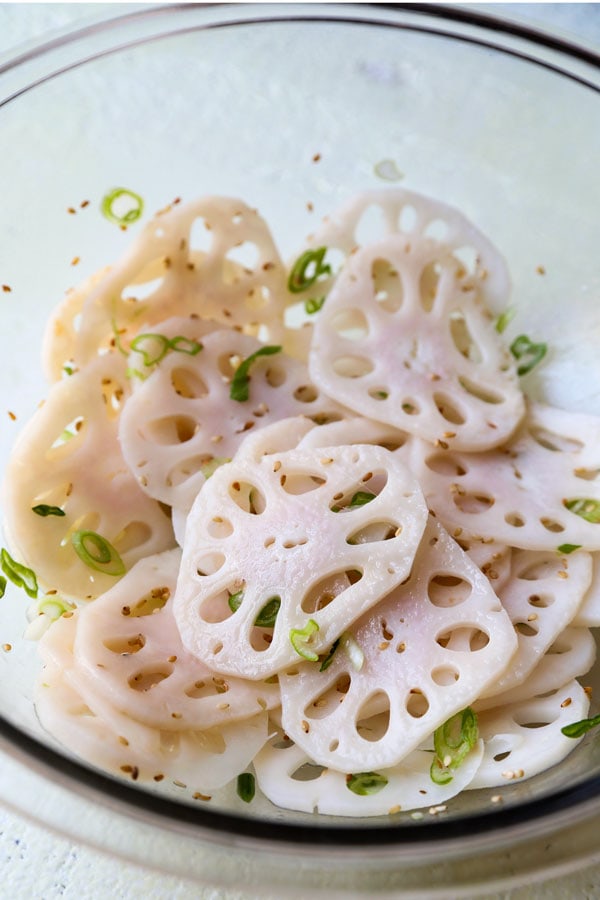 Where to buy lotus root
OK – while you can buy lotus root on Amazon, this is one of the few times I'd say it's best to head to the Asian grocery store and choose your own.
You are going to want to use sight and touch to choose the best ones for this Chinese influenced root vegetable recipe.
To keep things simple and straightforward, just look for fresh lotus root that is firm with no serious blemishes or bruises.

Also, the heavier the better. A lotus root on the heavier side means it hasn't dried out in transit.
However, fresh lotus comes in many forms.
You can also buy it peeled and shrink-wrapped in a watery solution.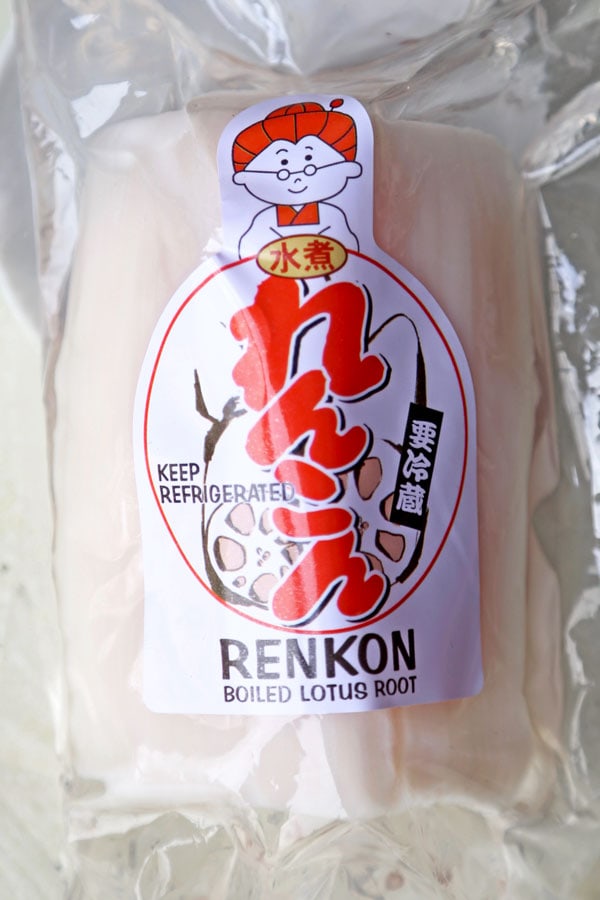 How to prepare lotus root before cooking
Now, if you buy packaged lotus, it is likely already in a saltwater solution that should do a pretty good job of preserving its pale color.
When buying fresh lotus, the flesh will start to brown (much like an apple) soon after you peel the skin. It's still totally edible – just not super pretty. But there's an easy fix!
Simply soak your peeled fresh lotus in vinegar for a few minutes – and the flesh will stay bright.
Easy, right!?
An easy Chinese vegetable recipe to add to your arsenal
If you've got 15 minutes to spare, you can totally whip up this delicious recipe.
It also happens to be vegan and gluten free!
Not only will it be a hit from a flavor and texture perspective – with its lacy looks it may just draw some admiring eyes.
Happy cooking!
Other delicious and easy Chinese recipes:
Plus: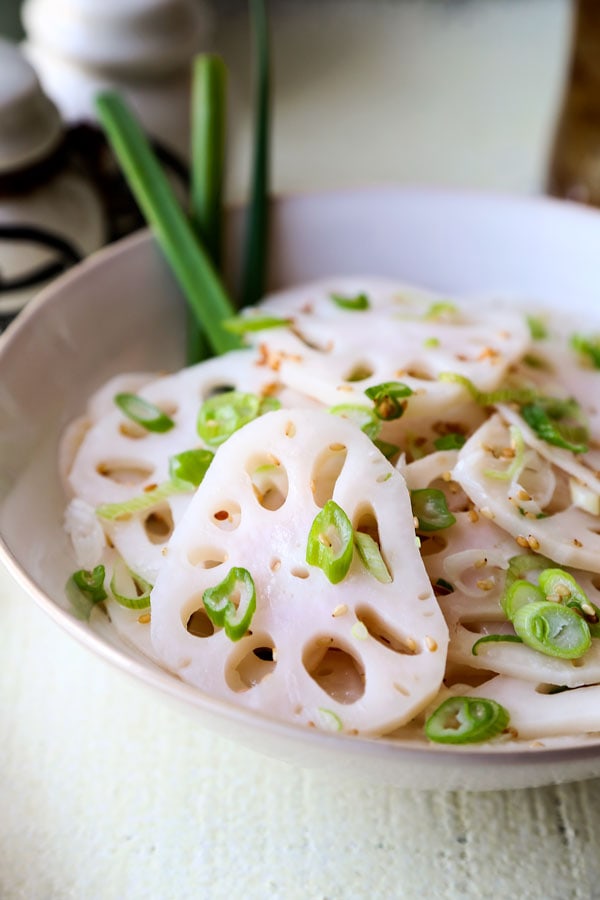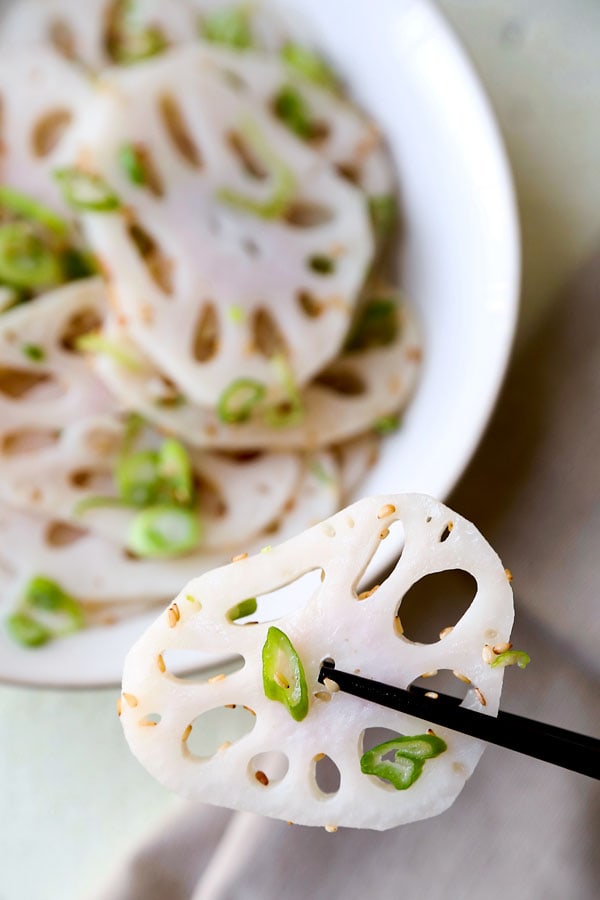 Did you like this Chinese Lotus Root Salad Recipe? Are there changes you made that you would like to share? Share your tips and recommendations in the comments section below!
Print
Chinese Lotus Root Salad
A bright and delicious Chinese Lotus Salad that is vegan and gluten free!
Author: Caroline Phelps
Prep Time:

5 minutes

Cook Time:

10 minutes

Total Time:

15 minutes

Yield: serves

2

-4

1

x
Category:

Vegetables

Method:

Stir Fried / Simmered

Cuisine:

Chinese
1 tablespoon

vegetable oil

4 ounces

lotus root, peeled and sliced ⅛ inch thick

1 teaspoon

granulated sugar

½ teaspoon

kosher salt

½ cup

water

1½ tablespoon

plain rice vinegar

1

scallion, chopped

½ tablespoon

sesame seeds

More kosher salt, to taste
Instructions
In a wok or deep skillet (that you have a lid for) over medium-high heat, add vegetable oil, lotus root, salt and ½ teaspoon sugar and cook for 5 minutes, until lotus root has begun to soften.

Add water, stir and bring to a boil. Lower the heat to a simmer, cover and cook for 5 minutes – until the lotus root is tender but still yielding a crunch.

Drain and transfer lotus root to a mixing bowl. Add the remaining ½ teaspoon of sugar, plain rice vinegar, chopped scallions and sesame seeds. Add more salt if needed. Toss well and serve.
Notes
You can keep leftovers of this Chinese salad covered in the fridge for up to 5-7 days.
Nutrition
Serving Size:
Calories:

48

Sugar:

1.1 g

Sodium:

321.3 mg

Fat:

2.3 g

Saturated Fat:

0.7 g

Carbohydrates:

6.3 g

Fiber:

1.6 g

Protein:

1 g

Cholesterol:

1.8 mg
Keywords: vegan, vegetarian, salad, gluten free
Recipe Card powered by