Hunan chicken is a popular Chinese-American dish made with tender pieces of chicken cooked with vegetables and tossed in a thick savory and spicy sauce.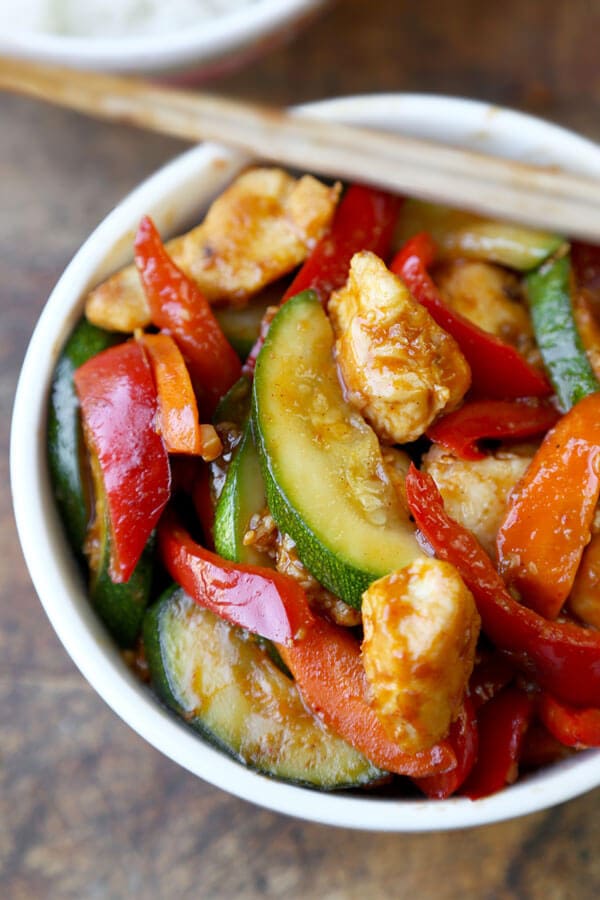 Easy Hunan Chicken Recipe
Good Monday everyone! How was your weekend?
Mine was very chilled and relaxing. I stayed mostly indoors to avoid the crushing heat outside as the first heat wave of the summer has arrived. It's the kind of heat (sauna like) I can only enjoy by a pool or a beach – neither of which we have.
Thankfully we have air conditioning and a small fan to circulate cool air throughout the apartment making our little Brooklyn nook very comfy!
When it's this hot, I stay away from the oven and try to keep the use of burners to a minimum. Making quick dinner recipes like cold salads and soups (we have had gazpacho just about every day last week) are better option as well as making an easy stir fry like this Hunan chicken recipe.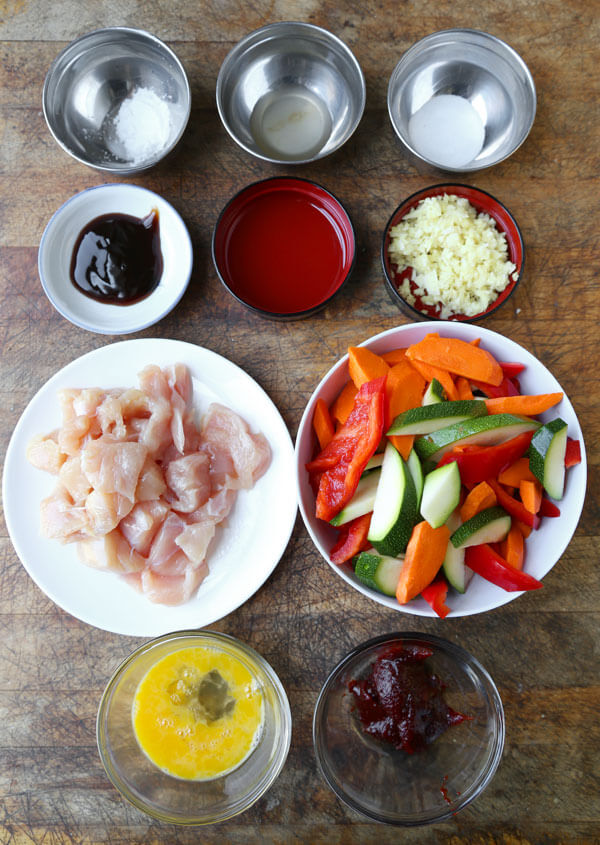 I L-O-V-E Chinese food. I spent three years living and working in Hong Kong, Singapore, Taipei, Shenzhen and Shanghai so I consider myself fairly well informed about Chinese food. And while it's obvious that authentic Chinese food is mind blowing delicious, I still grew up eating American-Chinese food and get cravings for it.
Hunan chicken is one of those dishes that was altered by Chinese restaurants (like general Tso chicken) in order to please the American palate.
Its original taste is more hot and spicy than tasty. However, the Hunan chicken recipe we are used to eating here in the USofA is sweeter, more savory and less spicy.
The real Hunan chicken also comes with bone-in chicken pieces and contains vegetables such as scallions, peppers and chiles.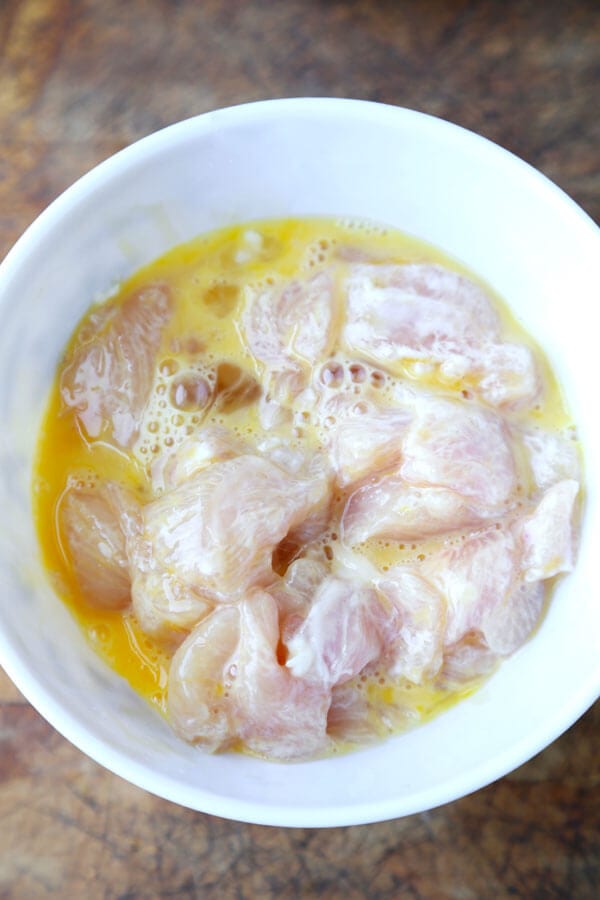 I've tasted both versions and can honestly say I enjoy both of them. Maybe it's because they taste so different that it feels like I am eating two completely different dishes! I grew up eating Chinese buffet food from places with names like Jade Palace and Imperial Garden so you can see why a dish like Hunan chicken with a little sweetness is appealing to me. I didn't discover really spicy food until later in my life – my mother (like most Japanese people) never made anything spicy since she couldn't handle the heat. It wasn't until my first trip to Thailand that I got my first taste of mouth numbing – eyes popping out of my sockets – I'm going to die if I don't drink water like right now spicy. And I fell in love with it instantly. I fell in love with the chile sweats and the cooling effect that soon followed a slurp of tom yam boran soup.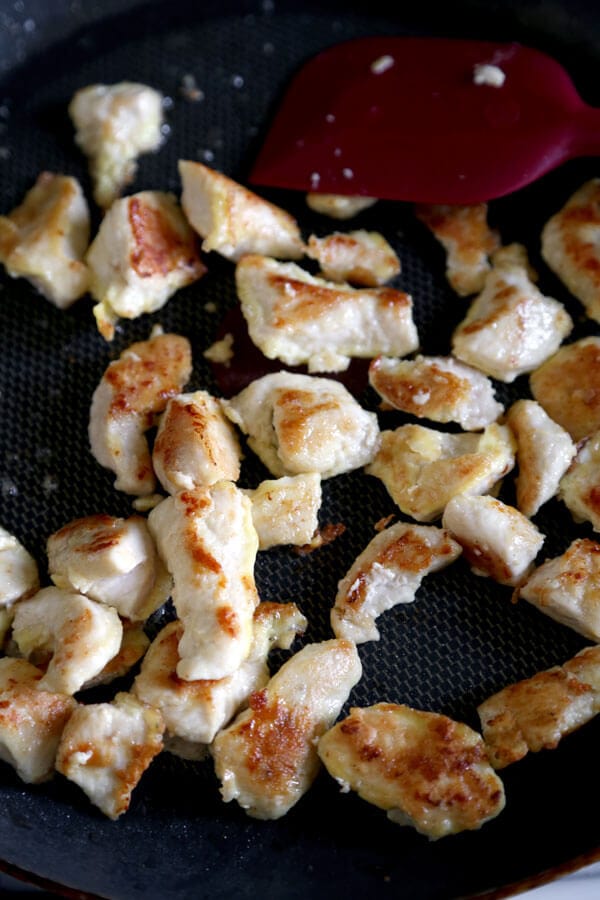 I think it's great that Hunan chicken can be offered two ways because it means I can get my Hunan chicken fix Szechuan style or American style!
My Hunan chicken recipe is very simple and packs a punch in taste but not spiciness. It's spicy enough to make you go "oooh!" but not enough to make you want to call the fire squad. I chose a mix of zucchini, red bell peppers and carrots to stir fry the chicken with but you can use your own combination of vegetables too.
I find that zucchini stir fries exceptionally well and texturally enhances the dish. It's become one of my go-to vegetable for stir fries!
You can serve this Hunan chicken recipe with white rice and some side dishes such as dry-fried green beans, vegetable chow mein noodles, stir fried glass noodles with shrimp.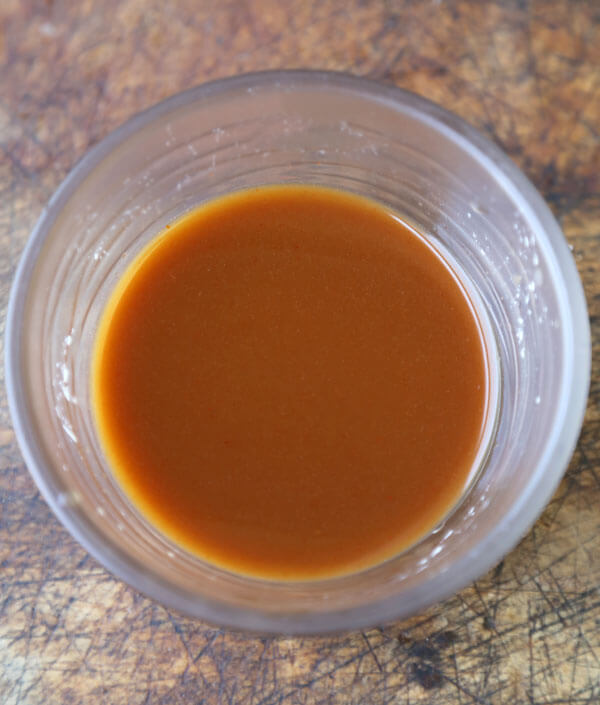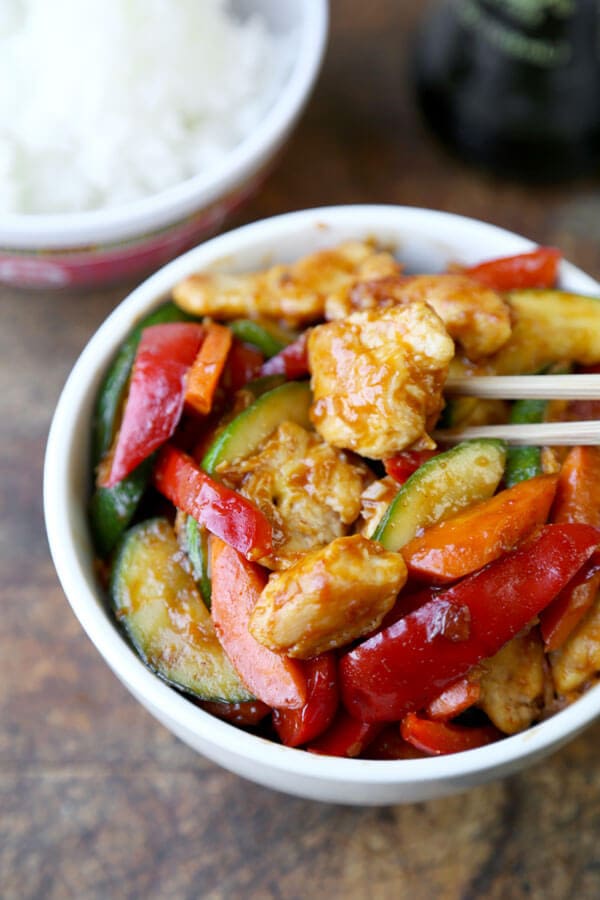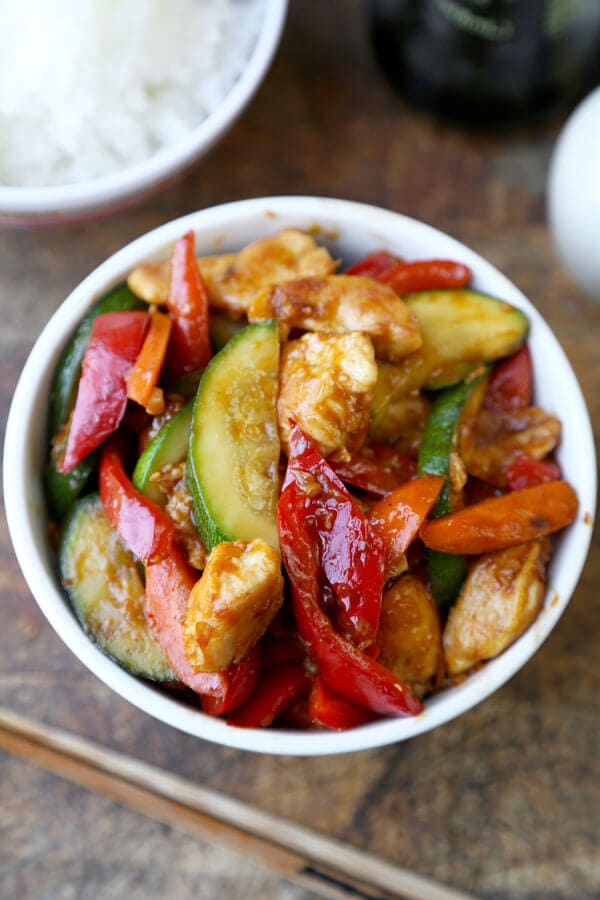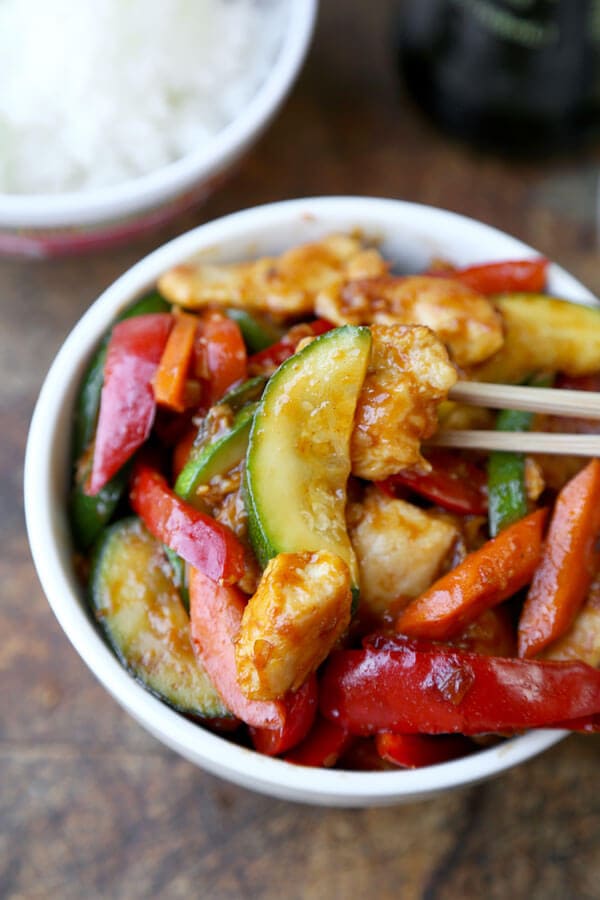 Did you like this Hunan Chicken Recipe? Are there changes you made that you would like to share? Share your tips and recommendations in the comment section below!
Serve this recipe with a side of Japanese rice. Watch our video on How To Make Japanese Rice the stove top or rice cooker method!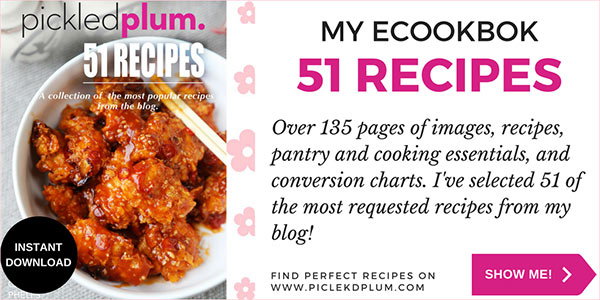 These recipes constantly make "best dish" lists on sites such as Country Living, Self, Shape, Bon Appetit, The Cooking Channel, Men's Fitness and Woman's Day. They are favorites among my readers, friends and family!
51 of the best appetizers, sides, stir fries, main, noodles & rice, desserts & drinks from the blog.
Simple and easy dishes made healthier, with calories and fat content provided. Tried and tested by my readers and loved by everyone!
---
Print
Hunan Chicken Recipe
Hunan chicken is a popular Chinese-American dish made with tender pieces of chicken cooked with vegetables and tossed in a thick savory and spicy sauce.
Author: Caroline Phelps
Prep Time:

15 minutes

Cook Time:

10 minutes

Total Time:

25 minutes

Yield:

2

1

x
Category:

Stir fry

Cuisine:

Chinese
Scale
Ingredients
1/2

pound skinless (boneless chicken breast, chopped bite size)

2 teaspoon

s cornstarch

1

large egg (whisked)
salt and pepper

2 tablespoon

s vegetable oil

1

clove garlic (minced)

1

thumb size ginger (peeled and finely chopped)

2 cup

s mix of zucchini, red bell pepper and carrot (sliced bite size)
For the sauce:
1 teaspoon

granulated sugar

1 teaspoon

apple cider vinegar

1 teaspoon

cornstarch

2 tablespoon

s chili bean paste or chili paste (such as tobanjan, Sambal Oelek)

1 tablespoon

oyster sauce

1 1/2 tablespoon

s soy sauce

1/4 cup

low sodium chicken stock
white ground pepper
Instructions
In a bowl, combine egg and cornstarch and season with a little salt and pepper. Add chicken pieces and marinade for 5 minutes.
Add all the ingredients for the sauce into a bowl and whisk until well blended.
In a large pan over medium high heat, add 1 tbsp vegetable oil. Drop chicken pieces and cook until both sides are golden brown. Remove chicken from the pan and set aside.
Add remaining 1 tbsp vegetable oil to the pan (still over medium high heat) and add garlic and ginger. Cook for 1 minute and add vegetables. Cook for 5 minutes.
Return chicken to the pan and add sauce. Stir and coat vegetables and chicken for 1 minute and turn the heat off.
Transfer to a plate or bowl and serve Hunan chicken with a side of white rice.
Notes
If you ran out or cannot find chile bean paste, substitute it for 2 tsp gochujang.
This Hunan Chicken Recipe is:
High in Vitamin A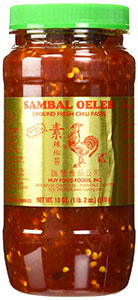 Sambal Oelek is made of chilies with no other additives such as garlic or spices for a more simpler taste. Use this sauce to add heat to a dish without altering the other delicate flavors.
Keywords: recipe, main, Asian, easy
Recipe Card powered by