If you ran out or cannot find chile bean paste, substitute it for 2 tsp gochujang.
This Hunan Chicken Recipe is:
High in Vitamin A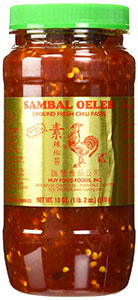 Sambal Oelek is made of chilies with no other additives such as garlic or spices for a more simpler taste. Use this sauce to add heat to a dish without altering the other delicate flavors.