Shrimp Tempura (Ebi Tempura)
*This post may contain affiliate links. Read my disclaimer here.
Learn how to make light, airy, and perfectly crunchy shrimp tempura in your own kitchen with this easy to follow tutorial. 

Tempura is one of Japan's most iconic dishes.
With its light and crispy batter it's no wonder why it's become one of Japan's favorite food exports, next to sushi and ramen.
Making tempura is an art in Japan – specialized shops called tempura-ya offer the thinnest, crispiest, and lightest batter, that's virtually grease-free. Some chefs like to use carbonated water instead of regular water, for extra airiness. The tempura is served with homemade seasoned salt instead of the ubiquitous tempura dipping sauce. It's all about keeping the batter as crispy as possible.
The whole experience is something unique that I recommend you try if you ever find yourself in Japan. It's tempura like you've never tasted before!
The shrimp tempura recipe I have for you today isn't going to give you tempura-ya grade food, but is one I enjoy making nonetheless. It hits the spot whenever I crave tempura and is less doughy and greasy than what I usually get here in the US. Enjoy!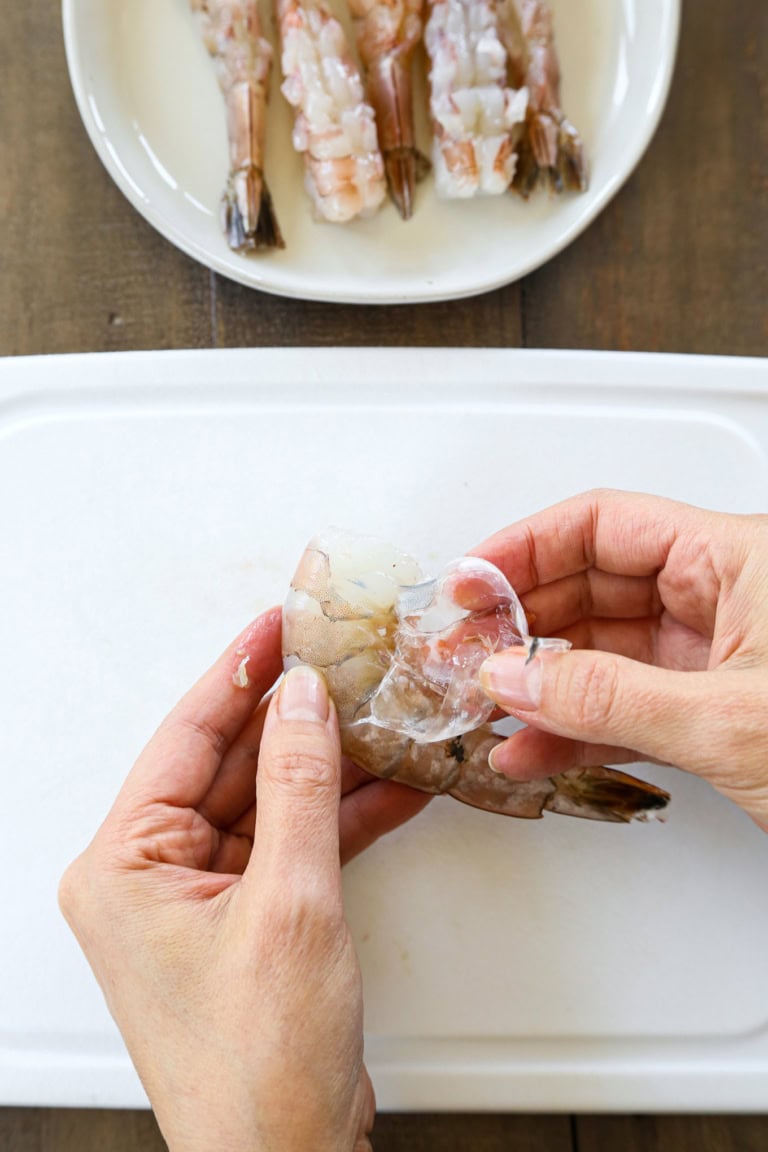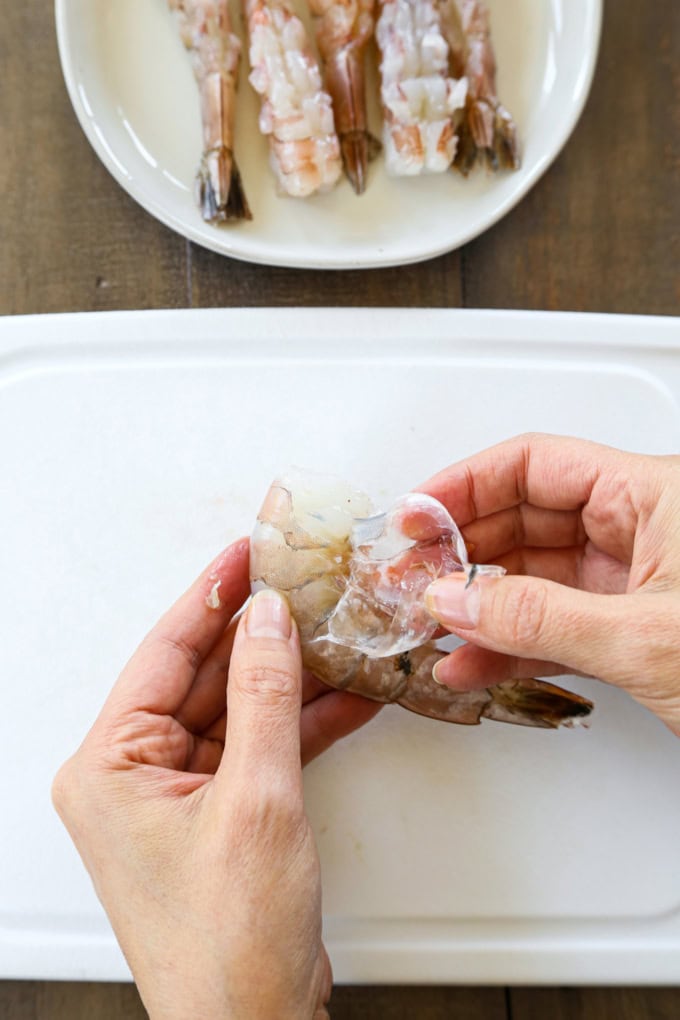 What is Tempura?
Tempura (天ぷら) is a traditional Japanese dish consisting of vegetables and seafood that have been dipped in a light batter and deep fried until crispy.
What's interesting to know is that while tempura is considered to be a Japanese dish, its origin are rooted in Portugal. The art of deep frying was introduced to Japan in the 1600s by Portuguese traders and eventually became a common vegetarian dish found in Buddhist temples.
It was also a popular street food sold by pushcarts across old Tokyo (called Edo) and has since remained a favorite among Japanese people.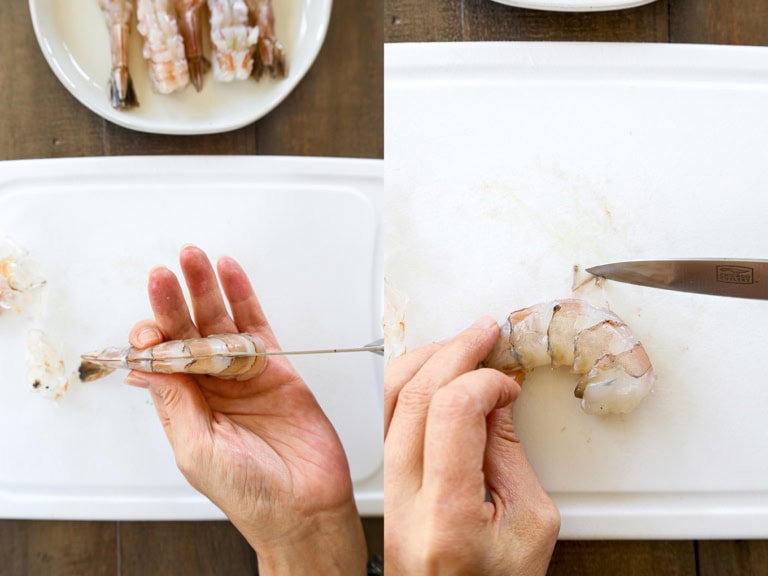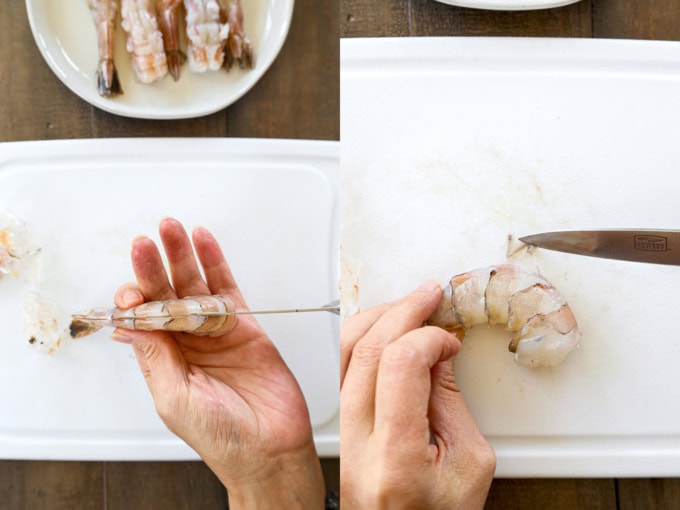 Ingredients for Shrimp Tempura
Shrimp or prawns: Use large shrimp or prawns, fresh or frozen (uncooked), that have been thawed. I highly recommend spending a little more on good shrimp since they taste so much better, and are also friendlier to the environment. Look for sustainable shrimp that have been farmed in the US (Whole Foods has a good selection). Shrimp from U.S. farms are produced under strict environmental laws, making them a much better choice than imported, farmed shrimp. All U.S. shrimp farms, however, are not equal, but it's better and healthier than buying shrimp that have been imported from China or Vietnam.
Egg: One large egg that has been whisked. It will be used in the batter.
Water: 1 cup of ice cold water. It's important to use ice cold water since it slows down the activation process of gluten, which in turn makes it harder to absorb oil and gives it a light and crispy texture.
Flour: I'm using self-rising flour because it has a lower amount of protein content than all-purpose flour. What this means is that the texture of the batter will be more crispy (water mixed with protein creates gluten). Gluten is what makes baked goods chewy and stretchy, which is exactly what we are trying to avoid here! You can also use cake flour which is also low in protein, or a pre-made tempura batter mix.
Cornstarch: The cornstarch is used to help the batter stick to the shrimp. Potato starch can also be used instead of cornstarch.
Oil: Use a neutral oil with a high smoke point such as vegetable oil, safflower oil, or corn oil.
There are two traditional way to serve shrimp tempura – with tempura dipping sauce or dipping salts, which are finely ground salt grains seasoned with ingredients such as matcha, ground sesame seeds, or pulverized dried shrimp.
Tools Needed
Chef's knife or paring knife
2 mixing bowls
Deep skillet (this is the one I use) or medium size pot
Kitchen thermometer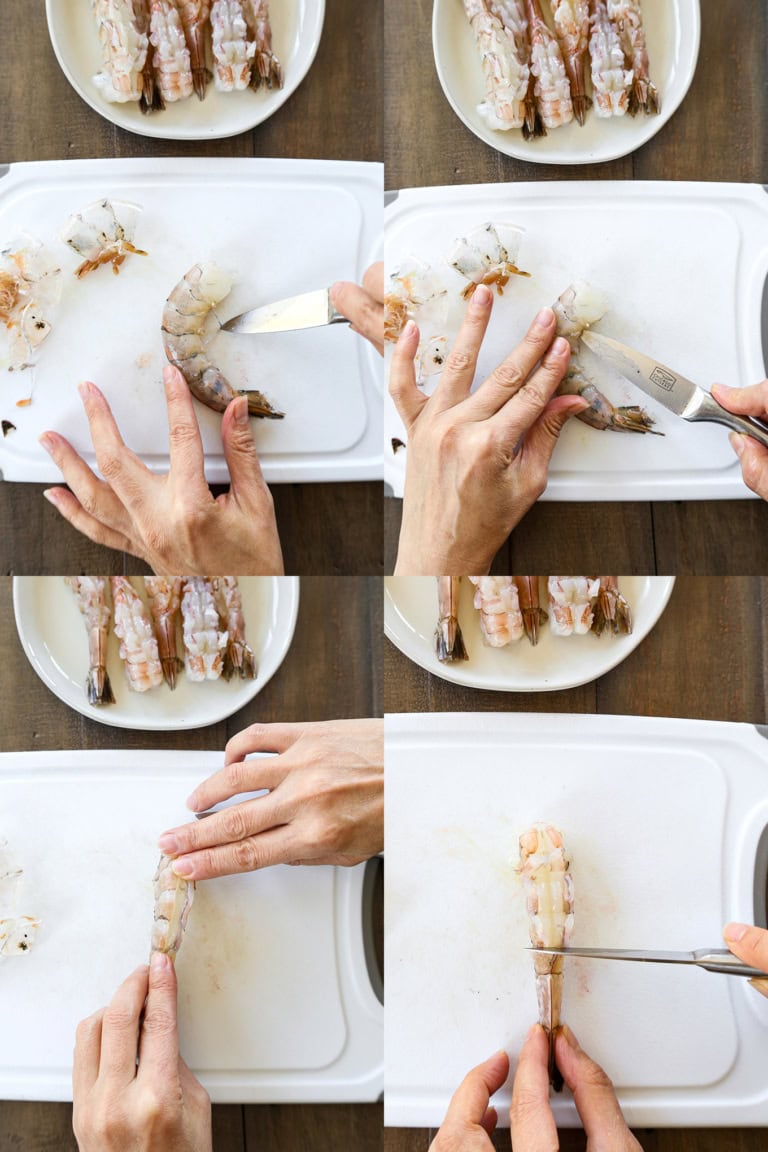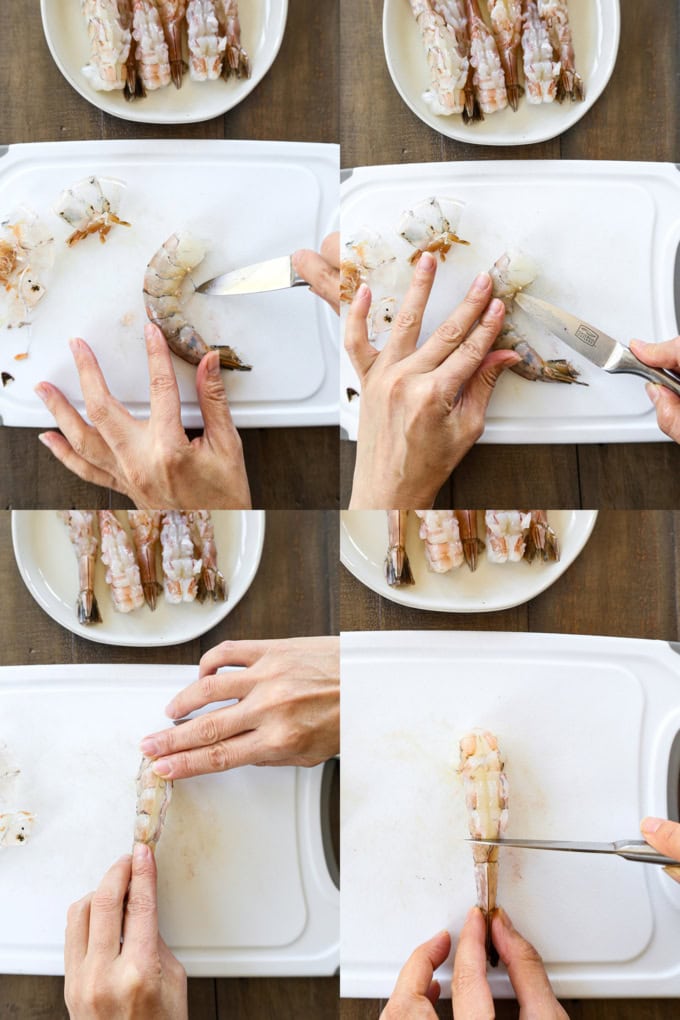 How to Make Tempura Batter
The secret to making deliciously light and crispy tempura lies in how you make and fry the batter. Timing, oil temperature, batter temperature and texture, and organization, and are all crucial parts to making good shrimp tempura. Let's go over each step so you can learn to make delicious tempura every single time!
Organization: From peeling shrimp to dipping and deep frying them, keeping your work station clean and organized is a must. There are quite a few steps to making shrimp tempura so by keeping your cornstarch, wet and dry ingredients, shrimp, and deep frying tools organized, you will be able to move swiftly from one step to another, without feeling overwhelmed or frustrated.
Timing: Just like organization is crucial to making the cooking process successful, timing is crucial to the success of the batter. You want to make sure that the batter is ice cold when it's time to dip the shrimp and add them to the oil. Ice cold batter prevents the batter from absorbing a lot of oil, so the tempura stays light and crispy.
Oil temperature: 360ºF is the ideal temperature to make shrimp tempura. It's easy to keep an eye on the temperature with a kitchen thermometer but there is another easy way to test the oil if you don't have one. Drop a few of globs of batter into the oil and see what happens – if it sizzles right away, the oil is too hot. If it sinks to the bottom, the oil is not hot enough. Keep testing until the batter sinks halfway down and pops back up. When it does that you can start deep frying.
Batter temperature: The batter must be ice cold right before it's being used. The best way to achieve this is to wait to make the batter until you are almost ready to deep fry. Keep all of your ingredients in an area that's closest to where you will be frying and make your batter there. Keep water in a bowl with a few ice cubes and discard the ice cube right before using it.
Batter texture: The key to making good tempura batter is by controlling the gluten in your batter. You want to try to activate it as little as possible to keep the texture of the tempura light and crispy. When it's time to add the flour to the ice cold water and egg mixture, dump it in in one shot and leave it. Don't mix it, this is very important! Instead, grab your chopsticks and poke the flour to combine it with the wet mixture. Do this for 20-30 seconds at most. It's totally fine if you see lumps – that's what gives tempura its uneven texture and irresistible crunchy bits.
Dip lightly: Finally, dip the shrimp lightly and try not to move it around too much in the batter (remember – you don't want to activate thee gluten!).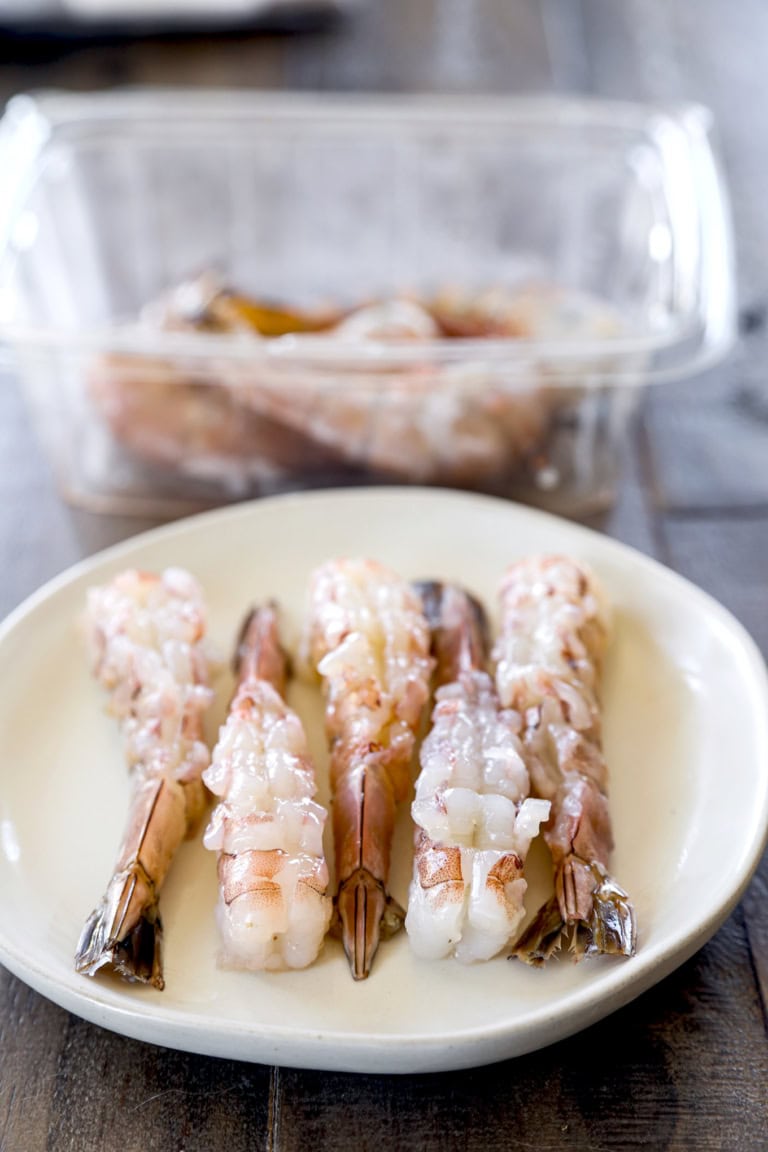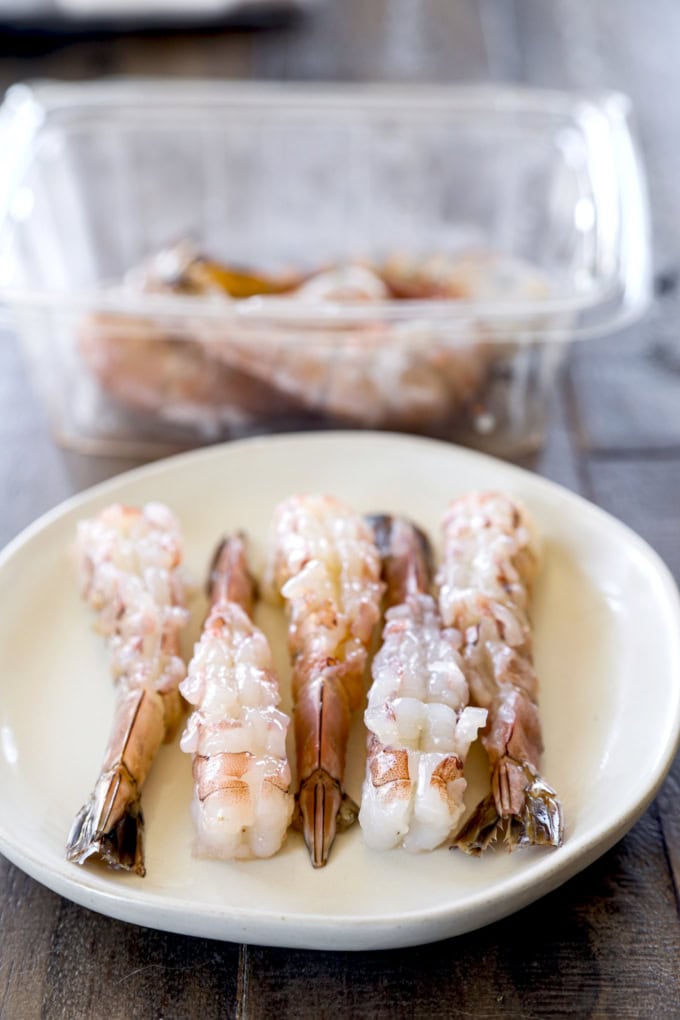 How to Make Shrimp Tempura
Start by peeling the shrimp and leaving the tail part on. Make a few cuts across the back of the shrimp and flatten them so they are straight.
Whisk the egg and ice water in a bowl until the mixture is completely blended.
In a separate bowl, add the self rising flour.
Add about 1.5 inches of oil to a deep skillet or medium size pot and turn the heat on. Use a kitchen thermometer to keep track of the temperature. The oil will be ready for deep frying once it reaches 360ºF.
Prepare your work station by placing the shrimp, cornstarch, egg mixture, and self rising flour, nearby so they are easy to use once you start deep frying.
Drop the flour in the wet mixture in one shot but don't stir it. Stirring activates the gluten which makes the batter thicker and heavier. Instead, poke with chopsticks it for about 20 seconds, until the batter is the consistency of cream. It's okay if it's lumpy.
Dust the shrimp on both sides and let's start deep frying! Take one shrimp and lightly dip it in batter. Gently slide it into the oil and repeat this step for 3-4 more shrimp. You will have to do this in batches since you can only add a few shrimp at a time so the oil temperature doesn't drop.
Once the shrimp are golden, transfer them to a plate covered with paper towel to drain excess oil.
Serve with tempura dipping sauce (tentsuyu) and your favorite Japanese sides. Enjoy!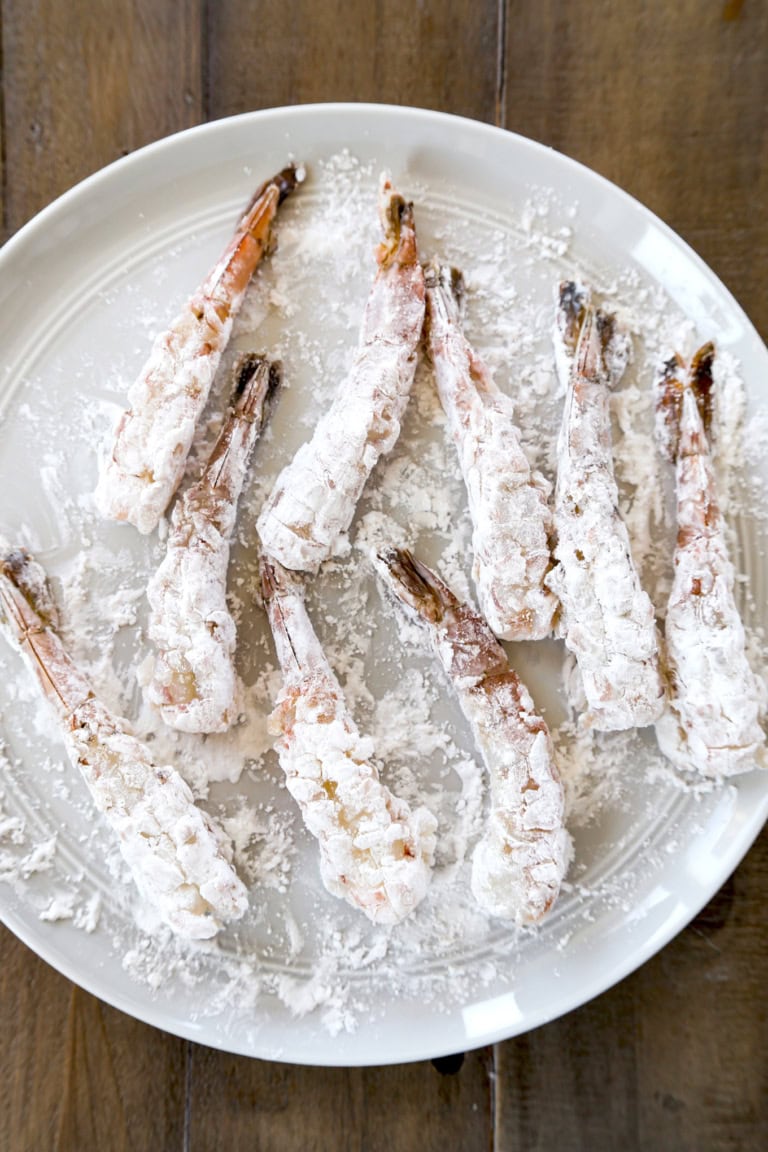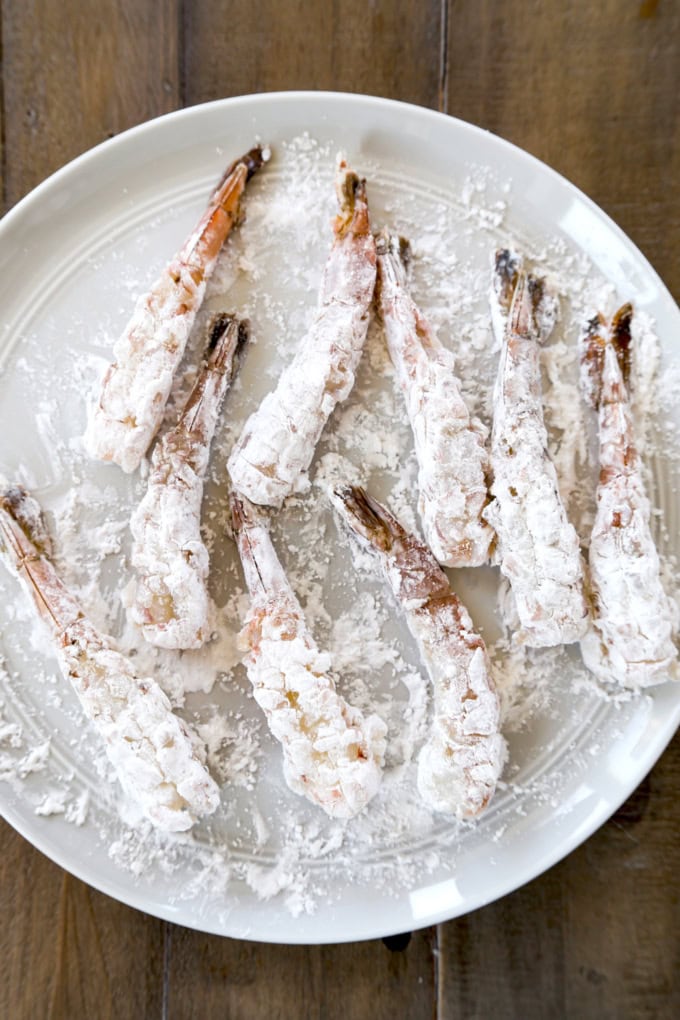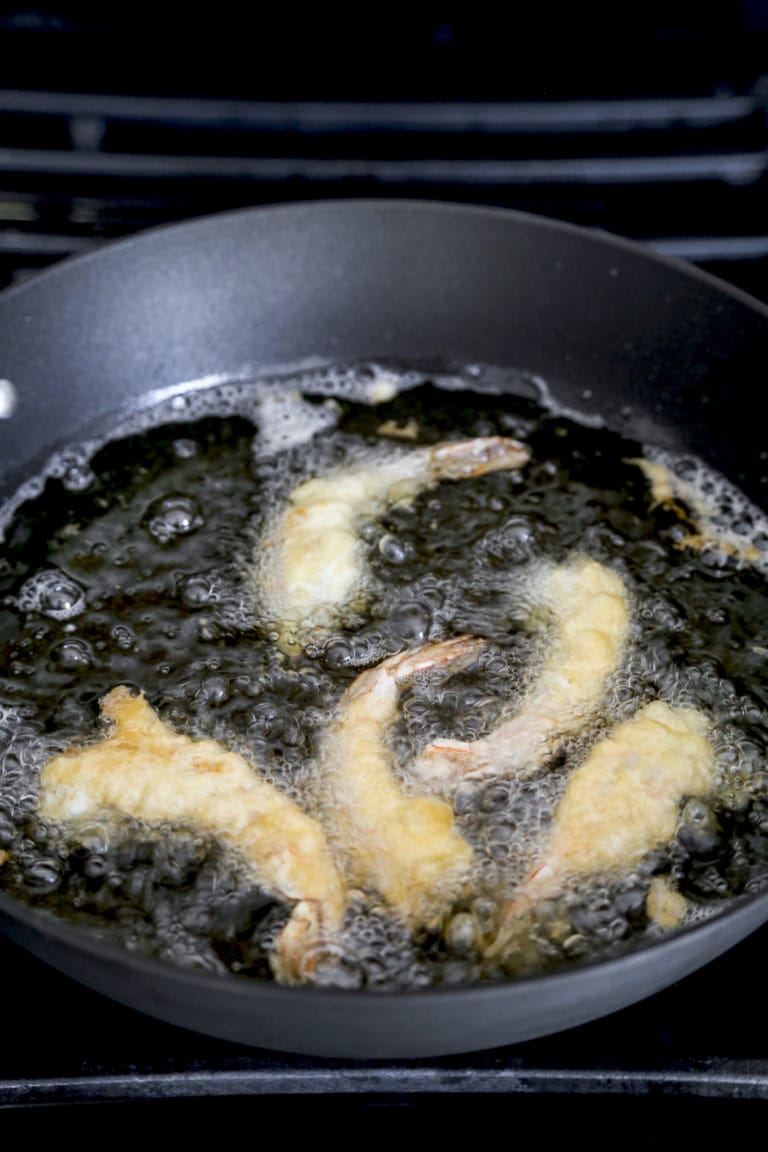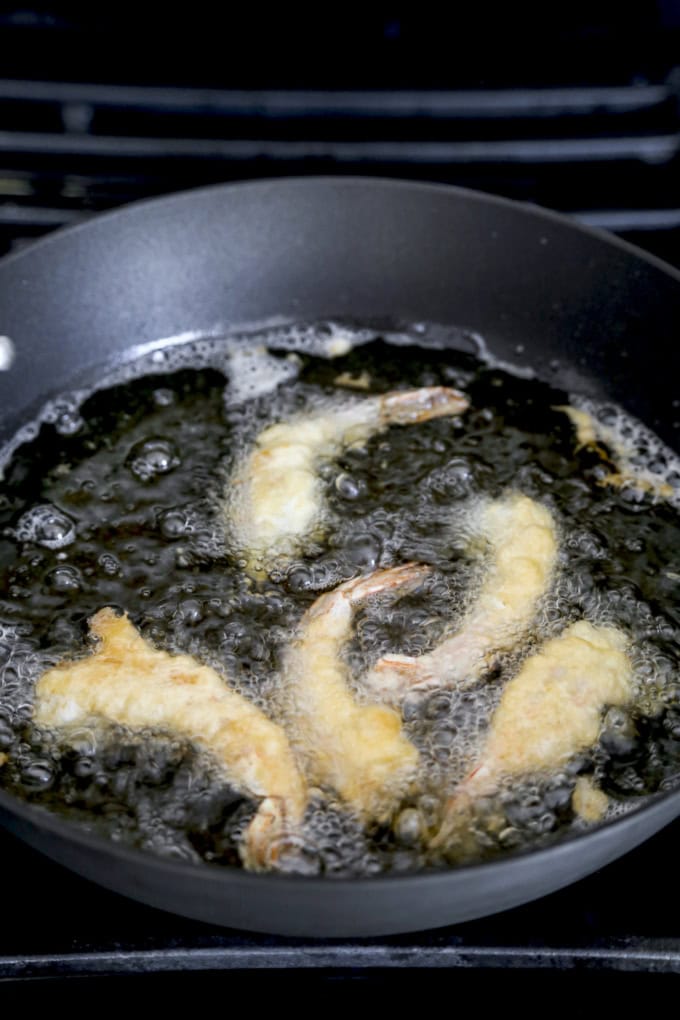 Traditional Sides to Serve with Shrimp Tempura
If you are in the mood to go all Japanese for your tempura dinner, here are popular traditional sides to serve it with:
Japanese Rice
Tempura is also usually served with a bowl of Japanese rice, as a side. To make good Japanese food you must first learn to make good Japanese rice. The good news is that it's not complicated once you know what type of rice to buy and what cooking method yields the best rice.
Click here to watch my easy tutorial on how to make perfect Japanese rice every single time, without fail.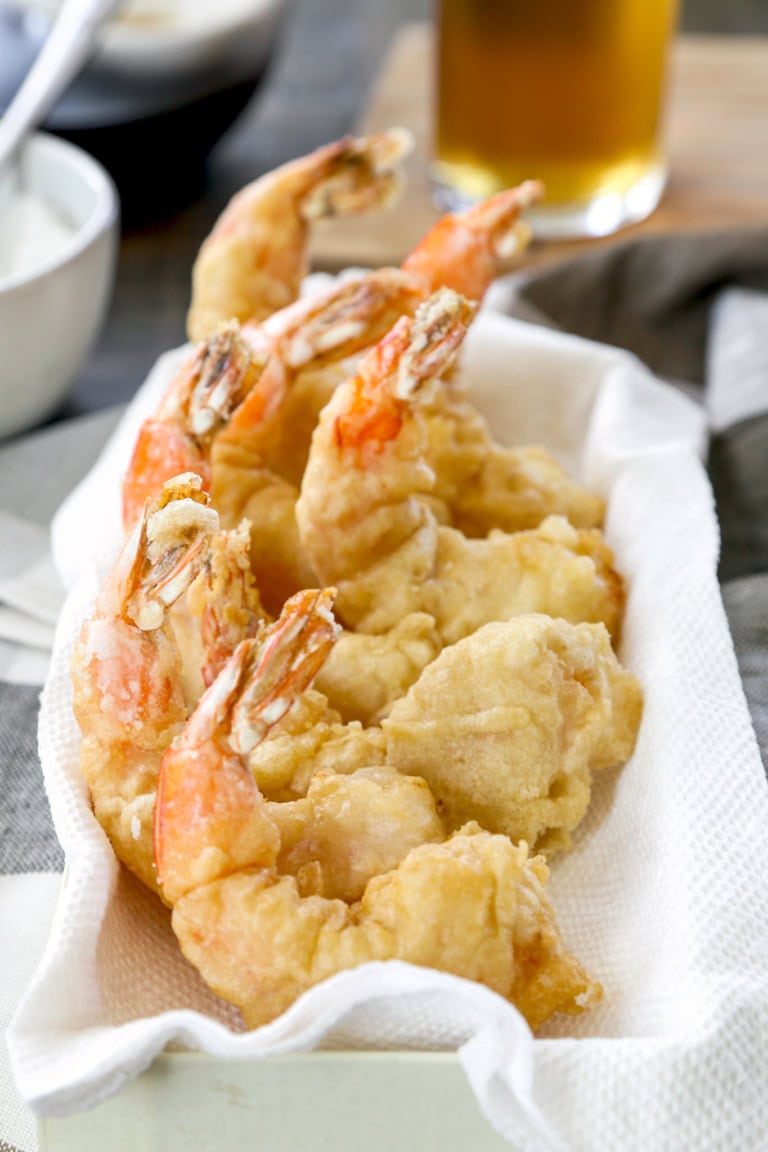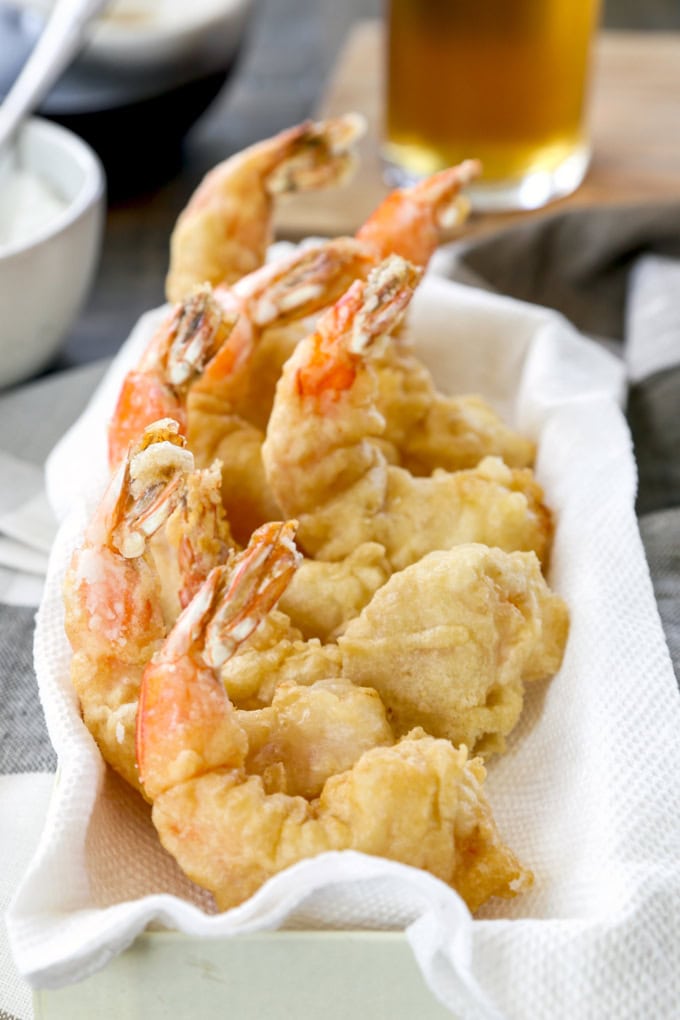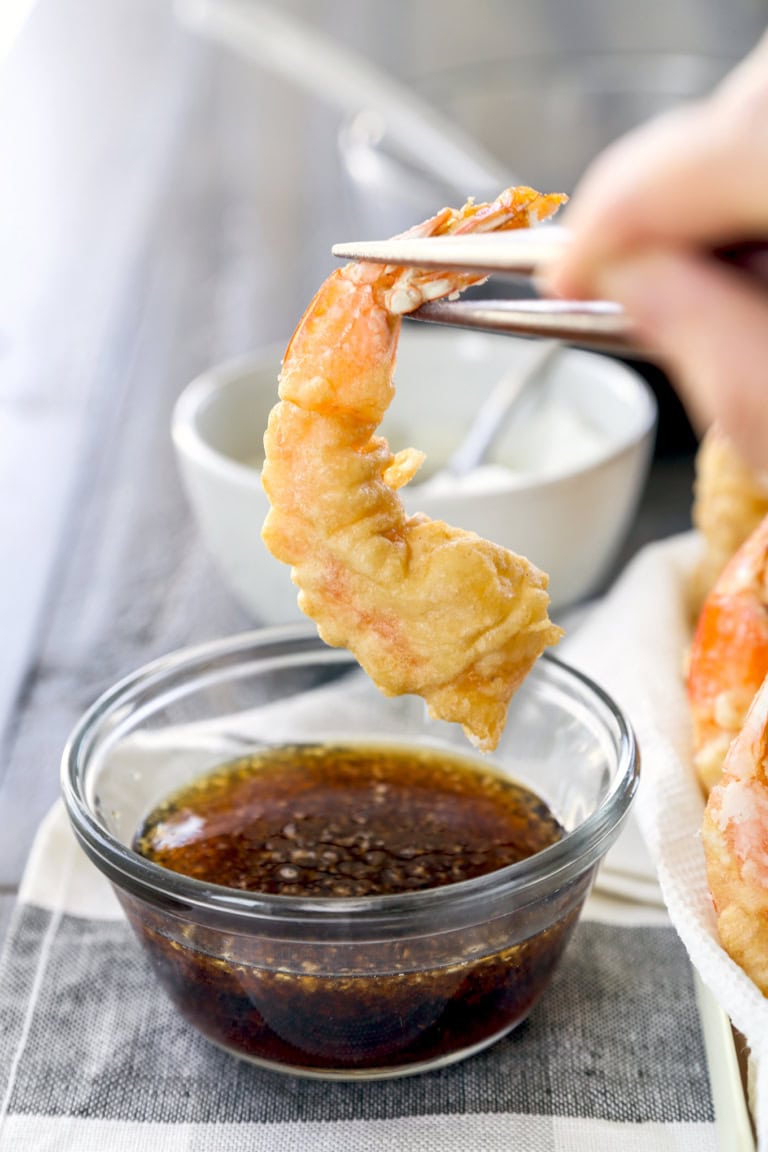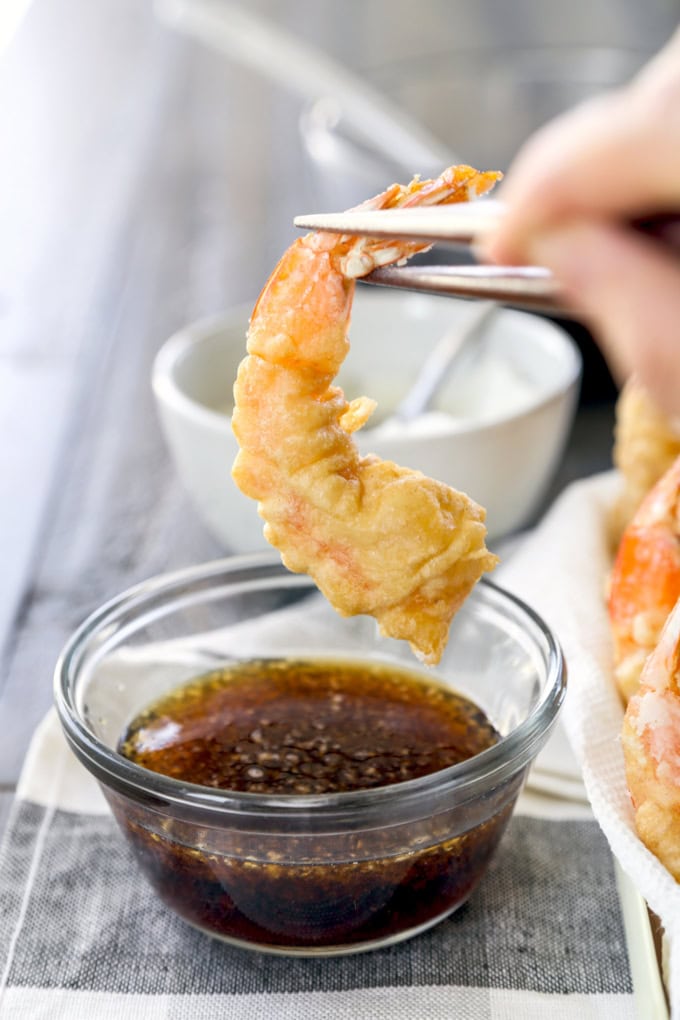 Did you like this Shrimp Tempura Recipe? Are there changes you made that you would like to share? Share your tips and recommendations in the comments section below!
Print
Shrimp Tempura
Author: Caroline Phelps
Prep Time:

25 minutes

Cook Time:

10 minutes

Total Time:

35 minutes

Yield:

12

shrimp

1

x
Category:

Seafood

Method:

Deep-frying

Cuisine:

Japanese
12

large shrimp

1

large egg

1 cup

ice cold water
Ice cubes

1 cup

self rising flour
Cornstarch, for dusting
Vegetable oil or other neutral oil with a high smoke point such as canola or safflower
Serve with tempura dipping sauce (tentsuyu)
Instructions
Devein and peel the body of each shrimp, leaving the tail on. Then slice a few shallow cuts across the back of each shrimp (about 1/4-inch deep) and flatten the shrimp on a cutting board, or other flat surface.
Whisk the egg and ice water in a bowl. Keep whisking until the egg is completely mixed with the water. Add 2-3 ice cubes to the mixture and set aside.
In a separate bowl, add the self rising flour. Set aside.
In a deep skillet or medium size pot, add about 1.5 inches of oil and turn the heat on. Bring the temperature of the oil to 360ºF. Use a kitchen thermometer to check the temperature of the oil.
While the oil is heating up, prepare your work station – place the shrimp, cornstarch (to dust the shrimp), flour, and egg mixture next to where you will be deep frying.
Cover a plate or tray with paper towel and place it next to your ingredients. You will also need chopstick or tongs to hold the shrimp tempura.
Take out the ice cubes and dump the flour in the wet mixture in one shot. DO NOT STIR. Stirring activates the gluten which is not what we want! Instead, poke it with chopsticks for about 20 seconds, until the batter is the consistency of cream. It's okay if it's lumpy. This step should be done right before you are ready to deep fry. The batter shouldn't be left sitting for long.
Dust the shrimp with cornstarch. Take one shrimp, lightly dip it in batter and carefully slide it in the oil. Repeat this step with 3 or 4 more shrimp and add them to the skillet. It's important not to overcrowd the skillet so the oil temperature doesn't drop. Deep fry for about 3 minutes, until the shrimp are golden.
Take them out using chopstick or tongs, and place them on the plate covered with paper towel to remove excess oil.
Repeat until all the shrimp have been used.
Serve with tempura dipping sauce.
Notes
Shrimp tempura taste best when consumed immediately. I don't recommend saving the leftovers for later but if you would like to, keep the shrimp refrigerated in an airtight storage container. They will keep for 1 day.
Keywords: Prawns, deep-fried
Recipe Card powered by
Pickled Plum is a participant in the Amazon Services LLC Associates Program, an affiliate advertising program designed to provide a means for sites to earn advertising fees by advertising and linking to amazon.com.