This roasted and caramelized Char Siu Style Eggplant Recipe has the deep sweet and savory flavors of Chinese roasted pork, but just happens to be super healthy!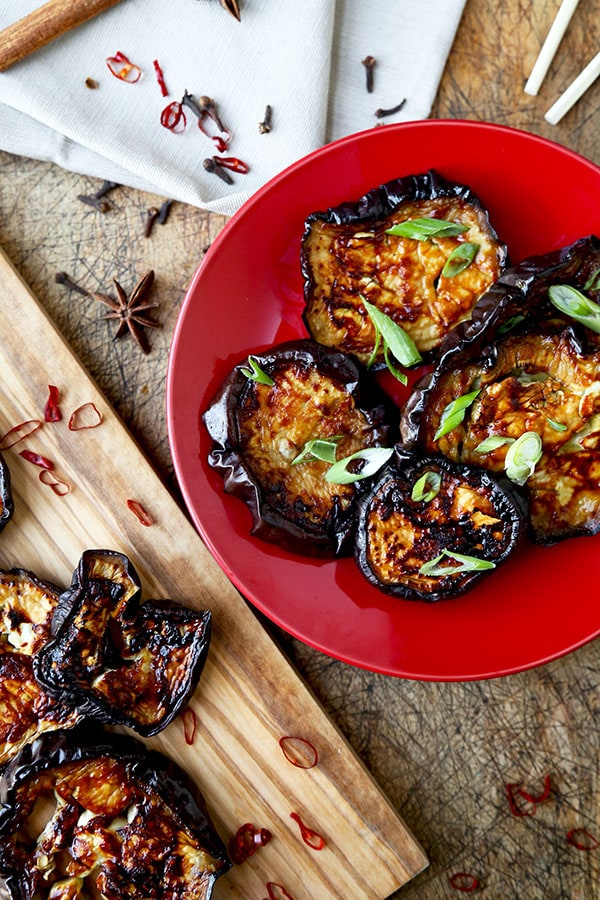 Char Siu Style Roasted Eggplant
If there was one thing I learned while living in Hong Kong it was that you don't mess with the Char Siu. Sure, you can put it in buns or add it to noodle soup or serve it over rice. But the charred, savory and sweet Chinese pork is already perfect after being treated with a few simple ingredients and roasted. No need for a complex dipping sauce or a grocery list 30 items long to make this already delicious pork preparation ready to devour. It was with that simple ideal in mind that I set out to create a recipe with the spirit and flavor-balance of the original char siu, but with a member of the veggie kingdom as the main ingredient. I had my reservations. Could a vegetable deliver on the same delicious promise as the pork? When I took my first luscious bite of this char siu style roasted eggplant, I immediately realized all my worry had been for nothing. This veggie dish was a winner!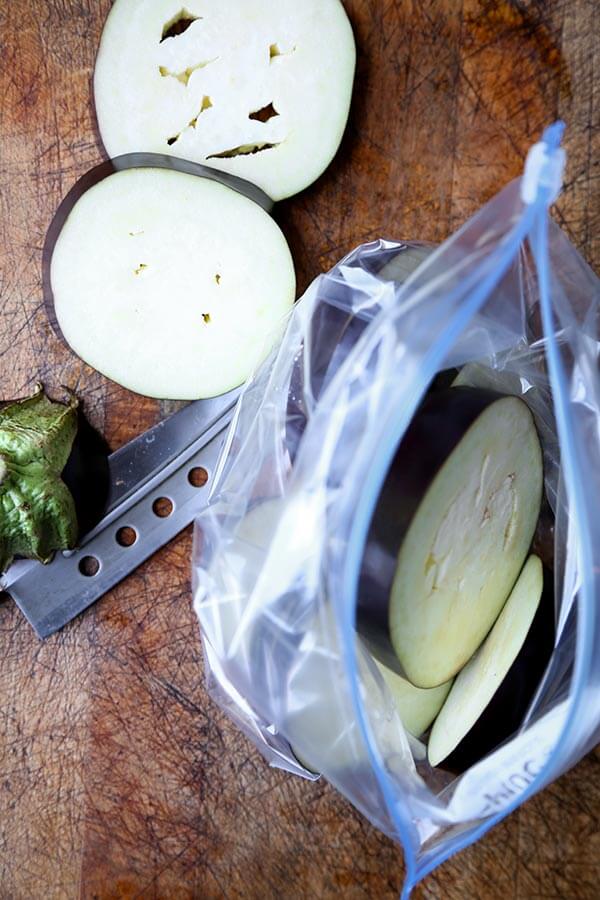 MY LATEST VIDEOS
Lately, I've been really into lowering our meat intake. While we haven't wiped it out completely, it has been eye-opening that many of the dishes I truly love can be made vegetarian without sacrificing our satisfaction at dinnertime. I used oyster sauce in the marinade but, if you're looking to make this dish truly vegetarian, you can easily substitute it for mushroom-based vegetarian oyster sauce. Eggplant turned out to be a perfect alternative to pork in this case. With the time spent marinating and roasting in the oven, the eggplant became unbelievably soft and had a velvety, luxurious texture. The similarity to fatty pieces of char siu pork was uncanny! The biggest difference is that you can eat this eggplant dish everyday and not worry about the fat content. Healthy ftw!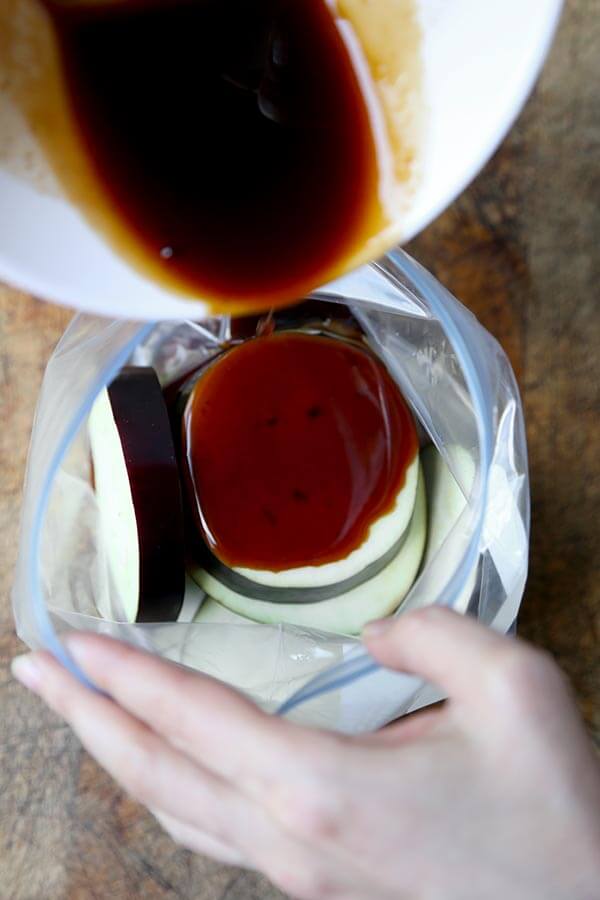 The literal translation of char siu from Cantonese is 'fork roast'. And while its origins are undoubtedly Chinese, many Asian cultures have their own version of char siu. I got very familiar with mu daeng in Thailand – and char siew rice while in Singapore. The most well known Asian version of char siu (in the West at least) is probably the rolled and braised chāshū which is the ubiquitous pork served in Japanese ramen. The fact that there are so many variations of the same dish gave me confidence that the flavor would translate well when making a vegetarian dish. I'm so glad I tried!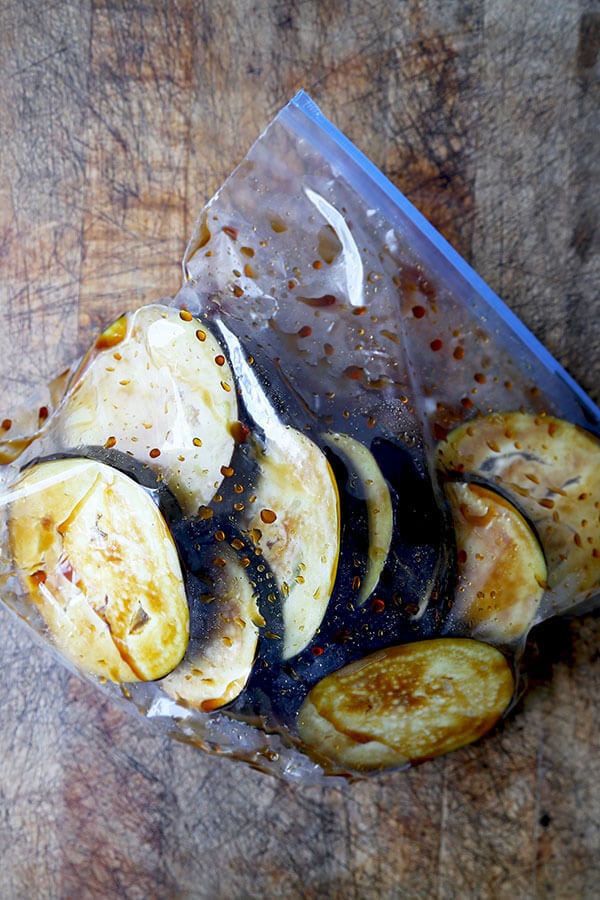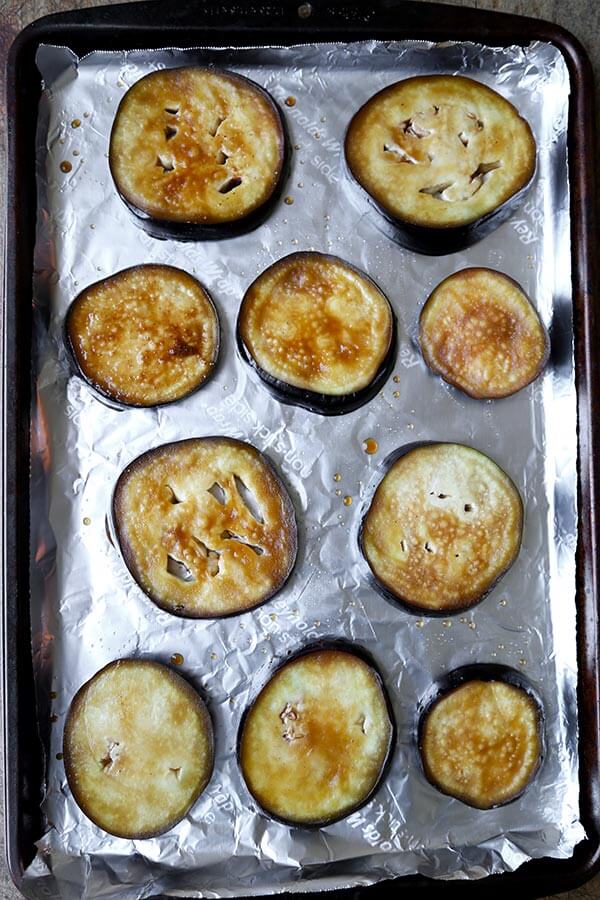 This char siu style roasted eggplant was a big hit – gone almost as soon as it hit the table. If you're looking for the unmistakable flavor of Chinese roast pork, but want to keep it healthier and lighter this summer, you can't go wrong with this tasty veggie version!
Other simple, delicious meat-free Asian recipes: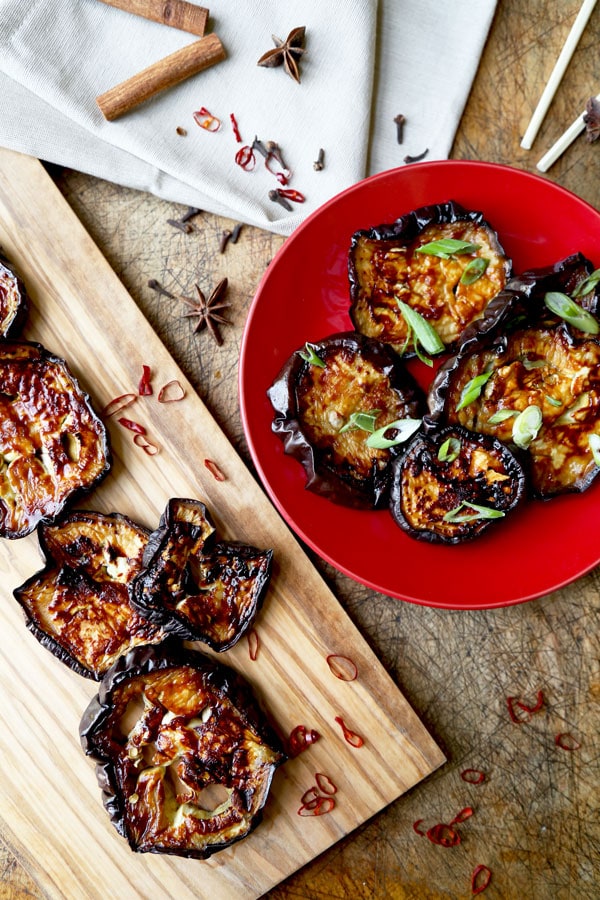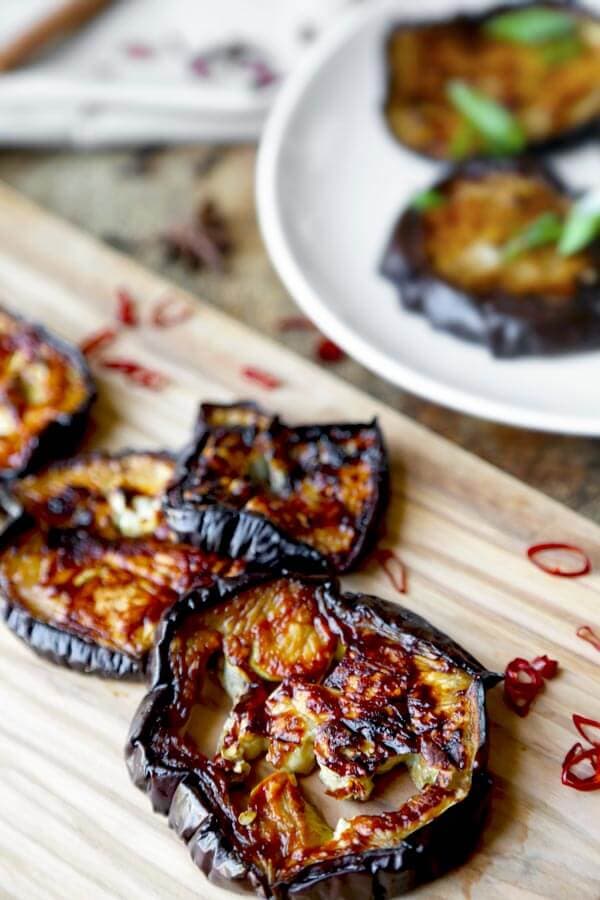 Did you like this Char Siu Style Roasted Eggplant Recipe? Are there changes you made that you would like to share? Share your tips and recommendations in the comments section below!
Print
Char Siu Style Roasted Eggplant
This baked and caramelized Char Siu Style Roasted Eggplant Recipe has the deep sweet and savory flavors of Chinese roasted pork, but just happens to be super healthy!
Author:
Prep Time:

5 minutes

Cook Time:

30 minutes

Total Time:

35 minutes

Yield:

2

Category:

Side dish

Method:

Baking

Cuisine:

Chinese
Ingredients
1 pound large eggplant (sliced into ½-inch pieces)
2 stalk scallions (thinly sliced)
Marinade
1 tablespoon soy sauce
1 tablespoon oyster sauce
1 tablespoon honey
1 tablespoon hoisin sauce
1/4 teaspoon five spice powder
1/2 tablespoon rice vinegar
Instructions
Mix all ingredients for the marinade.
Place eggplant slices in marinade and let sit for at least 1 hour.
Preheat oven to 400, and place eggplant slices on a baking sheet covered in non-stick foil or parchment paper.
Roast eggplant for 30-40 minutes, turning occasionally, until tender.
Top with sliced scallions and serve immediately.
Notes
Char Siu Eggplant will keep in the fridge for 1-2 days, but is best when eaten immediately after cooking. If making this dish completely vegan, use mushroom based vegetarian oyster sauce.
Keywords: recipe, vegetarian, appetizer