Edamame is one of my favorite Japanese appetizers! And once you realize how easy it is to make at home, this spicy edamame – packed with garlicky goodness and the perfect amount of heat – will be on your dinner table all the time.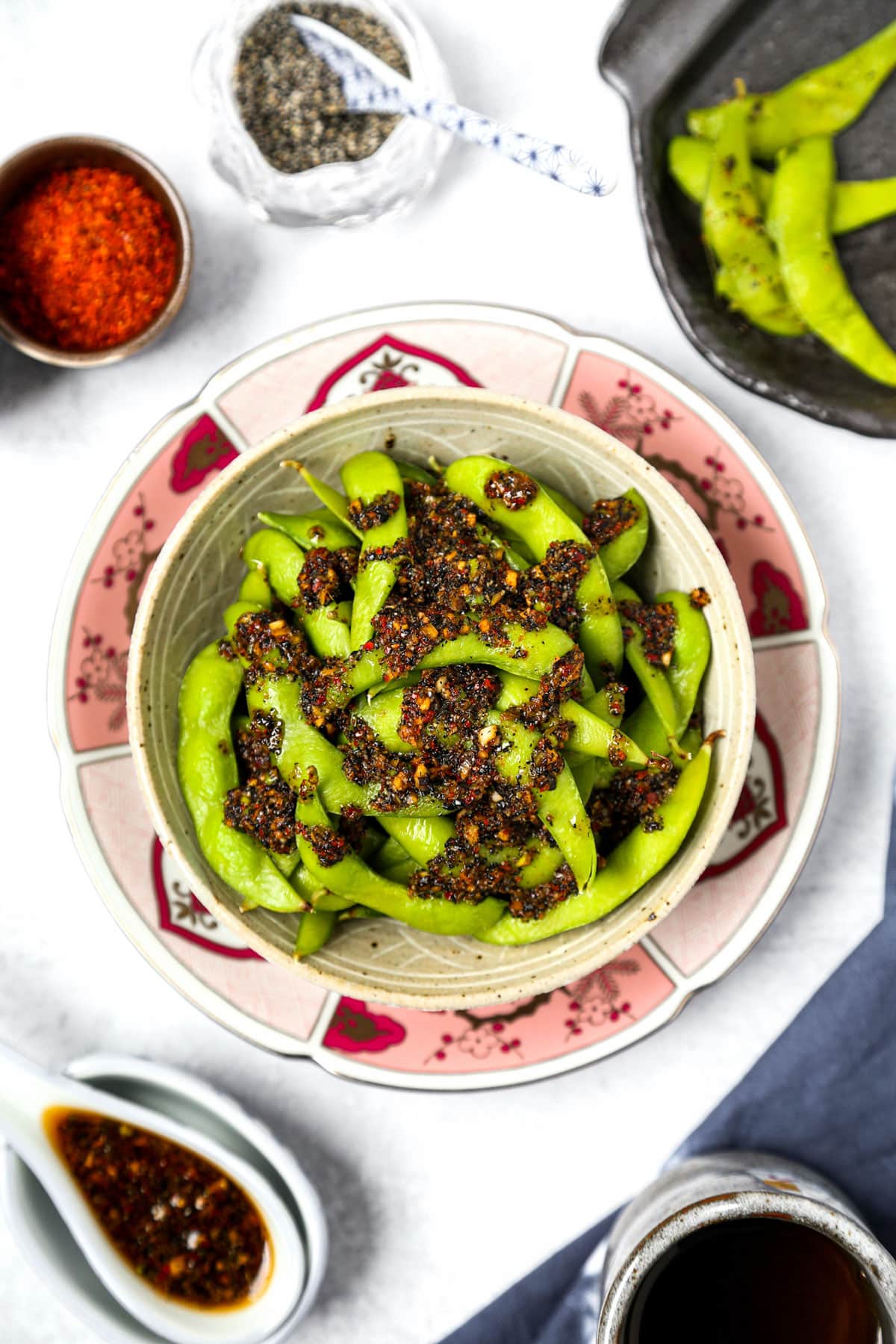 For this edamame with spicy garlic sauce recipe, I wanted to create something that would appeal to spice lovers – but wouldn't alienate those among us (like my mom!) who cringe when they see the word spicy on a menu.
The result is an edamame recipe that is loaded with savory, garlicky notes – and just enough shimmering heat that you know it's there!
What is Edamame?
Edamame are immature, young soybean pods that are harvested before the beans naturally mature, darken and harden.
Mature soybeans are used to make things like tofu and soy milk – while the young vibrant green pods house soybeans that are pliant, yet slightly chewy. Think of the texture as a cross between a fresh green pea and a lima bean.
High in fiber and protein, and low in carbohydrates, edamame makes the perfect guilt-free appetizer, side dish or snack.
In fact, these soybean pods are firmly entrenched in the pantheon of Japanese appetizers and small dishes you'd find at your favorite sushi spot or izakaya, lightly salted and ready to eat alongside a small bowl of miso soup or a seaweed salad.
But aside from serving edamame with the typical salt, seasoned edamame is great as well. Check out this edamame with soy and sesame sauce recipe.
For this spicy edamame recipe, I'm using a few more ingredients than tradition would call for – but the outcome is vivid, garlicky goodness.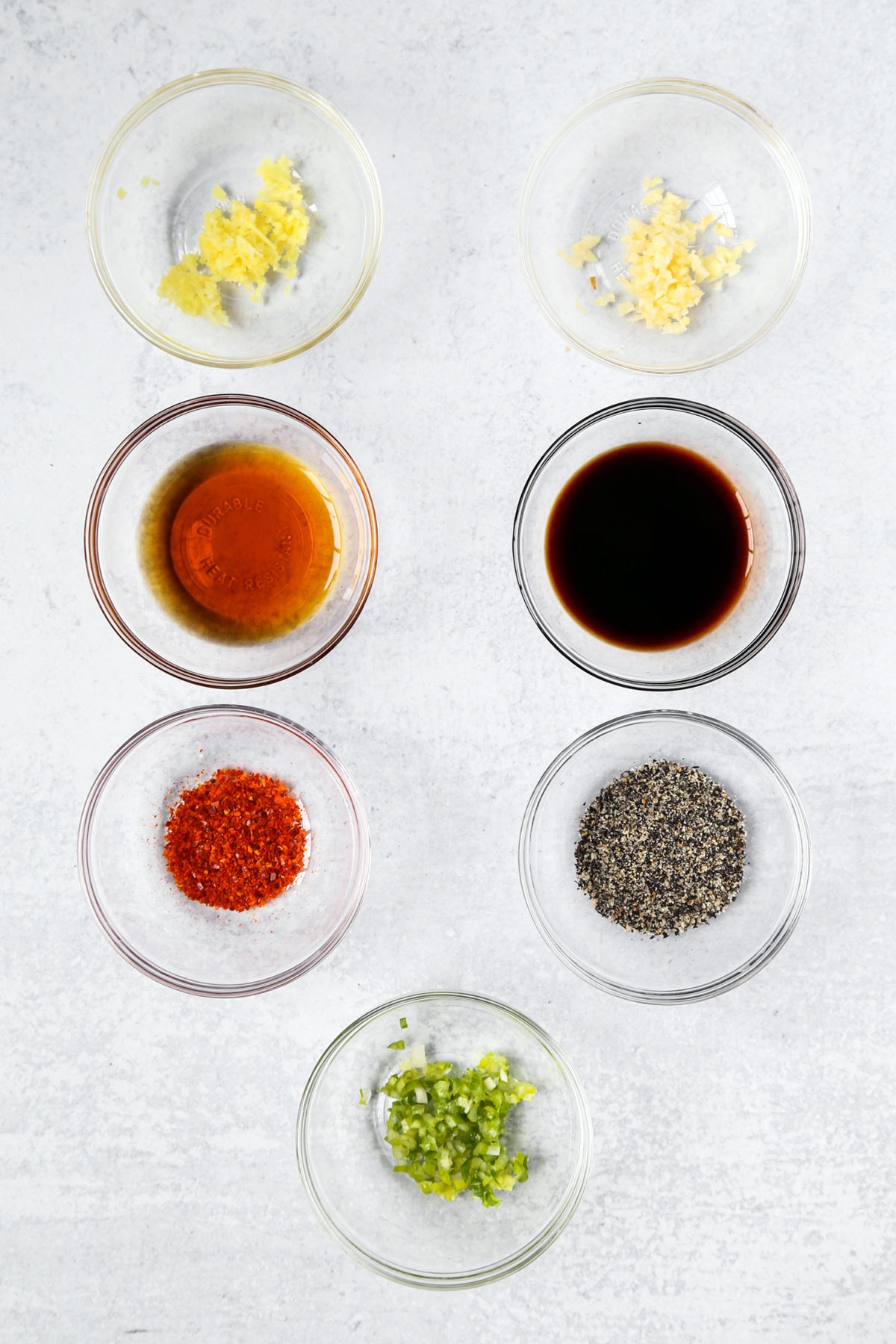 Ingredients for Spicy Garlic Edamame
Scroll all the way down for the full recipe.
Edamame Pods: Use edamame in the shell for this recipe. We'll talk more specifics in a sec.
Garlic and Ginger: Fresh minced ginger delivers a sustained burn, while minced garlic imparts pungent, earthy notes.
Chopped Shallot or Scallion: Use one or the other to add a sharp, vegetal element to the overall sauce.
Gochugaru: These are Korean red pepper flakes. And while some brands can be volcanic, most deliver a milder, nuanced, smoky heat. It's available in most Asian grocery stores – or grab gochugaru here on Amazon.
Sesame Oil: Nutty and toasty, sesame oil brings a rounded depth to the overall dish. A word to the wise here: a little goes a long way!
Sesame Seeds: I used ground black sesame seeds in this spicy edamame recipe. However, feel free to use what you have on hand. One tsp of white or black – ground or whole – sesame seeds will do the trick.
Soy Sauce: The universal bringer of umami! If you're following a gluten-free diet, use tamari or liquid aminos instead.
Salt: A pinch or two of kosher salt will increase the savory elements of the dish without resulting in something that is merely salty. In fact, when a dish calls for a sprinkle of salt, I always reach for the kosher salt. There's just less of a chance over-salting with the larger crystals.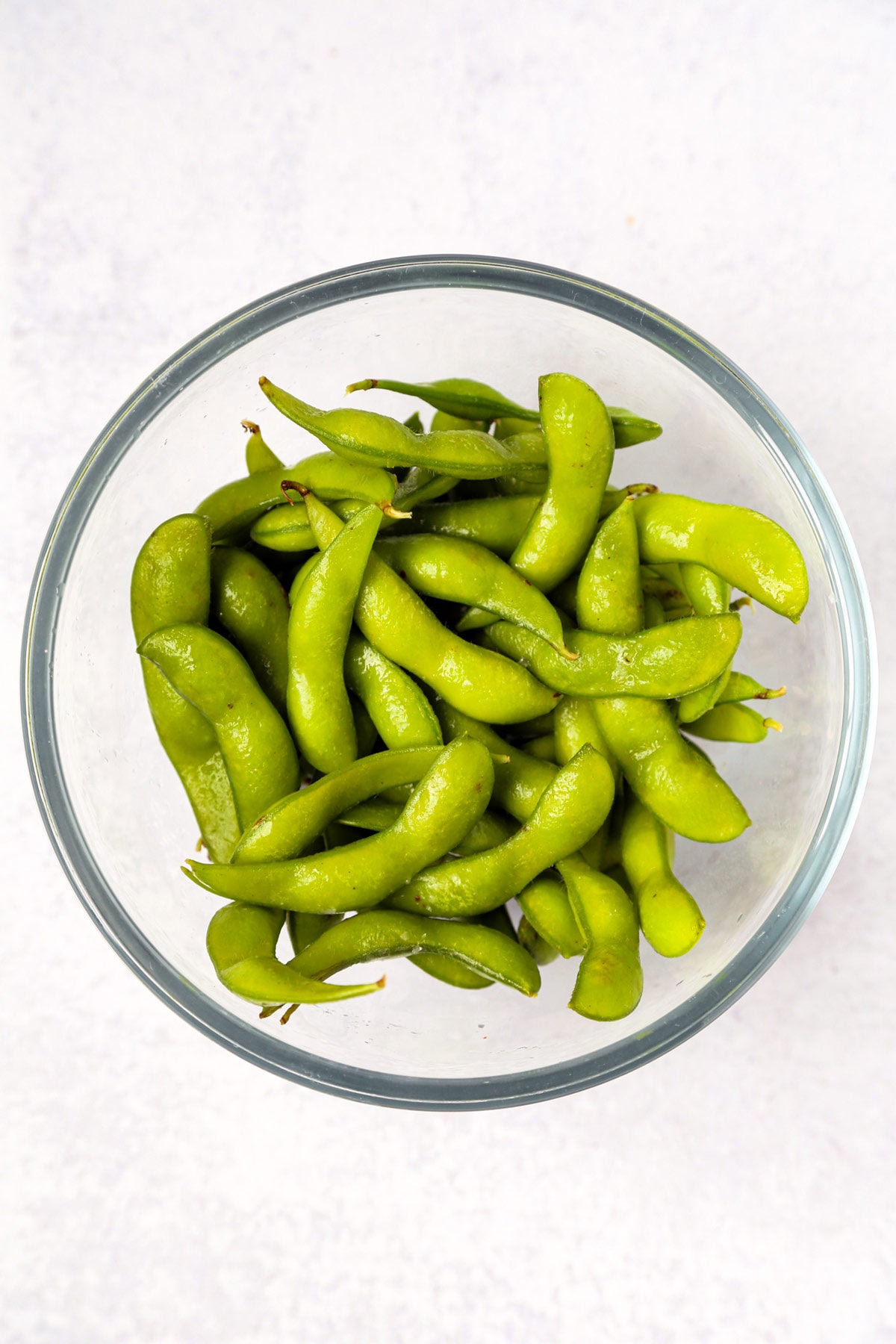 Best Edamame to Use For This Recipe
For this spicy edamame recipe, you'll want to get frozen edamame in the shell. Believe it or not, that's what your favorite sushi restaurant is using. The edamame you'll find at the grocery store has been quickly parboiled prior to freezing – and then flash frozen to preserve the freshness.
These days it's quite easy to find frozen edamame at your local shop in the freezer section with the bagged veggies. Chains like Whole Foods, Wegmans and Costco all sell edamame as well.
Always look for organic edamame.
Can You Eat Frozen Edamame Raw?
When it comes to food safety, it's always best to cook edamame before you serve and eat it.
That said, if you were to consume a thawed edamame bean or two, you should be OK. The parboiling process edamame pods undergo before they are frozen should be enough to avoid any gastrointestinal distress.
However, if you're lucky enough to find fresh edamame at a farmer's market or something, you most definitely need to cook those prior to consumption.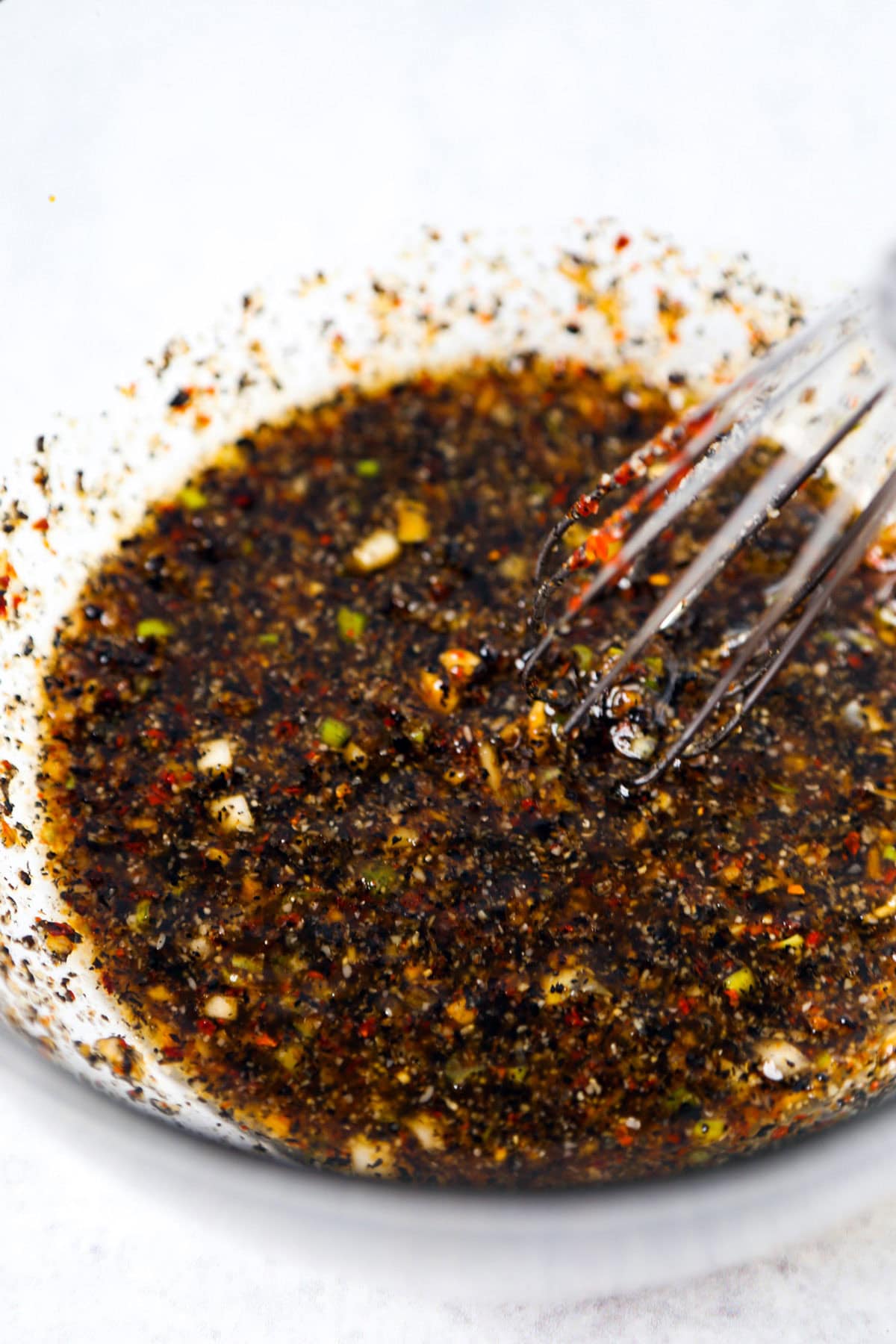 How to Make Spicy Edamame
Gather all of your kitchen tools and ingredients.
Then bring a pot of water to a boil and add your edamame pods. Boil for 3 to 4 minutes and drain well. [Alternatively, you can microwave them. For this method, place the pods in a microwave safe bowl or container and add a tbsp of water. Cover and microwave for 3 to 4 minutes.]
Transfer your cooked edamame to a mixing bowl and set aside.
Next, in a separate bowl, mix the ingredients for the garlic chili sauce and stir well.
Finally, pour the spicy garlic sauce over the cooked edamame pods and serve immediately.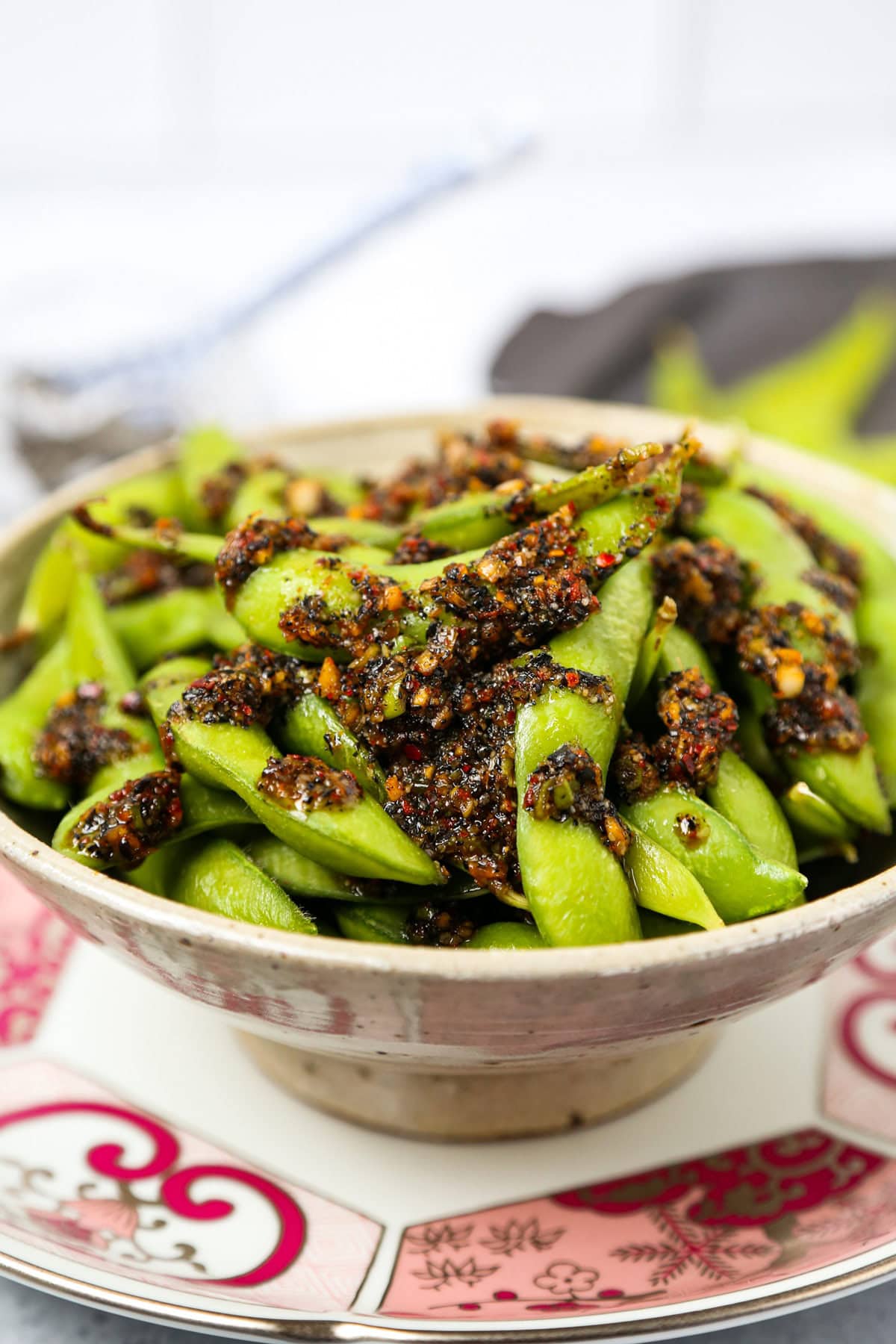 How to Eat Edamame
While eating edamame isn't a science or anything, not all of it is edible. The beans: yum. But the pod: nope. Think of the pod as the vehicle to get both the beans and the garlicky sauce into your mouth.
Use your front teeth to scrape the beans out of the pod, while pulling the tip of the pod with your forefinger and thumb. The beans will come out easily.
That way, you get to enjoy the chili sauce covering the pod, and the beans from inside the pods. While discarding the inedible pod itself.
Pro tip: be sure to have a separate bowl on the table for your discarded pods. This goes double if you're sharing a meal with friends. Just trust me on this one.
How to Store Leftovers
Store any leftovers in the fridge inside an airtight container for up to 3 days.
Chili garlic edamame is delicious both hot and cold – so you can zap the leftovers in the microwave, or eat it right out of the refrigerator. Your choice.
One thing I've noticed is that the flavors of the sauce can dull a bit after a couple of days. You can easily revive the entire dish with a simple dash of soy sauce. It tastes like you just whipped it up fresh.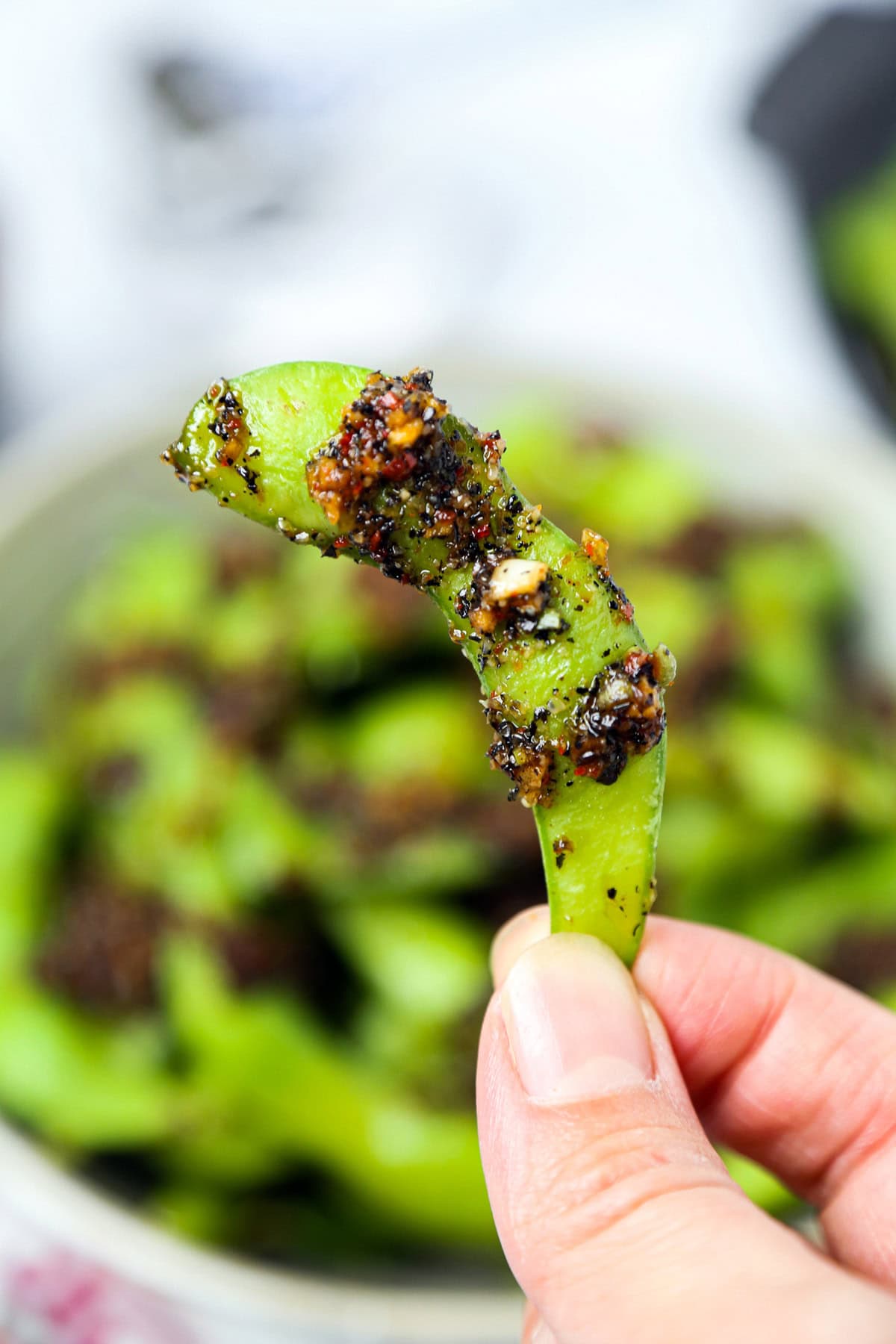 What to Serve With Spicy Edamame
Did you like this spicy edamame recipe? Are there changes you made that you would like to share? Share your tips and recommendations in the comments section below!
Print
Edamame With Spicy Garlic Sauce
Make this iconic Japanese appetizer at home in under 15 minutes from start to finish. Packed with garlicky goodness and shimmering heat. Yum!
Author: Caroline Phelps
Prep Time:

10 minutes

Cook Time:

4 minutes

Total Time:

14 minutes

Yield:

1

bowl

1

x
Category:

Side

Method:

Boiling

Cuisine:

Japanese

Diet:

Vegan
250

g

edamame pods

1

garlic clove, minced

1 teaspoon

ginger, peeled and minced

1 teaspoon

shallot or scallion, finely chopped

1 teaspoon

gochugaru

2 tablespoons

sesame oil

1 teaspoon

black or white ground sesame seeds, or whole sesame seeds

2 tablespoons

soy sauce
Pinch of salt
Instructions
Bring a pot of water to boil and add the edamame pods. Boil for 3 to 4 minutes and drain well. Alternatively, you can place the pods in a microwave safe container, add 1 tablespoon water, and close the lid. Microwave for 3 to 4 minutes.
Transfer the edamame to a bowl and set aside.
Mix all of the remaining ingredients in a bowl.
Pour the spicy garlic sauce over the edamame and serve immediately.
Notes
For leftovers: Keep the edamame in an airtight storage container and refrigerate for up to 3 days. You can enjoy the edamame hot or cold. Drizzle the pods with a little soy sauce to revive the taste of the sauce.
Nutrition
Serving Size:

half a bowl

Calories:

273

Sugar:

3.4g

Sodium:

26.6mg

Fat:

20.4g

Saturated Fat:

2.1g

Unsaturated Fat:

6.1g

Trans Fat:

0g

Carbohydrates:

11.5g

Fiber:

6.7g

Protein:

14.6g

Cholesterol:

0mg
Keywords: izakaya food, appetizer
Recipe Card powered by