Edamame Quinoa Salad
What better way to start off the new year than with a tasty and super healthy edamame quinoa salad – especially if you have indulged in sweets and fatty snacks as much as I have these past couple of weeks!
I needed a dish to redeem myself for all the bad foods I ate, something cleansing and light such as a colorful edamame quinoa salad.
Bring on the soups and healthy stews too, I'm on my way back to feeling good!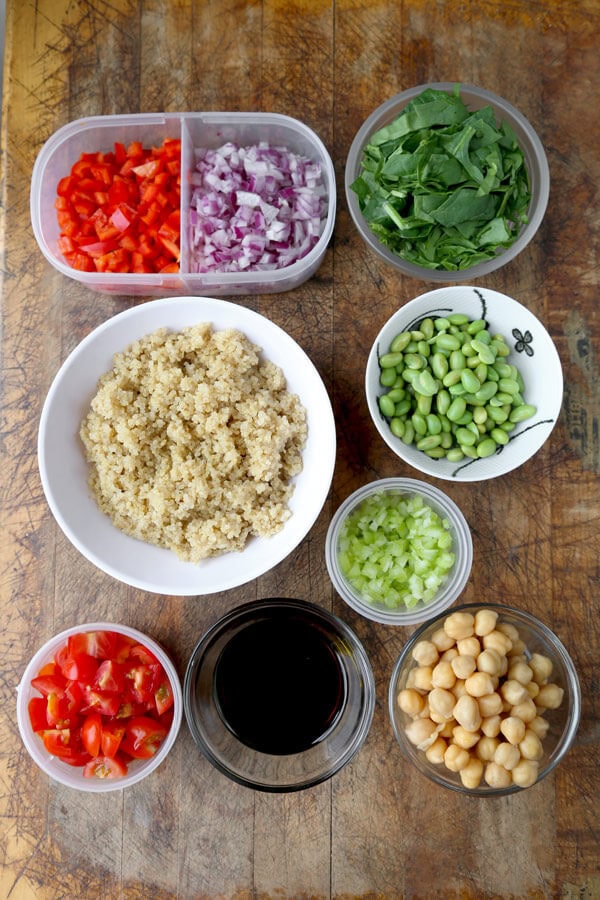 My mother has been staying with us these past few weeks and whenever she flies in from Japan for a visit, it means it's time to catch up on all the Western foods she's been missing.
In the 25 years she lived in Canada, she developed a love for French fries, hamburgers, pizzas and all other foods that are guaranteed to add a few inches to her waist. So whenever it's time to take her to Shake Shack, our favorite pizzeria or run to the store to grab her a bag of salt and vinegar chips, I try hard, really hard to control my desire to join in on the feast.
But that doesn't always happen since I too, love munching on fried foods every now and then. And the Shake Shack burgers? Come on, who can say no to them! But I do put a stop to this cholesterol filled non sense diet by cooking healthy at home.
For every fat bad meal we've had, I've made up for it by making things like this edamame quinoa salad.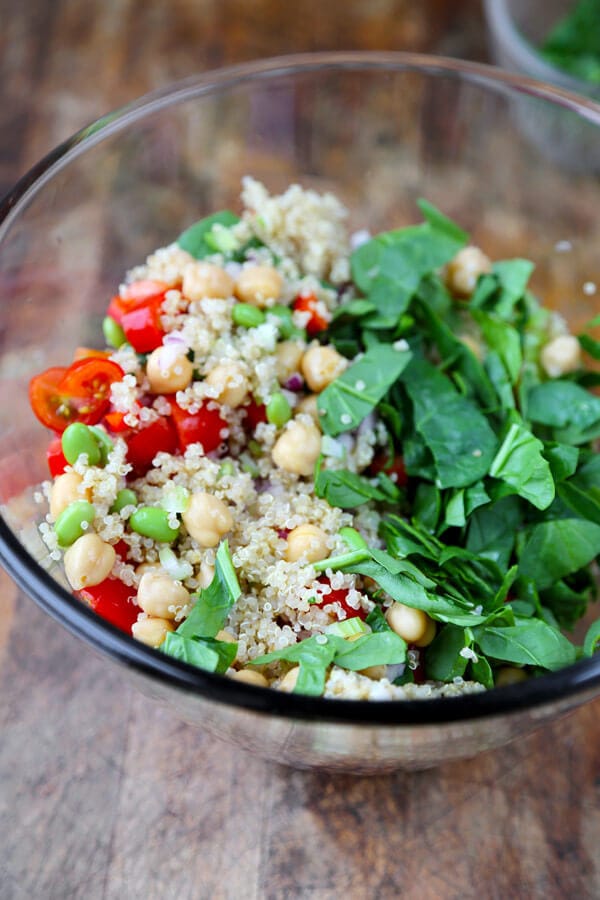 What's funny is that my mother actually prefers healthy and nutritious foods to junk food.
It's just that whenever she comes for a visit she knows she only gets a few days to indulge on all the things she cannot have back home. Burgers taste different over there and pizzas? That's one area of the culinary world Japan still has a lot to learn about (terrible crusts!), so I can understand why she goes a little crazy over that stuff.
After all, Ben and I spend most of our days stuffing our faces with noodle soups and bowls of rice with pickles and other various toppings whenever we are in Japan.
And don't even get me started about convenience stores; it's like being a kid in a candy store. We want to try everything!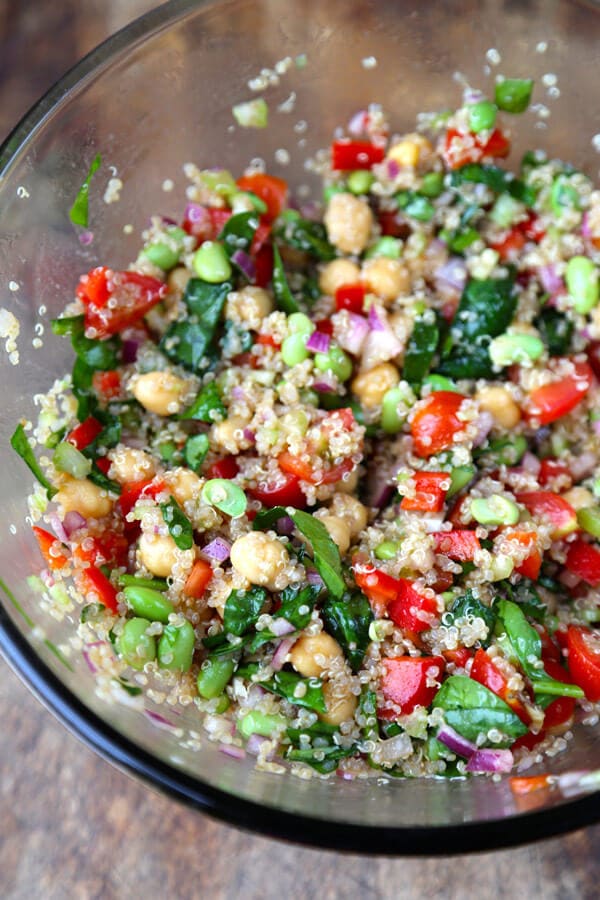 I find that the best way to literally get your cake and eat it too is by balancing healthy with bad.
I have plenty of easy, vitamin packed recipes like this edamame quinoa salad whenever I have to lower my intake of calories and fats. I constantly have to monitor my weight  since there's nothing worse than showing up to an audition feeling insecure.
And gaining more than just a couple pounds will do just that. But I have been in the industry for over 20 years now so I've got a pretty good hang of it and I know what works and doesn't for me.
Here's my formula: Healthy and delicious foods + a little chocolate + a burger here and there + yoga = happiness. 🙂
Serve this quinoa and edamame salad with a parsnip soup, a kabocha and eggplant miso gratin, a pot au feu or a side of roasted root vegetables.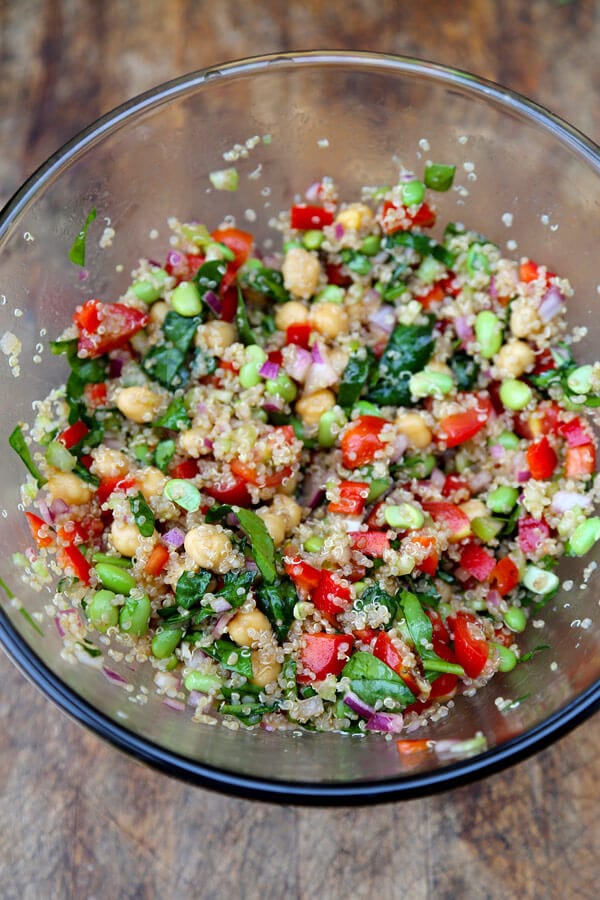 Print
Edamame Quinoa Salad Recipe
A light, refreshing and healthy edamame quinoa salad recipe to start the year on the right foot!
Author: Caroline Phelps
Prep Time:

10 minutes

Total Time:

10 minutes

Yield:

4

people

1

x
Category:

Salads

Cuisine:

American
1/2

red bell pepper (core, seeded and finely chopped)

1

stalk celery (finely chopped)

2 cups

baby spinach (finely chopped)

10

cherry tomatoes (finely chopped)

1/2

small red onion (finely chopped)

3 tablespoons

white wine vinegar (or red wine vinegar)

1 tablespoon

balsamic vinegar

3 tablespoons

extra virgin olive oil

2 cup

cooked quinoa

1

small can chickpeas

1 1/2 cup

shelled edamame beans
salt and pepper to taste
Instructions
Put all the ingredients in a large bowl and mix well. Season with salt and pepper and serve cold.
Notes
This edamame quinoa recipe will keep in a storage container, refrigerated, for up to 3 days.
Nutrition
Serving Size:
Calories:

367

Sugar:

4.5 g

Sodium:

539.3 mg

Fat:

13.9 g

Saturated Fat:

1.9 g

Carbohydrates:

48.8 g

Fiber:

13.1 g

Protein:

13.7 g

Cholesterol:

0 mg
Keywords: recipe, gluten-free, vegan, vegetarian, appetizer, lunch, side
Recipe Card powered by