Learn how to cook shrimp to perfection, every single time with this easy to follow, step-by-step tutorial. Plus, scroll to the bottom to for an easy garlic shrimp recipe!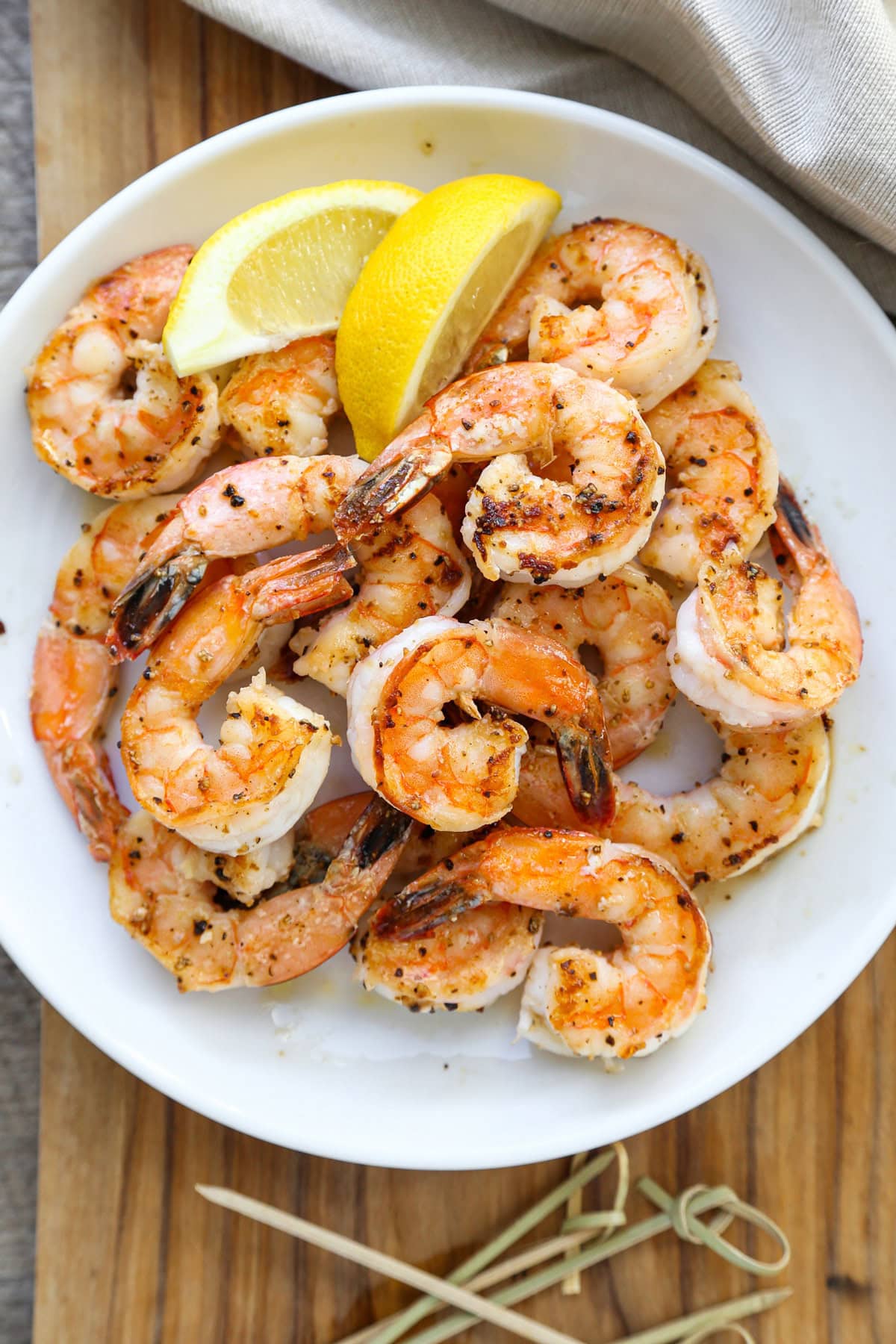 Since following a mostly Mediterranean diet for the past 3 years, Ben and I eat shrimp quite often. I would say this little crustacean makes an appearance on our plate once a week, usually as part of a stir fry or as a salad topping.
I only buy the best shrimp I can find because the difference in taste and quality is incomparable. Good quality shrimp barely needs any seasoning and the texture reminds me of luxurious lobster.
But before you can enjoy a perfect plate of shrimp, you must know how to cook them first. It's important to learn the basics of cooking shrimp so they are not undercooked or overcooked. Cooking them not long enough could result in serving shrimp that are still raw on the inside, or overcooking them yields a texture that's dry and rubbery.
The good news is that cooking with shrimp is very easy and quick! In this tutorial I'm showing you four different ways to cook them – sauteed in a pan, broiled in the oven, steamed, and boiled.
Let's get started!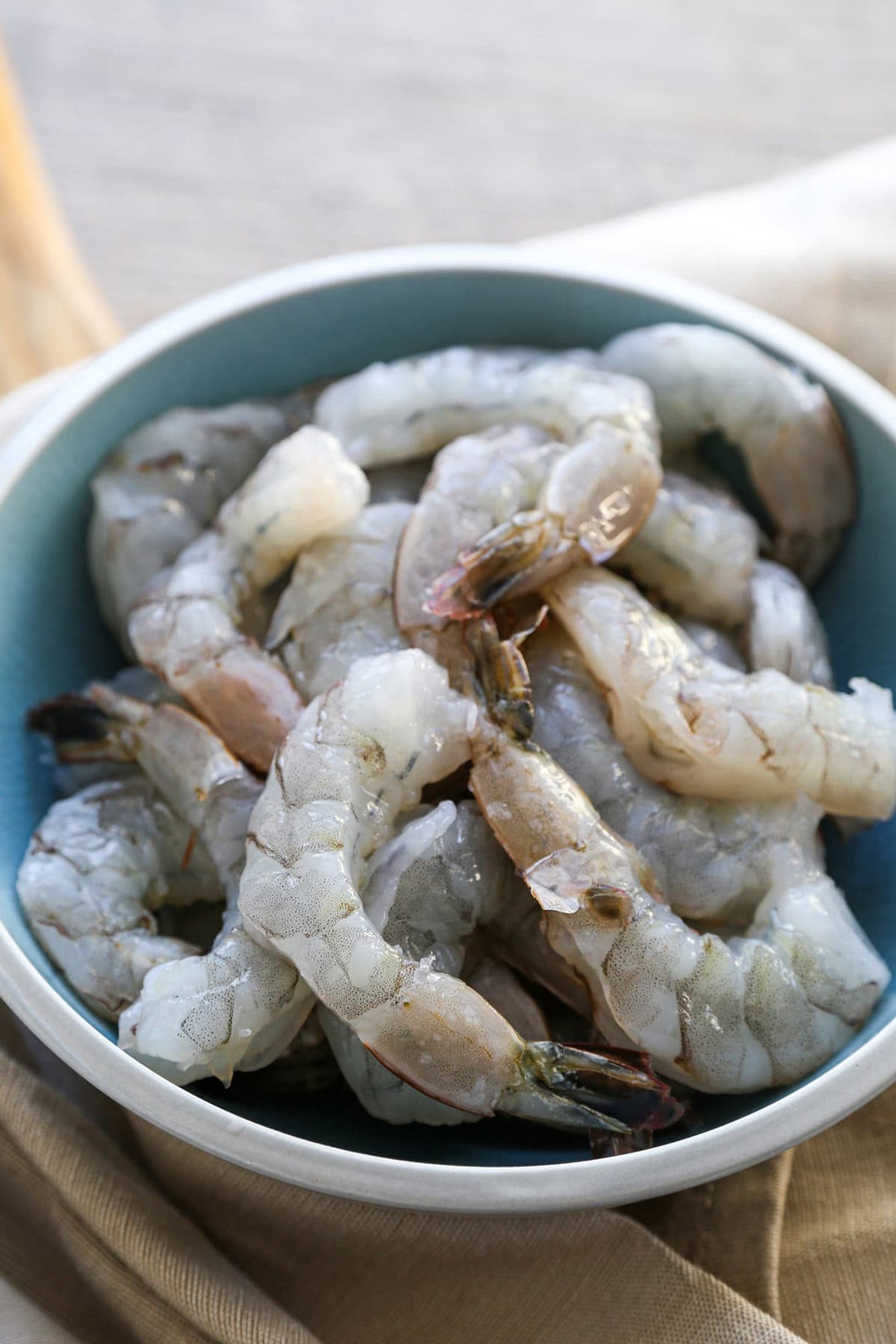 What type of Shrimp to Cook With
Look for U.S wild-caught medium to large shrimp that have the Council's blue-and-white check mark on the packaging. Not only do they taste fresh and have the best texture, you will also be helping the marine life from overfishing.
U.S wild-caught shrimp are also better for you because they are free of antibiotics and hormones, unlike imported farmed shrimp which can be contaminated with antibiotic residues and hormones (such as steroids). Because the breeding grounds for farmed shrimp is often unsanitary, they can also contain bacteria such as e. coli, salmonella, and listeria.
At this moment, it's best to shop at Whole Foods or Wegmans to find the best quality shrimp.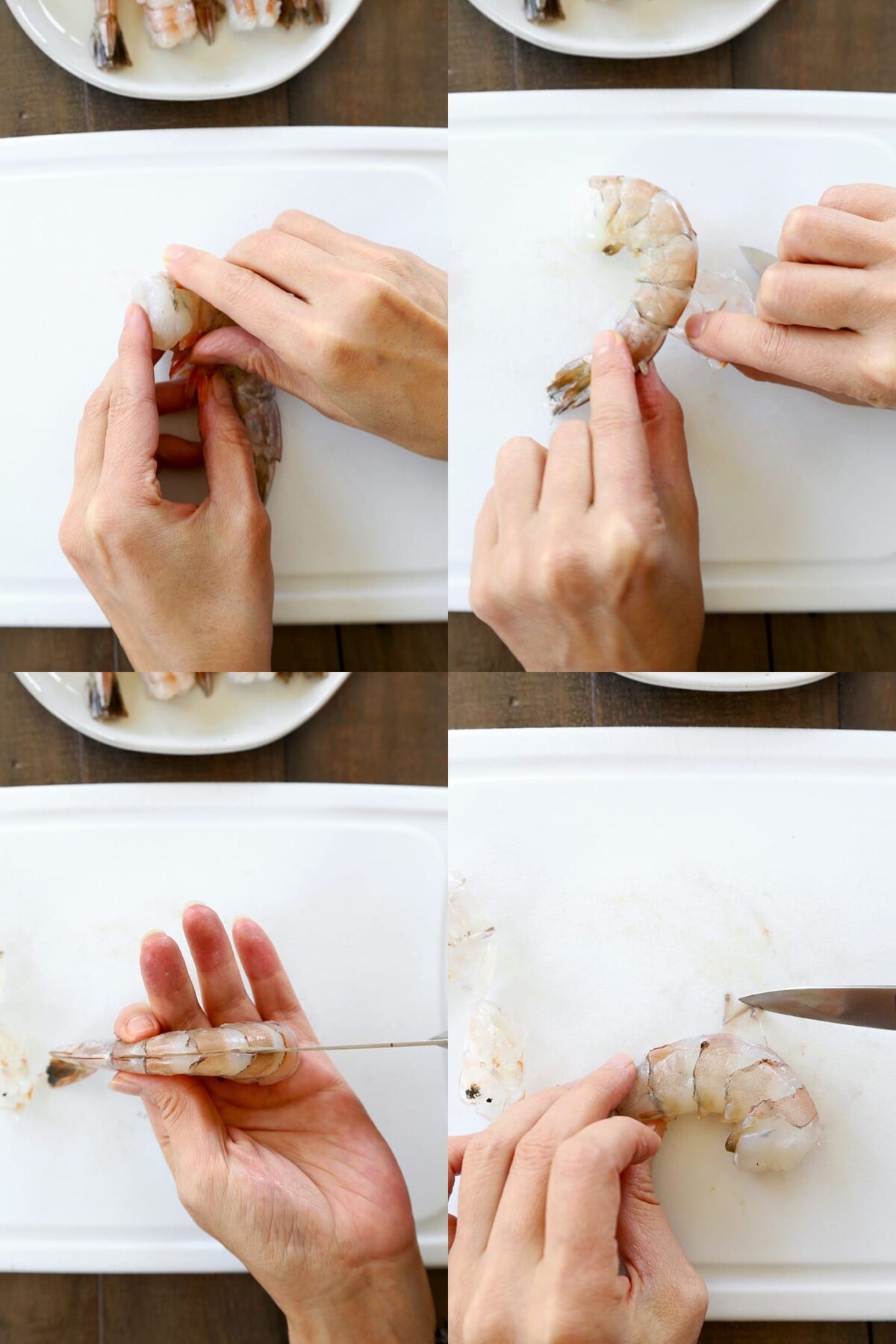 How to Peel and Devein Shrimp
If the shrimp are frozen, start by thawing them. The fastest way is to put the shrimp in a colander and run cold water over them for about 5 minutes, or until they are easily bendable.

Remove the head and legs if they are still attached and save them to make a soup! There's so much flavor in shrimp heads that they should always be used to make stock. Pull off the shell starting from the head end, and remove it. You can leave the tail part of the shell or take it out, that's up to you.
Once peeled, devein the shrimp with a paring knife by slicing the outer edge of the shrimp's back until you see a vein. Remove it by picking it with the knife. If you don't see one, you can move on to the next shrimp.
The shrimp are ready to be used, or if you would like to use them later, place them in a bowl of ice until cooking time, or refrigerate them, covered.
---
How to Cook Shrimp Perfectly, Every Single Time
In this section I'm showing you how you to saute, broil, steam, and boil shrimp so they come out perfect every single time.
The most important thing to remember when cooking with shrimp is: Timing is everything.
Because of that I recommend that you always use a timer, no matter how good you think you've become with your shrimp cooking skills!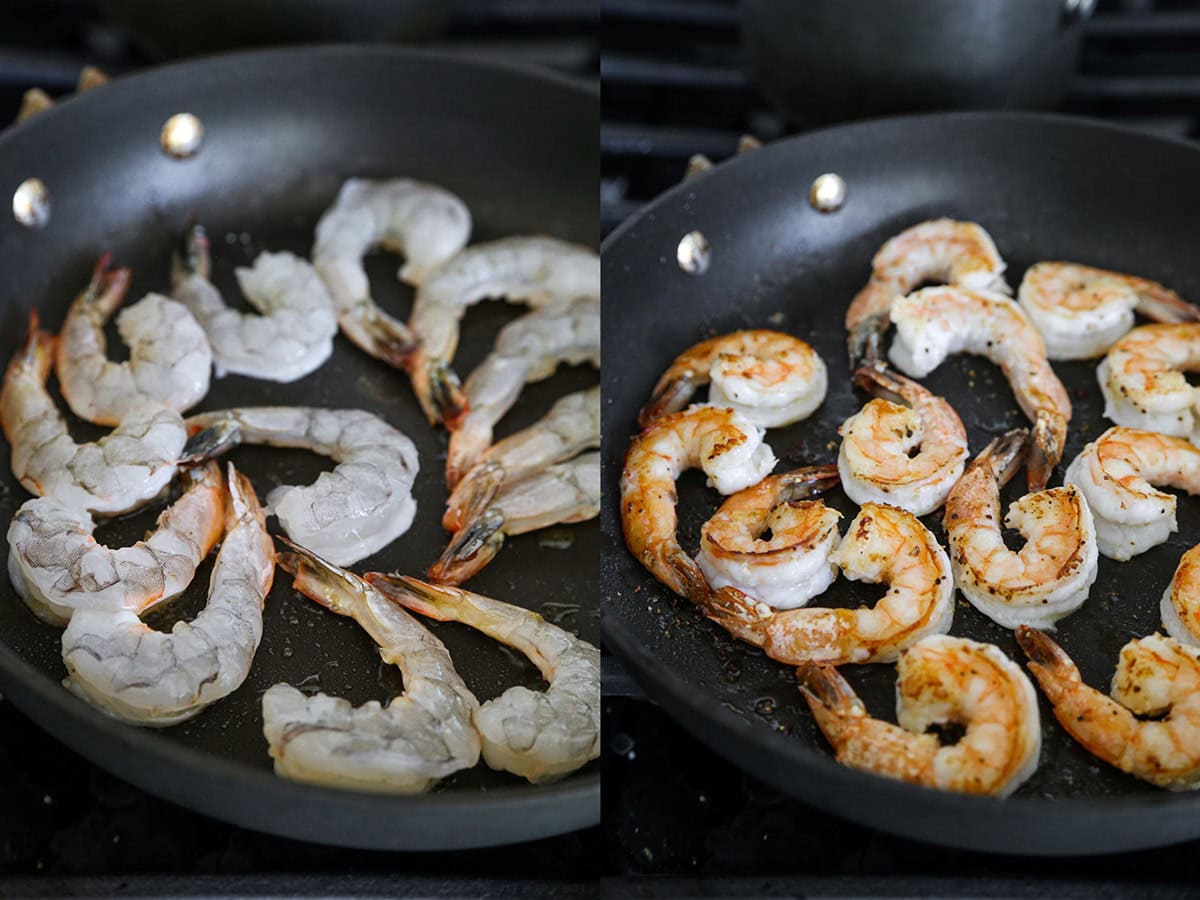 How to Saute Shrimp
Cooking shrimp on the stove top is extremely easy and only take 5 minutes! All you need is a frying pan, a little oil or butter, salt and pepper. The advantage to cooking shrimp in a pan is the exterior takes on a smoky flavor, similar to what you would get on a grill, and some bits get charred and a little crispy. It's my favorite way to cook shrimp.
Season the shrimp with plenty of salt and pepper.
Place a medium or large pan on the stove over medium high heat and add 1-2 tablespoons oil or butter.
When the oil is hot, add the shrimp and set the timer to 3 minutes. Don't move the shrimp, let them cook on their own.
When the 3 minutes is up, flip them and cook for 1 minute, or until they are opaque and pink.
Turn the heat off and transfer the shrimp to a bowl or plate. Serve.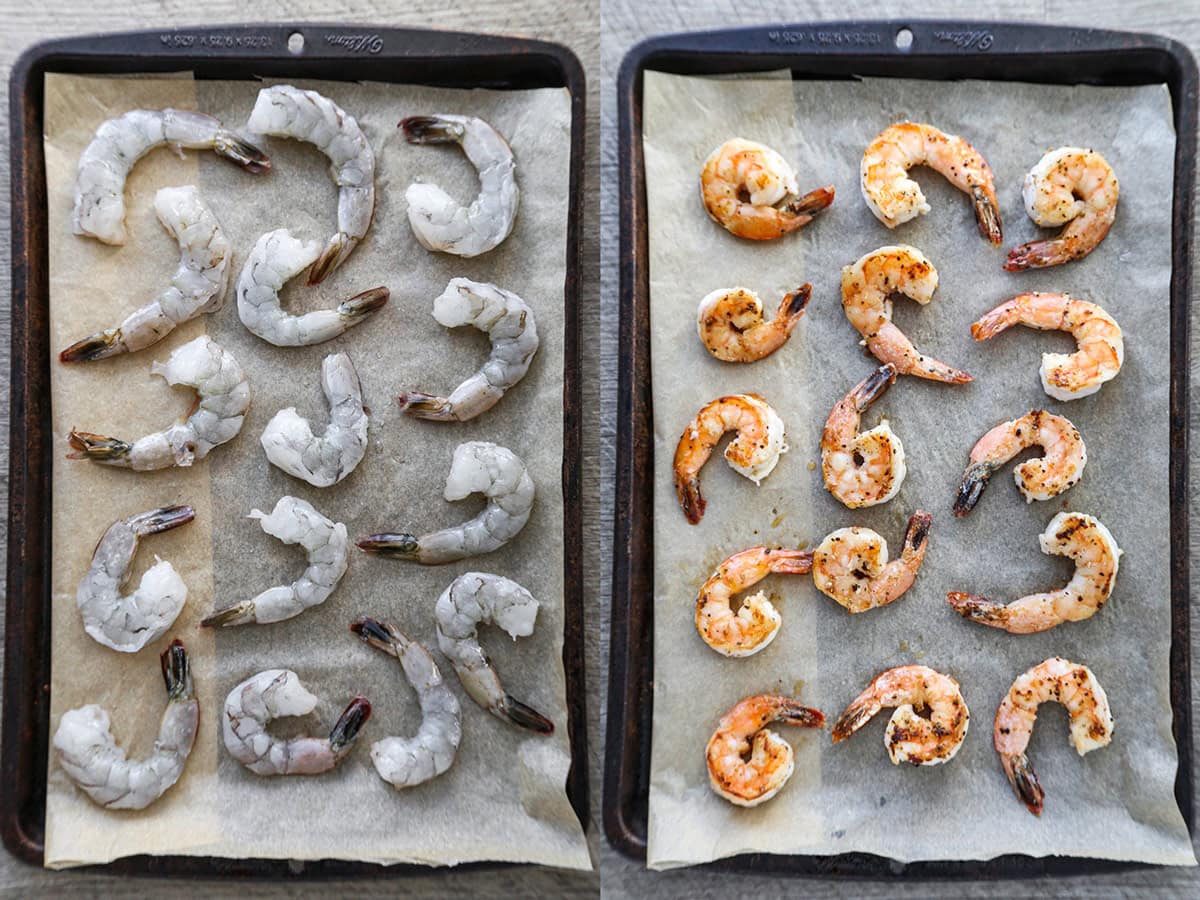 How to Cook Shrimp in the Oven
The easiest and fastest way to cook shrimp in the oven is to broil them. The advantage to broiling shrimp is that you can get a beautiful char on them without using any oil. The result is very similar to pan fried shrimp minus the extra calories you get from the oil.
Turn the broiler on.
Season the shrimp with salt and pepper (you can also toss them in a little bit of olive oil, but that's optional).
Cover a baking sheet with parchment paper and place the shrimp on top in one layer, leaving a little room between each shrimp so they don't touch.
Place the baking sheet on the top oven rack (about 5 inches from the flame) and broil the shrimp for 2-3 minutes, until they are opaque and pink.
Take the shrimp out of the oven and serve.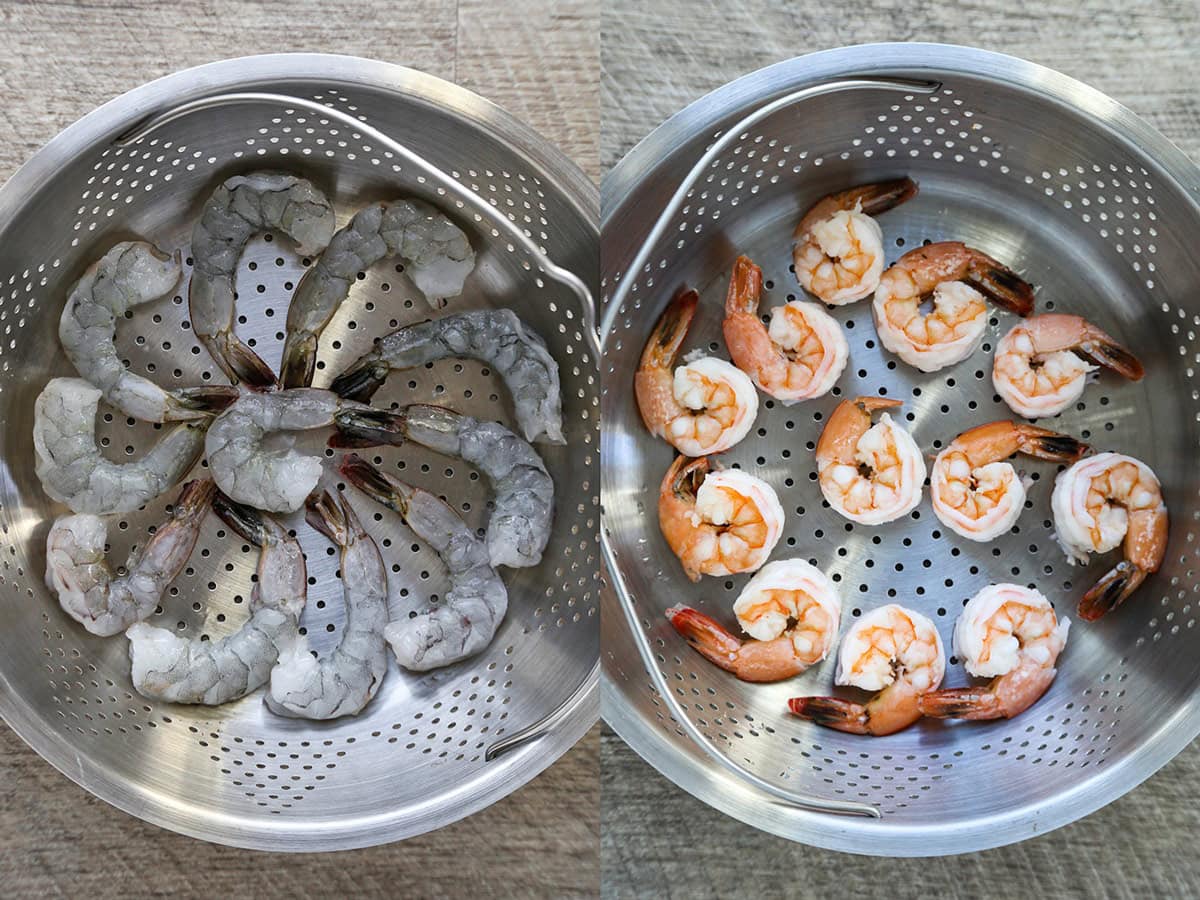 How to Steam Shrimp
Steaming shrimp will give you beautiful shrimp that are uniformly pink and white. This is a good method to use if you are making shrimp cocktail or using shrimp in a salad or as a cold appetizer.
Fill a medium or large pot of water with about 1 cup of water and turn the heat on medium high. Place a in a strainer or steam basket on top of the pot so it sits flat.

When the water is boiling, add the shrimp, cover with a lid, and steam for 2-3 minutes, until the shrimp turn pink.

Transfer the shrimp to a plate and serve. Or if you would like to eat them cold, place the shrimp in a bowl filled with ice to stop the cooking process.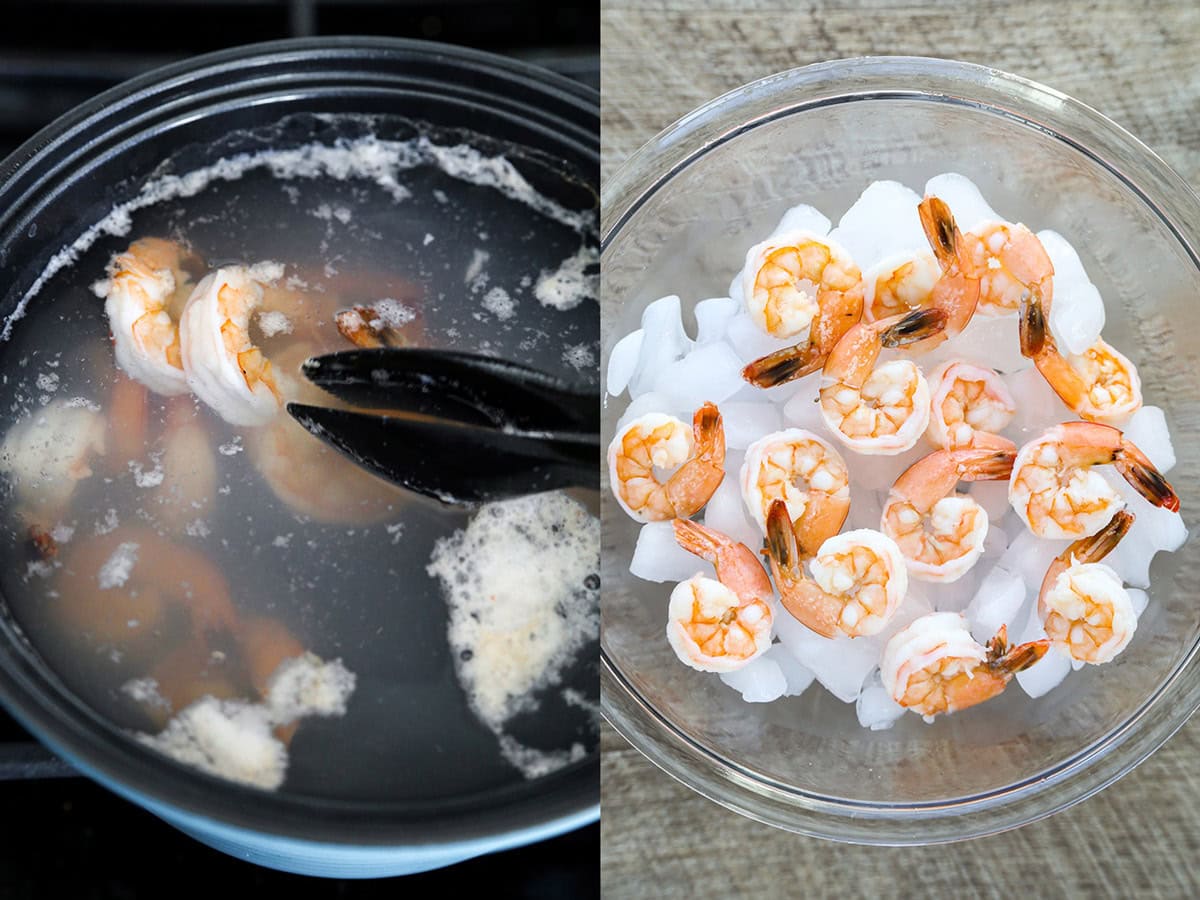 How to Boil Shrimp
Boiling shrimp is also a good method to use if you are planning to make shrimp cocktail, are using them in a salad, or as a cold appetizer. The key to making amazing shrimp cocktail is to stop the cooking process as soon as the shrimp are cooked through and subsequently drained. Resting them on a bed of ice does the trick.
Fill up a bowl with ice and set aside.

Add 8 cups of water and 1 tablespoon of salt to a pot, and bring to a boil.

Add the shrimp and boil for 2-3 minutes, until they begin to turn pink.

Drain the shrimp and transfer them to the ice bowl immediately, to stop them from cooking further.

Serve with this quick and delicious homemade cocktail sauce.
Yummy Shrimp Recipes
Looking for a shrimp recipe to make for dinner tonight? Here are some of favorites: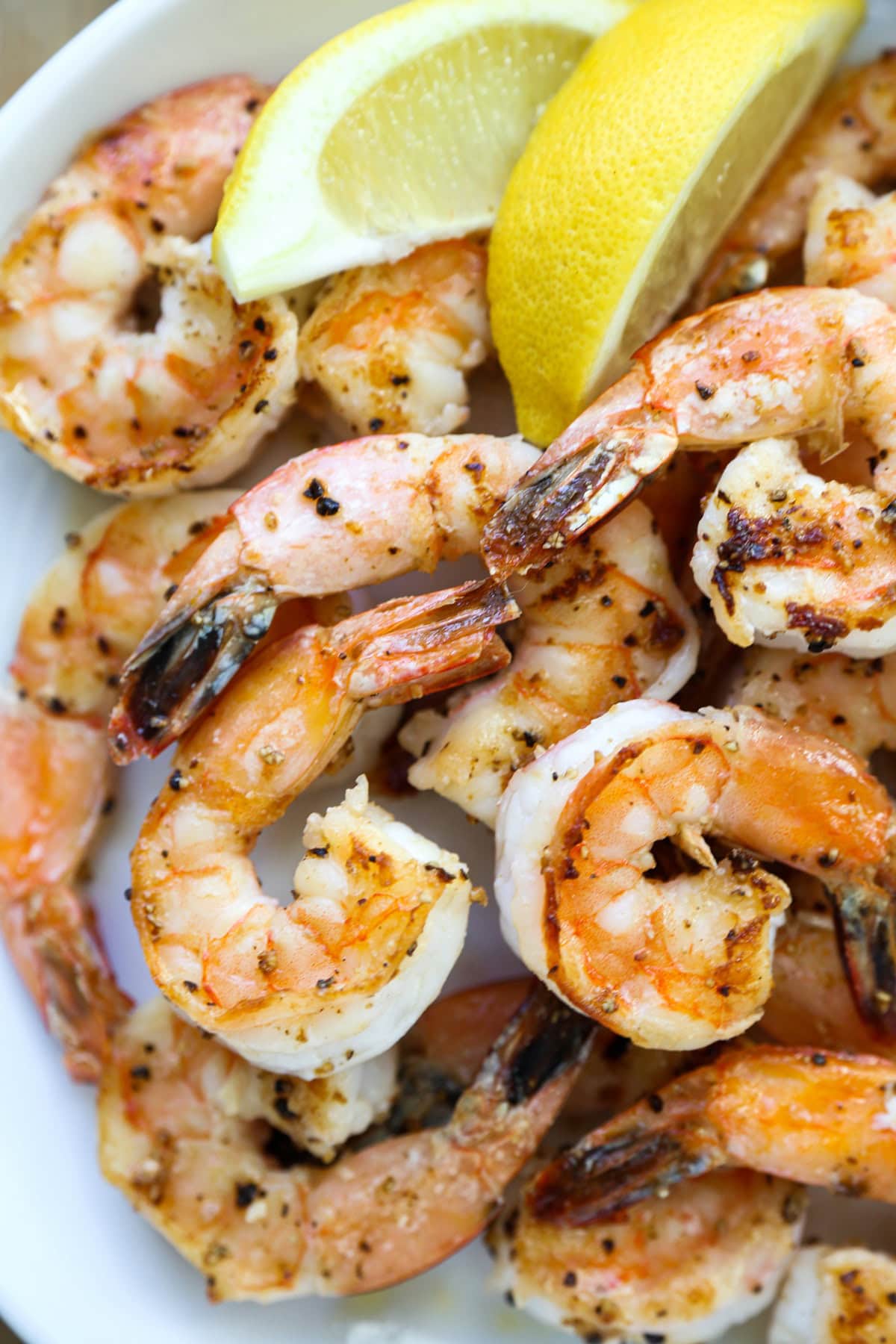 Did you like this How to Cook Shrimp Tutorial? Are there changes you made that you would like to share? Share your tips and recommendations in the comments section below!
Print
Easy Garlic Shrimp
This is an easy garlic shrimp recipe that takes less than 15 minutes to make from start to finish!
Author: Caroline Phelps
Prep Time:

10 minutes

Cook Time:

4 minutes

Total Time:

14 minutes

Yield:

4

servings

1

x
Category:

Seafood

Method:

Pan frying

Cuisine:

Italian
1

pound

(16oz) medium to large shrimp, fresh or thawed, if frozen

2 tablespoons

extra virgin olive oil

2 tablespoons

butter

4

garlic cloves, minced

1 tablespoon

fresh lemon juice
Salt and pepper
Instructions
Peel and devein the shrimp. You can keep or remove the tail, that's up to you.
In a large skillet over medium high heat, add the oil and butter.
When the butter has melted, swirl the pan around to coat the surface evenly.
When the butter is bubbling, add the shrimp and cook for 3 minutes without touching them. Season them with plenty of salt and pepper.
Flip the shrimp over and add the garlic. Cook for 1 minute or until the shrimp are opaque and pink.
Turn the heat off and stir in the lemon juice.
Transfer the shrimp to a plate, drizzle the garlic sauce over them and serve.
Notes
Leftovers: Keep the garlic shrimp in an airtight container and refrigerate for up to 2 days.
Nutrition
Serving Size:

about 8 or 9 shrimp

Calories:

213

Sugar:

0.1g

Sodium:

136.2mg

Fat:

13.4g

Saturated Fat:

4.7g

Unsaturated Fat:

1.1g

Trans Fat:

0g

Carbohydrates:

1.3g

Fiber:

0.1g

Protein:

23g

Cholesterol:

197.7mg
Keywords: Prawns, appetizer, side
Recipe Card powered by