This is a light and cleansing buckwheat soba noodle salad recipe with a refreshing ginger miso dressing. Topped with colorful ingredients like tomatoes, cucumber, and mandarin oranges, this is a wholesome and delicious meal that only takes 15 minutes to make.

I could eat soba noodles every day and be perfectly happy, which is exactly what I did when I lived in Tokyo.
Soba noodles are so popular in Japan that you can find soba stands on subway platforms, selling hot and cold bowl of buckwheat goodness. I used to order them all the time because they were cheap, comforting (especially on a cold winter day) and very nutritious.
When I'm not eating soba with a tsuyu based broth or dipping, I like to pair them with a tangy dressing just like the one in this soba noodle salad recipe. The flavors are extremely refreshing and the salad will you feeling full but not heavy.
What Are Soba Noodles?
Soba noodles (そば or 蕎麦) are Japanese noodles made from buckwheat flour.
Most soba noodles are a combination of wheat and buckwheat. The reason why wheat flour is often added is to help the dough bind since buckwheat is naturally gluten-free.
There are many different types of soba noodles available since each soba makers has their own recipe which uses different combinations of ingredients and buckwheat ratio. Some also like to add green tea or plum extract to play with the taste and color of the noodles.
Buckwheat soba noodles are most frequently served cold with a dipping sauce called tsuyu, or hot in a tsuyu based broth, topped with various ingredients. They have an earthy, nutty taste.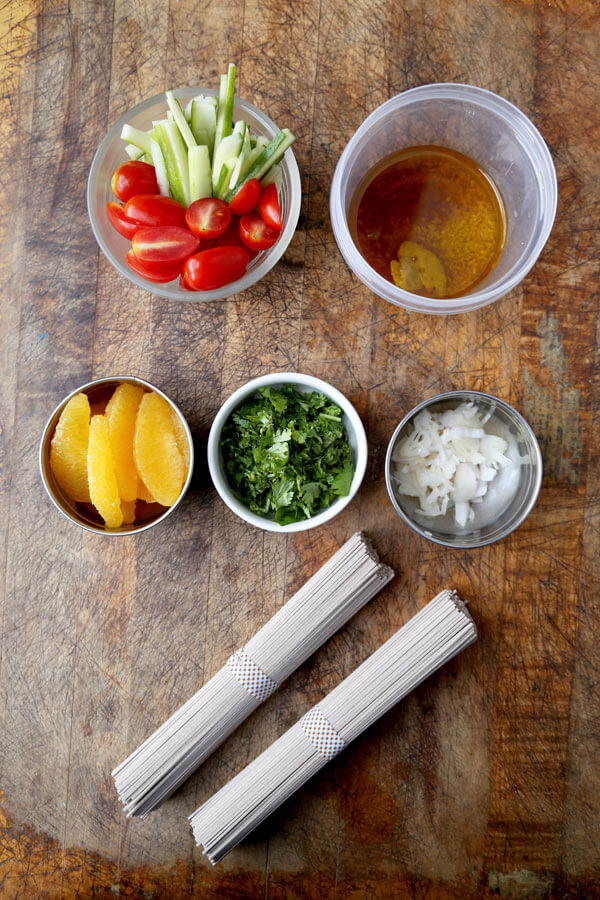 Ingredients for Soba Noodle Salad
Soba noodles: You can use fresh or dried soba noodles. I personally like my soba noodles on  the less chewy side so I always choose noodles that are darker in color. If you prefer your noodles to be bouncy and chewy, pick soba noodles that are light grey. The lighter in color the noodle is, the more wheat flour it contains (more chewy).
Cucumber: Use Kerby or English cucumber as they have less seeds and a crunchier texture.
Tomatoes: Cherry tomatoes are by far the best for this soba noodle salad. They add sweetness and because they are served whole, do not water down the citrus dressing. But feel free to use a regular tomato if that's what you have – and just removed the seeds.
Orange: Find the best orange you can as it will elevate your soba noodle salad to a whole new level! When choosing an orange, make sure it feels nice and heavy, which means it will be juicy. And take your time to segment it so the juice explodes in your mouth with every bite you take.
Cilantro: Cilantro adds an exotic element and brightens up the dish. But if you dislike its soapy taste, feel free to omit it.
Dressing: A mixture of olive oil, shallots, ginger, soy sauce, vinegar, miso paste, honey, and salt.
Topping Variations
There are plenty of other toppings you can use for this soba noodle salad. Aside from the orange, which I recommend keeping since it adds so much flavor to the dish, you can swap the cucumber and tomato for these veggies and nuts, or add them as extras:
Avocado
Corn
Protein of your choice such as shrimp or tofu
Spinach
Edamame
Snow peas
Thinly sliced carrot
Grilled kabocha squash
Red cabbage
Green or red bell peppers
Chopped scallions (green onions)
Pumpkin seeds
Sesame seeds
Shaved toasted almonds
Or add your own favorite substitutes! Fruits are also a great way to brighten up this buckwheat noodle salad.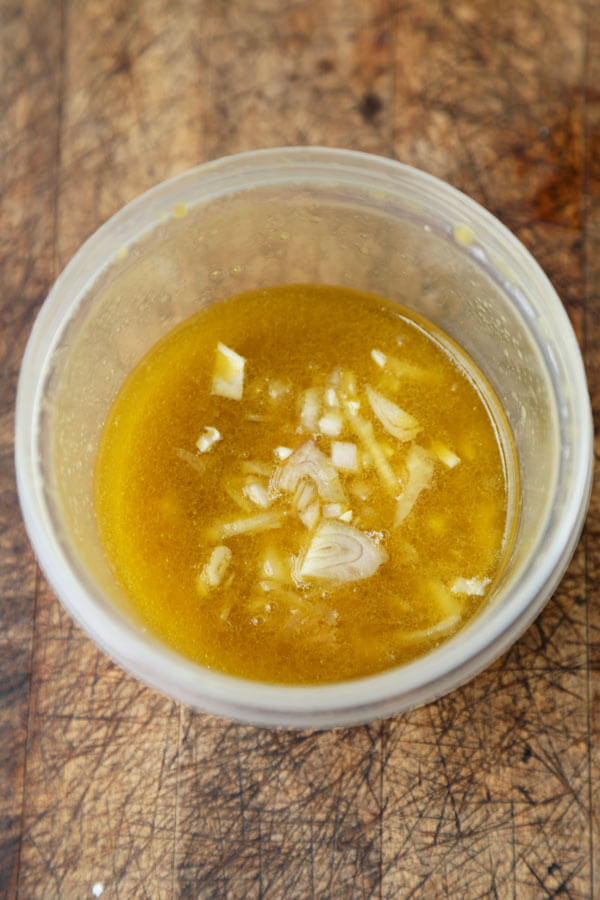 How to Make Soba Noodle Salad
Scroll to the bottom of the post for the full recipe.
Gather all of your kitchen tools and ingredients.
Start by making the dressing by whisking all of the ingredients in a bowl or salad dressing shaker. Set aside.
Bring a pot of water to boil and cook the soba noodles according to the directions on the package. Drain and rinse the noodles under cold water until they feel cold. Drain well.
Divide the soba noodles among to serving dishes and top with the sliced cucumber, cherry tomatoes, segmented orange slices, and cilantro.
Whisk or shake the dressing and pour it over the soba noodle salad.
Toss well before eating.
How Long Does Soba Noodle Salad Last?
If the soba noodles, toppings, and dressing are kept separate, the ingredients will keep in the fridge for up 4 to 5 days. Before refrigerating the noodles, wrap them in paper towel and place them in an airtight storage container.
When you are ready to eat it, rinse the soba noodles under cold water to help them soften and unstick. Drain well and follow the steps to assemble the salad.
If you have already mixed the salad, it will keep for 1 to 2 days, refrigerated in an airtight storage container.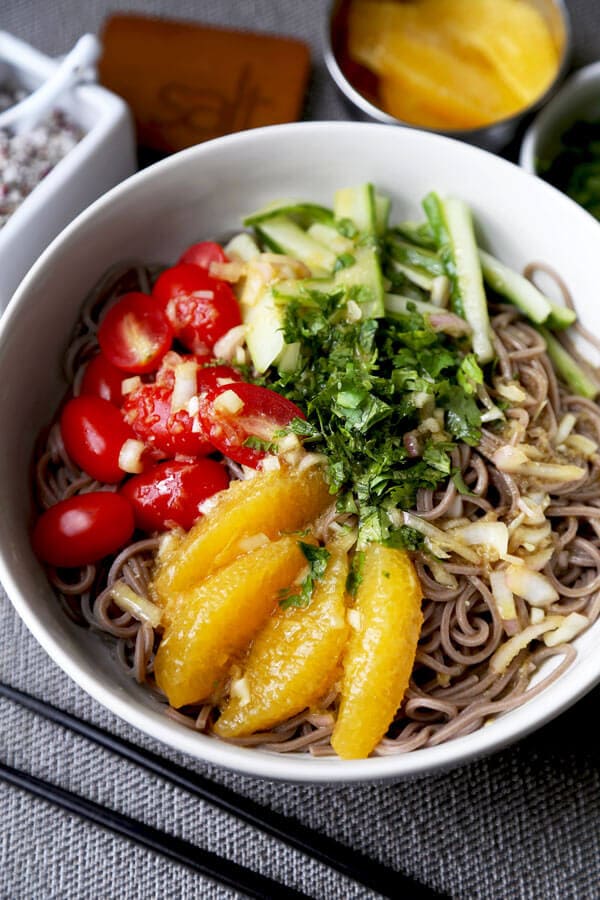 What to serve with buckwheat soba noodle salad
This soba noodle salad is pretty filling on its own, but not so much that you can't enjoy it with a few tasty side dishes. Because the flavors are quite tangy and bright, I recommend pairing it with dishes that are savory or sweet, so your palate won't feel too overwhelmed.
Some of my favorite sides are: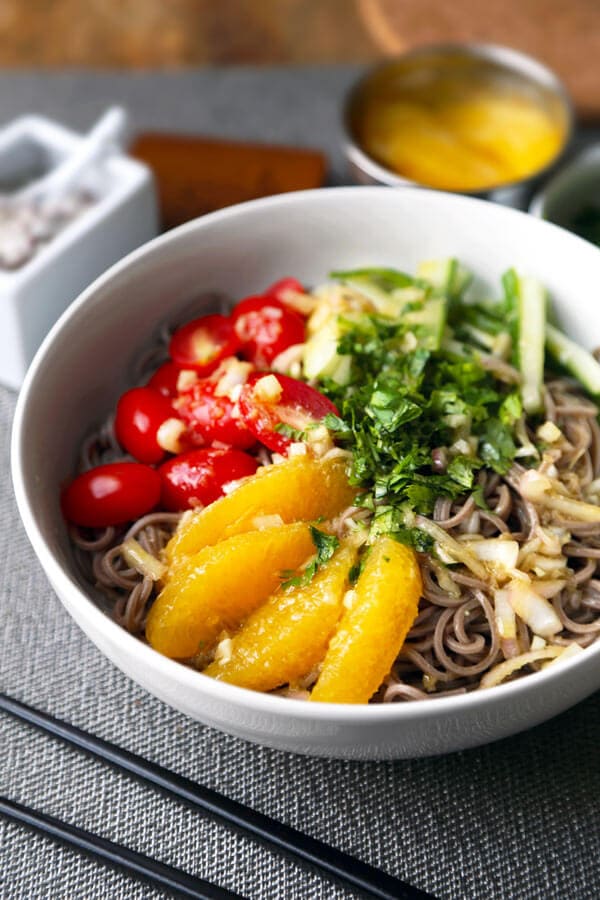 Did you like this Buckwheat Soba Noodle Salad with Ginger Miso Dressing Dressing? Are there changes you made that you would like to share? Share your tips and recommendations in the comments section below!
Print
Buckwheat Soba Noodle Salad with Ginger Miso Dressing
Topped with colorful ingredients like tomatoes, cucumber, and mandarin oranges, this delicious soba noodle salad only takes 15 minutes to make.
Author: Caroline Phelps
Prep Time:

10 minutes

Cook Time:

5 minutes

Total Time:

15 minutes

Yield:

2

people

1

x
Category:

Noodles

Cuisine:

Japanese
5 ounces

soba noodles

1 cup

Kirby or English cucumber, sliced into thin strips

10

cherry tomatoes, whole or halved

1

orange, peeled and segmented into wedges

2 tablespoons

cilantro, finely chopped
Tangy citrus dressing:
1

small shallot, finely chopped

1

thumb size ginger, peeled and grated

1 teaspoon

soy sauce

3 tablespoons

white wine vinegar

1 teaspoon

white miso paste

1 teaspoon

honey

1/2 teaspoon

kosher salt

1/4 cup

extra virgin olive oil
Instructions
Cook soba noodles according to instructions on the package. Cook a minute less than what the package says for al dente. Rinse under cold water, drain and set aside.
Put all the ingredients for the dressing in a cup, close with a lid and shake vigorously until well blended. You may need to break up the miso paste and mix it in with a fork or spoon.
Divide soba noodle evenly among two bowls and top with cucumber, tomatoes, orange and cilantro.
Pour sauce over each bowl and mix with chopsticks. Serve immediately.
Notes
Leftovers: Keep the leftover soba noodle salad in an airtight storage container. Refrigerate for up to 2 days.
Nutrition
Serving Size:

2

Calories:

568

Sugar:

13g

Sodium:

1225mg

Fat:

29g

Saturated Fat:

4.2g

Unsaturated Fat:

3.3g

Trans Fat:

0g

Carbohydrates:

73.1g

Fiber:

3.3g

Protein:

12.8g

Cholesterol:

0mg
Keywords: recipe, salad, vegetarian, buckwheat noodles
Recipe Card powered by