Salmon Croquettes with Sriracha Dipping Sauce
*This post may contain affiliate links. Read my disclaimer here.
This is a family friendly salmon dinner everyone will love! These salmon croquettes are light, tasty and take less than 15 minutes to prep. They are served with a slightly spicy sriracha dipping sauce that will keep you coming back for more!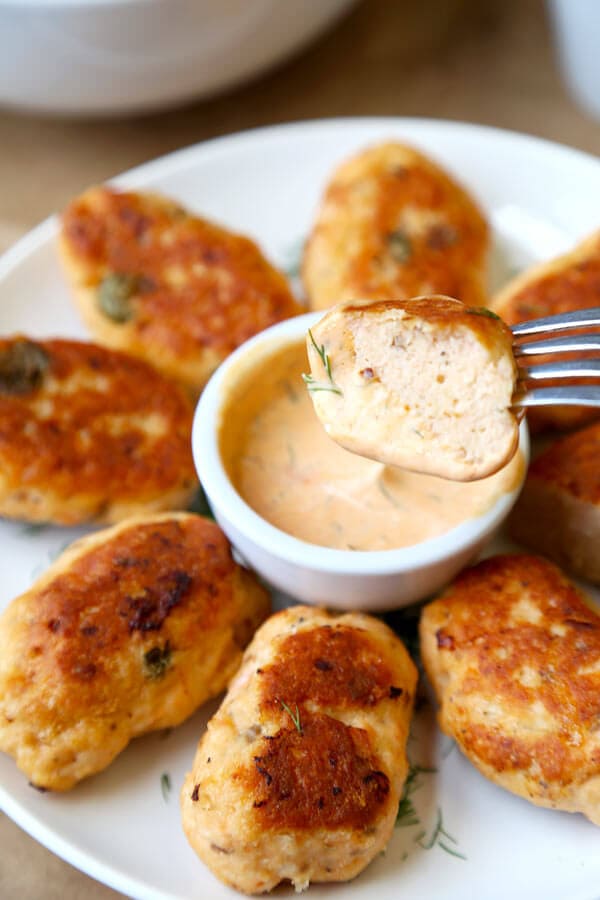 Your kids and/or hubby don't like salmon?
No problem.
There are plenty of salmon croquette recipes out there but if you are trying to convert salmon haters into lovers, this is the recipe you'll want to make.
Take my husband Ben as an example; he is not the biggest salmon fan. He thinks that too often salmon is overcooked and kind of blah when it comes to the flavor profile. The only salmon dish I ever saw him devour are my Asian style salmon cakes (you can also use the sauce of these salmon patties for the croquettes if you prefer less creamy).
That is until I came up with these gorgeous little salmon bites! Fresh salmon croquettes mixed with an egg, breadcrumbs, parmesan cheese, capers, shallots and Worcestershire sauce. There's some major yumminess happening in each one of them!
How to make salmon croquettes or salmon patties – it's the same thing
I'm calling this recipe salmon croquettes but really the only difference between croquettes and patties are the shape, right?
The preparation is very simple and only takes about 10-15 minutes.
Take a fresh piece of salmon fillet and finely chop it. Then throw it in a blender along with the other ingredients for the croquettes and blend. Scoop out a little of the mixture into the palm of your hand and form into croquettes or patties/cakes.
Repeat until all the mixture is used and sautee in a pan.
Voilà!
It's a quick and easy process that yields delicious results.
The croquettes are moist and tender but don't fall apart. The texture is light and but not flaky, more on the fluffy side.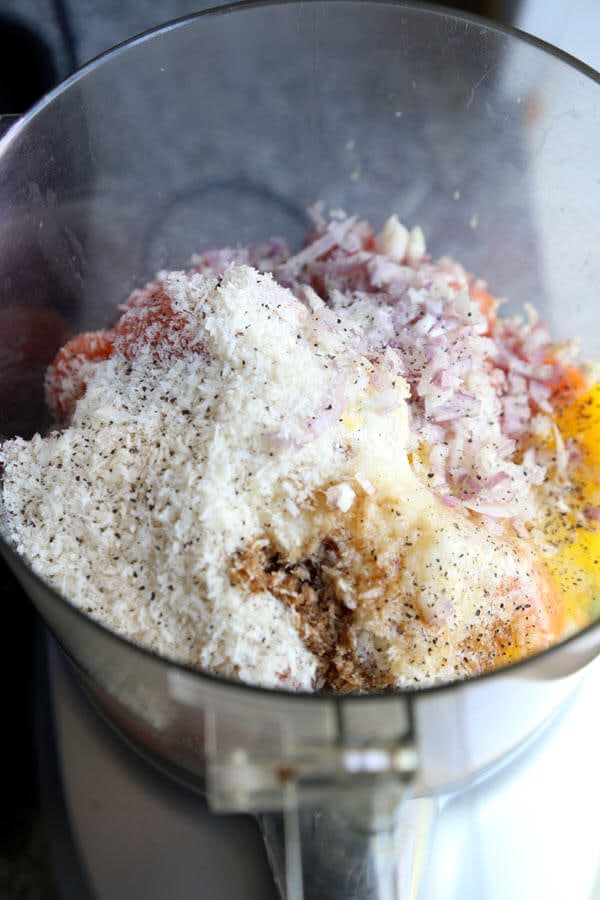 Salmon Croquette Sauce
These salmon croquettes are so good on their own that they don't technically need a sauce. But I do have a pretty delicious dipping sauce I think you will also love. It's a sriracha salmon dip made with fresh dill, lemon juice, mayonnaise and sriracha sauce.
It's good. Really good!
But if sriracha isn't really your thing, I have two other salmon croquette sauce options:
You can serve the croquettes with a tartar sauce – Japanese style or traditional American – they are a little different in taste. The Japanese version is fruitier and tangier, I personally prefer that one.
Or you can use the sauce for the salmon cakes I created in this other post. The recipe is just as simple except this one packs more of a punch. It also contains 4 ingredients:
Fresh lemon juice

Soy sauce

Sugar
As you can see, a lot of dipping sauces go with salmon croquettes or salmon cakes. That's because the flavor of salmon is fairly easy to pair with. It goes well with citrus, creamy sauces, soy sauce based ones, even with a kick of spices such as cumin and chili powder.
Salmon Croquettes Are A Healthier Option To Fish Sticks
And they are just as satisfying!
They make a great alternative to deep fried fish sticks.
In fact, we like them better than fish sticks because they are tastier. Only a little oil is needed to pan fry them and the fact that they aren't wrapped in heavy breading means they are lower in calories and fat.
It's the perfect example of comfort food done healthy!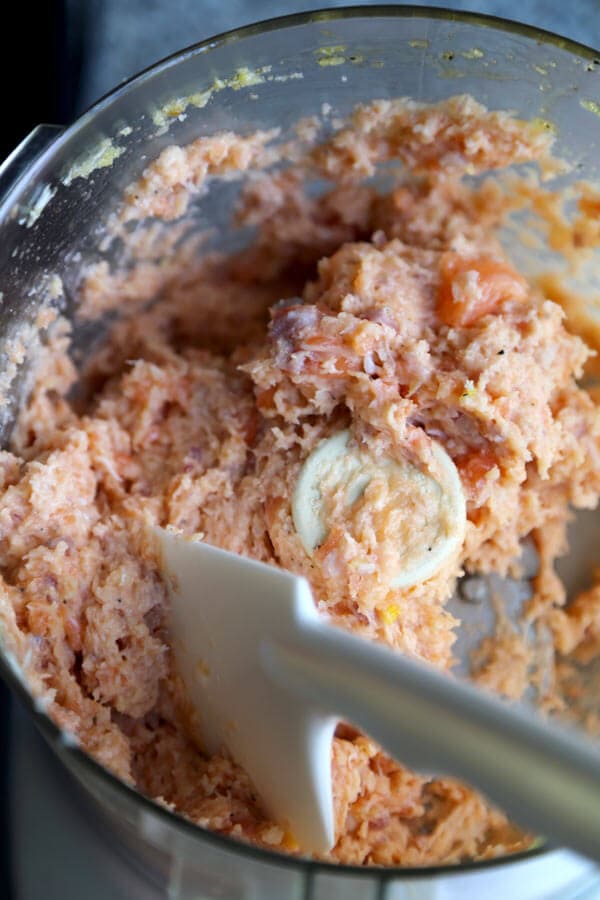 Calories in Salmon
Half a pound of salmon comes to about 450 calories. Since this recipe uses 1 pound, it means each croquette will be about 75 calories plus additional calories for the other ingredients.
Since I'm not an expert at calculating nutrition facts and I haven't been able to find a program online that accurately measures calorie and fat content of recipes, I can only give you a ballpark figure.
1 salmon croquette (including all the ingredients added) will come to about 131 calories and 2 grams of saturated fat.
What goes with salmon croquettes
Pretty much anything pairs well with salmon croquettes!
Looking to make a hearty meal? Serve them with colcannon or a quick Italian pasta salad.
But if you are looking for a lighter, healthier meal, I suggest a chopped salad and some brown rice. Or you could do a medley of grilled veggies and some quinoa for a colorful plate packed with nutrients.
Want to go a little Asian? I looove these sauteed asparagus with garlic and oyster sauce, they go so well with salmon! Fried rice is also a great option and takes 5 minutes to make if you have leftover veggies in the fridge.
However you decide to serve them is up to you. There are many different ways to flavor these salmon croquettes and many different dipping sauces to pair them with.
But one thing I know for sure is – you're in for a treat!
These healthy salmon croquettes with dill sauce will keep refrigerated for up to three days. I'm thinking they might freeze well too, but I have yet to try (they're usually all gone by the time dinner is over).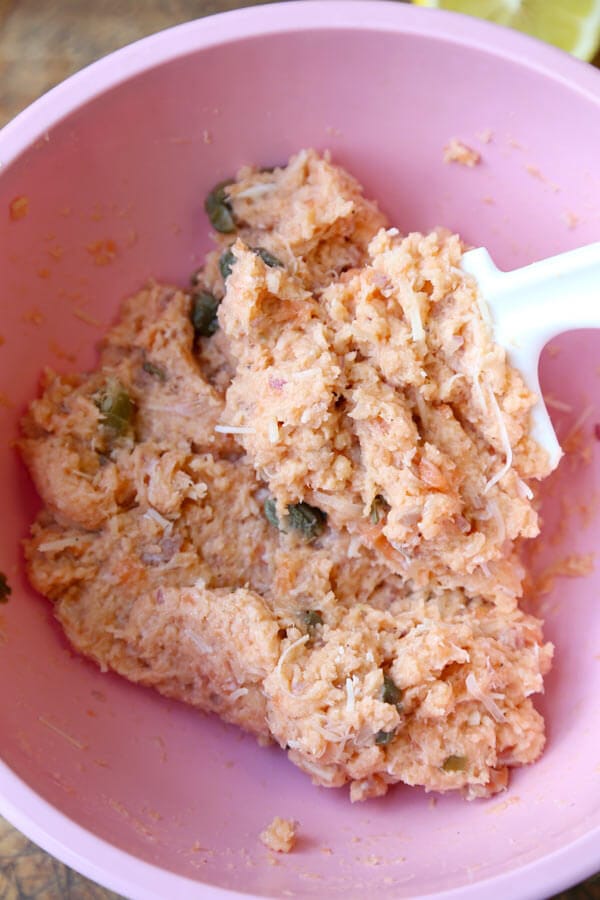 Can I Use Canned Salmon To Make These Salmon Croquettes?
Unfortunately no.
You need the salmon to be raw in order to achieve the right texture once they are cooked.
Can I make them gluten free?
Yes!
Just swap the regular panko breadcrumbs for gluten free ones which you can find on Amazon. Jeff Nathan Creations has gluten free breadcrumbs that are highly rated.
Can I make these Ahead Of Time?
Yes you can.
You can make the mixture, shape the croquettes and sprinkle a little flour to prevent them from getting sticky. Refrigerate the croquettes in a storage container for up to a day.
For cooked salmon croquettes, keep them in a storage container and they will keep in the fridge for 3-4 days.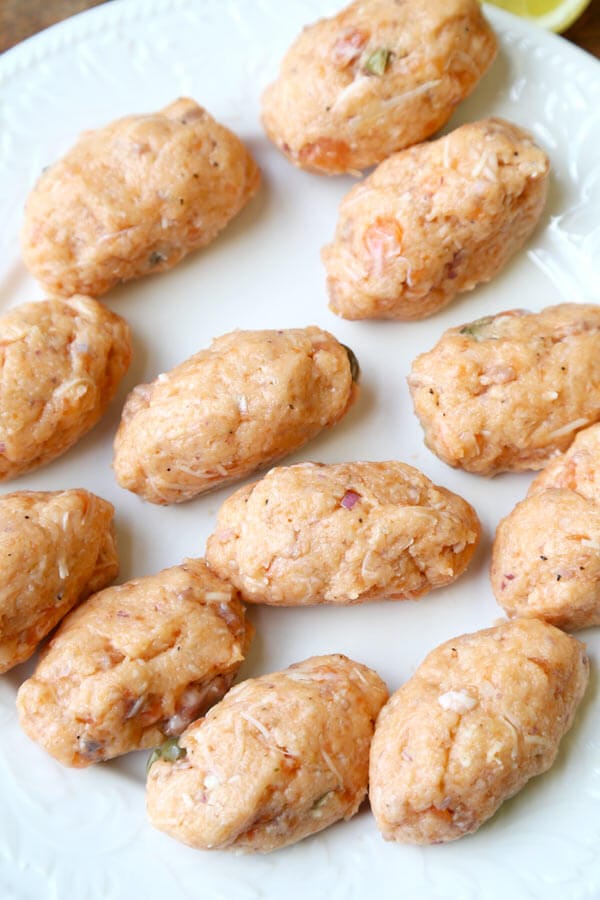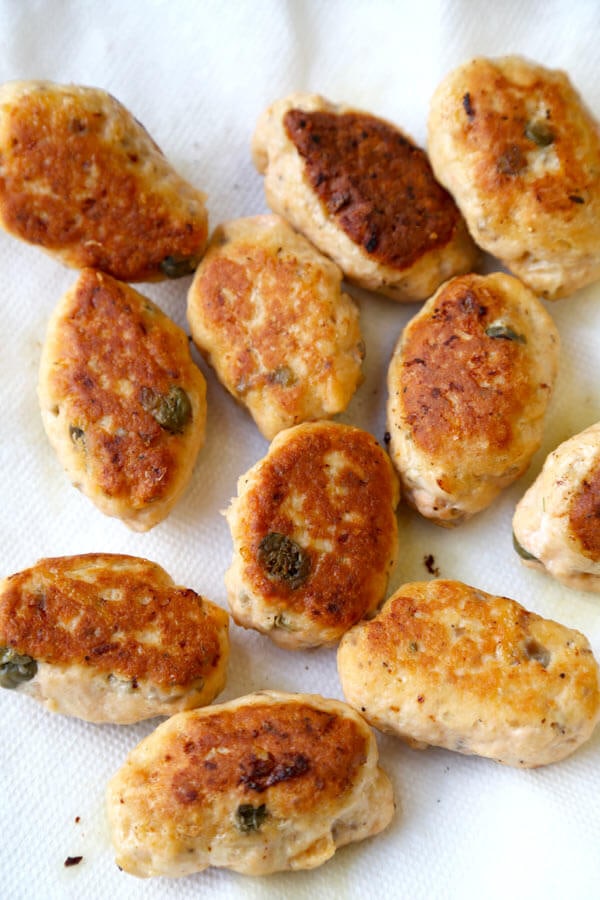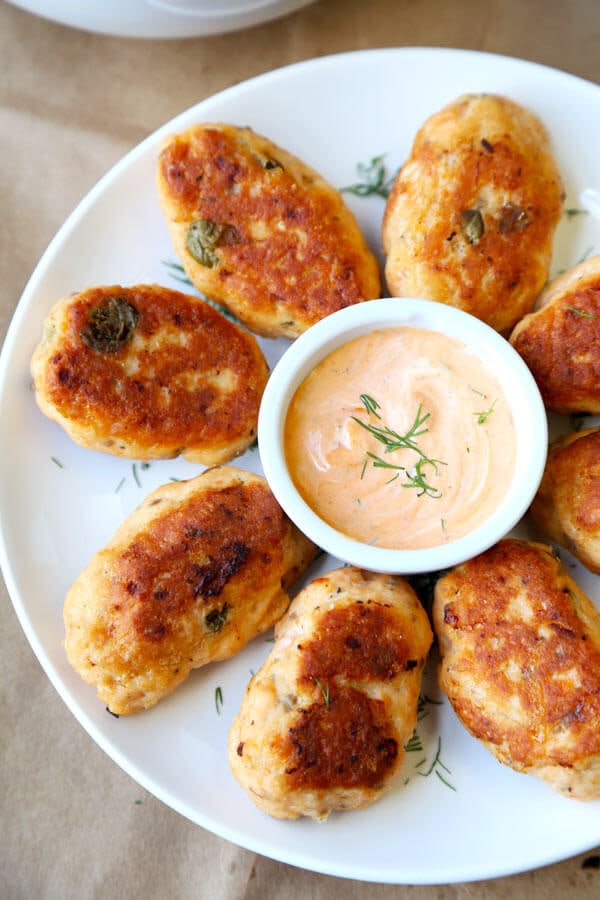 Serve this recipe with this delicious Garlic Parmesan Spaghetti Squash With Mushrooms for a super nutritious meal. Wow your family this dinner time!
Did you like this Salmon Croquette With Sriracha Dipping Sauce Recipes? Are there changes you made that you would like to share? Share your tips and recommendations in the comments section below!
---
Print
Salmon Croquettes with Dill and Sriracha Dip
These salmon croquettes are light, tasty and take less than 10 minutes to prep! Make salmon croquettes the easy and healthy way and dip them in a tangy dill and sriracha dipping sauce. Delish!
Author: Caroline Phelps
Prep Time:

10 minutes

Cook Time:

10 minutes

Total Time:

20 minutes

Yield:

12

croquettes

1

x
Category:

Seafood

Method:

Stove top

Cuisine:

American
1

pound boneless skinless salmon fillet (roughly chopped)

1/4 cup

Parmesan cheese (shredded)

3/4 cup

panko breadcrumbs

1

shallot (finely chopped)

1 teaspoon

Worcestershire sauce

1

large egg

1 tablespoon

capers

2 tablespoons

extra virgin olive oil
Spicy Dill Sauce:
1 tablespoon

sriracha sauce

1 tablespoon

dill (finely chopped)

1 teaspoon

lemon juice

1/3 cup

mayonnaise
Instructions
Put salmon, parmesan cheese, panko breadcrumbs, shallot, worcestershire sauce and egg in a blender, and blend until all ingredients are minced. Transfer mixture to a bowl.
Add capers and mix well to evenly spread the capers throughout the mixture.
Use a little olive oil on your hands and spoon out about a golf size amount of mixture into the palm of your hands. Shape into croquettes. You should have about 10-12 croquettes.
In a large pan over high heat, add extra virgin olive oil. When the oil is hot, add salmon croquettes and cook on each side for 5-6 minutes, or until cooked through. Transfer croquettes to a plate covered with paper towel to remove excess oil. Transfer to serving plate.
For the dipping sauce: combine sriracha sauce, dill, lemon juice and mayonnaise in a small bowl and whisk until the ingredients are blended.
Serve salmon croquettes with dipping sauce.
Notes
These salmon croquettes will keep refrigerated for up to three days.
Keywords: recipe, easy, main
Recipe Card powered by
Pickled Plum is a participant in the Amazon Services LLC Associates Program, an affiliate advertising program designed to provide a means for sites to earn advertising fees by advertising and linking to amazon.com.