There are plenty of salmon croquette recipes out there but if you are trying to convert salmon skeptics into fans then this is the recipe you'll want to make! These salmon croquettes are light, tasty, and take less than 15 minutes to prep. They are served with a slightly spicy sriracha dipping sauce that will keep you coming back for more!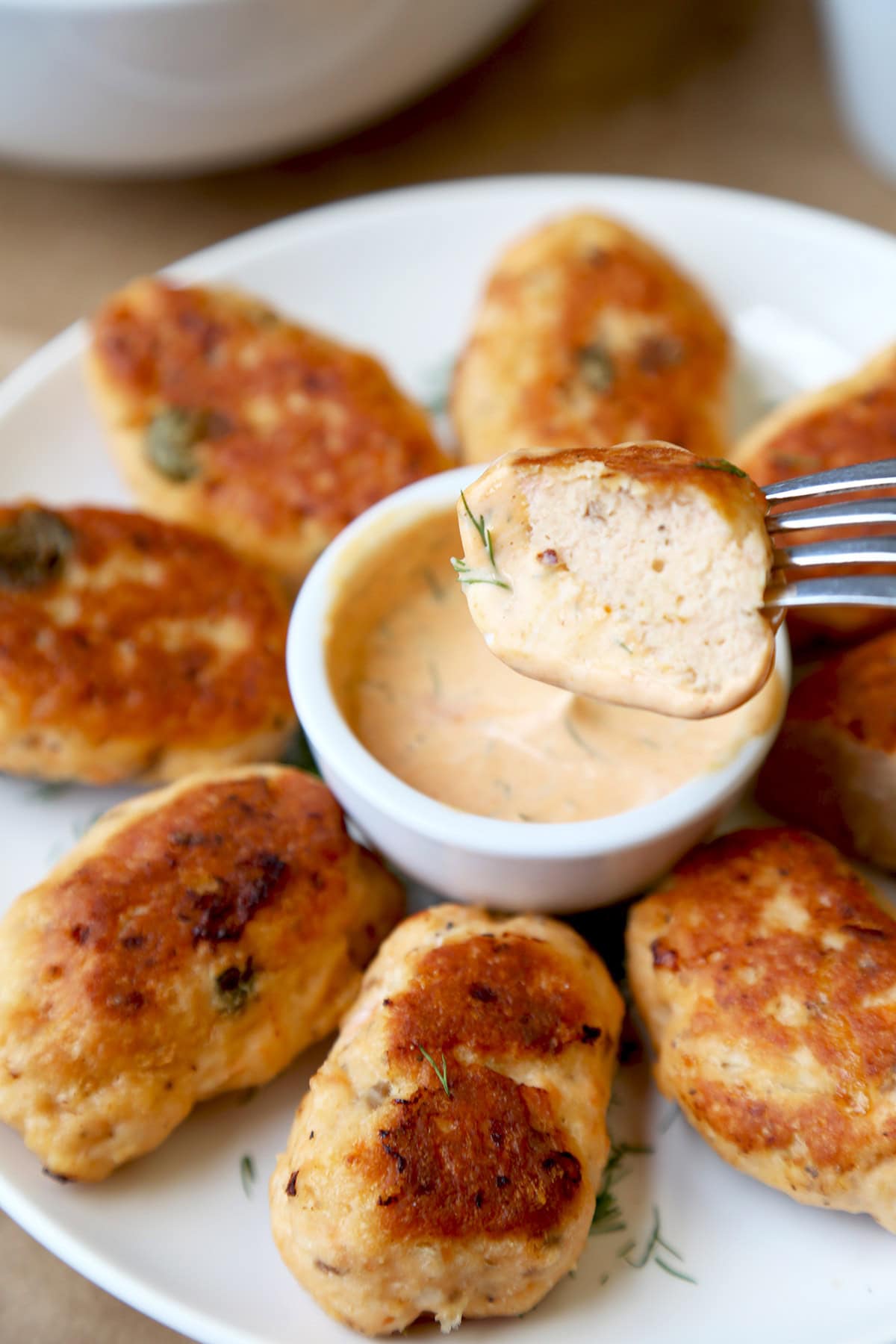 What Does Croquette Mean?
The Merriam-Webster definition describes croquette as 'a small, often rounded mass consisting usually of minced meat, fish, or vegetable coated with egg and bread crumbs and deep-fried'.
Croquette is a French-based word that is derived from the word 'croquer' which means 'to crunch'. It's used for dumpling style dishes that can be served as an appetizer, snack, or as a side.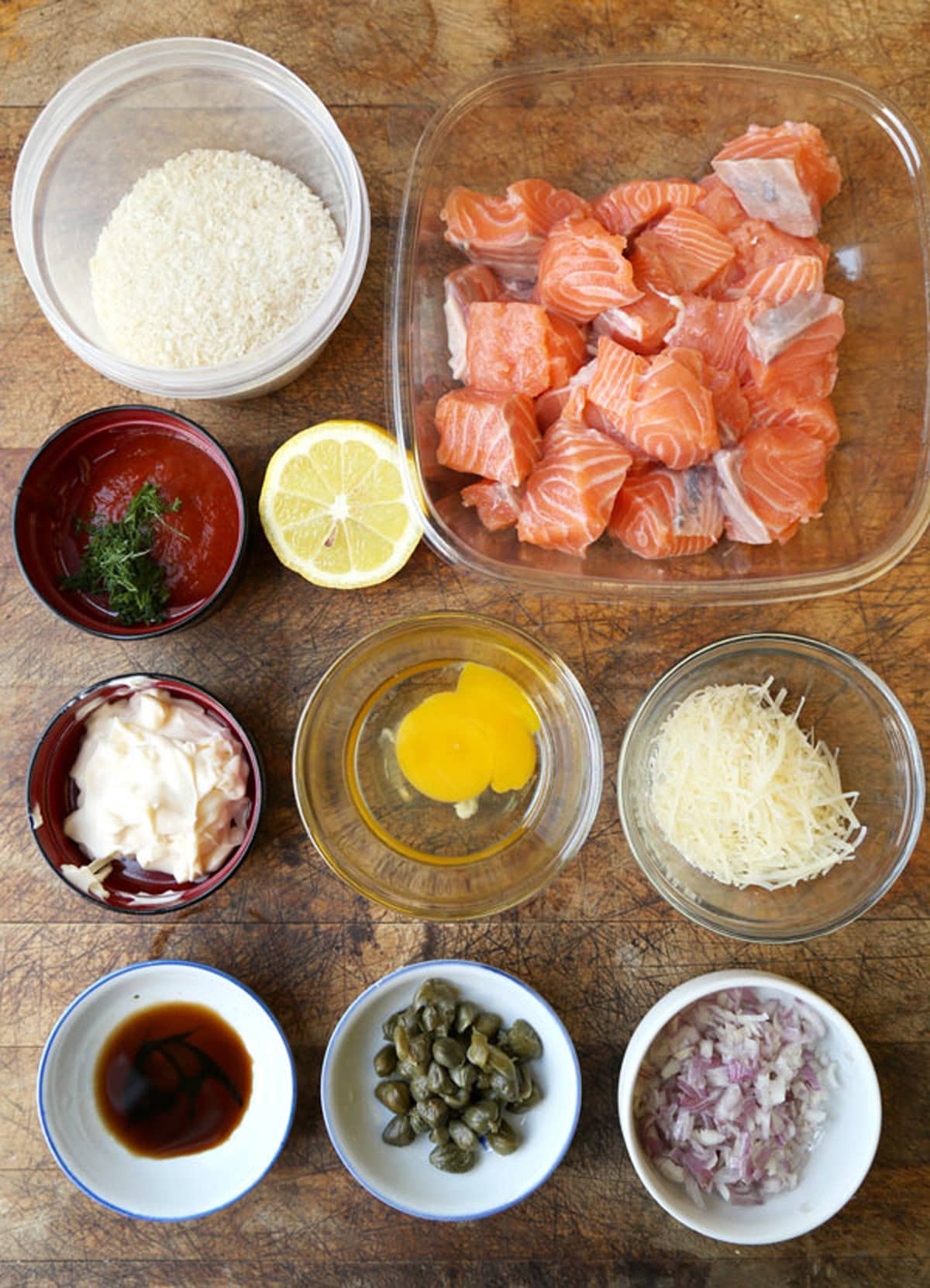 Salmon Croquettes Ingredients
Salmon fillet: Look for boneless and skinless salmon fillets. The better the quality of the fish, the better your croquettes will taste, which is why I always use wild caught salmon from Canada or the US. The difference in taste is so obvious, you will never want to eat cheap salmon again.
Cheese: Freshly grated parmesan cheese adds a fruity and slightly nutty taste to these croquettes. And it's also packed with umami.
Breadcrumbs: I like using panko breadcrumbs because they are lighter and less dense than regular breadcrumbs. But feel free to use whatever you have in your pantry.
Shallot: Shallots are milder and sweeter than regular onions, which is why I tend to like them more. But go ahead and use red or yellow onion if you already happen to have them.
Egg: You will need a large egg to bind the ingredients together so you can shape them into little logs.
Worcestershire sauce: This sauce offers a powerful umami flavor that some might say offers a slight sour and sweet taste, and a hint of spice.
Capers: Capers are known to have a floral tartness. Often compared to having similar qualities as green olives.
Extra virgin olive oil: The olive oil adds moisture to the croquettes and will also be needed to pan fry them.
Spicy Sriracha Dipping Sauce Ingredients
Sriracha sauce: The peppery and spicy flavors of sriracha sauce are at the center of this dipping sauce.
Lemon juice: A little freshly squeezed lemon juice adds a delightful citrus-y lemon taste that's both refreshing and cleansing.
Dill: Freshly chopped dill offers a grassy citrus taste that surprisingly blends seamlessly into this sriracha dipping sauce.
Mayonnaise: Finally, some mayonnaise to add creaminess to the dipping and to tone down this crazy yet delicious blend of flavors.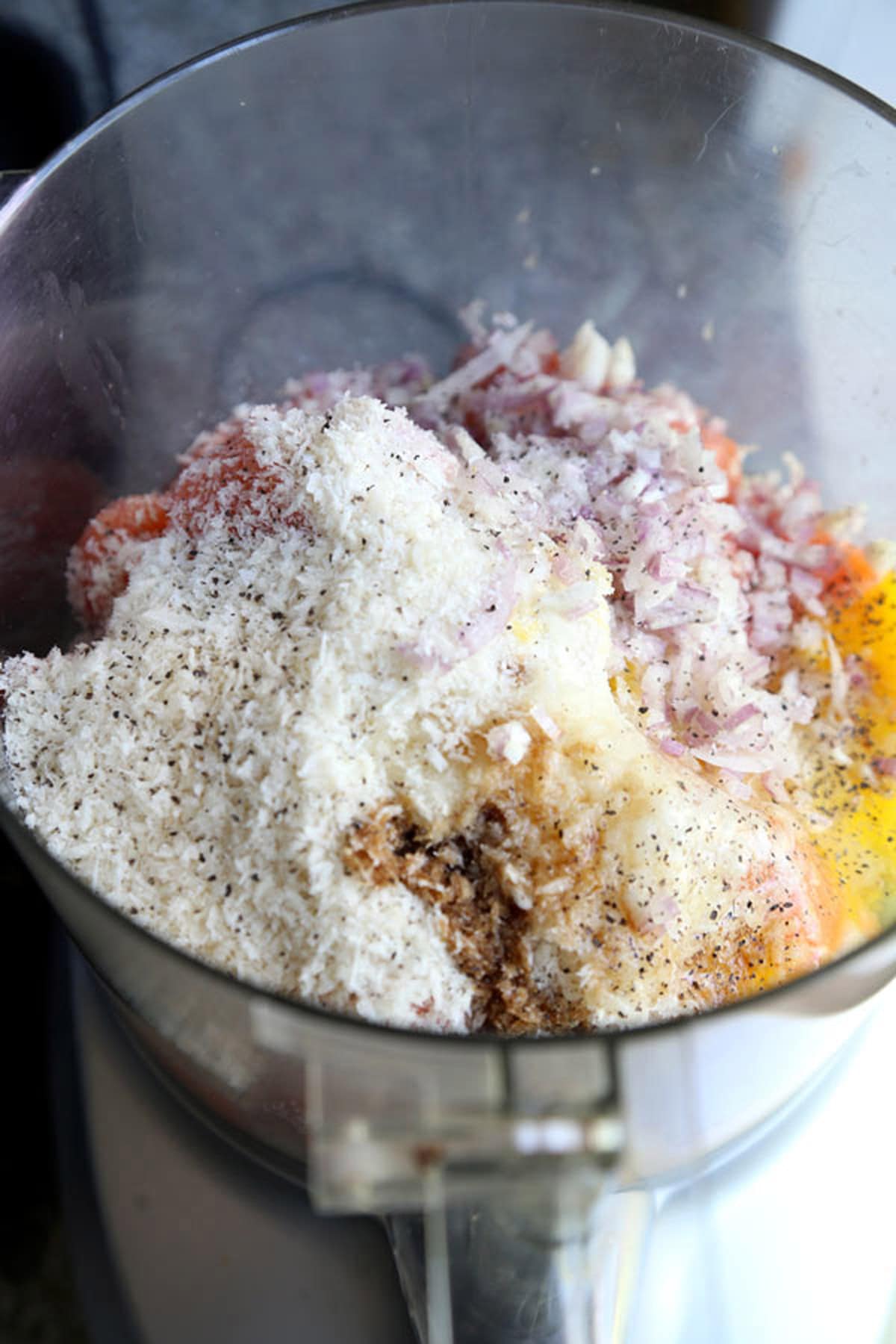 How To Make Salmon Croquettes
Gather all of your ingredients and cooking tools.
Put the fresh salmon, parmesan cheese, panko breadcrumbs, shallot, worcestershire sauce and egg in a blender or food processor, and blend until all of the ingredients are minced.
Transfer mixture to a large mixing bowl and add the capers. Stir well.
Rub your hands with a little olive oil and scoop out a heaping tablespoon (golf ball size amount) of mixture. Shape the mixture into a croquette that looks like a mini log. Repeat this step until all the mixture has been used. You should end up with about 10 to 12 croquettes.
Heat a large skillet over medium heat and add the olive oil. When the oil is hot, add the salmon croquettes and cook on each side for 5-6 minutes, or until cooked through. Then transfer croquettes to a plate covered with a paper towel to remove excess oil. Transfer to a serving plate.
Combine all the ingredients for the dipping sauce and serve with the croquettes.
Dipping Sauce Variations
These salmon croquettes are so good on their own that they don't technically need a dipping sauce. But I do love serving them with a spicy sriracha dipping sauce.
However, if sriracha isn't really your thing, I have two other sauce options I think you will enjoy:
You can serve the croquettes with a tartar sauce. I have a Japanese style which is fruity and tangy, or a classic western style tartar sauce.
You can mix fresh lemon juice, soy sauce, tobanjan, and sugar, for an Asian inspired meal. The recipe is available here.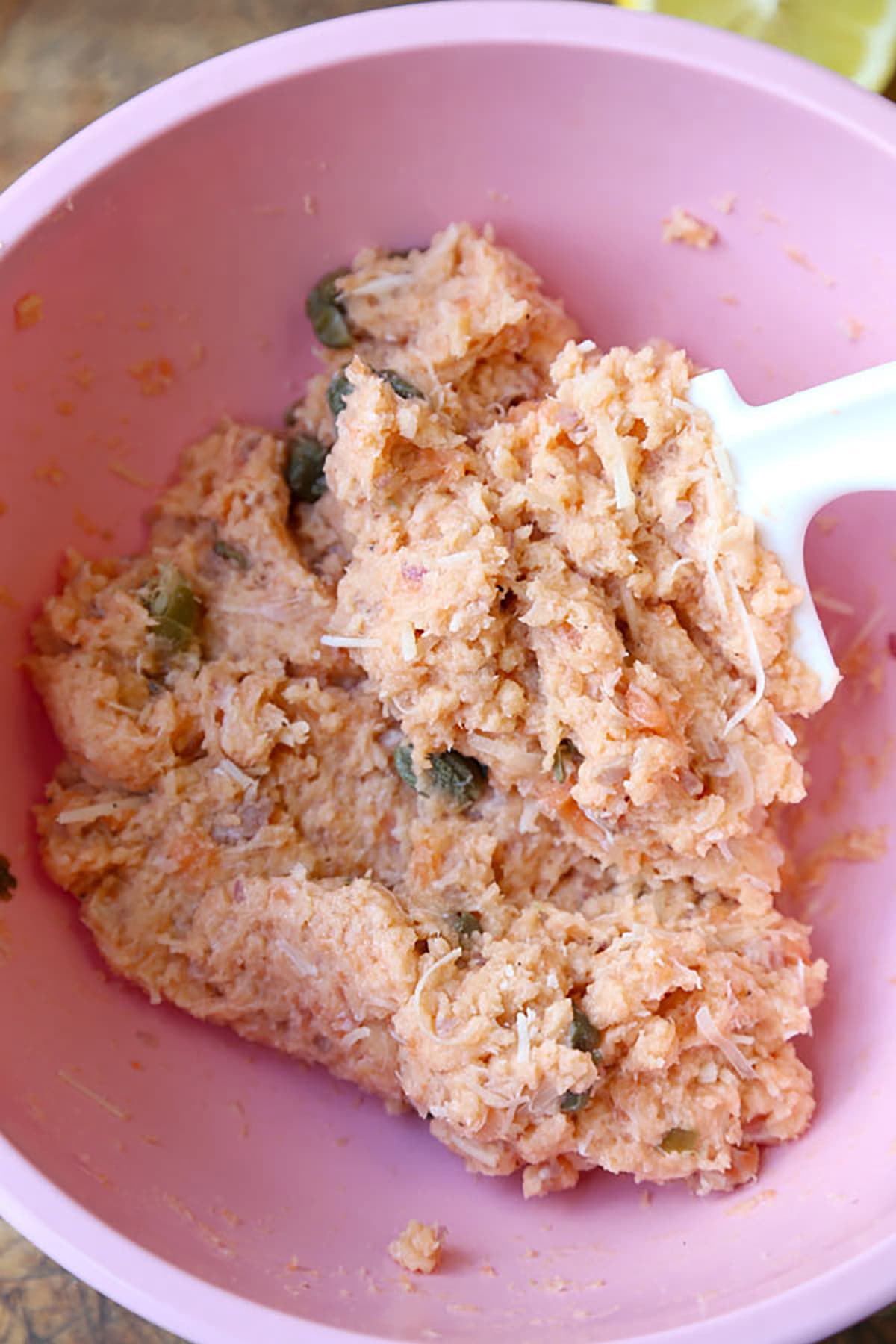 Can I Use Canned Salmon To Make These Salmon Croquettes?
Unfortunately no.
You need the salmon to be fresh and uncooked in order to make the mixture before frying the croquettes in a pan. Using canned salmon might make the mixture too watery and the croquettes dry, once they are cooked.
Can I Make Gluten-Free Salmon Croquettes?
Yes!
Just swap the regular panko breadcrumbs for gluten free ones which you can find here on Amazon.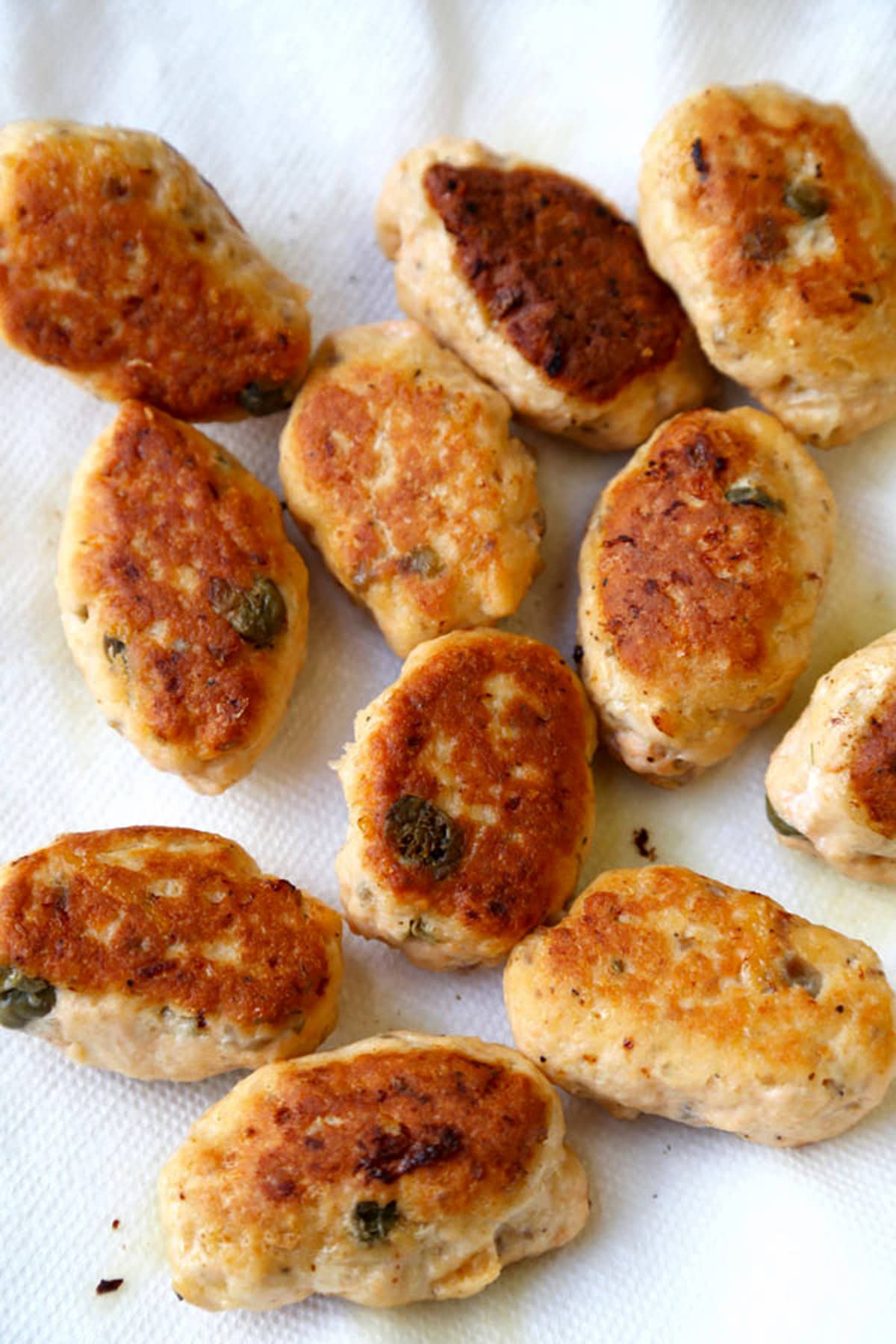 Can I Make These Ahead of Time?
Yes you can.
You can make the mixture, shape the croquettes and sprinkle a little flour to prevent them from getting sticky. Refrigerate the croquettes in a storage container for up to a day.
For cooked salmon croquettes, keep them in a storage container and they will keep in the fridge for 3-4 days.
What to Pair with Salmon Croquettes
There are so many dishes you can pair with these tasty salmon croquettes!
For a comforting family meal I recommend serving them with colcannon or a quick Italian pasta salad.
But if you are looking to go lighter and healthier, I suggest a chopped salad and some brown rice. Or you could do a medley of grilled veggies and some quinoa for a colorful plate packed with nutrients.
Want to go a little Asian? I love these sauteed asparagus with garlic and oyster sauce, they go so well with salmon! Fried rice is also a great option and takes 5 minutes to make if you have leftover veggies in the fridge.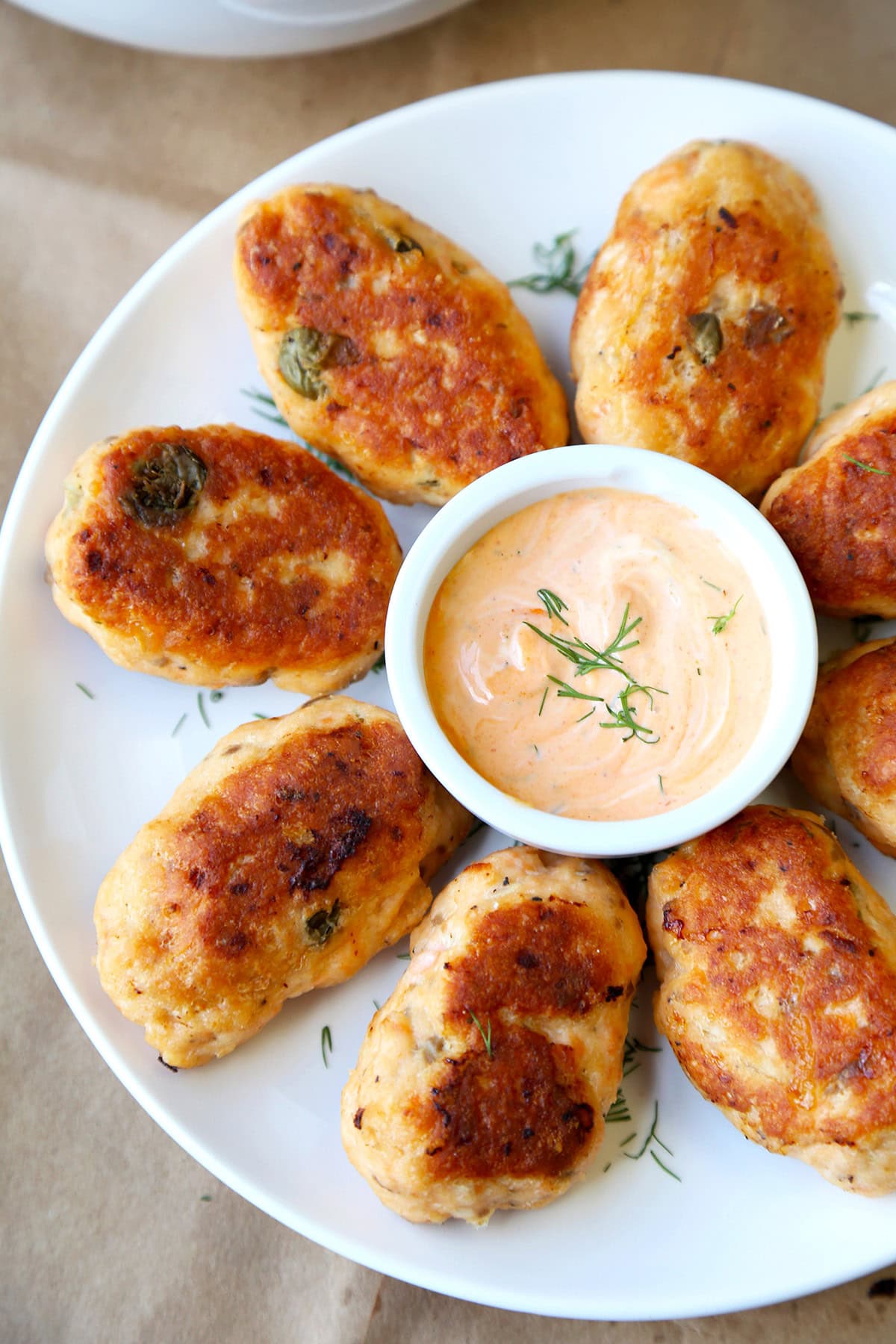 Other Salmon Recipes You Might Like
If you love salmon as much as I do, you might be interested to try some of the recipes below!
I hope you enjoy these salmon croquettes with sriracha dipping sauce! They truly make for a great appetizer (or a delicious meal if you're flying solo for the night)!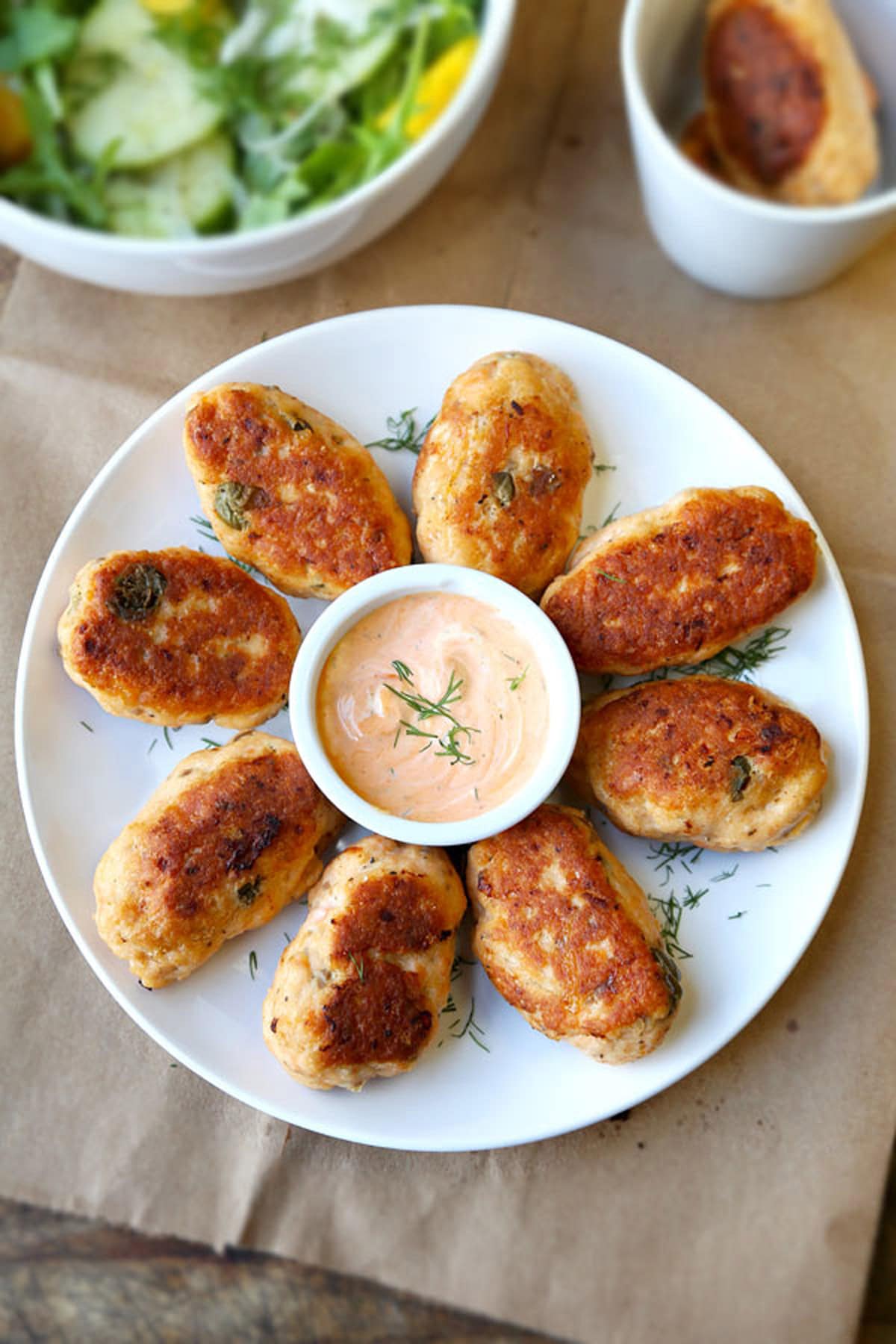 Serve this recipe with this delicious Garlic Parmesan Spaghetti Squash With Mushrooms for a super nutritious meal. Wow your family this dinner time!
Did you like this salmon croquettes recipe? Are there changes you made that you would like to share? Share your tips and recommendations in the comments section below!
---
Print
The Best Salmon Croquettes
These salmon croquettes are light, tasty and take less than 10 minutes to prep! Make salmon croquettes the easy and healthy way and dip them in a tangy dill and sriracha dipping sauce. Delish!
Author: Caroline Phelps
Prep Time:

15 minutes

Cook Time:

10 minutes

Total Time:

25 minutes

Yield:

12

croquettes

1

x
Category:

Seafood

Method:

Stove top

Cuisine:

American
1

pound

boneless skinless salmon fillet (roughly chopped)

1/4

cup

Parmesan cheese (shredded)

3/4

cup

panko breadcrumbs

1

shallot (finely chopped)

1 teaspoon

Worcestershire sauce

1

large egg

1 tablespoon

capers

2 tablespoons

extra virgin olive oil
Spicy Dill Sauce:
1 tablespoon

sriracha sauce

1 tablespoon

dill (finely chopped)

1 teaspoon

lemon juice

1/3

cup

mayonnaise
Instructions
Put salmon, parmesan cheese, panko breadcrumbs, shallot, worcestershire sauce and egg in a blender, and blend until all ingredients are minced. Transfer mixture to a bowl.
Add capers and mix well to evenly spread the capers throughout the mixture.
Use a little olive oil on your hands and spoon out about a golf size amount of mixture into the palm of your hands. Shape into croquettes. You should have about 10-12 croquettes.
In a large pan over high heat, add extra virgin olive oil. When the oil is hot, add salmon croquettes and cook on each side for 5-6 minutes, or until cooked through. Transfer croquettes to a plate covered with paper towel to remove excess oil. Transfer to serving plate.
For the dipping sauce: combine sriracha sauce, dill, lemon juice and mayonnaise in a small bowl and whisk until the ingredients are blended.
Serve salmon croquettes with dipping sauce.
Notes
These salmon croquettes will keep refrigerated for up to three days.
Nutrition
Serving Size:

1 croquette

Calories:

264

Sugar:

1.3g

Sodium:

332.5mg

Fat:

15.2g

Saturated Fat:

3g

Unsaturated Fat:

4.5g

Trans Fat:

0g

Carbohydrates:

10.9g

Fiber:

0.8g

Protein:

21.2g

Cholesterol:

74.6mg
Recipe Card powered by