Ready for a bright and lively tofu experience? This Honey Lime Tofu Marinade is fruity, sweet and vivacious all in one bite. Minimal effort – maximum flavor!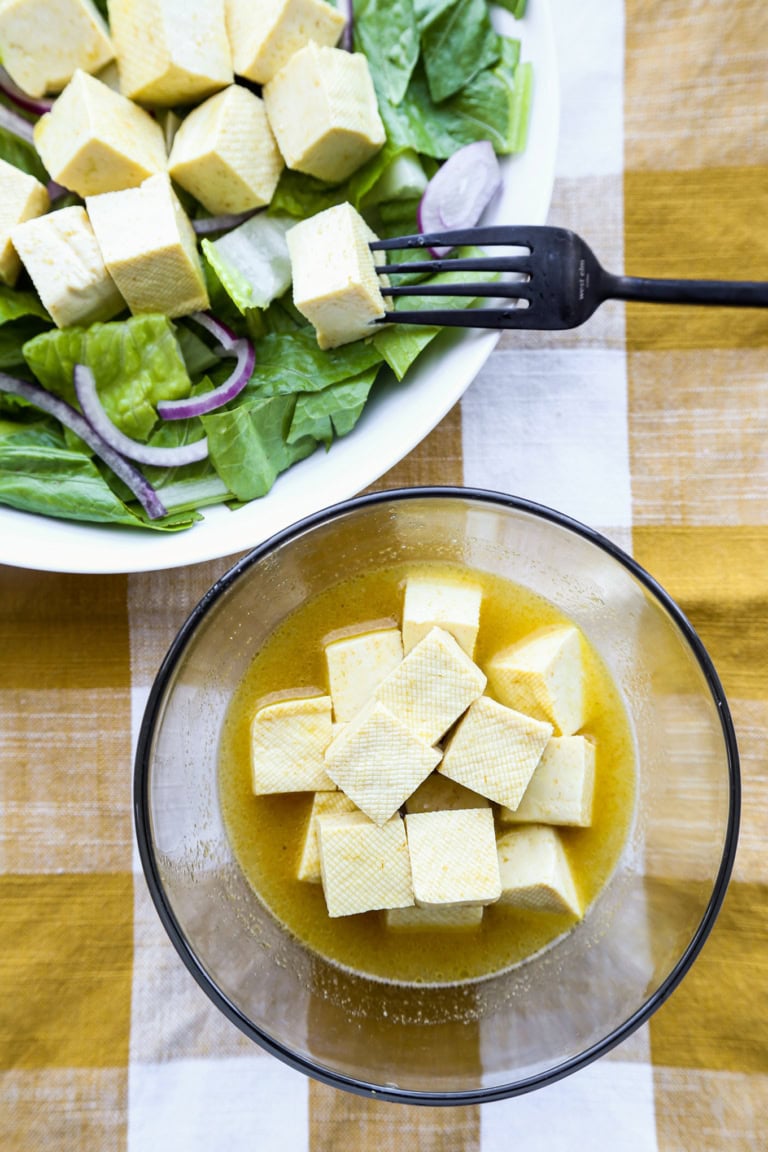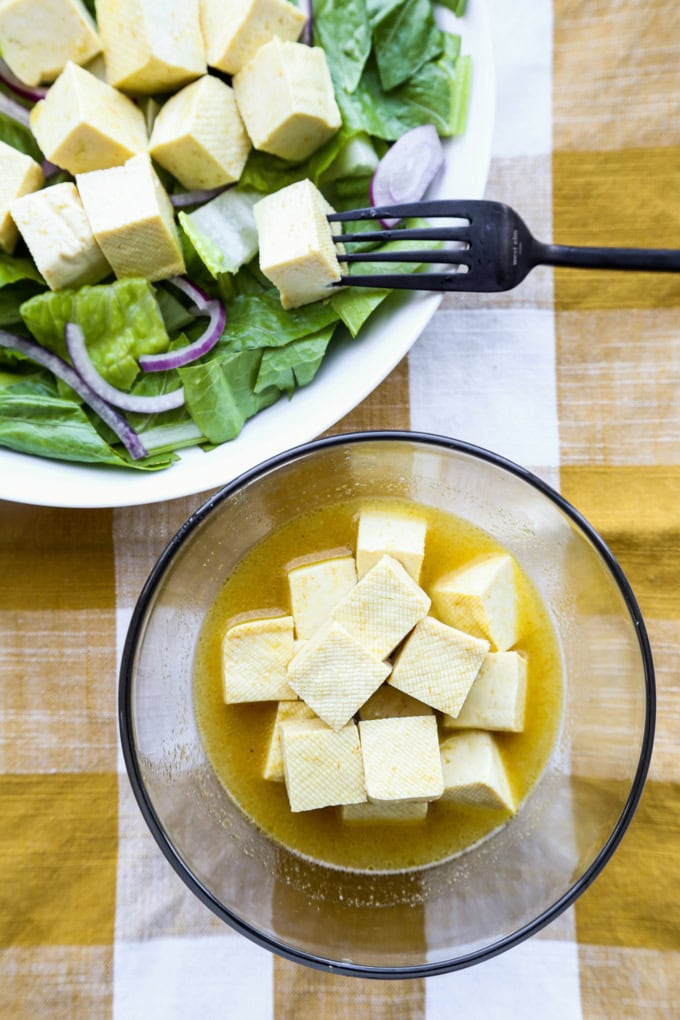 Do you have a block of tofu in your refrigerator just daring you to put it to use?
Well, I've got a marinated tofu recipe for you today that blends the sweet and fruity notes of lime and honey with the toasted earthiness of cumin.
This honey lime tofu marinade recipe is so bright and delicious that you may end up headed to the store to pick up some more bean curd after you've finished this batch.
Bonus: the tofu marinade makes a wonderful salad dressing too!
What is the best tofu to use?
For this light and refreshing tofu recipe, you'll want to use medium-firm or firm tofu. The reason for this is that the bean curd should keep its shape during the marinating process. Btw, that's the same tofu I use in recipes like this savory General Tso Tofu.
While soft and silken tofu are wonderful in preparations like hiyayako and mapo tofu, they're just too soft for this recipe.
Now, you can also use extra firm tofu if that's all you can find in your local grocery store. However, I find the medium-firm and firm variations perfect for this sweet and fruity tofu recipe.
For a deeper dive on all things tofu related, check out my post for Honey Sriracha Tofu. There, I go into more detail regarding the basics of tofu, different cooking methods and even if you can freeze tofu (hint: you can!).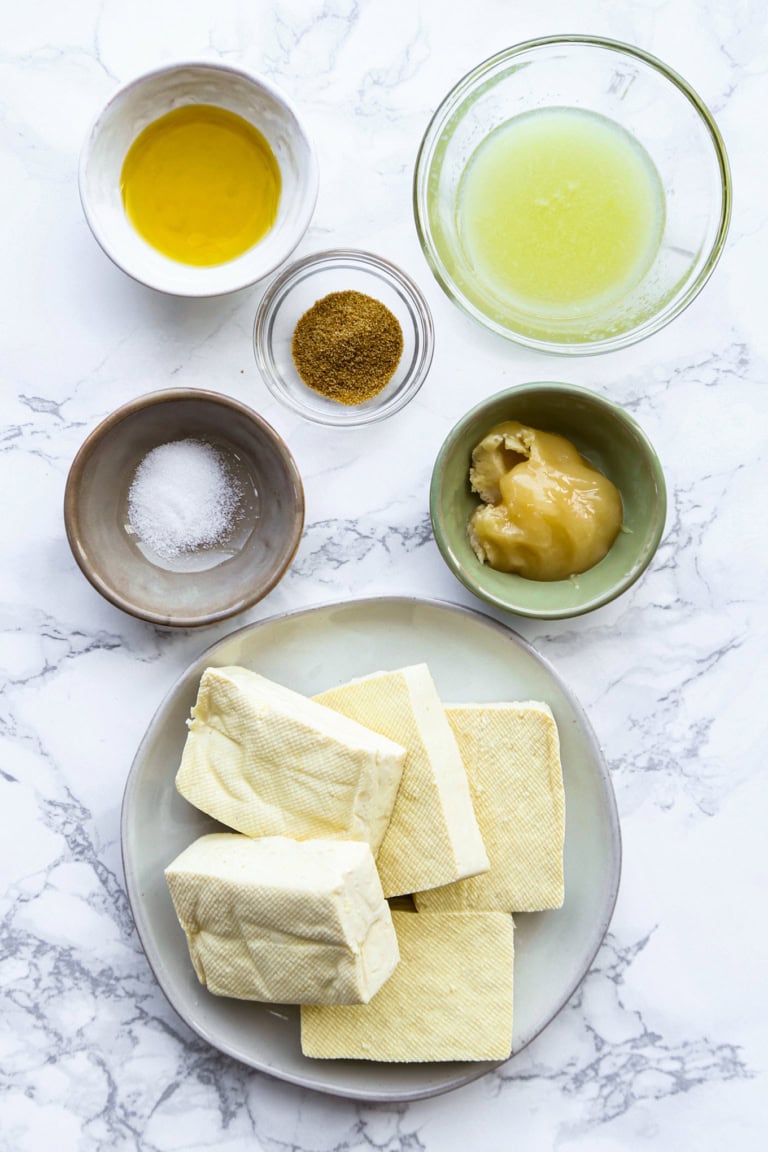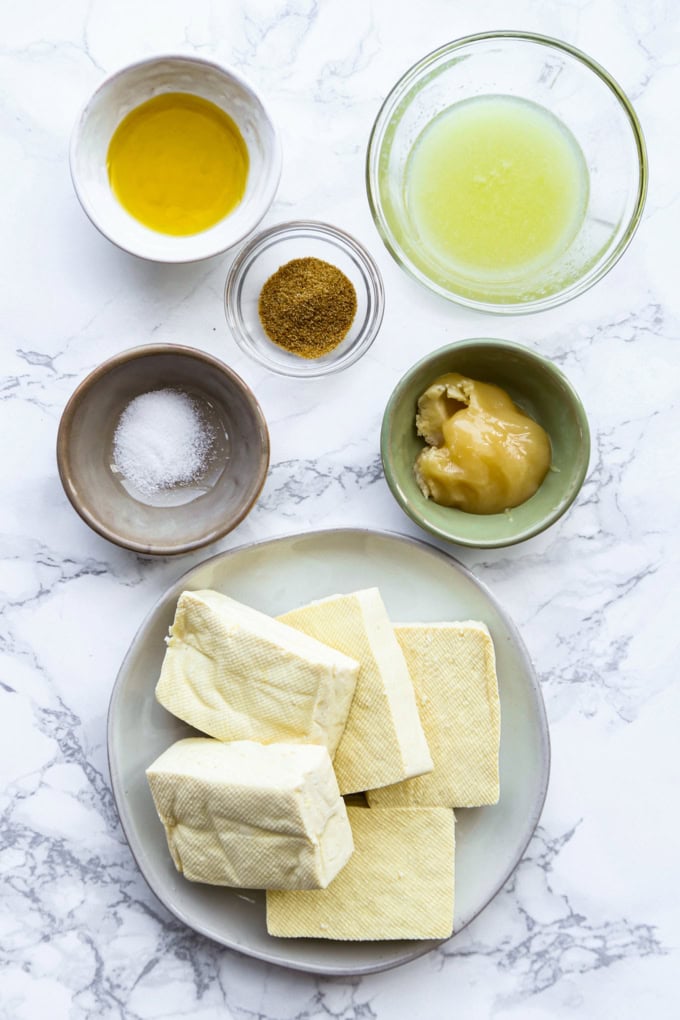 Tools needed for this recipe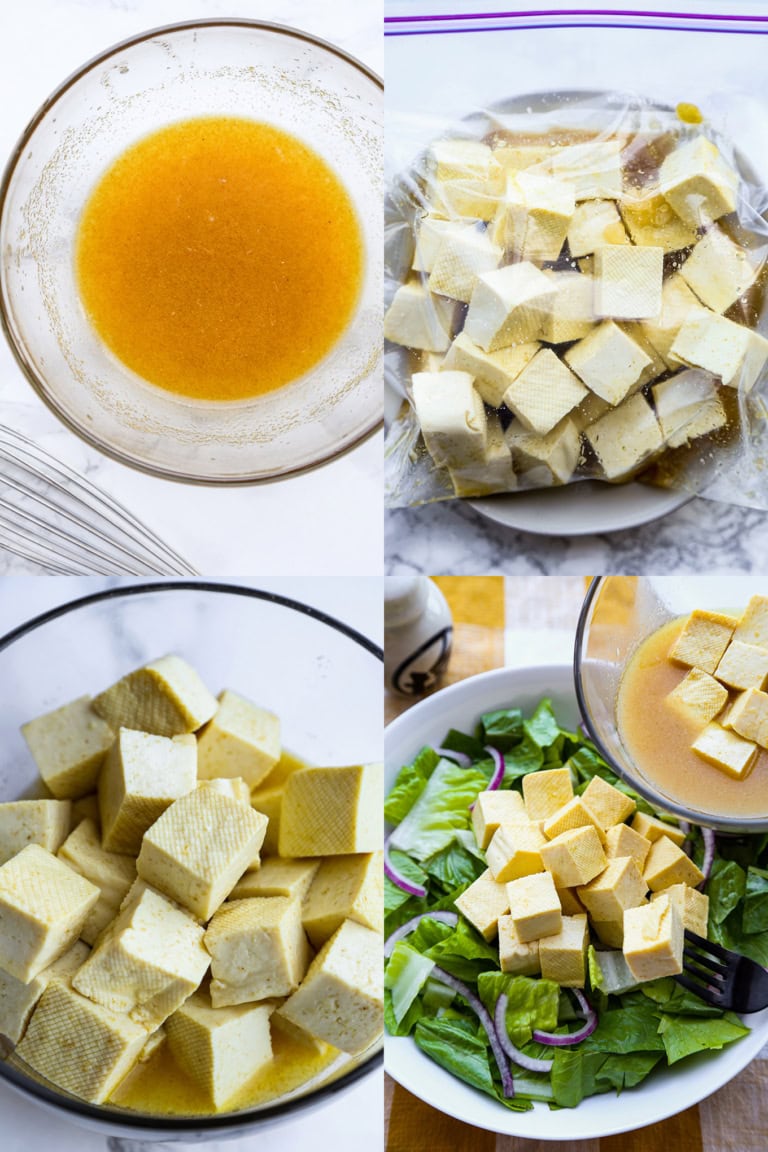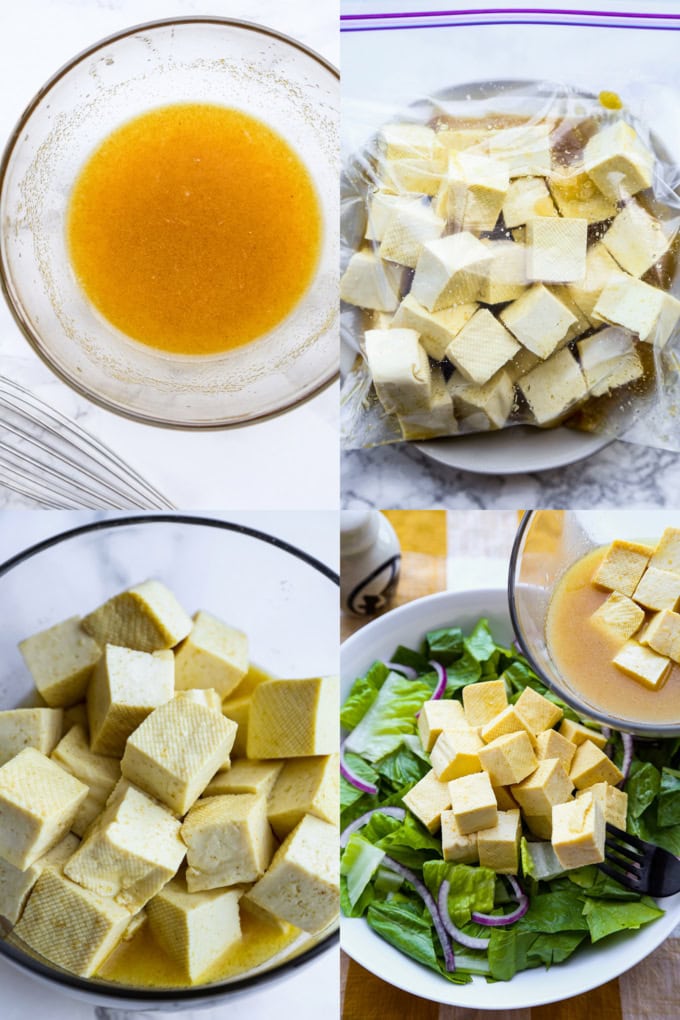 Honey Lime Tofu Ingredients
Tofu: Use medium firm or firm tofu for this recipe. It will stand up to a bit of manhandling during your kitchen prep without disintegrating like soft or silken tofu. However, even though it's on the harder side, it will still absorb the bright, fruity flavors from the tofu marinade. The longer you marinate, the stronger the flavor of your tofu (more on this in a second).
Lime Juice: Lime introduces a brightness and a bit of a pucker to this tofu marinade without going into full-on sour territory. Use fresh squeezed lime juice for the best and freshest results.
Olive Oil: Unfortunately not all olive oils are created the same. Since the flavors of this dish are on the milder side, you'll definitely want to grab some of the good stuff when it comes to oil. Use an extra virgin olive oil. You'll taste the difference!
Honey: This is your all natural sweetener. Honey is great because it delivers a fair amount of sweetness without heading over the edge into the cloying zone. Raw honey is delicious – but feel free to use whatever you have handy in your pantry. I'm looking at you honey bear!
Cumin Powder: Cumin is a warming spice with a wonderfully toasted, nutty flavor. It's commonly used in a ton of different variations – from curries to BBQ sauce. And aside from being a great spice to rely on in your spice rack, it lends a warm, earthy note to this otherwise sweet and fruity tofu marinade.
Salt: We'll round out the flavor profile with a pinch of salt for some savory notes. I like to use kosher salt when cooking because the larger diameter of the salt crystals makes it difficult to over-salt whatever you're cooking.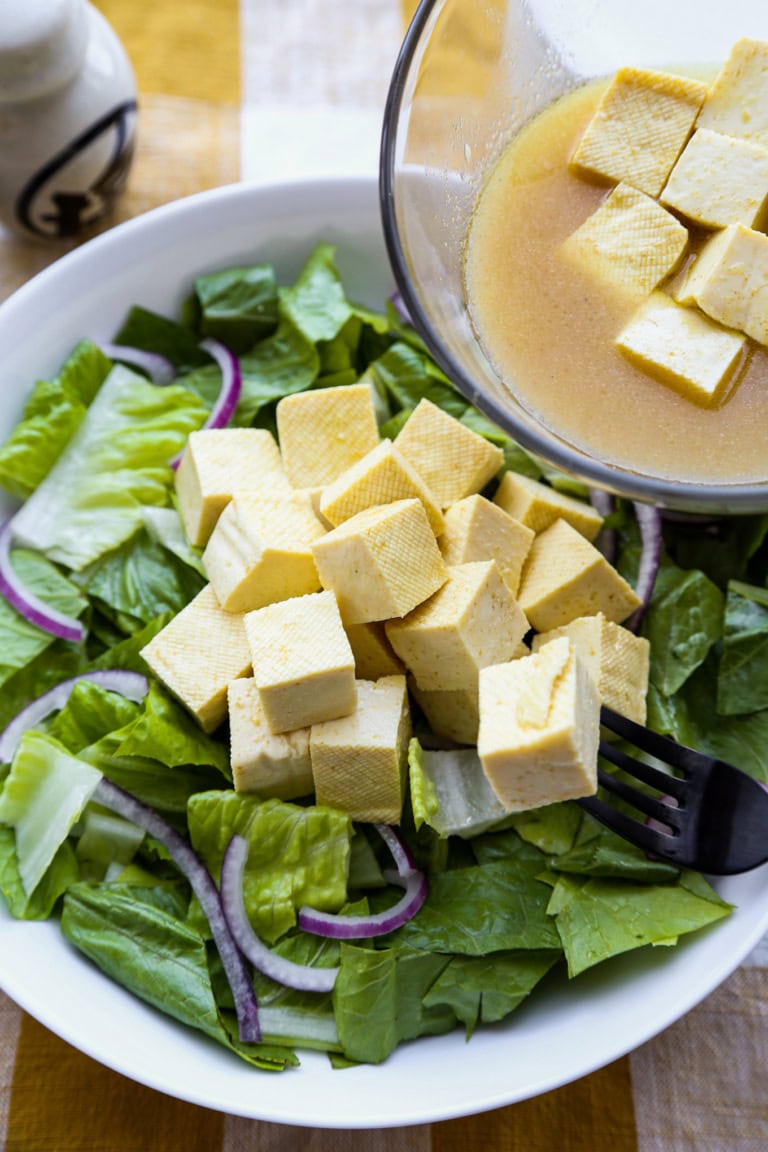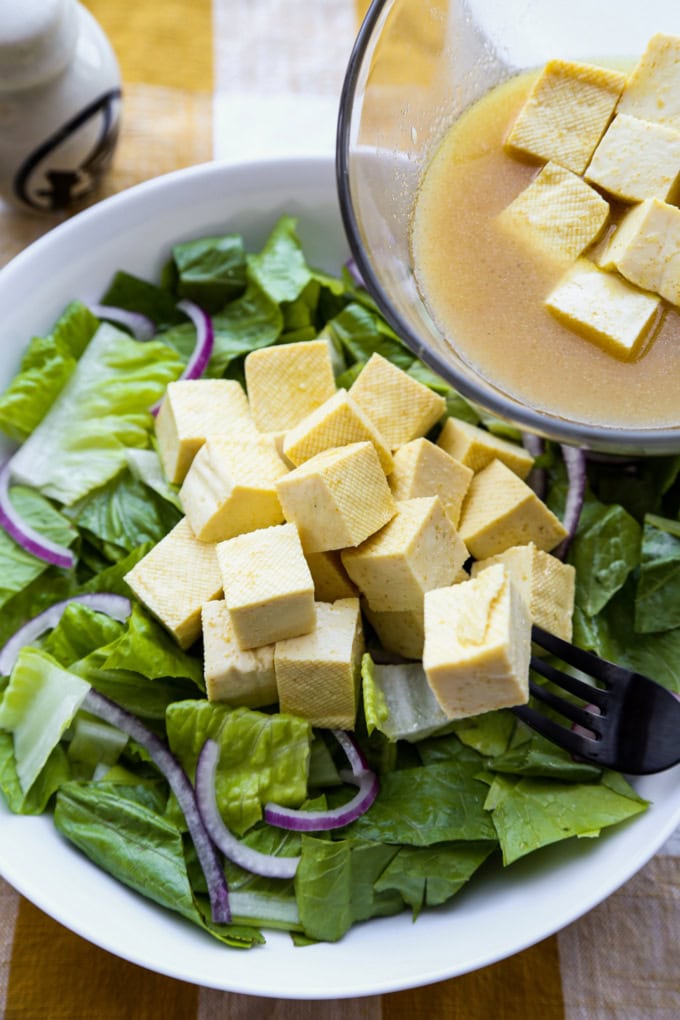 How to make honey lime tofu marinade
Drain the Tofu: This can be as easy as opening your container of firm tofu and setting the uncut block on a plate for 10-15 minutes. Pour off the water that pools on the plate. If you have a tofu press, you could also use it to drain the tofu. But it's totally not necessary. I'm definitely a fan of the ol' plate it and set it aside technique.
Make the Marinade: Whisk the lime juice, olive oil, cumin powder, honey and salt together in a small bowl and set it aside.
Dry and Cut the Tofu: Pat your tofu block dry with a paper towel – and then cut it into 1-inch cubes.
Marinate the Tofu: Place the tofu cubes into a bowl or a food storage bag and pour the marinade over the top, making sure all the pieces are in contact with the marinade. Marinate for at least 30 minutes. Now, I'd say that the 30 minute mark is the minimum. Obviously the longer you marinate the tofu, the more flavor will be infused. Therefore, your personal preferences will dictate the length of time you'll ultimately want for the tofu marinade. Try a piece at the 30 minute mark. If you like it stronger in the flavor department, simply wait awhile.
Serve: Enjoy!
Other uses for the marinade
Once you've finished making your marinated tofu, you'll likely have a fair amount of the honey lime marinade left over.
When making a tofu salad, I love just pouring the marinade over the top as a ready-made salad dressing. It's perfectly sweet, slightly tart with toasted and savory notes to boot.
I've even made the marinade as a stand alone salad dressing when I wasn't even marinating tofu at all.
But you could totally experiment with using this as a marinade for fish or shrimp as well. What about you? What's your favorite marinade? Tell me about it in the comments section!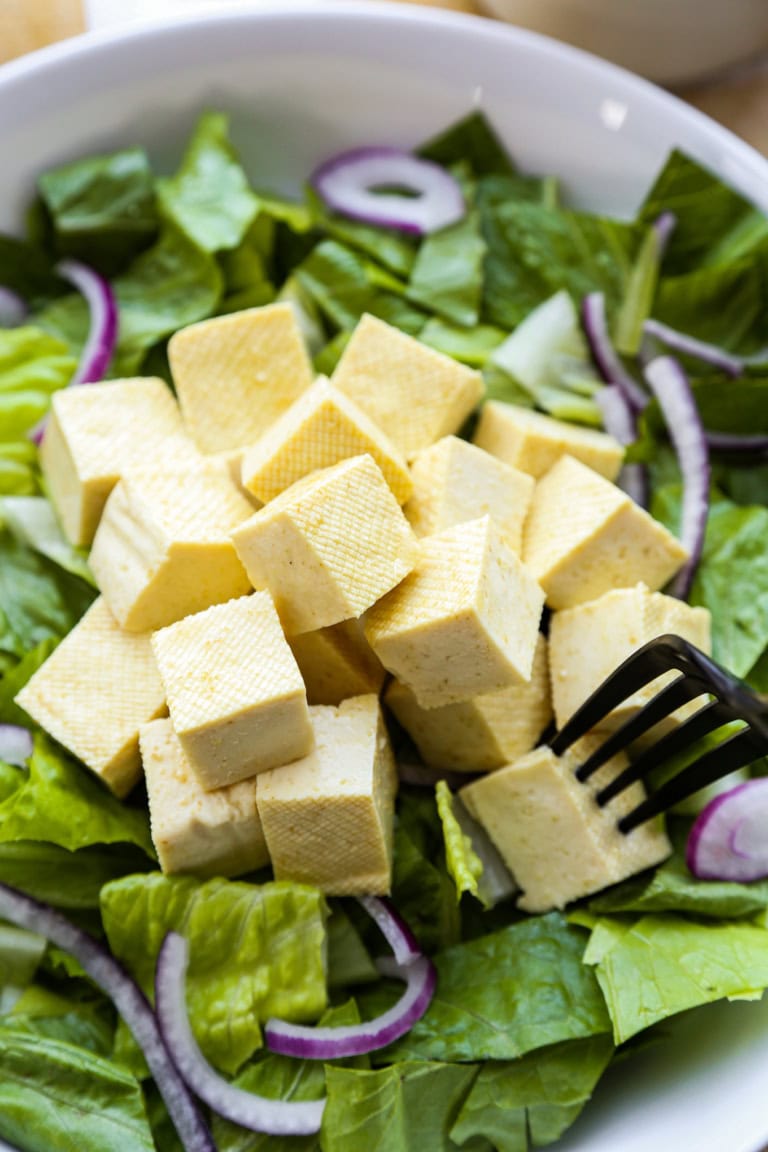 What to serve with honey lime tofu
This easy tofu recipe goes super well on top of a green salad. In fact, when I'm looking for a lunch or dinner on the lighter side of things I'll usually opt for a bed of chopped romaine with a few red onion slivers – and maybe some cherry tomatoes for good measure. Delicious!
And don't forget that you can use the leftover marinade as a fruity, sweet salad dressing.
But if you're looking for something a bit more substantial, you could serve this as a flavorful topper for a rice bowl like this easy bibimbap bowl – and this Japanese vegetarian chirashizushi.
Or you could serve this honey lime tofu marinade as a side dish alongside these easy homemade recipes:
And check out some of the best tofu recipes on my blog:
Did you like this Honey Lime Tofu Marinade Recipe? Are there changes you made that you would like to share? Share your tips and recommendations in the comments section below!
Print
Honey Lime Tofu Marinade
This Honey Lime Tofu Marinade is fruity, sweet and vivacious all in one bite. Minimal effort – maximum flavor!
Author: Caroline Phelps
Prep Time:

5 minutes

Total Time:

5 minutes

Yield: about

1/3 cup

1

x
Category:

Marinade

Cuisine:

Japanese

Diet:

Vegan
16 ounces

medium firm or firm tofu

1/4 cup

fresh lime juice

1 tablespoon

olive oil

1 1/2 tablespoon

honey

1/2 teaspoon

cumin powder

1/2 teaspoon

salt
Instructions
Drain the tofu block and place it on a plate. Leave to drain excess water for 10-15 minutes. 

Meanwhile, whisk all the ingredients for the marinade in a bowl and set aside. 

Dry the tofu by patting it with paper towel and slice it into cubes. 

Place the tofu in a bowl or storage bag along with half of the marinade and marinate for at least 30 minutes. 

Use the remaining of the marinade as a salad dressing or sauce for your tofu cubes.
Nutrition
Serving Size:

about 4 ounces tofu

Calories:

145

Sugar:

7.5g

Sodium:

299.7mg

Fat:

9g

Saturated Fat:

1.3g

Unsaturated Fat:

3.5g

Trans Fat:

0g

Carbohydrates:

10.1g

Fiber:

0.4g

Protein:

9.3g

Cholesterol:

0mg
Keywords: Salad dressing, vinaigrette,
Recipe Card powered by