The Philadelphia roll is a popular Western style makizushi made with cucumber, smoked salmon, and cream cheese. This recipe is very easy to make and each roll is enough to be served as a main along with miso soup and a salad.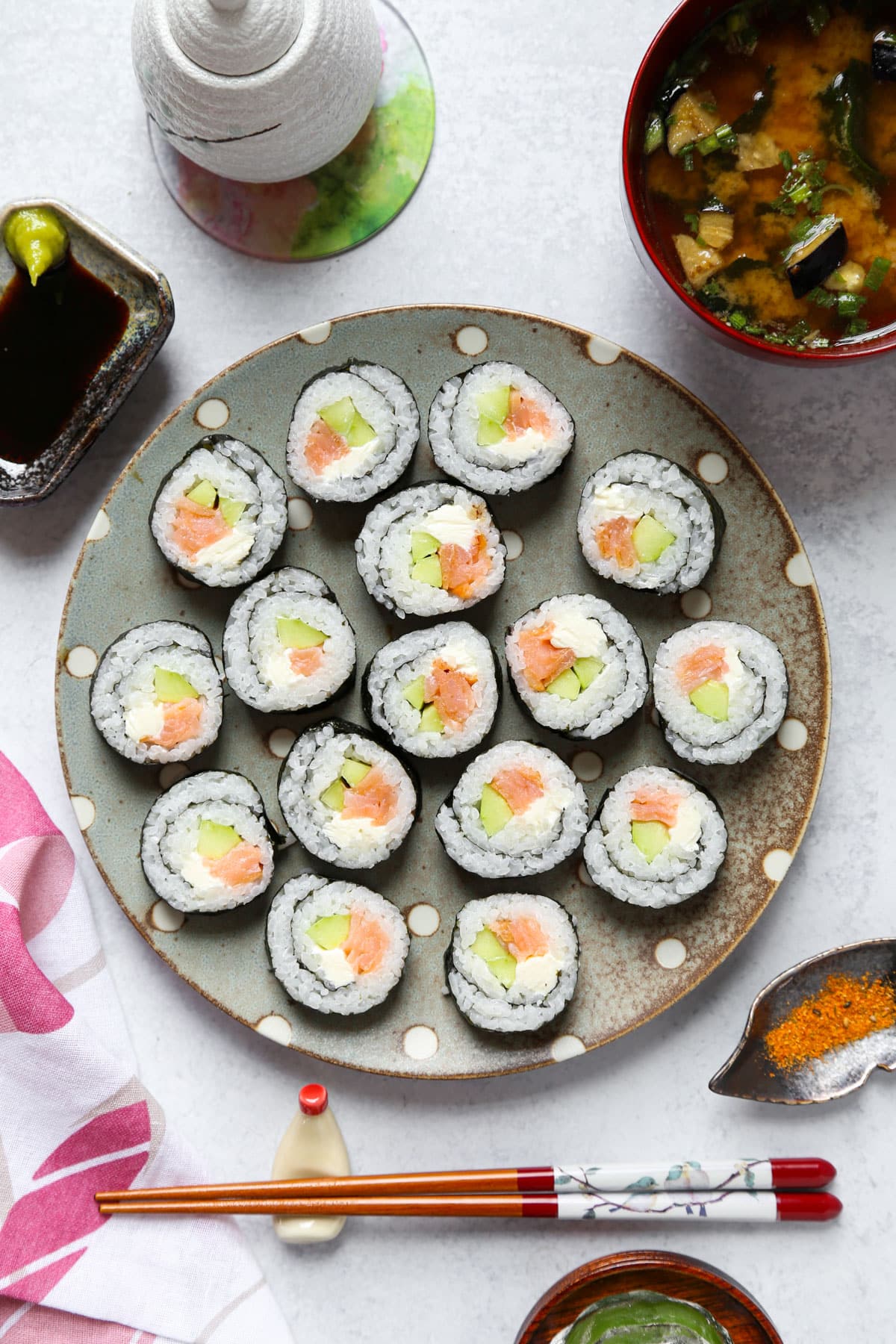 What Is a Philadelphia Roll
A Philadelphia roll is a Western influenced makizushi (sushi roll) filled with smoked salmon, cream cheese and cucumber. The name references the iconic brand of cream cheese – and isn't related to the City of Brotherly Love.
Much like a California roll, Boston roll or Alaska roll – the Philadelphia roll sits neatly in the Western-style sushi lexicon: rolled sushi that uses filling combinations you wouldn't find in traditional Japanese sushi. However, just because the fillings aren't traditional, they still work hand in hand with the classic combination of seasoned sushi rice and nori to create a superb sushi roll.
Philadelphia Roll Ingredients
So exactly what is in a Philadelphia Roll?
Rice: When making a sushi roll (or any sushi recipe in general), you'll want to use short grain Japanese rice. Properly cooked Japanese rice has a texture that is tender and slightly sticky with a glossy appearance. You'll find short grain rice in most Asian grocery stores – or grab Japanese rice on Amazon. Make sure to rinse your rice thoroughly prior to cooking.
Rice Vinegar, Sugar and Salt: This is the sweet, savory and bright trinity of ingredients sushi chefs mix into the cooked Japanese rice as it cools to impart a little extra flavor. We'll talk more about this in a sec.
Smoked Salmon: This is salmon that has been salt cured and then oak smoked in a special kiln. Smoked salmon provides the lions share of the flavor in a Philadelphia roll (aside from the final dip soy sauce and wasabi). Try to use sustainable fish whenever possible to protect delicate marine populations.
Cream Cheese: You know the iconic box at the store! This is a mild spreadable cheese with a subdued tangy flavor – similar to mascarpone. Cream cheese is one of the only cheeses you'll find used in Western style maki (sushi rolls).
Cucumber: Use an English cucumber if you can find it. The smaller seeds and firm crunch definitely beat out the watery flimsiness from those huge hothouse cukes at the grocery store. Kirbys (aka: pickling cucumbers) make a good second choice.
Nori Seaweed Sheets: Nori is an edible seaweed that has been dried and pressed into thin sheets. It is then roasted before packaging. Read all about nori here. You'll use this as a 'wrapper' of sorts when rolling your homemade Philly rolls.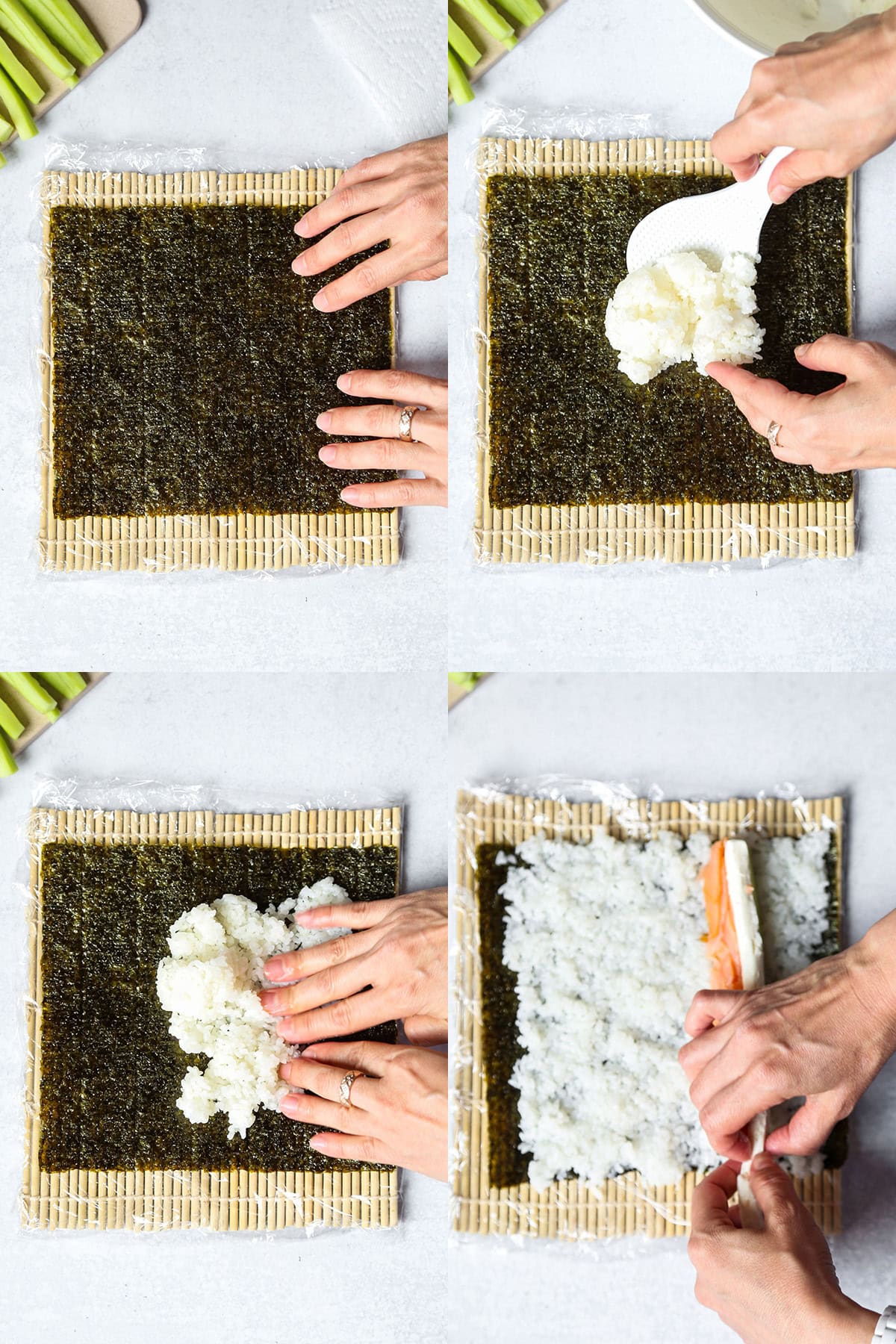 What Is Sushi Rice
Sushi rice is cooked short grain Japanese rice that is mixed with salt, sugar and rice vinegar as it cools. The mixture imparts a mildly sweet and savory brightness to the overall flavor – especially when paired with the fish, wasabi and soy sauce in a composed bite of sushi. I sometimes like to add a little kombu dashi to the solution as well (but that's optional). You'll hear sushi rice called sushi meshi in Japanese.
How to Make Sushi Rice
I've got detailed, easy step-by-step instructions on how to make perfect sushi rice here. Below is just a little refresher.
Rinse the rice: This removes any dust and debris. But it also gets rid of excess starch that might result in gummy rice. Use a rice washing bowl and rinse (swishing gently with your hand) until the water running off your rice grains is clear. No rice washing bowl? No problem! Place your Japanese rice in a medium size bowl and pour a little cold water in. Wash the rice with a swirling motion and pour the water out. It will be milky white from the starch. Repeat this step until the water you pour in remains clear. Then drain well.
Cook the rice: Place the rinsed grains and fresh cold water into the inner pot of your rice cooker. Select the plain (white rice) setting and press start. For stovetop instructions, click here or check the bottom of the recipe card on this page.
Mix the seasoning: While the rice is cooking, mix 1/4 cup rice vinegar with 1-1/2 tablespoons of granulated sugar and 1/2 teaspoon of kosher salt in a small bowl. Whisk until the sugar and salt dissolve completely. Then set it aside.
Season the cooked rice: Transfer your cooked rice to a wide bowl or sushi oke and spread evenly. Pour the vinegar mixture over the rice – and fold and slice the rice with a plastic rice paddle to mix thoroughly, careful not to break the grains (this mixing technique is shown in the video just above).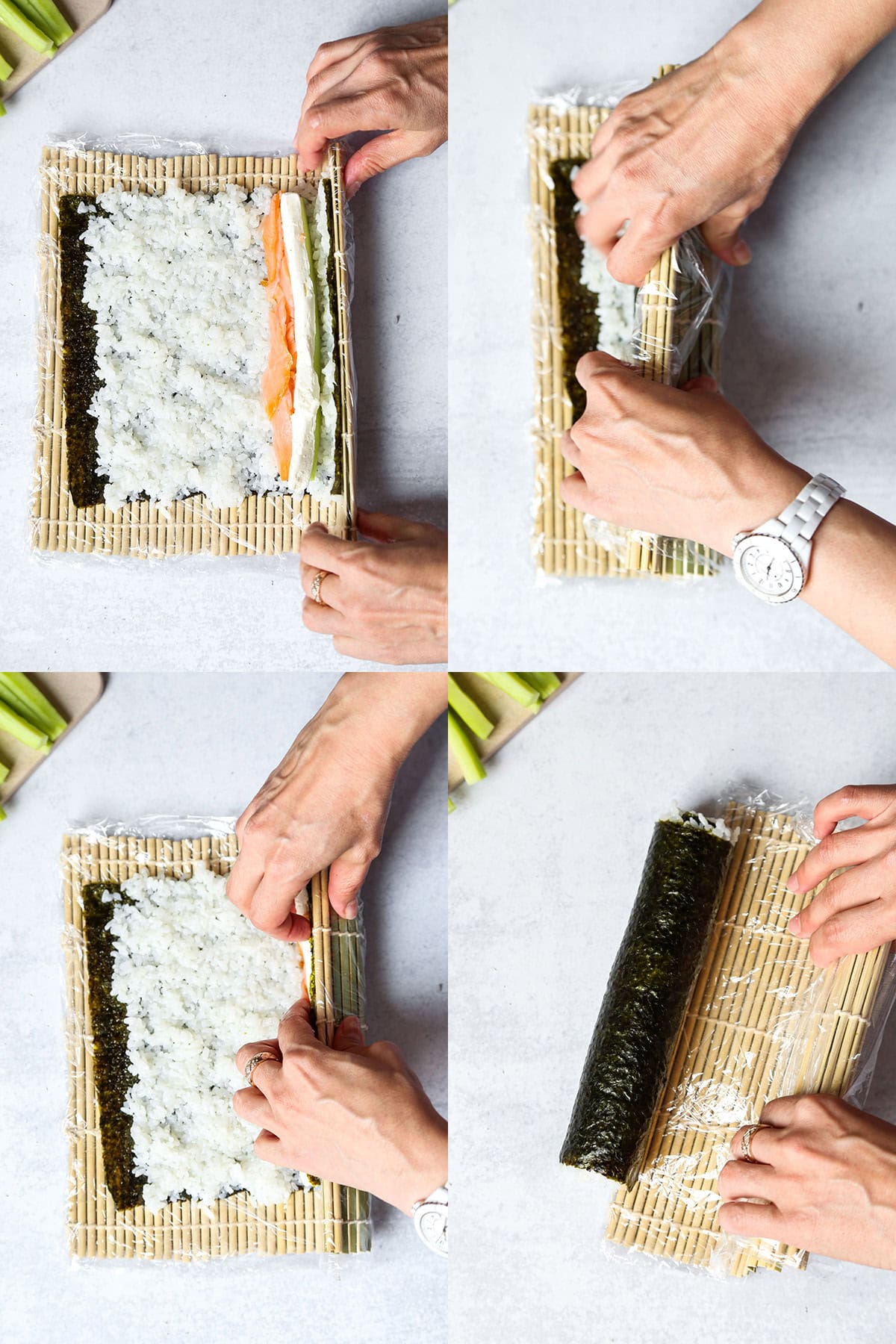 How to Make a Philadelphia Roll
Now that we've covered how to make the perfect sushi rice, let's take a look at how to prepare the ingredients that will fill the Philadelphia roll.
Take 4 oz smoked salmon and slice into long strips that are about 1/3 inch thick.
Slice half of an English cucumber lengthwise into long strips that are 1/3 inch thick.
Take 4 oz cream cheese and cut long strips that are 1/3 inch thick.
Set aside 4 full nori sheets. Keep this dry!
Prepare to roll.
How to Roll Sushi (Maki)
Fill a small bowl with water and set aside.
Wrap a bamboo rolling mat with plastic wrap. This keeps your rolls from sticking to the bamboo mat.
Place a sheet of nori (shiny side facing down) on the rolling mat.
Dip your fingers in the bowl of water to moisten them, and place one loosely filled cup of sushi rice on top of the nori sheet. Spread the rice evenly on the nori with your fingertips – but leave 1 inch clear at the top of the nori (the edge furthest away from you).
Place the strips of smoked salmon, cream cheese and cucumber on the rice lengthwise on the edge closest to you. Reserve enough of the filling for 3 more rolls.
Lift the bottom edges of the mat with your thumbs while holding on to the toppings with your fingers. Roll it into a tight cylinder, tucking the fillings in firmly.
Roll forward. Use a little pressure (but not so much that the filling spills out). Keep rolling until there is only a bit of nori left visible at the far end.
Wet your index finger and run it across the inside edge of the nori sheet (this moisture will seal the end of the roll). Keep rolling until sealed and delicately remove the bamboo mat.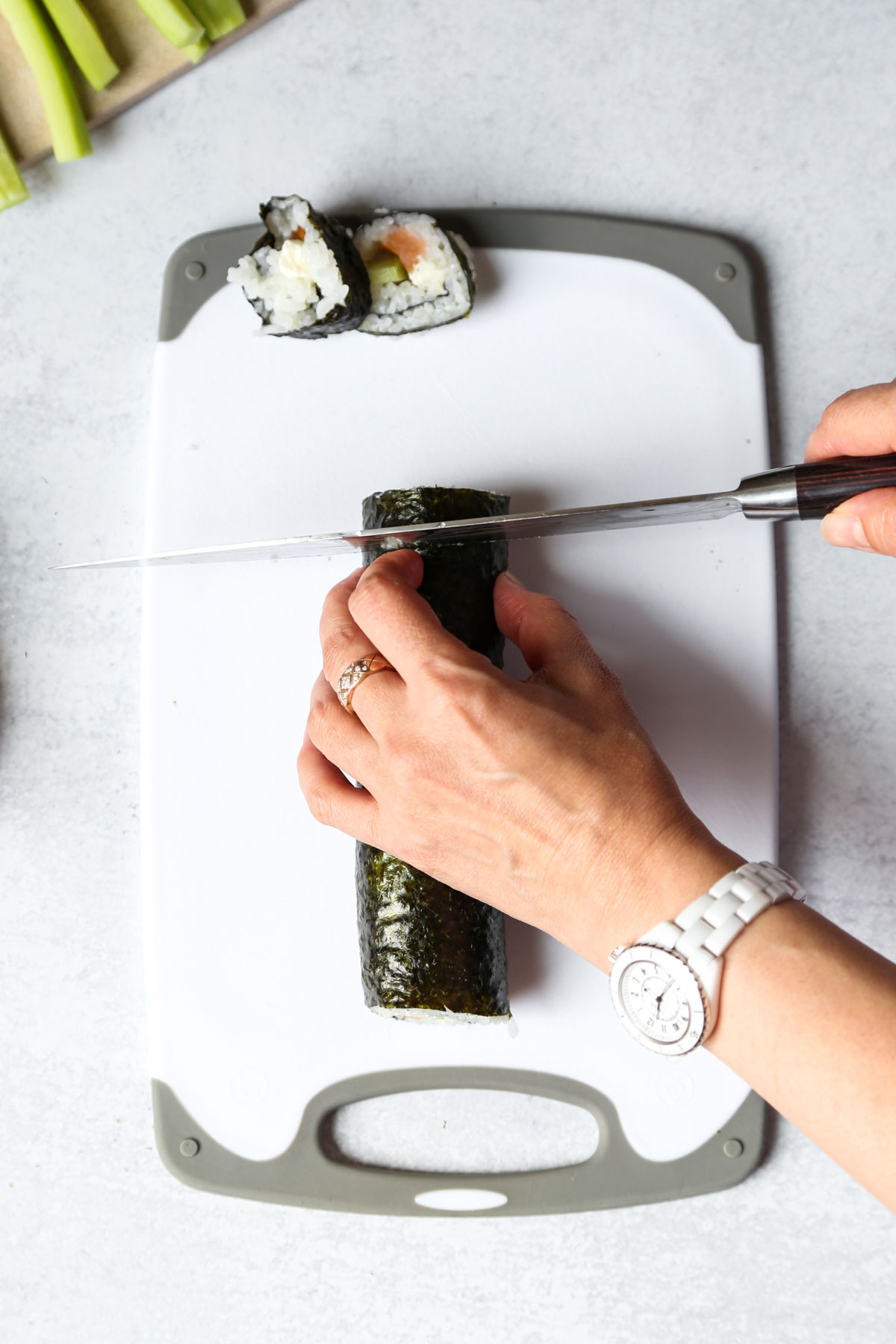 How to Cut Maki
This part isn't difficult, but there are a few easy steps you can follow to ensure a clean cut.
Wet a cloth or dish towel with water and a tiny bit of vinegar and set it aside.
Place a small bowl of water close to your cutting board.
Dip the tip of your chef's knife in the water and tilt it up so that the bead of water wets the sharp edge of the knife. You'll do this between each cut for lubrication.
Gently cut your rolls into bite sized pieces without applying too much pressure.
Wipe the knife clean with the damp cloth between each cut. This removes sticky starch from the rice. Rewet the blade edge.
Additional Suggestions
Be sure your cutting board is dry. The seaweed sheets will immediately soak up any moisture that is present.
Use a sharp knife. A dull knife will force you to apply too much pressure which can result in flat sushi rolls and torn nori.
For neat presentation, trim the rough ends off. Eat those immediately! You earned it.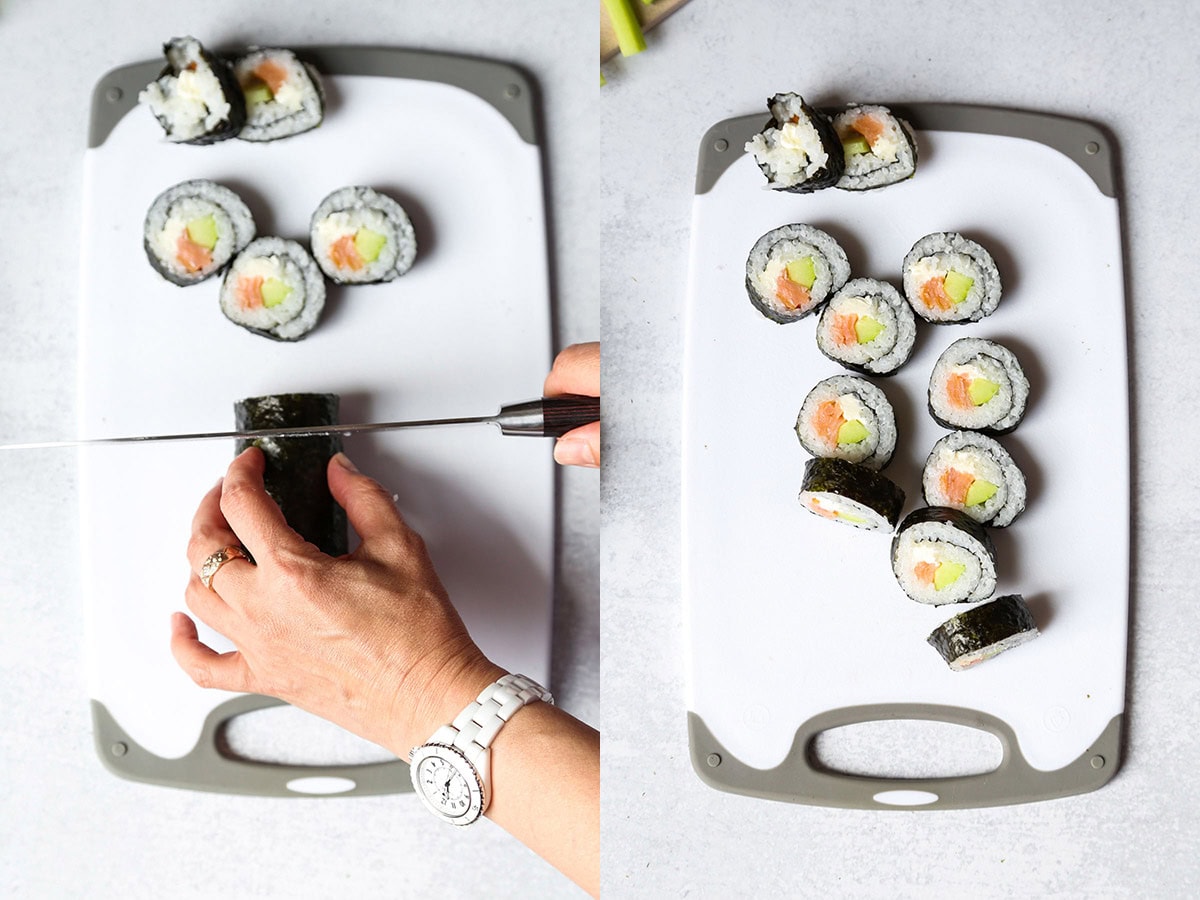 What Does a Philadelphia Roll Taste Like?
Ever had a bagel with lox and cream cheese? Well, it's not a massive stretch to think of the Philadelphia roll as the sushi equivalent of that.
There's a mild, savory smokiness from the smoked salmon that is tempered by the smooth, moreish creaminess from the cream cheese.
The cucumber imparts a brightness that walks hand in hand with the rice vinegar in the sushi rice.
And there's a toasted, seafaring nuttiness from the sheet of nori that envelopes each roll.
Dip in a bit of umami soy sauce with wasabi – and each bite is a parcel of savory perfection.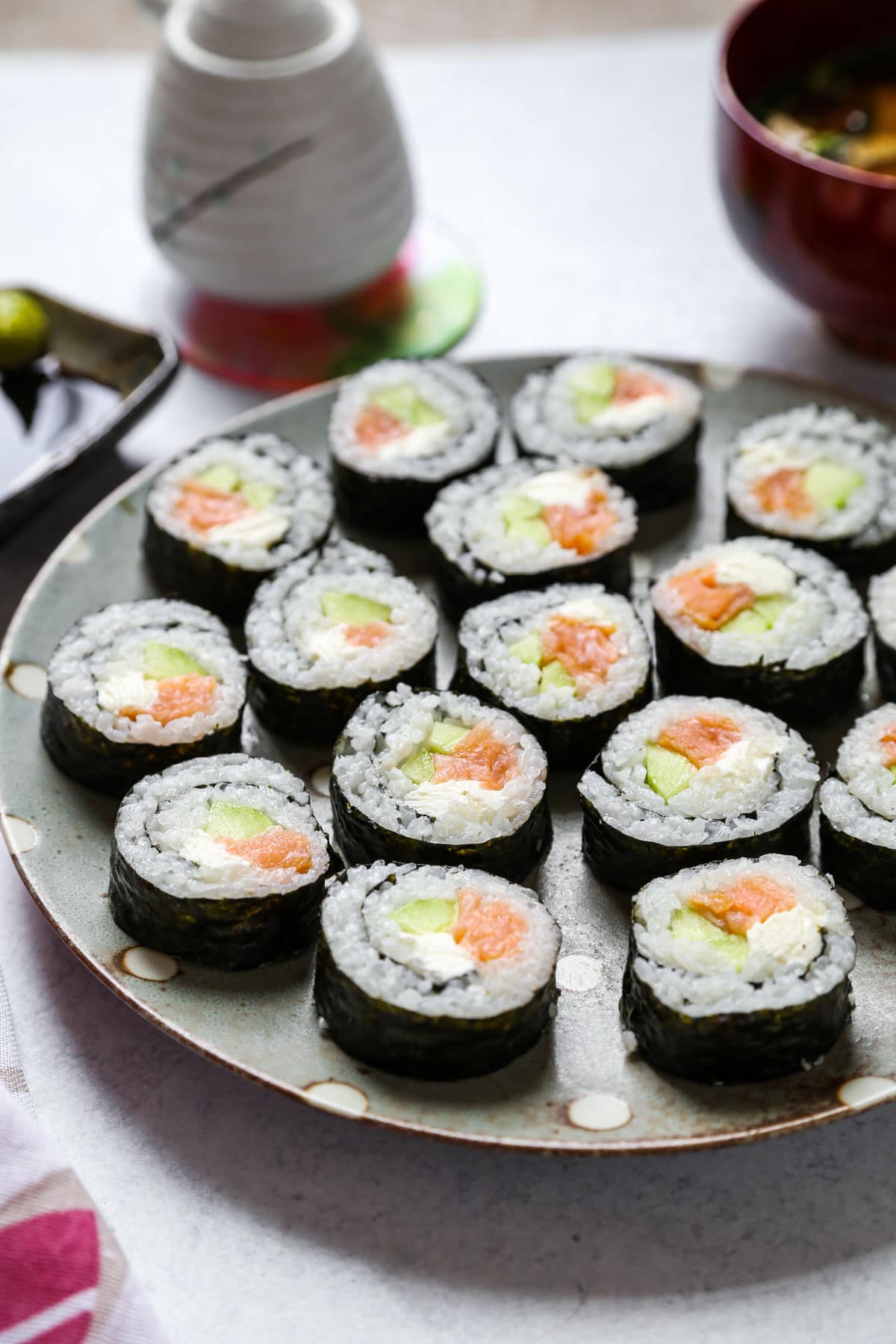 What to Serve With a Philly Roll
When it comes to eating sushi and maki at home, I like to whip up the types of sides I'd be ordering if I was dining at my favorite sushi restaurant or izakaya. If you feel the same, here are some easy ideas:
Want salad with that sushi roll? Check out these easy Japanese salad recipes!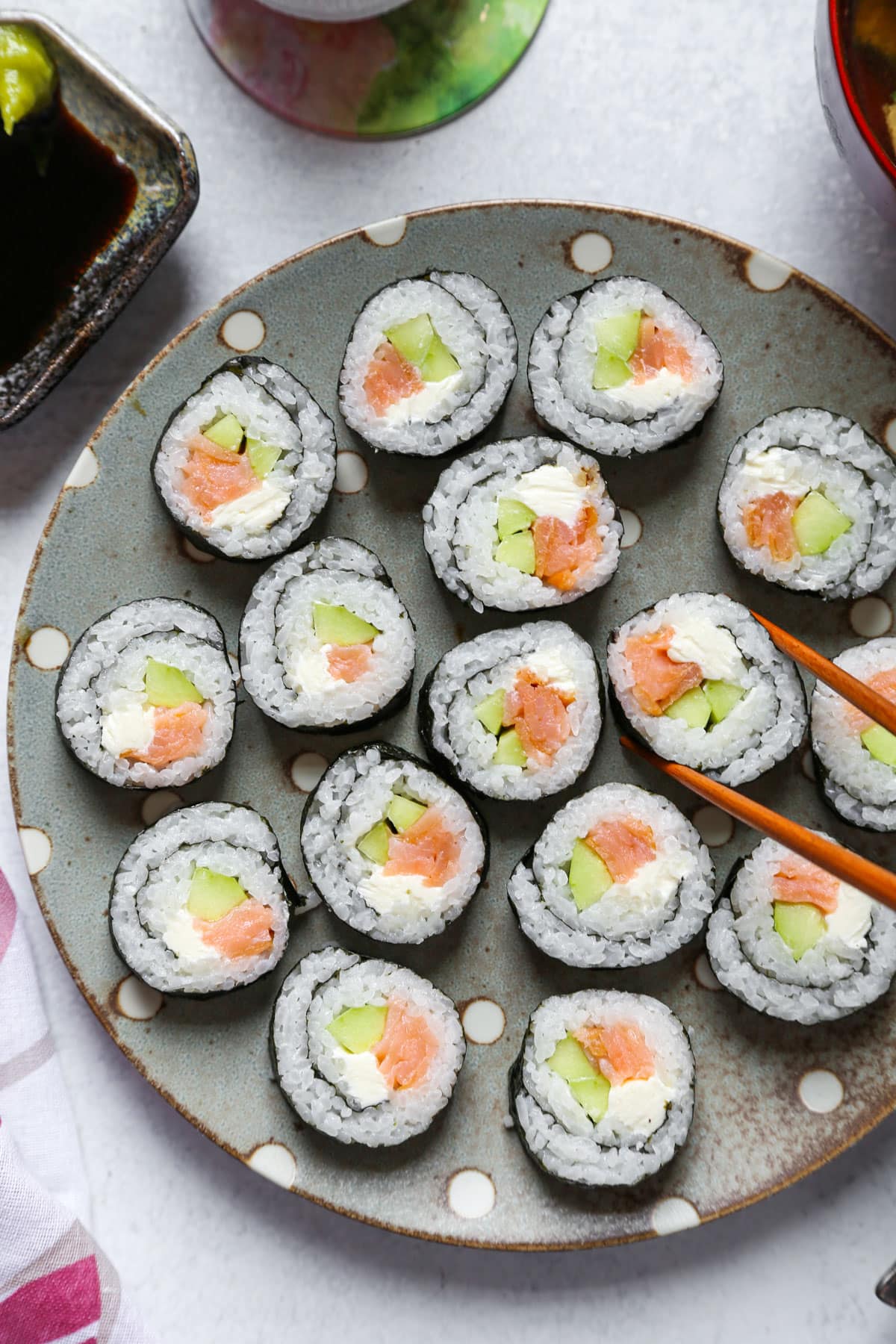 How to Store Leftovers
Refrigerate any leftovers inside a food storage container with a lid – or on a plate covered in plastic wrap – for 1 to 2 days max.
As long as you're using smoked salmon, the fish is already cured and should be fine for a couple of days in the fridge. However, if you used raw sushi grade salmon instead of smoked, I don't recommend storing leftovers at all (best to eat everything the day of).
To serve leftovers, simply remove from the fridge and place the plate on the kitchen counter for 15-20 minutes prior to eating.
Do not heat in the microwave.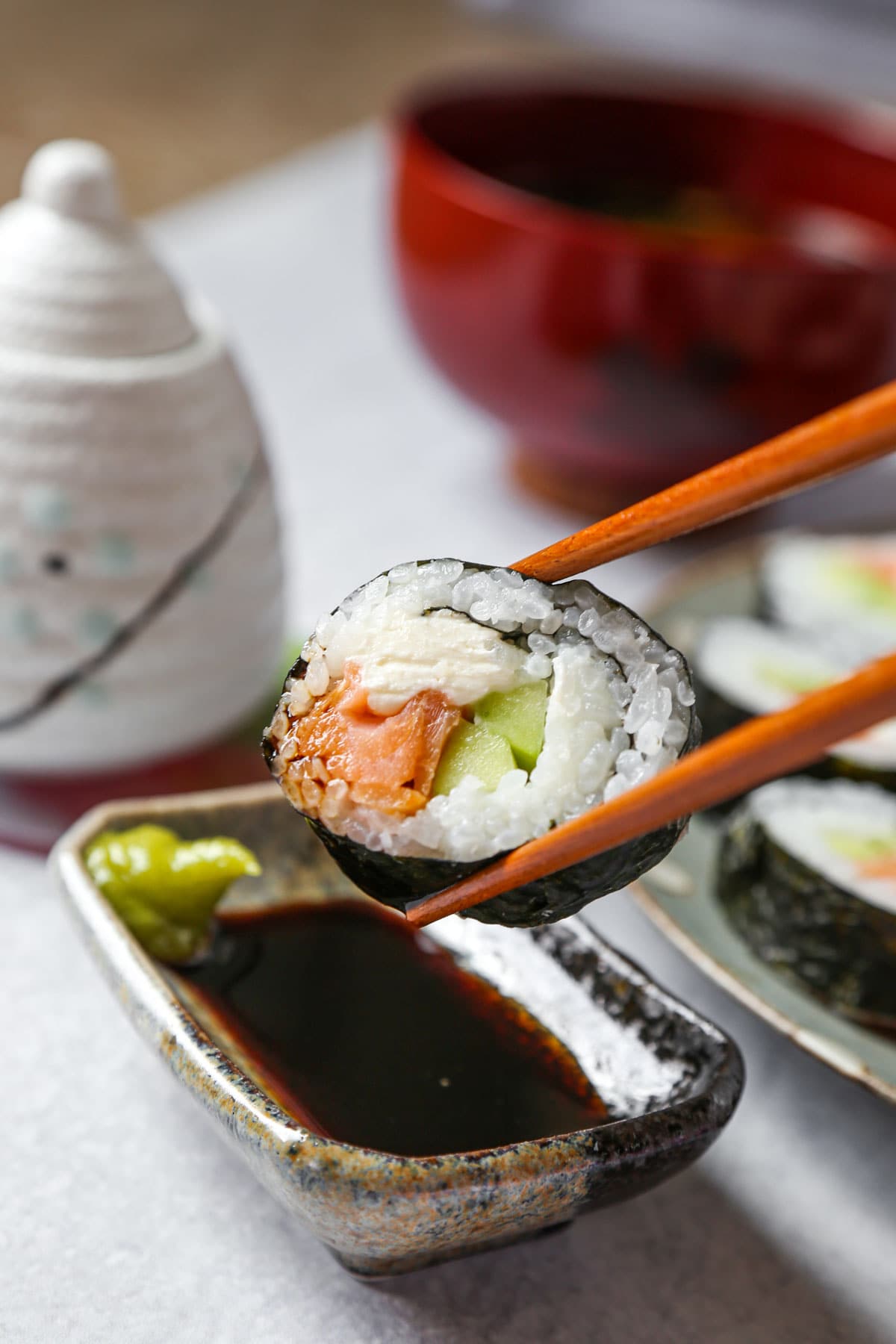 Did you try this Philadelphia roll recipe? Would you like to share any changes you made? Share your tips and recommendations in the comments section below!
Print
Philadelphia Roll
Author: Caroline Phelps
Prep Time:

25 minutes

Cook Time:

25 minutes

Total Time:

50 minutes

Yield:

4

rolls

1

x
Category:

Rice

Method:

Rice cooker

Cuisine:

Japanese

Diet:

Low Fat
2

cups

Japanese short grain rice

2

cups

water

1/4

cup

plain rice vinegar

1 1/2 tablespoon

granulated sugar

1/2 teaspoon

kosher salt

4

oz

smoked salmon, sliced into 1/3 inch thick strips

4

oz

plain cream cheese, sliced into 1/3 inch thick strips

1/2

English cucumber, sliced into

1/3

inch thick strips

4

sheets dried nori
Instructions
Put the rice in a rice washing bowl and run cold water over it. Rinse the rice using your hand, in a swirling motion. Keep doing this until the water runs clear, and drain well. If you don't have a rice washing bowl, put the rice in a medium size bowl and pour a little water in it. Wash the rice in a swirling motion to remove the excess starch and pour as much of the water out (don't use the strainer yet). Repeat this step until the water runs clear and strain the rice through a sieve to drain all the water.
Place the rice in the rice cooker inner pot and add the water. Select the plain setting and press start. If you don't have a rice cooker, please follow the instructions at the bottom of the directions.
Mix the rice vinegar, sugar, and salt, in a bowl and keep stirring until the sugar has dissolved. Set aside
When the rice is cooked, transfer it to a bowl and spread the rice and pour the vinegar mixture over it. Gently fold and slice the rice (do not mix as this will make the rice mushy) a few times until the vinegar mixture is evenly distributed and the rice is warm but cool enough to handle.
Wrap your bamboo mat with plastic wrap. This prevents the rice from sticking to the mat.
Place a piece of nori on the bamboo mat's edge closer to you, lengthwise. Leave about 1" of bamboo space visible, with the shiny side of the nori facing down.
Dip your fingers in the dipping bowl and moisten your hands. Grab 1 cup of sushi rice (using a measurement cup is the easiest to measure the rice) and place it on the nori sheet. Don't overfill the cup or press the rice down, just scoop the rice as you normally would scoop any other grain.
Spread the rice evenly across the sheet, leaving 1" of space free at the top of the nori sheet.
Place the smoked salmon, cream cheese, and cucumber, over the rice, on the side closer to you, across lengthwise.
Make sure you save enough ingredients to make 4 rolls! Grab the bottom edges of the mat with your thumbs while holding on to the toppings with your other fingers. Roll it into a tight cylinder, tucking the fillings in firmly.
Roll it forward while using a little pressure but not so much that the filling spills out. Keep rolling until there is only a bit of nori left visible.
Wet your fingers and run them across the inside edge of the nori sheet. This will seal the end of the roll. Keep rolling and delicately remove the bamboo mat.
Wipe a kitchen knife with vinegar water and evenly cut the roll into bite size pieces.
Serve with pickled ginger, soy sauce, and wasabi.
Stove Top Method For The Rice
Add the rice and water to a medium size pot.
Bring the water to a boil, lower the heat to a simmer, and cover. Cook for 18 to 20 minutes, until the water is absorbed. To check on the water level, slightly open the lid but don't open it all the way as this will let too much steam out and cause the rice to cook unevenly.
Turn the heat off and let the cooked rice sit for 10 minutes, to finish the cooking process.
Using a wooden or plastic spoon, or a rice paddle, gently fold the rice a few times (do not stir or knead as this will break the rice grains and make the rice glutinous).
Nutrition
Serving Size:

1 roll

Calories:

575

Sugar:

6g

Sodium:

265.4mg

Fat:

13.5g

Saturated Fat:

6.6g

Unsaturated Fat:

1.5g

Trans Fat:

0g

Carbohydrates:

86g

Fiber:

0.1g

Protein:

25.6g

Cholesterol:

72.3mg
Recipe Card powered by