This Japanese influenced eggplant and okra fish stir fry is super simple to make at home, but packs in all the savory, sweet and smoky goodness of your favorite Asian takeout, fresh from the wok. Less than 25 minutes from start to finish. This will be your new favorite eggplant stir fry!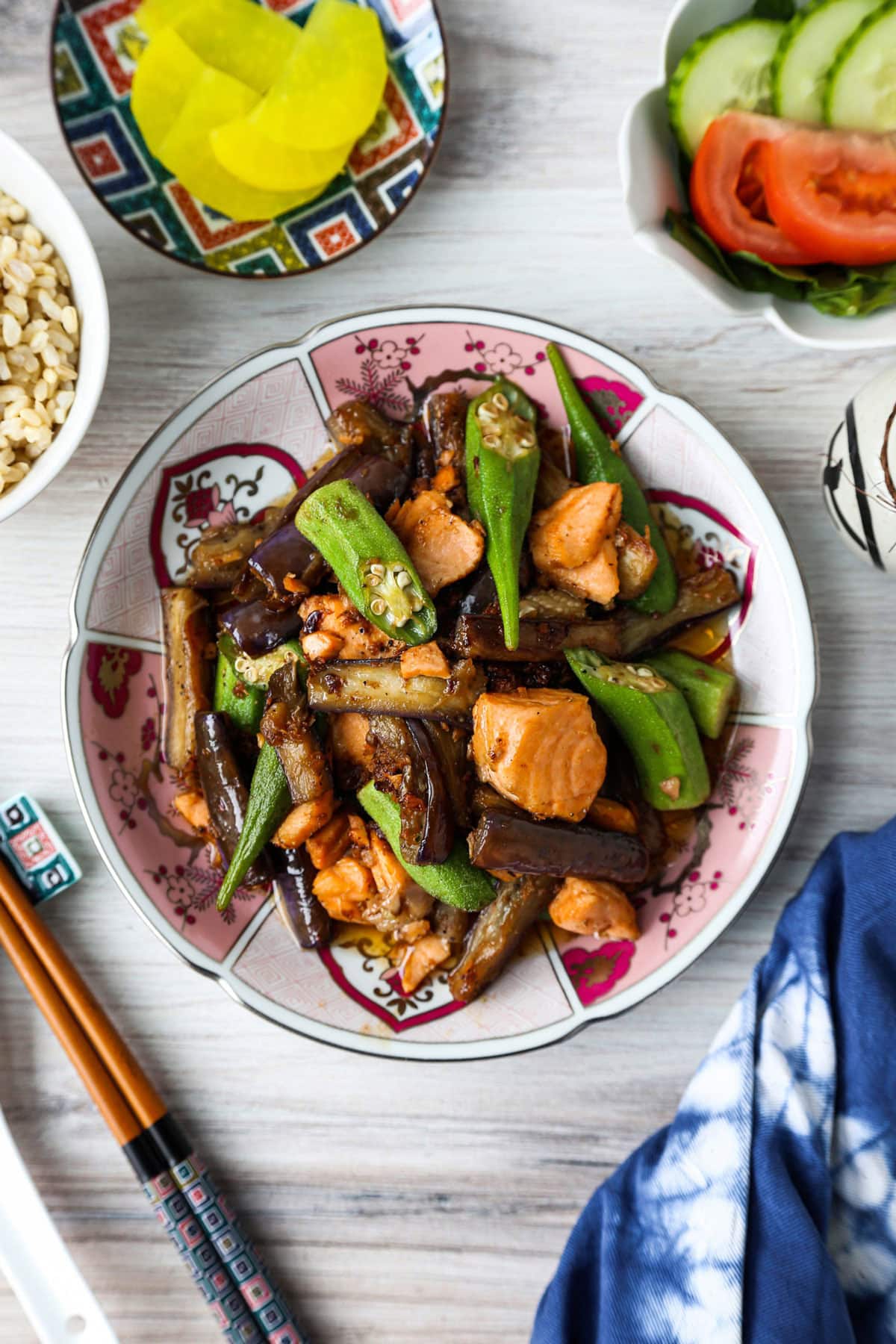 This is my new go-to recipe when I'm craving bold Asian flavors, but want to keep it easy in the kitchen.
Because I can make this simple eggplant stir fry recipe at the end of a workday, while I've probably already got one eye trained on the TV – but the outcome tastes like I labored in a hot kitchen for hours!
You're going to love the deep savory flavor and the juxtaposition of textures in this light yet hearty Japanese recipe. The eggplant is so tender it almost melts in your mouth – and the okra retains a subtle crunch.
And you better believe the fish that delivers a substantive, meaty element to the dish without being overpowering.
Serve this fish and vegetable stir fry with a side of white or brown rice for a dinner that will have you wanting seconds!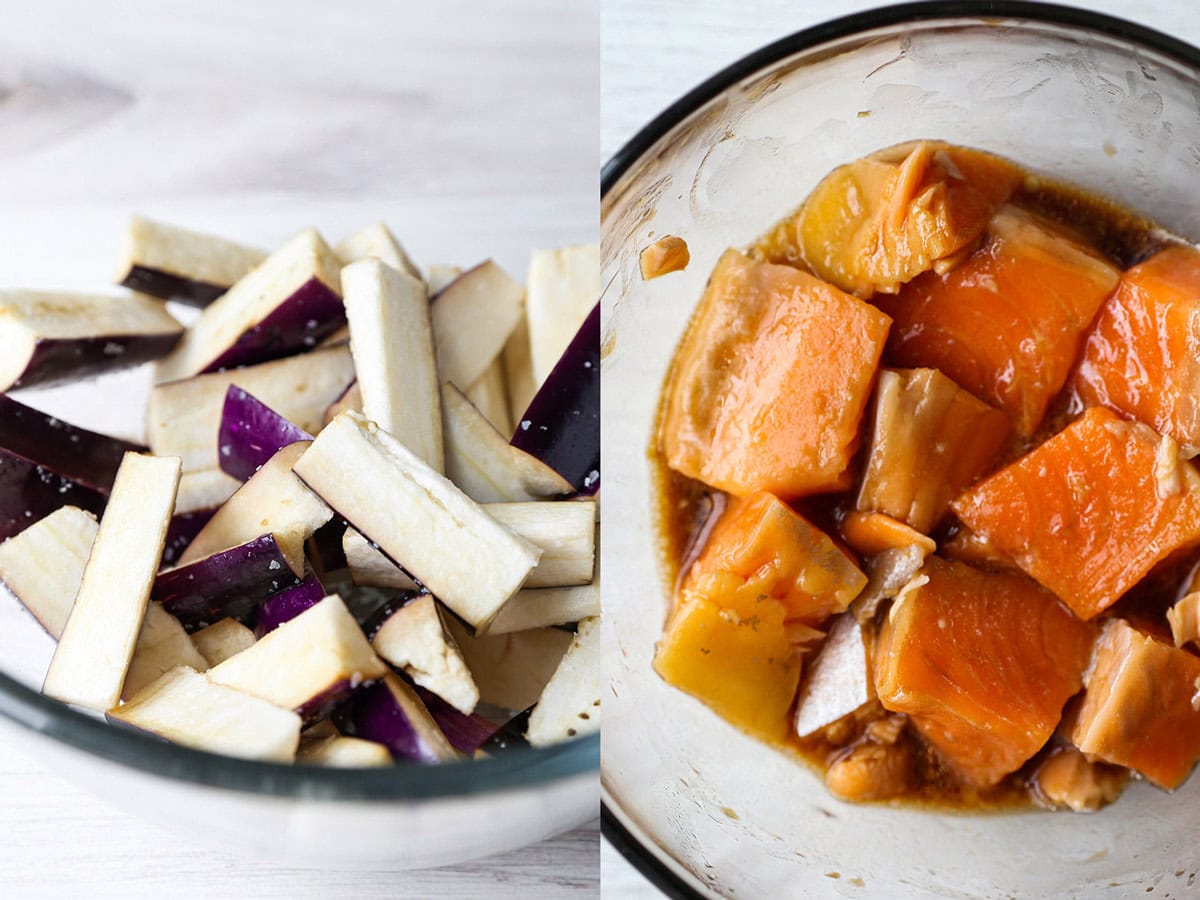 What Eggplant Works Best for This Stir Fry?
For this easy Asian stir fry, I recommend using Japanese eggplant or Chinese eggplant. They're both much longer and skinnier than the deep-purple pregnant orbs commonly found in the produce section at the grocery store.
Now, full disclosure, I've never been able to tell the two apart on sight alone – unless they're lined up next to each other. Actually both varieties are pretty interchangeable in my kitchen. However, here's how to differentiate between the two:
Japanese Eggplant tends to have a super dark purple exterior.
Chinese Eggplant has a lighter lavender color.
From a taste standpoint, both varieties are equally delicious.
And the best thing about both Chinese and Japanese eggplant is that they both have very few seeds – and have super thin skins which cook relatively quickly, making them the perfect choice for this stir fried fish and veggies recipe.
How to Cut Eggplant and Okra for Stir Fry
For the eggplant: slice your eggplant into pieces that are about 1-inch thick and 3-inches long. Kind of like a small potato wedge. This way the pieces will cook quickly – but will still retain their shape in the stir fry.
For the okra: Cut the stems off first, then slice the pieces in half along the bias (diagonally).
Eggplant and Okra Fish Stir Fry Ingredients
Scroll all the way down for the full recipe.
Fish: I'd recommend using fish with a rather firm flesh so the pieces retain their shape in the stir fry. Salmon, arctic char and tuna are all great choices. Slice the fish into bite sized pieces.
Japanese or Chinese Eggplant: Like we just discussed, these are the long, skinny, almost seedless varieties. You'll want roughly 10 ounces, sliced, salted, drained and dried.
Okra: These edible seed pods are a great source of vitamins and fiber and have the perfect soft crunch! You'll want about six okra pods, sliced obliquely in the center.
Neutral Cooking Oil: Grapeseed oil or vegetable oil will be fine.
Stir Fry Sauce: I'm just using a savory combination of sake, soy sauce, oyster sauce and water. Oyster sauce in particular is so great in stir fry recipes. It has a very deep saline quality with a touch of sweetness at the edges. Pick it up at most Asian grocery stores – or grab oyster sauce here on Amazon.
Fish Marinade: Make a quick slurry of cooking sake, soy sauce, sesame oil and cornstarch (or potato starch). You'll marinade your fish in this mixture. The cornstarch will provide a light coating to the fish that will keep it from overcooking in the wok and help it remain tender.
Sesame Oil and Black Pepper: You'll use these two as finishing ingredients – once the heat is off, and just before plating. The toasted nuttiness of sesame oil and the piney heat of black pepper bring the whole thing together!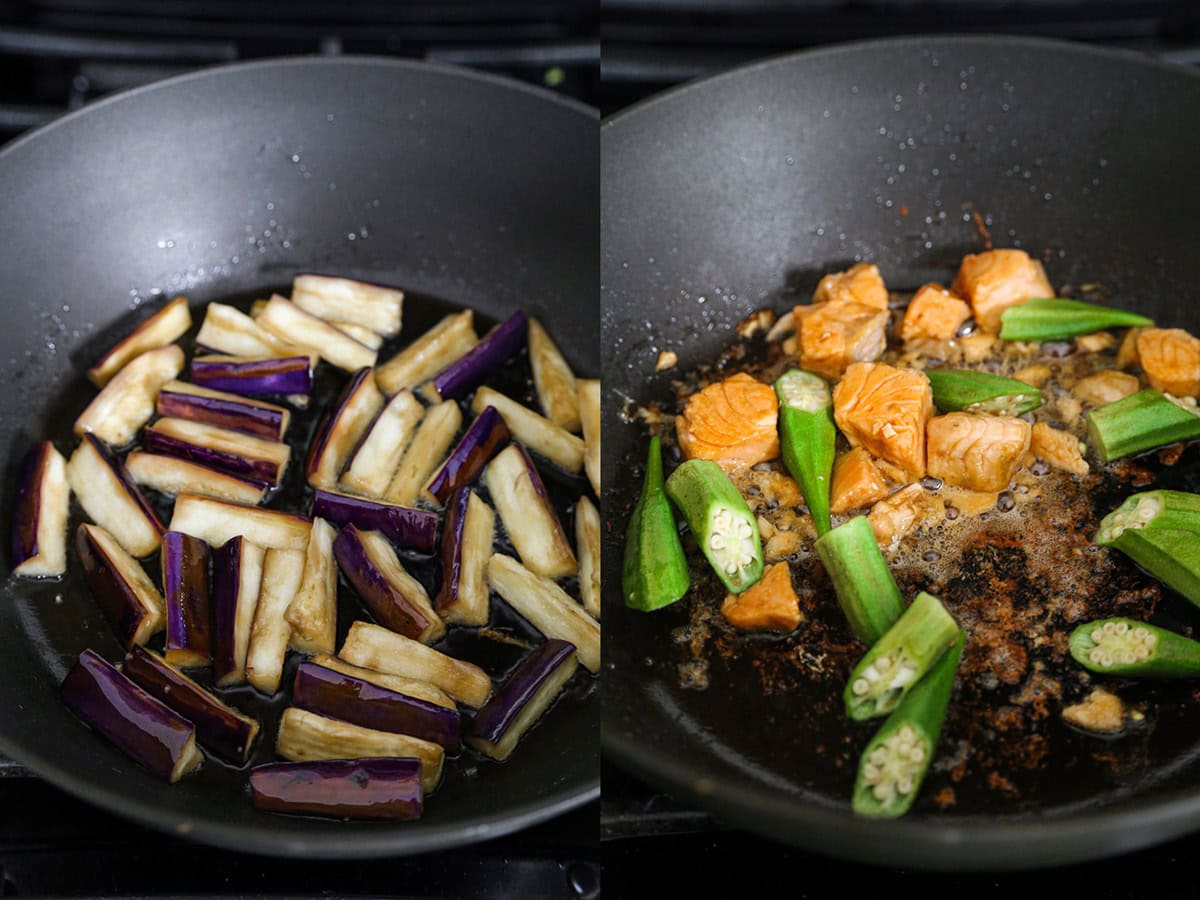 How to Make Fish Stir Fry
Gather all of your kitchen tools and ingredients.
Marinate the fish. Combine the marinade ingredients in a bowl. Stir well until the starch is dissolved – and add the fish. Toss the pieces so they are all covered equally. Leave for 15 minutes.
Prepare the eggplant. Place your eggplant pieces in a bowl and sprinkle with 1/2 teaspoon of salt. Toss and leave for 15 minutes.
Mix the stir fry sauce. Mix the sake, soy sauce, oyster sauce and water in a bowl and set aside.
Drain the eggplant. Gently squeeze any excess water out of your eggplant slices and pat each one dry with a paper towel.
Cook the eggplant. Heat half of the cooking oil in a wok or deep skillet and add the eggplant pieces. Toss in the pan until it is cooked through (approx. 3-4 minutes). Transfer to a plate and set aside.
Complete the stir fry. Add the remaining cooking oil to the empty wok and add in the marinated fish and okra pieces. Cook for about 3 minutes until the fish is cooked through. Then return the cooked eggplant to the wok and add the sauce. Stir fry for about 30 more seconds. Turn the heat off and stir in the sesame oil and ground black pepper. Serve immediately.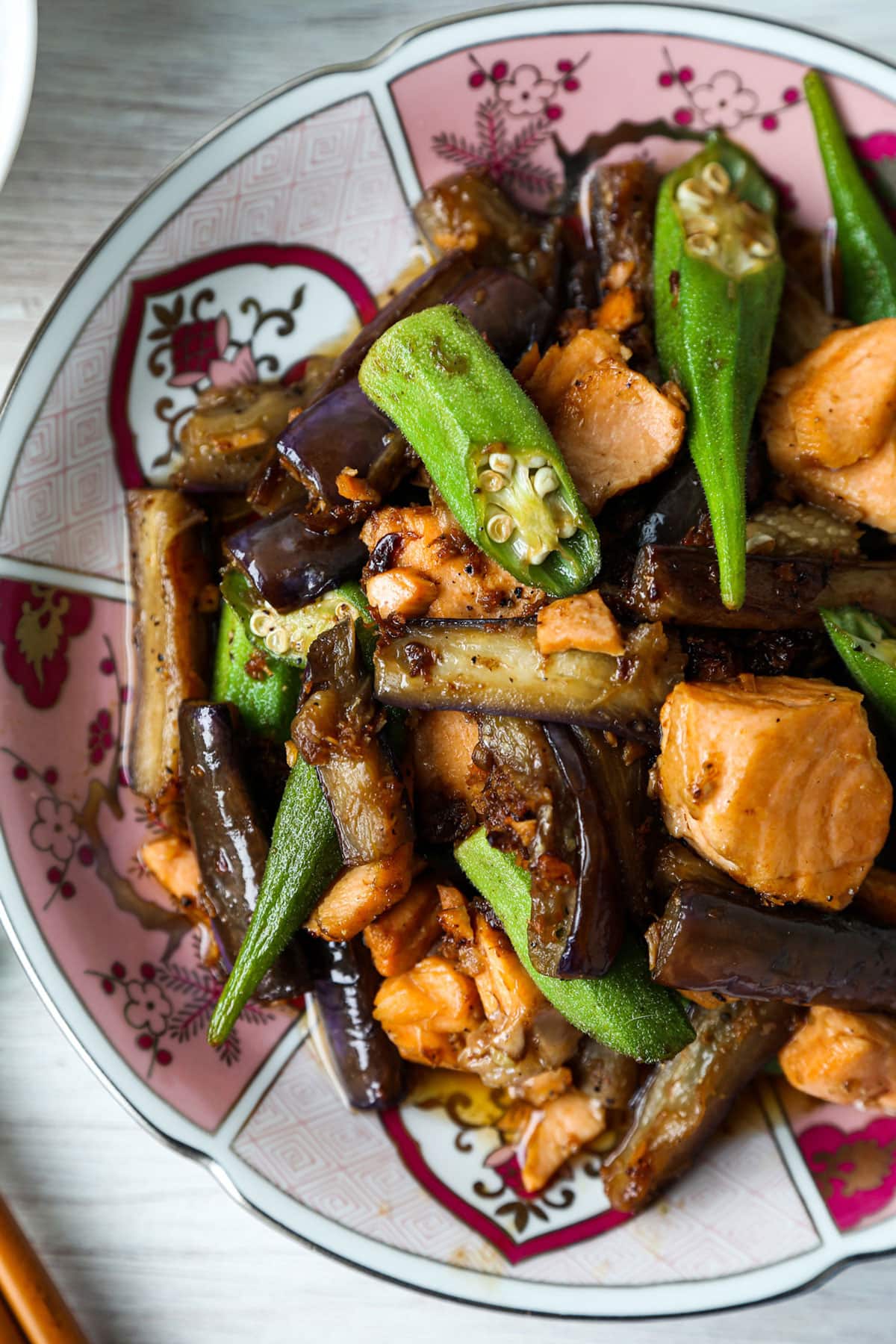 Other Easy Asian Eggplant Recipes
While the smoky perfection of this eggplant and fish stir fry now resides among my favorites, it's no secret that I'm all about Japanese and Chinese eggplant recipes in general. Here are a few of the best:
TABLEWARE
The pink serving plate, tile pattern chopsticks, and tile pattern sauce plate used in the images, are from Musubi Kiln.

Musubi Kiln is an online store specializing in high quality handmade Japanese tableware and dinnerware. Each product is made by Japanese craftsmen using traditional techniques that have been passed down from generation to generation.

Received 10% off your purchase when using the code CAROLINE at checkout.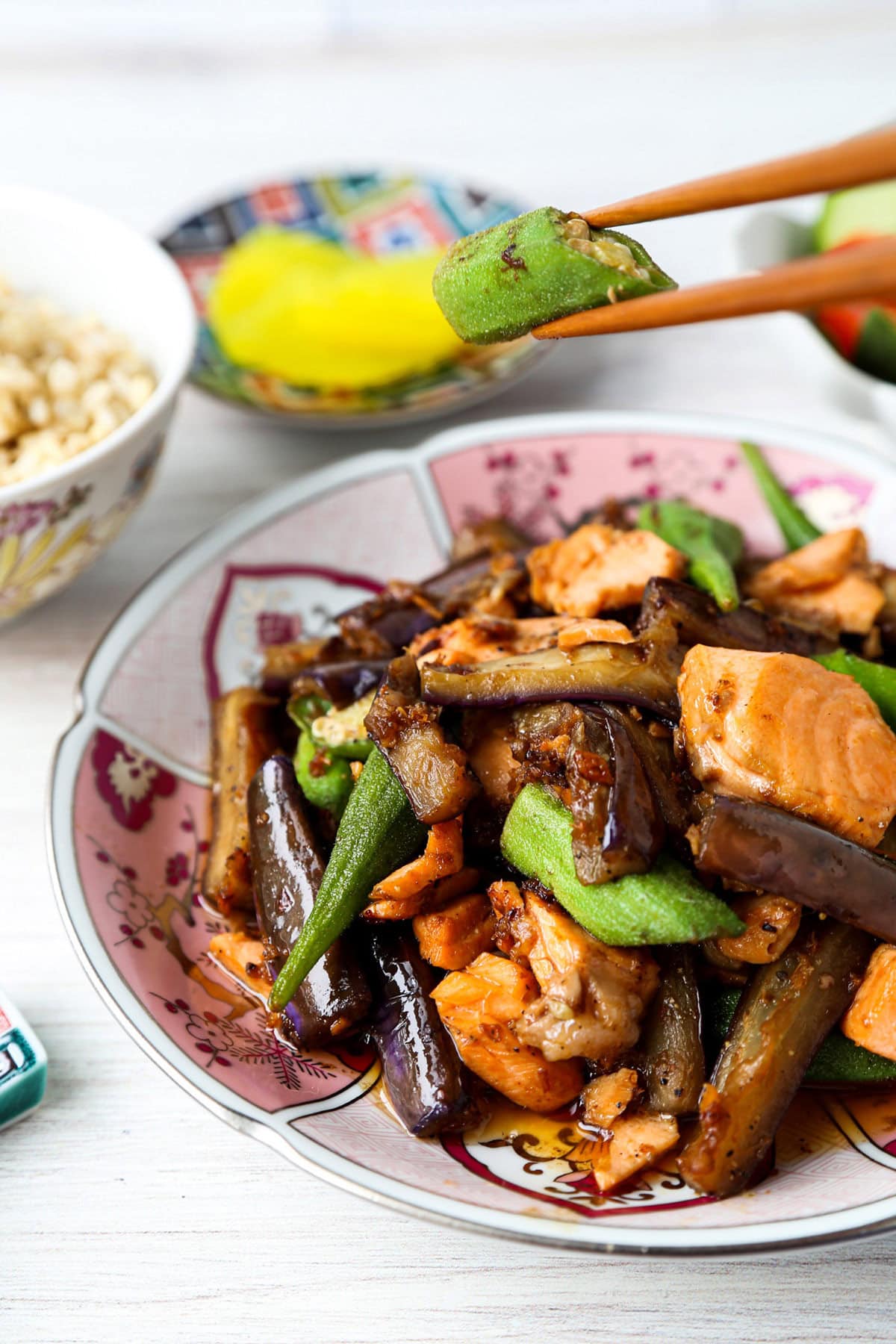 Did you like this eggplant and okra fish stir fry? Are there changes you made that you would like to share? Share your tips and recommendations in the comments section below!
Print
Eggplant and Okra Fish Stir Fry
This is an easy, savory, sweet, and smoky Japanese style fish stir fry that's ready in less than 25 minutes from start to finish.
Author: Caroline Phelps
Prep Time:

15 minutes

Cook Time:

7 minutes

Total Time:

22 minutes

Yield:

2

1

x
Category:

Main

Method:

Stir frying

Cuisine:

Japanese

Diet:

Low Calorie
6 ounces

firm fish such as salmon, arctic char, or tuna, sliced into bite size pieces

10 ounces

Japanese or Chinese eggplant, sliced about

1

-inch thick and 3 inches long, like small potato wedges

2 tablespoons

vegetable or grapeseed oil, or other neutral oil

6

okra, stem removed, sliced in half

1 teaspoons

sake

1 tablespoon

soy sauce

1 tablespoon

oyster sauce

2 tablespoons

water

1 teaspoon

sesame oil

Ground black pepper, to taste
Fish marinade:
1 teaspoon

sake

1 teaspoons

soy sauce

1 teaspoon

cornstarch or potato starch

1/4 teaspoon

sesame oil
Instructions
Add all the ingredients for the marinade in a bowl and stir to combine. Add the fish to the marinade and toss the pieces to coat them evenly. Leave for 15 minutes. 

Place the eggplant in a bowl and sprinkle 1/2 teaspoon of salt over the pieces. Toss and leave for 15 minutes. 

Meanwhile, mix the sake, soy sauce, oyster sauce, and water in a bowl and set aside. 

Gently squeeze the eggplant to get rid of excess water and pat each piece dry with a paper towel.

Heat the oil in a wok or deep skillet over medium heat and add the eggplant. Toss and cook the eggplant for 3-4 minutes, or until it's cooked through and transfer to a plate. Set aside

Add the remaining 1 tablespoon oil, and then add fish and okra to the wok and cook for 3 minutes, until the fish is cooked through. Return the eggplant to the wok and add the sauce. Stir fry for 30 seconds and turn the heat off. Stir in the sesame oil and season with ground black pepper. Serve.
Nutrition
Serving Size:

1 serving

Calories:

307

Sugar:

5.8g

Sodium:

825.1mg

Fat:

20.2g

Saturated Fat:

12.2g

Unsaturated Fat:

2.2g

Trans Fat:

0g

Carbohydrates:

12.4g

Fiber:

5.1g

Protein:

21.6g

Cholesterol:

43.5mg
Recipe Card powered by