Your tastebuds will sing when you try this delicate teriyaki arctic char! This Japanese inspired sustainable fish recipe is ready in 10 minutes from start to finish!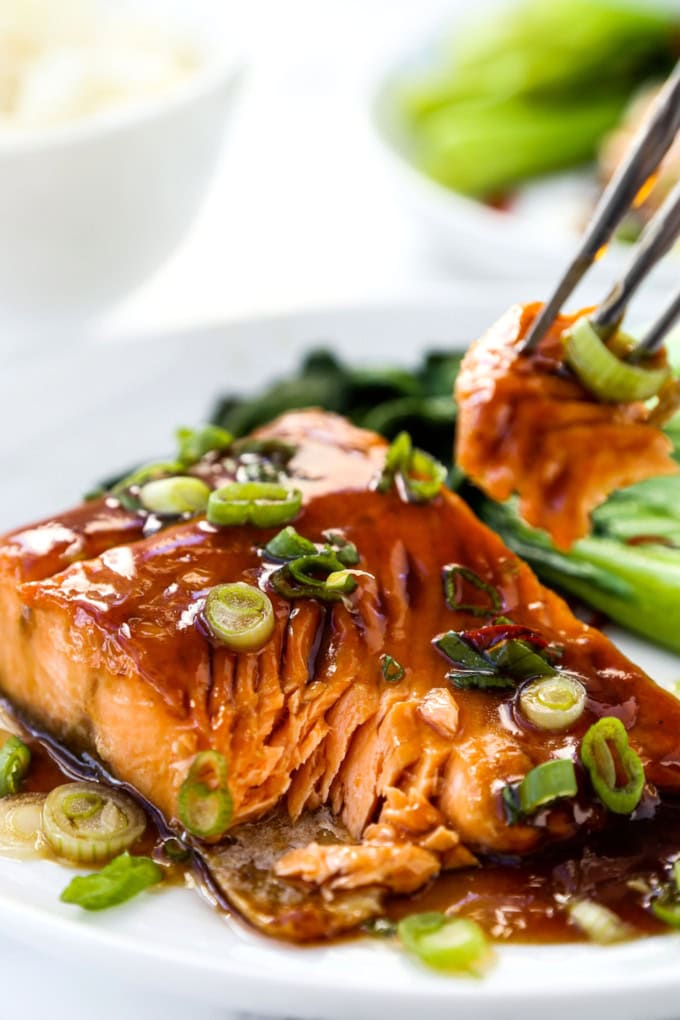 My mother-in-law LOVES salmon. And I love cooking for her! She eats with gusto.
So when we had her over for dinner last week, I thought about making teriyaki salmon.
But in my quest to only cook with sustainable seafood, I looked for an alternative. Well, I didn't have to look far.
Turns out arctic char has most of the flavor and texture of salmon – and it's rated as a best choice for consumption by the nonprofit Monterey Bay Aquarium as a sustainable fish.
So was this teriyaki arctic char a hit? You bet it was. I saw clean plates all around. And I'm excited to share this easy recipe with you, friends!
But first, the basics.
What is Teriyaki?
Teriyaki 照り焼き is a cooking method where food is grilled or broiled in a simple combination of soy sauce, mirin and sugar.
This savory and sweet sauce coats the food (usually protein) and acts as a glaze – producing a glossy, lacquer-like shine.
Teriyaki sauce is one of the most iconic Japanese sauces the world over.
And don't worry if you don't know how to make teriyaki sauce. I've got you! For this yummy pan-fried char fish, I'm using my restaurant style teriyaki sauce recipe.
What is Arctic Char?
Arctic char is a cold water fish with many similarities to salmon (more in this in a sec).
Hailing from the arctic, they spawn in freshwater – and then return to coastal brackish sea water where they feed and mature.
With a clean and mild flavor, this oily fish also has a tender and delicate texture.
And, depending on where it's caught, it's is a great choice when looking to cook with sustainable seafood.
Arctic char from Iceland and Canada is widely considered your best choice in terms of sustainability.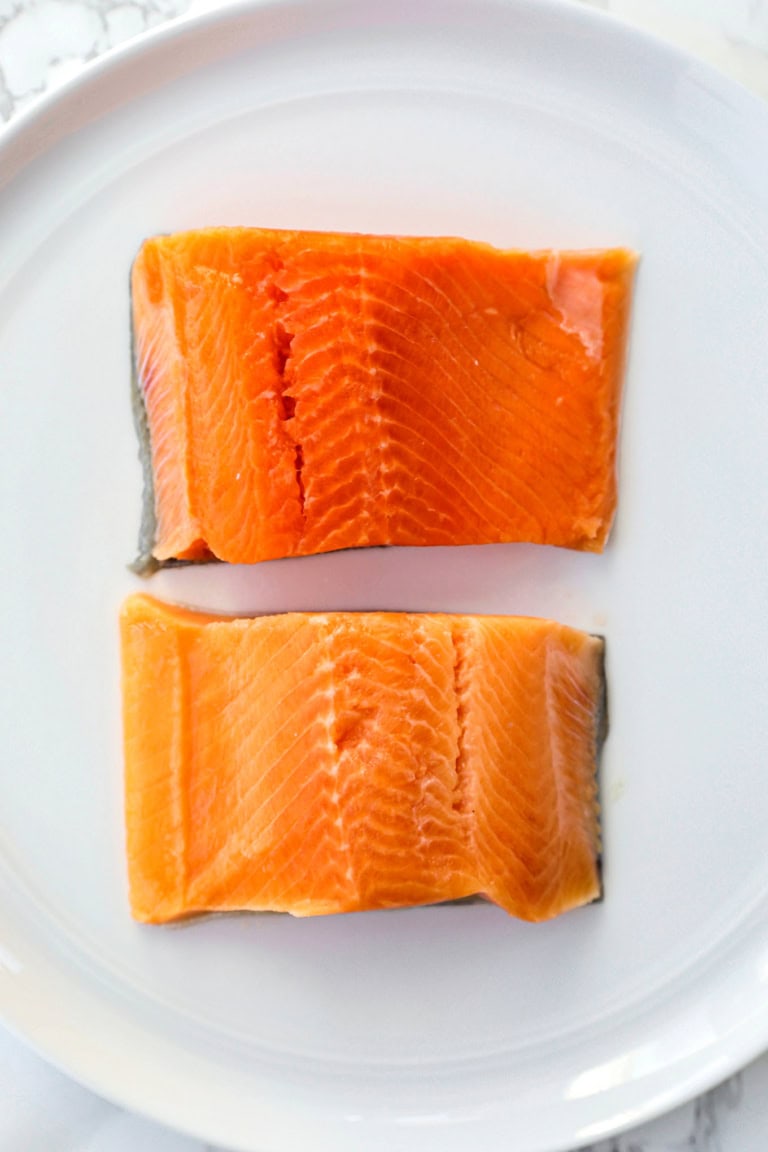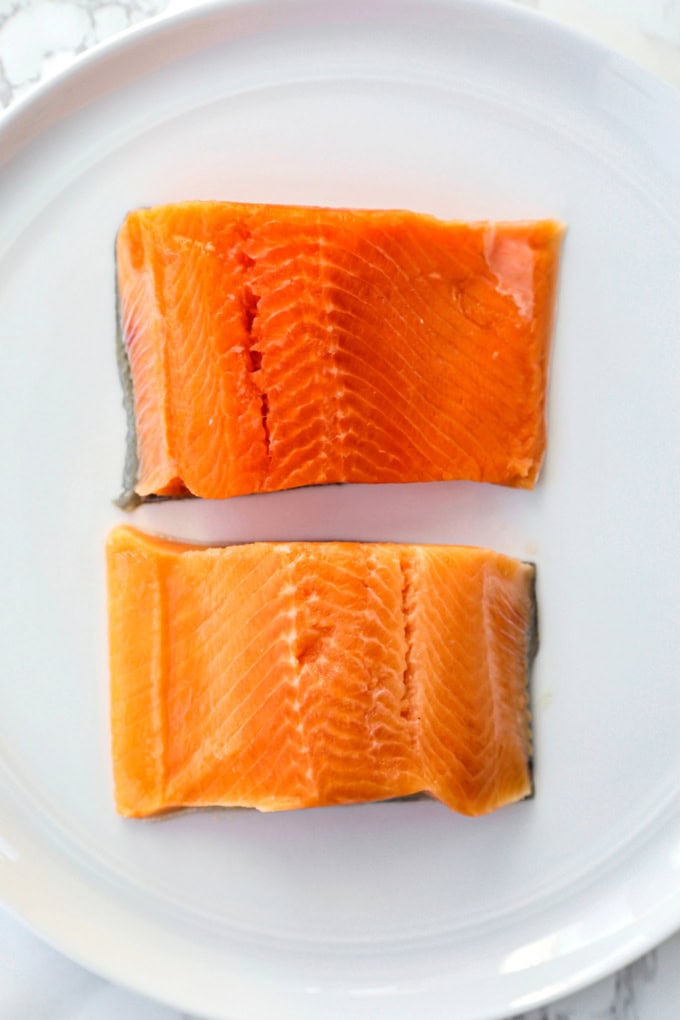 Arctic Char vs Salmon
Both salmon and arctic char have pink flesh with a high oil content that cooks well whether pan-fried or broiled.
However, when it comes to flavor, char has a much milder, delicate palate.
I'd say it's the perfect fish for those that don't particularly care for salmon's trademark fishiness. (Case in point: Ben isn't a huge fan of salmon – but gets super excited when I make this arctic char recipe with homemade teriyaki sauce.)
These days, overfishing has rendered wild caught Atlantic salmon much less common than before. And much of the farmed salmon operations are notoriously hard on the environment.
By contrast, responsibly farm raised arctic char outfits use methods that are much more environmentally friendly.
Since arctic char is a less common fish, it can be slightly more expensive than salmon – however its definitely worth a look!
Where can I Buy Sustainable Arctic Char?
Wegmans and Whole Foods are two big-name stores that focus on providing sustainable seafood options.
Whole Foods in particular has collaborations with the Marine Stewardship Council – and has responsibly farmed seafood options clearly labeled.
But even at your local fishmonger's shop, feel free to ask where your char comes from and if it is sustainably sourced. If they don't know, just ask them to find out for you 🙂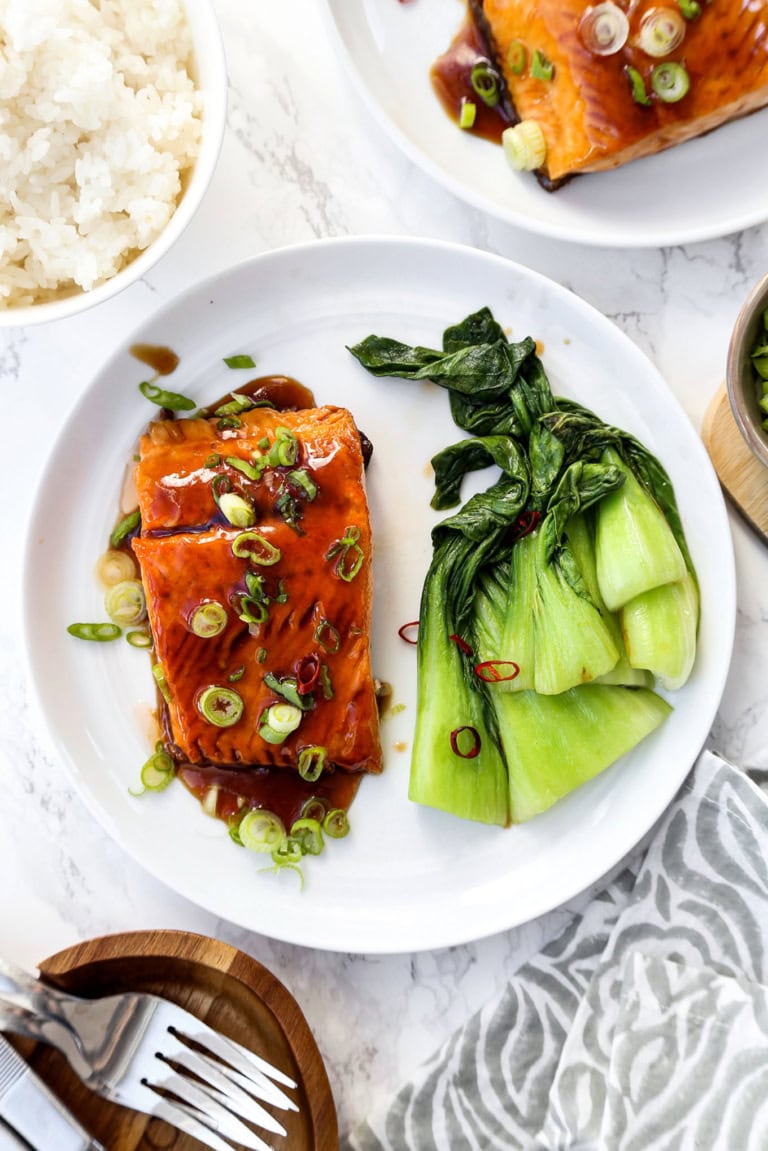 Ingredients for Teriyaki Arctic Char
Arctic Char: You'll need about 16-ounces of this delicate fish. Slice into 4 equal-sized pieces. If you can't find arctic char, amberjack (yellowtail) is a good choice in terms of flavor and sustainability.
Vegetable Oil: Any neutral flavored cooking oil will work for this recipe.
Teriyaki Sauce: Loaded with savory and sweet flavors, teriyaki sauce provides a glossy, lacquer-like coating to the char fillets. I'm using this homemade restaurant-style teriyaki sauce recipe – which is so delicious and simple to make, you'll want to put it on everything!
Scallions: Use chopped green onions as a finishing touch on your teriyaki arctic char fillets. They provide a sharp, garden-fresh flavor and a pop of color to the plate.
Cooked Rice: There's nothing better than a side of fluffy rice with teriyaki fish. Check out how to make perfect Japanese rice on the stove-top and in a rice cooker.
How to Make Teriyaki Arctic Char
Portion and salt the fish. Slice your char into four equal-sized fillets. Sprinkle both sides of the fillets with salt.
Pan fry the fish fillets.

In a large pan over medium high heat, add your vegetable oil and evenly coat the pan. When the oil is hot, add the char fillets to the pan and cook on each side for 2 minutes, until golden brown.

Add the teriyaki sauce. Whisk your homemade teriyaki sauce and pour it over the fish fillets. Cook for 30 seconds, until the sauce thickens. Then flip the fillets so both sides are evenly coated with sauce. Cook for an additional 15 seconds, then remove the pan from the heat.
Serve. Plate your fish fillets and top with any remaining sauce from the pan – and chopped scallions. As I mentioned, I'm a sucker for a side of Japanese rice with this dish. And it never hurts to serve a side of greens. Just sayin' 😋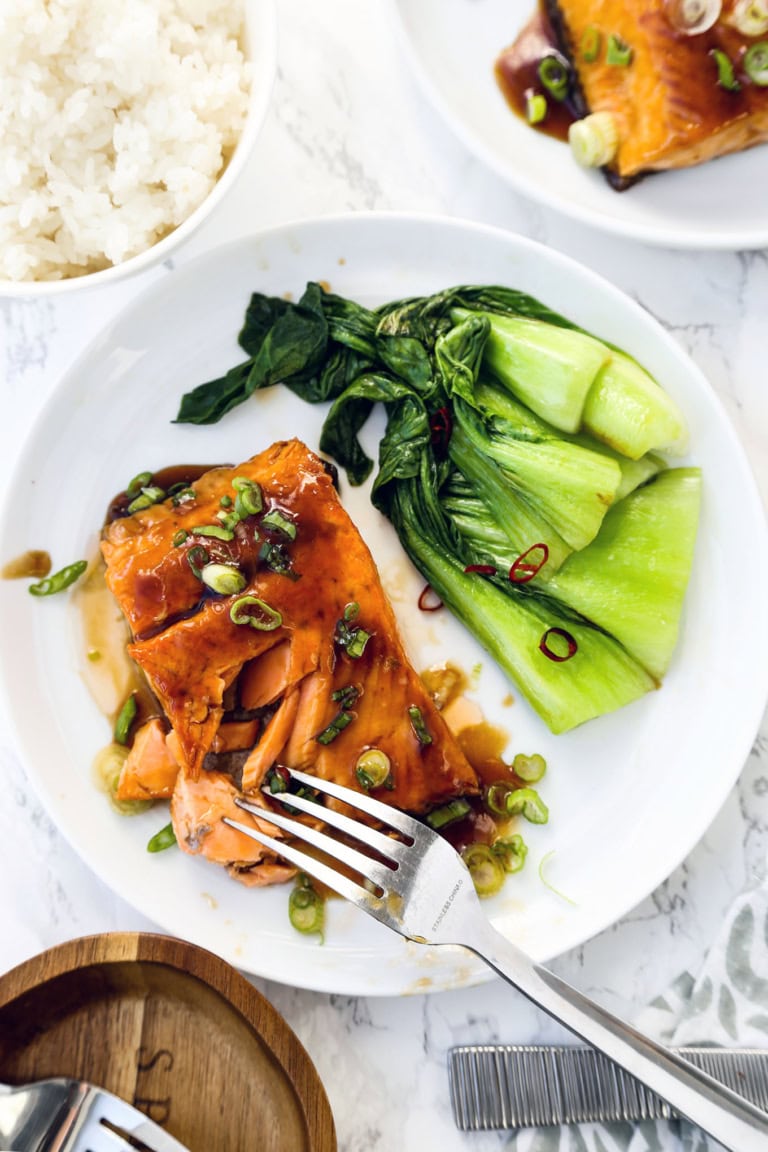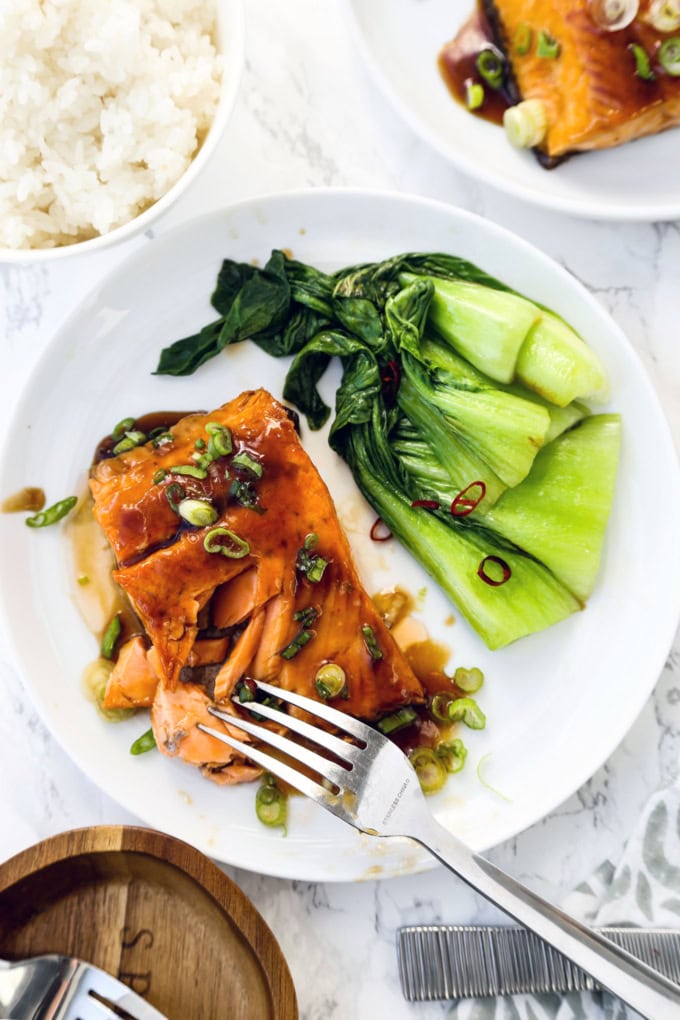 What to Serve with Teriyaki Arctic Char
These sweet, savory and glossy fish fillets go super well with Asian style greens like this bok choy with garlic and oyster sauce – or these dry-fried green beans with garlic sauce.
For a lighter and brighter side dish, this Japanese cucumber salad (sunomono) makes a great accompaniment to fish and rice.
Or, if you're looking to whip up a massive Japanese meal at home, check out these delicious and easy Japanese recipes:
Plus
Happy cooking friends!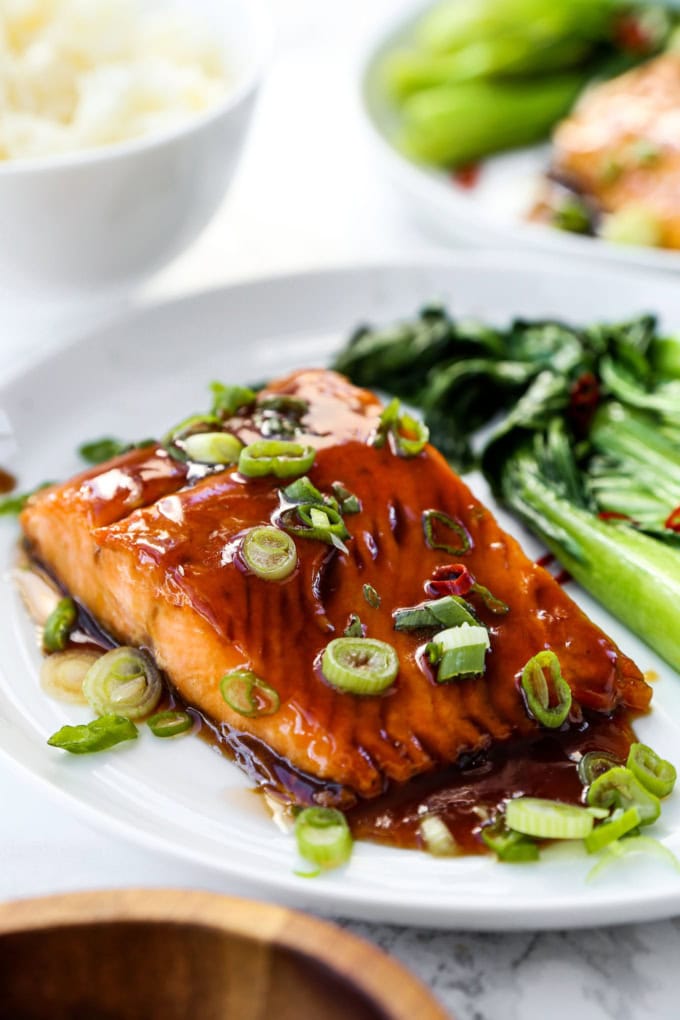 Did you like this Teriyaki Arctic Char Recipe? Are there changes you made that you would like to share? Share your tips and recommendations in the comments section below!
Print
Teriyaki Arctic Char
These delicate arctic char fillets are lacquered with a savory and sweet teriyaki sauce. You're going to love this recipe!
Author: Caroline Phelps
Prep Time:

5 minutes

Cook Time:

5 minutes

Total Time:

10 minutes

Yield:

4

1

x
Category:

Fish

Method:

Pan frying

Cuisine:

Japanese
16 oz

boneless arctic char, or amberjack (yellowtail)

1 tablespoon

vegetable oil

1/2 cup

teriyaki sauce (click link for the recipe)

1

scallion, finely chopped, for garnish

Cooked rice, for serving
Instructions
Slice the arctic char into 4 equal pieces and pat dry with a paper towel.

Sprinkle salt using your fingers over each piece, and on both sides.

In a large pan over medium high heat, add oil and swirl it around the pan. When the oil is hot, add the fish to the pan and cook on each side for 2 minutes, until golden brown.

Whisk the sauce and pour it over the fish. Cook for 30 seconds, until the sauce thickens, and flip the pieces over to coat both sides. Cook for an additional 15 seconds and turn the heat off.

Transfer the fish and sauce among 4 plate and top with scallions.

Serve with rice and your favorite side (I recommend bok choy or other Asian greens).
Notes
This teriyaki arctic char will keep refrigerated for up to 2 days.
Reheating cooked fish: place the fillets on a cooking tray covered with parchment paper and place in an oven preheated to 275ºF. Leave for 10-15 minutes, until the internal temperature reaches 125ºF.
Make it gluten-free: swap soy sauce for liquid amino or tamari sauce, and the cornstarch for arrowroot.
Nutrition
Serving Size:
Calories:

265

Sugar:

17.2 g

Sodium:

916.1 mg

Fat:

15.7 g

Saturated Fat:

5 g

Carbohydrates:

24.6 g

Fiber:

1.9 g

Protein:

21.9 g

Cholesterol:

59 mg
Keywords: Seafood, main, fish, Japanese, easy recipe
Recipe Card powered by